New Age Islam News Bureau
24 Aug 2013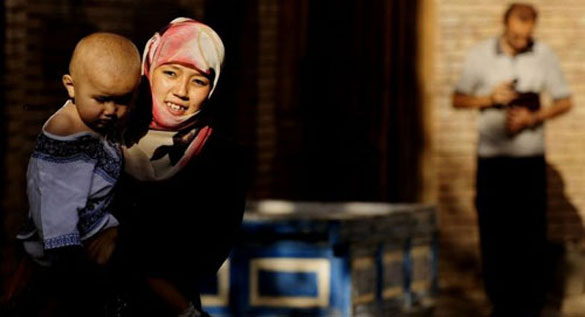 Photo: The leader of the Al-Karama Organization for human rights, said that among the detainees are 16 girls
----------
• Texas Pastor Bans Women from Wearing Hair Weaves To Church
• Remove Burqa, UK Court Tells Woman
• Women Drivers Dealt With Firmly In Qatif: Official
• Syrian TV Presenter Surprised On Air by Own Daughter
• Nigeria, Senegal Partner on Women for Democratic Leadership
• Turkey's Rising Middle Class Drives Demand for Islamic Fashions
• Saudi Women Married To Foreigners Call for Welfare Organisation
• Eating Disorders amongst Female Adolescents in the UAE a Growing Concern
Compiled by New Age Islam News Bureau
URL: https://www.newageislam.com/islam,-women-and-feminism/new-age-islam-news-bureau/activists-claim-250-girls-are-detained-at-egypt-central-security-facility/d/13186
-----------
Activists Claim 250 Girls Are Detained At Egypt Central Security Facility
August 24, 2013
Social media activists have urged the Egyptian people to save around 250 women and girls who they claim are being detained in a central security facility in Al-Salaam town. The girls were arrested last Friday from the Al-Tawheed and Abu Bakr mosques in the Athaher district.
The leader of the Al-Karama Organization for human rights, Ahmed Mefreh, said that among the detainees are 16 girls.
The activists expect the girls to face military trials. But until now, only one lawyer has volunteered to defend them, so it is expected that the girls will face a military prosecutor without lawyers.
Among the detainees is a girl named Sondos who is only 14 years old. She is charged with possession of an automatic weapon. It is anticipated that the girls will face more unjust accusations. Meanwhile, activists are concerned that the girls could be suffering during their detention at the central security facility.
http://www.middleeastmonitor.com/news/africa/7032-activists-claim-250-girls-are-detained-at-central-security-facility#sthash.lvdLKaTo.dpuf
----------
Texas Pastor bans women from wearing hair weaves to church
Aug 24, 2013
Waco - While many churches tell people to come as they are, one Texas pastor has added an exception to the message — women, leave your hair weaves at home.
Hair weaves, also called hair called "extensions" — which come in different lengths, colors and textures — are "weaved" into a head of hair in order to lengthen or thicken it. It ultimately gives women more versatility in hair styling.
Once the domain of only the rich and famous, women can now have long hair for as little as $200 or as much as $650,
For Pastor A.J. Aamir of Resurrecting Faith in Waco, Texas, this poses a problem.
Aamir, 39, says his church is made up of a congregation of members that are dealing with financial hardships, but he notices they will go out and buy $300 weaves.
"I lead a church where our members are struggling financially. I mean really struggling," Aamir told America Preachers. "Yet, a 26-year-old mother in my church has a $300 weave on her head."
"No, I will not be quiet about this," he said.
Neither did social media. The reaction was swift and severe.
"Btwn a pastor banning weaves at a black church on women & a dean banning locks and cornrows on men at HBCU- black hair ain't safe no where," MichaelaAngela Davis tweeted.
"So Pastor.. if Women cant wear weaves, why do the deacons get to wear toupees?" Brandale Randolph tweeted.
As a child being raised in the Islamic faith, Aamir was raised in a strict household.
"Women wearing weaves presents a false image of themselves and are associated with women who have low self-esteem," Aamir told America Preachers.
Although the pastor did tell members of his leadership staff to leave their weaves at home, he also acknowledged that he cannot legally prohibit women from wearing hair extensions in church, American Preachers said. Still, he said he will never approve of them.
Is the pastor right? Leave your thoughts in the comments section below!
http://www.digitaljournal.com/article/356950#ixzz2crewLfL0
-----------
Remove burqa, UK court tells woman
PTI | Aug 24, 2013
LONDON: A British judge has insisted that a Burqa-clad woman must show her face in court to confirm her identity, saying the "principle of open justice" could not be subject to religion.
Judge Peter Murphy said he would not allow the 21-year-old defendant to stand trial in the veil, which only revealed her eyes, because a different person could go into the dock pretending to be her.
"It is necessary for this court to be satisfied that they can recognize the defendant. While I obviously respect the right to dress in any way she wishes, certainly while outside the court, the interests of justice are paramount," he said.
During a hearing at Blackfriars Crown Court on Thursday Murphy said he could not accept a plea from a person whose identity he was unable to ascertain. He stressed that "the principle of open justice" could not be subject to the religion of the defendant. "It would be easy for someone on a later occasion to appear and claim to be the defendant. The court would have no way to check on that," he said.
According to The Daily Telegraph, the Muslim woman from Hackney, whose identity cannot be revealed for legal reasons, says she cannot remove the veil in front of men because of her religion.
http://timesofindia.indiatimes.com/world/uk/Remove-burqa-UK-court-tells-woman/articleshow/22019411.cms
-----------
Women drivers dealt with firmly in Qatif: Official
August 24, 2013
AL-QATIF — Women found driving in Al-Qatif have been firmly dealt with and punitive action was initiated against three offenders at the beginning of the year, acting spokesman of the Eastern Province Traffic Department Maj. Gen. Mansour Al-Shakra has said.
One of the offenders was a Turkish national who held an international driving license, he said, adding that possession of such licenses does not allow women to drive in the Kingdom.
If a woman is caught driving, she will be fined for driving a vehicle without having a license. The person accompanying her will be fined SR900 as per Article (77) of Traffic Regulations which stipulates that the person who allows another to drive a vehicle without a license shall be fined, Maj. Gen. Al-Shakra was quoted by Al-Hayat newspaper.
The official said six cases were registered against women drivers during the last five years. All of them were caught on the outskirts of Al-Qatif while taking a ride for fun or near the beach.
The first of the three cases registered this year involved a 47-year-old woman who was accompanied by her father and brother. She even had them videotape her while driving and posted the video on YouTube. In the video, she stressed that she should be given the right to drive.
The second case involved a girl from Al-Nasirah neighborhood in the governorate. Her brother was riding with her when officers pulled her over. The third one involved a Turkish woman who was reported to the police after a citizen saw her driving. All women were taken to the police station where they signed an undertaking that they would not repeat the violation. Maj. Gen. Al-Shakra noted that many cases go unregistered or unnoticed by traffic officers because women drive cars in the evening when there isn't a lot of traffic.
Many women who return to the Kingdom after completing their studies abroad complain about the reckless manner men drive on Saudi streets.
Zahra Ali applied for a license in a European country where she completed her studies. Throughout the time she was there, she says she drove her car with ease because traffic was organized and all road users adhered to traffic rules. But things changed when she returned to the Kingdom.
"I feel unsafe driving here because no one follows traffic rules. It makes me worried when I'm riding with my driver. To make matters worse, it is difficult to find a driver these days and if you find one, he asks for a lot of money while not sticking to work times," she said.
Badriya Al-Abdullah also used to drive abroad. When she came back to the Kingdom, she convinced her husband to let her drive for a short distance. She says it was late in the evening and nobody noticed her. She never tried it again because she recruited a driver from abroad. "It's really strange that society accepts the fact that women can ride with stranger drivers but they can't rely on themselves and drive their own cars."
Muhammad Abdul Mohsin, a citizen, said society needs a little time to get used to seeing women drive their own cars. "It used to be weird to see a Saudi female doctor and nurse but people have become used to that now. Some Saudi families have even pushed and encouraged their daughters to become doctors."
http://www.saudigazette.com.sa/index.cfm?method=home.regcon&contentid=20130824178018
-----------
Syrian TV Presenter Surprised On Air by Own Daughter
August 24, 2013
The daughter of a Syrian television anchor suddenly showed up on camera while her mother was presenting the news to give her a mobile phone.
Presenter Lina Alloush, who works for the Morocco-based Medi 1 TV, reportedly didn't hear from her family in Aleppo for days. When she finally received the long-awaited phone call, her daughter couldn't resist but take the phone hastily to her mother.
A surprised Alloush paused for a second and continued presenting the news.
http://english.alarabiya.net/en/videos/2013/08/23/Daughter-surprises-news-anchor-on-air.html
-----------
Nigeria, Senegal Partner On Women for Democratic Leadership
BY ROMOKE W. AHMAD
August 24, 2013
Nigeria and Senegal are planning to provide women at grassroots level with leadership and advocacy skills that would enable them contribute meaningfully to the development of their countries.
To this end, a three-day capacity building workshop has been scheduled for November this year in Dakar, the Senegalese capital, to train women on strategies that would reposition them as leaders.
Also, they would evolve on participating effectively in the political and socio-economic development of their communities and the nation.
Coordinators of the programme, Princess Hetty Akaakar and Astrid Ruiz Thierry said that the theme of the 2013 workshop which is "women's leadership in democracy: engendering nation building at the grass root level" will bring together all female legislators at the state level, all female political appointees at the state level, elected/appointed local government council chairpersons and their deputies, female councillors, wives of local government chairmen, heads of women development units in states and local councils as well as women heads of Non-Governmental Organizations and NGOs in both countries.
http://allafrica.com/stories/201308220917.html
--------
Turkey's Rising Middle Class Drives Demand for Islamic Fashions
Aug 24, 2013
By: Riada Ašimovic Akyol for Al-Monitor Turkey Pulse Posted on August 23.
Two things one might notice shortly after landing in Istanbul are traffic congestion and countless billboards on the side of the road. Advertisement displays by companies from various industries is not unusual. Yet, when it comes to apparel, what is peculiar to Istanbul is the broad palette of fashion styles, and hence the market. Thus, a gigantic billboard with a model wearing a headscarf may be placed right next to a billboard promoting bikinis. Turkish society is very diverse, so accommodating different needs in all aspects — fashion included — is a sine qua non for advancing Turkish democracy.
Reviewing reports on Turkish fashion over the last few years reveals a changing pattern of developments in the industry. In 2010, titles such as "Turkey Merges Fashion Industry Into Business" were common; a year later, it was "Spotlight On ... Turkey's Apparel Industry"; then, "On the Way to a Fashion Industry"; and finally in 2013, "Fashion Industry in Turkey Gains International Acclaim." Yet, the most interesting addition to the Turkish fashion industry portrait is a news headline such as "Turkish Fashion Designers Make Muslim Style Chic." This signals a clear evolution, both in Turkish society and its fashion.
First, it should be noted that luxury fashion is very trendy in Turkey. Both international luxury houses and high street brands are well-established, either via department store concessions with "powerful Turkish partners" such as joint venture operators or via monobrand boutiques. Last decade's economic boom paved the way for certain brands to open new stores, while "glamorous multibrand formats" also showed interest in the market. Demand is high, as confirmed by the fact that "French luxury firms present in Turkey have seen their turnover grow by an average of 30% per year over the last five years." And while some talk about "Turkish unrest hurting luxury goods demand," others — such as Demet Mutlu, the founder of Trendyol.com who said, "However, the bigger picture suggests a much brighter scenario" — remain positive.
So, while Turkey's market place and demographics make it an "extremely attractive destination for international fashion brands," the future direction of local brands remains in question. (A similar situation in countries such as Brazil resulted in a "fashion identity crisis.") According to Hg2 magazine, Istanbul has also become "home to an emerging group of conceptual designers and minimalist boutiques." New examples of "up-and-coming designers," are described as eclectic fusion of the "city's reputation as an ancient and cosmopolitan marketplace."
Crucial for all this has been the rise of the "Islamic bourgeoisie," a new, wealthy and religiously conservative middle class. They demand branded goods, but also a different kind of design. The Turkish market is to satisfy the tastes of local conservative fashionistas with deep pockets.
Business on the side, the policy of official secularism throughout history took clothes to another dimension in this country. The Turkish government has traditionally banned women who wear headscarves from working in the public sector — teachers, lawyers and later also parliamentarians — and in 2006 included in this policy even women working in non-state institutions.
As anthropologist Jenny White points out in her book "Muslim Nationalism and the New Turks," "the headscarf is another metacategory of threat that divides Turks, this time along lines of piety and secularity, but also over what it means to be Turkish (and by implication a Turkish Muslim and a Turkish woman)." The headscarf ban dates back to 1968, when a college student refused to remove her headscarf, while there was no official ban. The ban was legally imposed in 1989 and lifted partly in 2010.
Today, various forms of covering in Turkey, as White explains, hold a particular political message. For example, "tesettur" is a "long coat or tunic matched with a silk or polyester scarf tightly wound around the head and the neck, covering the hair entirely." Yet, whereas many use words such as "basortusu" for headscarf, secularists refer to it as a "turban." Then, there is "esarp," a kerchief loosely tied beneath the chin that reveals some hair, which according to White suggests, "Being culturally, but not politically Muslim." With time, the logic of the headscarf as a threat has been perpetuated by "the ones who are in favor of the ban (who) argue that political Islamists deliberately turned the traditional covering style of women in rural Turkey into a "turban."
Though the numbers of covered women have decreased, their public visibility in Turkey has increased. Consequently, numerous Turkish magazines for conservative Muslim women can today be found next to publications such as Vogue, and "tesettur brands" do really well. According to Zaman, whereas previously nonexistent, now numerous companies are competing for the conservative market. One of the best known is Armine, with apparel and accessories sold in 400 stores around the world, and a gross profit of $56 million in 2012. Its founder's aspiration is to become the "conservative Hermes," as further stated in Bloomberg Businessweek.
Moreover, a rising number of fashionable conservative characters in soap operas such as Sukran, played by Sinem Ozturk in the famous TV show Huzur Sokagi, contributed to the great popularization of a new kind of style among covered girls and women. Esra Sezis, who worked on the show, claims to be the first "tesettur-style consultant" in Turkey, after previously having worked as editor for Ala magazine — currently the most-circulated women's publication in Turkey.
One of her close friends is Gonul Kolat Susam, a fashionista-designer icon among headscarved ladies, with 190,000 followers (and counting) on her Facebook page. As a particular style of clothing is globally "being put into trending fashion focus by designers, bloggers and stylists who go by a range of names: hijabistas, hijabis, turbanistas," Turkey seems to have created its local share of the same.
It should be noted that so-called Islamic fashion is not unique to Turkey, but has become a global trend. Appearance of hijab fashion bloggers draws a different kind of attention to the headscarf — beyond religious stereotypes. Thanks to "fashion-forward glamjabis" — even in very secular France — business ideas are abound since now "at least for tens of thousands of young Muslim women hijab couture is a way of life." From Dubai and Jakarta to Istanbul and other cities estimates suggest the global Muslim fashion industry to be worth $96 billion, according to the French fashion university Esmod in Dubai, in the United Arab Emirates alone.
Even in Iran, "Islamic cover or hijab now comes in a profusion of bright shades and provocative styles," writes Barbara Slavin for Al-Monitor. She attributes this "to a somewhat lighter atmosphere in Tehran." And when the April 2013 issue of French Glamour magazine published an article asking readers whether the headscarf is glamorous and "a new fashion statement," the company whose headscarves were featured was overjoyed.
Back in Turkey, ambivalent reactions abound. Yet, the prejudice that Muslim women cannot give importance to chic clothing — while remaining moderate — as criticized by esteemed conservative writer Emine Senlikoglu, is withering away. And while the government's strategy for the clothing and textile industry suggesting annual exports to reach $100 billion by 2023 is commendable, it has a great responsibility — and opportunity — to not let out of sight nourishing also what I see as the "fashion of respecting others."
In other words, women wearing shorts or headscarves should be allowed to practice their individual beliefs through their personal clothing style — within the scope of both freedom of dress and freedom of religion. And the future direction of Turkish fashion should be one of celebration of multiformity. The beauty of democracy as a political system lies in its allowance for respectful existence of different identities. And what I call "moda a la turca" — as a positive formula — should further flourish in a global environment as the ambassador of society's richness.
Riada Ašimovic Akyol is an independent analyst and writer. Her articles have been published by Al Jazeera Center for Studies and Turkish daily Today's Zaman. She is doing her doctorate in International Relations at the Galatasaray University in Istanbul. On Twitter: @riadaaa
http://www.al-monitor.com/pulse/originals/2013/08/islamic-fashion-in-diverse-turkey.html#ixzz2crXQbgI5
-----------
Saudi Women Married To Foreigners Call for Welfare Organization
August 24, 2013
RIYADH — A number of Saudi women married to foreign men have called for a welfare society under the government's sponsorship to look after them and their families.
Talking to Al-Watan newspaper, they said they wanted a society similar to the Charitable Society for the Care of Saudi Families Abroad (Awaser).
The women said they suffered a lot because the government decisions aimed at easing the issuance of residency to their children and husbands were not executed.
"Our children are not covered by Custodian of the Two Holy Mosques King Abdullah's scholarship program to study abroad. Many of our sons and daughters are jobless," one of them said.
The women said they were facing issues with a number of government departments including the Passport Department, which they said takes a long time to correct the status of their children and issue them with regular iqamas.
They asked Awaser to take care of them but an official of the society said they were not concerned with the children of Saudi women and foreign men living in the Kingdom.
"We only take care of Saudi families stranded abroad," he said.
Awaser takes care of more than 3,500 Saudi families living in about 30 countries.
http://www.saudigazette.com.sa/index.cfm?method=home.regcon&contentid=20130824177960
-----------
Eating Disorders Amongst Female Adolescents in the UAE a Growing Concern
August 24, 2013
In a country where obesity and diabetes is a major issue it is quite easy to overlook a dangerous threat to a percentage of the adolescent population. The issue of eating disorders is one of the highly anticipated topics at the Family Medicine Conference at this year's Abu Dhabi Medical Congress & Exhibition which will be held from 27-29 October 2013 at the Abu Dhabi National Exhibition Centre (ADNEC).
Dr Osman El-Labban, a Family Medicine consultant at Al Zahra Hospital, Dubai, UAE, will be speaking about 'Adolescent Eating Disorders' at the conference. His focus will be on how a family doctor in the UAE should provide primary prevention through health education, an early diagnosis of eating disorders, and monitoring of medical complications.
According to Dr El-Labban, "A study conducted at Zayed University revealed that almost a quarter of the 228 female students who took part in the survey suffered from abnormal eating attitudes and are at risk of developing eating disorders. The researchers asked students to rate their figures against nine silhouettes, and to indicate the shape they aspired to be. Almost 75% were unhappy with their bodies and more than 80% picked thin figures as their ideal body image."
"The UAE has many cultural changes associated with the emergence of Western eating disorders. There is a lack of public awareness about the seriousness of the condition with an increase in the pressure to have the 'ideal body shape' by the media and the social changes in our community. Adolescents accept, as their reality, that fashion models are the true representation of beauty. Nowadays, working parents rarely sit with their kids to eat together as the children return home from school at different times," Dr El-Labban highlighted.
Parents can identify eating disorders in their children by observing certain habits such as restriction in food intake, excessive exercise, recurrent vomiting or abusing laxatives and other medications. The consequences and complications of the aforementioned behaviours may be serious and life threatening.
Parents of adolescents should focus on the following to be able to better identify if their child is experiencing eating disorders and may require urgent help; a constant focus on dieting, food and exercise; if the child is feeling stressed because they are unable to exercise; if they weigh themselves frequently; insisting on consuming different meals from rest of the family; and, skipping meals.
The adolescents suffering from eating disorders may also try reducing meal portion sizes or leaving food behind, having frequent visits to the bathroom after meals, and increasing social withdrawal.The prevalence of eating disorders amongst teens includes 4% of adolescents with a peak age of onset of eating disorders between 14-18 years. It is more common in girls than boys with the ratio of 6 females to one male
"A survey was conducted last year on 900 girls by Al Ain University and it showed that 1.8% of 13 to 19-year-old girls were anorexic; while in comparison the rate is 1% for British girls between 16 and 18 years old. It is evident that adolescents with eating disorders are sleepy in class or struggle to focus. A counsellor in one of the women's colleges in the UAE reports that "the students don't come for help; we usually only notice them if they faint in college or are having trouble concentrating in class or by their physical appearances," continued Dr El-Labban.
Organised by Informa Life Sciences Exhibitions, the Abu Dhabi Medical Congress & Exhibition is the region's key healthcare event, bringing together leading international healthcare companies to showcase their latest products and services within the emergency, primary healthcare, patient safety, nursing and rehabilitation sectors, as well as being a platform for scientific exchange via the accompanying multi-track conference programme dedicated to these healthcare sectors. The event has expanded to 10,000sqm, with more than 150 exhibitors from 25 countries, 11CME-accredited conferences, and an estimated 6,000 attendees.
Contact Information:
Weaam El Ataya
+9714 408 2813
Contact via Email
http://www.healthcareglobal.com/press_releases/eating-disorders-amongst-female-adolescents-in-the-uae-a-growing-concern
----------
URL: https://www.newageislam.com/islam,-women-and-feminism/new-age-islam-news-bureau/activists-claim-250-girls-are-detained-at-egypt-central-security-facility/d/13186