New Age Islam News Bureau
11 March 2019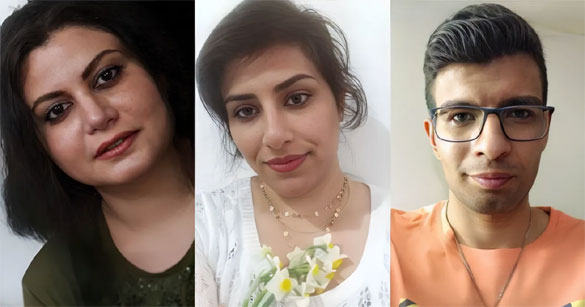 Two unveiled Iranian women mark International Women's Day on Tehran's Valiasr Street, March 8, 2019, holding a red sign that says the occasion brings hope for a just world for all humanity.
-----
• Bangladesh Court to Decide On Freedom to Wear Burqas In Schools
• Trial of Prominent Saudi Woman Activist, Loujain Al-Hathloul, To Start This Week
• Erdogan Accuses Women's March of Disrespecting Islam
• In Muslim Malaysia, Uproar over LGBT Groups at Women's Day March
• Like Mother, Like Daughters: Saudi Family Share A Passion For Music
• Fox News Rebukes Its Star Host After She Questioned Ilhan Omar's Hijab
• One-Third Of Govt Jobs Set Aside For Women: Saudi Arabia's Human Rights Commission
• Here's How Afghan Women Are Trying To Empower Others in Society
Compiled by New Age Islam News Bureau
URL: https://www.newageislam.com/islam-women-feminism/activists-appear-unveiled-tehran-women/d/117991
--------
Activists Appear Unveiled in Tehran on Women's Day
March 08, 2019
Small groups of Iranian women celebrated International Women's Day by appearing publicly unveiled in Tehran and calling on Iranians to support their defiance of mandatory veiling in the Islamist nation.
VOA Persian received and verified a video clip showing two unveiled women marking Friday's occasion by holding a red sign and speaking to a camera on Valiasr Street, one of the Iranian capital's main thoroughfares. Their sign said International Women's Day is a promise of a just world for all humanity.
In the video, the women call for an end to what they see as systematic injustice against women in Iran. "Separation of the sexes doesn't bring security to women, it brings violence," says one of the activists. "The scale of freedom in society should be measured by the freedom of women," says the other.
In another video clip sent to Masih Alinejad, the freelance host of VOA Persian's Tablet program, and shared by her on social media, several unveiled women hand out flowers to conservatively dressed women wearing black chadors in a women's-only Tehran Metro train car.
One of the unveiled activists says the date is March 8 and praises Iranian women as strong and resilient, before wishing them a happy International Women's Day.
Another unveiled activist and a seated woman in a chador exchange kisses on the cheeks, with the activist saying she hopes that one day, women who want to wear a hijab and those who do not will come together and not judge each other. Several other women in chadors appear uncomfortable with the Metro encounter, which the activists recorded on a phone.
In another development, Alinejad reported that two Iranian women who shared with her a video of themselves walking unveiled on a street in the western city of Kangavar last week have been arrested.
Alinejad told VOA Persian that a relative of one of the two women sent her a message confirming that the pair were detained after their unveiled walk on Feb. 27.
In the video, a narrator who identifies himself as the husband of one of the two women says they are filming the walk as part of a "White Wednesdays" campaign, backed by Alinejad, in which women in Iran appear unveiled in public.
The Telegram channel of a Kangavar news site posted a March 3 message from a group of conservative women in the city, condemning what they called the ugly act of the unveiled walk and calling on authorities to deal with the perpetrators.
There has been no word on the fate of the two women in Kangavar in Iranian state media.
https://www.voanews.com/a/activists-appear-unveiled-in-tehran-on-women-s-day-/4821178.html
--------
Bangladesh Court to Decide On Freedom to Wear Burqas In Schools
March 10th, 2019
The writ was filed in response to students being harassed over wearing Burqas to classroom, petitioners say
The High Court will dispose of a rule on ensuring female students' right to wear burka in schools on March 14.
The bench of Justice Moinul Islam Chowdhury and Justice Md Ashraful Kamal will hear arguments from the state's attorneys on that day and rule on the writ petition.
Petitioner's lawyer, Sheikh Omar Sharif, presented his case in front of the bench on Sunday.
Omar and Advocate Md Ahsan filed the writ on January 17 on behalf of Daily Al Ehsan and Al Bayinat magazine Editor Allama Md Mahbub Alam, and Allama Abur Khayer Md Azizullah, the khatib of Taj Jama Mosque in Dhaka.
The lawyer says the writ is a response to incidents of harassment of schoolgirls who wore Burqas to class. It seeks an order on effective measures to ensure the right of female students to wear Burqas in the classroom. It has also sought a rule as to why action will not be taken against schools and headmasters who prevented students from wearing Burqas. The education secretary, home secretary and director general of Directorate of Secondary and Higher Secondary Education were made respondents to the writ.
"Students have been harassed over wearing the burkha. We previously sent a legal notice to the education secretary, home secretary and director general of Directorate of Secondary and Higher Secondary Education to take necessary measures against this," Omar told Bangla Tribune.
"As there was no response to the notice, we filed a writ with the High Court," he said.
The writ says the petitioners are aggrieved by the harassment of female students over wearing burkha.
It claimed that a teacher of Chittagong city's Maijpara Mahmudunnabi Chowdhury High School scolded a student and threw her out of the class for wearing burkha.
The next day the headmaster insulted the girl's mother when she went to lodge an appeal, it said.
The writ claimed that all Muslims are obligated to wear religious attire, and as such anyone has the right to wear their religious clothing over their uniforms.
Aritcle 41 of the constitution guarantees the right of all citizens to accept and observe any religion, and therefore preventing students from wearing the burkha infringes on their constitutional right, the writ said.
Burkha bans around the world
There are 12 countries in the world that have instituted a regional or national ban on the wearing of Burqas by women, including eight European nations.
France is the leading proponent of this ban. The country banned the display of any religious symbol in public schools in 2004. In 2010 it introduced a law that banned the covering of face in public places, touting security concerns.
Four African nations banned the burkha after terrorists used them to carry out suicide bombing attacks.
The only Muslim majority country to have such a ban in place is Turkey, which prohibits wearing the veil for women working in public institutions.
https://www.dhakatribune.com/bangladesh/court/2019/03/10/bangladesh-court-to-decide-on-freedom-to-wear-burkas-in-school
--------
Trial of Prominent Saudi Woman Activist, Loujain Al-Hathloul, To Start This Week
MAR 11, 2019
The trial of Loujain al-Hathloul, one of nearly a dozen prominent Saudi Arabian women's rights activists jailed since last year, will begin on Wednesday, her family has said.
Dozens of other activists, intellectuals and clerics have been arrested separately in the past two years in an apparent bid to stamp out opposition to Crown Prince Mohammed bin Salman, who has consolidated power, including through a sweeping anti-corruption campaign.
"My sister @LoujainHathloul will be having her first trial session next Wednesday at 8am at the specialised court in Riyadh. This is the court [that] deals with terrorism cases," her brother Walid wrote on Sunday on Twitter.
He said she was not allowed to have a lawyer and had not been provided with a list of indictments.
The public prosecutor said last June that five men and four women had been arrested and held on suspicion of harming the country's interests and offering support to hostile elements abroad. Saudi media widely denounced them as traitors.
It was unclear if the other detainees will also stand trial this week.
Electric shocks, flogging
Activists claim some detainees, including 29-year-old Hathloul, were held in solitary confinement and subjected to mistreatment and torture, including electric shocks, flogging, and sexual assault. Saudi officials have denied those allegations as "false". The arrests have intensified international criticism of Saudi Arabia after the murder of journalist Jamal Khashoggi last October in the Saudi consulate in Istanbul sparked global outrage.
Three dozen countries, including all 28 European Union members, called on Riyadh last week to release the activists, the first rebuke of the kingdom at the United Nations Human Rights Council (UNHRC) since it was set up in 2006.
US Secretary of State Mike Pompeo and his British counterpart have also said they raised the issue with the Saudi authorities during recent visits.
The Saudi government communications office did not immediately respond to a request for comment, but the public prosecutor's office said earlier this month it had completed its investigations of the detainees and was preparing their trials.
Hathloul, who advocated an end to a ban on women driving and the kingdom's male guardianship system, was previously jailed for 73 days in 2014 after she attempted to drive into Saudi Arabia from the United Arab Emirates.
The driving ban was lifted in June, weeks after she was rearrested. The guardianship system, which requires women to obtain the consent of a male relative for major decisions, remains intact.
https://www.aljazeera.com/news/2019/03/trial-prominent-saudi-woman-activist-start-week-190311063636258.html
--------
Erdogan Accuses Women's March of Disrespecting Islam
MARCH 10, 2019
Several thousand women had gathered in central Istanbul on Friday evening for a march to celebrate International Women's Day but police fired tear gas to disperse them.
Turkish President Tayyip Erdogan on Sunday accused a women's march in central Istanbul on Friday of disrespecting Islam by booing the Islamic call to prayer.
Several thousand women had gathered in central Istanbul on Friday evening for a march to celebrate International Women's Day but police fired tear gas to disperse them.
In an election rally broadcast on television on Sunday, Mr. Erdogan showed a video taken during the protest, showing women chanting while a nearby mosque was reciting the call to prayer.
"They disrepected the Azan [call to prayer] by slogans, booing and whistling," Mr. Erdogan told the crowd.
Women who took part in the march said on Twitter the chanting and whistling was part of the demonstration and was not aimed at the call to prayer, which began during their protest.
Turkish police regularly prevent protests in central Istanbul and elsewhere. Ankara tightened restrictions after the imposition of emergency rule following an attempted coup in 2016. The state of emergency was lifted last July.
Mr. Erdogan's rally was ahead of local elections on March 31 for mayors and municipal boards.
https://www.thehindu.com/news/international/erdogan-accuses-womens-march-of-disrespecting-islam/article26488021.ece
--------
In Muslim Malaysia, Uproar over LGBT Groups at Women's Day March
MAR 10, 2019
KUALA LUMPUR (REUTERS) - A Malaysian minister has decried the presence of lesbian, gay, bisexual, and transgender (LGBT) groups at a march celebrating International Women's Day on Saturday (March 9), calling it "a misuse of democratic space".
The statement comes amid concerns over growing persecution of the LGBT community in the Muslim-majority country, where sodomy and other same-sex acts are outlawed.
Prime Minister Mahathir Mohamad said in September last year that Malaysia could not accept same-sex marriage or LGBT rights.
Mr Mujahid Yusof Rawa, the minister in charge of religious affairs, said the government did not recognise LGBT practices as lawful.
"I am very shocked with the actions of certain parties... that misused democratic space in order to defend things that are wrong from the point of view of Islam," he said in a statement posted on his Facebook account on Saturday night.
Other groups condemning the presence of LGBT activists at the march include Parti Se-Islam Malaysia (PAS), a conservative Islamic party, and the United Malay National Organisation (UMNO), which ruled Malaysia for six decades before being toppled by Tun Dr Mahathir's coalition last year.
Hundreds of people marched through the streets of Kuala Lumpur on Saturday calling for greater women's rights, media reported.
The rally's organisers, led by women's rights groups, said the focus on the LGBT community was a distraction from key demands, such as calls for a dignified minimum wage, a ban on child marriage, and an end to patriarchy and violence based on gender and sexual orientation.
"Disproportionate attention was made to single out and target the presence of LGBT participants," the march's organising committee said in a statement Sunday.
"This borders on incitement to hatred and violence towards a section of Malaysian society who are already at risk and facing multiple forms of discrimination."
The attack on the LGBT community is the latest in a series of incidents in the past few months that civil rights groups say illustrate growing hostility against gay and transgender people in Malaysia.
Mr Mujahid had previously come under fire for ordering the removal of portraits of two LGBT activists from an art exhibition.
Last September, two lesbians were caned for "attempting lesbian sex" in Terengganu, a conservative state in Malaysia's east. Dr Mahathir later denounced the punishment, saying it "did not reflect the justice or compassion of Islam".
Malaysia describes oral and anal sex as against the order of nature. Civil law stipulates jail for up to 20 years, caning and fines for offenders, although enforcement of the law is rare.
Muslims are also governed by state-level Islamic laws, most of which carry provisions outlawing cross-dressing and same-sex acts.
https://www.straitstimes.com/asia/se-asia/in-muslim-malaysia-uproar-over-lgbt-groups-at-womens-day-march
--------
Like Mother, Like Daughters: Saudi Family Share A Passion For Music
March 10, 2019
JEDDAH: Nada and Carine Hamzah grew up in a family that appreciates music and beauty. Their parents exposed them to music at a young age and were keen to provide them with music education from professionals.
Their mother, Dania Gazzaz, an art instructor, told Arab News: "All my family members played some music instrument somehow; we've always been around music somewhere."
Music is essential because it helps children "develop all areas of the brain, and also expresses mood and the personality of the individual," she said.
"I remember when I was younger that if I was upset, I used to release those emotions through the piano," she added.
Gazzaz believes that learning music and playing musical instruments enhance children's cognitive and academic skills.
"Music made my three children mindful, alert and focused on what they put their minds to. Music is a plus for kids."
Studies have shown that music can significantly improve a child's pattern recognition and mental representation scores, which means that children with musical backgrounds excel in school.
Nada, 25, enjoys playing Arabic music on the piano "because I really like the tunes."
"My family, in general, enjoyed music. My dad really enjoyed it, and my mom played the piano well," she said.
Nada did her undergraduate studies in neuroscience in the US and is a co-host of Direction Podcast. She views music as a hobby that she enjoys with friends and family.
"I think it is important to learn music — it requires another level of concentration and it works on the different parts of your brain."
Nada's musical journey began at Jeddah private school. "I used to enjoy singing along with the teacher, who used to play the piano, and then I began learning the piano," she said.
Her journey has had some ups and downs. "I used to take classes, but I stopped many times, and I had a few issues with instructors," she said.
"It was frustrating because I had to learn the basics all over again, and that made me not take the tests. I do take classes from time to time."
Carine, 15, is a high school student who plays piano and guitar, takes theory lessons, and is a talented singer, too. She has been performing in plays at her school for the past three years and has also performed at public events.
"When it comes to singing, I enjoy musical theater and modern pop songs," she said. "I like the classical and romantic periods the most, and I appreciate 20th century composers much more now because before I didn't really understand them."
Carine's parents are eager to develop her talent and provide her with the best musical education.
She joined the renowned Juilliard School summer camp in Switzerland last year, and has been invited to join the school again because of her impressive performance.
However, her parents struggle to find professional music tutors for their daughters in the Kingdom. "One of the obstacles we have is it is always difficult to find teachers in the first place. When we find them, they are usually teachers from abroad. It is so hard to find local professional or Middle Eastern teachers," Gazzaz said.
She said the family had tried for years to find professional tutors to teach their daughters Arabic music and singing. "For the past two years, we have been searching for teachers to teach her professional Arabic singing, and couldn't find anybody. Now we have found two teachers — one in Lebanon and the other in Egypt.
"Imagine, to learn professional Arabic singing, we have to go next vacation to Egypt in April for two weeks," she said.
With the new changes in Saudi Arabia, the family hope to see more professional music education institutions opening "where we can learn our old songs and authentic language."
"We need to learn music in a proper and educational manner, rather than the current randomness. We have seen super-talented people, but they do not have the teacher's attitude. I've also seen so many talented girls who are trying to learn musical instruments and finding it hard to get professional teachers."
Nada said: "Because music wasn't regulated in any sense, often you would find yourself mixing with an unregulated crowd that could be dangerous. One thing that I'm hopeful for is that now that music is regulated, you feel kind of safe for getting involved."
Gazzaz believes music can be an agent for positive change if it is properly appreciated because "it brings charm and happiness to people."
The government is aiming to encourage young talent in the Saudi entertainment industry as part of the Vision 2030 program.
http://www.arabnews.com/node/1464716/saudi-arabia
--------
Fox News Rebukes Its Star Host After She Questioned Ilhan Omar's Hijab
Mar 11, 2019
In a rare rebuke of one of its star hosts, Fox News condemned Jeanine Pirro late Sunday for questioning whether Congresswoman Ilhan Omar's Islamic religious beliefs stand in opposition to the US Constitution.
"We strongly condemn Jeanine Pirro's comments about Rep. Ilhan Omar," Fox News said in a statement. "They do not reflect those of the network and we have addressed the matter with her directly."
Controversial statements about Israel by Omar, a freshman Democratic lawmaker, have landed her in hot water with members of both parties.
Pirro suggested on her Saturday show that Omar's beliefs about Israel stem from her religion. Omar is Somali-American and a practicing Muslim who wears a religious head-covering called a hijab.
"Think about it: Omar wears a hijab," Pirro said on her "Justice" show on Fox News. "Is her adherence to this Islamic doctrine indicative of her adherence to Sharia law, which in itself is antithetical to the United States Constitution?"
Pirro was denounced by figures on both the left and the right on Sunday.
Bret Stephens, a conservative columnist for The New York Times, said Pirro "is a disgrace." He said "every healthy democracy needs a healthy conservative movement," but "Fox News has become the chief driver in making that movement intemperate, idiotic, and illiberal."
A Fox News staffer pushed back on Pirro's statements. Hufsa Kamal, a producer on Fox's "Special Report with Bret Baier," tweeted: "@JudgeJeanine can you stop spreading this false narrative that somehow Muslims hate America or women who wear a hijab aren't American enough? You have Muslims working at the same network you do, including myself."
In her own statement on Sunday night, Pirro didn't apologize, saying the intention of her comments "was to ask a question and start a debate."
"Of course because one is Muslim does not mean you don't support the Constitution," she said. "I invite Rep. Omar to come on my show any time to discuss all of the important issues facing America today."
Omar is a longtime critic of Israel's Palestinian policies and a proponent of the Boycott-Divestment-Sanctions movement in the United States to condemn Israel's government policies.
Those stances are not anti-Semitic. But Omar has made several statements about Israel over the past few months that echo common anti-Semitic expressions about dual allegiances, Jewish money and power.
For example, she questioned why it is acceptable for supporters of Israel "to push for allegiance to a foreign country." In response to journalist Glenn Greenwald's tweet about politicians' support of Israel, Omar replied, "It's all about the Benjamins baby." And in response to a question about who she believes pays American politicians to be pro-Israel, Omar responded "AIPAC!" refering to the pro-Israel lobby group.
After Omar's latest controversial statement about Israel supporters, the House of Representatives on Thursday passed a resolution broadly condemning hate and intolerance, including anti-Semitism and anti-Muslim discrimination.
"We are tremendously proud to be part of a body that has put forth a condemnation of all forms of bigotry including anti-Semitism, racism, and white supremacy," said Omar in a joint statement with fellow Democratic Congressmen Rashida Tlaib and Andre Carson -- all three of the Muslim members of the US Congress.
"At a time when extremism is on the rise, we must explicitly denounce religious intolerance of all kinds and acknowledge the pain felt by all communities," they said. "Our nation is having a difficult conversation and we believe this is great progress."
Pirro's question about Omar's allegiances are similar to Omar's questions about Israel supporters' allegiances: As Omar asked why it is acceptable for Americans to be pro-Israel, Pirro questioned how a Muslim could follow Islamic religious law and American constitutional law at the same time.
Sharia law refers to a set of principles that govern the moral and religious lives of Muslims. Muslims' adherence to Sharia varies in the United States and around the world. As with all major religions, scholars have interpreted the Quran and other religious texts in myriad ways, and Muslims from different sects, regions and countries practice differently and with varying degrees of observance.
Religious garb, including hijabs, habits, yarmulkes and other adornments, are protected speech in the United States. Pirro's comments echo a common anti-Islamic belief that Muslims have allegiances to Sharia law over American law.
https://www.koamnewsnow.com/news/politics/national-politics/fox-news-jeanine-pirro-questions-ilhan-omars-hijab/1055887608
--------
One-Third Of Govt Jobs Set Aside For Women: Saudi Arabia's Human Rights Commission
2019-03-10
JEDDAH — Saudi Arabia's Human Rights Commission (HRC) has said that one third of all government jobs in the country are set aside for Saudi women.
The Justice Ministry and the Public Prosecution alone employed 4,495 women, Al-Madina Arabic newspaper said quoting an HRC report.
The report said all the government ministries and departments were making efforts to empower women, consolidate their rights and ensure their participation in the development process.
It said as many as 220 Saudi women have joined the Ministry of Justice since it opened the door for them last year.
The commission said women worked as social, Shariah and legal researchers, administrative assistants and computer program developers.
It said 418 Saudi women lawyers have obtained licenses to practice, adding that the number of licenses issued to women lawyers rose by 240 percent.
The commission said as many as 3,140 women lawyers were currently under training to obtain accreditation.
As many as 200 Saudi women work as lawyers in the Public Prosecution and about 300 work as administrators while 150 others are under training in various departments, it added.
The commission said, within efforts to empower women, a number of colleges and departments were opened for them at various universities offering programs in media studies, politics, engineering, law, among others.
It said the Ministry of Education has launched a number of initiatives to eradicate illiteracy among women in addition to introducing sports and cultural activities in schools and universities.
The commission said a large number of Saudi women were currently doing higher studies in international universities under the Scholarship Program of the Custodian of the Two Holy Mosques.
Justice Min, Prosecution employ 4,495 females
Various ministries and government departments are making efforts to empower women, consolidate their rights and ensure their participation in the development process.
http://saudigazette.com.sa/article/560890/SAUDI-ARABIA/One-third-of-govt-jobs-set-aside-for-women-HRC
--------
Here's How Afghan Women Are Trying To Empower Others in Society
Mar 11, 2019
Mariam Wardak
On February 20, WION held its first ever Global Summit, "Unleashing the Power of South Asia" in Dubai, UAE. At the event, influencers from Sri Lanka, Bangladesh, Afghanistan, Maldives, UAE, USA and India, came together to provide suggestions to improve regional relations. As a guest speaker, I was fortunate to speak about 'Women in South Asia: Are we caught between Tradition and Modernity?' Afghanistan plays a significant role in the success or failure of women in South Asia, so I focused on Afghan women.
I began my speech with a historical story that has resonated with me since childhood: The July 1879 Second Afghan Anglo War. British forces of the 66th regiment, equipped with modern machinery, encountered Afghan troops under the command of Ghazi Ayub Khan at Maiwand region of Qandahar province. As the fighting intensified, the Afghans were at the bottom of Maiwand mountain holding on to their swords, as the British came down the mountain on high morale assured by their modern weaponry advantage. As the British advanced to the Afghan position, several Afghan fighters were killed and many others were injured. At that moment, Commander Ayub Khan didn't know what course of action to take. Amongst the ranks of the Afghans were many women - to help the wounded. Malalai, a daughter of a shepherd from a local tribe, watched as her father and her fiancé battled on. As the situation dramatically worsened when the Afghan flag bearer was killed, Malalai appeared on the battlefield, removing her veil, shouting "Young love, if you do not fall in the battle of Maiwand, someone is saving you as a symbol of shame." This battle cry gave the Afghan warriors new resolve and their efforts redoubled. Her leadership drove the Afghans to victory.
Malalai of Maiwand is a legendary icon of bravery. There are many Malalai amongst us in the modern era, ready to be recognised. In my speech, I highlighted important Afghan women in countering violent extremism and tech, noting that women are in a constant process of modernisation. Afghan women have become change agents in Afghanistan, modernising what it means to be an Afghan woman while maintaining Afghan traditions. We believe that educating and strengthening a female translates to building the family unit. That is why, in honour of Women's month, I wanted to shed light on a few influential Afghan women who deserve recognition.
These four Afghan female figures have influenced not only Afghan women but women all over the world. Mariam Atash is a member of the International Association of Women; US-Afghan Women's Council; American Women for International Understanding; Virginia and California State Bar Association, entrepreneur, mother and a mentor. She is passionate and outspoken about women's empowerment. From writing to advocating on major news stations, radio stations and speaking events, she wants to help identify paths to better the lives of women and ultimately improve society as a whole.
The second is a television artist, Munaza Shaheed. Munaza is becoming a household name in South Asia with her strong and confident Pashto literacy skills. Munaza's most indelible contribution to broadcasting has to be her interviews that bring attention to the new issues and people, particularly stories of women.
Sana Safi is an Afghan broadcast journalist, currently working for the BBC World Service. Sana's impact as a presenter for BBC Pashto's TV show made local, regional and international news. Aside from her journalistic skills, she is known for her fictional writing, mainly short stories. Sana provides phenomenal commentary on her Twitter platform, where she constantly encourages, highlights and motivates women from all communities, races and ethnicities. Sana is a global role model.
After the Soviet invasion, the strong stories of Afghan women were rarely told as the focus turned to war. The rise of the Afghan Mujahideen, a term for one engaged in Jihad (literally, 'struggle'), was coined by their spokeswoman, Fatima Gailani, a living embodiment of empowerment. Fatima Gailani obtained her BA and MA degree in Persian Literature and Sufism and another MA in Islamic Studies. Intelligent and articulate, the Afghan aristocrat played a vital role in drawing the world's attention to the events taking place in her country. She attended the Bonne Conference on Afghanistan. After her return to Afghanistan, she was chosen as a delegate to the Emergency Loya Jirga – Grand Council and appointed as a constitution drafting and ratifying commissioner. Following her decorated political career, she joined the Afghan Red Crescent to follow her passion, making a difference in the lives of the most vulnerable in her country and around the world. Today, Fatima Gailani is the head of the Gulf Cooperation Council Cluster on behalf of the International Federation of the Red Cross Red Crescent and is a leading Afghan humanitarian.
I find the below passage a fitting choice for the circumstances of Afghan women today:
Tho' much is taken, much abides; and though
We are not now that strength which in old days
Moved earth and heaven; that which we are, we are;
One equal temper of heroic hearts,
Made weak by time and fate, but strong in will
To strive, to seek, to find, and not to yield.
This passage demonstrates the past holds no bearing on the future. The women of Afghanistan are strong in will and determination, and shall push past historic barriers to redefine what it means to be an Afghan woman. These four women are strong examples of female empowerment, as they seek to improve and strengthen women in every society.
http://www.wionews.com/opinions/heres-how-afghan-women-are-trying-to-empower-others-in-society-202525
--------
URL: https://www.newageislam.com/islam-women-feminism/activists-appear-unveiled-tehran-women/d/117991
New Age Islam, Islam Online, Islamic Website, African Muslim News, Arab World News, South Asia News, Indian Muslim News, World Muslim News, Women in Islam, Islamic Feminism, Arab Women, Women In Arab, Islamophobia in America, Muslim Women in West, Islam Women and Feminism