New Age Islam News Bureau
9 Jul 2019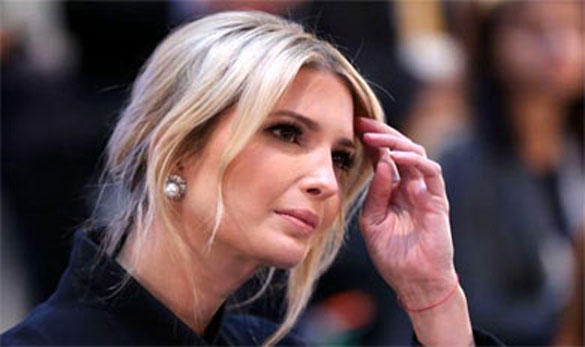 Ivanka Trump, President Donald Trump's elder daughter and senior adviser
-----
• Ivanka Trump Hails Participation of Afghan Women In Intra-Afghan Dialogue In Qatar
• Princess Reema Bint Bandar Meets President Trump, Presents Credentials As Saudi Envoy To US
• Coalition for Women in Journalism Urges Pakistan Government To Ensure Safety Of Journalist Asma Shirazi
• The Activists Leading Efforts for Women's Rights at Afghan Talks
• Human Rights Group Asks Nicki Minaj to Cancel Performance in Saudi Arabia
Compiled by New Age Islam News Bureau
URL: https://www.newageislam.com/islam-women-feminism/acehs-polygamy-bill-draws-strong/d/119131
--------
Aceh's Polygamy Bill Draws Strong Criticisms
by Mathias Hariyadi
07/08/2019
Jakarta (AsiaNews) – Women's rights groups and activists have come out against a bill recognising polygamy in Aceh, a province with special status on the island Sumatra that enforces sharia.
The Aceh Provincial Legislative Assembly (Dewan Perwakilan Rakyat Aceh or DPRA) is vetting the draft legislation (Rancangan Quanun or Raqan).
Although the Indonesian government does not recognise the 'nikah siri', unregistered religious marriage, the practice is widespread above all among the richer classes: businessmen, politicians and prominent personalities often resort to the practice, to silence criticism and gossip over their extramarital affairs.
Since the nikah siri is not contrary to the teachings of Islam in family matters, Aceh provincial authorities want to give it a legal framework, specifying basic requirements, such as the maximum number of wives (4) and conditions under which a Muslim man can marry more than one woman, such as a wife's infertility. The husband must also be able to guarantee the same living standards to his new wife and children and obtain permission from the Sharia Council, in addition to that of his first wife.
In Indonesia, Muslims follow a religious current called Islam Nusantara (Archipelago Islam), which is very different from that of the Middle East. It incorporates local cultural traditions and practices, and tends to be more moderate and tolerant. For this reason, the draft law in Aceh and polygamy itself have drawn harsh criticism throughout the country.
Musannif, head of the 8th Commission of the Aceh Provincial Legislative Assembly, responded to critics, saying that "The move is aimed at protecting women and children, in the event that the nikah siri ends in divorce".
Muazzinah Yacob teaches at the Islamic State University of Ar-Raniry. She is also a women's rights activist. She slammed the bill and criticised the DPRA. "There is no need to deliberate on the issue, if at the base of all this there is only the need to let money into the coffers of the local government, exploiting women as 'object' of sexual desires.".
The bill has also been targeted by the National Commission on Violence Against Women (Komisi Nasional Anti Kekerasan terhadap Perempuan or Komnas Perempuan), an independent government body set up by presidential decree in 1998.
One of its members, Adriana Venny, thinks that the proposed Raqan is only an effort to "legalise" sexual desire.
"We are deeply and seriously worried by the issue," she said. "Polygamy is nothing more than a form of domestic violence: it should not be accepted and even less practiced. This practice is not recommended even in countries with an Islamic majority. Only the husband benefits from it, giving vent to his libido on more than one woman. I wonder if polyandry (marriage between one woman and several men) would be accepted in Indonesia?"
About 98% of Aceh's five million residents are Muslims. Sharia came into effect around 2005 following a peace agreement between Indonesia's central government and the Free Aceh Movement (GAM), a separatist group inspired by Islam.
Non-Muslims can usually choose whether or not to be punished under Islamic law and sometimes choose a painful flogging to avoid lengthy court proceedings and imprisonment.
http://www.asianews.it/news-en/Aceh%E2%80%99s-polygamy-bill-draws-strong-criticisms-47486.html
--------
Ivanka Trump Hails Participation of Afghan Women In Intra-Afghan Dialogue In Qatar
08 Jul 2019
Ivanka Trump, President Donald Trump's elder daughter and senior adviser, hailed the participation of Afghan women in Qatar conference.
She posted a statement on Twitter earlier this evening hailing the participation of the Afghan women in Doha intra-Afghan dialogue on peace.
Ivanka said "So important that Afghan women are at the negotiating table at the Intra Afghan Conference for Peace in Doha."
Furthermore, she said "When women meaningfully participate in peace negotiations, the likelihood that the resulting peace will endure more than 15 years increases by 35%."
The intra-Afghan dialogue on peace process kicked off in Qatari capital of Doha on Sunday.
Germany and Qatar co-hosted the conference in a bid to help the Afghan peace process.
The two countries organized the conference amid ongoing peace talks between U.S. and Taliban representatives in Doha.
https://www.khaama.com/ivanka-trump-hails-participation-of-afghan-women-in-intra-afghan-dialogue-in-qatar-03862/
--------
Princess Reema Bint Bandar Meets President Trump, Presents Credentials As Saudi Envoy To US
July 09, 2019
JEDDAH: Saudi Arabia's ambassador to the United States, Princess Reema bint Bandar, has met with President Donald Trump and presented her credentials as the Kingdom's top diplomat in Washington.
"HRH Ambassador @rbalsaud met with @POTUS Donald J. Trump at the White House today to present her credentials as the new Ambassador of the Kingdom of #SaudiArabia to the United States," the Saudi Embassy in Washington said early Tuesday.
"HRH stated that the Saudi-U.S. partnership is essential to the interests of both countries and expressed confidence that the two countries are capable of overcoming any challenges at the regional or global levels," the embassy said.
The new ambassador also announced her meeting with the US president in a tweet.
"Presented credentials today at the White House. Conveyed the well wishes of Kingdom's Leadership. Looking forward to working on strengthening and solidifying the historic Saudi - US partnership," she said.
Princess Reema assumed her new office on July 4, more than two months after she was appointed to the key post, replacing Prince Khaled bin Salman, who is now the Kingdom's deputy defense minister.
She was nominated to the post on February 23 and took her oath before King Salman in Riyadh in April, becoming Saudi Arabia's first female ambassador and the 11th Saudi diplomatic representative to Washington.
Princess Reema is no stranger to the workings of diplomats, having spent several years in the US during her youth when her father, Prince Bandar bin Sultan, was Saudi Arabia's ambassador to the country.
Before her diplomatic appointment, Princess Reema held various key positions in government as well as civic groups and private firms.
She held CEO positions for Al Hama LLC and Alfa International from 2005 and has launched her own handbag brand, Baraboux, in 2013. She also founded the private equity fund Reemiyah and co-founded Yibreen, a women's day spa.
She is one of the founding members of the Zahra Breast Cancer Association in Riyadh and is also a member of The World Bank's Advisory Council for the Women Entrepreneurs Finance Initiative.
She was also vice president of women's affairs at the General Sports Authority since 2016 before her appointment as ambassador.
http://www.arabnews.com/node/1522891/saudi-arabia
--------
Coalition for Women in Journalism Urges Pakistan Government To Ensure Safety Of Journalist Asma Shirazi
Jul 08, 2019
The Pakistan chapter of the Coalition For Women In Journalism (CFWIJ) on Monday urged the country's government to ensure the safety of senior woman journalist Asma Shirazi following two recent break-in attempts at her home.
In a statement carried out by website Medium.com, the CFWIJ has said that a police investigation into the two break-in attempts at Shirazi's Islamabad home suggests that they intended towards intimidating and silencing the senior journalist.
Furthermore, Shirazi has been the victim of cyber trolling in the past one year, especially after her 2018 interview with former Prime Minister of Pakistan Nawaz Sharif.
Since then, she has been a target of several "unprecedented online campaigns" that accuse her of biased journalism and corruption.
"With sincere hopefulness, we urge Pakistan's PM Imran Khan in the new Pakistan, to ensure safety to Asma Shirazi," the statement read.
"One important element of doing so would be for the government to find perpetrators behind threats online and offline and punish them for obstructing the public's right to free and fair journalism," the statement read.
The group has also asked the Pakistani government to find ways to "stop the online trolling that Asma and other journalists in the country have been facing.
These incidents are indicative of the risk journalists like Asma are facing in the country, and obstruct their ability to do fair and unbiased journalism.
"We urge the government to invest solid efforts to put a stop to impunity when women journalists get attacked this way.
We look forward to seeing visible efforts in this direction and will stay tuned for the results," the statement concluded.
https://www.wionews.com/south-asia/cfwij-urges-pakistan-government-to-ensure-safety-of-journalist-asma-shirazi-234039
--------
The Activists Leading Efforts for Women's Rights at Afghan Talks
by Shereena Qazi
Jul 9, 2019
Doha, Qatar - Jamila Afghani, a prominent women's rights activist, was getting ready to address a peace dialogue attended by Afghan leaders and Taliban representatives in Doha, when she got the news of an attack back home.
Taliban fighters had just detonated a car bomb close to the office of Afghanistan's main intelligence service in Ghazni, killing eight security personnel and six civilians, including a child. The powerful blast on Sunday wounded at least 180 people, including 60 children attending classes at a nearby private school.
Three people out of those wounded were Afghani's relatives.
"I was very upset when I heard about the attack in Ghazni, and when I received a phone call informing me of my family members injured in the attack, I could barely believe I am here to talk with the Taliban about peace," Afghani told Al Jazeera on Monday, her voice choking as she fought back tears.
"So I took up the opportunity and addressed to them on behalf of everyone in Afghanistan of how desperate we are for peace."
'A good start'
Sponsored by Qatar and Germany, the two-day talks in Doha are attended by Taliban representatives and about 50 Afghan politicians and activists, including 10 female delegates.
The gathering was organised in a bid to initiate direct dialogue on sustaining peace and equality in war-torn Afghanistan after the complete withdrawal of foreign troops, which is among the issues on the table in separate United States-Taliban talks also held in Doha but paused for two days to allow for the intra-Afghan meeting to take place.
For the first time since Washington began negotiating with the Taliban last year, two Afghan government officials came face-to-face with Taliban representatives at the intra-Afghan gathering.
Afghani said many young female Afghans were pinning their hopes on her and other women delegates to continue talks with the Taliban on women's rights in the country.
"The meeting is a good start, we have to keep the dialogue going," she said, adding that the Taliban's "mindset" has changed and are "more willing to discuss women's rights".
Before the Taliban was toppled in a US-led invasion in 2001, women were banned from working and accessing education under the armed group's five-year rule.
Afghani, in a bid to encourage women's education in post-Taliban Afghanistan, worked with more than 6,000 Islamic scholars in 22 provinces to educate them on women's rights.
The scholars were asked to encourage Afghan men to bring their daughters and wives to her Kabul-based foundation, called Noor Educational and Capacity Development Organization, where Afghani provided free education to women and young girls.
Overall, some 60,000 women have learned to read and write in the schools set up by Afghani's non-profit organisation since 2001.
'What is your definition of hijab?'
At the Doha event, women delegates and the Taliban shared tables while dining and respectfully spoke to each other.
Before coming face-to-face with the Taliban, the female participants agreed to be patient during the talks.
During the first day of the event, Fawzia Koofi, a women's rights activist and politician, recalled how her husband was put in jail under the Taliban rule and that she was beaten for applying nail polish.
"What is your definition of hijab," she asked the Taliban on the first day of the talks. "Because, during the Taliban time, women were beaten for not wearing a burqa [veil]."
A Taliban representative replied by saying: "From our understanding of Islam, the scarf wrapped around your head is what defines how women should be covering up. We don't have a problem with that. But if Afghan women prefer wearing a burqa, which is part of the Afghan tradition, we don't have a problem with that too."
'Final destination is peace'
Meanwhile, the US-Taliban negotiations will resume on Tuesday, with both sides aiming to hammer out the details of a framework agreement reached in January during the sixth round of their talks.
Along with a timeline for the US troops' withdrawal from Afghanistan, the agreement also includes a ceasefire and a Taliban guarantee to not allow foreign groups to use the country as a staging ground for attacks elsewhere.
Zalmay Khalilzad, who is leading the US side on its negotiations with the Taliban in Doha, told Al Jazeera that "substantive progress" has been made in the latest round of talks.
Afghani, along with the other women delegates, said that although they believed that the two-day gathering would not immediately bare results, they were optimistic that it would still help set the ground for future negotiations.
"I think we have to accept that through fighting, no one will win, everybody will have to accept peace," Afghani said, calling the event "a big step towards peace".
"The final destination for Afghans is peace, we have suffered for years, especially innocent people."
https://www.aljazeera.com/news/2019/07/women-leading-efforts-female-rights-talks-taliban-190708113429836.html
--------
Human Rights Group Asks Nicki Minaj to Cancel Performance in Saudi Arabia
By Helena Andrews-Dyer
July 8, 2019
An advocacy group has asked rapper Nicki Minaj to cancel a performance in Saudi Arabia because of the country's history of human rights violations. But Minaj, who is busy promoting her latest single "Megatron" on social media, has yet to respond.
It was announced last week that Minaj would be the headliner at Jeddah World Fest at the King Abdullah Sports City stadium on July 18. Just days later, the Human Rights Foundation sent the Grammy nominee a five-page letter detailing the country's continued crackdown on freedom of speech, the press and women's rights.
Thor Halvorssen, president of the foundation, requests in the letter that "in light of your status as a global personality," Minaj should bow out of the concert "as a symbol of solidarity with the ongoing suffering of the Saudi people."
This isn't the first time the rapper has been called upon to quit a gig sponsored by a government with a problematic human rights track record. In 2015, she performed in Angola at a concert backed by Unitel, a company partially owned by the family of Angola's then-president, José Eduardo dos Santos, despite allegations of corruption and human rights abuses in the country. Dos Santos and his government had been accused of widespread corruption.
At the time, Minaj responded to criticism with a tweet: "Every tongue that rises up against me in judgement shall be condemned."
Next week's Saudi Arabian concert, which will also feature One Direction alum Liam Payne and DJ Steve Aoki, will be drug- and alcohol-free in keeping with the country's laws, according to the Guardian. Women in attendance will also be required to wear modest clothing in accordance with Sharia law.
Minaj, who rarely performs in anything that's not a leotard, is known for her in-your-face lyrics and style. Her new song "Megatron" features the hook: "Shots, shots, shots, I'm drinkin' / It's better when I'm drinkin' / I tune up when I'm drinkin'."
Other marquee names such as Jennifer Lopez, Kanye West and Beyoncé have appeared onstage at the behest of dictators and corrupt regimes in the past. In Saudi Arabia alone, Mariah Carey, Enrique Iglesias, the Black Eyed Peas and Sean Paul have performed in recent months. For her part, Carey, who was also asked to cancel her performance, "accepted the opportunity as a positive step towards the dissolution of gender segregation," according to the Grammy winner's rep.
https://www.washingtonpost.com/arts-entertainment/2019/07/08/human-rights-group-asks-nicki-minaj-cancel-performance-saudi-arabia/?utm_term=.c8b1ce8ed320
--------
URL: https://www.newageislam.com/islam-women-feminism/acehs-polygamy-bill-draws-strong/d/119131
New Age Islam, Islam Online, Islamic Website, African Muslim News, Arab World News, South Asia News, Indian Muslim News, World Muslim News, Women in Islam, Islamic Feminism, Arab Women, Women In Arab, Islamophobia in America, Muslim Women in West, Islam Women and Feminism