New Age Islam News Bureau
10 February 2021
• British Television Personality Saira Khan Receives Threats After Saying She Is Not a Practising Muslim
• UAE Women Scientists Lead Arab World's First Space Mission To Mars
• Islamic Feminist Supports Abolishing Law against Sex Outside of Wedlock
• Malala Yousafzai Calls For More Support for Girls In Education In Literature Festival Speech
• Saudi Court Rejects Women's Rights Activist's Torture Claims In Jail
• Jailed Saudi Activist Loujain Al-Hathloul Expected To Be Released
• Children Of Kuwaiti Women To Receive Permanent Residency Permits
Compiled by New Age Islam News Bureau
URL: https://www.newageislam.com/islam-women-feminism/abuses-pakistan-religious-minorities-twelve/d/124269
--------
Abuses of Pakistan Religious Minorities: Twelve-Year-Old Girl Kept Chained In Cattle Pen, Forced To Marry Abductor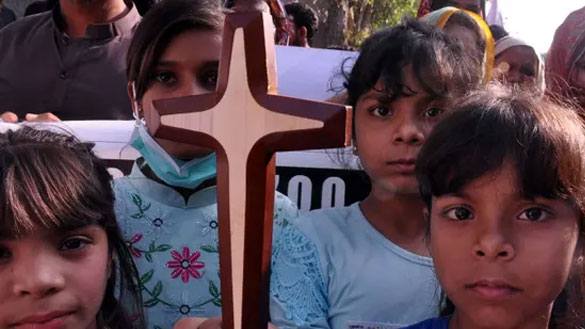 Girls from Pakistan's Christian community protest after the kidnapping and forced conversion of a 13-year-old in Hyderabad last year. Photograph: Newscom/Avalon
----
Haroon Janjua
10 Feb 2021
The family of a 12-year-old girl in Pakistan who was chained up in a cattle pen for more than six months, after allegedly being kidnapped and forced to marry her abductor, have attacked the authorities for refusing to act.
The case is among those now being examined by a government inquiry into the forced conversions of religious minority women and girls, after police released the man, saying they believed the girl had married him of her own free will.
The child was taken from her home in Faisalabad last June and had been held at the home of 29-year-old Khizer Hayat, where she was made to work clearing animal dung. Her family are angry that no further action has been taken against the man.
Police investigators initially held Hayat but then released him, saying there was no evidence the girl had not consented to the marriage and that a medical report said she was 16.
"The case has been taken up by the parliamentary committee of human rights in the Senate of Pakistan and police are attending the committee's hearings. She confessed before the magistrate … that she married Khizer Hayat of her own free will and she wants to live with him," said Musaddiq Riaz, a detective with Faisalabad police.
The father of the girl – who is not being named to protect her identity – told the Guardian that the police had discovered his daughter at a house in Hafizabad, 110km (68 miles) from her home.
"They repeatedly raped my daughter. She was in trauma after being subjected to physical and mental torture. They had forcibly converted her to Islam. She was kept as a slave and forced to work having a chain attached to her ankles. Police were not registering my complaint and threatened me [for] being a minority Christian and used discriminatory remarks," he said.
"She was brought to the police station after negotiations with her abductors and she was bandaged at the police station," he said. "She was traumatised and I still can't believe she testified in favour of her kidnappers."
He disputed the court report and showed his daughter's birth certificate along with photographs of deep cuts and sores on her ankles. According to a 2019 report by the human rights commission of Pakistan, an estimated 1,000 Christian and Hindu women are abducted and forcibly married every year. Many of the victims are minors. Sexual assaults and fraudulent marriages are used by perpetrators to entrap victims, and authorities rarely intervene.
Pakistan's tiny Christian population of about 2.5 million in the Muslim majority country of 223 million faces frequent discrimination. In 2020 a 14-year-old Catholic girl from Faisalabad was kidnapped at gunpoint and forced to "marry" her 45-year-old kidnapper. She managed to escape and is in hiding with her parents after a court ruled she must return to her abductor.
Lala Robin Daniel, an activist based in Faisalabad, said of the recent case: "Despite the parliamentary Senate committee for human rights hearings, I am not hopeful that justice will be served to the poor family. She was injured and in a state of trauma.
"Teenage girls from religious minority groups are often targeted for forced conversions and marriages due to certain gaps in the law and weak laws. Police and judiciary make fun of the parents seeking justice," she said.
John Pontifex, of Catholic organisation Aid to the Church in Need, said the British government should be looking at the issue: "This case should sound a warning shot to the UK government, questioning the efficacy of its aid strategy, which for years prioritised funding to Pakistan. Given the institutionalised nature of abuse of young girls of minority faith backgrounds, we should in good conscience ask: is UK aid to Pakistan being used wisely? Is it aiding the girls or abetting the problem?"
He added: "We receive reports every week of incidents in which girls of minority faith backgrounds are abducted, gang-raped, forcibly converted and who are made to marry their abductor.
"And it seems the state is complicit by failing to investigate cases, failing to bring the perpetrators to justice and sanctioning child marriages."
In December, Pakistan's prime minister Imran Khan ordered an inquiry into the forced conversions of religious minority women and girls.
Tahir Mehmood Ashrafi, Khan's special representative for religious harmony, said: "We are aware of the incident and the state of Pakistan is fully committed to ensure justice to minorities whether it's forced marriage or forced conversion.
"We will not tolerate these acts. We will pursue the case, no one is above the law and we will take serious action against the culprits … We are working on the formulation of interfaith harmony councils at the local level to ensure minority protection and to resolve such cases promptly."
https://www.theguardian.com/global-development/2021/feb/10/family-of-girl-12-forced-to-marry-abductor-condemn-pakistan-authorities
--------
British Television Personality Saira Khan Receives Threats After Saying She Is Not a Practising Muslim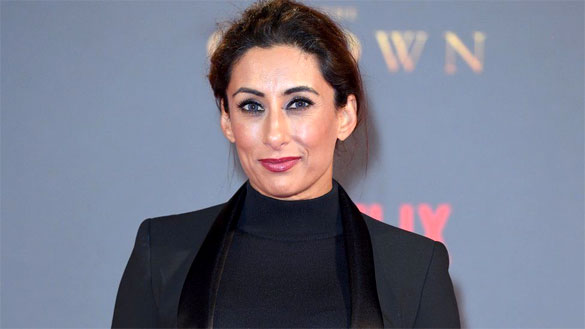 Saira Khan was the runner-up in the first season of The Apprentice in 2005
-------
10 Feb 2021
TV presenter Saira Khan has said she received death threats after revealing she is not a practising Muslim.
The former Loose Women panellist clarified her faith earlier this week in a column for The Daily Mirror.
"The problem for women like me, who have a Muslim name and are of Asian heritage, is that others make assumptions about us before we even open our mouths," she said.
In an Instagram Live on Monday, Khan said she had received death threats.
She also posted a statement on her account which said she had been abused and trolled online.
Khan shot to fame as a contestant on The Apprentice. She has since appeared on Dancing on Ice and Celebrity Big Brother.
For the last five years she has been a regular panellist on ITV's Loose Women, but she stepped down from her role in December.
What did Saira Khan say?
In a newspaper column, the broadcaster said she wanted to clarify her stance "for [her] own wellbeing".
"I feel that by saying this as a public figure, I will no longer inadvertently confuse or unintentionally hurt others of the Muslim faith," she wrote.
"People assume that because we have Muslim parents we are practising Muslims, that we have read the Quran, that we fast every Ramadan, that we don't drink, that we don't have sex before marriage."
Khan said many aspects of her lifestyle did not fit with Islam, such as wearing clothes that go against the accepted dress code, drinking alcohol and having a boyfriend "behind closed doors".
The broadcaster, who is of Pakistani heritage, also highlighted that she had adopted a child and had not followed Islamic rules on her daughter's inheritance rights.
She continued: "I respect people who have Islam in their lives - some are the most humble people I know.
"However, I don't share their conviction. I've tried hard over many years, not for myself, but for my parents and the wider family."
She said that having been brought up in a practising Muslim family, "most of my values are based on the spiritual aspects of the Muslim faith. But I'm also influenced by other spiritual teachings".
What was the reaction to the column?
Khan took part in an Instagram Live broadcast on Monday evening, during which she said she had received death threats since the publication of her article.
On Tuesday, she posted a statement on Instagram reiterating that she has "been sent threats, abuse and been trolled".
"Why my personal choice of how I choose to live my life should stir such hatred in others is incomprehensible to me," she said.
But, the presenter added, she had also received support from several followers. She shared screengrabs of some messages she had been sent.
Khan said she had been "contacted by so many women in the last 24 hours documenting their fears for wanting to live their life how they wish".
"Whilst I like to keep things upbeat and positive, I cannot forget that I as a woman have a duty on my platform to help other women.
"We don't need to look the same in order to feel each other's pain. I feel your pain if you are hurt."
https://www.bbc.com/news/entertainment-arts-55999849
--------
UAE Women Scientists Lead Arab World's First Space Mission to Mars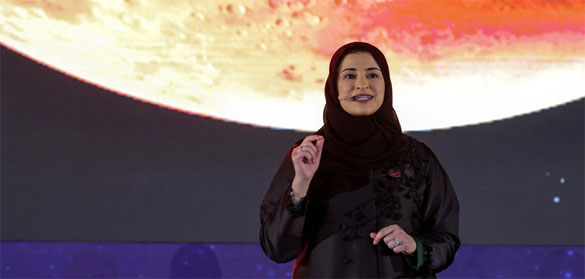 The first mission to Mars launched by the United Arab Emirates is set to enter the planet's orbit on Tuesday
----
09.02.2021
The first mission to Mars launched by the United Arab Emirates is set to enter the planet's orbit on Tuesday following a seven-month, 494 million-kilometre (307 million miles) journey.
This would make the UAE the fifth space agency to reach the red planet and mark the first interplanetary mission led by an Arab country.
The Emirates Mars Mission, which has cost around $200 million (€165 million), launched the Hope Probe from a Japanese space center.
Chair of the UAE Space Agency and the Emirati Minister of State for Advanced Sciences Sarah Al-Amiri said the country is "comfortably waiting, anxiously anticipating our entry into space exploration as a nation."
The scientist said the UAE can now start sending data about the Martian atmosphere and climate, studying daily and seasonal changes.
"This being the first weather satellite on Mars will give us a better understanding of atmospheric dynamics and climate change on a neighbor that looks somewhat like us," Al-Amiri told DW.
Women paving the way in space exploration
Women make up an overwhelming majority of the mission team, according to Al-Amiri.
"Or science team is 80% women. They are there based on merit and based on what they contribute towards the design and development of the mission," she told DW.
"I myself have not faced any adversity throughout my career, be it working at the space center from almost 12 years ago, all the way to becoming a minister within the cabinet," she added.
UAE aims for Mars settlement by 2117
The Mars mission is part of the UAE's broader efforts to ramp up its scientific and technological capabilities and decrease economic dependence on oil.
The program "has accelerated the rate of development of capabilities within the Emirates for both scientists and also engineers," Al-Amiri said, adding that the UAE hopes the space exploration will ultimately enable it to also design and develop complex systems in other industries.
UAE Vice President Sheikh Mohammed bin Rashid Al Maktoum warned that the attempt to lock into orbit around Mars has a 50% chance of failing.
"But even if we could not enter the orbit, we've already made history. This is the farthest point in the universe to be reached by Arabs throughout their history ... Our goal is to give hope to all Arabs that we are capable of competing with the rest of the world," he said.
The UAE this year celebrates 50 years since its founding and independence from the UK. The country's space agency said that it aims for a Mars settlement by 2117.
Both China and NASA launched Mars missions just after the UAE's lift-off in July and are also set to reach the planet this month.
https://www.dw.com/en/uae-women-scientists-lead-arab-worlds-first-space-mission-to-mars/a-56513724
--------
Islamic Feminist Supports Abolishing Law against Sex Outside of Wedlock
By Yahia Hatim
Feb 9, 2021
Moroccan Islamic feminist Asma Lamrabet has expressed her support for the movement calling for the abolishment of Article 490 of Morocco's Penal Code, relating to sex outside of wedlock.
Lamrabet shared her opinion in a Facebook publication, saying that Article 490 should not exist.
"Article 490 of the Moroccan Penal Code, which today criminalizes sexual relations outside marriage is in contradiction with Muslim ethics and with ethics in general," Lamrabet wrote. "It is unacceptable in today's Morocco."
The former director of the Center for Women's Studies in Islam (CERFI) voiced support for the abolishment of Article 490 amid a raging national debate about the issue.
In recent days, two opposing camps — #STOP490 and #KEEP490 — have been fiercely discussing the legal text on social networks. Lamrabet is among the few — if not the only — intellectuals with a background in Islamic studies who expressed support for the "STOP490" clan.
The feminist agreed with those claiming that Islam forbids sex outside of wedlock. However, she argued that punishing citizens who do not follow religious teachings is not among the penal code's missions.
"Having sex outside of marriage is morally forbidden, but when, within a society, this act is performed between adults and in private, it cannot be penalized," Lamrabet said. "It depends on the moral convictions of each person."
The Moroccan essayist also considered that Article 490 interferes in the private and intimate lives of people.
"To interfere in people's privacy is contrary to Islamic teachings, which makes any accusation [of sex outside of wedlock] impossible to prove," Lamrabet argued.
She gave the example of a man who came to Prophet Muhammad to denounce another man who had sex outside of marriage. Prophet Muhammad responded: "Had you veiled him with your cloak, it would have been better for you."
The incident proves that Islam advises against exposing what people are doing in privacy, even if their acts are wrong, Lamrabet explained.
"Following religious teachings or not following them is a matter of faith and personal moral convictions," she concluded. "Only God can judge."
https://www.moroccoworldnews.com/2021/02/334455/islamic-feminist-supports-abolishing-law-against-sex-outside-of-wedlock/
--------
Malala Yousafzai Calls For More Support for Girls In Education In Literature Festival Speech
February 08, 2021
DUBAI: Pakistani activist Malala Yousafzai has always been a staunch advocate for womens' right to education. The activist, who has been campaigning for equal schooling opportunities since the age of 11, was ambushed and shot by the Taliban in 2012 while on her way home.
Fortunately, she survived and did not falter in her mission to promote access to education. Yousafzai has since traveled the world to give inspirational speeches, written a best-selling book and become the youngest person to win a Nobel Peace Prize at just 17.
She has continued to use her influence to enact change via the non-profit Malala Fund, that advocates for girls' education through helping build schools in rural areas, offering programs to advance secondary education and providing school supplies for those who need them most.
The activist, 23, took the opportunity to speak at the 2021 Emirates Airline Festival of Literature over the weekend to discuss why we should prioritize the right to education and to highlight the current issues making it difficult for females around the world to attend school.
Speaking virtually, the Oxford University graduate said: "Every girl should have the right to complete 12 years of education."
She also touched on the effects that the ongoing coronavirus disease (COVID-19) pandemic has had on schooling.
"Millions of girls are being taken out of schools, which is a serious cause of concern," Yousafzai said.
"I really hope that governments, teachers, civil society and education activists are giving their full attention to this, ensuring that girls are learning from home, at this time," she said.
Citing research from the Malala Fund, Yousafzai revealed that it is estimated that 20 million more girls will be dropping out of school for issues like "girls being pushed into forced marriages or having to become the financial supporters of their families and added responsibilities, leaving no time for their education."
She added: "There is a gender disparity when we look at how COVID-19 has impacted education, not only while the pandemic is ongoing but also once it is over and many children start returning to school. Several girls might be held back for these reasons and will not be able to return to school."
Yousafzai pointed out that the Malala Fund has initiated a series of initiatives to make sure girls can continue learning during the pandemic and return to school as soon as it is safe.
"One of the activists that we support in Nigeria started radio lessons during the pandemic, to keep children engaged in education and learn from home. In Pakistan, the activists have worked on coming up with mobile apps and providing educational lessons through national television," said the Nobel Peace Prize laureate.
She concluded her empowering speech by stating that while "there are millions of more girls who are at risk of losing their education, the Malala Fund will continue to work hard and ensure that as many girls are able to return to school once this is over."
https://www.arabnews.com/node/1805766/lifestyle
--------
Saudi Court Rejects Women's Rights Activist's Torture Claims In Jail
FEB 09, 2021
ASaudi appeals court has rejected the claim of women's rights activist Loujain al-Hathloul that she was tortured in jail, members of her family said on Twitter on Tuesday.
Al-Hathloul, 31, was detained in 2018 and sentenced by a Saudi court in December to an almost six-year jail term, some of which was suspended, in a case that has drawn international condemnation.
That month another court dismissed allegations that she was tortured, citing a lack of evidence.
"The appeal maintains its first decision: denies the torture. The reason? The burden of proof is on Loujain," wrote her sister, Lina.
Rights groups and her family say al-Hathloul, who campaigned for women's right to drive and to end the kingdom's male guardianship system, was subjected to abuse, including electric shocks, waterboarding, flogging and sexual assault. Saudi authorities have denied the charges.
The White House earlier this month said U.S. President Joe Biden expects Saudi Arabia to improve its human rights record, including releasing women's rights activists and other political prisoners.
Al-Hathloul was convicted by Riyadh's Specialised Criminal Court on charges including seeking to change the Saudi political system and harming national security. United Nations human rights experts have called the charges "spurious."
The court suspended two years and 10 months of her sentence of five years and eight months – most of which she has already served since her arrest. Once released, al-Hathloul faces a five-year travel ban.
https://www.dailysabah.com/world/mid-east/saudi-court-rejects-womens-rights-activists-torture-claims-in-jail
--------
Jailed Saudi Activist Loujain Al-Hathloul Expected To Be Released
9 Feb 2021
Saudi women's rights activist Loujain al-Hathloul is expected to be released from prison on Thursday after more than 1,000 days in detention.
In a series of tweets, her sister Alia al-Hathloul said Loujain was expected to get out of prison as per a judge's order but will remain on probation and be banned from travel outside of Saudi Arabia.
"It is a potential release from prison and she is still under probation, [a] travel ban and awaiting news of the appeal process," said Alia on Tuesday.
In December 2020, a Saudi court sentenced Loujain al-Hathloul to five years and eight months in prison on terrorism-related charges and banned her from leaving the country for five years.
Local media reported she had been found guilty by the court on charges including agitating for change, pursuing a foreign agenda and using the internet to harm public order.
The court suspended two years and 10 months of her sentence, and she was set to be released in March.
Her potential release would come weeks into US President Joe Biden's administration, which has vowed it would take a firmer stance on the kingdom's human rights record.
Biden said he would halt US support for the Saudi-led military campaign in Yemen, saying the more than six-year war, widely seen as a proxy conflict between Saudi Arabia and Iran, "has to end".
Last week, Saudi authorities released two activists with US citizenship on bail pending their trials.
Bader al-Ibrahim, an epidemiologist and journalist, and Salah al-Haidar, a media commentator whose mother Aziza al-Yousef is a prominent women's rights campaigner, were released on Thursday.
Rights abuses
Loujain al-Hathloul, 31, has been in custody since 2018 after being arrested along with at least a dozen other women's rights activists in a crackdown on dissent led by de-facto ruler Crown Prince Mohamed bin Salman (MBS).
Her arrest came just weeks before the historic lifting of a decades-long ban on female drivers, a reform they had long campaigned for.
Al-Hathloul's case, and her imprisonment for the past two-and-a-half years, have drawn criticism from rights groups, members of the US Congress and European Union lawmakers.
Pro-government Saudi media branded them as "traitors" and al-Hathloul's family says she experienced sexual harassment and torture in detention.
Rights organisations have also documented the torture and sexual violence al-Hathloul has been subjected to since her arrest.
According to her family members, some of the torture sessions have been in the presence of MBS's close aide Saud al-Qahtani.
The Saudi court recently dismissed those allegations.
According to London-based NGO ALQST, Monday marked 1,000 days since Loujain's imprisonment.
The detention of women activists has cast a renewed spotlight on the human rights record of the kingdom, an absolute monarchy which has also faced intense criticism over the 2018 murder of journalist Jamal Khashoggi in its Istanbul consulate.
https://www.aljazeera.com/news/2021/2/9/jailed-saudi-activist-loujain-al-hathloul-expected-to-be-released
--------
Children Of Kuwaiti Women To Receive Permanent Residency Permits
February 09, 2021
Yasmena Al Mulla
Kuwait City: Kuwait's Women and Family parliamentary committee announced it has approved a draft law allowing children of Kuwaiti women married to non-Kuwaitis to receive permanent residency.
In addition, one of the committee's members, MP Osama Al Shaheen, said they will be given priority in employment after Kuwaitis and will be treated as Kuwaitis in ministries.
While the law is a step in the right direction for children of Kuwaiti women married to non-Kuwaitis, some have pointed out that it is not enough. According to article 29 of the Kuwaiti constitution, all people are equal in the eyes of the law and rights and that there should be no differentiation amongst them because of gender, origin, language or religion.
Challenges faced
Children of Kuwaiti women married to non-Kuwaiti men face challenges from applying for a scholarship to obtaining a job. The government covers their education up to university level, plus their health care.
Kuwait is one of the 25 countries that does not permit women to pass on their nationality to their children or spouses.
As of 2016, there are 19,000 Kuwaiti women married to non-Kuwaiti men and with approximately 56,000 children, according to the Public Authority for Civil Information.
https://gulfnews.com/world/gulf/kuwait/children-of-kuwaiti-women-to-receive-permanent-residency-permits-1.77072306
--------
URL: https://www.newageislam.com/islam-women-feminism/abuses-pakistan-religious-minorities-twelve/d/124269
New Age Islam, Islam Online, Islamic Website, African Muslim News, Arab World News, South Asia News, Indian Muslim News, World Muslim News, Women in Islam, Islamic Feminism, Arab Women, Women In Arab, Islamophobia in America, Muslim Women in West, Islam Women and Feminism