New Age Islam News Bureau
28 Jun 2013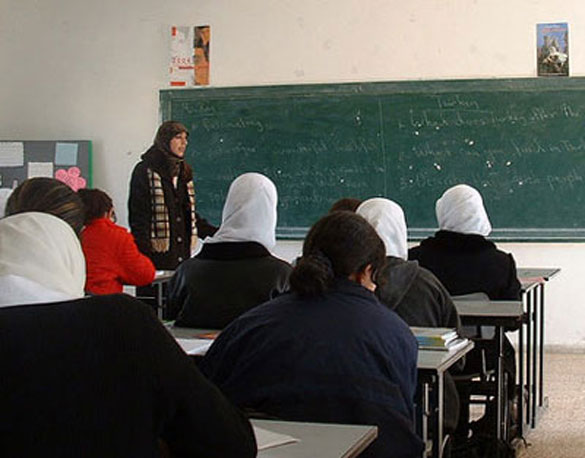 Photo: Young women at school in the Palestinian territories
-------------
• Pakistan Govt Urged To Re-Initiate Land Distribution among Women
• For The First Time, Thai Policeman Charged Over Rohingya Rape Case
• Kerala Withdraws Controversial Circular on Marriage Age
• Maldives Parliament Accepts Bill on Inclusion of Women's Committee Chair in Island Councils
• More Roles of Women in Arbitration Sought In Bangladesh
• No Waitresses Allowed In Saudi Restaurants
• In Gaza, Teen Lifestyle Gets Cramped by Hamas Imposition of Sharia
• Muslim Woman Hoops Player: Christian Beliefs Were Imposed By Now-Fired Coach
• Female Cook Jailed For Forcing Woman into Prostitution in Dubai
• Tanzania: Woman in Dar Court over Drugs
Compiled by New Age Islam News Bureau
URL: https://newageislam.com/islam,-women-and-feminism/new-age-islam-news-bureau/absence-of-legislation-in-pakistan,-killing-a-woman-every-20-minutes/d/12332
-----------
Absence Of Legislation In Pakistan, Killing A Woman Every 20 Minutes
By Ijaz Kakakhel
Jun 28, 2013
ISLAMABAD: Participants at a seminar on "Safe Motherhood" on Thursday said a woman dies every 20 minutes due to pregnancy complications and blamed the absence of proper legislation and awareness programme for these deaths.
About 205 million pregnancies occur each year worldwide and approximately 44 million abortions are performed yearly. Nearly 20 million unsafe abortions are performed yearly with about 97 percent in developing countries like Pakistan. The trend of unsafe abortions in Pakistan and other third world countries are on rise due to absence of proper legislation, they maintained. The unsafe abortions are performed by unskilled workers in illegal clinics and nearly 4 percent women having abortion are 15-19 years of age.
The government hospitals do not provide abortion facility and only intervene when unskilled workers have complicated a case putting lives at risk. The law in Pakistan allows abortion during early stages of pregnancy for the purpose of saving the life of a mother but does not cater for cases of fetal abnormalities, incest and rape. The participants said unsafe abortion is one of the major health problems in developing countries including Pakistan and a serious for women in their reproductive years. In Pakistan, complications of miscarriages/abortion account for 10-12 percent of maternal deaths. These include spontaneous and induced abortion. The number of women seeking abortions for unwanted pregnancies is also high as evidenced in the survey by the Population Council.
There are different opinions among Islamic scholars about when life begins and when abortion is permissible, most agree that the termination of a pregnancy after 120 days – the point at which, in Islam, a fetus is thought to become a living soul – is not permissible. Several Islamic thinkers contend that in cases prior to four months of gestation, abortion should be permissible only in instances in which the mother's life is in danger or in cases of rape. Abortion has been a controversial subject in many societies through history because of the moral, ethical, practical, religious and political issues that surround it.
Dr Amna of Family Planning Association of Pakistan (FPAP) told the participants that increase in abortion cases was due to the fact people considered it a form of contraception, which is totally wrong.
"There is a stigma attached to abortion and every case is considered unlawful and unethical. This thinking is in fact promoting the illegal abortion centres. The media should arrange a programme once a month to create awareness among the masses over reproductive health services and religious scholars should also participate," she said.
During the open forum, the participants stressed the need for change in attitude concerning abortion. However, they said the legislators shy away from raising such issues on the floor of parliament.
The participants was also informed that the government had allocated Rs 26 billion for health related activities, an amount they said was not sufficient for the entire country.
http://www.dailytimes.com.pk/default.asp?page=2013\06\28\story_28-6-2013_pg7_9
-------------
Pakistan Govt Urged To Re-Initiate Land Distribution among Women
Jun 28, 2013
KARACHI: Members of civil society demanded Sindh government to initiate the third phase of land distribution among women as committed during its last tenure, for women empowerment in rural Sindh.
This demand was made by civil society activists, representatives of farmers' organisations, lawyers and other stakeholders, in a consultative workshop on 'Land distribution among Women in Sindh'. It was organised jointly by Participatory Development Initiatives (PDI) and Actionaid Pakistan (AP), here on Thursday.
A large number of activists, women land grantees, lawyers, media persons, elected representatives and other stakeholders participated in the workshop. Two studies titled 'Land Distribution among Women: Successes and Lessons Learned' conducted by PDI and 'Land Distribution Programme: Impact Issues and Challenges' jointly conducted by Legal Rights Forum and AP were presented in the workshop.
According to these studies, Sindh Government distributed 55,439 acres of land among 4,867 women and 1,266 men during two phases of land distribution programme from 2008 to 2010. Sindh Government also announced to distribute more land among women in the third phase during its last tenure but could not implement its commitment.
According to the studies, there were a number of issues in the distribution of land among women which included distribution of uncultivable land among women, a large number of appeals / litigation against the women land grantees by the influential landlords, unavailability of irrigation water for the allotted land, depriving women land grantees from ownership of land documents etc.
The document further said, however, the land distribution has had greater positive impact on the lives of poor women and their families. The positive social and economic impacts included improved living standard of land grantee women and their families. It also decreased poverty levels, cause an increase in household assets, led to decrease in food insecurity and bondage as well as increase in the respect for women in their household and extended families.
While talking on this occasion, PPP Senator Saeed Ghani said that the distribution of land among women was in fact the realisation of the dream of Benazir Bhutto for the empowerment of women.
He said that the government would make efforts for removing the flaws in the process of land distribution and distribution of land among women would continue unabated and the government would soon start third phase of land distribution.
Executive Director Aurat Foundation Mahnaz Rehman said that the legal and administrative hurdles in the distribution of land among women should be removed and more land should be distributed among women in third phase.
While taking part in the debate the participants of the workshop opined distribution of land among women by Sindh Government was a unique step in whole South Asia for the empowerment of women, therefore this program should continue unabated.
The participants said that the government should prepare a compressive land distribution policy for proper distribution of land among the women.
The participants also opined that Sindh Government should establish Land Distribution Monitoring, Follow-up Cell and Legal Cell. According to the participants the Land Colonisation Act should be made clear and pro-poor.
In the conclusion, participants demanded other provinces to follow the example of Sindh and initiate similar land distribution programme for landless women. They also demanded to provide agriculture input and grants for capacity building, value chain management and agriculture marketing. staff report
http://www.dailytimes.com.pk/default.asp?page=2013\06\28\story_28-6-2013_pg12_6
-----------
For The First Time, Thai Policeman Charged Over Rohingya Rape Case
AFP | Jun 28, 2013
BANGKOK: A policeman has been charged with trafficking after a Rohingya woman was allegedly lured from a shelter in southern Thailand and subsequently raped by a man from the refugee Muslim minority, police told AFP on Friday.
It is believed to be the first time that a Thai official has been charged with the trafficking of Rohingya boat people, despite probes into alleged people-smuggling by authorities including the army.
The officer is accused of driving the 25-year-old victim along with her daughters, aged 12 and nine, and two other women, from the shelter in Phang Nga in late May.
The woman was told that she would be taken to Malaysia to be reunited with her husband, who is also from the minority group, but was instead held at several places in the region in an ordeal lasting several weeks, police said.
The woman was allegedly raped — repeatedly — by the Rohingya man, believed to have worked as a translator at the shelter, who has been charged for the assault.
The victim and her children were found on a roadside and returned to the shelter last week when she contacted the police.
"The officer has been charged with taking part in human trafficking and abuse of his position," police colonel Weerasin Kwansaeng, commander of Kuraburi police station told AFP.
"The victim said he drove the car from the shelter," he said, adding it was the first time that charges had been brought against the police over the trafficking of Rohingya.
Dozens of Rohingya women and children, who fled communal violence in Myanmar, are housed at the shelter, while hundreds of men from the ethnic group are being held at an immigration detention centre in the same province.
Rights groups have repeatedly voiced concerns over the treatment of destitute Rohingya refugees by Thai authorities, saying that they are held in poor conditions and are vulnerable to exploitation.
The rape "demonstrates the vulnerability of Rohingya women to human traffickers — even when they are living in government-run shelters where they should be protected", said Brad Adams, Asia director at Human Rights Watch.
In January, Thai authorities opened an investigation into allegations that army officials were involved in trafficking the Rohingya.
Around 2,000 Rohingya refugees remain in detention in Thailand, while authorities wait for a third country to offer to accept them.
Described by the UN as among the most persecuted minority groups in the world, Rohingya have for years, trickled abroad to neighbouring Bangladesh and, increasingly, to Muslim-majority Malaysia.
Myanmar views its population of roughly 800,000 Rohingya as illegal Bangladeshi immigrants and denies them citizenship.
An explosion of tensions between Buddhist and Muslim communities in Myanmar's western state of Rakhine since June 2012 has triggered a huge exodus of Rohingya, mostly heading for Malaysia.
Hundreds are feared to have drowned during the perilous sea voyage on rickety and overcrowded boats, while others have been rescued in as far away as Sri Lanka.
http://timesofindia.indiatimes.com/world/south-asia/For-the-first-time-Thai-policeman-charged-over-Rohingya-rape-case/articleshow/20814507.cms
-----------
Kerala Withdraws Controversial Circular on Marriage Age
Jun 28, 2013
The Kerala government on Friday withdrew its circular on the marriageable age of Muslim men and women after a hue and cry was raised. The government issued a new circular replacing the earlier one, clarifying that the marriageable age for Muslim women is 18, and men 21. The previous circular that directed the local self-government authorities to register marriages of Muslim males aged below 21 and females aged below 18, but over 16, and issue them marriage certificates.
However, Chief Minister Oommen Chandy clarified that the earlier circular was not meant for any exemption for new marriages. It was only for regularising marriages of men under 21 years old and girls below 18 but over 16 that had already been solemnised.
The new circular issued on Friday clearly states that for all Muslim marriages that have been solemnised until Thursday, men under 21 and women above 16, but below 18, would be issued the necessary marriage registration certificates.
Incidentally, registration of all marriages at the respective local bodies was made compulsory from 2008.
http://www.thehindu.com/news/national/kerala/kerala-withdraws-controversial-circular-on-marriage-age/article4860140.ece
------------
Maldives Parliament Accepts Bill on Inclusion of Women's Committee Chair in Island Councils
By Minivan News | June 26th, 2013
Parliament on Monday (June 26) accepted an amendment proposed to the Decentralisation Act by Dhivehi Rayyithunge Party (DRP) MP Rozaina Adam to reserve a seat on island councils for the chair of women's development committees.
The bill was accepted with 38 votes in favour and sent to committee for further review.
During the preliminary debate, most MPs supported the proposal in principle while others argued against affirmative action on the basis of gender.
Elections for women's development committees to function under island and city councils took place in November 2012 in 102 islands.
Under article 36 of the landmark Decentralisation Act (Dhivehi), the powers and responsibilities of women's committees are: (a) Advise island council on matters related to island development and municipal services provided by the council; (b) Own properties and conduct business activities with others in the name of the committee; (c) Sue and be sued in the name of the committee; (d) Conduct various activities for income generation and for the development of women; (e) Work to uphold the rights of women; (f) Work to increase religious awareness amongst women; (g) Work to increase political participation of women; (h) Work to increase the numbers of women enrolled in higher education; (i) Work to improve the health condition of women; (j) Gather important information related to women; (k) Manage assets and finance of the committee.
http://minivannews.com/category/news-in-brief
-----------
More Roles of Women in Arbitration Sought In Bangladesh
28 June 2013
Speakers at a seminar yesterday said democratisation of Shalish (arbitration) could help reduce violence against women.
They said the role of Shalish in remote areas was helpful in some cases to ensure justice for women.
The seminar was organised by Nagorik Uddyog in the Young Women Christian Association auditorium in the capital.
The participants spoke on the role of Shalish to ensure justice for women and marginalised people and said women were playing an active role as organiser s in the system now.
Executive Director of Ain o Salish Kendra (ASK) Sultana Kamal said the institution of Shalish was greatly dominated by men, and women were predominantly justice-seekers here. A collective effort can make the system more functional, she added.
A report based on Bangladesh Mahila Parishad and Nagorik Uddyog sources and newspaper reports was presented at programme, revealing a picture of violence against women last year.
The report shows 822 women were victimised for dowry last year. Of them, 273 were killed.
The number of acid victims was 105, with 58 women and 20 adolescent girls.
The report says 18 of the 479 women, who were sexually harassed last year, committed suicide. Around 1,805 women and girls were raped, 13 of them by law enforcers.
Zakir Hossain, chief executive of Nagorik Uddyog, moderated the seminar.
http://www.thedailystar.net/beta2/news/more-role-of-women-in-arbitration-sought/
-----------
No Waitresses Allowed In Saudi Restaurants
28 June 2013
Women are still banned from working as waitresses and cashiers in restaurants and are only allowed to work in the kitchens of these establishments, a Ministry of Labor official said here recently.
According to local media, Fahad Al-Tukhaifi, assistant undersecretary for development, said a ministerial decision was issued a year ago stipulating that women hired to work in restaurants must be limited to the kitchen and not perform serving or hosting tasks.
He said no instructions were issued concerning women working in grocery stores and laundries. He added that the feminization of Abaya shops would be fully implemented on July 7.
Aisha Natto, a member of the Jeddah Chamber of Commerce and Industry (JCCI), said: "I respect the decision that they issued regarding women because I can see change coming in this country."
"Since I am not from the new generation, I am witnessing the changes that are taking place with regard to Saudi women's participation in society. Earlier, women had no say in any decision making."
Natto said that although she is currently a JCCI member, two years ago she was not even allowed to enter the building because of her gender. "Today I am in a high position at the JCCI and own five companies."
Natto said Custodian of the Two Holy Mosques King Abdullah has championed women's participation in the work force with many decisions. "I encourage the idea of women working in the hospitality sector. Why haven't they hired women so far? Women are capable of working in hotel management."
Dalal Kaaki, a Saudi businesswoman at the Makkah Chamber of Commerce and Industry, said: "As a woman, I think the ministry has made the right decision because society is not ready for such changes at the moment. Women have proven they can do well in their role as cashiers. They are doing an excellent job in lingerie and cosmetics stores."
Kaaki added that she is against the idea of preventing women from working as cashiers in restaurants, although she supports the ministry's decision to not allow women to work as waitresses.
"A ministerial decision that was taken a year ago stated that women can work in any field except those that her body cannot handle," said Kaaki.
"Jobs that require a woman dealing with chemicals, lifting heavy weights and exposing her to danger, either if she's pregnant or a feeding mother would be an exception. But otherwise, women have the right to choose where they would like to work."
She said that she respects the traditions of communities across the country. "We are different people and we all have different mindsets."
She said the only obstacle hindering women from working as waitresses or as cashiers in restaurants is the fear of harassment. "Harassment happens all around the world. Officials are worried women would be exposed to harassment, so they have banned them from working (in these positions)."
Lina Mahmood, a Saudi sales woman at a popular cosmetics store, Paris Gallery in Jeddah, said that empowering women has been one of the best decisions taken by the authorities in this country. "Having my own job has given me some independence, meaning I don't always have to depend on my male guardian for support."
Mahmood said that the only obstacle she has faced so far is having to depend on a driver to take her to work.
http://www.arabnews.com/news/456437
-----------
In Gaza, Teen Lifestyle Gets Cramped by Hamas Imposition of Sharia
By Eman Mohammed
June 28, 2013
A 14-year-old in Gaza Strip does not like the new rules that segregate her schooling from that of boys. She has plenty of company. But Hamas, which wants to impose Sharia, shows no sign of slowing down its drive to impose socially conservative regulations.
GAZA CITY, Gaza Strip (WOMENSENEWS)--Nisma Issa, a 14-year-old who recently switched from a private to a public school, doesn't like the law passed in April that says boys and girls over 9 years old can no longer attend the same school.
"I don't think this law will be to our benefit," says Issa, who belongs to a Muslim conservative family, during an interview at a café here. "I felt happiest roaming my school with my friends, who are like brothers. I love my school as it is. Why should such laws complicate our lives?"
The law does not actually affect Issa's new school because public schools in Gaza were already sex-segregated. But the new law will be changing life in Muslim and Christian private schools as well as United Nations schools, where classes were separated for boys and girls starting in April of this year, the beginning of the school year's second semester.
The law, which also bans male teachers from working in girls' schools in the Gaza Strip, is the
latest in a long list of measures--including efforts to impose Islamic dress on university women--introduced by Hamas, which promotes a conservative interpretation of Islam and gained control of the Gaza Strip in January 2007.
These regulations impose conservative mores on society, for women in particular. In 2009, Hamas prohibited women from riding behind a driver on a motorcycle. The next year women were banned from smoking in public.
Hamas has also been cracking down on young men who spike their hair or wear low-waist pants, two fashion trends popular among Palestinians in their teens and 20s.
Ahmed Arafa, 19, was snatched off the streets by two policemen while walking with his friends. He told Women's eNews in a phone interview that his hair was shaved and his pants shredded before his father came to pick him up from prison.
Mixed Support
His mother, Yusra, a 41-year-old dentist, says she understands and supports some of the measures introduced by Hamas, including the ban on women smoking in public.
"I understand why smoking was prohibited in public places, although I don't get why the ban applies to women only. And, even though I spent almost all my life in more open, less conservative societies, I can see the logic in barring women from riding motorcycles," she says.
But she says she entirely rejects the feminization of schools and prohibiting male teachers from working alongside female colleagues in schools. "This law has no benefit other than making clear the negative intentions when it comes to the subject of mixing [genders] and this is an insult to society as a whole."
Given the social conservatism of Gaza, telling a male that he can't be in the same place as women and young girls implies he might be a pervert, an insult that would be taken very seriously.
University laws prohibiting female students from wearing makeup, bright colors or transparent fabrics were introduced in 2006 in the Hamas-owned Islamic University of Gaza, before the movement came to power.
Continuous amendments, meanwhile, are being made by the Islamic University of Gaza's Disciplinary Council, which punishes students--male and female--who do not abide by the university's laws or challenge existing rules and laws.
The council can expel students and cancel credit hours without any tuition refunds. Their names are placed on a big "board of shame" at the center of the university's campus.
With some exceptions (such as Al Azhar University, owned by the Fateh movement), women in the universities of Gaza--all of which are private--must be veiled for their graduation photo in order to receive degrees. (Fateh, the other main Palestinian political party, besides Hamas, was founded by the late Palestinian leader Yasser Arafat.)
Criticism Dismissed
The socially conservative Hamas movement began in 1987, the starting point of First Intifada, or the Palestinian uprising against the Israeli occupation of the territories, which lasted until 1993. As Israel exiled some religious leaders to Marj al zohour, at the southern border with Lebanon, Hamas activists began preaching in mosques and market places.
Members of the Hamas government dismiss criticism and say the laws entrenching sex-segregation or stricter dress codes in the education system are in line with the traditions and culture of Gaza, where the vast majority of residents are Muslims.
Walid Mizher, a legal consultant for the Ministry of Education, scoffed at the idea that Hamas is trying to "Islamize" the Gaza Strip.
"We are Muslims and we do not need to make people convert to Islam," he said in a statement translated from Arabic that has been widely reported.
Hamas recently proposed a new penal code which would impose Sharia, Islamic law, on the Gaza Strip and include punishments like flogging and hand amputation for crimes such as theft. The draft law sparked widespread debate within Palestinian society as well as the ranks of the Hamas leadership itself.
Several human rights organizations have spoken against the law as likely to rupture Palestinian society.
"Sharia law will increase the wide gap between Hamas and Fateh," Essam Younis, the director of the Al Mizan Center for Human Rights in Gaza, said in a press statement. "Someone needs to stop such an act for the sake of Palestinians."
At a recent public session of the Palestinian Legislative Council, the 129-member legislative body, Yahya Moussa, who sits on the council, said members had twice rejected the draft penal code because it includes Islamic form of punishments.
The president of the Legislative Council has released the draft penal code to civil society organizations and political factions for discussion.
Eman Mohammed is a 25-year-old Palestinian photojournalist and reporter based in the Gaza Strip.
http://womensenews.org/story/education/130627/in-gaza-teen-lifestyle-gets-cramped-hamas
-----------
Muslim Woman Hoops Player: Christian Beliefs Were Imposed By Now-Fired Coach
Ex-Oakland women's hoops player, Muslim says Christian beliefs were imposed unfairly by now-fired coach
June 26, 2013
As a senior in high school, North Farmington all-state basketball player Jenna Bachrouche was being recruited by a host of colleges and liked Oakland University best.
But before she committed in 2010 to play at OU, her mother had a question for coach Beckie Francis: "Is Jenna being Muslim going to be an issue?''
Francis responded: "Absolutely not."
That was all Bachrouche and her parents, Pam and Nassif, needed to hear. She was heading to Oakland.
Two years later, Bachrouche learned that being Muslim and playing for Francis was a major problem. She said she felt emotionally abused and was forced to endure religious intimidation from Francis, a fervent Christian. Bachrouche also said Francis constantly criticized her weight, although Bachrouche appeared to be anything but overweight.
"Honestly, it was one incident after the next, after the next, after the next, after the next," Bachrouche said Tuesday. "It builds up so much over time. My grades were horrible. Sleep was nonexistent to me. On road trips, if there was a 24-hour workout facility, I was there at 2 or 3 o'clock in the morning because I couldn't sleep. Or I'd shower for an hour or so, maybe more, just trying to calm myself."
Bachrouche said she felt it would have been pointless to complain to any OU official because Francis was married to school president Gary Russi. So Bachrouche left Oakland last spring after two seasons.
Francis did not return phone calls from the Free Press seeking comment. She wrote in an e-mail: "Thanks for reaching out. I'm not going to comment. I'm going to stay focused on my future with Gary."
The school fired Francis with cause two weeks ago but did disclose a reason for her dismissal. Russi announced the same day of the firing that he was retiring Aug. 1.
Bachrouche enrolled at Western Michigan, where she had to sit out this past season because of NCAA transfer regulations.
"This place is like heaven,'' Bachrouche said. "I just love it.''
That was not the case playing for Francis. At first Bachrouche thought the team motto of "Pray to Play" was a joke, but learned otherwise.
Bachrouche played in only four games as a freshman before suffering a season-ending injury and did not make road trips. Her problems with Francis did not swell until her sophomore year in 2011-12.
This past season Francis drew national attention when she revealed that as a child she had been sexually by her father.
In October 2011, Francis told the team it was going to watch film. Before the players entered the film room, Francis pulled Bachrouche aside and said: "Jenna, we're going to be watching my testimony in church. I think it would be really, really, really good for you if you came in and watched it. But you don't have to, but I think it would be a really, really, really good idea if you did.''
Bachrouche felt pressured to say yes. So she went into the film room with her teammates.
"Obviously, anything optional with her is never optional,'' Bachrouche said. "I went in and I felt extremely uncomfortable. I didn't know how to react. I didn't know what she was expecting me to get out of it. I already knew her situation and her past from her childhood. I didn't know what her agenda was for me watching this.''
Bachrouche said Francis' agenda grew more obvious as the season progressed.
Francis hosted a Christmas party at her home. Attendance was mandatory.
She had a player read "The Christmas Story" directly out of the Bible, which made Bachrouche feel uncomfortable.
It wasn't unusual for Francis to make the players watch Christian-based videos on bus rides.
On road trips Francis made the players attend church services. Bachrouche remembers a trip to Washington, D.C., where she skipped the service and went back to the hotel. She met the team at the church before going out to dinner and Francis "wouldn't talk to me the rest of the night.''
On a trip to play Southern Utah, Bachrouche said Francis told a restaurant owner in Las Vegas that "we're a Christian basketball team."
Bachrouche nearly exploded.
"My mouth just dropped,'' she said. "I was fuming. It was on my birthday nonetheless, which made it 10 times worse. My teammates had to calm me down. I had to walk away from the table because I was so upset.
"As if the road trip wasn't off to a bad enough start, right after dinner we went on the bus and watched a movie on the Book of Ruth, which is a Bible story.''
As the season wore on, Bachrouche thought Francis pushed religion even more.
"We were at a meal and unfortunately I got there last and the president and her were sitting across from me,'' Bachrouche said. "She was like: 'Hey, Jenna, the coolest thing happened at church the other day. ... I met someone who was a Palestinian Christian Muslim. ... Yeah, it was so cool.' ''
Bachrouche shook her head and said: "I didn't know it was possible for you to be Christian and Muslim at the same time.''
According to Bachrouche, Francis said: "Yeah, that's why I thought it was so cool. I should go get you a DVD of it.''
Bachrouche declined the offer, saying "I can't be Christian and Muslim at the same time.''
That is when Bachrouche thought Francis might be trying to convert her to Christianity.
"It felt like it, I know that much,'' she said. "If it felt like it, that was probably what she was trying to do.''
Bachrouche knows about Christianity. Her mother is Christian and her father is Muslim, as are she and her two siblings.
She said she is sure Russi was aware of Francis' issues with her being Muslim.
"He knew completely,'' she said. "I mean, I feel you'd have to be living under a rock not to know this.''
At the end of the 2011-12 season, Bachrouche went to Oakland athletic director Tracy Huth and told him what had happened and asked for her release so she could transfer to a different school.
She said she did not expect Huth, who declined comment for this story, to take any action against Francis.
"Plenty of people have complained about Coach Beckie before and he can't do anything,'' Bachrouche said. "His hands are tied; he reports directly to the president. He just apologized and said: 'Anything that I can do to help you get somewhere else.' "
Bachrouche said she has no plans to sue the university and is only telling her story to help other student-athletes.
"I just want people to be aware of what she did and has been doing and just to educate people that things like this do happen at the collegiate level,'' she said. "I know the NCAA has never, ever, ever had a case with religious discrimination or anything like this.''
Rana Elmir, deputy director of the American Civil Liberties Union of Michigan, said Bachrouche came the ACLU last year for assistance.
"We were working on getting in touch with Oakland University and we realized the university was letting the coach go, so we feel at this point and at Jenna's insistence, public education is key and awareness is key," Elmir said.
Contact Mick McCabe: 313-223-4744 ormmccabe@freepress.com. Follow him on Twitter @mickmccabe1.
http://www.freep.com/article/20130626/SPORTS08/306260036/Ex-Oakland-women-s-hoops-player-Muslim-says-Christian-beliefs-were-imposed-unfairly-by-now-fired-coach
-----------
Female Cook Jailed For Forcing Woman into Prostitution in Dubai
By Bassam Za'za'
June 26, 2013
Dubai: A female cook has been jailed for five years for sexually exploiting and forcing a woman into prostitution after bringing her to Dubai to work in a hotel.
The 33-year-old Filipina victim said her 30-year-old countrywoman cook, M.S., confiscated her passport as soon as she arrived to Dubai. Then M.S. coerced her to work in prostitution after claiming that she owed her Dh26, 000 the price which the defendant claimed to have paid to bring her to Dubai.
"I was forced to obey her and worked in prostitution because I did not have such an amount to repay her. I had sex with men whom we used to meet in nightclubs. On the fourth day, I went out with a British client who paid me Dh1, 000. Immediately when I finished, I walked out of the hotel and jumped into a taxi and headed to the Philippines Embassy in Abu Dhabi. They informed the police," claimed the victim.
The Dubai Court of First Instance sentenced M.S. to five years in jail after she was convicted of sexually exploiting her countrywoman and forcing her into prostitution.
Presiding judge Maher Salama Al Mahdi also jailed two Filipina women for one year each for working into prostitution under M.S.'s supervision.
"The three Filipina defendants will be deported following the completion of their punishments," said presiding judge Al Mahdi on Wednesday.
According to the accusation sheet, prosecutors charged M.S. with abusing the victim's need for money so she flew her in to Dubai, where she promised to have her hired in a hotel. Then she pushed the 33-year-old woman into prostitution under threats to kill her or have her jailed and deported in case she refused.
Prosecutors accused two women, J.B. and J.L., of prostitution.
M.S. pleaded not guilty contending that the victim agreed to work in prostitution when she defended herself in court. J.B. and J.L. pleaded guilty.
The victim testified that as soon as she arrived at Dubai International Airport on October 21, 2012, M.S. confiscated her passport.
"She said that I have to work in prostitution like the other woman whom I found at the flat where we stayed in Satwa. She threatened to kill me and claimed that her friends in the police could jail or deport me if I refused to work in the sex industry. On October 24, I absconded to the Embassy and told them what happened," claimed the victim.
An Emirati policeman testified that M.S. and two other women were arrested when the police raided the flat in Satwa.
The primary judgement remains subject to appeal within 15 days.
http://gulfnews.com/news/gulf/uae/courts/female-cook-jailed-for-forcing-woman-into-prostitution-in-dubai-1.1202140
-----------
Tanzania: Woman in Dar Court Over Drugs
BY SWAUM MUSTAPHER, 27 JUNE 2013
A BUSINESSWOMAN, Saada Kilongo (26), appeared before the Kisutu Resident Magistrate's Court in Dar es Salaam yesterday charged with trafficking narcotic drugs worth more than 170m/-.
Before Senior Resident Magistrate Nyigulila Mwasebo, the accused was not allowed to enter any plea to the charge. She was remanded until July 10, this year, when the case will be mentioned.
State Attorney Peter Maugo alleged that on June 24, this year, the accused, a resident of Mbezi beach Rainbow was found trafficking narcotic substances namely ephedrine HCL at Julius Nyerere International Airport (JNIA). The prosecutor said that the drugs were valued 170,481,000/-.
Meanwhile, a city driver, Willson Kiluwasha (25), a resident of Kigogo was brought before the same court yesterday accused of stealing property valued at 645 US dollars (about 1,032,000/-) owned by Mr Ryo Manno, using an offensive weapon. Before the same court, the accused a resident of Kigogo Mburahati Street was remanded until July 10 when the case will be heard.
The prosecutor alleged that the accused obtained the property after threatening Mr Manno with a knife. The accused stole one Nikon camera, one wrist watch, two battery chargers, one wallet porter and a memory card of 16 GB. The accused also allegedly stole money in cash from Mr Manno. The court was told that he stole 1,600,000/-, 50,000 Japanese yen, 800 Kenya shillings and 100 Euros.
http://allafrica.com/stories/201306270579.html?aa_source=slideout
-----------
URL: https://newageislam.com/islam,-women-and-feminism/new-age-islam-news-bureau/absence-of-legislation-in-pakistan,-killing-a-woman-every-20-minutes/d/12332