New Age Islam News Bureau
31 Jul 2013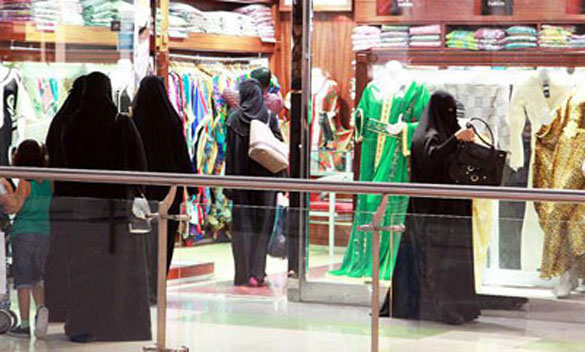 Muslims are being asked to do their shopping or business activities in the proper places, such as this shop for women clothing, not in places of worship so as not to distract other worshippers. (AN photo by Khaled Al-Khamees)
-------------
• 'In-Mosque' Shopping Spree in Jeddah Upsets Worshippers
• Maid of Jailed Saudi Princess 'Lived In Luxury'
• 6 Saudi Lingerie Shops Shut For Not Employing Women
• Safa First Woman to Win Two Consecutive Parliamentary Elections in Kuwait
• Egyptian TV Series Spotlights Underage Marriage
• Haj Ministry to Open New Offices with Female Staff
• Sikh Girls in Afghanistan Face Difficulty in Finding Mr Right
• Afghan Female Rapper Dreams of Stardom
• Afghan Women's Rights Face Uncertain Future
• Masouda Karokhi declared 2013 N-Peace Award winner from Afghanistan
• 6 Lessons Disney Could Learn From Pakistan's 'Burka Avenger'
• Chief Shia Qazi Doesn't Agree With Police Ban on Female US Scholar
• Dubai to Stage Islamic Fashion Showcase
Compiled by New Age Islam News Bureau
URL: https://www.newageislam.com/islam,-women-and-feminism/new-age-islam-news-bureau/abbas'-fatah-party-lauds-female-terrorist-as-'master-of-the-world'/d/12832
-----------
Abbas' Fatah Party Lauds Female Terrorist as 'Master of the World'
July 31, 2013
The administrator of one of Fatah's official Facebook pages recently posted a picture glorifying Palestinian female terrorists and the Palestinian woman, defining her as the "[female] master of the world, according to Palestinian Media Watch (PMW), which translated and published the blatant incitement.
The Facebook posting in June flies in the face of constant statements by the Obama administration, including the president himself, that chairman Mahmoud Abbas has lived up to its commitment to stop incitement against Israel and Jews.
The Facebook posting praises the women terrorists and states that each one "gave herself only as a Martyr."
The posting includes pictures of three women as examples of this heroic Palestinian woman: Dalal Mughrabi, Ayyat Al-Akhras and Laila Khaled.
Dalal Mughrabi led the most lethal terror attack in Israel's history in 1978, when she and other terrorists hijacked a bus and killed 37 civilians, 12 of them children.
Ayyat Al-Akhras, at age 17, was the youngest female Palestinian suicide bomber. She killed 2 Israelis and injured 28 in a suicide bombing near a Jerusalem supermarket on March 29, 2002.
Laila Khaled was a PFLP terrorist who participated in the hijacking of TWA flight 840 in 1969.
The terrorists are pictured with a rifle, a pistol and wearing an ammunition belt, respectively. Palestinian Media Watch has reported that Fatah regularly uses its Facebook page to glorify terrorists.
The text on the picture with the three terrorists praises each one as the female "master of the world." It adds, "Men should be humbled in her presence and the moon should hide. I bow my head and kiss the hand of every Palestinian woman."
It describes how – contrary to the world's other women who the text claims do not care about their homeland, give in to conquerors, and even entertain them – Palestinian women are worthy of admiration and praise for becoming "Martyrs." Two of the terrorists pictured became "Martyrs" during their terror attacks:
"Except for you, oh mother of purity, honor and modesty.
For you gave yourself only as a Martyr (Shahida);
Except for you, oh olive branch, oh tree of nobility, oh wellspring of honor.
The hardships exhausted you and the pickaxes fell on you,
but you were not exhausted and you did not break.
For you are the Palestinian woman who gave herself only as a Martyr."
This past January, female terrorists were also presented on official; Palestinian Authority television as role models and heroes for Palestinian women by the coordinator of the Palestinian universities' Fatah sorority committee called "Sisters of Dalal," Ayyat Salah Al-Din:
"When we speak of the 'Sisters of Dalal,' we're talking about a prisoner's sister, a Martyr's (Shahid) widow, or the Palestinian fighter's daughter in general. You're talking about the successors of Martyr Dalal Mughrabi, and the successors of Martyrdom-seekers (i.e., suicide terrorists) like Wafa Idris, Ayyat Al-Akhras, Andalib Takatka, and many others."
As previously reported, The PA-run city of Bethlehem last January glorified "the district's female Martyrs" during a public ceremony in which the terrorists' were honored, including the families of the two female suicide bombers Ayyat Al-Akhras and Andalib Takatka.
At the ceremony, Bethlehem Mayor Vera Baboun stated that "the existence of female Palestinian Martyrs is very significant to the role of the woman in all areas of life," according to the official PA daily, PMW reported.
The Al-Hayat Al-Jadida newspaper told its readers, "District Governor Abd Al-Fattah Hamayel said, 'The Martyrs' victory began to become real with the declaration of Palestinian statehood, in spite of all attempts to erase the Palestinian identity.' … At the end of the ceremony, the families of the female Martyrs were honored, among them: … [the families of] Ayyat Al-Akhras… and Andalib Khalil Muhammad Suleiman (Andalib Takatka)."
Andalib Khalil Muhammad Suleiman or Andalib Takatka – female suicide bomber who killed six and wounded more than 80 in her attack on Jerusalem's Mahaneh Yehuda outdoor market on April 12, 2002.
Now that U.S. Secretary of State John Kerry has forced Israel and the Palestinian Authority to resume direct talks, it is probable that the PA will tone down the incitement, but only until the talks get to the point where Abbas does not get what he wants.
http://www.jewishpress.com/news/abbas-fatah-party-lauds-female-terrorist-as-master-of-the-world/2013/07/30/?src=ataglance
-----------
'In-Mosque' Shopping Spree in Jeddah Upsets Worshippers
31 July 2013
Jeddah home-based businesswomen are turning mosques into a social gathering place where they mingle with other women and market their products.
Worshippers are not happy with the business activities taking place in mosques.
Somayya is an abaya designer who has been attending Taraweeh prayer wearing colorful and fashionable abayas. When other worshippers ask her about the brand she said she is the owner.
"Last year, I made great profits and gained new clientele from just coming to the mosques during Taraweeh, so I decided to come again this year with new and improved designs so I can display them to other women," she said. "All I do is give them my business card and ask them to follow me to my house look at the varieties of thobes and abayas."
Somayya said she does not think it is inappropriate to conduct business at the mosque because the abayas she wears market themselves.
Jeddah mosques have turned into a social gathering salon where women drink coffee and distribute dates among each other.
"I used to bring my own coffee and dates that I make at home because we stay at the mosque for long hours and I wanted to meet with my neighbors to drink Arabic coffee and chat with them," said Fatima. "Early this year, one of the women asked if I can make her a plate of nut-stuffed dates because she had visitors. She paid me for it and that's how I am now known among the neighborhood. I have since made business with my home-made stuffed dates."
When walking into the mosque, women can smell luxury bukhoor coming from the female section thanks to Ruwaida's home mixed oud.
"Mixing oud is my passion and I love making it in my free time. I participate in Ramadan bazaars for years but renting booths are very expensive and I cannot afford it anymore," she said. "When my neighbor Fatima told me that she has been selling at the mosque among neighbors, I thought I would do the same and bring my collection every day and market it by burning some of my new scents to encourage customers to place their order."
Ikram Mohammed is not happy to see gatherings at the mosque, noting the mosque should be a place of worship only and not a social gathering.
"I was not very happy to see over-dressed women who soak themselves in perfume and wear colorful abayas to a holy place where we are supposed to beg for mercy," she said. "When Fatima offered me dates, I was happy with it, but when she told me that she has packed boxes and ready to be sold in the box at the end of the room, I was extremely upset because she is turning this mosque into an open bazar."
Layla Sadeq is another unhappy worshipper who thinks that conducting business inside a mosque is disrespectful to Islam and Muslims.
"They were distracting me because they were walking around in search of their next costumer, distracting me from acts of worship," she said. "I had to switch mosques."
Sadeq spoke to the imam about the problem and demanded that he hire a female worker who would stop "in-mosque" shopping because it is driving people away and distracting them from the very reason they are there.
The imam, she said, promised to clear the mosque of sellers after the Eid holidays.
http://www.arabnews.com/news/459747
-----------
Maid of jailed Saudi princess 'lived in luxury'
July 31, 2013
Los Angeles: Attorneys for a Saudi Arabian princess accused of human trafficking offered a starkly different take Monday on the life of a Kenyan domestic servant who prosecutors said was forced to work long hours for little pay.
Meshael Al Ayban, 42, was arrested at her home in Irvine, Calif, this month for allegedly forcing the Kenyan woman to work 16 hours a day, seven days a week, for $220 a month. The servant, who has a young daughter in Kenya, could not leave because her passport was kept in a safe deposit box at a local bank, prosecutors said.
Al Ayban was released from custody on $5 million bail July 11. She is required to wear a GPS tracking device and is not allowed to leave Orange County without permission from the court. At a hearing in Orange County Superior Court on Monday, Alayban's arraignment was postponed until September 20.
After the hearing, defence attorneys Jennifer L. Keller and Paul S. Meyer offered a portrait of the servant's living situation that contrasted sharply with what has emerged from prosecutors and police.
They said the woman, whose name has not been released, and other employees of the Al Aybans travelled first-class to the US on Emirates Airline with tickets that cost $10,000 each.
The family and the workers flew together "because the family would have felt guilty if they were in the back," Keller said.
The family and servants arrived in May and moved into a high-end Irvine apartment community. Once there, the servants had cellphones and access to the Internet and Facebook, and the family gave them access to cable channels in their native languages, according to a statement provided by Keller and Meyer.
The workers were allowed to use the spa, gym and pool and "were often dropped off to shop alone at neighbourhood malls, all paid for by the family," the statement said.
Prosecutors have said that the servant was refused a day off and not allowed to take breaks. They also said she was barred from leaving the home except for family outings in which she carried the family's bags.
Prosecutors said the alleged victim came to the US with Al Ayban and her family in May after having lived with the family in Saudi Arabia for about one year. Al Ayban and the woman had temporary visas. Meyer has said the matter boils down to a wage and hour dispute between Al Ayban and the woman.
Experts and law enforcement officials said that in Saudi Arabia, the servant's working arrangement is fairly commonplace.
"The people who are hired as such think they're getting a benefit from it.... They're getting a roof over their head. They're getting fed," said Claude Arnold, special agent in charge of homeland security investigations in Los Angeles and southern Nevada.
"On the face of it they think they're getting treated well. So they don't think of themselves as victims."
http://gulfnews.com/news/gulf/saudi-arabia/maid-of-jailed-saudi-princess-lived-in-luxury-1.1214835
-----------
6 Saudi lingerie shops shut for not employing women
July 31, 2013
Manama: Saudi Arabia's labour ministry has shut down six lingerie shops in the capital Riyadh for failing to employ local women. Three other shops were warned in the snap inspection conducted by the ministry in a mall, local daily Al Sharq reported on Wednesday.
"These shops did not comply with the regulations to have only Saudi saleswomen in shops selling lingerie items and accessories," Saud Al Sanitan, the head of the field teams at the ministry, said. "All shops have been given 14 days to regularise their situations and avoid being shut down," he said.
However, salesmen and shop owners have charged that the ministry should allow them more time to implement its decisions after the Eid rush. "This is a very lucrative period for us and we need to keep the business going," one salesman said. "Some shops in other cities such as Dammam and Abha for instance have been given a grace period until the end of the Eid holidays. We should avail of the same opportunity," the salesman, a Yemeni national, said.
Saudi Arabia has launched a massive drive to reform the labour market to boost the chances of its citizens, particularly women, to find jobs and to reduce reliance on foreign labour. However, the drive to employ women has been resisted by conservatives who saw it as a blatant transgression of deep-rooted traditions and social values.
Several groups have been exerting pressure on the labour ministry to reverse its decision to employ only Saudi women in lingerie shops, arguing that it exposed them to several risks. "If I were a Saudi national, I would never ever employ Saudi women in my shop," the Yemeni salesman told the labour ministry inspectors. There is no authority that can force me to close my shop," he was quoted as saying by the daily.
Most expatriate salesmen are opposed to the employment of Saudi saleswomen and have been driving them away through their negative attitudes, Sarrah Ahmad, a Saudi woman working in a shop, said. "They are always angry with me and obviously resent my presence in the shop," she told the daily. "Whenever I ask them a question for instance, they raise their voices and shout in a very strange manner. Their attitude has pushed several Saudi women to quit their jobs. Besides, shop owners force us to work seven days a week, without a day off. Any saleswoman who insists on a day off is fired," she said.
http://gulfnews.com/news/gulf/saudi-arabia/6-saudi-lingerie-shops-shut-for-not-employing-women-1.1215172
-----------
Safa First Woman to Win Two Consecutive Parliamentary Elections in Kuwait
July 31, 2013
Manama: Safa Al Hashem has made history in Kuwait by becoming the first woman lawmaker to win seats in two consecutive parliamentary elections.
Taking 2,036 votes on Saturday, Safa, who made her parliamentary debut in December, was ranked fifth on the 10-member list of the winners of the Third Constituency on Saturday. She was one of the eight women candidates who signed up to run despite concerns that the society was not ready to support women in parliament.
Only two women succeeded in winning seats. The other one, Maasouma Al Mubarak, made history in 2009 when she was one of the four women who were the first to be elected to the parliament. However, Maasouma could not repeat the feat in the February 2012 elections when all the 50 elected lawmakers were men. She did however win in the December elections.
Safa, born in 1964, holds a masters in business administration. She worked in the Ministry of Higher Education in 1994.
She was the founder, chairperson and manager of Advantage Consulting Company (ACC), a Kuwait-based company that provides management and business advisory services, her official biography said. She received the Female CEO of the Year award at the CEO Middle East Awards 2007 in Dubai.
Very active socially, she has more than 75,000 followers on her Twitter account.
http://gulfnews.com/news/gulf/kuwait/safa-first-woman-to-win-two-consecutive-times-1.1214133
-----------
Egyptian TV series spotlights underage marriage
July 31, 2013
By Waleed Abu al-Khair in Cairo
The new Egyptian television series "Al-Qasirat" (Minors) is taking a hard look at the problems of underage marriage, which is still prevalent in parts of Egypt and a number of Arab countries.
The MBC series, which began at the start of Ramadan, includes some realistic and shocking scenes, said Cairo University psychology professor and family relations consultant Waliyuddine Mukhtar.
It condemns the "reactionary ideas prevalent in many societies that treat females as mere commodities to be bought and sold", he told Al-Shorfa.
The practice of underage marriage is widespread in Upper Egypt and in other parts of the country, he said.
In some cases, young girls are temporarily married to wealthy older men or foreigners for a designated period of time, particularly during the summer vacation.
PROLIFERATION OF UNDERAGE MARRIAGES
The United Nations Children's Fund (UNICEF) defines child marriage as a formal marriage or informal union that takes place before the age of 18. According to a 2010 UNICEF report, 18% of the female population in the Middle East and Africa are married before this age.
Underage marriage has spread "under the guise of religion" in Yemen, Saudi Arabia, Iran, Afghanistan and Pakistan, where it is misrepresented as an application of sharia, Mukhtar said.
Poverty and illiteracy also contribute significantly to its spread, he said.
Egypt's Ministry of Family and Population put the number of underage marriage cases in 2011 at 150,000, or 11% of all marriages in Egypt that year, Mukhtar said.
"Al-Qasirat" star Salah al-Saadani told the Middle East News Agency that the series' boldness in confronting the issue compelled him to accept the role, though he knew some might find its scenes and events shocking.
What most interested him was the realistic portrayal of the issue, he said, explaining that the series is set in an Egyptian village where a wealthy man exploits poor families in order to marry their daughters.
AGAINST EGYPTIAN AND ISLAMIC LAW
"Underage marriage is illegal and a crime against humanity that is being committed in the name of sharia," said Al-Azhar University sharia and law professor Sheikh Nayef Abd Rabbu, who serves as an advisor at the Ministry of Social Solidarity.
"Egyptian law, which stems from sharia, prohibits the marriage of girls under the age of 18," he said.
There is a common belief that Islam legalises child marriage, though this is an explicit distortion of religious texts and the hadith, as it is actually old customs and traditions that drive these marriages, Abd Rabbu said.
"Islam stipulates safeguarding the rights of women in marriage," he said. "In the case of minors, their rights in marriage are slim to non-existent. Sharia legislators agree that a marriage must be entered into with an intention of continuance, and that it not be a temporary contract, as it is in many of these cases."
Under Egyptian law, which prohibits exploiting children in any form, forcing a girl into marriage is a punishable offense, said Fayez Shukr of the Egyptian Ministry of Justice's department of legislative studies and research.
Additionally, he told Al-Shorfa, under a 2008 child law, "no marriage contract shall be authenticated if either party has yet to attain the full age of 18 years".
PSYCHOLOGICAL AND HEALTH PROBLEMS
Dr. Fahim Farhan, a gynaecologist and obstetrician, said he follows the television series with interest.
It is one of the "most important works shedding light on this blight in Arab societies, and in Egypt in particular", he said.
Underage marriage exposes girls to numerous health and psychological problems, including infertility, miscarriage, preeclampsia, anaemia and premature childbirth, he said, noting that there is a rising incidence of death among these girls and their babies.
"Al-Qasirat" is directed by Magdi Abu Emera, written by Samah el-Hariri and stars al-Saadani, Dalia al-Buhairi, Yasser Galal, Menna Arafa, Malak Ahmed Zaher and May al-Gheiti.
http://al-shorfa.com/en_GB/articles/meii/features/2013/07/30/feature-02
-----------
Haj Ministry to open new offices with female staff
31 July 2013
The Ministry of Haj will set up female units and divisions in private buildings in four months, according to Haj Minister Bandar Hajjar.
Hajjar said Sunday that the ministry has begun the construction of female units in Makkah, Madinah and Jeddah. The buildings will have two entrances and two exits.
He said that the female units will fall under a separate budget category.
When asked about the possibility of increasing Haj quotas for some countries, he said that the ministry never made any promises to any Haj business to allow more pilgrims in the following years.
"The established quota is 1,000 pilgrims for each million of the country's inhabitants," Hajjar said. "This decision was part of a resolution adopted during a meeting by the Organization of Islamic Cooperation in 1980. This year we had to bring this number down by 20 percent. We reached this decision by working in cooperation with the various authorities concerned with the affairs of Haj and Umrah."
"The delays in last year's season were due to the existence of new development projects to serve the worshippers, which were completed in record time," he said. "We will be utilizing new spaces that became available after some government agencies left the area because their work in not related to Haj. The new allocations would accommodate 104,000 pilgrims."
As for the lawsuits filed against the ministry by various Haj and Umrah companies as a result of the ministry's decision to disband boards of directors of a number of companies, he said that "these cases are being reviewed."
"Whenever we take a decision to disband a company's board of directors, we do that in order to protect the public interest," he said. "We had to make decisions like these after we noticed certain violations, which at the end of the day are in the public interest."
http://www.arabnews.com/news/459735
-----------
Sikh girls in Afghanistan face difficulty in finding Mr Right
Press Trust of India
Jul 31, 2013
Facing difficulty in finding suitable match for their daughters, Indian-origin Sikhs in Afghanistan are getting them married at an age when they are hardly educated or fully grown up, an MP of the country said in Patiala on Tuesday. "Girls there are worst affected. Their parents, mostly from business community, are getting them married at the age of 13-14 when they are not properly educated nor fully grown up," said Anarkali Kaur Honaryar.
The Upper House MP of Afghanistan, in Patiala to attend the first South Asian Punjabi conference, said "parents allow them to learn Gurmukhi only so that they can recite Gurbani."
Kaur, a dentist by profession and a well-known women rights activist, said the number of Indians in Afghanistan had come down drastically due to unrest in the country. "Now there are around 3,000 Sikhs and Hindus living in Afghanistan. Earlier, there were around 50,000 residing in Kabul, Kandahar and other cities of the country.
"But the moment the trouble erupted, most of them either migrated to Canada and Europe or returned to India," the MP said. Kaur thanked the Indian government for extending help in rebuilding Afghanistan.
She, however, lamented that Afghans still consider Indians staying there as foreigners. "Some still think we are foreigners working and living there for a while. But we are Afghans too and we should have equal rights and opportunities."
http://ibnlive.in.com/news/sikh-girls-in-afghanistan-face-difficulty-in-finding-mr-right/410763-2.html
-----------
Afghan female rapper dreams of stardom
July 31, 2013
If she beats the odds, Paradise Soururi could become one of the first female rappers in Afghanistan. That is her goal, at least. But life hasn't been easy for her since she returned to her ultra-conservative country four months ago.
The 28-year-old hip-hop singer came back to Afghanistan after living in neighboring Iran and Tajikistan. When she was a teenager, her parents fled the violence in Afghanistan and moved to Iran. But it was not until she moved to Tajikistan that her music career began.
Soururi saved money from working part-time in cafes and restaurants to produce music videos for her show reel. But her heart was always set on returning to her home country, and when she heard that the situation was improving in Afghanistan and that there was money to be made in new careers for young women, she finally returned to her roots.
During the Taliban regime, women could not sing and dance, and Western-style music and clothing were deemed immoral. But for Soururi, the situation has not changed enough, and she now thinks the Afghan dream is still far from the reality she landed in.
"It's dangerous because you are a singer, you dance, you are so free and open-minded, the men can't understand it," she says.
In Herat , a city near the Iranian border, Soururi was attacked by five men one night when she was walking home with her boyfriend. Even in Kabul she is constantly harassed when she walks in the street or takes the bus.
"It is so hard," she says. "The mind of Afghan people is not ready for girls or women performing in public; people insult me and say I'm a bad girl."
I first met Soururi in a cafe in one of Kabul's bunker-style shopping malls, where customers are screened and their bags are checked for explosives. She wore bright pink lipstick, jeans and a long black coat. In her temporary digs, a large house on the edge of the slums, a suitcase lay unpacked. Her rent is paid by an NGO based in New York, and in return she writes blogs and records videos about her life.
It was nighttime, and we stepped outside the balcony to film an interview with the camera light on. Barely five minutes into the piece, there was screaming and commotion in the house. A man who we were told was one of the tenants of the three-story building asked us to leave immediately. He said neighbors had knocked on the door in panic saying the cleric from the nearby mosque would not approve of a young woman being filmed for television. We left.
I spent a week following Soururi but only filmed inside cars or indoors. I accompanied her to the passport office as she tried to get her Afghan identity card and followed her as she took cabs (she stopped taking the bus after the harassment episodes). We taped one of her presentations at an Afghan youth event organized by the United Nations in the French cultural center.
On stage, Soururi came alive. The singer beamed and appeared to be more experienced than other artists. She performed onstage, lip-syncing her hip-hop songs recorded abroad. She sang her favorite song, inspired by the aggression she has been subjected to. The chorus says : "My song this time is the story of a woman, an Afghan woman in her homeland. How long should I be a slave to tyranny? Why do they want me to be less than men?"
Soururi wore what she described as a rapper outfit — pink stretch jeans, a hoodie and a baseball cap tilted sideways. The audience was small, as it was a private event, and people on the guest list were vetted for security reasons. Only a handful of Afghans stood up and clapped; the others just stared. Warris Fakhri, a young Afghan man, said, "She definitely has star potential."
Soururi looks to the West for her artistic role models — Rihanna , Nicky Minage and Jennifer Lopez. For now, she has no one in her own country to idolize and must make her own path. In fact, because of her rarity, she has become the poster child for the hopes of an international community willing a better future for Afghanistan. Still, after the withdrawal of U.S. forces in 2014, many other foreigners will also be gone.
Her contingency plan? Soururi says she will flee her country, just as her parents did.
Monica Villamizar is a freelance journalist based in London.
http://www.washingtonpost.com/blogs/worldviews/wp/2013/07/29/afghan-girl-dreams-of-becoming-star-rapper/
-----------
Afghan Women's Rights Face Uncertain Future
Sharon Behn
July 31, 2013
KABUL — Afghan women are wondering what will happen to them when U.S.-led NATO combat forces leave the country at the end of 2014. The international community insists that rights achieved since the fall of the Taliban in 2001 should be protected. Some women from around Afghanistan say their rights are a low priority among the country's power brokers.
This group of female provincial council leaders is upset with the policies of the central government and they are not afraid to show it. Among them is Okmina who has dressed like a man since the Soviet invasion because she said it was safer than appearing in public as a woman.
The problem is that no one cares about the protection of women, commanders don't, lawmakers don't, no one is focusing on women's issues. They are behaving very badly towards women," said Okmina.
Under the Taliban, women in Afghanistan were forced to wear face-covering burqas. They were forbidden from going to school.
Now, women council leaders and lawmakers fight for their rights in this still male-dominated society.
Violence
Women say the government failed them by not implementing an Elimination of Violence Against Women law that banned child and forced marriages, among other crimes.
Human Rights Watch said there are ominous signs that women face a darker future. Already, there has been a sharp increase of women and girls jailed for so called moral crimes, such as fleeing home or having sex outside marriage.
Nilab Mobarez, spokeswoman for the United Nations Mission in Afghanistan, said protecting women's rights and implementing the anti-violence law are critical for securing continued aid. "We clearly say that if this law is not implemented or changed or amended it will negatively affect donations to Afghanistan," she said.
Illiteracy
Roughly 90 percent of women in Afghanistan are still unable to read. In rural areas the rate is even higher.
Law Professor Wadir Safi said there are still deep prejudices in society that prevent women from reaching their potential. "I have given, introduced to girls, graduates of the law faculty, our faculty, our students, to go to India to study, to go to Turkey to study. They came to me. They say I am forbidden. They were crying, but they say unfortunately my parents they didn't agree. In some of the families, the brother does not agree, and she cannot go," Safi explained. "This is the situation in the cities, don't think about the provinces at all."
Women here said if they are able to leave their houses, go to school and work, they will be able to improve their rights. But, they said, all that depends on the post-2014 security situation and what role the Taliban will have in Afghanistan's future government.
http://www.voanews.com/content/in-afghanistan-an-uncertain-future-for-afghan-womens-rights/1712864.html
-----------
Masouda Karokhi declared 2013 N-Peace Award winner from Afghanistan
By GHANIZADA
July 31, 2013
The N-Peace Network on Wednesday announced the eight awardees who will receive the 2013 N-Peace Awards, which was jointly organized by United Nations Development Programme (UNDP) and Search for Common Ground.
A staunch women's rights activitist from Afghanistan is also among the eight awardees who will receive the award for her unwavering campaign for women's rights, even during the worst times in the country.
Masouda Karokhi was announced winner of the Rolw model for peace prize among the 90 nominated candidates from Afghanistan, Indonesia, Nepal, Sri Lanka, Timor-Leste and the Philippines.
Ms Karokhi continued her work for women and during the Taliban rule when education for girls and women was banned, and despite she received g frequent threats from the Mujahideen.
She also started free secret study classes for poor girls and women. In 2003, she represented the women of Herat at the loya jirga (grand assembly) to discuss the Constitution; she was also Herat's delegate for civil society at the loya jirga on issues of peacemaking and peacebuilding.
Masuada Karokhi was elected as the member of parliament for the second time, after she ran forthe 2005 and 2010 National Assembly election.
The other winners include Shashi Kumary Adhikary (Raut) from Nepal, Irene Santiago from Philippines, Thavachsri Charles Vijayaratnam from Sri Lanka, Valentina Sagala from Indonesia, Magdalena Bidau Soares from Timor-Leste, Suprayoga Hadi from Indonesia, Rohaniza Usman from Philippines.
The other candidates from Afghanistan included parliament member Shukria Barakzai, Seema Ghani, Amina Mustaqim, Farzana Mansoori, Mosa Sherzada Hassan, Lida Naderi Hedayat, Jamila Afghani, Samira Hamidi, Azra Jafari and Najia Shamim.
The winners of the N-Peace Award will receive their awards during N-Peace Awards ceremony scheduled to be organized in the month of October. The N-Peace Network will also produce documentaries to capture the stories of all N-Peace Awardees, which will be presented during the Awards ceremony.
The documentaries will be released online via social media and N-Peace Network website.
N-Peace (Engage for Peace, Equality, Access, Community and Empowerment) is a multi-country initiative managed by UNDP Asia-Pacific Regional Centre with UNDP Offices across Indonesia, Sri Lanka, Timor-Leste, Nepal, Afghanistan and the Philippines, in partnership with Search for Common Ground), the Institute for Inclusive Security and supported by AusAID.
http://www.khaama.com/masouda-karokhi-declared-2013-n-peace-award-winner-from-afghanistan-1710
-----------
6 Lessons Disney Could Learn From Pakistan's 'Burka Avenger'
July 31, 2013
Part karate kid and part superhero, Pakistan's first animated television series is a better role model for girls than any princess Disney's ever drawn.
She's called the Burka Avenger, and she's the defender of girls' education and women's rights.
The brainchild of Pakistani pop star Aaron Haroon Rashid, the cartoon was created as a way to combat the Taliban's intense opposition to educating girls, AP reports.
We think Disney could learn a thing or two about what a female protagonist should look like from the fearless Burka Avenger.
1. She fights villains with Takht Kabaddi -- a form of karate that uses books and pens as weapons, because she's all about emphasizing the importance of education.
To her, books are more than a prop to dance with.
2. By day, she's Jiya, the reserved school teacher -- but when bad guys come around, she dons a burka to conceal her identity and saves the day.
And unlike Mulan, her alter ego is still proudly feminine.
3. Educating children and saving her village are her main priorities.
So she's a little too busy to become enamored by her own reflection.
4. Her sidekicks are three adorable kids, and she's constantly saving and inspiring them..
.. Instead of the other way around.
5. Her burka is a source of power, not oppression. She can even use it to fly.
So she doesn't need a man to sweep her off her feet.
6. She's fighting bad guys that actually exist in the real world -- corrupt politicians and vengeful mercenaries who are limiting access to education.
Which makes evil witches and mean stepsisters look like a cakewalk.
BONUS: Instead of singing about love or longing, the Avenger's theme song is all about how she makes things happen:
"Don't mess with the lady in black, when she's on the attack."
http://www.huffingtonpost.com/2013/07/29/burka-avenger-vs-disney_n_3660387.html
-----------
Chief Shia Qazi Doesn't Agree With Police Ban on Female US Scholar
C D S Mani, TNN | Jul 31, 2013
CHENNAI: American Islamic scholar AminaWadud, prohibited from addressing the University of Madras by police under pressure from radical elements, has found support from an unlikely quarter. Chief qazi (Shia) of Tamil NaduGhulam Mohammed Mehdi Khan said, "Stopping her from speaking is not the solution. India gives everyone freedom of speech. Researchers in the university should be allowed to hear her views so that there can be a discussion".
But he cautioned that she should respect religious sentiments. "If she is in the mold of Taslima Nasreen or Salman Rushdie, then there will be a problem," he said adding, "But she should have been allowed to speak because it is for a select audience of scholars and researchers within the university, and not a public speech or address at a public rally".
Well-known Tamil poet Rajathi Salma said the police move is not justified and is humiliating for the scholar. "It is very surprising why police should stop her from speaking in an academic forum. Without even hearing her or knowing what she is going to say, restrictions are sought to be imposed," she said.
Salma pointed out that the scholar was invited to speak by the department of Islamic studies at the university considering that she has a certain standing. "Moreover, she has already delivered talks at other places, so why stop her in Chennai?" Salma asked.
Sufi poet Syed Ameeruddin said since the topic Wadud was to speak about was gender and reform in Islam, orthodox Muslims would have objections. The orthodox sections of the community would also have an issue with her profile as one of the founders of Sisters of Islam working for gender equality and justice and a consultant for MUSAWA, a global women's movement. These kind of activities are permitted in Christianity, but frowned upon in Islam, he said.
"We as academicians feel sorry that the lecture is not allowed as the university is a place for debate and discussions on issues. But if vice-chancellor R Thandavan thought it necessary to call it off, he must have weighed the concerns over a possible law and order problem based on inputs given by the police," Dr S Panneerselvam, professor and head of department of philosophy, said. "In my experience, the fallout of such a programme does not stop at the gates of the university," he said.
Chennai police received a communication from the Indian Thowheed Jamath objecting to the lecture programme. It alleged that Wadud has been influenced by Jewish ideology and is giving lectures against Islam. The outfit's vice-president Mohamed Muneer told TOI, "The organizers invited her without knowing her background. If she was allowed to participate in events here, it would have created unnecessary tension among Islamic people."
http://timesofindia.indiatimes.com/india/Chief-qazi-doesnt-agree-with-police-ban-on-US-scholar/articleshow/21499309.cms
-----------
Dubai to stage Islamic fashion showcase
By Salma Awwad
July 31, 2013
In response to the burgeoning demand for fashion reflective of modern Muslim culture, The Islamic Fashion Design Council (IFDC) is dedicating all its efforts into organising its first event designed to showcase the growing talent in the Islamic fashion and design world.
IFDC will be organising an Islamic fashion showcase for the first time in the Middle East. This event seizes the opportunity to highlight an industry that is worth an estimated $96bn and bring together proponents of creative living in an Islamic based manner.
According to Alia Khan, the founder of IFDC, the international demand for Muslim fashion, for just women alone, is 800 million people strong.
"Not eager to compromise on their sense of flare and style, yet happy to play by the rules, more Muslims are adopting the attitude that fashion and faith is a winning combination," she states.
The Islamic fashion week will take place in the second quarter 2014 at the Dubai World Trade Centre and will aim to provide the consumer with a chance to keep up with the latest trends and to grant emerging talent the opportunity to gain further exposure and success.
"There are about 1,500 designers that are Muslim and non-Muslim on our list. Many of them have offered to come up with a ready-to-wear line that will just be for the Islamic Mohajaba market. They have never offered this before, so I couldn't be more excited and I credit the IFDC for that," Khan said.
She explained that designers that participate in the event don't have to be Muslim designers necessarily, as long as they have items that are compliant with the Islamic mandate.
"Our stylists can finish the look for them. It's all about facilitating the idea of keeping to a more modest look and at the same time allowing us to look good. So if anyone can do that, we want to applaud them."
An ecommerce website as well as a magazine called 'Cover' will launch simultaneously with the event. These additional components of IFDC will serve as strong visual and creative entities for designers and stylists alike.
"Let's change the whole vibe, let's have our own Islamic fashion week and it's going to be unlike anything anyone has ever seen," Khan said.
http://www.arabianbusiness.com/dubai-stage-islamic-fashion-showcase-511708.html
-----------
URL: https://www.newageislam.com/islam,-women-and-feminism/new-age-islam-news-bureau/abbas'-fatah-party-lauds-female-terrorist-as-'master-of-the-world'/d/12832