New Age Islam News Bureau
11 Feb 2018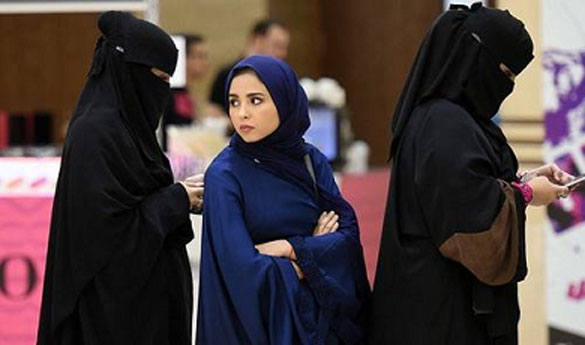 Photo: Saudi women need not wear the abaya — the loose-fitting, full-length robe — a senior member of the top clerical body said, another indication of the kingdom's efforts towards modernisation.
---------
• Irish Muslim Leader Backs Female Genital Mutilation
• Bahrain Pair Claim Silver At The Arab Women Sports Tournament In Sharjah
• UAE Women's National Ice Hockey Team Leave Lasting Impression During US Tour
• Pakistan's New Designers Bet on Wearability, Modern Relevance
• Burqa-Clad Woman in Islamic State-Inspired Terror Stabbing
• Without Hinduism Secularism Won't Survive, Says Muslim Woman Who Led Friday Prayers
• Pakistani Activist Asma Jahangir Dies of Cardiac Arrest
• Bahraini referee manages Arab Table Tennis
• Al-Saqaf about Her Medal: It's An Honour for All Saudi Women
Compiled by New Age Islam News Bureau
URL: https://www.newageislam.com/islam-women-feminism/abaya-mandatory-attire-saudi-women/d/114239
----------
Abaya not mandatory attire for Saudi women, says cleric
ReutersUpdated February 11, 2018
DUBAI: Saudi women need not wear the abaya — the loose-fitting, full-length robe — a senior member of the top clerical body said, another indication of the kingdom's efforts towards modernisation.
On his radio programme, Sheikh Abdullah al-Mutlaq, a member of the Council of Senior Scholars, said Muslim women should dress modestly, but this did not necessitate wearing the abaya.
"More than 90 per cent of pious Muslim women in the Muslim world do not wear abayas," Sheikh Mutlaq said on Friday. "So we should not force people to wear abayas."
While not necessarily signalling a change in the law, the statement is the first of its kind from a senior religious figure. It follows the recent pattern of freedoms the kingdom has been witnessing with the ascent of young Crown Prince Mohammad bin Salman to power.
Only the government-appointed clerics associated with the Council of Senior Scholars are allowed to issue fatwas, or Islamic legal opinions. Their interpretations of Islamic law form the basis of Saudi Arabia's legal system.
Saudi women have started wearing more colourful abayas in recent years, the light blues and pinks in stark contrast with the traditional black. Open abayas over long skirts or jeans are also becoming more common in some parts of the country.
The trend marks a major change in the last couple of years. In 2016, a Saudi woman was detained for removing her abaya on a main street in the capital of Riyadh. Local media reported that she was detained after a complaint was filed with the religious police.
The kingdom has seen an expansion in women's rights recently, such as the decision passed to allow women to attend mixed public sporting events and the announcement that Saudi Arabia would grant them the right to drive.
These are some of the many changes the country has undergone in recent months, hailed as proof of a new progressive trend in the conservative kingdom.
But despite these changes, the gender-segregated nation is criticised for its continued constraints on women. On Thursday, a London-based Saudi rights group, ALQST, reported the last month detention of activist Noha al-Balawi, saying she was questioned by Saudi authorities for her involvement with women's rights and human rights movements.
dawn.com/news/1388719/abaya-not-mandatory-attire-for-saudi-women-says-cleric
-----------
Irish Muslim Leader Backs Female Genital Mutilation
by LIAM DEACON11 Feb 2018
A leading Irish Muslim 'scholar' has said he supports mutilating the genitalia of young girls, describing the practice as "female circumcision".
Ali Selim, a spokesman for the Islamic Cultural Centre of Ireland in Clonskeagh, claimed that female genital mutilation (FGM) was part of Islam because of a saying by his Prophet Muhammad.
The doctor, who is also a lecturer at Trinity College in Dublin, also argued that female circumcision was unfairly framed as a "dark-skin practice" and "barbaric," insinuating that criticism is racist or prejudiced.
FGM has been illegal since 2012 in Ireland, but Mr. Selim claimed that "female circumcision" was different and acceptable.
However, according to the United Nations, FGM and "female circumcision" are one and the same, and that the latter term "obscures the serious physical and psychological effects of genital cutting on women."
Speaking to the RTÉ's Prime Time, Selim argued: "I'm not an advocate of female genital mutilation but I am an advocate of female circumcision.
@BreitbartLondon
France Prosecutes Hundreds for FGM, Zero in the UK breitbart.com/london/2017/07/06/france-prosecutes-hundreds-fgm-zero-uk/ …
12:30 AM - Jul 7, 2017
France Prosecutes Hundreds for FGM, Zero in the UK
Hundreds of people have been convicted of FGM offences in France, yet none in the UK have, despite the practice being illegal for 31 years.
breitbart.com
69
98 people are talking about this
"We see female circumcision in the same way we see male circumcision. It might be needed for one person and not another, and it has to be done by a doctor and practised in a safe environment.
"The same medical reason that would justify male circumcision would be the same for females. It is not an obligation, but it should be allowed by law if needed and a medical doctor can decide if it is needed or not," he said.
Adding: "It is always been portrayed as 'horrible' or 'barbaric' or 'mutilation' and is portrayed as a dark-skin practice or from the dark ages," he said.
"If it is an inherited practice it does not mean it has to done, but it has to be considered, and not rejected because it is inherited," he said.
When asked whether he believed it should be carried out for cultural or religious reasons, he said: "In the Koran it says clearly, ask of the people of knowledge if you do not know, so it means you ask a medical doctor."
@BreitbartLondon
When will the West deal with the imported FGM problem? breitbart.com/london/2017/07/19/mass-migration-drives-enormous-rise-60000-cases-fgm/ …
3:49 PM - Jul 19, 2017
Mass Migration Drives 'Enormous' Rise in FGM Cases to 60,000
Germany has seen a massive increase in the number of women and girls affected by FGM thanks to mass migration from Africa and the Middle East
breitbart.com
112
While FGM as a cultural practice predates Islam and is not unique to it, the religion has been linked to its spread. The Shafi'i school of Islamic jurisprudence considers it obligatory; most other schools have considered it at least preferable or 'honourable' historically.
In Indonesia, the world's most populous Mulsim-majority country, girls are mutilated en masse in large annual ceremonies, and the Indonesian Ulema Council — the country's highest Islamic clerical authority — has strongly opposed efforts to ban them.
breitbart.com/london/2018/02/11/irish-muslim-leader-backs-female-genital-mutilation/
-----------
Bahrain pair claim silver at the Arab Women Sports Tournament in Sharjah
Sun, 11 Feb 2018
MARYAM Al Qasmi and Hessa Al Zayani claimed the silver medal in the table tennis doubles event of the Arab Women Sports Tournament (AWST) in Sharjah yesterday.
The Bahrain Club duo put on a brave show before going down to Siwar Yousef and Bara'a Mohammed of Jordan's Mu'ta Club 5-11, 3-11, 6-11.
The Bahraini pair started their title quest beating Aziza Samir and MaysoonAbdulqader of Saudi Arabia's Jeddah Club 3-0 in the first round.
They defeated Kuwait Girls Club's KefayaAbdulmohsin and FatmaAbdulhussain 3-1 to punch their ticket into the gold medal match.
Bahrain Club's other pair of Mayam Al Blooshi and Amal Al Nuaimi lost to Kuwait's Manwa Al Shimmiri and Maryam Al Baron 1-3 in the first round.
Bahrain remain at the top of the table with 25 medals in total - 10 gold, six silver and nine bronze.
Bahrain chef de mission Shaikha Hayat bint Abdulaziz Al Khalifa was present at the awarding ceremony and congratulated the table tennis team on their achievement.
Meanwhile, the Youth and Sports Ministry team suffered a heartbreaking 79-82 defeat to Shabab Al Fuhays of Jordan to miss a podium spot.
Youth and Sports Ministry led the game in the first quarter 28-22, then went further ahead 43-36 at the end of the second.
The Bahrainis extended their authority in the third quarter, which also ended in their favour 66-59, but a sudden drop in their performance in the fourth and final quarter of the game proved vital.
It was the third straight defeat for the Bahrainis, under national coach FadelMilad, after a successful start to the tournament winning their first two matches.
gdnonline.com/Details/317085/Bahrain-pair-claim-silver-at-the-Arab-Women-Sports-Tournament-in-Sharjah
-----------
UAE women's national ice hockey team leave lasting impression during US tour
The team, who landed in the capital city on Wednesday have already watched a Capitals practice and run drills with two of the players
February 11, 2018
Standing before nearly 18,000 fans, the UAE's star ice hockey player performed a ceremonial puck drop kicking off a game between two American teams at the weekend as part of a special tour of the US.
The UAE National Ice Hockey team were guests of honour at the game between the Washington Capitals and Columbus Blue Jackets held at the Capital One Arena.
@Capitals
Check out our ceremonial puck drop with the entire United Arab Emirates Women's National Hockey Team on the ice! #HockeyIsForEveryone #ALLCAPS
5:45 AM - Feb 10, 2018
212
55 people are talking about this
The ceremony took place exactly a year after stickhandling superstar Fatima Al Ali was invited by the Capitals to the same arena. This year there was no famous selfie, but the team of eighteen were ecstatic all the same.
"At first I didn't believe it," said Fatima Al Mazrouei who plays forward for the Emirati national team and the Abu Dhabi Storms. "Then, when I was there I was so happy thinking UAE women reached this international stage. And it's not only about UAE women, but women overall."
The event was co-ordinated by the UAE Embassy in Washington DC in conjunction with the NHL's 'Hockey is for Everyone month', during which the league runs initiatives that celebrate grassroots hockey as well as the game's growing diversity and popularity around the world.
The Capitals relationship with the UAE team developed when former Capitals player and NHL all-star Peter Bondra met Ms Al Ali while in Abu Dhabi for a hockey event. After noticing her stickhandling and tricks, he filmed a clip of her on his phone and tweeted it out. The clip went viral and the Capitals and Etihad invited Ms Al Ali to Washington DC.
"Fatima and her teammates encapsulate exactly what Hockey is for Everyone is all about — encouraging people of all backgrounds to play hockey and use the sport as a catalyst to teach essential life skills and the core values of hockey: commitment, perseverance and teamwork," said Ted Leonsis, the owner of the Washington Capitals.
Fatima Al Ali represents UAE, shows off her ice hockey skills with NHL's Washington Capitals
Emirati women make great strides in sports participation
The team, who landed in the capital city on Wednesday have already watched a Capitals practice and run drills with two of the players and Mr Bondra.
"It's just like a dream that's come true," said goalie Fatima Karashi as she watched the players walk in. "We've been playing for eight years and we've played in some tournaments, but to see professionals right in front of us, it's actually more than I ever dreamed about."
The players were equally impressed with the women.
"When I first found out that they were coming, I thought it was incredible," said defenceman Madison Bowey. "Me, being an African-Canadian player, it's obviously tough to get in the game and get involved, so I think the more diverse you see the game becoming, it's pretty special. To see these girls here from Abu Dhabi and how in love they are with the game and how much fun they have on the ice, it's really special."
The Emirati team also scrimmaged with Washington Pride, a local team part of the Junior Women's Hockey League and met with lawmakers and government officials at the US Senate and State Department.
Washington Capitals
@Capitals
After their trip overseas on @EtihadAirways, the United Arab Emirates Women's National Hockey Team and @FatimaAl_Ali stop by the @uscapitol to meet with @SenatorDurbin - a member of the Congressional Hockey Caucus - and @PeterBondra12. #HockeyIsForEveryone #ALLCAPS
9:01 PM - Feb 8, 2018 · United States Capitol Building
169
41 people are talking about this
"It was really important for us to bring the team here as the Embassy is constantly looking for ways of highlighting the close relationship between the UAE and the United States," said Dana Al Marashi, head of the Heritage and Social Affairs Department at the UAE Embassy.
"By having the girls have inter-squad games with American players where they're able to talk to each other and talk about the love for their sport — it's amazing to see the welcome they've received here."
At a meeting with officials from the US State Department, players expressed interest in developing an exchange programme to bring professional American ice hockey players to the UAE.
"It's a big honour for me to represent the UAE in Washington DC and be an ambassador for hockey and my country and it's not only for ice hockey, it's for women empowerment overall," said Ms Al Mazrouei.
The team will next visit Chicago and Ottawa before returning to the UAE to prepare for the Asia Cup Hockey Tournament in March.
thenational.ae/uae/uae-women-s-national-ice-hockey-team-leave-lasting-impression-during-us-tour-1.703577
-----------
Pakistan's new designers bet on wearability, modern relevance
SABAH BANO MALIK | Published — Sunday 11 February 2018
There are veteran designers who have become household names and whose aesthetics can be spotted and recognized, but there is also a new crop.
These new brands focus on wearability, contemporary cuts and aesthetics, but there is also a significant amount of thought put into the business of fashion and understanding changing clientele. Speaking to rising stars in the industry, Arab News got an insight into how they are changing it.
"At the core of ZuriaDor designs is the focus on the millennial generation," said Madiha Latif, half of the creative team behind the brand with Kinza Latif.
"As millennials ourselves, the designs project what we think would be appreciated by our generational peers: Modern, independent, driven women who are set to rule the world."
Hamza Bokhari, creative head of Jeem, also sought to design for the modern Pakistani lady. "My design philosophy revolves around this present-day woman who is deeply rooted in her culture and heritage," he said. "It's an amalgamation of old-world craft and modern relevance."
Hussain Rehar, who runs his ZuriaDor label, joined the fashion world after graduating from design house Elan.
His philosophy is "creating distinctive and new designs in their own nature by setting new trends and providing the fashion industry with a taste of individualism."
Rehar said: "It's very important for a designer, or anyone for that matter, to progress, to keep on improving."
He added: "The fashion industry is all about innovation. You have to innovate to make a mark, or else you just blend in and lose your identity. Change is what drives and fascinates people to invest."
Bokhari said: "I started about five years ago. At that time, Pakistan was going through a transitional phase from couture to affordable luxury."
He added: "Retail is a very integral part of any fashion business, which also in a way helps you with the couture side of it."FoTheLatifs prefer to be described as engineers rather than designers. "Engineers are trained to be problem-solvers, drivers of change, long-term planners, constant learners, systematic and technology driven," said Madiha.
"Many boxes need to be ticked for the brand's vision to become a reality, but we want to spearhead systematic improvement on the design and manufacturing fronts. Who better to do it than individuals with formal training in engineering?"
arabnews.com/node/1244046/lifestyle
-----------
Burqa-Clad Woman in Islamic State-Inspired Terror Stabbing
A visiting Bangladeshi woman stabbed a sleeping man in the neck in Melbourne, Australia, in what police allege is an Islamic State-inspired terrorist attack.
The 24-year-old attacker, identified as MomenaShoma, was arrested at the scene and charged with engaging in a terrorist act. ABC News reports she is a Bangladeshi national who travelled to Melbourne on February 1 on a student visa and was renting a room in the home of her victim, a man identified by neighbours as a 56-year-old nurse.
"We will allege this was a standalone, Islamic State-inspired attack, designed to cause harm to our community," the Australian Federal Police acting deputy commissioner of national security, Ian McCartney, said on Saturday.
"We deplore any attempt to intimidate our community."
Neighbours said Ms Shoma had arrived the day before the incident and had planned to stay for around 10 days.
Police said she had been enrolling in a course at La Trobe University and that it was understood she was wearing a black Burqa at the time of the attack.
Victoria Police Acting Deputy Commissioner Ross Guenther also pointed to radical Islamic State motives for the attack.
"We're confident this person acted alone and it was an inspired attack by a person who had become radicalised over a period of time," he said.
"We have evidence that supports that contention which will later be brought before the court.
"We have a well-established Bangladeshi community and we strongly advise that we don't want any retaliatory action against that community because as part of our broader social fabric they're very important to the health of this city of Melbourne."
Since September 2014, when the national terrorism threat level was raised, police have charged 85 people, including this woman, following 36 counter-terrorism operations around Australia.
breitbart.com/jerusalem/2018/02/11/Burqa-clad-muslim-woman-islamic-state-inspired-stabbing/
-----------
Without Hinduism secularism won't survive, says Muslim woman who led Friday prayers
Sunday 11 February 2018
India needs Hinduism for survivals of secularism, says Muslim woman who led Friday prayers Jamida, 34, is the general secretary of the Quran Sunnat Society.
Kannur: Secularism will survive in India only if the country retains its Hindu traditions, said K Jamida, general secretary of Quran Sunnath Society. Speaking at the DeendayalUpadhyaya remembrance meet organized by BJP district committee here, Jamida said though there were death threats against her, the left parties and intellectuals in Kerala had not come to her aid.
She also said that attempts were made on her life for supporting the central government's legislation against triple talaq and campaigning against the wrong customs and priesthood in Islam. "I'm being targeted for trying to reform society. DeendayalUpadhyaya and founder of Quran Sunnath Society ChekannurMoulavi paid with their lives for doing the same thing. DeendayalUpadhyaya died under mysterious circumstances. What was his fault? Only one man was sentenced for strangulating ChekannurMoulavi to death. The other accused are roaming free, in search of their next prey," said Jamida.
"Left and progressive intellectuals have come out in full support for poet Kureepuzha Sreekumar. All that the organizers of the meet he took part did was to point out to the poet that he was hurting religious sentiments. He was also urged to keep the composition of the audience in mind while speaking," she said.
"When organizers told Kureepuzha that they did not agree with his stand, it was even termed a murder attempt and the poet received widespread support. However, if there had been even one person with a Muslim-sounding name among those who opposed the poet, Kureepuzha would not have received such backing," said Jamida.
The person who tried to kill me was a Muslim, so no one came to my support, she added.
Attacking the Muslim League and SDPI for being parties working solely for Muslims, she termed BJP and RSS organizations which welcomed persons belonging to all religions.
"Hindus belonging to all castes should unite to ensure that India does not become an Islamic country," she said. Referring to the Akhila-Hadiya case, she said those supporting Akhila should remember that Akhila's parents too have their rights. The Central government introduced the Bill against triple talaq as it could empathise with the hardships faced by Muslim women, said Jamida.
On the occasion, the Malayalam translation of DeendayalUpadhyaya's 'Integral Humanism' was released by BJP former state president C K Padmanabhan by handing over copies of the book to Jamida and Prof. P N Sathyanath.
"Muslims are massacring even other Muslims all over the world in the name of the Prophet and the Holy Quran as Islamic scholars failed to teach the real essence of the Holy Book to followers," said Padmanabhan.
BJP district president P Sathyaprakash presided over the function. State general secretary B Gopalakrishnan, state cell coordinator K Ranjith and district general secretaries K K Vinod Kumar, M K Vinod and K Radhakrishnan also spoke.
english.manoramaonline.com/news/kerala/2018/02/11/jamida-muslim-reformer-hails-hinduism-at-bjp-event.html
-----------
Pakistani activist Asma Jahangir dies of cardiac arrest
PTI | Updated: Feb 11, 2018
LAHORE: Pakistan's well known human rights lawyer and social activist Asma Jahangir died here today of cardiac arrest. She was 66.
"Asma suffered heart attack today morning and she was rushed to Hameed Latif Hospital Lahore where she breathed her last. Doctors tried to save her life but couldn't," senior lawyer Adeel Raja said.
As the news of her death broke condolences started pouring in from the lawyers, rights activists and politicians terming it a "great loss" for Pakistan.
She is survived by two daughters and a son. Her daughter MuneezayJehangir is a TV anchor.
Born in January 1952 in Lahore, Asma co-founded and chaired the Human Rights Commission of Pakistan. She had also been Supreme Court Bar Association president.
After obtaining LLB degree from the Punjab University in 1978, she started her career as an advocate at high and supreme courts.
After obtaining LLB degree from the Punjab University in 1978 she started her career as advocate high and supreme courts. She became a champion democracy activist and was subsequently imprisoned in 1983 for participating in the Movement for the Restoration of Democracy against the military dictator of ZiaulHaq.
timesofindia.indiatimes.com/world/pakistan/pakistani-activist-asma-jahangir-dies-of-cardiac-arrest/articleshow/62872038.cms
-----------
Bahraini referee manages Arab Table Tennis
11/02/2018
Sharjah, Feb. 11 (BNA): International referee for table tennis, Ebtissam Habib, has managed the fourth edition of the Arab Women Clubs singles' match.
The Bahraini referee has recently obtained the international referee badge. She expressed her delight at being present at the first-of-its-type function organized by the Arab national Olympic committees concerning women in sports.
The current tournament has achieved quantum leaps in terms of organization and technicalities as well as the number of participating Arab countries.
Ebtissam Habib's refereeing career began in 2012.
bna.bh/portal/en/news/825090
-----------
Al-Saqaf about her medal: It's an honor for all Saudi women
JEDDAH – Renowned Saudi writer and academic Dr.Khairiyah Al-Saqaf thanked Custodian of the Two Holy Mosques King Salman for honoring her with the King Abdulaziz First Class Medal. "It is an honor from the nation, represented by the King, to me as well as all women in Saudi Arabia," she said.
King Salman presented Al-Saqaf with the medal during the opening ceremony of the 32nd National Festi¬val for Heritage and Culture in Janadriya outside Riyadh on Wednesday.
In addition to Al-Saqaf, the King posthumously honored former Minister of Foreign Affairs Prince Saud Al-Faisal and veteran media figure Dr.Turki Al-Sudairi.
Al-Saqaf described the King as a leader with outstanding characteristics who has been playing influential role in elevating the prestige of Saudi women. "King Salman was the first to support me in my appointment as the first woman managing editor in a daily newspaper in Saudi Arabia and he was the first to congratulate me while assumed the post. The King personally asked me to take up the chair of the women's committee for the centenary celebrations of the Kingdom's founding," she said.
After obtaining a bachelor's degree in Arabic language and literature from King Saud University (KSU) of Riyadh, Al-Saqaf did her Master's degree in language curriculum and teaching methods from Columbia University, Missouri, US. She obtained her PhD from Riyadh's Imam Muhammad Bin Saud University.
Al-Saqaf started her journalistic career in her 20s and was elevated as the managing editor of Al-Riyadh daily in 1980s. She was the first woman to hold such a key post in a daily newspaper on the Arabian Peninsula. The credit for writing daily columns in newspapers by a woman writer in the Kingdom goes to Al-Saqaf. She was also the first to write literary articles for broadcasting on a daily basis. She served as the supervisor of the first supplement for women readers in a local daily newspaper.
Later, she switched over to academic field and was appointed deputy president for girls' faculties at KSU and thus becoming the first Saudi woman vice president of a Saudi university. She also worked as dean of the University Studies Center at KSU.
Al-Saqaf's fame as a writer spread beyond the borders of Saudi Arabia and the Arab world as an author of a number of well-known books, the most important of them in science and literature. "To Sail Toward Dimensions" published in 1982 is a collection of 18 short stories. Her books also include "Dilemma in the Equation", "When Blowing the wind During Stormy Rain," and "Weakness of the Classical Arabic and the Absence of Scientific Research Methods".
She has three books in English to her credit. Collections of short stories and essays by Al-Saqaf and other Saudi women writers, they include "The Literature of Modern Arabia: An Anthology", "Assassination of Light: Modern Saudi Short Stories", and "Voice of Change: Short Stories by Saudi Arabian Women Writers."
Her works have been translated into five languages: English, Italian, Polish, Korean and Russian.
Al-Saqaf participated in several scientific and literary conferences within the Kingdom and abroad, and represented her country in many international forums. She also attended the first session of the literary forum between South Korea and the Arabs in 2008, with her research paper on "Women's literature in Saudi Arabia."
Al-Saqaf has won several awards and certificates of appreciation in the fields of literature, media and women's leadership. She was chosen as the outstanding Saudi woman personality when Riyadh was named the 2000 Arab Capital of Culture. She has also won the award of the Ministry of Haj and Umrah for literary excellence in 2014, and media excellence award of Sayyidati Magazine in 2015.
saudigazette.com.sa/article/528079/SAUDI-ARABIA/Al-Saqaf-about-her-medal-Its-an-honor-for-all-Saudi-women
URL: https://www.newageislam.com/islam-women-feminism/abaya-mandatory-attire-saudi-women/d/114239