New Age Islam News Bureau
05 January 2021
• Young Afghan Models Risk All in Catwalk Beauty Contest in a Sprawling Kabul Café
• Dania Aqeel in Fray Because Of Passion for Motorsport despite Risks
• Cases of Pakistani Women Seeking Khula Jumped By Over 700pc In 2020
• If you're A Pakistani Woman, You Can Now Avail the Malala Yousafzai Scholarship
• ADB and UN Women: A Better Normal for Women and Girls after COVID-19
• Dozens of Female Palestinian Inmates Suffer From Poor Conditions In Israel Prison: Rights Group
• Abu Dhabi Women's Tennis Open: Top Seed Sofia Kenin Gets An Easy Start
• Iran Gov't Approves Bill To Combat Violence Against Women
Compiled by New Age Islam News Bureau
URL: https://www.newageislam.com/islam-women-feminism/a-womens-boxing-team-grows/d/123988
--------
A Women's Boxing Team Grows in Gaza
By Dave Zirin
05 Jan 2021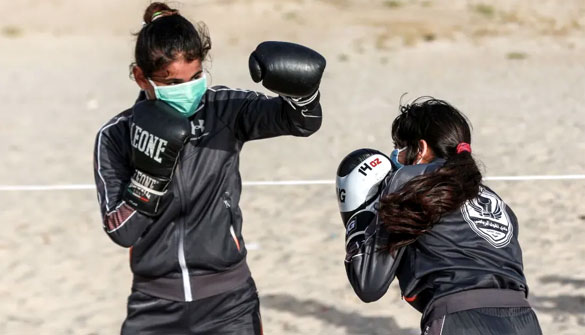 Palestinian boxers train at a beach in Gaza City, Gaza, in May of 2020. (Ali Jadallah / Anadolu Agency / Getty)
-----
The Israeli government has continued its 14-year blockade against Gaza for reasons beyond the military and the strategic. The blockade—alongside bombings and selective assassinations—also accomplishes the political and ideological goal of killing hope. It crushes the aspirations that Palestinian people might have for justice, self-determination, or even a better life.
That's what makes sports so potent and popular among young people in Gaza. When playing soccer or basketball—two extremely popular pastimes—they feel that another world may indeed be possible. That is why I found it to be potent, powerful, and profoundly moving to learn that, for the first time, there is a women's and girl's boxing program in Gaza. Such a team has the capacity to build the reserves of hope and in addition smash gender norms as well as knockout the very idea of passivity.
As Covid has hit Gaza particularly hard, with its absence of medications and hospital infrastructure, the new team has actually doubled in size since June. Now as many as 45 female boxers are on the squad, ranging from ages 7 to 21. Because of the privations caused by the blockade, they are not exactly overwhelmed with facilities and equipment. Some speed bags are stuffed pillowcases and heavy bags are mattresses. They even hold practices on the beach because of Covid. But the hard work is bearing fruit and this ragtag team will be competing in Kuwait this February under the banner of the Palestinian National Boxing Team.
I reached out through intermediaries to their coach, 35-year-old Osama Ayob, as well as several of the players to find out what motivates them to go to the beach and punch mattresses. Coach Ayob says that his own inspiration for the team came from girl's and women's boxing teams in Egypt, Lebanon, and Algeria. "I wanted to create a Palestinian girls' team," he says. "Women are equal to men and they are half of the society here in Gaza. It also helps to build strength and protect them from any danger."
I asked about the challenges to setting up this club and he said, "The place [the Gaza Strip] is small, there's a shortage of money, there's no legal boxing circuit, a shortage of hand protection gloves, a shortage of all the protective equipment. All is at a trainer's expense."
I also wanted to know how the broader Gazan community responded to the start of this boxing team. "There was a bit of a surprise," he says. "But then it became accepted, because I was training girls at the seashore, at the corniche [the beachfront], and in public places so that the idea would be accepted by Gazan society." Ayob sees not just health, exercise, and competition emerging from this endeavor but also national pride. "Naturally, it is just a sport," he says, "but we would like to raise the flag of Palestine at all Arab and foreign forums and throughout the world, so that the flag of Palestine may be held high."
Reema Abu Rahma is a 22-year-old boxer on the team. She says, "I love boxing because it's a beautiful, wonderful hobby, and also for self-defense, and it helps to release negative energy." She says that the hardest part of being on the team is "the difficulty of being accepted by the Gazan community because I am a girl and the difficulty of finding sports equipment suitable for girls." Her family "was very excited and happy" when they heard she was joining the team, "especially my father and my friends were very supportive, and they also became interested in girls' boxing."
Her dream is "to compete in an international competition and to become an international player and raise the name of Palestine internationally. Finally, I would like to participate in international clubs and in training camps so that we can compete with the other Arab and international nations."
This is an exciting development in Gaza, where sports is never just sports. And when a team can survive—if not thrive—amid the blockade, it sends a message of resiliency to oppressed people all around the world. It even feels something like hope.
https://www.thenation.com/article/society/womens-boxing-gaza/
--------
Young Afghan Models Risk All in Catwalk Beauty Contest in a Sprawling Kabul Café
January 05, 2021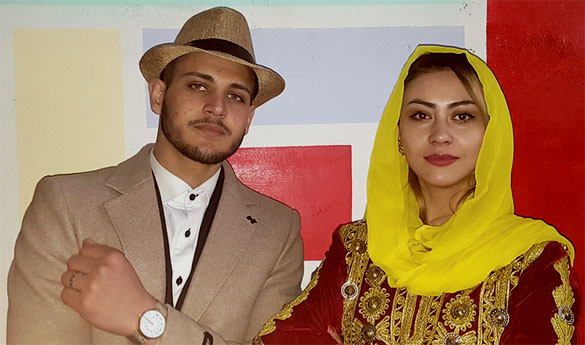 Winners of the Afghanistan Mr. and Miss Beauty competition Murtaza Safi and Nigara Sadaat pose for a souvenir photograph in Kabul. (AN photo)
-----
KABUL: In traditional Afghan dress, regional costumes, Western outfits, and some in more revealing attire, young men and women walked a red carpet to background music, taking applause from a tightly Packed audience in a sprawling Kabul cafe.
Such scenes may well be familiar sights at fashion events around the world, but not in the Afghan capital. The show marked the first major beauty competition for men and women, Afghanistan's Mr. and Miss Beauty 2020.
Sixty contestants aged between 14 and 30 participated in the recent competition to scout local talent.
Organizer, Hamid Wali, told Arab News: "It is a new concept, and has not happened before. It is the first time a fashion agency has done something that connects all the models, all the fashion."
Wali set up the first professional Afghan modeling agency, Modelstan, in 2018 after returning from India where he worked for years in the fashion industry.
The 27-year-old's aim is to promote local models to advertise local companies, which for years amid taboos and restrictions have relied on professionals from neighboring countries. The goal does not come without obstacles, prejudice, and accusations of foreign interference.
"We are a group of Afghan youths. Some think we are allied with a Western nation and get funding from a Western embassy. But we are not Western culture promoters, we are Afghans, we are Afghan culture promoters," he said.
The main obstacle has been resistance from the models' families, and Wali has tried hard to persuade them that there was nothing wrong in posing and being photographed for the media.
"We had a lot of arguments. There are a lot of families whom we had to convince," he added.
Despite the agency's efforts, however, the main burden rests on the models themselves with some of them willing to risk everything to follow their dream.
Nigara Sadaat, who was chosen by a jury of four women and men as Miss Beauty, said she had kept her participation in the contest secret.
"I secretly, without the knowledge and approval of my family, attended the competition. They still oppose what I have done," she told Arab News after the show.
Sadaat has always wanted to be a model and during the show she wore modest embroidered tunics and scarves. Nevertheless, her relatives were outraged by the very act of modeling.
"My relatives, in a humiliating manner, called my dad and informed him that 'your daughter has become a model.' I have not been able to go back home after the appearance of my images on media," she said.
For now, she prefers to stay at her married sister's house.
Mortaza Safi, who became Mr. Beauty, is in a similar predicament.
"There are some who oppose modelling in Afghanistan. My father showed the utmost opposition and refused to allow me," said the 20-year-old, wearing a cowboy hat, thick khaki overcoat, and slim trousers.
"My dad forced me to shave my head, so that I would change my mind, and took me to a barber shop, thinking that if I lost my hair, I won't be fit to attend the competition."
Safi added that he had fled his hometown in northern Mazar-i-Sharif to pursue his passion for modelling and fashion. He ignored his family's concerns and traveled through the night to Kabul for the first day of the event.
Modelling was a distant dream for the generations before them, especially during Taliban rule in the late 1990s, when women were banned from most outdoor activities, including work and education.
A possible return of the Taliban to power as a result of ongoing peace talks between the group and the Afghan government, which may lead to a new government manned by both sides, has left many fearful that their freedoms could again be curbed.
But the models vowed that whatever the future holds, they were determined to pursue their career paths.
"We all want restoration of peace here and we have no problem with the return of our Taliban brothers," said Diana Adeeb, a young model who wore no headscarf.
She added that while the Taliban were part of Afghanistan too, they should respect the rights of others.
"We have witnessed too much trouble in modelling and faced too many risks with family and society. Our rights should not be trampled, and we should not be forced over how we should or should not be," she said.
https://www.arabnews.com/node/1787401/world
--------
Dania Aqeel In Fray Because Of Passion For Motorsport Despite Risks
January 03, 2021
Dania Aqeel ... gearing up
-----
RIYADH — The Saudi Dakar Rally 2021 has opened new vistas for young Saudi women who are passionately in love with motorsport. They have developed the flair similar to their male counterparts, while displaying an equally competitive spirit in racing for recognition and a prize.
The world-renowned rally, which kicked off on Sunday from Jeddah, sees the debut participation of a Saudi women's team. The racers — Dania Aqeel and Mashael Al-Obaidan — are participating in the rally for the first time in their sports careers.
In an interview with Asharq Al-Awsat newspaper, Dania said that her objective of registering in the second edition of the Saudi Dakar Rally this season is not only for participation, but also for competition. "We participate in the local Saudi rallies for development and training," she said.
Dania has been practicing her favourite hobby ever since her childhood. With her ardent love and passion for motorcycling, she prepared herself to accept and adapt to the risks of this adventurous sport.
She has been in love with desert car racing since childhood, but she had always dreamed of professionally driving motorcycles when she grew up. Her penchant for the bikes was due to the fact that it requires commitment, fitness, and mental and physical discipline.
She was encouraged and supported in her dream of emerging as a competitive rider by her father, who too is a motorcycle enthusiast.
Dania, one of the very few Saudi women in the world of motorcycles, aspires to give a strong showing in the Dakar Rally. She has been trained by professional international trainers in this field in the United Arab Emirates and Spain.
Dania started the racing season in the UAE and won the Rocky Cup for the new competitors that encouraged beginners, then participated in the Bahrain season, but she suffered a traffic accident in February 2020 and sustained four bone fractures.
The Saudi star obtained the official license from the Saudi Federation of Automobiles and Motorcycles and passed the exams in the UAE.
That's why the federation took the initiative to encourage her to enter the rally and Dania came to an agreement with a Polish training team to prepare for the upcoming rallies.
"Mashael Al-Obaidan and I are currently participating in the Saudi local rallies with the Dust Racing team, and we have established the Shiro Rally Team, a team that brings me and Mashael together.
"We are still in the process of developing this team, which we aspire to have sponsors for, and we will start registering and participating in local rallies," she said.
With the opening of the borders, Dania said, they will go to Abu Dhabi for Desert Challenge race as well as to prepare for Dakar 2022. Dania said that the long-term action plan of the Shiro team has opened the way for Saudi girls to fulfill their dreams by entering competitive car racing.
"The team will take its first steps in the Saudi Desert Rally Championship next year, with the support of the Ministry of Sports, and under the supervision of the Saudi Federation of Automobiles and Motorcycles.
"Despite the team being young, Dania's ambition is to open the door for girls to register in the entire Gulf countries, as a long-term plan, with the aim of training and qualifying them to join a professional women's team, to participate in rallies," she added.
https://www.saudigazette.com.sa/article/602106/SAUDI-ARABIA/Dania-in-fray-because-of-passion-for-motorsport-despite-risks
--------
Cases of Pakistani Women Seeking Khula Jumped By Over 700pc In 2020
Naeem Sahoutara
05 Jan 2021
KARACHI: While the pandemic offered a rare opportunity for family reunions, the cases of separation filed in family courts jumped by over 700 per cent during 2020, it has emerged.
Around 5,891 cases of khula (separation) filed by females across the province over the last two years were pending trial before the family courts, the official statistics suggested.
The figures suggested an increase of up to 722pc in the cases filed by the female litigants seeking khula from their husbands over domestic issues during 2020 against the preceding year 2019.
The figures suggested that 632 family suits for khula were instituted across the province in 2019.
However, around 5,198 women approached the courts to seek dissolution of their marriage during 2020.
'Unlike in dramas, real life is very different and difficult'
Of them, over 4,050 were instituted in five districts of Karachi.
The statistics showed that around 435 family suits for khula were instituted in the courts of district Malir in 2019 compared to 387 in 2020.
In district West, 98 suits were filed in 2019 compared to 505 in 2020.
In district Central, 154 suits were filed in 2019 compared to 883 in 2020.
In district South, 46 suits were instituted in 2019 compared to 422 in 2020.
In district East, 259 suits were instituted in 2019 compared to 1,249 in 2020.
Islam takes distinction over other religions when it comes to women's rights, going as far as allowing a woman to seek divorce (khula) from her husband if he fails to fulfil his obligations.
The lawyers say one of the reasons why women approach the courts for separation from their husbands is that they fail to fulfil their obligations.
Most of the female litigants avoided talking to the media to explain the reasons for seeking separation from their husbands.
But Advocate Saima Qureshi, who specialises in family litigation, told Dawn that "in most of the cases the husbands fail to perform their social duties towards maintenance and well-being of their wives."
She added: "The second reason is that young girls dream of a luxurious life after marriage as they see in the glamorous television dramas and films. Real life is very different and difficult," she reasoned.
Impact of pandemic
Year 2020 proved to be hardest in decades, as the outbreak of the Covid-19 pandemic across the world largely affected the people both in the shape of an economic crisis as well as social behaviours.
The country-wide lockdown during the pandemic resulted in losses of the means of livelihood for hundreds of thousands of people, particularly from the uneducated low-income groups, leading to an increase in the figures of joblessness.
However, the pandemic also offered a rare opportunity for the people to stay indoors and spend time with the family, as the fears of spread of the coronavirus created panic in society.
This, Advocate Qureshi says, also resulted in rise in domestic issues.
"As the male members of the family lost their jobs and spent almost 24 hours at homes it definitely resulted in quarrels in the families since they were unable to make both ends meet," she added.
The lockdown also forced the people to adopt social distancing, which meant the families were compelled to stay indoors most of the time.
"I think, staying at home for the males also contributed to the incidents of domestic torture, thus leading the women to seek khula," the lawyer said.
https://www.dawn.com/news/1599786
--------
If you're a Pakistani woman, you can now avail the Malala Yousafzai Scholarship
05 Jan 2021
Education activist, young Nobel Peace Prize Laureate and Oxford graduate Malala Yousafzai, is not only a vital voice for a new generation that seems to have inherited a broken world, but also the leader who aspires to change it.
Given her immaculate contributions and hard work towards causes advocating for women's education in Pakistan, the United States Congress has passed a bill named after her which expands the number of scholarships to women in Pakistan under a merit and needs-based programme.
According to the bill requirements, USAID will be awarding at least 50% scholarships to Pakistani women, across a range of academic disciplines, given they meet the existing eligibility criteria.
While the act was passed by the House of Representatives last year in the month of March, it was voted into existence on January 1, 2021. Currently, it has been sent to President Donald Trump to sign it into law.
Previously, the United Nations declared July 12, 2013, as "Malala Day" — a global day of support for and recognition of Malala's bravery and courage in promoting women's education.
Moreover, more than 1,000,000 people around the world have signed the United Nations Special Envoy for Global Education petition calling on the Government of Pakistan to enroll every boy and girl in primary school.
More information about the scholarship can be found here.
https://images.dawn.com/news/1186337/if-youre-a-pakistani-woman-you-can-now-avail-the-malala-yousafzai-scholarship-act
--------
ADB and UN Women: A Better Normal for Women and Girls after COVID-19
By Bambang Susantono
04 Jan 2021
2020 was synonymous with the COVID-19 pandemic and the unprecedented crisis it brought across economic, social, and health dimensions. 2021, on the other hand, is already being associated with the promise of the next normal.
For the Asian Development Bank (ADB) and UN Women, our new year's resolution is that we see more COVID-19 recovery strategies that prioritize the needs of women and girls in order to create a better and more egalitarian normal.
The Asia and Pacific region is providing some inspiring and concrete lessons on how a new normal can be more effectively achieved when gender equality is fully integrated into strategies, policies, and investments.
Governments across the region have shown that taking decisive and proactive actions can mitigate short-term effects and pave the way toward a better normal for women. An ADB-UN Women high-level ministerial event held in fall 2020 for Ministers of Finance and Gender, and other senior representatives from Fiji, India, Indonesia, Japan, Republic of Korea, Philippines, Samoa, and Thailand, shared good practices and policies to ensure women remain at the centre of COVID-19 response and recovery.
The Indonesian government's approach to implementing direct cash transfers encourages families to use maternal health and nutrition services and motivates them to send children to school and focus on financial management. Similarly, in the Philippines, psycho-social support and specialized training for health sector workers include recognizing and treating domestic violence and providing referral advice.
In India, the government's investments in digital infrastructure over the last six years have enabled 400 million citizens to open a bank account for the first time in their lives. Those bank accounts were leveraged during the pandemic to ensure direct cash transfers to the accounts of 220 million women. This principle reminds us to "leave no one behind" as we look to rebuilding our economies.
Still, there is a great deal of work to be done. A UN Women survey found that more women in the region were likely to have experienced job loss and reduced paid hours than men. This is in line with other data indicating that women are concentrated in the most hard-hit sectors of the pandemic, such as tourism, manufacturing, textiles, and garments. In some countries in the region, nearly half of women working in the particularly vulnerable informal sectors have lost their jobs since the outbreak began — more than double the rate of men.
Women's difficulty in maintaining their paid work is further exacerbated by the increased time they are spending on unpaid care work, such as caring for their families and households. Before the pandemic, the International Labour Organization estimated that men in Asia and the Pacific performed the least amount of unpaid care work globally (average of 64 minutes per day). As a consequence, women in the region worked the longest hours in the world when their paid (262 minutes per day) and unpaid work (201 minutes per day) are combined.
Women spent an average 4 times longer than men on unpaid care work like taking care of children and family members and domestic chores. With the COVID-19 lockdown, the volume of unpaid care work has exponentially increased for both women and men, however, women still shoulder most of the burden.
There are many other negative pandemic effects on gender equality, including increased rates of domestic violence, maternal and infant mortality, and more girls dropping out of school, to name just a few. Female morbidity rates are lower, but the pandemic's socio-economic impacts seem to be affecting women and girls more, with both short and long-term consequences.
Development partners like ADB and UN Women play a critical role in supporting governments to achieve a gender equality-focused recovery. For this reason, ADB and UN Women are recommitting to strengthen our existing partnership in key areas needed to build back better.
This includes sex-disaggregated data collection to better inform national and regional recovery policies; gender-responsive budgeting to ensure accountability and transparency toward gender goals; gender-responsive procurement to enable more women-owned businesses to access markets, working closely with both private and public sectors to develop tools and knowledge to prioritize gender equality in business and investment decisions; and combating increased gender-based violence, one of the pandemic's most destructive consequences.
Many Asia and Pacific countries are showing that setting strong targets for women and girls in response and recovery programs and developing specialised activities to mitigate COVID-19 effects is both realistic and necessary. In all of ADB's emergency COVID-19 pandemic response packages, gender targets have been integrated across health, economic resilience, and social protection domains, reflecting the reality that recovery is not possible if half the population is left (further) behind.
We encourage all governments and development partners to make similar New Year's resolutions to put gender equality front and centre of their COVID-19 recovery. Let's make sure that 2021 really does usher in a better normal for women and girls.
https://www.khaama.com/oped-a-better-normal-for-women-and-girls-after-covid-19/
--------
Dozens of female Palestinian inmates suffer from poor conditions in Israel prison: Rights group
04 January 2021
A Palestinian prisoners' rights group says approximately 40 female detainees are being held under inhumane conditions at a detention center in the occupied territories run by Israeli forces.
The Palestinian Commission of Detainees and Ex-Detainees Affairs said in a statement that there are 36 Palestinian women incarcerated in Israeli Damon prison, of whom 24 are serving different prison terms, including two given 16-year jail terms.
The Commission added that nine female Palestinian prisoners are on remand and three women are administratively detained.
The co-called Israeli administrative detention is a form of imprisonment without trial or charge that allows the Israeli authorities to incarcerate Palestinians for up to six months, which could be extended for an infinite number of times.
The Palestinian Commission of Detainees and Ex-Detainees Affairs highlighted that some of the female detainees suffer from very difficult health conditions and are subjected to deliberate medical neglect, like the case of Israa Jaabis, who suffers from burns and needs surgeries.
Other prisoners who also need special medical care include Amal Taqatqa, who was injured by five bullets and needs an operation to remove fixators from her leg, prisoner Iman Awar, who suffers from cancerous lumps in her vocal cords, and prisoner Nasreen Abu Kamil, who suffers from hypertension, diabetes and sore toes.
More than 7,000 Palestinian prisoners are currently languishing in some 17 Israeli jails, with dozens of them serving multiple life sentences.
Over 500 detainees are being held under the so-called administrative detention in various Israeli prisons, some of whom have been held in that condition for up to 11 years without any charges brought against them.
Palestinians and human rights groups say administrative detention violates the right to due process since evidence is withheld from prisoners while they are held for lengthy periods without being charged, tried or convicted.
Palestinian detainees have continuously resorted to open-ended hunger strikes in an attempt to express their outrage at the detentions.
https://www.presstv.com/Detail/2021/01/04/642267/Dozens-of-female-Palestinian-inmates-suffering-from-poor-conditions-in-Israeli-Damon-Prison-Rights-group
--------
Abu Dhabi Women's Tennis Open: Top seed Sofia Kenin gets an easy start
January 04, 2021
Alaric Gomes
Dubai: Top-seed and Australian Open defending champion Sofia Kenin will meet one of the eight qualifiers, while former French Open semi-finalist Amanda Anisimova is the only player to withdraw as the Abu Dhabi WTA Women's Tennis Open is all set to kick-off on Tuesday.
American Kenin, who battled over three sets against Garbine Muguruza to clinch her first Major at the Melbourne Park last year, is the top seed at the inaugural edition of this WTA 500 tournament that will be played at Zayed Sports City's International Tennis Centre.
With the top three-ranked women – Ashleigh Barty, Simona Halep and Naomi Osaka – all skipping this competition, the mantle of the top seed fell on World No.4 Kenin, while No.5 Elina Svitolina will make her debut as the second seed in the UAE Capital against American Jessica Pegula.
Kenin may set a re-match against Muguruza in the quarter-finals, while at the lower end of the draw Svitolina may run into Belgium's Elise Mertens in the last eight stages, after which she may have to contend against third-seeded Karolina Pliskova of the Czech Republic in the last four.
Pliskova will open her tournament against Romania's Sorana Cirstea, while fourth-seeded Aryna Sabalenka will be up against Slovenia's Polona Hercog.
The main draw had to be tweaked a bit late on Monday following the withdrawal due to illness of 14th seed Anisimova, the third-youngest player ranked in the top-100 on the WTA.
Russia's Ekaterina Alexandrova will take the place vacated by Anisimova as the next seeded player and begin her campaign against Kazkhstan's Zarina Diyas. Also entering the draw is Ulrikke Eikeri as the next player eligible to move in.
Meanwhile, Canadian teenager Leylah Fernandez will be one of the many upcoming stars on offer in the main singles draw as she meets Italian Jasmine Paolini. Fernandez, whose latest exploit was at the 2020 French Open where the 18-year-old stretched seventh seed Petra Kvitova in their third round encounter, has been admitted into the main draw as a replacement for China's Zheng Saisai, one of the early withdrawals.
2020 runner-up at the Dubai Duty Free Women's Open Elena Rybakina is the sixth seed and will start her campaign against a qualifier.
The singles qualifiers will get underway at the Zayed Sports City tennis centre from 10 am on Tuesday. A total of eight players will make it through to the main draw after two days of qualifying.
https://gulfnews.com/sport/uae-sport/abu-dhabi-womens-tennis-open-top-seed-sofia-kenin-gets-an-easy-start-1.76271939
--------
Iran gov't approves bill to combat violence against women
By Maziar Motamedi
4 Jan 2021
Tehran, Iran – The government of Iran's President Hassan Rouhani has approved a longstanding bill that aims to better protect women against domestic and other forms of violence.
In a meeting on Sunday evening, cabinet ministers greenlit the draft bill, called Protection, Dignity and Security of Women Against Violence, which has been in the works since the administration of former President Mahmoud Ahmadinejad.
The bill must now be reviewed and approved by the parliament, after which it will be sent to the powerful constitutional vetting body called the Guardian Council, consisting of jurists and religious experts.
The most senior woman in Rouhani's outgoing government hailed the move, which she said was the result of hundreds of hours of work by tens of legal experts, judges, executives and officials.
Masoumeh Ebtekar, vice president for women and family affairs, dedicated the 58-article bill to "worthy and patient Iranian women" in a tweet.
The legislation completed its lengthy process of review by the judiciary in September 2019.
It defines violence as "any behavior inflicted on women due to sexuality, vulnerable position or type of relationship, and inflicts harm to their body, psyche, personality and dignity, or restricts or deprives them of legal rights and freedoms".
It obligates the judiciary to create offices to support victims of violence and hold educational courses for judges and other judiciary staff.
The bill also envisages the formation of a fund by the judiciary to support victims of violence and help imprisoned women, among other things.
The state broadcaster is also directed by the legislation to produce more programmes that promote the support of women and the prevention of violence against them as family values.
Moreover, the bill sees a role for the ministry of education in holding educational courses for students, teachers and parents, and in better identifying vulnerable students.
The ministry of health, on the other hand, is tasked by the draft bill to boost its medical and psychological services to women and train experts in handling women who have fallen victim to violence.
Law enforcement and prison organisations are among other entities that will have to increase their efforts as part of the vision laid out in the legislation.
In a report published last month, rights group Human Rights Watch said the bill had several positive provisions, including those that engaged different parts of the government and other entities in women's issues.
But the New York-based organisation said the bill "falls short of international standards" as it does not criminalise some forms of gender-based violence, including marital rape and child marriage.
The bill was finalised by the government after several high-profile incidents concerning women that took centre stage nationally during the past year.
In late May 2020, a 14-year-old girl called Romina Ashrafi was gruesomely beheaded by her father in an apparent case of "honour-killing". The father was given a nine-year jail sentence.
In September, decades-old sexual traumas were unearthed as Iranian women launched their own version of the global #MeToo movement on social media.
The movement implicated several high-profile artists and one major company, and led to at least one arrest.
https://www.aljazeera.com/news/2021/1/4/irans-government-passes-bill-to-combat-violence-against-women
--------
URL: https://www.newageislam.com/islam-women-feminism/a-womens-boxing-team-grows/d/123988
New Age Islam, Islam Online, Islamic Website, African Muslim News, Arab World News, South Asia News, Indian Muslim News, World Muslim News, Women in Islam, Islamic Feminism, Arab Women, Women In Arab, Islamophobia in America, Muslim Women in West, Islam Women and Feminism