New Age Islam News Bureau
2 Jan 2019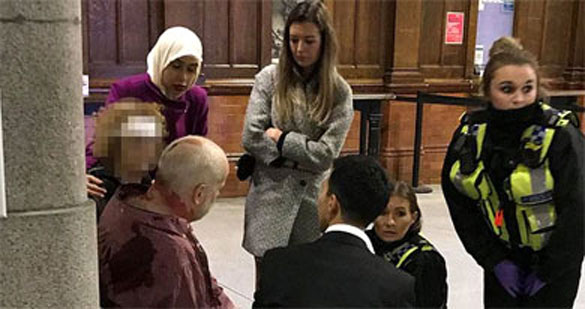 Praise for female bystander pictured with a caring arm around Manchester stabbing victims
------
• Iran Appoints Sunni Woman as Ambassador to Brunei
• Triple Talaq Bill Anti-Women, Says Women's Wing of AIMPLB
• In Kurdish Iraq, Women Strive To End Genital Mutilation
• 11 Women Appointed As Deputies in Various District Municipalities Of Kabul
• From Terror to Triumph: a Young Rohingya Woman's Journey to the Impossible
• British MPs, Lawyers Request Visit to Detained Saudi Activists
• 'Food Fortification Must For Healthy Women, Children'
Pakistan second worst on Gender Equality
Compiled by New Age Islam News Bureau
URL: https://www.newageislam.com/islam-women-feminism/a-woman-hijab-hailed-after/d/117342
--------
A Woman in A Hijab Hailed After She Was Pictured Helping the Victims of the Suspected Terror Attack in Manchester
Jan 2, 2019
A woman in a hijab has been hailed after she was pictured helping the victims of the suspected terror attack in Manchester.
High profile solicitor Nazir Afzal said the woman was "far more reflective" of the Muslim community than the attacker, after three people were stabbed at Manchester Victoria station on New Year's Eve. A suspect was alleged to have shouted Islamist slogans as he was bundled into a police van.
Two commuters, a woman and man in their 50s, as well as a British Transport Police officer, were knifed in the attack. The woman in the hijab was pictured comforting the pair of commuters, with her arm around the female victim. Two other members of the public, as well as two police officers, were also pictured.
Mr Afzal said: "Awful news but Manchester has shown how it responds to those who try to divide us.
"The woman with hijab helping victims is far more reflective of Muslims than the idiot with a knife.
"Wishing a speedy recovery to those harmed."
Another Twitter user responded: "The woman in the hijab shows the caring side of humanity and reflects well on the reality of the Muslim community. She deserves our thanks."
Another said: "Reading reports about the Victoria Station attack and got to say the only photo that should go viral is of the Muslim lady wearing a hijab helping the victims. Good people exist. We can't let the actions of a few taint our view of the many."
Journalist Jake Simons added: "This woman in the hijab helping the victims of the Manchester attack, as well as all the police and bystanders who jumped in, shows why we will win and they will lose. Makes you proud."
Police confirmed on Tuesday that they are treating the "frenzied" attack as being terror-related.
A man, 25, was arrested on suspicion of attempted murder.
And on Tuesday afternoon, officers raided a newly built semi-detached house in Cheetham Hill, a mile north of the city centre where the attack happened.
Greater Manchester Police is continuing to appeal for video footage of the incident, which happened a short distance from the 2017 Manchester Arena terror attack.
https://www.standard.co.uk/news/crime/manchester-stabbings-woman-in-hijab-pictured-helping-victims-hailed-far-more-reflective-of-muslims-a4028031.html
--------
Iran Appoints Sunni Woman as Ambassador to Brunei
Jan 2, 2019
Homeira Rigi has been appointed as Iran's ambassador to Brunei, Vice President Ershaq Jahangiri announced on Tuesday.
Rigi has served as the governor of Qasr-e Qand city since 2014. She had also served as the head of the welfare department of Chabahar.
Rigi was Iran's first Sunni female governor since the 1979 Iranian Revolution.
Jahangiri announced her new appointment during a visit to Qasr-e Qand city, where he described her as among the successful governors in President Hassan Rouhani's administration.
Rigi was among a number of female governors appointed by Rouhani in a bid to further empower women in political and economic domains.
Rigi is the third woman to serve as an ambassador, following Marzieh Afkham and Parvin Farshchi, who were appointed as Iran's ambassadors to Malaysia and Finland.
https://www.trtworld.com/middle-east/iran-appoints-sunni-woman-as-ambassador-to-brunei-23019
--------
Triple Talaq Bill Anti-Women, Says Women's Wing of AIMPLB
Jan 2, 2019
HYDERABAD: The women's wing of the All India Muslim Personal Law Board on Tuesday alleged that the triple talaq bill is anti-women and asked Rajya Sabha members to send it to a Select Committee for legal scrutiny.
The 'Muslim Women (Protection of Rights on marriage) Bill, 2018' may break marriages rather than empowering women and causes a direct blow to the family system and the institution of marriage, the wing's chief organiser Asma Zohra said in a release here.
The Bill has been brought forward to "empower Muslim women", but its provisions defeat its very purpose, she alleged.
"Muslim women will not get anything from this Bill. Instead she is left abandoned...deserted. Her condition will become more miserable," Zohra said.
She said that in any criminal case, it is the magistrate who decides the granting of bail, not the victim.
"On a mere allegation of the wife, the husband is jailed. This is against criminal jurisprudence," it said.
Zohra said it is an irony that there is freedom in this country for men and women to have pre-marital, extra-marital and even multiple relationships.
Decriminalisation of Section 377 was an example of freedom in personal and civil matters, she said and sought to know why a Muslim man is then penalised for divorce.
Zohra pointed out that the AIMPLB had time and again stated that pronouncing triple talaq in one sitting is not the standard procedure of divorce and those practising it should face social boycott.
"There was no need of this Bill after the Supreme Court judgement invalidating triple talaq. It has been brought with political and communal motives to divide society," she said.
Voicing opposition to the Bill, the women's wing urged the Rajya Sabha members to send it to Select Committee for "legal scrutiny".
The Bill, passed by the Lok Sabha last week,hit a hurdle in the Rajya Sabha Monday as the Congress-led Opposition insisted on sending it to the House Select Committee for further scrutiny, which the government did not agree to.
https://timesofindia.indiatimes.com/india/triple-talaq-bill-anti-women-says-womens-wing-of-aimplb/articleshow/67343514.cms
--------
In Kurdish Iraq, Women Strive To End Genital Mutilation
January 2, 2019
Sharboty Saghira (Iraq), Jan 2 (AFP) Dark skies were threatening rain over an Iraqi Kurdistan village, but one woman refused to budge from outside a house where two girls were at risk of female genital mutilation.
"I know you're home! I just want to talk," called out Kurdistan Rasul, 35, a pink headscarf forming a sort of halo around her plump features.
For many, she is an angel: an Iraqi Kurdish activist with the non-profit WADI on a crusade to eradicate female genital mutilation (FGM).
FGM, in which a girl or woman's genitals are cut or removed, was once extremely common in the Kurdish region, but WADI's campaigning has chipped away at the practice.
Rasul, who herself was cut at a young age, is helping to eradicate FGM in the village of Sharboty Saghira, east of regional capital Arbil.
She has visited 25 times, challenging its imam on perceptions FGM is mandated by Islam and warning midwives about infections and emotional trauma.
That morning, she used the mosque's minaret to vaguely invite villagers to discuss their health.
When eight women entered the mosque, she patiently described FGM's dangers.
At the end, a thin woman approached Rasul and said her neighbour was planning to mutilate her two toddlers.
That sent Rasul clambering up the muddy pathway to the house, first knocking then frantically demanding to be allowed in.
But the door remained shut.
"We are changing people's convictions. That's why it's so hard," Rasul told AFP, reluctantly walking away.
FGM appears to have been practiced for decades in Iraq's Kurdish region, usually known for more progressive stances on women's rights.
Victims are usually between four and five years old but are impacted for years by bleeding, extremely reduced sexual sensitivity, tearing during childbirth, and depression.
The procedure can prove fatal, with some girls dying from blood loss or infection.
After years of campaigning, Kurdish authorities banned FGM under a 2011 domestic violence law, slapping perpetrators with up to three years in prison and a roughly USD 80,000 fine.
The numbers have dropped steadily since.
In 2014, a UN children's agency (UNICEF) survey found 58.5 per cent of women in the Kurdish region had been mutilated.
This year, UNICEF found a lower rate: 37.5 per cent of girls aged 15-49 in the Kurdish region had undergone FGM.
It compares with less than one percent across the rest of Iraq, which has no FGM legislation.
"She cut me, I was hurt and cried," said Shukriyeh, 61, of the day her mother mutilated her more than 50 years ago.
"I was just a child. How could I be angry at my mother?" Shukriyeh's six daughters, the youngest of whom is 26, have all been cut too. But with so much campaigning against FGM, they have declined to do the same to their girls.
Years ago, 38-year-old Zeinab allowed female relatives to cut her eldest daughter, then three.
"I was so scared that I stayed far away and came to wash her after they cut her," she recalled, squirming.
After WADI's sessions, she protected her other two daughters from mutilation.
"At the time I accepted (it), but now I wouldn't. Yes, I regret it. But what can I do now?" Rasul told AFP it was hard to combat a form of gender-based violence that women themselves practiced.
"Young men and women agree FGM should stop. But after we leave a village, older women talk to them and tell them: 'be careful, that NGO wants to spread problems,'" she said.
UNICEF's 2014 survey found 75 per cent of women saw their own mothers as the most supportive of cutting.
"I tell these women: this is violence that you're carrying out with your own hands — women against women," said Rasul.
That proximity has also made FGM victims less likely to seek justice.
"The 2011 law isn't being used because girls won't file a complaint against their mothers or fathers," said Parwin Hassan, who heads the Kurdish Regional Government's anti-FGM unit.
Hassan has wanted to work on the issue since she narrowly escaped it: her mother pulled her away from their midwife after a last-minute change of heart.
"I've been working on women's issues since 1991, but this is the most painful for me.
That's why I promised to eradicate it completely," she told AFP.
She said Kurdish authorities would unveil a strategy next year to strengthen the 2011 law and carry out more awareness campaigns.
And for its part, the UN expects it can better fight FGM in 2019, partly due to the reduced threat posed by the Islamic State group.
After IS emerged in 2014, UN agencies scrambled to deal with displaced families and combat operations, said UNICEF gender-based violence specialist Ivana Chapcakova.
"Now that the acute emergency is over, we can regroup to have that final push towards making FGM a thing of the past everywhere in Iraq," she told AFP.(AFP) RUP RUP
https://www.india.com/news/agencies/in-kurdish-iraq-women-strive-to-end-genital-mutilation-3506471/
--------
11 Women Appointed As Deputies in Various District Municipalities Of Kabul
01 Jan 2019
The Municipality of Kabul has appointed women as deputies in eleven various district municipalities of the capital.
Abdul Jalil Sultani, a spokesperson for the Municipality of Kabul said the eleven women have qualified to be appointed as deputies after passing an open contest which was organized by the Independent Directorate of Administrative Reforms and Civil Services.
He said the main purpose of appointing women as deputies in the district municipalities of the capital is to ensure further role and contribution of women in the municipality of the capital.
According to Kabul Municipality, Wahida Samadi has been appointed as deputy municipal chief for the first district of the city. She is a graduate of the faculty of psychology and has completed courses in the fields of management and administration in the United States.
Mursal Mahan has been appointed as deputy municipal chief of the 2nd district of the city. She has completed her Bachelors and Masters degree in the reputable higher education institutions of Kabul.
Muzhgan Hajizada has been appointed as deputy municipal chief of the 11th district of Kabul. She has completed her higher education in the field of administration and management from the faculty of economy and has work experience in various organizations including UN Habitat.
Similarly, Eng. Habiba Sadeqi has been appointed as deputy municipal chief for the 6th district of the city. She has obtained her Masters degree in the field of renewable energy from India and Bachelors degree in Polytechnic University of Kabul.
According to Kabul Municipality, Fahima Behzad has been appointed as deputy municipal chief of the 17th district of the city. She has completed her higher education in the field of religious studies in Kabul University.
Husnia Haseen has been appointed as the deputy municipal chief for the 5th district of the city. She is a graduate of medical faculty and has obtained her Master's degree from India. Ms. Haseen has also worked with various organizations including UNHCR, SDO, SDE ACTD, MCL.
Razia Arefi has been appointed as deputy municipal chief for the 13th district of the city. She has obtained her Bachelor's degree in the field of economy from Kardan University in Kabul.
Sweeta Naseri has been appointed as deputy municipal chief for the 9th district of the city. She is a graduate of the faculty of administration and diplomacy and has obtained Masters degree from Bakhtar University in administration and business.
Massouda Ferdaws, a graduate of Kabul University in the field of Visual Arts, has been appointed as deputy municipal chief of the 8th district.
Nazifa Orya Khel has been appointed as deputy municipal chief of the 12th district of the city. She has completed her higher education in the field of economy from Maryam University and has worked with various international organizations including JICA, UN Habitat, and IRC.
The Kabul Municipality also added that Nasima Hamidi has been appointed as deputy municipal chief for the 16th district of the city.
https://www.khaama.com/11-women-appointed-as-deputies-in-various-district-municipalities-of-kabul-03041/
--------
From Terror to Triumph: a Young Rohingya Woman's Journey to the Impossible
January 01, 2019
CHITTAGONG, BANGLADESH —
On the first day of the school year at the Asian University for Women in southern Bangladesh, groups of teenage girls in skinny jeans, sleeveless tops and T-shirts chattered, their laughter carrying through the sticky air.
Formin Akter, 19, stood in a corner by a row of suitcases, facing away from the students who seemed so modern and full of confidence. Wearing a tunic and pants that hung loosely on her, she nervously adjusted a brown georgette scarf that kept slipping from her head.
When she finally saw someone she recognized, she beamed, holding a card tied to red straps around her neck. "Look at my identity card!" she said, flashing it like a gold medal.
Getting a college ID may have been a mildly exciting rite of passage for other new students. For Formin, a stateless Rohingya Muslim from Buddhist-dominated Myanmar, it meant the world.
She had spent most of her life dreaming about this moment.
But as a Rohingya in Myanmar's apartheid-like Rakhine State, her goal of attending university had been thwarted. Hundreds of thousands of Rohingya have fled a campaign of arson, rape and killing by the military since August 2017, and many of those still in the country are languishing in de facto internment camps.
Raised by a father who wanted more than his peasant's life for his daughters, Formin and her older sister, Nur Jahan, had defied those in their community who believed education was wasted on women. They were the only two girls from their village ever to finish high school.
Back then, the sisters made a pact. Someday, they would go to university together.
In her dorm room, Formin moved her belongings into a cupboard: a small pile of clothes, a dinner plate, a steel pot.
Her Burmese-English dictionary — one of the few things she had taken with her when fleeing Myanmar a year before — was tucked on the top shelf. On one of the walls of the dorm, someone had painted a quote from the Harry Potter series: "It does not do to dwell on dreams and forget to live."
A few hours to the south, in the world's largest refugee camp, her sister Nur Jahan spends her days teaching children and trying to forget how close she was to realizing her childhood dream. This year, her parents pushed her to accept a young man's proposal; now, she is married and pregnant, and must stay at home.
Formin said her sister calls her every day. Formin is excited about college, but she knows she's a constant reminder of the education that her sister, and hundreds of thousands of other Rohingya women, can't have.
"I miss my sister more than anything else," she said. "Every time I spent with her, I miss."
Skipping a rope in a remote village
The two girls loved to skip rope together when they were growing up in Hlaing Thi, an all-Muslim village of about 6,000 people in Rakhine, one of Myanmar's poorest and least-developed states. Now the village where the girls grew up is no longer home.
Scores of Rohingya houses in northern Rakhine, including those in Hlaing Thi, were burned and abandoned in what the United Nations has called an "ethnic cleansing" carried out with "genocidal intent."
Satellite images show what remains of the village: rolling green interspersed with the fields that former neighbors left behind, cut here and there by narrow streams. Formin would visit one of those streams every day with her mother to collect drinking water in plastic pails.
Since the military launched its crackdown in August 2017, more than 730,000 Rohingya have fled northern Rakhine for neighbouring Bangladesh. About 15,000 fled this year alone.
Myanmar's government denies committing abuses against the Rohingya, saying the military action in northern Rakhine came in response to attacks by Muslim militants.
Still, the country doesn't grant most Rohingya citizenship, and Myanmar authorities refer to the Rohingya as "Bengali," a derogatory term because it implies they are interlopers from Bangladesh. The government and the military didn't respond to questions about specific incidents in this story.
Restrictions on education, employment and travel meant most Rohingya were like Formin's father, farmers or day laborers largely cut off from the outside world.
According to a 2015 survey by the Yangon-based Center for Diversity and National Harmony, Rakhine had the country's lowest literacy levels and the lowest rates of primary and secondary school enrollment in Myanmar. Rohingya students struggle to understand teachers because their language isn't recognized in the public school system.
But Formin's uncle, Sayat Hossain, showed what was possible against the odds. Admitted to an engineering college in 1994 in the then-capital, Yangon, he was forced to leave school after it was shut down in response to pro-democracy protests two years later, and he fled Myanmar to find work as a day laborer in Malaysia. Eventually he made his way to asylum in Norway, where he now works as a translator.
"My uncle studied, so he is in Norway. My father didn't study, so he is a farmer," Formin said.
For many in Formin's village, her uncle was something of a local hero. "There was no family like theirs in the village,"
Mohammed Bashar, the Rohingya chairman of Hlaing Thi, said from a refugee camp in Bangladesh. "They understood the value of an education."
Formin's father, Mohammed Hossain, imagined a happier future for his daughters. "You get respect when you have an education," he said. "Illiterate people have to do hard work, but educated people can find comfortable work. I wanted that for my girls."
In 2012, when Formin was 13 and Nur Jahan was 16, an international humanitarian group was operating schools for children in need of a secondary school education in northern Rakhine. It offered the sisters the chance to study under a program that would cover their tuition and living expenses. But they would have to move away from home.
There were murmurs of disapproval in the village. "People thought the girls would be ruined," said Bashar, the former village chairman.
Formin's father said he was often told by fellow villagers: "No matter how much you make them study, they have to sit at home and cook for their husbands. What is the point?"
But he allowed his daughters to go away to school — just as racial and religious tensions in Rakhine boiled over.
Malala on the radio
In a white notebook with pink flowers, Formin kept a diary.
"I wrote about some happy and sad things every day," she said. "If someone said anything bad about me, I used to write about that."
In maintaining that diary, Formin had unconsciously started creating a record of events in Rakhine that few in the largely illiterate population were documenting firsthand.
"At that time, we didn't have TV, radio or mobile," she said, matter-of-factly.
Just weeks after Formin and her sister began school away from their village, communal violence broke out. It was June 2012, and thousands were displaced across Rakhine State as Buddhists and Muslims torched each other's homes.
"We saw the military shoot two people going on a motorcycle," Formin said. Schools were shut, travel was risky, and the hostel where she and other students lived had to close.
Authorities responded to the violence, in part, by barring the Rohingya from enrolling in the only university in Rakhine State, citing unspecified "security concerns," according to a report by U.N. investigators earlier this year. That effectively denied the Rohingya access to higher education, which was already limited because of travel restrictions, the report said.
But that didn't break the sisters' determination to keep studying. Formin and Nur Jahan moved to a secondary school in Kyein Chaung, a village with a bustling market where Muslims, Buddhists and Hindus ran shops alongside each other. Kyein Chaung had been largely untouched by the wave of violence in 2012, and things began to look hopeful.
In 2015, Aung San Suu Kyi's National League for Democracy swept elections and came to power in a country that had long been ruled by generals. Many Rohingya rooted for Suu Kyi, who had been a political prisoner, believing she would put an end to their persecution.
Nur Jahan, three years older, had finished high school and was teaching children for an international nongovernmental organization. She wanted Formin to graduate, like her, and was paying her sister's study costs with her NGO salary.
At school in Kyein Chaung, Formin met a teacher, Ali Ahmed, who was one of the few Rohingya licensed to teach in public schools. He says he encouraged her and other Rohingya students to dream big.
"Master Ali," as the students called him, would often pepperhis lectures with inspiring stories, sometimes pulled from news reports he heard on the small radio he kept.
That was how he first heard about Malala Yousafzai, the Pakistani peace and education rights activist. He took the story to Formin's class with a challenge: "If she can go to Oxford from Pakistan, why can't you?"
Formin was struck by the story from the moment she heard how a young Muslim woman from rural Pakistan stood up to the Taliban, survived a gunshot wound to the head from a would-be assassin and, in 2014, won the Nobel Peace Prize. At home, she told her family all about Malala. "Did you know they put a gunto her head?" Formin said. "She is a great girl. She cares about education, not other things."
In her class, she also heard the story of Helen Keller's remarkable education. Her sister Nur Jahan found her a copy of Keller's autobiography, and she read it with the same rapt admiration.
"She is blind, but she didn't stop learning," Formin said. "We can see everything … we can't stop studying."
The heroic stories of Malala and Helen kept her dreams of university alive. And she began to nurture another desire: to become an inspiration for Rohingya girls like her.
Could she pass her exam?
On Oct. 8, 2016, Formin remembers, she went to bed early because she had a physics and chemistry test the next morning.
When she woke before dawn for a final round of study, all the students in her lodgings were already up. Overnight, dozens of Muslim militants armed with sticks, knives and homemade weapons had launched an attack on police outposts.
The attack marked the emergence of the Arakan Rohingya Salvation Army (ARSA), a group that claimed to be fighting for the rights of the Rohingya.
In the early light, Formin said, she could see soldiers fanning out across the village. She heard gunfire. The students hunkered down in their lodgings, afraid to move. Some 80,000 Rohingya fled to Bangladesh in the months that followed, many claiming soldiers had torched homes, arrested and tortured suspected militants and raped women.
Once again, schools were shut, and gradually reopened over the next few weeks. But Formin's parents had no plans of sending her back this time. They were terrified. It wasn't until four months later, as Formin's high school graduation exam neared, that her parents finally relented. They were still fearful, her mother said, but they also wanted to prove wrong those in the village who had predicted that Formin would fail.
Formin and her father made the risky trip back to her high school to take the test. Of the 150 girls who sat for the exam at the Kyein Chaung school in March 2017, only four would pass.
Myanmar's Education Ministry typically puts matriculation results on Facebook, but Formin's village rarely had a connection. She asked a friend in another village to look for her roll number on the list of those who had passed, but the friend couldn't find it.
Formin cried for days. One evening, one of her teachers called and asked her: "Formin, your roll number is 542?"
"I said yes."
"OK," he said. "You passed your exam."
'I thought I was going to die'
Formin returned to school to receive her diploma. But once again, violence intervened.
The militant group ARSA had waged a more ambitious attack in the early hours of Aug. 25, 2017, across security posts in northern Rakhine. In the military's response, the U.N. said, entire Rohingya villages were razed, scores of women were raped and murdered, and an estimated 10,000 people, if not more, were killed. The military denies these allegations and says it made a proportionate response to militant attacks.
As houses went up in flames in Hlaing Thi, Formin's mother called her at her lodgings. "Our village is burning. We are leaving for Bangladesh," she said. "What will you do, Formin?"
Formin didn't know what to do. She felt paralyzed as the rattle of bullets went on and on around her.
For the first time in her life, she said, she felt hope slipping away, and she cried, cried because she was scared for her life, and cried for her dream of attending college.
"I thought I was going to die," she said. "I thought that would be the last day of my life."
Formin remained locked up inside her lodgings for two days.
But as she saw local Buddhists and the military start to burn houses in the village, an account that echoes those of other eyewitnesses on both sides of the conflict in Rakhine, she decided to escape with five schoolmates.
She was in a panic over how to get away. From afar, her sister Nur Jahan helped her once again.
"She didn't know the way. When I called her on the phone, Formin was crying," Nur Jahan said. "There was military everywhere."
"Just follow the people," Nur Jahan told her.
Using the dim light of a small phone her father had given her, Formin walked with crowds of people heading toward the border through monsoon-drenched forests and streams, protecting her belongings that were wrapped carefully in plastic under her arm.
The group moved by night to avoid security forces and civilian mobs, stopping at abandoned houses for shelter. Along the way, Formin said, she saw several bodies.
At the border with Bangladesh, Formin paid the equivalent of $10 to a boatman to cross the Naf River. On a wooden boat with nine other people, she reached the other shore and a refugee camp that would become a home in exile.
When she was reunited with her family at the camp, one of the first things she asked about was her books back home.
Between tears, her mother told her the house had burned down. Formin's most prized possessions had turned to ash. Gone too, was a small pink-and-white notebook, her first diary.
A sister left behind
Almost exactly a year since she had fled her country to reach the refugee camps of Bangladesh, Formin was preparing to leave. She was going to college.
"I am happy, but nervous," she said, blushing, as she sat on her knees on the mud floor of a hut. She and 24 other Rohingya girls from the refugee camps had been accepted to the university's "Pathways to Promise" program, which offers a full scholarship to selected young women in marginalized communities.
She dipped a hand into a purse to fish out a compact face powder with a mirror. She held the mirror in one hand and with the other lightly dabbed the peach-colored powder onto her cheeks with the puff, moving her face from left to right. "I have watched makeup videos," she said, giggling.
She also now had a smartphone that she'd bought with her earnings from working as a translator and community health worker for NGOs in the camp. She had filled it with language learning apps: Bengali, Hindi, Urdu, English; and a Bollywood movie about a Hindu boy and Muslim girl who flee communal riots together, and eventually get married.
But marriage hasn't been a fairytale ending for her sister Nur Jahan.
In May, Nur Jahan married a Rohingya from their village.
Like Formin, she had been desperate to continue studying, but she was older, and there was no guarantee the university program in Chittagong would come through.
"After coming here, we were worried about our daughters' future. The situation became uncertain," their father said. "She has younger sisters who are growing fast." So when a proposal came from a fellow refugee who had spent time working in Saudi Arabia, her parents pushed her to accept.
Her husband declined to allow Nur Jahan to be interviewed alone. She sat in a chair with her back straight and legs folded, listening attentively and speaking enthusiastically about her relationship with Formin and their life back in Hlaing Thi.
But midway during talk of college, as Nur Jahan tried to stay composed in front of her husband, her voice cracked, and she started to cry.
"Our father was very poor, but he helped a lot for our studies," she said. "We made a pact that we would go to college together, and after we finished our education, we would help our father any way we can."
Her 79-year-old grandfather, Nur Ahmed, said: "Nur Jahan is even smarter than Formin. She would do even better at college.
"I know she is sad. We are also sad. We wish we had waited. But now we cannot do anything. I am happy for Formin, but I feel bad for Nur Jahan. She still blames us
Formin is hoping to study law after she completes her five-year university program, including two years spent improving her English, math and comprehension skills.
"I am a Rohingya. If I become a lawyer, I can do something for the cause of the Rohingya," she said.
She reflected on her role models, Malala and Helen Keller.
And she spoke of another woman whom she revered. Growing up, she said, she idolized Suu Kyi, who has drawn international criticism for her silence on the plight of the Rohingya.
"Yes, yes, I really liked her!" she said. "We thought that woman stood for everyone."
If she ever met Suu Kyi, she said, she would ask her: "I am Rohingya, but I am also a woman like you. We are all women like you. Please put yourself in our place. What do you feel?"
https://www.voanews.com/a/from-terror-to-triumph-a-young-rohingya-woman-s-journey-to-the-impossible/4724748.html
--------
British MPs, Lawyers Request Visit to Detained Saudi Activists
Jan 2, 2019
A cross-party group of British parliamentarians and international lawyers has asked to visit detained female activists in Saudi Arabia to investigate allegations that they are being tortured and denied legal representation and family visits.
In a letter to the Saudi ambassador to the United Kingdom, MP Crispin Blunt, the head of the group's detention review panel, asked Prince Mohammed bin Nawwaf bin Abdulaziz to assist them in arranging a visit to Dhahban prison near Jeddah to speak to the activists held there.
"We hope to be able to gather direct testimony from the detainees during our visit in Saudi Arabia," Blunt wrote on Wednesday, adding the group wanted to also "meet and interview officials responsible for and tasked" with the activists' detention.
Several international human rights groups, including Amnesty International and Human Rights Watch, have alleged that eight female activists who had campaigned for the right for women to drive have been tortured with electric shocks and whipped with an "egal", a rope that keeps a male headscarf in place.
The groups' reports have also alleged that the women were subjected to sexual harassment, threatened with rape and prevented from accessing lawyers.
"The allegations made and recorded by these human rights advocates are extremely damaging to the credibility of the progressive reforms announced recently by the Saudi Arabian government," the letter said.
Riyadh has rejected the accusations.
"The government of the Kingdom of Saudi Arabia categorically and strongly denies the allegations made by them. The wild claims made, quoting anonymous 'testimonies' or 'informed sources', are simply wrong," the Ministry of Media said in a statement in November.
The detained activists have been identified as Loujain al-Hathloul, Aziza al-Yousef, Eman al-Nafjan, Nouf Abdelaziz, Mayaa al-Zahrani, Samar Badawi, Nassima al-Saada and Hatoon al-Fassi.
'Urgency'
The letter comes as the Saudi government still grapples with the international fallout of the case of Jamal Khashoggi, a Saudi journalist and critic of the country's leadership who was brutally murdered in the kingdom's consulate in the Turkish city of Istanbul on October 2.
"The Khashoggi tragedy was obviously a total and utter disaster for Saudi Arabia," Blunt told Al Jazeera.
"It would seem that the people who are responsible for the Khashoggi operation were also responsible for the detention of these Saudi Arabia women's rights activists at exactly the same time that Saudi Arabian women were getting the right to drive and major steps forward in their own personal freedom, with freedom from the so-called guardian laws, in a way that was a huge step internationally and rightly paraded as such."
Women in Saudi Arabia were finally allowed to drive in June 2018.
The detention review panel said it also wants to collect testimonies from male supporters of the women activists, including Ibrahim al-Modaimegh, Abdulaziz Meshaal and Mohammed Rabea.
Their letter went on to say that following the panel's review, they would be able to support Saudi Arabia in "regaining confidence from the international community that its commitment to progressive reform and the protection of the rights of peaceful pro-reform activists is both credible and sincere".
The group requested the Saudi ambassador to respond by January 9 "in light of the urgency of this matter".
The review panel consists of ITN solicitors, as represented by the firm's partner Tayab Ali; Dr Tim Moloney QC, the deputy head of Doughty Street Chambers; MP Layla Moran; and MP Dr Paul Williams.
https://www.aljazeera.com/news/2019/01/british-mps-lawyers-request-visit-detained-saudi-activists-190101200848688.html
--------
'Food Fortification Must For Healthy Women, Children'
Sumaira Jajja
January 02, 2019
KARACHI: In a country where millions grapple with hunger, malnutrition and food insecurity, there is a dire need for fortifying oil, ghee and flour to ensure health and vitality of the people and future generations. This was a unified consensus of stakeholders at the Karachi district launch of the Food Fortification Programme (FFP).
The event was jointly organised by the Food Fortification Programme (FFP), UK Aid and Thardeep Rural Development Programme (TRDP), with representation from the Karachi Chamber of Commerce and Industry (KCCI) and Trade Development Authority of Pakistan and NGOs.
According to a 2017 report by the United Nations Food and Agriculture Organisation (FAO), 37.5 million people in Pakistan are not receiving proper nourishment.
Sharing the impact of vitamin A deficiency that leads to night blindness particularly among the poor urban and rural population, TRDP CEO Dr Allah Nawaz Samoo said food fortification was immediately needed.
Dr Samoo stressed that adding vitamins and minerals to wheat flour and edible oils would lead to disease prevention and boost immunity and improve cognitive development and productivity.
Talking about demand and supply trends, he said that more efforts should be made to create awareness among millers and buyers.
Data from the National Nutrition Survey 2011 shows that 60 per cent pregnant women in Pakistan were anaemic.
Some 37pc women have low iron levels, 46.7pc have vitamin A deficiency and 71pc have vitamin D deficiency while up to 44.5pc have low zinc levels.
These high levels of micronutrient deficiency not only affects the wellbeing of women, but also has lasting impact on the health of their children right from the moment they are conceived leading to premature and low birth weight babies and a vicious cycle of wasting and stunting.
"We are working on wasting and stunting which affect children but there is a dire need to focus on micronutrient deficiency and ensuring that expectant mothers have access to good food," said Dr Naveed Bhutto, Programme Policy Officer/Lead at the Provincial Fortification Alliance (PFA) Sindh.
He stressed that Pakistan needed to work on legislation for wheat fortification to achieve results.
Citing the success of universal salt iodisation (USI) programme that was adopted by Pakistan in mid 1990s and saw a significant reduction in goitre cases, he said replication was needed.
"With the ongoing efforts, the results of the 2018 nutrition survey might not be hopeful, but things will surely improve by 2023," he added.
President of KCCI Junaid Esmail Makda said a plant protection department should be made to check the quality of palm oil when it lands at the port.
The FFP is already working with chambers of commerce across the country to raise awareness of fortified flour and oil among millers and traders.
Dr Gul Sher, who heads the Lady Health Worker (LHW) Programme in Sindh, assured that work was being done on creating demand for fortified food. The province would be utilising the strength of its LHWs to create awareness. "We have already included FFP in our training materials," he added.
With the discussion focused on collaborative efforts, Sindh health secretary Dr Usman Chachar highlighted the need for having academia onboard with government departments and policy makers and finding solutions for the multifaceted issue of malnutrition and stunting.
A participant stressed the need for research and development to come up with nutritionally rich varieties.
Another participant said fish and meat exports from Pakistan should be checked as exports were creating shortages in the country increasing there prices and depriving locals from having them at low rates.
What is food fortification?
Micronutrients, which are present in all natural foods, are partially lost when wheat is grounded into flour and during the processing of palm oil. In its simplest terms, food fortification is the process by which essential vitamins and minerals are added to staple foods.
According to a leaflet of FFP, "wheat flour and edible oil/ghee are consumed daily by most people and by fortifying these foods, nutritional status can change quickly — after one year of sustained consumption — without changing eating habits".
Funded by the UK Aid and managed by Mott MacDonald in partnership with Nutrition International, FFP is a five-year programme in Pakistan which aims to equip the government to enforce mandatory legislation for fortification across the country by 2021.
It further seeks to improve standards, regulatory compliance, quality assurance and quality control.
The programme aims to improve management and administration to meet legislative requi­rem­ents, technical assistance for mixing and storage of premixes, building industry capacity for compliance and testing.
Over 1,000 wheat flour mills and 100 edible oil mills will be meeting standards.
Consumers will be aware of and positive towards the benefits of fortified foods. So far a total of five laboratories have been set up in Sindh (four in Karachi and one in Hyderabad) for quality assessment of flour and oil.
A major goal of the project is to reduce iron deficiency and anaemia by one-third and at least a one-quarter reduction in vitamin A deficiency among women and children.
In effect, births with neural tube defects are also expected to decline. FFP also seeks improvement in vitamin D deficiency in the next three years.
https://www.dawn.com/news/1454898
--------
Pakistan second worst on Gender Equality
January 2, 2019
The 'Global Gender Gap Index 2018' Report released by the World Economic Forum (WEF) on December 18 ranks neighbouring Pakistan as the second worst country in the world in terms of gender parity after Yemen; ranking 148 and 149 respectively. The Geneva-based WEF's annual report tracked disparities between the genders in 149 countries across four areas: education, health, economic opportunity and political empowerment. Western Europe and Scandinavian countries were at top: Iceland, Norway, Sweden, Finland and Switzerland ranked from one to five.
The year 2018 witnessed setbacks in all three areas-education, health, and political representation. The gender gap narrowed in the area of economic opportunity but the global wage gap narrowed to nearly 51%. There still remained a 32% average gender gap to be closed. Gender parity in workplaces around the globe could take centuries to achieve and women must wait 217 years to earn the same as men, the report said.
The proportion of women in the workplace stagnated with fewer women participating; automation had a disproportionate impact on jobs traditionally performed by women. Under-representation declined in growing areas of employment that sought skills in science, technology, engineering and mathematics; in artificial intelligence it was just 22% of the workforce. Overall global gender gap will need 108 years to close while those in economic and political empowerment dimensions were the most challenging, requiring 202 and 107 years respectively to close.
Women's representation in politics also declined. Greater inequality in access to health and education, offset improvements in wage equality and less number of women in professional positions-all combined towards only a marginal reduction in the global gender gap in 2018.
Globally, across the 149 countries assessed, only 17 countries currently had women heads of state i.e.11%, 18% women ministers and 24% women parliamentarians. Women held just 34% of managerial positions globally but less than 7% in the four worst-performing countries – Egypt, Saudi Arabia, Yemen, and Pakistan.
South Asia was the second-lowest scoring region with an average gender gap of 34.2%, ahead of the Middle East and North Africa and behind Sub-Saharan Africa. The gender parity across the region was somewhat homogeneous, except Bangladesh and Pakistan which remained at extremes with gender gap difference of 10% for the educational attainment. On political empowerment, only Bangladesh crossed gender parity of more than 50%, while India scored nearly 40% and other regional countries scored below 20%. Bangladesh was the top performer among the regional countries and the 5th best among all Asian and Oceania countries, powered by inclusive labour pool and less Islamist orientation. Other countries in South Asia should better emulate Bangla, rather than Chinese model.
India has shown considerable improvement over last 4 years especially having more women CEO's than any other country in the world are encouraging signs.
South Asia region has shown fastest progress from a low base over the past decade. Four out of the seven regional countries showed year-on-year progress compared to last year, while rest three declined, but still finished low.
Overall rankings of Muslim countries were: Lebanon (140), Saudi Arabia (141), Iran (142), Syria (146), Iraq (147), Pakistan (148) and Yemen (149). Egypt, Saudi Arabia, Yemen, and Pakistan were the four worst-performers with least number of managerial positions for women due to cultural stigma attached to working women and no protective laws to protect women at work. Pakistan was the lowest-ranked country in South Asia, closing 55 per cent of its overall gender gap.
Islamist orientation and Jihadi mindset could pull Pakistan further down to surpass Yemen as the worst country in the world in gender equity. Rather than introspecting on own faults, Pakistan will blame everything- the data, the Western values on women's rights, or humanitarian propaganda. Both genders need to be cared for and differences celebrated as uniqueness. Cultures are not fixed but constantly evolve in relation to time and social consciousness.
Keeping women behind is the worst tragedy than can befall human destiny. Muslim countries have got it ingrained into their religious heritage. Muslim men are unwilling to accept equal opportunities for women while latter not ready yet to shoulder responsibility. Humanity should do all it can to reduce the gender gap.
https://www.newdelhitimes.com/pakistan-second-worst-on-gender-equality/
--------
URL: https://www.newageislam.com/islam-women-feminism/a-woman-hijab-hailed-after/d/117342
New Age Islam, Islam Online, Islamic Website, African Muslim News, Arab World News, South Asia News, Indian Muslim News, World Muslim News, Women in Islam, Islamic Feminism, Arab Women, Women In Arab, Islamophobia in America, Muslim Women in West, Islam Women and Feminism