New Age Islam News Bureau
23 November 2021
• Afghanistan Needs Female Doctors, Teachers, Police Officers - Police Chief
• Marriage of 12-Year-Old Girl Brings Renewed Outcry In Iraq
• Hyderabad-Based United Muslim Forum Seeks Repeal of Triple Talaq Law
• 3,000 Women Entrepreneurs to Get Digital, Financial Literacy Training
• Riyadh Forum To Enhance Women's Empowerment In Cybersecurity
Compiled by New Age Islam News Bureau
URL: https://www.newageislam.com/islam-women-feminism/tasneem-noor-imamat-mosque-los-angeles/d/125826
--------
A Quiet Revolution at the All-Women's Mosque: Tasneem Noor Celebrating Fifth Year of Her Imamat at Los Angeles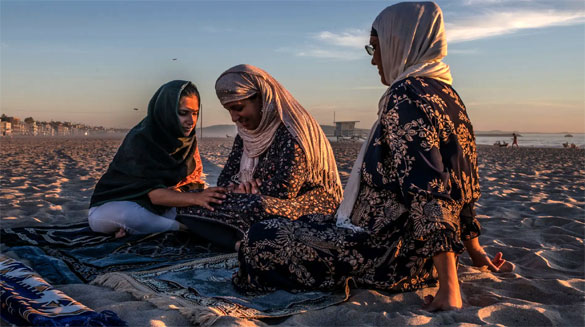 Nurjehan Boulden, Tasneem Noor, and Samia Bano after praying together in Venice, California. Photofraph Anna Boiazis/ The Gurdian
-----
By Amel Brahmi
23 Nov 2021
When Tasneem Noor got on the stage at the Women's Mosque of America in Los Angeles, she felt butterflies in her stomach. Facing about fifty women on praying rugs, ready to deliver a sermon – Khutbah in Arabic – she took a deep breath.
During the prayers, the women would follow Noor's lead, but several would pray four more times after it ended, to make up for any potentially invalid prayers. That is the result of a 14-century-old disputed hadith, that leads some to believe women are forbidden to lead prayers and deliver sermons.
"I don't mind," Noor told me later. "Some people function better with rules."
Noor, 37, is part of a quiet revolution in America: at the all-women's mosque, she was celebrating its five year anniversary of practicing the female Imamat, a rare and often controversial practice in Islam.
Women aren't even allowed to pray in many mosques across the world. In some mosques in the US, women may enter, but are often forced pray in separate rooms – leading some to call it the "penalty box". Spiritual leaders that have pushed boundaries – by running mixed congregation mosques or running an LGBTQ mosque – have received death threats.
But at the Women's Mosque of America, women are using their sermons to cover previously untouched topics like sexual violence, pregnancy loss and domestic violence.
One of Noor's most memorable sermons happened in 2017 – a surprise, considering it was largely an improvisation. After a scheduling hitch left Noor with less than half of the 45-minutes she should have had, she shortened her talk and changed tack: leading the congregation into a meditation.
"She asked us to track our emotions in our bodies, and let them run their course," recalled Nourjahan Boulden, who was in the audience that day. "I didn't know it was even possible to own and control your emotions like that, but it worked."
Boulden had come to Noor's sermon that day not knowing what she would find. Before that sermon, she was haunted by a destructive guilt she carried.
She grew up in California with a love for belly-dancing – a practice inherited from her Baloch mother – but also hearing a lot of "if you do this, you'll burn in hell". That belief took hold inside her, and began to grow. Then, she was shot in the leg in a nightclub in Toronto in 2006. Boulden, a college girl at the time, overheard one of her aunts say, "She was out dancing, what did she expect?"
Then, she had a miscarriage. The child was conceived out of wedlock, with her Christian partner, and so the guilt grew again. She got to a point where she believed her misfortunes resulted from her not conforming to religious traditions.
Noor offered Boulden another frame. "I didn't tell her she was wrong for feeling punished," Noor said. "I helped her to look at it differently and asked 'What else is true?'" Noor told her that God had given her the talent of dancing and that it wasn't a shameful practice, like many thought. She told her that her intentionality – what's in her heart – is what mattered. If belly dancing was when she felt the happiest, then it was how she was meant to connect with God.
Boulden was in disbelief.
"You're the guide I had been waiting for," Boulden told her.
Noor was also in disbelief. She had never seen herself as someone that people had been waiting for.
Noor grew up in a pious family in Karachi, Pakistan. Everyone in the house prayed five times a day. At the time, women weren't allowed in the mosque in Karchi (although that is now changing). But Noor also had women to look up to: her mother Naima had memorized the Arabic scriptures and was usually the designated prayer leader in the house.
In the summer of 2000, when Noor was 16, her family migrated to the US and moved into a townhouse in Culver city, California. On their street, in this upper middle-class suburb of about 40,000 people, old ficus trees formed an archway. In this small suburb, Muslims were rare – they represent only about 1% of the population even now – but in the first couple of months of settling in her California home, she went to a giant prayer for an Eid celebration at the Los Angeles convention center.
She was amazed. It was the first time she would pray in public. Noor wore a blue and yellow salwar kameez the she had brought in her suitcase from Karachi, silver earrings with small blue stones that hung down to her chin and two dozen bangles around her henna tattooed wrists. The teenager was mesmerized by the ethnic and gender diversity in the crowd. She saw the power of praying outside of the house, in communion.
Her new life was already teaching her what kind of religious leader she wanted to be – although she had not yet realized she wanted to become one.
At UCLA, she stopped wearing the headscarf on campus and felt uneasy at the comments from other Muslim students. "As if wearing the scarf made you some sort of Muslim goddess," Noor reflected later. She saw it as an attempt at oppression and she was defiant against it.
After graduating, Noor worked at California State University in student affairs for five years. During a social justice workshop, she helped a young gay student come out. She reflected on how, in Pakistan, being gay was portrayed as a deviant 'lifestyle' choice. "I believe that they were who God made them to be," she said.
In 2013, Noor's sister Samia Bano, then 27, had purchased a ticket for a business conference in downtown LA, as a birthday gift for Noor. Noor wasn't overjoyed at going to a business conference for her birthday, but they both went, and there, Noor had a revelation.
When the speaker talked to the audience about everyone's "fascination factors, the thing that lights you up", Noor immediately thought about her faith. She stepped outside to breathe. Her sister sat next to her on a bench. "It was my calling," Noor recalled, about realizing she wanted to be a spiritual leader. That night, in her prayer, she begged God to guide her.
"She speaks about faith in a really powerful way, that inspires people," Sheila Merchant, a young Californian lawyer who has been influenced by Noor's guidance, said. "She created that safe space for me where I could really share and open up and be my whole self."
Her sister Samia Bano, now 39, was also having similar revelations. Unlike Noor, Bano wore a tight scarf over her ears and would never miss a prayer. Certified as a happiness coach, Bano believed her calling was to share with people how she had learned to "find peace and happiness in my life".
But there was a journey before she arrived at that happiness. At the age of 12, Samia was sexually abused by a relative in Pakistan. The little girl, once bubbly, shut down. She found refuge in silence and in Ann Frank's diary, a book found unexpectedly at a local market in Karachi. "I realized I wasn't alone," she said.
Bano kept the secret. She didn't receive help until she started college, also at UCLA. On campus, she saw a counsellor and practiced yoga. On her mat, she learned how to stand straight, tall, high like a mountain. She wanted to provide the same for others and became a certified counsellor, working at a hotline for victims of sexual abuse.
"I had guessed something like that had happened," Noor replied in anger, when her sister finally told her of the assault in 2014. "All of a sudden, you were not the same," she added. Noor also told her she had guessed who the perpetrator was. Bano, who carried the guilt for years, was relieved. "Tasneem was instrumental in my process of healing," she confessed.
When the Women's Mosque of America opened a year later, Noor and Bano signed up and soon became among the most active members. During her first khutba in July 2016, Noor was so nervous, her voice was shaky. In between many deep breaths, she talked about fear of judgment by others and "ugly stereotypes". Bano was hired as operations director for setting up prayers. Bano's first khutba, a year later, was about doing no harm and loving yourself – the Ramadan values that mattered most to her.
The sisters had always meditated together at home. Now, on her praying rug, before prostrating, Bano stood strong on her feet, rock solid, and was committed to challenging the patriarchy she saw in Islam. "It's not women's duty to hide, but up to men to lower their gaze," she said.
Noor and her sister have faced many questions about their choices to become imams.
"Samia, we heard you lead prayers. Did you really do that?" asked a group of women one day outside the Culver City mosque. Bano confirmed it was true. "Oh, so you think it is allowed in Islam?" They challenged.
"Yes it is, I actually looked into it," Bano replied. Excited to share the information, she took her phone out. She offered to send them videos on the female imamat, if they wanted. They raised their eyebrows and walked away.
Muslim feminists who advocate for female imamat in mixed and non-mixed congregations reference the name of Umm Waraqah – one of prophet Mohammed's female companions, who led prayers in her house. They claim that Mohammed asked Waraqah to turn her house into a mosque, therefore legitimizing the practice of being a female imam today. For some, it is simply not a convincing fact. According to the Fiqh Council of North America (FCNA), female imamat is perfectly permissible in women-only mosques.
Noor, despite changing the lives of many – including Boulden, who is now a full-time belly-dancing teacher – is sometimes less certain about using the word imam, which has traditionally referred to a man.
"I don't know if I can call myself an imam," Noor told me recently over the phone.
"Of course you are an imam!" Bano yelled in the background.
"Well, there you go, maybe I am one," Noor said, laughing. "This is not a career. It is not something I do to make money. This is my calling, my responsibility, as the creation of the ultimate creator."
In August 2021, I met with Noor at the Islamic center of southern California for the 1pm prayer. It was a Monday and the praying room was almost empty with only two elderly men praying in the front and a young woman wearing a black abaya in a back corner. We picked a spot near her. Noor and I stood side by side. We waited for someone to lead the prayer but no one volunteered. I asked if Noor could lead me. "Sure," she said as she straightened her back and took a deep breath.
This story was funded by the Pulitzer Center. Amel Brahmi is currently writing a book on the rise of female imams in the US.
Source: The Guardian
https://www.theguardian.com/global/2021/nov/22/female-imam-california-mosque
--------
Afghanistan Needs Female Doctors, Teachers, Police Officers - Police Chief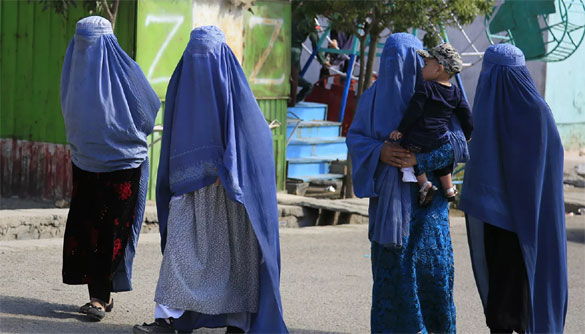 © AP Photo / Mariam Zuhaib
-----
22nd November 2021
KABUL (Urdu Point News / Sputnik - 22nd November, 2021) Afghanistan needs women to work in the health and education sectors, as well as in law enforcement, the police chief of Zabul province said on Monday.
However, according to the official, the process should be organized under Islamic law, meaning women should be required to wear hijab.
"Afghanistan is an Islamic country, women and houses should be searched by female police officers," the police chief said.
The Taliban (under UN sanctions for terrorism) will allow women to work and study in all areas related to islam if there is such a necessity, he added.
The Taliban entered Kabul on August 15, leading to the collapse of the US-backed government.
On September 7, the movement announced the composition of an all-male interim government of Afghanistan. It is headed by Mohammad Hasan Akhund, who served as a foreign minister during the first Taliban rule. Akhund has been under UN sanctions since 2001.
The Taliban rule has not been recognized by the international community. One of the conditions for recognition of the new government has been respect for human rights, including the rights of women. The movement promised that women's rights will be protected under Islamic law, and said it will develop appropriate rules to allow women to return to work.
Source: Urdu Point
https://www.urdupoint.com/en/world/afghanistan-needs-female-doctors-teachers-p-1407718.html
--------
Marriage of 12-year-old girl brings renewed outcry in Iraq
22/11/2021
BAGHDAD--An Iraqi court adjourned a hearing Sunday to allow a man to formalise his religious marriage to a 12-year-old girl, according to a lawyer for the girl's mother, who opposes the union.
Rights activists protested outside the Baghdad court with banners such as "the marriage of minors is a crime against childhood," while lawyer Marwan Obeidi said the case had been postponed until November 28.
The legal age for marriage in Iraq is 18 but can be lowered to 15 in cases of parental or judicial consent, according to charity Save the Children.
"Religious marriages are not permitted outside civil or religious courts but these types of marriages still happen regularly and can be formalised on the payment of a small fine," it said in a recent report.
The mother, who refuses to be identified, said her daughter Israa had been "raped" and that the girl's father kidnapped her.
But a department of the interior ministry dealing with violence against women said in a statement that it had met Israa, her father and husband, seen the religious contract and said she had assured them she had not been coerced.
Child marriage is not uncommon in conservative and rural areas of Iraq, as well as in other Arab countries.
Source: The Arab Weekly
https://thearabweekly.com/marriage-12-year-old-girl-brings-renewed-outcry-iraq
--------
Hyderabad-Based United Muslim Forum Seeks Repeal Of Triple Talaq Law
22nd November 2021
HYDERABAD: The city-based United Muslim Forum has demanded repealing of the triple talaq bill on the lines of farm laws, citing it has only increased the hardships of Muslim women. In a media statement, the Forum, a confederation of Muslim organisations which has been vocal about the triple talaq law ever since it was passed, once again reiterated its stand and urged Prime Minister Narendra Modi to repeal it.
While welcoming the PM's decision on farm laws, they also urged him to scrap CAA (Citizenship Amendment Act) in the national interest. The Forum held that even the demonstrations against CAA had been peaceful, but it was given a communal colour by anti-social elements to undermine the Gandhian way of protest.
Source: New Indian Express
https://www.newindianexpress.com/states/telangana/2021/nov/22/hyderabad-based-muslim-forum-seeks-repeal-of-triple-talaq-law-2386603.html
--------
3,000 women entrepreneurs to get digital, financial literacy training
Nov 22, 2021
A workshop on basic digital and financial literacy was launched yesterday to enable 3,000 female entrepreneurs of a UNDP marketplace to efficiently operate and expand their business online.
Anondomela, the online marketplace of United Nations Development Programme (UNDP) for entrepreneurs, launched the 40-day event encompassing the participants from 40 districts.
Planning Minister MA Mannan inaugurated the associated project, being implemented by the Bangladesh Women Chamber of Commerce and Industry (BWCCI) and funded by the UNDP, at Bangabandhu International Conference Centre.
"Those who bear a different quality, they are entrepreneurs. And there is a kind of joy in being an entrepreneur. Especially in being able to earn money and spend it yourself. And they are now involved in diversified businesses with many innovative ideas," said Mannan.
"We want to create an environment where women can work independently. Because if you do any work without women, that work will not be complete. The country will not move forward," he said.
"This is the time to change and this is the time for online business, jointly we can achieve many things. Capacity building training can help develop the skills of women entrepreneurs," he added.
Bangladesh has undergone a lot of changes in the past 12 years and improvements in digital economy and online businesses are one of the best examples, said State Minister for Information and Communication Technology (ICT) Zunaid Ahmed Palak.
Access to internet has already been expanded up to remote areas of the country and there will hopefully be significant changes in the sector by January 2022, he said.
Women entrepreneurs will get space in high-tech parks to establish business incubation centres and those who become successful can also avail a one-time grant of Tk 50,000, Palak added.
Anondomela was formed amidst the pandemic and successful completion of the pilot phase will be a good start to cover more areas, said Sudipto Kumar Mukherjee, country representative of UNDP Bangladesh.
He said Bangladesh's United Nations status graduation from a least developed country to a developing one was underway, so women empowerment has become essential.
He also gave importance on digital and economic equity.
The UNDP wants to set an example of its support to government initiatives and hopefully Anondomela will be like Joyeeta but online, said Nazneen Ahmed, country economist of the UNDP.
Joyeeta is a government venture where products made by creative women from across the country are displayed and sold under the supervision of the Ministry of Women and Children Affairs.
"I have no idea how to sell products in the online market. How to deal with it," said Cynthia Bhuiyan, an entrepreneur from Khilgaon in Dhaka.
"Hopefully through this training I will be able to acquire that knowledge. That would add a new dimension to my business product sales," she said.
Shamima Sultana Shilu, another entrepreneur from Khulna, said, "I have been doing business for a long time. But I have not gone online."
"Through this initiative, the whole of Bangladesh is there. Besides, buyers from other countries will be able to know about my products. And they can buy as well," he said.
Selima Ahmad, president of the BWCCI, also spoke.
Source: The Daily Star Bangladesh
https://www.thedailystar.net/business/economy/news/3000-women-entrepreneurs-get-digital-financial-literacy-training-2235666
--------
Riyadh forum to enhance women's empowerment in cybersecurity
November 22, 2021
RIYADH — The National Cybersecurity Authority will organize the Women in Cybersecurity Forum in Riyadh on March 1-2, 2022 with the objective of empowering women in the field of cybersecurity. Several specialists, academics and researchers in the field of cybersecurity will attend the event.
The forum comes within the framework of the authority's initiatives to empower women in the field of cybersecurity as well as to encourage women to join the cybersecurity field, in addition to developing their skills, exchanging experiences, and enabling them to take up jobs and leadership roles in this field.
The forum also aims to enhance women's participation in cybersecurity, and to introduce available opportunities in education and training to qualify them to take up jobs in cybersecurity fields. The event also seeks to achieve the professional and leadership development of women to increase professional competence in this field, and to shed light on the achievements of Saudi women in this sector.
The forum will see discussion of several topics, including the current status of women's representation in the fields of cybersecurity, and review efforts made to build national capacities within education and training programs and ways to enhance these efforts.
There will also be discussions on employment possibilities and leadership empowerment for women in the fields of cybersecurity with providing specialized vocational training and on-the-job training to acquire skills, in addition to exchanging experiences, reviewing the successes of Saudi women, and discussing ways of empowering them and enhancing their leadership capacities in cybersecurity.
It is noteworthy that the forum comes within the framework of achieving the authority's objectives in building the competent national cyber cadres, and enhancing the participation of women in this field in order to achieve the objectives of the Kingdom's Vision 2030 as one of the main ingredients for achieving a safe and reliable Saudi cyberspace that enables growth and prosperity.
Source: Saudi Gazette
https://saudigazette.com.sa/article/613870/SAUDI-ARABIA/Riyadh-forum-to-enhance-womens-empowerment-in-cybersecurity
--------
URL: https://www.newageislam.com/islam-women-feminism/tasneem-noor-imamat-mosque-los-angeles/d/125826
New Age Islam, Islam Online, Islamic Website, African Muslim News, Arab World News, South Asia News, Indian Muslim News, World Muslim News, Women in Islam, Islamic Feminism, Arab Women, Women In Arab, Islamophobia in America, Muslim Women in West, Islam Women and Feminism