New Age Islam News Bureau
2 March 2019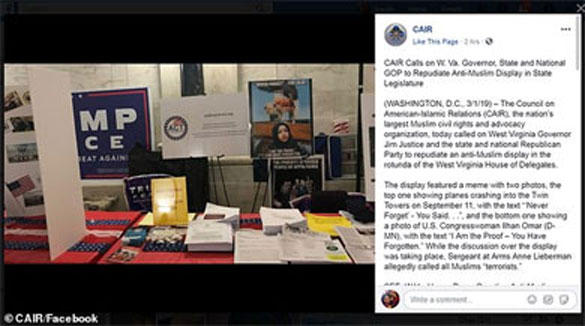 The Council on American Islamic Relations released its own statement condemning the display West Virginia calling for the local and national GOP to rebuke it as well
-----
• Saudi Arabia to Put Detained Women Activists On Trial
• Rohingya Women, Children Dropped Off By Traffickers in Malaysian Beach: Officials
• Pakistani Church Speaks Out Against the Trafficking Of Women Used As Prostitutes By Chinese Husbands
• NGO Launches Petition for Release of Syrian Women
• Former Yazidi Captives of Islamic State Arrive In Iraq
• 'We Aren't Dangerous': Why Chechnya Has Welcomed Women Who Joined Isis
Compiled by New Age Islam News Bureau
URL: https://www.newageislam.com/islam-women-feminism/a-poster-displayed-west-virginia/d/117903
--------
A Poster Displayed In West Virginia Capitol Featured an Image of the 9/11 Attack on the Twin Towers Juxtaposed With Ilhan Omar
By Matt Stieb
March 2, 2019
As racist scandals peter out of the news cycle in Virginia proper, in West Virginia, an Islamophobic poster placed in the Charleston capitol rotunda on Friday has thrust state legislators into argument and chaos. On Friday, also known as "WV GOP Day," a poster of Democratic Representative Ilhan Omar was placed in the statehouse insinuating the Congresswoman is somehow connected with 9/11.
Democrats promptly rejected the poster: Delegate Mike Angelucci reportedly began to argue with Sergeant at Arms Anne Lieberman, who he accused of saying "all Muslims are terrorists." By the end of the day, Lieberman, the state's first female Sergeant at Arms – the officer responsible for capitol law enforcement – had resigned. Democratic House Minority Whip Mike Caputo also reportedly injured a doorkeeper during the argument over the poster, sending the employee to the hospital. The House Rules Committee will meet at 8 a.m. Saturday morning to determine if Caputo will face official consequences for the alleged action.
As of publication, it is unclear who placed the poster in the rotunda, but Republican House Speaker Roger Hanshaw condemned the act after confrontations on the floor: "The West Virginia House of Delegates unequivocally rejects hate in all of its forms." Hanshaw added: "Leadership of the House of Delegates is currently working to investigate these incidents to learn firsthand the factual basis of what occurred, and will respond with appropriate action."
It's not the first act of public bigotry to occur within GOP ranks in West Virginia this year: in February, Republican Delegate Eric Porterfield told NBC News "the LGBTQ … are the modern day version of the Ku Klux Klan." Though calls were made for his resignation, Porterfield is still in office.
For her part, Ilhan Omar – who, with Rashida Tlaib, became the first Muslim women elected to Congress this midterm – responded on Twitter:
The Islamophobic poster comes the same week as Ilhan Omar claimed that American pro-Israel hawks "push for allegiance to a foreign country," a comment that has been received as anti-Semetic. (As New York's Jonathan Chait wrote, "Accusing Jews of 'allegiance to a foreign country' is a historically classic way of delegitimizing their participation in the political system.") But employing such a vulgar understanding of Muslim-Americans involves no ambiguity or interpretation.
http://nymag.com/intelligencer/2019/03/islamophobic-poster-of-rep-omar-roils-west-virginia-capitol.html
--------
Saudi Arabia to Put Detained Women Activists On Trial
March 02, 2019
RIYADH: Saudi women activists detained last year in a sweeping crackdown on campaigners will be put on trial, state media said Friday.
"The public prosecution would like to announce that it has concluded its investigation and prepared the indictment list against the defendants... and will refer the case to the relevant court," the Saudi Press Agency said.
The brief statement did not directly identify the defendants as women activists nor give a date for court proceedings.
More than a dozen activists were arrested in May last year -- just before the historic lifting of a decades-long ban on women drivers the following month.
Many of them were accused of undermining security and aiding enemies of the state. Some were subsequently released.
Some of those detained have faced sexual harassment and torture during interrogation, rights groups and their family members say.
The Saudi government has rejected the allegation.
"The public prosecutor would like to affirm that all detainees in this case enjoy all rights preserved by the laws in the kingdom," the SPA statement on Friday said.
But the statement drew sharp criticism from rights group Amnesty International.
"These women's rights activists should be released from detention for their peaceful activism not referred to trial," said Samah Hadid, the organisation's Middle East campaigns director.
"The Saudi Arabian authorities continue their signature repression."
Those still detained include Aziza al-Yousef, a retired professor at Riyadh's King Saud University, and Loujain al-Hathloul -- who was held in 2014 for more than 70 days for attempting to drive from neighbouring United Arab Emirates to Saudi Arabia.
Following their arrest, state-backed newspapers published front-page pictures of some of the activists with the word "traitor" stamped across them in red.
https://www.ndtv.com/world-news/saudi-arabia-to-put-detained-women-activists-on-trial-2001516
--------
Rohingya Women, Children Dropped Off By Traffickers in Malaysian Beach: Officials
02-03-2019
More than 30 Muslim Rohingya women and children were found stranded along a beach in Malaysia's northernmost state early Friday, and are believed to have been dropped off by human traffickers, authorities said. A police official in Kangar, the capital of northern Perlis state, said villagers found the 34 people, including nine children, weak, hungry and covered in mud as they made their way through the muddy coast.
The official, who declined to be identified due to the sensitivity of the issue, said the group was believed to have come from Thailand. He said they have been fed and handed over to immigration officials. Nur Aziah Mohamad Shariff, an official with the National Security Council, said it is aware of the illegal entry and is investigating.
A Myanmar welfare group said the group is believed to have been trafficked into Thailand from Bangladesh, before heading to Malaysia, whose dominant Malay Muslim population makes it a sympathetic destination. Zafar Ahmad Ghani, who heads the Myanmar Ethnic Rohingya Human Rights Organization of Malaysia, said he obtained information that many more Rohingya are being tricked by traffickers into leaving Bangladesh after being warned they may face death if repatriated to Myanmar.
Pictures and videos obtained by members of the group showed a long rope placed across the muddy shore at low tide to help the Rohingya walk through the mud. More than 700,000 ethnic Rohingya have fled from Myanmar to Bangladesh since August 2017, when a group of militants attacked security forces, triggering a massive retaliation by Myanmar's army.
The exodus came after hundreds of thousands of other Rohingya escaped previous bouts of violence and persecution. Chris Lewa, the founder of the Arakan Project which works to improve conditions for Rohingya, said the women and children may be part of a large group that sailed from Bangladesh in two boats in mid-February.
She said the total number of passengers was unclear, with estimates of about 150, and that it was unclear what happened to the others. She said the Arakan Project spoke to a Rohingya man who landed in northern Malaysia in late February on a boat that had arrived undetected with 85 aboard.
Lewa said it was unclear why the women and children were stranded, and that the two boats were the only ones they knew had sailed from Bangladesh this year. Most people in Buddhist-majority Myanmar don't accept Rohingya Muslims as a native ethnic group. They are, instead, viewed as having migrated illegally from Bangladesh, through generations of Rohingya have lived in Myanmar.
Nearly all have been denied citizenship since 1982 and lack access to education and hospitals. The U.N. General Assembly approved a resolution in December condemning "gross human rights violations and abuses" against Myanmar's Rohingya. Myanmar's government denies claims of genocide and ethnic cleansing. The country rejects the U.N. investigators' work and the General Assembly resolution as biased.
https://www.devdiscourse.com/article/international/430814-update-3-german-bund-yields-set-for-biggest-weekly-jump-in-over-a-year
--------
Pakistani Church Speaks Out Against the Trafficking Of Women Used As Prostitutes By Chinese Husbands
03/01/2019
Lahore (AsiaNews) – The Catholic Church of Pakistan is speaking out against mixed marriages between Pakistani women and Chinese husbands, which have increased recently because of the presence of many Chinese companies in Pakistan.
Fr Inayat Bernard, rector at Lahore's Cathedral of the Sacred Heart, warns against marrying Chinese men, which can be harmful to Christian families, especially wives.
"Do not sell your daughters for greed or going abroad," he tells parents. "The affected girls are used for prostitution."
Marriages between Chinese men and local women are growing in developing countries in Asia. In some cases it is actual trafficking in women, who are used as sex slaves and sold without their knowledge.
According to Fr Bernard, this problem stems from the fact that "the Chinese need more women due to one-child policy". In addition, "some so-called pastors officiate such weddings. We demand that the government arrest pastors involved in this crime."
Several Christian families have filed complaints against the trafficking of women in Lahore with the National Commission for Justice and Peace of the Catholic Bishops' Conference of Pakistan.
Several Chinese companies operate in Pakistan to develop the China Pakistan Economic Corridor, a key component of Beijing's New Silk Road plan. Most of the workers employed by these companies are from China.
Since November 2017, some 700 mixed marriages have been celebrated. One of the brides is 19-year-old Muqadas Saddique (pictured with her brother), who last month married Ma Shitao in Islamabad.
"Several women in our neighbourhood suggested I get married," she told AsiaNews. "I went to meet the groom with my family, but I did not know that they had arranged the wedding for that same day. They had prepared everything with their pastor. They drugged our tea, so we consented to everything that was asked of us."
The young bride went home the next day. "I had consented to the marriage to give a better future to my three sisters. But Shitao is an alcoholic. He and other women forced me sign (the marriage papers). I want to get out of this swamp. My husband is blackmailing me."
Fr Bernard is incensed that "Pakistani media are knowingly ignoring such stories. The government does not want any criticism that could jeopardise its main project with its old friend (China). However, the socio-cultural repercussions are now evident in society. The Chinese are abusing our trust and our [preferential] visa policy. Poor families are the easiest targets."
http://www.asianews.it/news-en/Pakistani-Church-speaks-out-against-the-trafficking-of-women-used-as-prostitutes-by-Chinese-husbands-46390.html
--------
NGO Launches Petition for Release of Syrian Women
01.03.2019
An international non-governmental organization launched a petition Thursday demanding the immediate release of women and children imprisoned by the Syrian regime.
Once the signatures reach a sufficient number, the petition will be presented to the United Nations as well as the Turkish, Russian and Iranian governments for their endeavors within the Astana process to achieve peace in Syria, said Murat Yilmaz, spokesman for the Conscience Movement, in an exclusive interview with Anadolu Agency.
Noting that the signatures would help raise awareness of the plight of these Syrian women and children, he said there has been no other state or body that has seriously highlighted or worked on the issue.
"If the leaders of the countries carrying out the Astana process are determined on this issue, we hope that all women and children will be unconditionally released from these prisons," Yilmaz said, referring to Turkish President Recep Tayyip Erdogan, Russian President Vladimir Putin and Iranian President Hassan Rouhani.
The campaign can be supported on the Conscience Movement's official website at vicdanhareketi.org, which is available in six languages.
The Conscience Movement is an alliance of individuals, rights groups and organizations aiming to secure urgent action for the release of women and children in the prisons of Syria's Bashar al-Assad regime.
The Astana process, spearheaded by Turkey, Russia and Iran, has been successful in establishing a cease-fire in Syria and led to the creation of de-escalation zones throughout the war-torn country.
According to the initiative's statement, more than 13,500 women have been jailed since the Syrian conflict began in March 2011, while more than 7,000 women remain in detention, where they are subjected to torture, rape and sexual violence.
International Women's Day
Yilmaz noted that the initiative had several activities planned before International Women's Day on March 8 in Turkey as well as other countries, including the Philippines and Venezuela, to support those women and children who are languishing in Syrian prisons.
"Press releases will be issued, dialogue with decision makers will be established, various activities with human rights organizations will be carried out," he said, underlining that Syrian women who had previously suffered in such prisons and have now been released would also lend their support.
"On March 8, simultaneous actions will take place across the world," he said, adding multiple social media campaigns were set to continue.
Yilmaz said the initiative's main event in Turkey will be a press release at Istanbul's Sultanahmet Square at 2:30 local time (11:30GMT).
"Our goal is to carry out this work [of the initiative] until the last woman and child detained in Assad's prisons are free," he added.
The Conscience Movement is an international initiative founded last year after an all-woman international convoy made global headlines by raising awareness of the abuses suffered by women jailed by the Assad regime.
On Feb. 20, the international initiative held a conference in Istanbul that drew participants from 45 countries, including Syria, Britain, South Africa, Ecuador, Qatar, Kenya, Ukraine, Bosnia and Herzegovina, Brazil, Greece, Pakistan, the Democratic Republic of Congo and Malaysia.
During the conference, the participants called on the global community to take urgent action to secure the release of women and children held in Syrian prisons.
Syria has only just begun to emerge from a devastating conflict that began in early 2011, when the Assad regime cracked down on demonstrators with unexpected ferocity.
According to UN figures, hundreds of thousands of civilians have been killed or displaced in the conflict, mainly by regime airstrikes in opposition-held areas.
https://www.aa.com.tr/en/life/ngo-launches-petition-for-release-of-syrian-women/1406110
--------
Former Yazidi Captives of Islamic State Arrive In Iraq
MARCH 1, 2019
ERBIL, Iraq — A Yazidi official says 21 freed women and children have returned to Iraq after five years of captivity in the hands of the Islamic State group.
Hussam Koro, the head of the Yazidi Women Rescue Office, said the group of 3 Yazidi women and 18 children crossed into Iraq from Syria on Thursday. They were received at the Iraqi border town of Sinuni.
About 3,000 Yazidis are still missing after IS militants stormed their communities in the Sinjar region in northwest Iraq in 2014, and enslaved, raped and killed thousands of worshippers of the esoteric faith.
In Syria, a two-weeks-long pause to the U.S.-backed military campaign against IS raised hopes that the captives could escape to safety, but authorities said only a handful of Yazidis were identified among the refugees.
http://www.startribune.com/former-yazidi-captives-of-islamic-state-arrive-in-iraq/506558992/
--------
'We aren't dangerous': Why Chechnya has welcomed women who joined Isis
2 Mar 2019
The handwritten letters addressed to Kheda Saratova often begin with the words: "I'm asking you to find my daughter."
The Chechen human rights advocate has binders filled with photographs of young women and children, as well as their last known locations: Mosul, towns near Raqqa, or sometimes just "tent camp".
Then there are the pleas for help sent over WhatsApp. "We aren't dangerous," wrote Maria, a Russian in the Ain Issa refugee camp in Syria. "Maybe there are some who are dangerous, but we should not all be punished for them."
Altogether, family members have appealed to Saratova to find at least 1,800 Russian-speakers who have disappeared into Iraq and Syria, many of whom arrived in the two countries to live under Isis. "We need to hurry or there won't be anyone left to return," she said.
Women like them have been dubbed "Isis brides" in the west, and their possible return has sparked a fiery public debate, with governments taking unprecedented steps to block their repatriation.
Shamima Begum, the teenager who traveled from east London to Syria in 2015, had her British citizenship revoked. The United States made a similar decision to block the return of Hoda Muthana, an Alabama woman.
Russia has a far larger problem. Vladimir Putin has claimed as many as 4,000 Russian citizens traveled to Syria and Iraq, and another 5,000 from other ex-Soviet countries. Saratova says relatives are seeking at least 700 women from countries such as Russia, Kazakhstan, and Uzbekistan, and more than 1,100 children.
The campaign for their return has found an unlikely champion in Ramzan Kadyrov, the strongman ruler of Chechnya, whose regime has long been accused of brutal reprisals against Islamist insurgents and their families.
However, Kadyrov has lobbied Vladimir Putin for the return of Russian-speakers from Isis and helped organise nearly a dozen evacuation flights from Syria to Grozny, the predominately Muslim capital of Chechnya.
Observers suggest that he has various motivations: keeping potential insurgents under watch, promoting his stature as a Muslim leader, and a genuine belief, coloured by a patriarchal worldview, that the women who emigrated were bound to follow their husbands into Isis.
"From the humanitarian point of view, this is a very strong and quite unexpected position," said Ekaterina Sokirianskaya, the director of the Conflict Analysis and Prevention centre and an expert on the north Caucasus.
Supporters of the scheme, which brought back 21 women and more than 100 children in 2017, claimed that repatriating those who had lived under Isis would help keep the country safer.
"These people need to be brought back, so that they're under the control of our law enforcement agencies," said Saratova, who was appointed by Kadyrov to a committee that manages the repatriation process."They are more dangerous there than here."
But the scheme has its opponents and was suspended abruptly in 2017 after complaints from senior officials in Russia's security services. Evacuations of children resumed only in December 2018. Women are no longer repatriated.
Zalina Gabibulayeva, a mother of five who now lives in Grozny, was on the last flight out of Syria. She seemed an unlikely candidate for clemency. Her first husband had fought in the insurgency in Dagestan and was killed in 2010. In 2012, she was sentenced to two years in prison after police found a bomb in the trunk of her car, which she said was planted.
While the Chechen government has portrayed the women it wants to repatriate from Syria as obedient wives, each case is unique. Gabibulayeva said that she was single and made her own decision when she slipped across the Turkish border in 2014. "I had religious motivations," she said during an interview in Grozny. "I thought it was sharia. I wanted sharia."
Gabibulayeva settled in Tabqa, a city she called "peaceful" at first but she said she soon grew disappointed with Isis's strict rules, wanton use of violence and the cost of the approaching war. "At first, there were more good people than bad," she said. "They killed them like cannon fodder, sending them to die in this war." Executions for legal violations were also common, she said. She denied taking part in violence.
Single women were confined to a general barracks and not let out alone, so she quickly married, she said. Her third husband was killed in a drone strike less than a year after they wed. As the war drew closer and aerial bombardments became more frequent, she and her fourth husband, a Macedonian, decided it was time to leave.
They paid to be smuggled out of Isis territory in mid-2017 and surrendered to Kurdish forces in the country's north. Gabibulayeva, who was pregnant with her fifth child a the time, gave birth in al-Hawl refugee camp. "They didn't even bring me to the hospital, though I asked them," she said.
Her husband was arrested and extradited to Macedonia, where he is now in prison. She spent four months in camps before she was suddenly flown back to Russia, where a court in Dagestan convicted her of joining an illegally armed group. She was sentenced to prison, but given a deferment of more than a decade because she has young children.
She considers herself lucky to have got out alive. "When the war was at its peak, when the children were between life and death, of course you choose prison over the death of your kids," she said.
Gabibulayeva and another returnee, Zagidat Abakarova, a mother of four, said that they had been subjected to intense scrutiny after returning to Russia, with regular interrogations and police visits in her native Dagestan. She moved to Chechnya, she said, because government forces had been more lenient. Russia has no federal guidelines for repatriation, and each region has dealt with returnees in its own way.
She assumed that their phones and other means of communications were being monitored, but said that women who had lived under Isis no longer posed a threat.
Not everyone agrees. In November, Alexander Bortnikov, head of Russia's federal security service, said that brining women back was dangerous: "It's no secret that these women and even children are used by terrorist leaders as recruiters, suicide attackers, for perpetrating terrorist attacks and as gobetweens."
Putin has also spoken publicly in support of repatriating children, although he has not addressed the question of women. Evacuation flights from Syria suddenly resumed for children born in Russia late last year, with 30 children evacuated in December and more.
Observers say that Russia's approach is flawed but has shown more readiness to repatriate those who left for Isis than any western government.
"Russia has one of the most active programmes on repatriation of children globally and should be given credit for it," Tanya Lokshina, of Human Rights Watch, said. But "given all that hope to the families desperate to get daughters and grandkids back from Syria and Iraq – and then suspending the original programme for a year without any explanations, it was a huge and unjustified blow to those families."
Some mothers still have hope their daughters will be found alive. Dzhannet Erezhebova has been searching for her daughter Ziyaret for more than two years.
"If I disappear, please don't leave my children here, find them," Ziyaret texted from Mosul in November 2016, where she was living in a barracks for widows with her three children. Her husband had already died in a bombardment.
It was the last time time that mother and daughter spoke, and Erezhebova has spent more than two years searching for clues that her daughter and three children escaped the city.
"I have been burying her and bringing her back to life all this time," Erezhebova said . "She deserves another chance.
https://www.theguardian.com/world/2019/mar/02/we-arent-dangerous-why-chechnya-has-welcomed-women-who-joined-isis
--------
URL: https://www.newageislam.com/islam-women-feminism/a-poster-displayed-west-virginia/d/117903
New Age Islam, Islam Online, Islamic Website, African Muslim News, Arab World News, South Asia News, Indian Muslim News, World Muslim News, Women in Islam, Islamic Feminism, Arab Women, Women In Arab, Islamophobia in America, Muslim Women in West, Islam Women and Feminism