Age Islam News Bureau
1 Dec 2012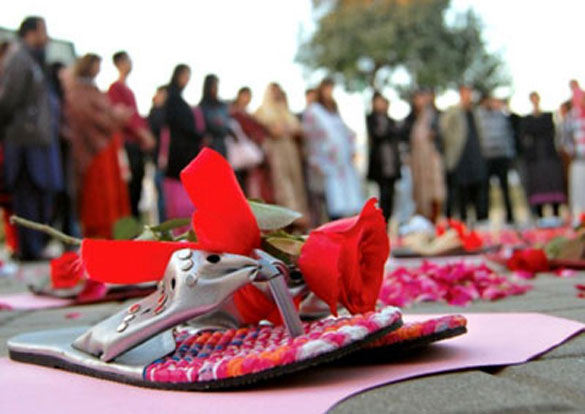 • Women Workers Forced To Wear Long Sleeves in Kelantan
• Why Women Must Be at the Heart of Phase II of the Arab Spring
• 14 Bangladeshi Women Trafficked To India Return Home after 5 Years in Jail
• Kim Kardashian Gets Death Threats after Tweet Supporting Israel
• Women's Equality Absent From Egyptian Constitution
• Scheme for Minority Girls to Be Unveiled On Dec 10 in U P, India
• Violence against Women: Global Movement Kicks Off In Pakistan
• Newborn Snatched From a Hospital in Quetta
• AIDS: Women Pay Price for Husbands' Indiscretions
• The Rising Innovation of Muslim Women
• Rise in Violence against Women Troubling, Says Karzai
• Indonesia to Host OIC Conference on Women Issue
• Reporter jailed in Ethiopia among women journalists honoured
• Sana Safinaz wins the Best International Designer Award 2012
Compiled by New Age Islam News Bureau
Photo: Violence against women: Global movement kicks off with shoe memorial ceremony
URL: https://newageislam.com/islam-women-feminism/a-pakistani-christian-girl-forced/d/9499
-----------------
A Pakistani Christian Girl Forced To Convert To Islam and Raped
November 30, 2012
Vihari, Punjab: November 30, 2012. (PCP) A young Christian girl named, Asiya Masih, daughter of Francis Yaqoob, aged 14 years, was a resident of Chak no.198 EB, District Vihari. Francis Masih worked as a laborer in the fields of the landlords. Due to the poverty, Asiya Masih also helped her parents in the fields to earn some more money for the family.
On 11th November, 2012, she went to the fields to pick cotton flowers from the fields. The two culprits, Mohammad Javed and Mohammad Mumtaz who are the influential persons of their area, abducted her from the fields and took her to some unknown place. They took thumb impressions of Asiya Masih on different papers and forcibly converted her to Islam. They also raped her and tortured her for 11 days.
When Francis Masih came to know that Mohammad Javed and Mohammad Mumtaz had abducted his daughter, he made a complaint in the local police station but the police did not cooperate with him. Afterwards Javed and Mumtaz called Francis Masih and threatened him that if would contact the police, they would kill Asiya Masih. They also proposed Francis that if he wants his daughter back, then he would have to give them a written document that he would not take any police action.
Afterwards with the help of WVIP and Chaudhry Riaz Bashir, who is an influential Christian businessman, Francis Masih got his daughter back on the 22nd of November. But the Paish Imam of the local mosque has announced yesterday that as Asiya Masih was converted to Islam, she cannot live as a Christian again, if she did not follow the Religious customs of Islam, She and her family will face the consequences. He also announced that all eight Christian families of the village should be banished and their houses should be burnt. And today at 5:00 P.M they are holding a meeting of Muslim clerics in Chack No- 198/EB District Vihari . WVIP Team leader of South Punjab and Legal Advisor Mr. Lazar Allahraka is making every effort to help these Christian families as well Aisya Masih. The Executive Director of WVIP, Mr. Farrukh H. Saif Requested the international community to lift their voices for the defenseless Christian Girls and women in Pakistan.
http://www.pakistanchristianpost.com/headlinenewsd.php?hnewsid=3964
----------
Women workers Forced to wear long sleeves in Kelantan
Tee Siew Kiong
November 30, 2012
DAP Socialist Youth chief Anthony Loke Siew Fook must carry some responsibility for the state-wide ban imposed in Kelantan against all unisex hair salons as he had defended PAS hudud enactment, thus emboldening them to enforce this ruling which was implemented since 1991 by the PAS state government.
Anthony Loke had once claimed that if a person did not steal or rob, then he or she has nothing to be afraid of PAS hudud enactment. However, when it comes to the crunch, we can see that DAP is only attempting to confuse the public and shirking their responsibility towards the non-Muslim community.
Immediately after the issue of the ban on hair salons, Anthony Loke should have spoken up against this regulation which have caused dissatisfaction among the people of Kelantan and creating difficulties for them. He should have known that if this can happen in states under PAS' control, what more if DAP actually helps PAS take over Putrajaya? Anthony Loke's defencee of PAS hudud enactment was also praised by PAS' spiritual advisor Dato' Nik Abdul Aziz. Thus, this is now his fault as he has forsaken his responsibilities in helping PAS mislead the Chinese community and other non-Muslims.
Non-Muslims will be affected no matter what Pakatan claims
How can Anthony Loke be expected to explain the implications of PAS' hudud enactments on non-Muslim businesses? Refusing to approve unisex salon licenses and forcing men and women to go to separate hair salons are acts which definitely affect non-Muslims. Does Anthony Loke still think that our claims are utter nonsense?
PAS President Dato' Seri Hadi Awang has once said that Pakatan will seek to amend the Federal Constitution to implement PAS hudud enactments. In Kelantan, there have already been signs of PAS' policies being implemented such as forcing female workers to wear long sleeves by issuing fines, even to non-Muslims by the Kota Bahru City Council, imposing a ban on the sale of licenced lottery tickets as well as forcing men and women to line up separately at the supermarket.
Ominous silence by DAP leadership
Among all of DAP leaders, only its Chairman Karpal Singh is still adamant that PAS' hudud is unconstitutional. The others continue keeping silent as usual. Their lack of support towards their own chairman only reflects their ambitions of seizing power at the expense of non-Muslim interests, thus that is why they are afraid to come out and publicly support their chairman.
http://www.malaysia-chronicle.com/index.php?option=com_k2&view=item&id=44375:women-workers-forced-to-
--------
Why Women Must Be at the Heart of Phase II of the Arab Spring
11/30/2012
"There are two steps in a revolution: You break it and then you build something new. That's the hardest,"says Mabrouka M'barek, a newly elected member of the Tunisian National Constituent Assembly.
M'barek, a "founding mother" birthed in the Arab Spring, is engaged in drafting the country's new constitution. She is one of the 49 women in a 217 Assembly in Tunisia that ironically boasts of exceeding the female representation ratio in the U.S. Congress.
This is a big change. In the Arab world, women have lagged far behind as leaders in politics and business. This has largely and adversely affected progress and development as reported both by the World Economic Forum and the United Nations Development Program.
One thing is clear: There is a huge upside value in educating women and including them in our economies and governments. Women understand the plight of the underprivileged men, women and children -- yet, they are often excluded from participating in key decisions-making roles. The revolutions in the Middle East offer a chance to change this equation. It's a critical time. Yet the traditional approach -- tokenism -- is a demonstrated failure.
A quick recap captures the political progress of women in the Arab Spring:
• In Libya, women hold 33 seats in parliament but women have been excluded from "serious decision making." Their concerns have often been relegated to the back burner. Women have also been dissuaded from pursuing careers considered "too successful," says Alaa Murabit, the founder of Voice of Libyan Women.
• In the Syrian opposition front based outside Syria, and just being recognized by European governments, not a single woman is included.
• But it is in Egypt, the biggest Arab nation, where the real battle lines on the drafting of the new constitution have been drawn between secularists and Islamists. Egypt could well be the hallmark of the Arab Spring as time evolves. Today it seems to be firmly caught betwixt and between the old and new world order.
The pivotal issues in Egypt are women's rights, the role of religion in a democracy and the expression of faith. The key questions on women's rights are: Will marriage and inheritance be tied to Shariah law or will Islamists who want gender segregation and veiling prevail? The new draft of the constitution will be ready on December 12 and this will replace the 1971 charter.
A thorny but significant issue in Egypt is the future of Al Azhar, a highly respected institution of religious learning, dating from ninth century Cairo. Muslims globally view Al Azhar as the leader of Islamic scholarship upholding moderate Islam -- and therefore could become a political football between secularists and Islamists.
In drafting the new constitution, the ultraconservatives made two requests -- the first to replace the "principles of sharia" with the "rulings of sharia" or even just sharia; and the second to consider "Al Azhar as the new State reference for the interpretation of sharia." Both suggestions were rejected by the assembly's liberal members, who fear that Al-Azhar -- which today represents a moderate Islam -- could one day be used to limit freedoms should it fall under the control of ultraconservatives.
This would "effectively create a legislative vetting role for an unelected, unaccountable body with no recourse to judicial review," Human Rights Watch says.
Consider how this might impact Hend Badawi, a 23-year-old young woman from Banha, Egypt. Fashionably but conservatively dressed, Badawi is a student who was pushed, pulled, dragged, groped and cursed as she protested in Tahrir Square. With a broken wrist and fingers and lacerated feet, she was moved to a military hospital 12 hours later and she reflects: "When the January 25th [revolution] happened, I had the opportunity to mix my inner revolution with the revolution of my country." Later when Field Marshall Mohammad Tantawi, Egypt's de facto ruler at the time, visited her in the hospital, she said: "We are not the ones who are the thugs. ... Get out!" This emboldened her and gave her some serenity.
Nehad Abou el Kosam, co-founder of Egyptian Center for Women's Rights identifies the high bar facing women: "Women's issues are at the core of the Islamist movement." How will Egyptian women navigate around the Islamists being grounded in an anti-women agenda? That is the key question.
Hate vs. Hope for Arab women?
When these Egyptian women were asked if the revolution has helped women, Hana said, "Yes"; Samar said, "Not yet"; and Badawi said, "Absolutely not." Mona Altahawy, the fiercely outspoken Egyptian-American journalist who was beaten by security forces in Cairo during the revolution says: "Arab societies hate women." Yet, the Arab Spring has allowed Muslim girls and women to dream big dreams, as Ms. Murabit of Libya says: "For young girls to now tell me that they want to be the future president, minister of defense, these are things I never imagined."
But Eltawahy believes there's another link for women between politics and the home front: "They realize if they can stand up to Mubarak, they can stand up to their fathers and their mothers and their brothers."
"For societies to transform from repressed dictatorships to healthy democracies, key ingredients are needed," says Anne Applebaum, author of Iron Curtain: The Crushing of Eastern Europe. "These include patriotism, historical consciousness, education, ambition, optimism and especially patience. The destruction wrought by totalitarian governments always takes decades to repair." Revolutions are often a two step dance -- break and build and the building is a s-l-o-w process.
So if we are at the second step of the Arab revolutions -- the building process -- and if we understand that the perspective of women is essential to build modern, progressive, tolerant cultures and political systems, how do we measure whether the steps being taken to include women are going to get the job done?
Research by Tali Mendelberg and Christopher F. Karpowitz shows that "female representation matters, but only when there's parity with men." The key according to this study is that "women speak up less or appear to lose influence when they are in a minority. ... but once they constitute 60-80% of a group, they spoke as much as men..." The authors conclude that "women in legislatures, city councils and school boards speak more and highlight the needs of the underprivileged -- the poor, the vulnerable, children and families - and men listen."
So one of the biggest handicaps facing the Arab revolutions is that they are unlikely to provide adequate voice to the perspectives represented by women -- and that isn't just a problem for women.
"Women are our best hope for highlighting the needs of the 99 percent." Maybe some things are more universal than we think.
Shahnaz Chinoy Taplin's blog is inspired by Khadijah, Prophet Muhammad's first wife. Khadijah is the quintessential role model for Muslim women. She was the first convert to Islam, the first Muslim woman entrepreneur, a globalist and a feminist
http://www.huffingtonpost.com/shahnaz-taplinchinoy/why-women-must-be-at-the-_b_2176396.html
---------
14 Bangladeshi Women Trafficked To India Return Home after 5 Years in Jail
December 1, 2012
Fourteen Bangladeshi women returned home yesterday after languishing for five years in an Indian jail.
Indian Border Security Force handed them over to authorities of Border Guard Bangladesh at Benapole check post.
The BGB sources said the women were trafficked to India through Jessore border in assurance of good jobs in Mumbai about five and a half years back.
But they were sentenced by an Indian court to five years imprisonment for crossing the border illegally. Earlier, police arrested them at Kolkata Railway Station.
http://www.thedailystar.net/newDesign/news-details.php?nid=259472
---------
Kim Kardashian gets death threats after tweet supporting Israel
NOVEMBER 17, 2012
Kim Kardashian may represent everything that is wrong with America's celebrity obsession, but her support for Israel exposed the widespread online anti-Semitism the world has for the tiny Jewish state.
According to a report by Twitchy.com, the reality show star caused a stir Friday when she tweeted the message "Praying for everyone in Israel." That did not sit well with the anti-Israel left, as well as extreme Muslims, who attacked Kardashian with insults and death threats.
View slideshow: Kim Kardashian gets death threats after tweet supporting Israel
"Please don't pray for Israel. They are murderers," one Twitter user said. "You nasty skank, stay out of politics and things for grown ups. VIVA PALESTINE!!" a Twitter user named Mo Abu Qadar said.
Full report at:
http://www.examiner.com/article/kim-kardashian-gets-death-threats-after-tweet-supporting-israel?CID=obnetwork
-----------
Women's equality absent from Egyptian constitution
November 30, 2012
(CBS News) CAIRO -- The fledgling Egyptian democracy just got its first draft constitution, but a lot of Egyptians aren't happy about it. It is the work of religiously conservative supporters of President Mohammed Morsi. Protesters had already filled the streets of Cairo, angry because Morsi had granted himself near absolute powers last week. They fear that the new constitution will take away many of their rights.
Full report at:
http://www.cbsnews.com/8301-18563_162-57556568/womens-equality-absent-from-egyptian-constitution/
----------
Scheme for Minority Girls to Be Unveiled On Dec 10 in U P, India
Dec 01 2012
Chief Minister Akhilesh Yadav will launch the government's "Hamari Beti, Uska Kal" scheme, under which girls from minority communities will be given a financial assistance of Rs 30,000 on passing class X, from Rampur on December 10. The benefit will be given to girls from families whose annual income does not exceed Rs 36,000.
Full report at:
http://www.indianexpress.com/news/scheme-for-minority-girls-to-be-unveiled-on-dec-10/1038908/
------------
Violence Against Women: Global Movement Kicks Off In Pakistan
December 1, 2012
ISLAMABAD: The global movement for 16 days of activism for elimination of violence against women was launched on Friday with a shoe memorial ceremony at the F-9 Park. The campaign will be spearheaded by change agents in 36 districts.
Homage was paid to 50 million women missing from South Asia on the premises of a restaurant at the memorial service and one-minute silence was observed, followed by a candlelight vigil. The event was part of the "We Can" campaign to end violence against women. Women parliamentarians, who were also invited to be a part of the ceremony, could not make it.
Full report at:
http://tribune.com.pk/story/473554/violence-against-women-global-movement-kicks-off-with-shoe-memorial-ceremony/
---------
Newborn Snatched From a Hospital in Quetta
By Mohammad Zafar
November 30, 2012
QUETTA: A newborn baby was allegedly abducted by an unidentified woman from the Lady Dufferin Hospital here on Thursday.
According to the child's father, Muslim Bagh resident Abdul Malik, his wife was admitted to the hospital for an emergency delivery on Wednesday night.
"After [a] major operation she gave birth to a baby. The baby was handed over to a woman, dressed like a nurse, to suckle milk," he added.
Full report at:
http://tribune.com.pk/story/473127/kidnapped-newborn-snatched-from-hospital/
----------
AIDS: Women pay price for husbands' indiscretions
By Sumera Khan
December 1, 2012
ISLAMABAD: That December morning in 2009, Sabina (surname withheld on request) was happy. Her husband was moving back home permanently after having lived and worked in England for 17 years as a labourer. The house had been cleaned. His favourite food had been cooked. Sabina was expecting a child and things were looking up. But when her husband arrived, she knew at a glance something was not right.
"He looked worn-out, exhausted and unwell," said Sabina, 43, sharing her story with The Express Tribune.
Full report at:
http://tribune.com.pk/story/473438/aids-pay-price-for-husbands-indiscretions/
-----------
The Rising Innovation of Muslim Women
Shelina Zahra Janmohamed
Dec 1, 2012
There is in the Muslim world the rise of a new kind of Muslim, self-empowered individuals who combine faith and modernity, who are creative, vocal and game-changing, and believe change is a good thing.
Greater education and freedom has brought increased participation in the labour force and the economic benefits and independence that this brings. And later marriage brings freedom and self determination, all of which are being enhanced by global connectivity among Muslim women's groups which allows sharing of experiences and the creation of solidarity.
It also opens up the business space for women. All of these have been made easier by social media bringing down barriers, and making female participation more immediate and more acceptable.
Full report at:
http://www.thenational.ae/thenationalconversation/comment/the-rising-innovation-of-muslim-women
--------
Rise in violence against women troubling, says Karzai
30 November, 2012
KABUL: President Hamid Karzai expressed concern on the growing violence against Afghan women and said it was against the teachings of Islam.
In his weekly radio speech, the president urged religious scholars, prayer leaders and tribal elders to preach to the public on women's rights and that it was against Islam to harm them.
Karzai said Islam does not accept cruel behavior towards women and it was against basic human rights as well.
Full report at:
http://paktribune.com/news/Rise-violence-against-women-troubling-says-Karzai-255315.html
--------
Indonesia To Host OIC Conference on Women Issue
December 01 2012
Indonesia will be hosting the fourth Conference on the Role of Women in Development of Organization of Islamic Cooperation (OIC) member states on Dec. 4-6 at Ritz-Carlton Hotel in Jakarta.
Full report at:
http://www.thejakartapost.com/news/2012/12/01/ri-host-oic-conference-women-issue.html
----------
Reporter jailed in Ethiopia among women journalists honoured
November 1, 2012
Reeyot Alemu missed an important dinner engagement in Beverly Hills. But she had a good excuse.
The 31-year-old journalist is jailed in the notoriously brutal, rodent-infested Kaliti prison in Addis Ababa, the capital of Ethiopia. She's two years into a five-year sentence for daring to write about poverty, opposition politics and gender equality.
The dinner she missed Monday was the annual awards ceremony, at the Beverly Hills Hotel, for the International Women's Media Foundation, which celebrates courageous women journalists.
Full report at:
http://latimesblogs.latimes.com/lanow/2012/11/reporter-jailed-in-ethiopia-among-woman-journalists-honored-.html
-----------
SanaSafinaz wins the Best International Designer Award 2012
November 30, 2012
It was a moment of pride for the Pakistani fashion industry when the famous designer duo, SanaSafinaz consisting of Sana Hashwani and Safinaz Munir, were crowned the "Best International Designer of the Year" at the fifth Annual Masala Awards in Dubai.
The awards, celebrating the achievements of South Asians from across the world and the UAE in particular; in the fields of arts, education, philanthropy and business, were held in Dubai last week.
Full report at:
http://tribune.com.pk/story/473249/sanasafinaz-wins-the-best-international-designer-award-2012/
---------
URL: https://newageislam.com/islam-women-feminism/a-pakistani-christian-girl-forced/d/9499