New Age Islam News Bureau
21 March 2016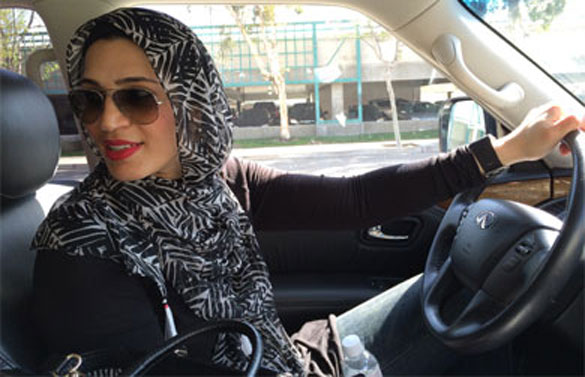 At age 38, Mirvette decided to wear the headscarf, also known as the Hijab, after she noticed an alarming spike in anti-Muslim incidents.
--------
• A Muslim Woman's Personal Battle against Islamophobia
• Chilling First-Hand Account of ISIS Massacre of Nuns
• Journey of a backbencher, Aamna Qureshi, at a government school to a seat in UN
• Youth Pastor's Wife Is Wearing a Muslim Hijab — Here's Why
Compiled by New Age Islam News Bureau
URL: https://newageislam.com/islam-women-feminism/a-muslim-woman's-personal-battle/d/106722
-----
A Muslim Woman's Personal Battle against Islamophobia
MAR 20, 2016
Standing in front of her vanity's mirror, Mirvette Judeh quickly wraps her scarf around her head. She secures it in place by tucking it into her neckline, forgoing the pins which she fears might rip the delicate fabric.
For all of last year, this has been Mirvette's daily routine.
At age 38, Mirvette decided to wear the headscarf, also known as the Hijab, after she noticed an alarming spike in anti-Muslim incidents.
"It started as a thirty-day challenge," Mirvette said, sitting on the couch in her bedroom in Buena Park, Los Angeles. "I put it on with the mission of being that person that's going to take away those misconceptions and those false images that have been assigned to my religion."
"The hijab is bigger than me. It represents an entire religion."
Recently, Muslims have been more frequently portrayed in a negative light, due to the terrorist attacks in Paris and San Bernardino. In addition, the anti-Muslim rhetoric used by the Republican candidates during the presidential election primaries has led to increased Islamophobia.
"I wore [the hijab] to stand up for Islam, to stand up for all the [hijab-wearing women] out there, and to stand up for America and what we're about," she added.
Mirvette Judeh, a Los Angeles resident, puts on her headscarf, also known as a hijab. She started wearing the hijab on April 3, 2015, in solidarity with other Muslim women.
Mirvette, a real estate agent and a delegate for the Democratic Caucus, often tends to be in the public eye. So, she had her doubts before she wore the hijab, and even after she started wearing it.
"It's been a struggle," she said, recalling the feeling of being out in public the first time she put on the hijab. "In the beginning, it almost felt like every time I went outside, that I was like going through an obstacle course, or like I was walking on broken glass," she confessed.
As a Muslim, Mirvette views herself as a representative of Islam.
"I just feel like I have to be perfect because I'm wearing the hijab. Not because Islam dictates me to be perfect, because society will judge my entire religion for something I didn't do right."
Mirvette noted the gender disparity when it comes to how others perceive Islam, due to the obvious identifier that is the hijab.
"For us, women, there's no escaping it. You put it out there, people know you're Muslim. And who the heck likes to be called a terrorist?"
American raised and Palestinian by heritage, Mirvette has encouraged her three children to appreciate both their Arab and American heritages.
Rakan, 9, Ayah, 7, pray together in their living room while their three-year-old sister, Selma, watches. Mirvette also watches them, helping them recite the Quran verses correctly.
Mirvette has encouraged her children to appreciate both their American and Arab cultures. They pray together five times a day and speak fluent Arabic.
On a recent trip to her local market, other shoppers stared at Mirvette as she walked down the aisles picking up grocery items.
"Look at the stares," she said. "It almost feels like I'm a foreign object or like an alien or something, like I'm invading the market," she added, sounding shaken.
"I just feel awkward, you know? Just awkward. Like I'm out of place."
Despite the negativity with her experience with the hijab, Mirvette is proud of her decision, and continues to stand by it. "I can't believe I made it a year. I'm going to make it a year!" she said, excitedly. "I'm shocked! And hopefully, it'll be a lifetime. Hopefully I'll never take it off."
http://www.arabamerica.com/a-muslim-womans-personal-battle-against-islamophobia/
-----
Chilling First-Hand Account of ISIS Massacre of Nuns
March 20, 2016
The surviving nun of the ISIS attack on an old-age home in Yemen has provided an account of the incident, detailing the gruesome killings.
Sister Sally, the superior of the Missionaries of Charity, an order that was founded by Mother Teresa of Calcutta, miraculously survived the horrendous barrage of death and destruction.
Her report given to her superiors details how Islamic-State gunmen "tied them up, shot them in the head and smashed their heads."
She describes how, after realizing it would be impossible to run to the convent to warn of the attack, she hid in the refrigerator room.
The hand-written report began when "ISIS dressed in blue killed guard and driver. 5 young Ethiopians men (Christians) began running to tell the sisters ISIS was here to kill them. They were killed one by one. They tied them to trees, shot them in the head and smashed their heads....
"[Sister Sally] saw the sisters and helpers killed. The ISIS men were already getting to the convent so she went into the Refridgerator [sic] Room since the door was open. These ISIS men were everywhere searching for her as they knew there were 5 [nuns in total]. At least 3 times they came in the Fridgerator Room. She did not hide but remained standing behind the door – they never saw her. This is miraculous."
Sixteen people were killed in the attack, including four of the five nuns. The Islamic State had targeted the home and apparently studied when the nuns would be present. The report notes the order of nuns was "the only Christian presence" in Aden "and ISIS wants to get rid of all Christianity."
That sentiment was corroborated by the fact that the jihadis "smashed and destroyed" all Christian artifacts at the site -- the tabernacle, altar, crucifix, statues, Bibles and prayer books.
The gunmen entered the old-age home, which housed 80 people, by persuading the guard at the gate that they wanted to visit their elderly mother. As soon as they gained entry, they shot the guard dead and began moving from room to room, handcuffing their victims before shooting them and smashing their heads.
The murdered nuns were all slated to return to their home countries, but according to a spokeswoman for the order, "They opted to stay to serve people."
Sister Sally also insisted on staying to serve at the home after the attack, but police forced her to leave, saying the Islamic State would certainly return "to finish the job."
http://www.clarionproject.org/news/chilling-first-hand-account-isis-massacre-nuns
----
Journey of a backbencher, Aamna Qureshi, at a government school to a seat in UN
By Sarfaraz Memon: March 21, 2016
SUKKUR: Walking to school with her brothers and sisters, little Aamna Qureshi used to look wistfully at the buses of the Institute of Business Administration (IBA), Sukkur. Little did she know then that one day she would study at the prestigious school and, that, too, on a 100 per cent scholarship.
Aamna belongs to a middle-class family and has 10 siblings. Her father runs an optician's shop. She has overcome numerous challenges in her life, the biggest being a lack of confidence of society in a woman's capabilities.
What can a girl not do?
During her early education at Government M K High School, Sukkur, Aamna developed a strong belief that no one should have to fight for education, especially girls. Having been told by society that she cannot do much, she has come to disregard the notion of the 'impossible'.
After matriculation from the public school, where education was imparted free of charge, Aamna got enrolled in Government Girls Degree College, Sukkur, in the pre-engineering discipline. "As a backbencher and someone who stammers, it was not easy for me to carry on with the type of education being imparted in our government schools," she said. "Despite that, I did pretty good and always secured top positions in my class. Then I went to college, where all the major subjects were taught in English. Thus, I faced a huge language barrier."
Taking the first step
Thinking about her dream of studying at Sukkur IBA, she used to wonder if she would be able to generate the funds needed for the institution's expenses. "Whenever I dwelled into this thought, these words echoed in my mind: if we really want something, nature conspires to fulfil our desire. We do not need to see the whole staircase; we just need to take the first step." According to her, she thought long and hard about the dismal state of teaching in government schools. This made her decide that she would pursue higher studies in the field of education.
Four Pakistanis recognised in Forbes '30 Under 30' list
Today, 19-year-old Aamna is pursuing a Bachelor's in Education (BEd) degree from Sukkur IBA. She attempted the admission test of BEd at the university and cleared it with flying colours. She strongly believes that education is the foundation stone of the intellectual, social and moral development of a human being. According to her, Sukkur IBA is like a blessing for her family because four of her sisters studied here on scholarships. "It has changed my social status by providing education and a platform for interacting with like-minded people," she tells The Express Tribune.
Growth and achievements
When Aamna got enrolled in Sukkur IBA, she experienced a dramatic change in her life. As she undertook schooling in her local language, she struggled hard to get accustomed to Sukkur IBA's standards, where all the courses were taught in the English language. She burnt her midnight oil to prove her mettle with successful results. Being a meritorious student and highest GPA holder of her batch at Sukkur IBA, she won two scholarships and also won a national-level photo contest. Dr Irfan Ahmed Rind, the head of the education department at Sukkur IBA, believes in giving opportunities to students to give them a chance to contribute in fulfilling the vision of the department. Likewise, with the guidance of Dr Rind, Aamna remains active in Sukkur IBA Student Council. "She always seeks and makes opportunities, which distinguished her from all the students," says Rind.
Aamna was nominated to attend the Commission on the Status of Women 60 at the United Nations Headquarters in New York City on March 12 this year. She was the only and the youngest participant from Pakistan at the event. This was her first independent international travel. Her sincere commitment and dedication to play her part in alleviating the education situation has been persistent. Her determination, passion and commitment seem to promise social change in the near future. "I feel proud of myself, my parents and, of course, my teachers, especially Dr Irfan Rind, who proved to be a source of inspiration for me," she says.
http://tribune.com.pk/story/1069545/journey-of-a-backbencher-at-a-government-school-to-a-seat-in-un/
-----
Youth Pastor's Wife Is Wearing a Muslim Hijab — Here's Why
Mar. 21, 2016
A high school guidance counselor is attempting to counter anti-Muslim rhetoric by wearing an Islamic hijab to her public school every Monday — an effort that she launched after her pastor spoke about the importance of challenging oneself to make a difference.
"I felt moved out of my comfort zone," Martha DeVries said of the motivating sermon.
DeVries, the 47-year-old wife of a youth pastor who resides in Kansas City, Missouri, also explained that she felt a responsibility to show her support for refugees and Muslims based on some of the political rhetoric that has been raging of late.
"I've just gotten very tired of hearing so many negative things, like Donald Trump's 'let's not let Muslim immigrants into the United States' and the scare on Syrian refugees," DeVries told Baptist News Global last month.
In addition to the rhetoric, DeVries cited the Bible's proclamation that Christians should love others — a message that she is hoping to bolster by wearing the Muslim headscarf.
"I think of Muslims in my community as my neighbors and it's not my job to judge them or determine their salvation," she said. "My job is to love them."
DeVries continued, "Someone needs to be communicating with Muslims that there are Christians in this nation who love them."
She said that the act of solidarity — which was undertaken after receiving advice from Muslim women about the appropriateness of wearing the hijab — received no negative feedback in school or her community since she started wearing it in December; she plans to continue through May.
DeVries recently told Religion News Service that her goal is to "walk in someone else's shoes."
"It's really easy to be a Christian in the United States. Lots of people share my faith, lots of people share my holidays, so it's not really a struggle," she told the outlet. "What's a headscarf? It's 3 yards of material. That shouldn't separate me from someone whose humanity is so much like mine."
DeVries' husband, Mike, fully supports the effort, saying that he believes it is a nice idea.
"The first thing I thought was, hmm, is she really going to do that?" he told Baptist News Global. "I thought it was kind of cool, actually."
DeVries' move comes after Dr. Larycia A. Hawkins, a former professor at Wheaton College, also decided to wear a hijab in solidarity with Muslims, but comments that Hawkins made about Islam and Christianity worshipping the "same God" led to her suspension and ultimate departure from the Christian school.
http://www.theblaze.com/stories/2016/03/21/this-high-school-counselor-and-youth-pastors-wife-is-wearing-a-muslim-hijab-heres-why/
------
URL: https://newageislam.com/islam-women-feminism/a-muslim-woman's-personal-battle/d/106722