New Age Islam News Bureau
3 Oct 2015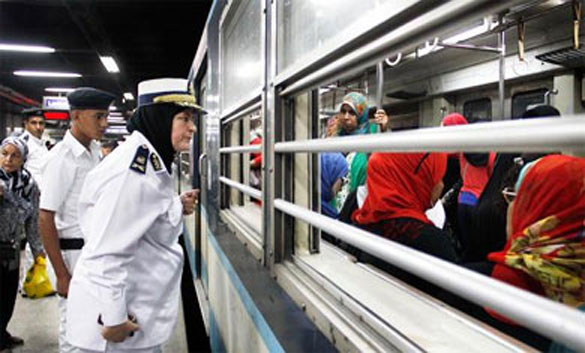 In this Sept. 13, 2014 file photo, a female senior security officer speaks to women inside a female-only car at the Shohadaa (Martyrs) metro station, in Cairo, Egypt. (AP)
---------
• A Muslim Father Kills 4-Year-Old Daughter for Not Covering Her Head in India
• India: Clerics Order Muslim Women Not To Contest KMC Polls
• Cairo University Teachers Can't Wear Niqab
• Khula Divorce Cases Rise 48% in Saudi Kingdom
• Saudi Women Break World Record in Global Mental Literacy
• Rescuing Chibok Girls Requires Planning – Army
• Quebec Legislature Pleads For Calm After Muslim Woman Attacked
• Haia Cracks Down On Smokers
Compiled by New Age Islam News Bureau
URL: https://newageislam.com/islam-women-feminism/a-muslim-father-kills-4/d/104786
-----------
A Muslim Father Kills 4-Year-Old Daughter for Not Covering Her Head in India
HT Correspondent, Hindustan Times, Bareilly | Oct 03, 2015
The accused, Jafar Hussain, allegedly killed his daughter for failing to cover her head, in UP.
A four-year-old girl in a village near Bareilly was killed allegedly by her father for failing to cover her head while having food, Uttar Pradesh police have said.
The incident allegedly happened on Friday noon when the little girl Farheen was having lunch with her mother. The accused Jafar Hussain picked her up and threw her to the ground repeatedly after she did not notice her dupatta slip off her head, police said.
The FIR filed by the girl's mother said this happened in front of the whole family and that when she tried to stop him , he beat her up. After the girl died he asked his wife to bury her inside the house, but she refused.
"Police have arrested the father for killing his daughter and we are questioning him about the incident," superintendent of police BK Srivastav said.
Read | UP: Boy scalded for asking wages to send Rakhi gift to sister
Neighbours described Hussain, who lives with his wife Naeem and their four children, as a "mentally unstable man" and a staunch religious follower who shunned all contacts even with his relatives. The eldest child is a 5-year- old boy, the youngest was ten months old.
The family lived in poverty and food was not prepared every day, they said.
After they came to know about the incident, the villagers did not dare to enter Hussain's house till the police arrived three hours later.
http://www.hindustantimes.com/india/up-father-kills-4-yr-old-daughter-for-failing-to-cover-her-head/story-BI8kzSy9zKvcolEVnuNdTK.html
--------
India: Clerics Order Muslim Women Not To Contest KMC Polls
Samrat Phadnis, TNN | Oct 3, 2015
KOLHAPUR: A local committee of Muslim clerics in the city ordered the community not to encourage their women to contest the Kolhapur Municipal Corporation (KMC) election.
The Majlis-e-Shoora-Ulama-e-Shahar Kolhapur is a committee of 40-50 local clerics, which controls mosques in the city. Last week, it distributed a note asking Muslim women not to contest the election, citing it as anti-Islamic; however on Friday, the Hilal Committee, an apex local body of Imams and scholars of the community, denounced this order and said the order is against the Constitution of India and cannot be followed.
Muftir Shad Kanure, the head of the Majlis-e-Shoora associated with the order, was not available for comment but some members of the committee told TOI that the order is not meant to discourage Muslim women. They added that the order had been released as a regular practice of clerics that alert the community on religious behaviour.
The order, issued on September 23 quotes the Sharia and two other collections of laws sacred to Islam and asked the women in the community to refrain from contesting in the election.
The unsigned order was distributed among the community's influential leaders, at a time when political parties have started declaring their lists of candidates for the KMC election. At present, there are as many as 20 Muslim women contesting the elections.
Along with the Hilal Committee, a majority of the community denounced the diktat and said that Muslim women should participate in the election without trouble.
"This diktat is against the Constitution and we denounce it. Instead, we appeal to the community to serve the civic body. Like men, women too have a right to contest the election. Our Constitution has given us the right and we are bound to the Constitution," said Mansoor Ansari, chairman of the local Hilal committee.
Hasina Faras, mother of sitting corporator Adil Faras is also contesting from central part of the city. "It's a ridiculous and condemnable order. I wonder where these people were for so long when women of the community were contesting the elections. We will not listen to such people who are acting in anti-Constitutional ways. They must know there are more than 200 women corporators of the Muslim community in Maharashtra," said Faras, a leader of NCP.
MIM's women corporators working best: Owaisi
All India Majlis-e-Ittehadul Muslimeen (MIM), which has Muslim women as corporators in Aurangabad and Nanded in Maharashtra appealed to the clerics not to ignore women. "We have enough experience in this regard. We have women corporators at several places and they are raising community issues and issues of women. They are working best. None of them have experienced any problem in public life," Asaduddin Owaisi, the chief of the MIM told TOI.
http://timesofindia.indiatimes.com/india/Clerics-order-Muslim-women-not-to-contest-Kolhapur-polls/articleshow/49201785.cms
---------
Cairo University Teachers Can't Wear Niqab
Saturday 3 October 2020
CAIRO: The recent decision to ban female staff from wearing the full face veil aims to put An end to student complaints of "poor communication" in class, the head of Egypt's Cairo University said Friday.
Although the head-to-toe covering known locally as the Niqab is "not a phenomenon" among his teachers, Gaber Nassar said he wants to "cure the disease" before it becomes one.
Scholars and students have denounced the move as discriminatory, but Nassar said he has the backing of the Grand Mufti, Egypt's top religious authority.
The Niqab, Nassar said, is especially problematic in language courses, where the cloth barrier of the veil hinders student-teacher communications — producing low grades and graduates incapable of enunciation.
The vast majority of Egyptian Muslim women wear a form of veil that covers the hair but leaves the face uncovered. However the number of women wearing the full niqab veil has increased dramatically in the past 10-20 years.
In 2009, Cairo University had banned both students and staff from wearing the niqab on campus or in the university's dorms. The ban was later overturned by a Cairo court following a lawsuit filed by a professor.
"That was unconstitutional because it said all of the university, we are saying now only the lecture halls," Nassar said, daring anyone to challenge his decree in court.
http://www.arabnews.com/middle-east/news/814741
-----------
Khula Divorce Cases Rise 48% in Saudi Kingdom
NADIA AL-FAWAZ — Saturday 3 October 2020
ABHA: There has been a 48 percent rise in women seeking Khula divorces from their husbands this Islamic year compared to the previous year, according to figures released by the Justice Ministry.
Khula involves a woman securing a divorce from her husband by returning part or all of the dowry he gave her when they married. There were 463 court cases this year, compared to 313 the previous year. This Islamic year, 1436AH, ends on Oct. 14.
Makkah had the most cases at 545, the Eastern Province 71, Jazan 56, Al-Qassim 34, Riyadh 26, and the rest in other parts of the country. Riyadh had no cases last year.
Khalid Jelban, a family medicine and community consultant, said many Saudi women seeking khula have run out of patience after staying in their marriages for years because of social pressure.
He said Saudi women have become more confident about their ability to have productive lives and feed their families because they are educated and have jobs.
He said many women have become the sole breadwinners in their families because their husbands have given up this responsibility. Jelban said the increasing divorce rates in the Kingdom are alarming and can have a "serious negative impact on the family, which is considered the core of society."
Jelban said a solution to this problem is for couples to have counseling before they tie the knot. "Women should also be educated about their rights without feeling oppressed and be empowered to protect their families from any disruptions," he said.
Lawyer Bayan Zahran said the increasing number of these types of divorces was a result of women becoming more knowledgeable about their rights. She said Makkah had more cases because expatriates have been added to the statistics.
She said women in the past were uneducated and did not know their rights. "Now more women are aware of their rights under Islamic law in Saudi Arabia," she said.
http://www.arabnews.com/saudi-arabia/news/814866
------
Saudi Women Break World Record in Global Mental Literacy
Friday, October 02, 2015 11:33 PM
Layan Damanhouri
Saudi Gazette
IN an attempt to be the first institution in the Arab world to mark the Global Mental Literacy world record, 1,380 students and faculty members in Dar Al Hekma University filled the campus auditorium recently, joining the session instructed by the invited guest Dr. Manahel Thabet.
Dr. Thabet is a holder of 3 PhDs and the youngest winner of Woman of the Year 2000 from Woman Federation for World Peace. In 2013 Dr. Thabet won Genius of the Year 2013 by the World Genius Directory representing Asia. She currently serves as the vice chancellor and vice chairman of the board of Britain-based The Gifted Academy.
Mind mapping, a technique invented by the renowned educational consultant Tony Buzan, is a method to capture thoughts into visual form to help solve problems more effectively by thinking outside the box.
According to Dr. Thabet, mind maps enhance performance, memory and creativity. President of Dar Al-Hekma University Dr. Suhair Hassan Al-Qurashi said the goal of the initiative was to change "how to teach" instead of "what to teach" in order to produce more creative and critical thinkers.
After 30 minutes of mind mapping and 90 minutes of reviewing in the jam-packed hall, Chris Day, general secretary of the World Memory Sports Council, announced Dr. Thabet's record of evaluating each mind map in 3 seconds.
A cheerful audience of students and faculty celebrated the groundbreaking achievement at the university campus for training in how to create mind maps in just 2 hours.
Speaking to Saudi Gazette, Dr. Thabet said: "The experience was amazing and wonderful. It was something very challenging but the students were very cooperative and the event was very organized".
She added, "I thank Dar Al-Hekma for adopting such a global initiative to help spread the awareness of creativity and the awareness of adapting methods to enhance the mental performance".
"I was really honored, privileged, and thrilled today to be the one leading this initiative and to be the one breaking the global record with the assistance of DAH students and the help of the faculty and the board of directors."
http://www.saudigazette.com.sa/index.cfm?method=home.regcon&contentid=20151003258529
---------
Rescuing Chibok Girls Requires Planning – Army
Omotayo Yusuf 02 10 15
The Nigerian army has said it is not in a hurry to rescue the more than 200 secondary school students who were abducted from their hostel in Chibok, Borno state, by Boko Haram fighters in April 2014.
It has been more than 500 days since the girls were abducted and the Nigerian army is still trying to secure their rescue.
The Punch reports that Col. Rabe Abubakar who is the acting director of defence information, at military headquarters in Abuja said on Thursday, October 1, that the military was very concerned about rescuing the abducted girls but the operation required necessary planning and patience.
Abubakar said the military was on track to rescue the girls as could be seen from recent efforts they had undertaken.
He said: "The issue of the low morale of the Nigerian military men has now become a thing of the past. The operation to recover the Chibok girls is alive and still ongoing. We have continued to make rescue efforts, and we will do all within our powers to bring the girls.
"However, we will not rush to do this. It requires diligent intervention and a high-level operation to rescue the girls. In due time, every captive of Boko Haram will be released. A lot of achievements have been recorded recently, and this cannot be disconnected from the high morale of the army.
"We want to assure our citizens that soon, insurgency will be a thing of the past. But, it is not only about the military or the North-Eastern region. It is our collective duty to ensure that there is peace in the country.
"The Nigerian army has put together a multilateral cooperation. Niger, Nigeria, Chad and Cameroon are partnering to ensure we win the terrorism war."
He said the defence headquarters was also working toward rehabilitating terrorists who were ready to surrender.
"The Defence Headquarters has brought out a committee to work out modalities to set up a safe horizon. This is a place where terrorists who decide to surrender will go. Once they are there, they will be spared of any molestation and given treatments conforming to international best practices."
President Muhammadu Buhari promised Nigerians that rescuing the abducted girls was a priority and his government would do everything to bring them back safely to their anxious parents.
https://www.naij.com/575893-not-hurry-rescue-chibok-girls-army.html
-----
Quebec Legislature Pleads For Calm After Muslim Woman Attacked
Les Perreaux
Published Thursday, Oct. 01, 2015 8:35PM EDT
Quebec's National Assembly made a unanimous call for calm in the midst of the federal election campaign as the province is again roiled by Islamophobia and at least one violent act targeting a Muslim.
The motion came Thursday after news this week that teenagers knocked a pregnant woman to the ground by grabbing her Muslim scarf, known as a hijab, as she walked on a Montreal street. The woman was unhurt but extremely upset, her husband said.
The sponsors of the motion said the Syrian refugee crisis and the federal debate over the place of the niqab in Canadian citizenship ceremonies has once again inflamed passions in the province, turning social media into a cesspool of hateful messages and putting pressure on Muslims.
"It's not a majority of Quebeckers, but a certain number of people say, 'Niqab, jihad, radicalization, imam, Islam, it's all the same.' It's not all the same," said Françoise David, a member of the left-wing Québec solidaire party who introduced the motion. It passed 100-0 in the 125-seat house.
"The incidents have multiplied in recent weeks. There's a debate to be had on whether the niqab should be worn at federal ceremonies, but to talk about it for 15 days, that political parties – especially the Conservatives – end up making it a key campaign issue and pose as grand defenders of women, I say stop."
The federal Conservatives have vowed to pursue a ban on niqabs at citizenship ceremonies, while the NDP and the Liberals have sided with courts that have ruled it is allowed. The NDP has lost considerable ground in Quebec polls since the issue surfaced, and a French-language leaders' debate Friday night on the TVA network is unlikely to turn down the heat.
The unanimous vote in the National Assembly couldn't paper over divisions in the province's political parties. The Parti Québécois lobbied to have Ms. David remove the word "Islamophobia" from the motion; joining the Coalition Avenir Québec in saying it would prefer a more universal declaration against hate.
Nathalie Roy of the right-wing CAQ told reporters the assembly should condemn radical Islam along with all forms of bigotry.
But Ms. David insisted on keeping the word, saying, "Let's call a cat a cat." Both the PQ and CAQ eventually helped pass the motion.
Quebec has seen a number of angry confrontations, minor violence and other anti-Islam outbursts in recent years in response to terrorist acts and manoeuvring on the province's political scene.
For nearly a decade, a debate over the place of religion in the province – mostly, although not exclusively, targeting Muslims – has simmered and occasionally boiled over. In recent years, the heat was turned up when the PQ planned to ban certain religious garments, including Muslim veils, from those working in the public service before losing the 2013 election. The Liberals replaced the PQ and now have their own legislation in the works to require uncovered faces in any interactions involving the public service – another measure that largely touches a small number of Muslim women who cover their faces.
"We've seen it since the accommodation debate and it comes back," Quebec Immigration Minister Kathleen Weil said. "Events can always ignite those debates."
On Tuesday, Le Journal de Montréal reported that Oumessad Khoufache, 31, was walking to pick up her child at school when two boys on bicycles approached her, grabbed her hijab and knocked her to the ground. She's four months pregnant.
Her husband, Abdelhafid Ben Bellil, said his wife can't stop crying and is afraid to go outside. She did not want to be interviewed. He said that "a media frenzy" is feeding hate against Muslims.
Ms. David, a Quebec feminist leader before entering politics, described the niqab as a prison that she wishes would disappear, but she said the federal debate has exceeded common sense.
http://www.theglobeandmail.com/news/national/quebecs-legislature-pleads-for-calm-after-muslim-woman-attacked/article26628960/
--------
Haia Cracks Down On Smokers
DINA FOUAD — Saturday 3 October 2020
RIYADH: The Commission for the Promotion of Virtue and the Prevention of Vice (Haia) has been cracking down on people smoking Shisha in public places, including beaches and parks.
Arab News recently visited a public park in Wadi Namir, Dariyah region, where several people were smoking Shisha. This irritated many people who were there with their families, claiming it was harmful to their health.
Many people complained to the authorities, resulting in members of the Haia visiting the park to prevent people from smoking. Smokers had to sign written statements that they would not smoke Shisha in public, and had their pipes confiscated.
Shieka M., a Saudi citizen, said that she cannot enjoy herself in a public place if people smoke shisha. Hassan Al-Shamy, an expatriate, welcomed the action taken by the Haia.
Mohamed Said, another expatriate, said Shisha smokers hurt themselves and others. Shisha smokers should indulge in their bad habit in private, and not do so in front of impressionable young children, who may want to act out this behavior as they grow up, he said.
According to reports, treating tobacco-related diseases over the past 25 years has cost the Kingdom SR10 billion. Smoking shisha or hookah for an hour is equal to smoking a packet of cigarettes, indicating that it is more harmful than cigarettes.
It costs an estimated SR80,000 to SR250,000 to treat a person with cancer caused by smoking, according to reports.
http://www.arabnews.com/saudi-arabia/news/814826
-----
URL: https://newageislam.com/islam-women-feminism/a-muslim-father-kills-4/d/104786