New Age Islam News Bureau
03 November 2020
• Pakistan Women Footballers Undergo Week-Long Training Camp
• Sports Hijabs Pushing Muslim Women Athletes To New Heights By Merging Tech With Tradition
• The Women Who Risk Their Lives To Deliver Pakistan's Polio Vaccines
• Number Of Licensed Saudi Female Lawyers Rose To 785
• Saudi Human Rights Commission Session Discussing Aspects Of Women's Right To Inheritance
• UN Resolution on Women, Peace, and Security Stumbles in Iraq When It's Needed Most
Compiled by New Age Islam News Bureau
URL: https://www.newageislam.com/islam-women-feminism/a-cafe-yemen-run-women/d/123356
--------
A Cafe In Yemen Run By Women, For Women To Change Attitudes About Women-Led Businesses
November 2, 2020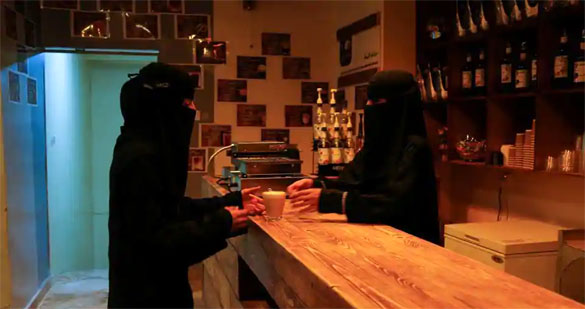 A woman makes an order at the only all-female internet cafe in Marib, Yemen.(REUTERS)
-----
MARIB (Reuters) – When Um Feras realised there were no leisure spaces for women in her city in Yemen, she founded her own cafe and hopes to change attitudes about women-led businesses.
"There were no places for women to gather comfortably, no places belonging to the female community: where the team from administration to the youngest employee is female," she said from the Morning Icon cafe she set up in April last year in Marib, central Yemen.
Traditional, conservative attitudes held by many locally against women working outside the home mean her project is new and strange for some people, Um Feras said.
"The word 'cafe' can be associated with negative ideas and convictions … Every new idea will have its supporters and opponents," she said, adding she wants to lead by example to show that women can run enterprises.
Wadad, a medical student and cafe customer, said she was drawn to the cafe's internet connection: "There is space for women in general, amid the the poor internet network in Marib and the limited available spaces for female students."
Marib boomed into a bustling city at the start of Yemen's almost six-year war as people fled fighting elsewhere. Running a business is not easy in a country battered by conflict, disease and an increasingly severe economic crisis.
Um Feras imports most of her coffee and drinks. Maintaining quality amid rising prices and fluctuating currency rates has been a real challenge, she said. But she aspires to expand into a larger leisure spot for women and children.
Reporting by Nusibah al-Moalimi and Abdulrahman al-Ansi; Writing by Lisa Barrington
https://www.egyptindependent.com/a-cafe-in-yemen-run-by-women-for-women/
--------
Pakistan Women Footballers Undergo Week-Long Training Camp
Nov 2, 2020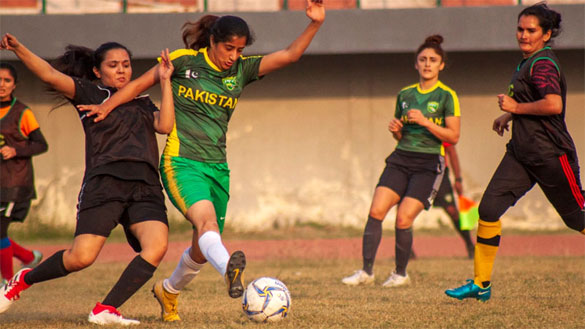 Photo Courtesy: Pakistan Football Federation
-----
The Pakistan Football Federation (PFF), in its press release, mentioned that 30 players took part in the camp which began on October 26 in Lahore.
It was the first time in almost seven years that the women's national side gathered for a training camp where the aim was to regather the side after years of inactivity and turmoil.
The camp also sought to kick-start the revival of the national women's side in view of next year's Asian Football Confederation (AFC) women's competitions.
The training camp was held under the supervision of PFF's National Technical Director Daniel Limones. He was assisted by fellow coaches Qibtia Jamshed Butt, Mohsin-ul-Hasnain and Khurram Shehzad.
Limones, as quoted by PFF in its statement, said that the training camp helped achieve the objectives of regathering the national side.
He said that the camps should be held more often as it would improve the team set up and improve the performance of the side.
https://www.samaa.tv/sports/2020/11/pakistan-women-footballers-undergo-week-long-training-camp/
--------
Sports Hijabs Pushing Muslim Women Athletes To New Heights By Merging Tech With Tradition
2 Nov, 2020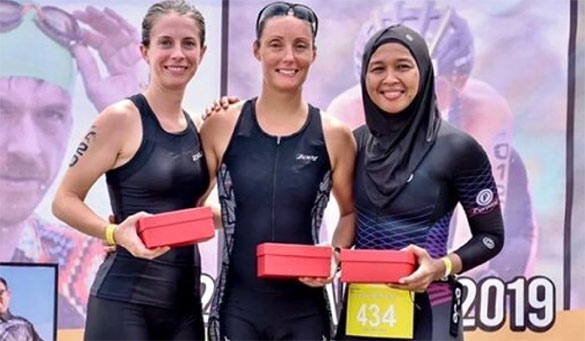 Nur Syahariah Jusoh (right) with fellow athletes at the 2019 Ironman Triathlon race wearing a sports hijab.
-----
When you have to swim 3.8km (2.4 miles), cycle 180km and run a full marathon – all in succession – you dress as lightly as you can.
Many elite athletes wear triathlon suits and very little else for races like the Ironman Triathlon. But for Nur Syahariah Jusoh, known as Nursya, her Muslim beliefs require her to wear a hijab. So that's what she did when she entered the race last year, which lasted 14 hours in searing hot weather in Langkawi, Malaysia.
It was no problem for the 43-year-old mother, who not only crossed the finish line, but was crowned the fastest Malaysian female participant in the race.
Her success is at least partly down to the new generation of sports hijabs that make activities like triathlons considerably more comfortable affairs than traditional versions of the garment do.
When Nursya first started running in 2013, aside from her usual running clothes she wore only a scarf to cover her hair. She kept her neck and chest uncovered, for fear of overheating. It was only in 2018, with better options available, that she switched to a full hijab covering her head, neck and chest.
"With the selection of suitable fabrics, I began to feel comfortable and continue to improve my performance in sports, especially triathlon. I won several triathlon events while wearing the hijab," she says.
Nursya is aware of the power of the right apparel on the right person. "I think I have inspired other Muslims because after I finished [the Ironman Triathlon] I received many messages from women wearing hijab saying I inspired them," she says.
The first sports hijab debuted in 2001 after a Dutch court ruling in the case of a Dutch Muslim girl who was expelled from gym class in 1999 for her supposedly unsafe hijab. The court's solution – that girls should wear a polo neck with a swim cap instead, as they would cover the same areas – was not popular among Muslims.
The sports hijab has come a long way since then. Today they incorporate technology that makes them airy, soft, lightweight, sweat-wicking and so that they don't come untucked. Looks-wise, they're pretty sleek too.
The latest design from Glowco, a Singaporean brand specialising in modest activewear, even ticks the sustainable box. Its Glowco Exclusive sports hijab is primarily made from recycled polyester, "which delivers identical technical performance while causing a smaller environmental footprint," Nawal Alhaddad, the company's founder, says.
"The double-knit fabric also allows it to be firmer, while also offering freshness, stain protection and extended product life," she adds. "Lastly, in order to be moisture-wicking, the hydrophilic finishing keeps the body cool and dry, transporting moisture away from the skin to the surface of the fabric."
The item is a long way from the constricting mode of dress that some accuse the hijab of being, while not submitting to the fundamental Islamists' argument that by taking part in sports, Muslim women are compromising their modesty and values.
The growing prominence of hijabs featuring cutting-edge material technology reflects how businesses are tapping into what's pegged to be a US$402 billion modestwear market by 2024, according to the latest State of the Global Islamic Economy report by Thomson Reuters and DinarStandard. It also feels like somewhat of an indictment on patriarchal religious figures and businesses like sporting goods retailer Decathlon, which last year pulled sports hijabs for female joggers in France after Islamophobic furore in the country.
In Southeast Asia, the modest activewear scene is scoring more cool points among Muslim women.
Glowco was established in 2018, when Nawal first starting wearing the hijab. A fitness instructor at the time, she saw how her hijab-wearing clients were being held back – their traditional hijabs wouldn't stay in place, while their outfits would ride up uncomfortably, exposing some areas of their body, and left them hot, uncomfortable and drenched in sweat.
"There was a gap in the market for modest activewear, and I thought that there's no better way to solve the problem than to be the solution," Nawal says. "We wanted to be the answer – without compromising their modesty."
Now, the online marketplace in Southeast Asia for comfortable and cool hijabs extends beyond the sportswear scene. Want a silky Instagram influencer look? Check out Malaysian brand Duck, known for its crinkle-free "Matte Satin Silk" range. Prefer the Japanese minimalist look? There's Hana Tajima's collaboration with Uniqlo, which uses Airism fabric, one of Uniqlo's foremost fabric innovations.
Siti Nurhaidah, an administrative executive in Singapore, says she does not have any trouble battling the heat and humidity thanks to the growing number of hijab options from online retailers like Lazada and Tokopedia, and with the progress of material technology.
"We have an ocean of choices really. Businesses are now coming out with not only different designs, but materials too," she says.
"There are cotton hijab, satin, silk, chiffon, georgette, viscose – the list goes on. They are light and airy and make hijabs really comfortable to wear. We have an abundance of choices when it comes to choosing a hijab for different comfort levels and occasions."
https://www.scmp.com/lifestyle/fashion-beauty/article/3107791/sports-hijabs-pushing-muslim-women-athletes-new-heights
--------
The Women Who Risk Their Lives To Deliver Pakistan's Polio Vaccines
Shah Meer Baloch and Hannah Ellis-Petersen
3 Nov 2020
Nasreen Bibi never saw the face of her killer. The 44-year-old had just finished work for the day, vaccinating children against polio in Chaman, Pakistan. As she and her co-worker, Rashida Bibi (no relation), stood waiting for a rickshaw home, a motorcycle skidded up in front of them carrying two masked men.
The men did not utter a word, but through the churned up dust that filled the air, Rashida remembers seeing the raised pistol, hearing the shots and feeling the pain as the bullets hit her hands, her thighs, her back and her stomach. Rashida fell to the ground and felt Nasreen crumple beside her, blood pouring from a dark hole in her forehead.
"I started crying and screaming," says Rashida. "I was lying on the ground and embracing Nasreen in my arms. We lay there under the scorching sun and no one came to help us. I was trembling but tried to drag myself up with the wall. I begged people around for help, but the most traumatising thing was no one came to assist us. I will never forget that."
Nasreen died instantly in the street, the latest female victim to join the ranks of those known in Chaman as the polio martyrs. Rashida, 35, survived last year's attack, but is now unable to walk or work to support her five children.
Chaman, a city on Pakistan's porous border with Afghanistan, in the volatile region of Balochistan, is one of the most dangerous places in the region for the women who work on the frontline of the polio vaccination programme. The polio workers, men and women, go house-to-house administering polio drops to children. But for the female workers, to do their job is to put their lives at risk on a daily basis.
The threats and fatalities are a direct result of a rampant anti-vaccination campaign led by hardline religious leaders and politicians in this highly conservative area. They have pushed the narrative that the polio vaccination drive is a western conspiracy being forced on Pakistan, and is violating Islam by allowing women to work as polio vaccinators. Female polio workers are often the only women seen on Chaman's streets.
Fake reports claiming that polio vaccines have led children to become ill or die have become rife on social media, prompting local protests against the vaccination drive. Polio workers in Chaman and surrounding areas are now not allowed out without security, but last month, after a police officer tasked with protecting female polio workers on their rounds was shot, officers have been reluctant to do the job. On Monday, a new polio drive in the area had to be partially suspended when seven police security teams did not show up.
Nasreen's husband, Maqsood Ahmed, 45, says his wife was regularly told she was obscene and polluting Islamic culture and traditions as she worked. "But we had to tolerate that because she needed to financially support our family and children as I have heart issues and can't work," says Ahmed. "And maybe her efforts would finally make Pakistan polio free."
More than a year later, her family is still waiting for the promised compensation for her murder, while Rashida still has not been reimbursed for the thousands she spent on medical treatment for her gunshot wounds, which she paid for through a loan. Nasreen's killers remain at large.
The religious pushback goes a long way to explain why Pakistan is one of only two countries in the world which has failed to eradicate polio. At madrassa Dar al Uloom Rabbania Waqfia, an Islamic religious school in Chaman, about 900 children and adults study under Maulvi Abdul Ghani, a hardline religious leader who has been a prominent voice in the anti-polio campaign.
"It is against our culture for men and women to work together," Ghani told the Guardian at the madrassa. "Male and female polio workers go and meet after their working hours are finished. They promote immorality and obscenity in our society and in our country. I don't want women to visit any homes for polio."
Another local hardline Islamic leader, Maulvi Abdul Zahir, often gives sermons at the mosque in Chaman discouraging parents from allowing their children to have polio vaccinations, calling them haram and against Islam. Polio workers said that followers of Zahir would also harass them in their homes, calling them infidels. Zahir refused to comment.
Salahuddin Ayoubi, a local politician elected to Pakistan's national assembly, echoes the hardline sentiments. "This polio drive is corrupting our society and I am not in favour of it," says Ayoubi. "Why not give all jobs to men rather than women?"
Nasreen was paid just £80 a month for the job that killed her, but in this poverty-stricken and illiterate area, where, before clashes in 2017, many villages were on the Afghan side of the border, there is little work available. Women feel taking the job is a risk they have to take.
"People tell us this job is not for women and that we are ruining the society, but I am only doing this job to support my children," says Shireen Khala, a polio worker in Chaman. "People coming from Afghanistan also make our work an uphill task," she adds.
"If it were not for my children, I would have never done this job. We are constantly disrespected and declared American agents and infidels."
The impact on Pakistan's polio programme is tangible. The number of unvaccinated children continues to grow, with parents sometimes pretending their children have died to avoid vaccinations. In the latest polio drive last week, officials recorded more than 13,135 refusals in Killa Abdullah district where Chaman is located, one of the areas in the country worst affected by polio.
Mohammed Dawood, a district communication officer for Killa Abdullah district, says: "Some families mark their children falsely without having given them the polio drops, and lie about it when polio workers arrive at their homes. Some send their children to their relatives' homes, some make excuses and some directly refuse."
With upwards of 25,000 crossing between the Pakistan-Afghanistan border every day, monitoring which children in the border areas have been vaccinated is an almost impossible task. In the disputed border areas of Killi Aashiq and Waris, the Taliban has warned female polio workers not to enter. To complicate matters, people visiting the Pakistan border areas from Afghanistan are equally resistant to accepting polio vaccines.
But even with all the dangers they face, female polio workers in Chaman and the border areas are seen by many as a crucial step towards challenging the patriarchal society imposed upon women in this region of Pakistan. Despite the societal resistance, more than 400 women are now working as polio vaccinators in Killa Abdullah district.
Dr Shams Tareen was the area coordinator for the World Health Organization who first recruited women in the campaign in this district in 2015. "The induction of women into the polio programme is not only empowering them financially but in the most conservative district Killa Abdullah it is challenging the outdated traditions," she says.
Local deputy commissioner of Killa Abdullah Tariq Javed Khan Menga pledges to stop the attacks against the women escalating. "We have planned tighter security for polio teams," he says. "We will tackle it."
https://www.theguardian.com/global-development/2020/nov/03/the-women-who-risk-their-lives-to-deliver-pakistans-polio-vaccines
--------
Number Of Licensed Saudi Female Lawyers Rose To 785
November 2, 2020
RIYADH — The total number of licensed Saudi female lawyers rose to 785 by the middle of the year 2020, well-informed sources at the Ministry of Justice told Okaz/Saudi Gazette. As many as 186 licenses for legal practice have been issued for women during the current year.
According to the sources, the total number of female lawyers who have completed their training reached 2,371, of whom 626 were trained during the first half of this year. Completion of training in the legal profession is one of the most important terms and conditions that must be fulfilled in order to obtain a license to practice as a lawyer.
The Ministry of Justice, through its law offices that are licensed to practice the profession in various regions of the Kingdom, will supervise directly the training programs for qualified law graduates.
The ministry sources pointed out that the applicant must fulfill the terms and conditions for registration in the list of practicing lawyers for their training in law firms, except the requirement of experience. They have to undergo training with a lawyer who has had at least five years of experience in the legal practice, and that the trainee shall work as a full-timer in the law firm throughout the training period.
It is noteworthy that the Minister of Justice and Chairman of the Supreme Judiciary Council Dr. Walid Al-Samaani has called for more efforts to empower Saudi women in the legal practice field, especially to facilitate them obtain the license that gives them the authority to carry out some of the duties of notaries.
Al-Samaani had issued directives recently to appoint 100 legally qualified women as notaries public. These notaries formally started their work from Nov. 1, following a three-month specialized training program.
The program is being organized in cooperation with the Justice Training Center. They will also be provided with practical training at the ministry's Agency for Documentation and Notaries.
The ministry said that the training program for the female notary public includes many theoretical and practical sessions, including the acquisition of skills in the tasks, specializations, and procedures of documentation in accordance with the judicial system. The training would also cover modern technologies related to documentation work.
The ministry's initiatives come as part of efforts for further empowerment of women in the justice sector by facilitating judicial services for women with an enhanced role in the documentation area.
The ministry recently appointed many qualified women in the fields of law, Shariah, sociology, administration, and technology in the ministry for the first time. The ministry has been focusing on female employment within the legal sector as part of its plans to support and empower women, widen their career options, and help them play a bigger role in this sector.
https://www.saudigazette.com.sa/article/599866/SAUDI-ARABIA/Number-of-licensed-female-lawyers-rises-to-785
--------
Saudi Human Rights Commission Session Discussing Aspects Of Women's Right To Inheritance
November 2, 2020
RIYADH — Human Rights Commission President Dr. Awwad Al-Awwad reiterated on Monday that Saudi Arabia is working hard to protect and promote human rights, especially the rights of the most needy segments of the society including women, children, people with disabilities and the elderly people.
He made the remarks while inaugurating a closed discussion session titled "Inheritance and the legitimate rights of women," organized by the commission. The event, which was attended by a number of legal and Shariah specialists and community experts, was discussing solutions that enable women to obtain their right to inheritance on the basis of Shariah rules.
Dr. Al-Awwad emphasized that the commission is working on all human rights files without exception. "HRC is making consultations with specialists to draw all their points of view so as to come up with the outcome that enables to protect and promote human rights, especially the rights of the most needy segments of the society, namely women, children, people with disabilities, the elderly people and others," he said.
Dr. Al-Awwad said HRC aims to examine the rights of women to the legitimate inheritance and protection of these rights, as well as to enhance awareness among members of the society in this respect. "The session would shed light on the most important challenges that women face, whether they are social, cultural, organizational ones or those pertaining to enhancing awareness to obtain these rights, and would come up with recommendations that will educate society about the legal, statutory, social and human rights of women," he said adding that the session would also discuss the legal regulations that may enable them to secure these rights.
HRC chief said that the session would discuss various aspects of women's inheritance such as women's deprivation of inheritance; the most vulnerable groups who are deprived of their right to inheritance and the reasons for their giving up of their inheritance despite their need for it; the mechanism to be followed and the means for reddressal if they are deprived of their legal inheritance; and reviewing the role of civil society institutions, human rights bodies and reconciliation committees. The session is also examining the ways on how to enhance awareness among members of the society about women's inheritance through mosque sermons, schools and other outlets.
https://www.saudigazette.com.sa/article/599848/SAUDI-ARABIA/HRC-session-discussing-aspects-of-womens-right-to-inheritance
--------
UN Resolution on Women, Peace, and Security Stumbles in Iraq When It's Needed Most
by Viola Gienger
October 31, 2020
Iraq's 17-plus years of conflict since the U.S. invasion of 2003 has mostly obscured another fight behind the scenes: the struggle of Iraqi women for equality, protection from violence, and influence in government decision-making. Among the women leading that fight is Suzan Aref, a longtime women's rights activist in Erbil, the capital of the Kurdistan region. In 2011, she discovered "a very strong tool" to support the cause: United Nations Security Council Resolution 1325 on Women, Peace, and Security.
Adopted on this day in 2000, the resolution set out a mandate for U.N. member States to protect women and girls in conflict zones and to involve women in the full range of decision-making on issues of peace and security. In the two decades since, the measure has spun off 10 other related Security Council resolutions and 86 national action plans (NAPs) at country levels, each intended to implement the provisions of those Security Council resolutions in practical terms.
In April 2014, Iraq became the first country across the Middle East and North Africa to adopt such a plan, in large part because of civil society advocacy led by Aref, the founder and director of the Women Empowerment Organization. Born in Erbil as the daughter of an Iraqi government official, her family moved between postings around the country, including in Baghdad and Amara in the south. She learned to speak Arabic fluently and to move comfortably across Iraq's multiple cultures, a skill that would prove useful in negotiating the tensions between the post-Saddam governments in Baghdad and Erbil to secure support for the NAP.
The promise of the five-year plan would be short-lived, however. By the spring of 2014, the tremors of ISIS were rumbling in Iraq, after the extremist group's capture of Falluja in December 2013. In June, ISIS swept across the country's north, capturing fully a third of Iraq's territory and its second-largest city, Mosul. It took years, until December 2017, before the government of Iraq regained control over all its territory.
Still, Aref and her civil society colleagues persisted even during those years, winning small victories. The effort continues to be herculean amid Iraq's internal turmoil — changes of government and tensions between the central government in Baghdad and Kurdistan Regional Government in Erbil — and the comings and goings of U.S.-led coalition troops and the ebbs and flows of development assistance. Now, the difficulties are compounded by the pandemic.
"Women in Iraq have repeatedly been the victims of conflict," the International Committee of the Red Cross notes. "They suffer displacement, rape, injury and death. At the same time, Iraqi women show remarkable resilience and courage in the face of adversity."
Aref reflected on her advocacy for Resolution 1325 in an interview this week. The following has been condensed and edited for length and clarity.
Q: What prompted you to start working on issues of women, peace, and security?
A: As a women's organization, we tried to advocate for women's rights and protection of women, but we couldn't find receptive ears in government to listen to us. In October 2011, I was invited to an open house at the U.N. office to celebrate the anniversary of Resolution 1325. I heard them talking about the resolution and celebrating it, and I became pretty upset. I said, "Can you list the achievements of this resolution, what is happening on the ground that you can celebrate?" Even the women there said to me, "Please, be calm and quiet," and I said, "Why do I have to be calm and quiet?" And then the head of UNAMI [the U.N. Assistance Mission for Iraq] came to me and said, "Now this is a woman activist." He said, "This is a U.N. Security Council resolution, and we are happy about it. But the implementation is up to you. You, as a woman activist, and civil society have to support the implementation."
So after that, I talked with colleagues, and we saw that this resolution says the same things that we have been demanding all along, and this is international law, so it is a very strong tool. Then we found out that the Iraqi government is supposed to develop a plan for implementation, so we put together our own plan for how to work with the government on this.
Q: How did that process unfold?
A: We had to find a donor to support us because this was new work, and we had to find other countries that had experience doing this. We didn't find any other Middle East countries that were doing this, but we found Nepal had recently adopted their national action plan. We knew Nepal and Iraq were totally different contexts, but we just had to learn from them and then tailor that to our context in Iraq. We had a meeting in Jordan with civil society organizations who were involved in this in Nepal. It encouraged us to pursue our NAP. Once we developed our plan for advocating for the NAP in Baghdad and Erbil, the Norwegian Embassy agreed to support the project.
We planned out who we could approach in the governments, which of us had contacts in which offices and in parliaments, and we prepared everything so that we would have unified messages to the State actors. In 2012, we established a cross-sector task force for 1325 with members of Parliament, State actors from both governments, and civil society. The task force was half women and half men — most of the leadership of government offices were men, though there were more women in Parliament. The task force legal committee was headed by a woman, and the drafting and financial committees were headed by men. The task force was informal at first. In 2017, the government officially adopted it.
The first action plan was completed in November 2013 and submitted to the prime minister, and he approved it in April 2014. It was a point of pride for everyone – in the government, in the task force. As women's organizations, we gained more credibility because, through our cooperation and partnership, there was a big achievement.
But then we got a big shock – the government removed the National Action Plan from the budget and they deleted two pillars of the plan, the legal pillar – the needed legislation – and the one on social and economic empowerment for women. And they didn't tell us. They never went back to the task force, even to discuss it. So we had to resume our advocacy to question the government about this.
Q: How did the government explain what it had done?
A: This was the same time that ISIS came into Iraq, and the government said they had to deal with the costs and all the issues of that conflict and with all these IDPs [internally displaced persons] and refugees from Syria. They didn't see women's rights issues as a priority, and they couldn't afford to budget for a five-year plan. So we reached an agreement to develop a one-year emergency plan [on women, peace, and security] that would respond to those immediate needs, and the government agreed to approve funding for that.
So we finished the emergency plan within three weeks, with a budget, and we submitted it to the prime minister through the minister of women's affairs. Again, the prime minister approved the plan in May 2015, but he deleted the budget again. Instead, he ordered each ministry to implement their portions of the plan with their own budgets. The biggest problem was in Kurdistan – the government there said they weren't getting the revenue they were due from Baghdad, so how could they implement this?
So we turned our advocacy to the international community, and appealed to them to support the Iraqi government on the implementation of the emergency plan. In Kurdistan, for example, the government wanted to close a women's domestic violence shelter because they didn't have money for it. Eventually, we were able to secure funding for the implementation of the emergency plan. After that, we worked with government closely to develop a master plan to carry out the emergency plan in 2016-2017 for 17 ministries and institutions – 11 in Baghdad and six in Kurdistan. [The plan called for steps such as participation of women in decision-making and elections, provision of health and psychosocial services to women victims of violence, and protection and empowerment of women IDPs, economic opportunities, and judicial reforms.]
Q: So there are lots of plans. What, concretely, do you see has changed in Iraq as a result of this work on UNSCR 1325?
During the period between 2012 and 2018, many things changed in a positive way. First of all, women, peace, and security became a topic at high-level discussions in government. Everyone is aware what women, peace, and security means, what 1325 means. There also has been a lot of training to build capacity within government because it was needed to work on these issues. Inside each ministry, there is a 1325 team that works on reforms required in the plans.
We also see an increase in the number of women who are getting positions in government, especially in the Ministries of the Interior and Defense in both Baghdad and Erbil, and in the judiciary. The percentage is still low, but this is a start; there is a change.
Civil society also gained the trust of government and access to officials, and has become part of the structure of developing, implementing, and monitoring. It was important that the cross-sector task force included men, not only women. It became an important channel of access for civil society to government, including in discussions of legal reforms to advance women's rights.
The task force also strengthened relations between the governments in Baghdad and Erbil, because the meetings alternated between the capitals, and ministerial teams from each government worked together. Because they were high-level officials, they sometimes could help ease tensions on other sensitive issues, too.
Q: So where does this stand today?
A: We started work in 2019 on a new NAP, but we faced too many challenges. The biggest was the change in government and Parliament in Baghdad. So now we don't have the same people in the cross-sector task force, and we don't have the same political will. And now we have more divisions among civil society, because with success, everyone wants to claim credit. So now it is not like it was before.
So since 2019, there have been no meetings of the task force, and no relations between the teams in Baghdad and Erbil. The first NAP expired at the end of 2018, and we still don't have a second NAP. And the space for civil society is shrinking.
So we are going backwards. Sometimes we just want to give up.
Q: What effect has the COVID-19 pandemic had on all of this?
A: It has affected the advocacy and political participation of women, because we cannot meet and travel between Baghdad and Erbil, and you cannot make effective connections online as you can in person. Gender-based violence also has increased because women cannot get the services they need due to the lockdown. Women or their family members have also lost jobs. The biggest issue for women now is economic.
Q: What mistakes has the international community made in relation to supporting UNSCR 1325 in Iraq, and what should they do going forward?
A: The biggest mistake was to leave this to the U.N. agencies and ignore civil society. U.N. agencies always prioritize and listen to government, and civil society like women's organizations are at a lower level, and no one listens to them. It should be the opposite – they should strengthen local women's organizations and make sure they are in all the meetings and that their voices are heard in all decisions.
The international community should press the government on 1325 and on involving civil society. And they should support civil society in monitoring and helping on implementation.
Q: Where do you go from here?
A: The government officials do have some experience doing this now and they want to do it on their own, so we will let them do it. We will monitor and maybe implement some elements directly for women. And we will work on raising awareness. We are doing what we can do. But the door is not open like it was before.
https://www.justsecurity.org/73191/un-resolution-on-women-peace-and-security-stumbles-in-iraq-when-its-needed-most/
--------
URL: https://www.newageislam.com/islam-women-feminism/a-cafe-yemen-run-women/d/123356
New Age Islam, Islam Online, Islamic Website, African Muslim News, Arab World News, South Asia News, Indian Muslim News, World Muslim News, Women in Islam, Islamic Feminism, Arab Women, Women In Arab, Islamophobia in America, Muslim Women in West, Islam Women and Feminism