New Age Islam News Bureau
25 Oct 2012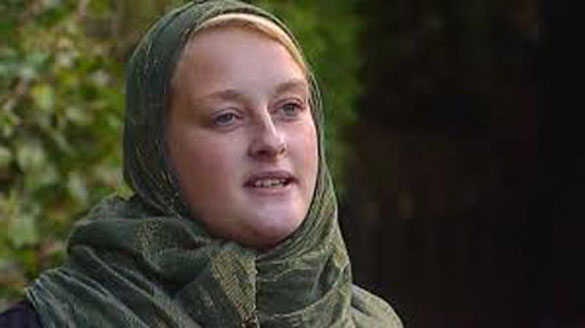 • Many Underage Girls in Kazakhstan Forced Into Marriage
• Human Trafficking, Prostitution Thrive In Afghanistan
• Treatment of Afghanistan's Women Is the Real Test of UK Aid's Success
• Kazakh School Expels HIV-Positive Girl Pupils
• Mona Eltahawy: Women's Rights 'Disaster' Looms In Egypt
• Women Still Face Gender Gap in Jobs, Wages: Report
• Police Record Shows Hina Khan's Father Using Malala Incident for Personal Gains
• Nigerian Lady Caught With 2300 Grams of Heroin
• 73 al-Shabaab members, women's leader arrested in Kismayo
• Nigeria: Intel Celebrates International Day of the Girl
• Azerbaijan, Gaza, Ethiopia women win media awards
• Women Hold Just 20% of World's Political Power, Report Says
Compiled by New Age Islam News Bureau
Photo: A Blue-Eyed, Blonde Brit Muslim Convert Gets Spat and Abuse When in Hijab
URL: https://www.newageislam.com/islam,-women-and-feminism/new-age-islam-news-bureau/a-blue-eyed,-blonde-brit-muslim-convert-gets-spat-and-abuse-when-in-hijab/d/9095
--------------
A Blue-Eyed, Blonde Brit Muslim Convert Gets Spat and Abuse When in A Hijab
By DIANA APPLEYARD
25 October 2012
THE young Muslim woman in the hijab hardly noticed the man she passed in the street – until he stopped, spat and swore at her.
But then as a white-skinned blonde in Islamic garb, religious convert Amy Sall is used to attracting attention.
What has shocked her since she became a Muslim has been the level of hostility she has attracted from complete strangers.
The 29-year-old mum of three, who converted when she wed her Muslim husband Amadou in April 2010, says: "That incident happened soon after we got married.
"I was walking down the street wearing my hijab. I'm very conscious that I stand out and I'm sensitive to how people regard me.
"A white man walked past, stopped, spat at me then shouted, 'F***ing Muslims!'
"I was really shocked but I have come to expect this kind of abuse.
"Since 9/11 so many people in this country think all Muslims are fundamentalists and terrorists. I have been really surprised how much abuse I have had to face, primarily from strangers.
"They just see the hijab and they start shouting abuse. It's reached the stage now when I only wear my hijab to the mosque, because of the abuse I get in the street."
Though nowadays a mosque-going believer, Amy — who works in customer services at clothes store TK Maxx — admits she was a party animal in days gone by.
She says: "The irony is, I used to be a real wild child, and to this day I still occasionally go out clubbing with my girlfriends, let my hair down and have too much to drink.
"But when I get home Amadou is furious with me and it causes lots of rows. He doesn't mind if I go out and drink sensibly but if I get drunk and out of control he says, 'Don't you dare come back here in that state. I'd rather you didn't come back at all'.
"He doesn't drink or smoke and prays five times a day, wherever we are. I try to pray five times too but I have to be honest and admit I don't always manage it.
"It makes me feel guilty, and I am conscious of not being the best Muslim I could possibly be.
"When I go to the mosque, I am aware of the whispering about me. It doesn't come from Amadou's close friends, who are lovely to me, but from the older people who are strictly traditional and think I don't take the religion seriously enough or wear my hijab all the time."
Amy is friends with Donna, a fellow British convert to Islam, and says: "She is much more dedicated than I am and I take advice from her if I think I am upsetting people.
"Nobody has said anything to my face, but I know I am seen as an outsider by the Muslim community."
Just as the sight of women clad head-to-toe in black can prompt hostility on the street, Amy has found some parts of Muslim society frown on her dress sense and attitude.
She says: "After all, I'm blonde, blue-eyed, love a drink and have tattoos — hardly your average Muslim woman.
"When I wrap the hijab around my head, I feel as if I am losing a part of me, as if part of my personality is being lost. It also puts the spotlight on me, and people stare.
"I'm still trying to understand the role of women in Muslim society, and I don't know if I will ever properly fit in. It is like living between two worlds."
Although becoming Muslim has presented its challenges, Amy remains devoted to her more devout husband, with whom she has a very happy marriage.
He works as a warehouseman for Tesco and the couple live in Middlesbrough with children Alfred, seven, Aminata, six, and three-year-old Kade. Amy says: "A lot of my friends think it is hilarious that I am a good Muslim wife now.
"Amadou and I have been together for nearly six years — Alfred is my son from a previous relationship, and Aminata is Amadou's daughter.
"We met, funnily enough, in a nightclub. Though Amadou doesn't drink or smoke, he likes to dance, and I spotted him straight away.
"At the time I was with someone else and so was he, but I thought he was absolutely gorgeous. I knew a friend of his, and she offered to introduce us. Until I had Alfred I was very wild. I used to go out partying and clubbing nearly every night, and I'd spend my nights in a haze of vodka shots and other spirits.
"To say I was a party animal is an understatement. I did quite a few things I'm not proud of, and I think that is why my parents welcomed Amadou into our family — they thought he would calm me down and stop the worst of my excesses. Amadou is quite a serious person, yet somehow we just clicked."
If Amy had been ignorant about Islam before, 37-year-old Amadou — who is originally from Guinea in West Africa — soon taught her the most important aspects of the faith.
She says: "He won't eat non-Halal meat, and I've had to adapt to this. I still eat chicken but we can't have pork in the house.
"We were married within six months, and it was obvious to me early on I would need to convert to Islam if I wanted to be with him.
"Amadou wouldn't live with me outside marriage, as that isn't allowed, and the Muslim festival of Ramadan was coming up and if we weren't married he couldn't see me for the whole month. I was so in love with him, I really wanted us to be together so I said I would become a Muslim. My party friends thought it was pretty funny but I was quite serious about it.
"I converted on the day we got married in the mosque, and I had to read the shahada, the pledge of faith, in front of the imam.
"I found it intimidating and I hadn't read the Koran when we got married. But since then I am doing my best — I am reading about it on the Internet and I have joined a few Facebook Muslim women's groups.
"I tend to avoid the groups at the mosque though, as they are quite strict and I think they look down on me because of the way I look and dress." Amy is not surprised that an increasing number of white British women are choosing to follow the Muslim faith.
She says: "More women are converting to Islam for love because they don't really have a choice.
"A Muslim husband is not going to give up his faith, and most of us Christians are not that religious or really bothered.
"I would never have insisted that Amadou become a Christian to marry me — that would never have occurred to me. But for him to marry me, I had to convert. We had two weddings, one in the mosque and a western wedding.
"As a family, we are quite relaxed but the children will be brought up in the Muslim faith and Amadou wants them to start Islamic classes at the mosque. But I insist we still celebrate Christmas, as a tradition rather than as a religious festival.
"They wear western kids' clothes and I don't put the girls in a hijab — they can choose if they want to wear it when they are older."
She adds: "Fortunately my family are very open-minded and they have welcomed Amadou — my dad takes him to football matches.
"I think their view is that I've done far worse things in my life, and they've seen me in some right states. They think this will keep me much more on the straight and narrow.
"I like the fact that family is very important to Muslims, and I welcome the fact our children are being brought up in a strong faith, with boundaries and a strict moral code.
"I just need the odd crazy night out to reassure myself I am still me."
Women top of swaps
MORE young white British women than ever are converting to Islam. Of last year's 5,200 Muslim converts, 75 per cent were white females, and the average age was 27, according to the Faith Matters organisation.
In the past six years, the number of UK Muslims has surged 37 per cent to 2.6million compared to 41million Christians, and there are now an estimated 1,500 mosques.
Socialite Jemima Khan converted to Islam when she married Pakistani cricketer- turned-politician Imran Khan in 1995. They divorced in 2004.
One of the most notorious converts is Samantha Lewthwaite, 28, of Aylesbury, Bucks, widow of 7/7 bomber Jermaine Lindsay, who killed 26 people in 2005.
Known as the "White Widow", she vanished in December and is on the world's most wanted list, accused of planning a grenade attack in Mombasa, Kenya, last Christmas.
High-profile Muslims in the UK include Baroness Sayeeda Warsi, who was the first female Muslim to serve in the Cabinet, boxer Amir Khan and Olympic double gold medallist Mo Farah.
http://www.thesun.co.uk/sol/homepage/features/4608037/meet-party-girl-who-became-a-muslim-convert.html
--------------
Many Underage Girls in Kazakhstan Forced Into Marriage
Oct. 19, 2012,
ASTANA - Nearly 5% of Kazakh girls under the age 18 are already married, Gulshara Abdykalikova, presidential advisor and head of the National Commission for Women, Family and Demographic Policy, said.
"The study conducted together with the Women's League of Creative Initiative last year revealed facts of forced marriage, especially among underage girls, which is a penal offence," she said at a conference on crime prevention on Friday in Astana.
"The study showed that approximately 5% of girls in Kazakhstan aged 15 to 18 are already married," she said.
According to Abdykalikova, the highest rate of underage marriage is recorded in Akmola, Mangistau and South Kazakhstan regions, though the actual statistics are hard to come by, as many marriages are not legally registered.
Abdykalikova noted that the Criminal Code does not sanction bride kidnapping, while the low legal literacy of young girls is also part of the problem.
"It is obvious that early marriages are damaging: they strip girls of childhood, obstruct their development and education and endanger their health. Apart from that, they lead to frequent unplanned pregnancies and even suicide attempts. Regrettably, Kazakhstan has the third highest suicide rate after Lithuania and Korea," she said.
Citizens officially come of age in Kazakhstan at the age of 18. The country's law on marriage and family specify the minimum age of 18 years both for men and women.
http://www.kyivpost.com/content/russia-and-former-soviet-union/many-underage-girls-in-kazakhstan-forced-into-marriage-national-commission-314633.html
--------------
Human trafficking, prostitution thrive in Afghanistan
25-10-2012
Thousands of Afghan girls and boys are trafficked into neighboring countries and sold into slavery each year. Though it is taboo, prostitution is alive and thriving - at the cost of those forced to work in it.
It is the oldest trade in the world and exists in probably every country in the world. Yet prostitution is not a dream job. Most female sex workers are forced to make a living through prostitution.
In conservative Afghanistan, prostitution is illegal. But that doesn't mean that it doesn't exist. Human trafficking is booming - young women are being sold and sent over to neighboring countries, mostly to Pakistan.
Heather Barr says the government has a number of other issues to tackle as well
Many people are unaware of just how many women are forced to work as prostitutes, according to Heather Barr of Human Rights Watch's Asia Division.
"HRW did a report that was released in March this year about women in prison for moral crimes. And one of the things that I found really surprising by doing those interviews, was how many women I met, had been forced in prostitution often by their husbands and in-laws."
Women sold as commodities
The reason, she explained, that women were forced into the sex trade by their families was due to poverty and drug addiction - usually of a husband or brother or both. The families often saw women as a source of money and take advantage of it.
Women from Pakistan are also been bought and sold to Afghanistan. Poor or practically non-existing security at the border means criminals smuggling and trafficking goods and people can easily get away with it. When the trafficked people arrive on the other side of the border, they are fully at the mercy of their pimps.
One woman from Pakistan who wished not to be named is now in Jalalabad - far away from her home in Karachi.
"We are poor and helpless. What are we supposed to do? We don't have anything to eat. That's why the "big man" brought us here from Karachi. No one likes doing this work, but I don't have any other choice," she told DW.
The young woman speaks neither of Afghanistan's official languages - Dari and Pashtu. She said she didn't know who to turn to and was afraid of the consequences she would face should she run away and the authority of her pimp, the "big man," as she called him. But he himself also cited poverty as a reason to force women into prostitution.
Sahar Gul, 15 years old, was tortured for months by her in-laws for refusing to prostitute herself
"I do this because I am poor and I want to be able to feed my children. I am aware that there are dangerous consequences, harsh punishments for this kind of work - for instance death or being ostracized and other things."
But he insisted he did not force anyone to work - that the women who work for him prostituted themselves because they wanted to.
Prostitution, whether out of one's own will or not, is illegal according to Islamic law. The cleric Nek Mohammad works for the court in the eastern Afghan province of Nangarhar and offers consultations on Islamic law. All forms of position are illegal, he told DW.
"At least four people have to bear witness to the crime. And should the prostitute or the person who buys her be married, his or her spouse will have to be stoned. If there are no married people involved, then they receive lashings."
Disease
But punishment is not the only thing to worry about. Most of the prostitutes are unaware of sexually transmitted diseases (STDs) such as HIV and do not use condoms. The number of cases of STDs had sharply risen in the past few months, according to Dr. Baz Mohammad Sherzad, head of Nangarhar province's health ministry.
Prostitutes pose as beggars on the streets of Afghanistan
"Our doctors confirm that many young men who have come to us recently have had urinary tract infections and sexually transmitted diseases. If prostitution is allowed then it is no wonder there is an increase in such problems in Nangarhar."
Nonetheless, doctors should promote educational campaigns, said Sherzad. The government should tackle the problem. Yet the government had a whole set of other problems: "Think about child marriage, forced marriage, domestic violence, the sale of women for marriage and other purposes, forced prostitution, self immolation - honestly the government hasn't been dealing very effectively with any of those issues," said Heather Barr.
She said it was unfortunate that there was a lack of political will to solve these issues. Progress was only made very slow.
As of recently, it is now illegal to lock up women for running away from home, which is just a further symptom of the violence and forced prostitution women continue to face in Afghanistan.
http://www.muslimnews.co.uk/news/news.php?article=23742
--------------
Treatment of Afghanistan's women is the real test of UK aid's success
Malcolm Bruce
25 October 2012
The shooting of schoolgirl Malala Yousafzai by the Taliban in Pakistan shed renewed attention on the plight of women in this corner of the world. Malala survived, thankfully, and is now in the UK receiving treatment. But across the border in Afghanistan, many women are beaten, raped and executed.
Even a decade after the fall of the Taliban – during which £30bn has been spent on aid to Afghanistan – the freedom and rights of Afghan women are under grave threat.
UK aid has achieved much in Afghanistan. Millions of children are now in school, markets are bustling, and the government has shown some important improvements in their ability to deliver services. But the UK parliament's international development committee, which I chair, published a report on Wednesday identifying the status of women as the key determinant of how much has changed in Afghanistan and what the UK government could and should do to maintain the gains that have been made.
Full report at:
http://www.guardian.co.uk/global-development/poverty-matters/2012/oct/25/treatment-afghanistan-women-test-uk-aid
--------------
Kazakh School Expels HIV-Positive Girl Pupils
October 06, 2012
Moscow: A private school in Kazakhstan has expelled two girl pupils who were found to be HIV-positive, local TV outlets reported.
The school is in Shymkent in southern Kazakhstan. School doctors were the first to hear about the children's HIV status during a BCG vaccination campaign.
The girls' parents wrote to explain why their children should not be vaccinated.
Violating the law on patient confidentiality, the doctors reported this to the school principal. The parents were given 10 days to take their children out of the school.
Full report at:
http://zeenews.india.com/news/world/kazakh-school-expels-hiv-positive-pupils_804032.html
--------------
Mona Eltahawy: women's rights 'disaster' looms in Egypt
24 October 2012
Egypt has risen up against a repressive regime but what will the post-revolutionary society look like?
Power has shifted in the direction of political Islam. Mona Eltahawy, who writes about the Islamic world and women's issues, says 60 years of military rule has made it almost impossible to operate in the middle ground, between the regime and the Islamists.
You can watch the full interview on BBC World News on Wednesday 24 October at 03:30, 08:30, 15:30 and 20:30 GMT and on the BBC News Channel at 0430 GMT on Wednesday 24 October and 0030 GMT on Thursday 25 October.
Find out who is coming up on the programme by following us on Twitter or subscribe to our podcast.
http://news.bbc.co.uk/2/hi/programmes/hardtalk/9763056.stm
--------------
Women Still Face Gender Gap in Jobs, Wages: Report
24 October 2012
GENEVA: Women are closing the gender gap with men in health and education but struggle to get top jobs and salaries, data from a study of 135 countries showed on Wednesday.
"Gaps in senior positions, wages and leadership levels still persist," even in countries that promote equality in education and have a high level of economic integration among women, the World Economic Forum (WEF) said in its annual Global Gender Gap Report. The new figures were released just hours after a European Union initiative to set a 40-percent quota for women on the boards of listed companies stalled because of a lack of support. The report, which covered more than 90 percent of the world's population, looked at how nations distribute resources and opportunities between women and men. It found that the Nordic countries, headed by Iceland, Finland and Norway, had done the best job of closing the gap, while Chad, Pakistan and Yemen had the worst rankings.
Full report at:
http://www.dailytimes.com.pk/default.asp?page=2012\10\25\story_25-10-2012_pg7_23
--------------
Police Record Shows Hina Khan's Father Using Malala Incident for Personal Gains
By Tahir Niaz
24 October 2012
ISLAMABAD: Police record of Reyatullah Khan, father of a new "Malala", Hina Khan from Swat suggests that he is attempting to use the Malala incident for personal gains by portraying his daughter as another potential target of the TTP, as on different occasions Islamabad police booked him in four fraud cases during the last two years.
Seemed to have impressed by the government and social response at the world level in the Malala incident, Khan is portraying his 17-year-old daughter and a student of first year, Hina, as the next target of the Taliban for her pro-education and female rights activism in the Swat Valley. But Islamabad police record portrayed him as a man of fraudulent and criminal nature and questioned whether he was not exaggerating the matter for personal gains and to get fame for his daughter. According to recent media reports, the Taliban threat to Hina Khan forced her and other family members to leave Swat and move to Islamabad in her quest for education. On October 12, her father moved an application with the Ramna police seeking security for the family in the wake of threats from the "anti-state elements".
Full report at:
http://www.dailytimes.com.pk/default.asp?page=2012\10\25\story_25-10-2012_pg7_24
--------------
Nigerian Lady Caught With 2300 Grams of Heroin
24 October 2012
Karachi: Pakistan Customs, Drug Enforcement Cell (DEC) Karachi Air Port Unit, has recovered 2,300 grams of heroin concealed in a Nigerian lady's suitcase. As per details, customs staff, during clearance of outgoing passengers, intercepted a suspected Nigerian lady passenger at the International Departure Lounge of the Jinnah International Airport. The lady came there to board Etihad Airlines Flight EY0222 for Lagos (Nigeria) via Abu Dhabi (UAE). The suspected lady passenger travelling on an Emergency Travel Certificate couldn't provide satisfactory replies to customs officials. Her baggage was therefore examined thoroughly which revealed that heroin powder was concealed in cotton cloths, which were shaped as a cushion and was hidden in the bottom of a hard top suitcase. Recovered heroin was 2,300 grams in weight. Consequent upon recovery of narcotics from the lady, a prosecution case under Control of Narcotics Substances Act, 1997, has been registered against her. Further investigation was in progress.
http://www.dailytimes.com.pk/default.asp?page=2012\10\25\story_25-10-2012_pg12_10
--------------
73 al-Shabaab members, women's leader arrested in Kismayo
October 24, 2012
Allied forces arrested 73 suspected al-Shabaab members in Kismayo on Sunday, including the group's women's leader Marianna Issa Mohammed, Kenya Defence Forces spokesman Colonel Cyrus Oguna said Tuesday (October 23th).
Mohammed's arrest is seen as a boost to pacifying the city after the Somali National Army and African Union Mission in Somalia forces liberated Kismayo from al-Shabaab last month, Kenya's The Standard reported.
Full report at:
http://sabahionline.com/en_GB/articles/hoa/articles/newsbriefs/2012/10/24/newsbrief-02
--------------
Nigeria: Intel Celebrates International Day of the Girl
25 OCTOBER 2012
In celebration of the United Nations' International Day of the Girl in October, Intel Corporation expanded its global commitment to furthering education for girls and women. Millions of girls around the world have limited or no access to education and Intel believes that broader access to education for girls and women will significantly speed up social progress and help drive worldwide economic growth.
Full report at:
http://allafrica.com/stories/201210250407.html
--------------
Azerbaijan, Gaza, Ethiopia women win media awards
Oct 25, 2012
By ALEXANDRA OLSON
Associated Press Writer
NEW YORK (AP) - A columnist imprisoned under Ethiopia's controversial anti-terrorism laws, an Azerbaijani investigative radio reporter who had surveillance cameras planted in her apartment and a Palestinian blogger who has been beaten and tortured for reporting on abuses and protests in Gaza each received Courage in Journalism awards Wednesday from a women's media group.
The International Women's Media Foundation also honored 70-year-old Pakistani journalist Zubeida Mustafa with its annual lifetime achievement award during a lunch in New York on Wednesday. Honored as the first woman in Pakistani mainstream media, Mustafa worked to enact hiring policies favorable to women during her 30 years at Dawn, a widely circulated English-language newspaper.
Full report at:
http://www.knoe.com/story/19905185/azerbaijani-gaza-ethiopia-women-win-media-awards
--------------
Women Hold Just 20% of World's Political Power, Report Says
LINDSEY RUPP
25 OCTOBER 2012
Women have gained little ground in political leadership around the world, with men still in about 80 percent of key elected and appointed positions, according to the World Economic Forum's annual Global Gender Gap Report.
"Some countries are moving in the right direction, but very slowly," said Saadia Zahidi, head of the WEF's Women Leaders and Gender Parity program, in an interview before the release of the 2012 report. "We're talking about very small and slow changes."
The survey found that 20 percent of the political decision-making gap has been closed, Zahidi said. Last year, the report showed 19 percent of it had narrowed. Overall, Nordic nations were once again the most equal, according to the report. Iceland claimed the No. 1 position for the fourth year in a row, followed by Finland, Norway and Sweden.
Full report at:
http://www.independent.co.uk/news/world/politics/women-hold-just-20-of-worlds-political-power-report-says-8225659.html
--------------
URL: https://www.newageislam.com/islam,-women-and-feminism/new-age-islam-news-bureau/a-blue-eyed,-blonde-brit-muslim-convert-gets-spat-and-abuse-when-in-hijab/d/9095