New Age Islam News Bureau
9 Nov 2012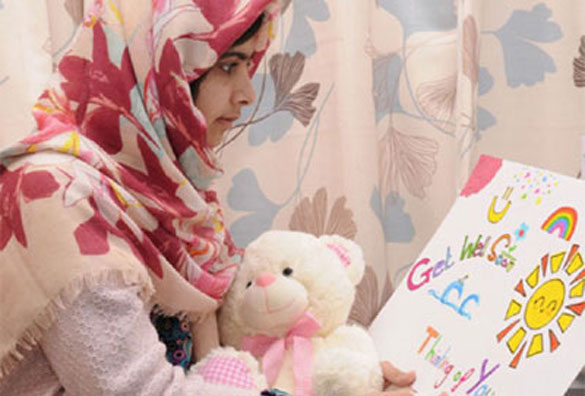 • More Than 5,000 Child Brides in Saudi Arabia
• Child Rapes, Killings Terrify Parents in Iraq
• Indian Duo Jailed For Forcing Bangladeshi Teen into Prostitution
• College Girl in Bangladesh Injured As Stalker Throws Acid
• Girl from Gilgit-Baltistan to Represent Pakistan in Youth Exchange Programme
• U.S. $75,000 for Girls' Education in Liberia
• Malala Grateful For Global Support
• Abu Dhabi Education Council Guide For Parents to Teach Kids Arabic
• Bangladesh Freedom Fighter Woman Assaulted Allegedly To Grab Land
Compiled by New Age Islam News Bureau
Photo: Malala Grateful For Global Support
URL: https://www.newageislam.com/islam,-women-and-feminism/new-age-islam-news-bureau/9-year-old-pakistani-girl-awarded-as-'compensation'-in-rape-case/d/9246
---------------
9-Year-Old Pakistani Girl Awarded As 'Compensation' In Rape Case
November 9, 2012
LAHORE: Police in Pakistan have arrested five men after a village council ordered a father to hand over his nine-year-old daughter as compensation in a rape case, officers said Friday.
A group of elders in the remote rural area of Bahalak in Punjab province made the ruling to settle a year-long dispute between a farm worker and an influential local landowner, local police station chief Mohammad Khalid told AFP.
The worker, Arshad, who goes by one name, was accused of involvement in the abduction and rape of landowner Ali Sher's daughter, Khalid said.
"The jury on Sunday decreed that Arshad would marry (off) his daughter Sidra to Ali Sher's 22-year old son Maqsood," he explained.
"Arshad agreed verbally but Sidra, who is too young, remains with her family," he said.
The marriage was not formally solemnised but the village council made Arshad agree to pay Sher Rs40,000 – a vast sum for a farm labourer in Pakistan – if he did not honour the ruling.
Khalid said Arshad and four council members had been arrested.
The practice of "vani", giving daughters as compensation to end vendettas, is illegal and punishable by up to seven years in jail.
Pakistan is a deeply conservative country and women, especially in poor rural areas, enjoy few rights and little protection from the police.
Last week a couple in Pakistan-administered Kashmir killed their 15-year-old daughter by dousing her with acid for supposedly shaming the family by looking at two boys.
http://tribune.com.pk/story/463244/9-year-old-girl-awarded-as-compensation-in-rape-case/
----------
More Than 5,000 Child Brides in Saudi Arabia
Poor families marry off their daughters to rich older men
Staff Report November 8, 2012
Dubai: More than 5,000 girls below the age of 14 are married off in Saudi Arabia, according to media reports.
There have been 5,622 marriages where the bride is under the age of 14 in Saudi Arabia, said Ali Abdul Rahman Al Roumi, a social services academic at Imam Mohammad Bin Saud Islamic University, adding that specifying a legal age would not solve the problem, and may lead to "even bigger problems".
A number of families from "rural areas" have been marrying their daughters off to older, rich men, according to the Saudi owned Al Hayat newspaper.
"We must solve this, by at least looking at the difference in age in cases where the bride is young, in which case it can be deceptive" he said. He did not specify what period of time that figure represents.
He added however that it was "not a trend".
Al Roumi disagreed with those who opposed imposing a legal age for marriage, saying it was a necessary step but that exceptions could be made provided that the age difference between the husband and wife was not large, and if it was disclosed how much money was given to the bride's parents, in an effort to prevent what has been termed as "bride selling" to rich people.
Shura Council member Abdullah Bin Saleh Al Hadeithi said that the ministry of justice is studying the implementation of a legal marriage age, but added that the council has never discussed the issue.
http://gulfnews.com/news/gulf/saudi-arabia/more-than-5-000-child-brides-in-saudi-arabia-1.1101605
---------------
Child Rapes, Killings Terrify Parents in Iraq
Bushra Juhi
November 09 2012
The brutal crimes struck a nerve, even in a country that has seen a horrific amount of bloodshed in the past decade: Young Iraqi girls kidnapped, repeatedly raped and then bludgeoned to death in two separate incidents near the southern city of Basra.
Despite a conviction in one case, a handful of arrests banning in the other and beefed up police patrols in the city, families in Basra remain on edge following the murders of 4-year-old Banin Haider and 5-year-old Abeer Ali in a span of less than two months.
Now, many parents in and around the city won't let their children go to school alone or even play outside after class is out, fearing their daughters, too, could be snatched off the streets, sexually abused and murdered. Others are making plans to leave Basra altogether, saying they have lost confidence in the security forces' ability to keep children safe.
"These inhuman crimes make me think of the safety of my children," said Hazim Sharif, 38, a government employee and father of four. "I do not trust the security forces any more. I have to protect my family by myself."
To many in Iraq, the murders mark a new, more menacing type of violence than the country has previously encountered - at least in public.
Basra, Iraq's second-largest city, is considerably safer than Baghdad, and the recent attacks are seen as a particularly dark spot on an otherwise relatively quiet and stable province. The city of about 1 million and its surrounding province, which goes by the same name, is Iraq's main oil industry hub. The region is generally poorer and shabbier than the capital, but it is slowly beginning to flourish as international companies move in, attracted by the region's lucrative oil fields.
Basra police chief Maj. Gen. Faisal al-Ibadi and the head of the security committee in nearby Zubair, Mahdi Rikan, provided detailed accounts of the two cases to The Associated Press.
Banin was kidnapped Aug. 16 in Zubair, a rundown town just outside the city of Basra. Her family, from the nearby province of Dhi Qar, had come to town to visit relatives.
Police later found her body in a derelict area with her hands and legs bound. She was raped multiple times, and her head was smashed by what was believed to be a large brick, according to authorities.
An off-duty soldier assigned to a nearby army base, Akram al-Mayahi, was arrested in connection with the Banin's murder. He was found guilty on Oct. 22 and sentenced to death for abusing and killing the girl, said judge Jassim al-Moussawi, the spokesman for the Basra Federal Appeals Court.
Banin's family wants al-Mayahi to be executed publically at the scene of the crime as a deterrent, al-Ibadi said. The sentence has yet to be carried out.
The other young girl, Abeer, also came from Dhi Qar province, a relatively poor part of Iraq that many residents travel from in search of work, often for weeks at a time. She was abducted Oct. 11 while her family attended a wedding not far from the scene of Banin's murder.
Her body was found 12 hours later in an empty lot, bearing similar signs of trauma to the previous victim, though Abeer was also strangled with a shoelace, officials said.
Authorities later determined that the suspected kidnapper phoned nine friends and invited them to take part in the rape. So far, eight people have been arrested and have confessed. The case has yet to go to trial because the investigation is still under way. Authorities believe the soldier convicted in Banin's killing is not connected to Abeer's murder.
"I cannot rest or sleep while these criminals are still eating, drinking and sleeping in prison. They should be executed immediately," said Abeer's father, Ali Abid, a 30-year-old construction worker and father of four other daughters. "Iraq has become like a jungle where monsters maul the bodies of the poor people."
Reports of the two cases have sent a wave of fear through the streets of Basra.
Firas Khudier, 42, a businessman in Zubair, stopped sending his daughter Shahad to kindergarten out of fear she could be abducted. In the meantime, he has hired a taxi driven by a trusted relative to take his two older children to school even though it is nearby.
Sharif, a father of four, said he and his wife have begun escorting their children to school and back, and are keeping a closer eye on them even when they play just outside the house. Most parents in Basra are now doing the same, he added.
"They keep ... insisting on going out to play with their friends, but we have to remind them of the horrific story of the two poor girls," Sharif said.
In an attempt to calm public opinion, security forces have started deploying more police patrols, particularly near schools.
Some officials blame a rise in drug use for the crimes. Iraq's Interior Ministry recently cited the cases in calling on Iraqis to support an anti-narcotics campaign. Al-Ibadi said all of those arrested in the two cases are addicts who were under the influence at the time of the crimes.
Fawzia A. al-Attia, a sociologist at Baghdad University, said Iraq's decades of war and economic hardship also likely played a role.
"All these woes changed the social value system, weakened the role of the family and negatively influenced personality development," she said. "Young people in particular have started to feel the emptiness and boredom of unemployment, and (are increasingly disappointed) with religious and political institutions."
Many Basra residents see the focus on drugs as misplaced. They instead criticize Iraq's government and security forces for failing to provide adequate security.
Abid said blaming his daughter's killers' actions on drugs is just a way for the authorities to justify poor policing, saying that all the security forces care "about is the salary they get at the end of the month."
http://www.thejakartapost.com/news/2012/11/09/child-rapes-killings-terrify-parents-iraq.html
---------------
Indian Duo Jailed For Forcing Bangladeshi Teen into Prostitution
Marie Nammour / 9 November 2012
Two Indian men were each sentenced to five years in prison on Wednesday as they were found guilty of human trafficking and forcing a Bangladeshi female teen into prostitution.
The duo including a worker (27) and a visitor (28), were convicted of running a brothel. The two, along with others at large, are believed to have lured the victim to come to Dubai and work in a factory. The Court of First Instance sentenced a third Indian man, who worked as a watchman, to one year in prison for aiding and abetting the pair in the crime of running a brothel. The court ordered that all the three be deported after completing their prison terms.
The verdict can be appealed within 15 days at the Court of Appeal. According to prosecution records, the two main accused forced the teenager to work as a prostitute in an apartment, run as a brothel, in Naif after beating her up and confining her.
The victim told the prosecutor that she was under-18 when she arrived in Dubai on a visit visa upon a prior agreement with a compatriot in her home country. She had paid him 180,000 Bangladeshi Taka (Dh8,112) after she convinced her parents to mortgage their house.
She arrived at the Dubai International Airport in November last year and was received by a man, a suspect at large.
He took her to a flat in Naif where he raped her, robbing her of her virginity. She found women there who worked as prostitutes willingly. Her documents and mobile phone were taken away from her and she was locked up and forced to have sex with men for money, which was collected by the defendants. She worked for more than four months before the police rescued her. A police major said they raided the flat after being informed about a woman who was being forced into prostitution.
An undercover police corporal, along with a police informer, entered the flat posing as a customer and was allowed in only after talking to the watchman on trial.
The corporal paid Dh150 claiming he wanted to have sex with the victim. He spoke to her in private and she told him that she was forced to work as a prostitute and was being held up in the apartment against her will. The police, shortly, raided the flat and arrested the defendants.
mary@khaleejtimes.com
http://www.khaleejtimes.com/nation/inside.asp?xfile=/data/courtroundup/2012/November/
---------------
College Girl in Bangladesh Injured As Stalker Throws Acid
8 Nov 2012
A college girl sustained burn injuries as a stalker threw acid on her in Nandail upazila of the district on Tuesday.
The victim, Ferdous Ara Lipi, 20, is a first year honours student at Mominunnessa Government Mohila College in the district town.
She is undergoing treatment at the burn unit of Mymensingh Medical College Hospital.
Lipi, daughter of Abdus Sattar of Niviaghata village in the upazila, came under attack by Shafiqul Islam, 22, son of Hafiz Uddin of the village, while she was going to her college in the morning.
Full report at:
http://www.thedailystar.net/newDesign/news-details.php?nid=256716
---------------
Girl from Gilgit-Baltistan to Represent Pakistan in Youth Exchange Programme
November 9, 2012
GILGIT: A youth volunteer of Pakistan Red Crescent Society (PRSC) in Gilgit-Baltistan (G-B) will represent the country in the International Youth Exchange Programme to be held in Japan this month.
Shahida Gul, a ninth grader at Sir Syed Public School Gilgit, belongs to Yasin Hundur valley of Ghizer District. The PRCS management gave her a farewell at the Gilgit office on Thursday.
Organised by Japan Red Cross Society in collaboration with Japan's Ministry of Education, Culture, Sports and Science and Technology, the exchange programme will be held from November 14 to November 28 in Tokyo.
Full report at:
http://tribune.com.pk/story/462904/youth-exchange-programme-girl-from-g-b-to-represent-pakistan/
---------------
U.S. $75,000 for Girls' Education in Liberia
BY WINSTON W. PARLEY
7 NOVEMBER 2012
The Liberian Education Trust-Monrovia (LET) has received a US$75,000 scholarship grant to support 500 girls in schools and build staff capacity, among others.
Speaking at LET office in Airfield, Sinkor during signing ceremony Tuesday, October 6, 2012, LET Board of Directors Chairperson Ms. Maureen Shaw said girls' education is important because it breaks the sector of poverty in a family or the society as whole.
Ms Shaw said "they care for the younger ones like the mother... if she doesn't even have the education; she struggles for the survival of the family."
Full report at:
http://allafrica.com/stories/201211080406.html
---------------
Malala grateful for global support
9 November 2012
Malala, the teenager being treated in Britain for gunshot wounds inflicted by the Taleban in Pakistan, on Friday thanked her global supporters, one month on from the brutal attack.
"She wants me to tell everyone how grateful she is and is amazed that men, women and children from across the world are interested in her well-being," said her father Ziauddin Yousafzai, on behalf of the 15-year-old.
"We deeply feel the heart-touching good wishes of the people across the world of all caste, colour and creed," he said in a statement issued by the Queen Elizabeth Hospital in Birmingham, where Malala is being treated.
Full report at:
http://www.khaleejtimes.com/kt-article-display-
---------------
Abu Dhabi Education Council Guide For Parents to Teach Kids Arabic
8 November 2012
A guide to assist parents in teaching Arabic language to their children has been introduced by the Abu Dhabi Education Council (Adec).
The guide aims to enhance parents' role in teaching their children their mother tongue.
Written in an easy and simplified way, the guide focuses on topics and skills such as listening, reading, comprehension, composition, communication and writing.
Full report at:
http://www.khaleejtimes.com/nation/inside.asp?xfile=/data/educationnation/2012/Novemb
---------------
Bangladesh Freedom Fighter Woman Assaulted Allegedly To Grab Land
8 Nov 2012
Freedom fighter Bhanu Nessa was physically assaulted by a gang at her house at Nandanpur village in Santhia upazila on Tuesday night.
She is undergoing treatment in Santhia Upazila Health Complex.
Bhanu Nessa, 70, alleged that her brother-in-law Jamir Muhari, his son Rana and their hired goons stormed into the house at around 7:00pm and asked her to leave the house. "As I refused to oblige, they beat me up mercilessly," she said.
Full report at:
http://www.thedailystar.net/newDesign/news-details.php?nid=256717
---------------
URL: https://www.newageislam.com/islam,-women-and-feminism/new-age-islam-news-bureau/9-year-old-pakistani-girl-awarded-as-'compensation'-in-rape-case/d/9246