New Age Islam News Bureau
15 Dec 2012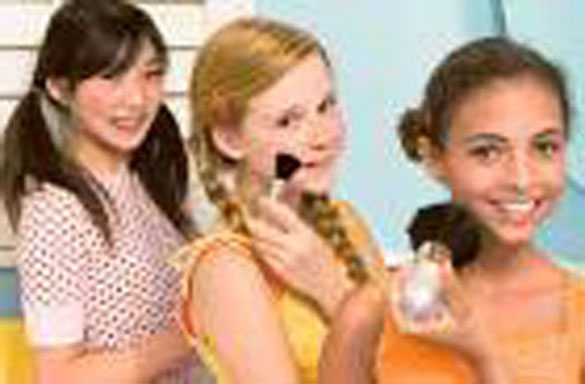 • Salons in Dubai Welcome Children for Beauty Treatments
• UAE Teens Spend Triple World Average on Fashion
• Ayatollah Khomeini's Pro-Democracy Granddaughter: I Fear Arrest
• Calls for Tough Response after Abuse of Disabled Girls in Lebanon
• Egyptian Politician Condemns Brotherhood Propaganda, Calls Them "Killers"
• Police Arrest Jirga Members in Swat for Child Marriage
• Australia Helps Acid Victims in Pakistan Get Back On Their Feet
• Women's Equality in UAE Boardrooms 'Begins In Schools'
• UAE Joins UK to Help Educate Girls in Pakistan and Afghanistan
• Islamic Organizations to Mentor Religious Children on Moral Values
• Parents Confessed To Murder Their Daughter in Acid Attack Get Bail from A Pakistani Court
• Mother Kills Children Due To Depression, in Jakarta
• Minister Fauzia Khan Lands in Row Over SA 'Hunting' Trip
• Egypt's Christians, Women, Continue Push against Draft Constitution
• Kidnappers Free Mother of Nigerian Finance Minister
• Financial Crisis Hit Women Harder On Jobs: UN Labour Agency
• EP students excel at Malaysian math contest
Compiled by New Age Islam News Bureau
Photo: UAE Teens Spend Triple World Average on Fashion
URL: https://newageislam.com/islam-women-feminism/60,000-women-attend-day-1/d/9693
-----------
60,000 Women Attend Day 1 of Annual Sunni Muslim Meet in Mumbai, India
Mugdha Variyar, Hindustan Times
December 15, 2012
Muslim girls should use mobile phones only to stay in touch when they are outside and not at home, said a Sunni leader at the 22nd Annual International Sunni Ijtema (Conference) organised by Sunni Dawat-e-Islami, an international organisation, at Azad Maidan, on Friday.
Issues related to women in the community were brought up on the first day, reserved only for women, of the three-day conference. The annual convention is known to be one of the biggest gatherings of Sunni Muslims in the country. "The conference is a community-building exercise and a platform to educate the community about the basics of Islam," said Mohammad Rizwan Khan, a member of the organisation. Chief Sunni jurist Mufti Nizamuddin Misbahi answered several queries put up by a congregation of more than 60,000 women that ranged from whether a woman can resort to abortion to whether girls should use mobile phones.
"Mobile phones should be used only when necessary to stay in touch with one's family when the girl is outside, but it could be misused if it is used at home because it is not necessary," the mufti said.
On the issue of abortion, he said that it should be the last option only if complications arise, and after 12 weeks, it would equate to killing a human being.
The mufti also asked women not to restrict their movements and chores due to myths about the eclipse.
http://www.hindustantimes.com/India-news/Mumbai/60-000-women-attend-day-1-of-Annual-Sunni-Muslim-meet/Article1-972973.aspx
--------
Salons in Dubai Welcome Children for Beauty Treatments
December 14, 2012
A survey of 10 salons in Dubai reveals that over 50 per cent were happy to perform beauty procedure for children as young as 9, including what many teens are dubbing the latest craze: Virgin waxing.
A beautician in a salon with branches in four malls in Dubai and one in Abu Dhabi, explains that 9 isn't an usual age for children to come in for their first wax. "Since these children have sensitive skin, we always advice the use of a lycon or fruit wax, as opposed to regular strips. For the first wax however, we don't advice going beyond the half-arm and half-leg area. If your child hasn't developed any rash over the next few weeks, then you can bring her back for a full body wax."
What's more, due to the smaller size of children's bodies, the salon even offers a discounted price, given after assessing the child's size and skin tone. "The majority of our younger customers are from Indian and Arab families," says the beautician. "Ethnically, they have a dense hair growth and the earlier it's taken care of, the better."
Perhaps the most shocking part of the conversation was the discussion of the virgin bikini wax. "Since pre-pubescent children have little to no hair in those regions, the waxing of that area is not only less painful, but also allows for a stunted hair growth when they are older. We have so many mothers bringing in 9 and 10-year-olds who can't go to the pool anymore because they're going to early hair growth"
Another popular salon with six branches in commercial malls encourages parents to have their children waxed regularly, "to help boost their self-confidence and prevent future hair growth," they say.
Provided one begins with a smaller area at first, they encourage prospective clients to eventually go the full-monty (full body), with their parent's permission. Once again, the emphasis is on Arab and Indian tweens.
In a world where teens are growing up too fast, it's not shocking to find an industry that supports the unnatural growth spurt.
A popular nails salon with 8 branches in Dubai has an unusual clause. Mothers who have children accompanying them are not allowed into the salon unless paying for a beauty treatment for their children too. Most popular at the salon: the Princess Manicure and Pedicure for Dh65. Alternatively, one can choose just the manicure for Dh30 or just the pedicure of Dh40. The service is available to children as young as three, with the oldest children being allowed to access the package being 9-years old.
Meanwhile, a children's salon in JBR offers spa birthday parties for children under the age of 10. The salon also reportedly has a book of celebrity styles that children can choose from. The pint-size pampering also includes a mini makeup session at the spa for Dh30, an amount most teens can afford.
Another spa in a mall on Sheikh Zayed Road offers children as young as two or three a similar package. Their in-house spa parties for girls include facials, manicures, pedicures, hair styling and wash-away colours, as well as a fashion show and a disco area.
For some parents, the message these salons are sending out is shocking. "A child should be allowed to grow at a natural pace. Allowing them these beauty treatments, and make-up sessions is akin to giving a child a mask to hide behind," says Sara, mother of 8-year-old Angela. "If at the age of 8, my daughter thinks her body is not beautiful, she'll grow up thinking that she always needs to tweak and modify who she is, in order to be considered beautiful. It would make her a very insecure woman in the long run. I know it's a shocking comparison, but waxing an 8-year-old and taking them for beauty treatments or high-heel shopping is like showing a pornographic movie to a child. It's just not age-appropriate."
-Muby Astruc was a former reporter with XPress, a sister publication of Gulf News
http://gulfnews.com/news/gulf/uae/general/salons-welcome-children-for-beauty-treatments-1.1118736
-----------
UAE teens spend triple world average on fashion
December 14, 2012
A study of the Global Teen Insights Programme, Mena Edition 2010, found that UAE teens, between the ages of 12 to 19 years, spend three times as much as their global peers across 23 countries on clothes, apparel and make-up. The study reveals that teens in UAE spend an average of $71 (Dh260) a month on fashion, compared to the global average spend of $21.
A 2011 research conducted by UK's Bailey Review of Commercialisation and Sexualisation of Childhood, to unravel and tackle issues around the premature sexualisation and commercialisation of children, found 40 per cent of parents said they had seen things in public places (shop window displays, advertising hoardings) that they felt were inappropriate for children to see because of their sexual content. Over 50 per cent felt that celebrity culture, adult style clothes and music videos are encouraging children to act older than they are.
According to the results of a survey conducted by the Department of Education in the United States last year, 88 per cent of parents of five to 16-year-olds believe that their children are under pressure to grow up too quickly.
International surveys of teenagers have found that the average girl begins using beauty products at round the age of 13, prove records from the NPD Group, a retail market research firm. In the United States, tweens between the ages of 8 to 13 spend more than $40million a month on beauty products. In the UAE, Emirati teens and tweens spend an average of $25 each per month on makeup products, compared to $6 per teen in other countries.
A walk through any major mall in Dubai reveals a smattering of outlets catering to teens and tweens. What appears pink and pretty on the outside gives way to disturbing products on the inside.
A popular American store for girlish accessories sells all kinds of make-up products targeted specifically at pre-teens. From rings that conceal a coloured gloss, to manicure kits, lipstick sets, and eyeshadow palettes, tweens are spoilt for choice.
On the website of one of the largest malls in Dubai, is the following promo about this store: [It] has long been the leader in the fashion accessory and costume jewellery business and continues to meet the demand of our targeted customer (tweens and teens age 7-14) by exploring and introducing up-and-coming merchandise … Considered the source teens look to for "what's hot" in the fashion accessories world. According to a leading teen magazine survey, [it] is the number one store on teen's shopping list for accessories."
A closer look at the store's merchandise reveals plastic boxes with glitter and fairies printed on it, which open up into full blown make-up palettes. The tag says "safe for ages 7 and onwards".
http://gulfnews.com/news/gulf/uae/general/uae-teens-spend-triple-world-average-on-fashion-1.1118733
-----------
Ayatollah Khomeini's Pro-Democracy Granddaughter: I Fear Arrest
A granddaughter of Iran's first Supreme Leader, Ayatollah Ruhollah Khomeini, has attacked the current regime's "deviation" from the goals of his revolution, criticised leaders for failing to allow democracy to flourish, and said she fears arrest and jail.
By Damien McElroy, and Ahmad Vahdat
14 Dec 2012
Naeimeh Eshraghi, a Tehran-based engineer, has told The Daily Telegraph that she wants to see an opening up of Iranian society with people free to express themselves.
But she also warned the West that the crippling sanctions being imposed on Iran were having the effect of increasing the suffering of the people while having little impact on the leaders.
Mrs Eshraghi is an enthusiastic user of Facebook and has on occasion shared her pro-democracy views and made critical comments about the country's leadership. She has built up a following of about 5,000 friends on her account, which she can access only by using illegal "filtering busting" technology that circumvents the country's firewall.
She said she felt it was a duty to resist the increasingly harsh system imposed by Ayatollah Ali Khamenei, her grandfather's successor as a Supreme Leader.
"My grandfather's system of spiritual guidance of the government rested its legitimacy on people's consent," she said. "Today this theory of government has split many sections of our society from the regime and has led to a deviation from the earlier right path of the revolution."
Mrs Eshraghi – a qualified petrochemical engineer who last year supported a campaign against laws requiring women to wear Hijabs – objects to the government's efforts to close off Iran's internet users from the world.
"It is high time that the governments of Iran resorted to practicing democracy and refrained from confronting individuals and non-government groups. It should stop fearing the transfer of new communications technology," she said.
"It is only when this happens and we have free and widespread communications and the opening up of our borders to the outside world, both geographically and socially, that we can secure the progress and prosperity of Iran."
Mrs Eshraghi said that despite her place in Iran's most prominent revolutionary family – pictures of her as a girl on her grandfather's lap form the strapline on her Facebook page – she was vulnerable to a crackdown on free speech on the internet.
"Not only am I concerned that the security forces may one day knock on my door, but also in fact think that it is quite possible that this may happen and then I would not be different from many other prominent free thinkers of our country who have ended up being in jail," she said.
But she added that the regime would face a backlash within the country's establishment for such a high-profile arrest.
Iran has well advanced plans to cut the entire country off from the world wide web and place all internet activity within a nationwide intranet.
It has also established a force of "cyber-police" that has arrested dozens of internet users. Gen Saeed Shokrian, the force's commander, was sacked at the start of this month after an investigation into the death of the blogger Sattar Beheshti in Tehran's Evin prison, where he was being illegally detained. But the policing of online activity has continued.
In one sense, Mrs Eshraghi is continuing a role played by her grandfather in pre-revolutionary Iran.
He challenged the Shah's rule by having sermons taped in exile in Iraq and smuggled into Iran for underground distribution. The founder of the Islamic republic had five children and the clan maintains a prominent role with control of charitable foundations and filling official advisory positions.
Mrs Eshraghi said that her outspoken views were accepted within the family culture. "We have always kept a balance between belonging to a certain family and having an independent identity of ourselves as well," she said.
http://www.telegraph.co.uk/news/worldnews/middleeast/iran/9746686/Ayatollah-Khomeinis-pro-democracy-granddaughter-I-fear-arrest.html
-----------
Calls for Tough Response after Abuse of Disabled Girls in Lebanon
December 15, 2012
BEIRUT: Social Affairs Minister Wael Abu Faour demanded Friday the most severe punishment for a man who allegedly tried to sexually abuse two developmentally disabled girls in southern Lebanon.
Police arrested Thursday a van driver identified as Ali Zaraket, 68, for sexually harassing Sara M., 13, from Houla and Mariam H.D., 15, from Markaba while driving them home from their school.
Full report at:
http://www.dailystar.com.lb/News/Local-News/2012/Dec-15/198608-calls-for-tough-response-after-abuse-of-disabled-girls.ashx#ixzz2F76IUgy3
-----------
Egyptian Politician Gameela Condemns Brotherhood Propaganda, Calls Them "Killers"
Joseph Mayton | 15 December 2012
CAIRO: Leading Egyptian politician and television host Gameela Ismail lashed out at the Muslim Brotherhood's English language media service Ikhwanweb after they sent out condolences for a journalist slain in last Wednesday's violent clashes near the presidential palace.
Ikhwanweb wrote that they wish to give condolences to al-Fagr journalist El-Housseiny Abou Deif, who was shot in the head – investigations and activists report Brotherhood supporters to be the culprits – and succumbed to those injuries on Wednesday.
Full report at:
http://www.bikyamasr.com/83579/gameela-ismail-condemns-brotherhood-propaganda-calls-them-killers/
-----------
Police Arrest Jirga Members in Swat for Child Marriage
December 15, 2012
SWAT: Six members of a jirga, including the prayer leader of Shangram village, were arrested on Friday by the police for arranging the marriage of a five-year old girl to a 10-year old boy. Madyan police said the contract was "null and void" and handed the girl, Nagina, over to her parents.
Full report at:
http://tribune.com.pk/story/479838/swara-case-police-arrest-jirga-members-for-child-marriage/
-----------
Australia Helps Acid Victims in Pakistan Get Back On Their Feet
December 14, 2012
ISLAMABAD: She refused to sell her children, so he burnt her face with acid.
"Our life has been ruined," Mai said, about herself and her five children, some of whom were also physically affected in the acid attack by her husband. "We have been condemned to a life worse than death," she added.
It has been three years since Mai was attacked but despite the difficulties, she hasn't lost all hope– although she has not been alone in the struggle.
Full report at:
http://tribune.com.pk/story/479623/australia-helps-acid-victims-in-pakistan-get-back-on-their-feet/
-----------
Women's equality in UAE boardrooms 'begins in schools'
Afshan Ahmed
Dec 14, 2012
DUBAI // Putting more women in the boardroom begins in the classroom, a leading equality campaigner has urged.
And Save the Children is paving the way with a landmark schools programme that helps both girls and boys to challenge the roles that may be expected of them by the society in which they grow up.
"The aim is to make girls feel more respected and empowered in communities and get boys to support them in this role," said Soha Ellaithy, a director at the international NGO.
Full report at:
http://www.thenational.ae/news/uae-news/heritage/womens-equality-in-uae-boardrooms-begins-in-schools#ixzz2F6w8GN8u
-----------
UAE joins UK to help educate girls in Pakistan and Afghanistan
Ola Salem
Dec 15, 2012
ABU DHABI // Helping girls go to school in Pakistan and Afghanistan has become a new joint mission for the UAE and the UK.
At a meeting between the two country's government officials in London, a series of decisions were made to bring together the two nations efforts in tackling any future humanitarian crises.
Full report at:
http://www.thenational.ae/news/uae-news/uae-joins-uk-to-help-educate-girls-in-pakistan-and-afghanistan#ixzz2F6wG7RE2
-----------
Islamic Organizations to Mentor Religious Children on Moral Values
December 15, 2012.
The Dawa Islamic Organization in collaboration with Council of Imams in Sierra Leone and the Women's Organization for Education and Development has planned a three week camp for religious children in the Kenema District to mentor on religious doctrines. This was disclosed by the Chairperson/Leader of the Women's Organization for Education and Development, Madam Haja Fatima Zarah Kamara
Haja Fatima Kamara highlighted that camp is not a one-off event as it is being hosted occasionally in different parts of the country.
Full report at:
http://www.sierraexpressmedia.com/archives/51269
-----------
Parents Confessed To Murder Their Daughter in Acid Attack Get Bail from A Pakistani Court
15 December 2012
MUZAFFARABAD, Pakistan: A Pakistani court granted bail yesterday to a couple who confessed to murdering their daughter with acid, citing lack of evidence and witnesses, lawyers said.
Police arrested Mohammad Zafar and his wife Zaheen Akhtar a week after the Oct. 29 attack on their 15-year-old daughter Anusha, who died in agony from horrific burns in Pakistan-administered Kashmir after allegedly looking at boys.
Full report at:
http://www.arabnews.com/parents-acid-attack-get-bail-court
-----------
Mother Kills Children Due To Depression in Jakarta
Arya Dipa, The Jakarta Post
December 15 2012
Depression due to economic hardship was blamed on Friday as having caused a mother, Dina Yanuarti, 36, of Jl. Pesantren in Cimahi, West Java, to kill her two children Muhammad Alif, 4, and Muhammad Salim Abdurahman, 1, before taking her own life.
Head of the Cimahi Police detectives and crime unit, Adj. Comr. Sujana, said the bodies of the three were found in their house by Dina's brother, Kustiono.
Full report at:
http://www.thejakartapost.com/news/2012/12/15/mother-kills-children-due-depression.html
-----------
Minister Fauzia Khan Lands in Row Over SA 'Hunting' Trip
By Krishna Kumar in Mumbai
14 Dec 2012
MAHARASHTRA minister of state for school education, Fauzia Khan, found herself in a tricky situation after pictures of her posing with a rifle along with dead animals such as springbok, black wildebeest, blesbuck and zebra surfaced.
The pictures were taken during a trip Khan took with her family to South Africa some six months back.
The pictures have now kicked up a storm with the Shiv Sena- BJP combine demanding her resignation for killing the animals and then posing with their carcasses.
Full report at: Mail Today
-----------
Egypt's Christians, women, continue push against draft constitution
Manar Ammar | 15 December 2012
CAIRO: As Egypt takes large steps towards the referendum on the new controversial constitution, Egyptian Coptic Christians are showing unity in refusing to boycott the constitution and have called on Egyptians, Muslims and Copts, to vote "no" as voting begins on Saturday.
The Egyptian Union for Human Rights announced the participation of Coptic activists and influential thinkers in voting "no" and encouraged others to campaign for shooting down the draft.
Full report at:
http://www.bikyamasr.com/83555/egypts-christians-women-continue-push-against-draft-constitution/
-----------
Kidnappers free mother of Nigerian finance minister
From Vladimir Duthiers
December 14, 2012
Lagos, Nigeria (CNN) -- The mother of Nigeria's Finance Minister Ngozi Okonjo-Iweala has been released by her kidnappers, five days after she was seized from her home, Nigerian police said Friday.
Full report at:
http://edition.cnn.com/2012/12/14/world/africa/nigeria-kidnap-release/index.html?hpt=iaf_c1
-----------
Financial Crisis Hit Women Harder On Jobs: UN Labour Agency
15 December 2012
The global financial and economic crisis hit women harder than men in the job market — and no improvement is likely in the coming years, the UN labour agency said in a new report.
The International Labour Organization said the gap between unemployed women and men rose in 2012, destroying 13 million jobs for women.
Full report at:
http://www.khaleejtimes.com/kt-article-display-
-----------
EP students excel at Malaysian math contest
15 December 2012
Students from Indian community schools in Dammam and Jubail passed with flying colours bringing success to Saudi Arabia at the 18th UCMAS Mental Arithmetic International Competition held on Dec. 9 at the International Islamic University in Kuala Lumpur.
The Dammam and Jubail students performed well and achieved higher ranks in the competition in which more than 5,000 students from 52 countries participated in 12 different categories. A total of 72 students from the Kingdom competed in six different categories.
Full report at:
http://www.arabnews.com/ep-students-excel-malaysian-math-contest
-----------
URL: https://newageislam.com/islam-women-feminism/60,000-women-attend-day-1/d/9693