New Age Islam News Bureau
21 March 2018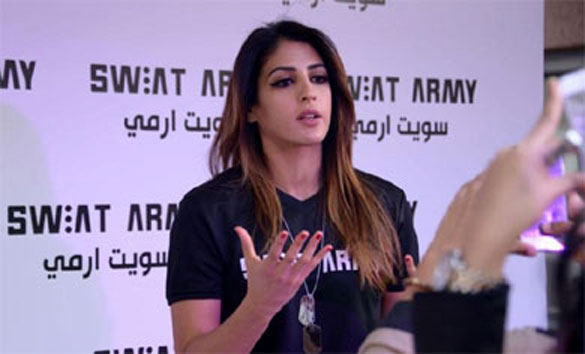 Rawan Zahran speaks at the recent launch of the Sweat Army Movement in Jeddah.
----
• Fit To Train: Saudi Woman Leading the Sweat Army
• In Somalia, Women Defy Strict Rules to Play Football
• Amani Alkhat, "Muslim Girl" Editor, Says Saudi Arabia Interfering With Women
• Muslim Women Protest against Triple Talaq Bill in Nagpur
• Nigeria Failed to Act in Schoolgirl Kidnappings by Boko Haram, Report Says
• Sawab Launches Social Media Campaign On Women
• 'Women's Army' Vows to fight on in Syria after Briton's Death
• Belgian Women among ISIS Widows in North Syria Camp
• 'Protecting Women Rights In Line With Islamic Teachings': Pak Federal Minister
• Princess Basma Praises Jordanian Women's Resilience under Economic Hardship
• UAE a friend of women, children and young adults: Shaikha Fatima
• Caritas helps Pakistani women find work
Compiled by New Age Islam News Bureau
URL: https://www.newageislam.com/islam-women-feminism/51-per-cent-khyber-pakhtunkhwa/d/114669
--------
51 per cent Khyber Pakhtunkhwa girls don't go to school: report
Mohammad Ashfaq
March 21, 2018
PESHAWAR: A nongovernmental organisation's report on the PTI government's reforms and challenges in the education sector during five years has painted a bleak picture of the girls' learning in Khyber Pakhtunkhwa.
"Girls are at a greater disadvantage with almost half of them (51 per cent) in Khyber Pakhtunkhwa not attending the schools," revealed the report quoting the Pakistan Education Statistics, 2015-16, data.
Also read: Punjab ranks third, KP fifth in Alif Ailaan's education rankings
The report titled "Five years of Education reforms: KP wins, losses and challenges for the future 2018-23," was launched by the Alif Ailaan here on Tuesday.
The ceremony was attended by elementary and secondary education minister Mohammad Atif Khan and lawmakers from across the country.
The report appreciated the provincial government for spending around Rs30 billion on the infrastructure development including construction of classrooms, boundary walls, electrification, drinking water, and washrooms.
According to it, KP is leading in terms of infrastructure development.
As the challenge of providing access to all children of primary school going age is yet to be resolve, the most significant test of the government's resolve is to provide access to children between the ages of 10 and 16 years to middle, high and higher secondary schools.
The report has drawn the government's attention towards a massive imbalance between the provision of primary and post primary schools across the province.
The report said currently, 9.76 per cent and 8.13 per cent of all schools are middle and high schools respectively.
"The gap is enormous considering that the right to education under Article 25A of the constitution gives the right to education for all children from five to sixteen years of education."
It says the primary schools outnumber cumulative middle and high schools by a ratio of 4:1. This disparity in numbers means that students are forced to travel further from homes to access schooling beyond the primary level causing low retention rate as well as the persisting gender gap at the middle and high school level.
Khyber Pakhtunkhwa has seen slight progress in enrolment numbers at the primary level and a significant improvement at the high school level. The enrolment rate has increased by 4.54pc at primary level, 2.3pc at middle level and 26.96pc at high level.
The report also drew the government's attention towards low quality of education.
"The challenge of improving learning outcomes of students enrolled in schools across KP needs emergent attention," it said.
It said the data on educational achievement was not as highly developed in KP as in Sindh or Punjab, although that was due to change from 2018 with the introduction of assessment at the fifth and eighth grade level.
The report said the scores achieved by children of KP in the tests conducted by National Education Assessment System are disappointingly low, indicating the distance that had yet to be covered in way of ensuring quality education and learning.
According to it, other positive initiative taken by the KP education department include establishment of areas for play in schools and sports tournaments, technology and science initiative in schools, students assessment at primary and middle level, independent monitoring unit and school quality management initiative.
https://www.dawn.com/news/1396610/51-per-cent-khyber-pakhtunkhwa-girls-dont-go-to-school-report
--------
Fit to train: Saudi woman leading the Sweat Army
March 21, 2018
JEDDAH — After eight years of private personal training and boot camps, Rawan Zahran has taken her boot camp experience to the next level, officiating the Sweat Army and launching the Sweat Army Movement.
The Saudi woman had been providing training sessions in the privacy of her home. As recent changes have taken shape in supporting women's health, fitness and sport in the Kingdom, Zahran has been able to break ground in opening a fitness center dedicated to Sweat Army's meticulously designed cross-fitness classes.
Aside from holding a bachelor's of science degree in Human Resources Management, Zahran has obtained numerous training certifications including the International Sport Science Association (ISSA), VIPR, TRX, XLR8, BOSU, Insanity, and ZUU level one.
For Sweat Army, Zahran has designed a range of classes that fit various fitness levels including "Run & Roll," focused on heart and body, "YOMP Fit," focused on flexibility and strength, "Body Awareness," a body discovery class influenced by Yoga, Pilates, and Barre, "Just Sweat With It," a training class focused on innovating new fitness techniques every class, keeping groups challenged and surprised, "Sweat Spin," an enjoyable class incorporating music and stationery bikes, and finally "The Challenge," a competition based class that divides the groups into teams, with winners and losers at the end of every session.
Zahran has recruited trainers Rania Zahran and Nehad Sulaimani to help her lead the Sweat Army. Both are also certified trainers by the International Sport Science Association. Together, they plan to design and develop training programs for local women's sports teams to enhance their overall fitness, agility and performance. The program, Sweat Sport, aims to support Saudi Arabia's Vision 2030 in being part of the Olympic Games.
Sweat Army officially opened its doors on Feb. 27, 2018, and is located on Prince Sultan Street in Al-Nahda district. Local influencers such Raha Moharrak, the first Saudi woman to climb Mount Everest, attended the launch event. Moharrak spoke, along with Zahran, about the importance of health and fitness for Saudi women. — SG
http://saudigazette.com.sa/article/530904/SAUDI-ARABIA/Fit-to-train-Saudi-woman-leading-the-Sweat-Army
--------
In Somalia, women defy strict rules to play football
21 March 2018
MOGADISHU: Shortly after sunrise, a group of young women arrives at a football pitch in Mogadishu, where they shrug off their hijabs — some changing underneath the billowing veil — to reveal their team kit.
Young Somali men stand nearby, some disapproving but all watching closely, as the women jog up and down, dribble a worn-out ball between colorful cones and do sit-ups, less than 200 meters (656 feet) from a heavily guarded security checkpoint.
The sight of young women playing football is highly unusual in Somalia, due to societal pressures as well as fear of Al-Shabab.
The Al-Qaeda linked Islamist group launches regular attacks in Mogadishu and considers forms of entertainment, such as football, to be evil, worse still if women are involved.
"It is obvious that we are scared despite the fact that we put on heavy clothes over our shorts and T-shirts (until) we get to the pitch. It is very difficult to walk normally with sports clothes — we never wear sports clothing in society," said Hibaq Abdukadir, 20, one of the footballers.
She is among 60 girls, who have signed up to train at the Golden Girls Center in Mogadishu, Somalia's first female soccer club.
Mohamed Abukar Ali, the 28-year-old co-founder of the center, said he was inspired to create the club after he realized that Somalia had no female footballers.
"We are... trying to make these girls the first Somali female football professionals," he said.
However this is not an easy task.
"When the girls have to attend training sessions, we have to organize to pick them up and bring them here and back home after the session because they are girls and we think about their security," said Ali.
"There are so many challenges, from security to lack of resources... but that will not deter our ambition to establish female football clubs in this country," he said. "We believe it is the right time and we should have the courage to think differently."
Many of the girls who have joined the club said they had always wanted to try playing football but never had the opportunity.
"I have been playing football for seven months, but my family has only known about it for two months," said Sohad Mohamed, 19.
"I used to dodge my mother about where I was going because she would not allow me to play football, but at least my mum is okay with it now, even though the rest of my family is not happy."
In Somalia, it is taboo for women to appear in public dressed in shorts, trousers or T-shirts, with Islamic scholars saying sports clothing is not appropriate Islamic dress for women.
The players wear tights underneath their baggy shorts, and cover their hair, but still face criticism for their dress.
"I come to watch them train but frankly speaking, I would not be happy to see my sister doing it, this is not good in society's eyes because they look naked," said Yusuf Abdirahman, who lives near the football field.
Mohamed Yahye, another onlooker, is happy to see women playing football but is also concerned about how they are dressed.
"I think there is nothing wrong with women playing football, the only thing they should change is the dress code, they need to wear something that is not slim-fitting. But as long as their body is not seen, they are in line with the Islamic dress codes," he said.
However the Golden Girls are not fazed.
"My ambition is so high that I aim for the same progress as those female footballers who play for Barcelona," said Abdukadir.
http://www.arabnews.com/node/1270596/sports
--------
Amani Alkhat, "Muslim Girl" Editor, Says Saudi Arabia Interfering With Women
March 20, 2018
Amani Alkhat, the founder and editor of website muslimgirl.com, said Monday that despite the cultural change in Saudi Arabia spearheaded by Crown Prince Mohammed bin Salman, it has always been ultimately the woman's choice to cover herself in public and that that Saudi government just ended up interfering with everyday life.
"It's really important for us if we're discussing Saudi politics to really just keep it distinct from really attaching those policies of what we perceive to be as limitations to women ... it's really important for us not to attribute that to the religion or the culture itself," she said in an interview on CBSN. "I understand where the prince was coming from when he said that it's the women's choice to wear the head scarf -- inherently yes it absolutely is the choice of the women -- but unfortunately with many patriarchal governments like the one that Saudi Arabia is currently trying to evolve from right now, we see those things become policies that the government interferes in, where it shouldn't."
Crown Prince Mohammed bin Salman, 32, gave his first American network television interview on "60 Minutes" Sunday night ahead of meeting President Trump at the White House on Tuesday. The crown prince touted his country's progress for women's rights during the interview with CBS News' Norah O'Donnell and addressed women's choice to wear a head scarf in public -- something that used to be strictly enforced by so-called "religious police."
In the wake of the interview, Alkhat explained her daily routine when she walks around in public.
"Unfortunately men making comments about the way women dress seems like a universal tendency for guys ... whether it's conservative men telling me 'why is my neck showing from my head scarf' to men here in the states telling me to 'take my head scarf off' ... I don't think it necessarily represents the capabilities of what the government is headed towards."
Alkhat also addressed so-called "guardianship laws" even though women in Saudi Arabia are able to drive and attend sporting events.
"Guardianship laws basically stipulate that even though women are gaining these rights, it comes with an asterisk which is that they are only able to put them into practice if they have that 'legal guardian' or that male in their family or their household accompany them," she said. "Again, this is something the government has no business in and it's something I believe that should be completely separate between government and people's personal lives and how they practice their religion."
Alkhat is hoping that this "asterisk" is removed and that this is all one step in the right direction for women. "Let's reach that equality we're all yearning for," she said.
Known by his initials -- "M-B-S" -- Mohammaed bin Salman's reforms inside Saudi Arabia have been revolutionary, as documented in Sunday night's "60 Minutes" interview. He is emancipating women, introducing music and cinema and cracking down on corruption in a land with 15,000 princes.
Crown Prince Mohammed has curbed the powers of the country's so-called "religious police," who until recently, were able to arrest women for not covering their heads and bodies. In the interview, he was specific about what is Islamic law -- and what isn't.
"The laws are very clear and stipulated in the laws of Sharia: that women wear decent, respectful clothing, like men," Crown Prince Mohammed said. "This, however, does not particularly specify a black abaya or black head cover. The decision is entirely left for women to decide what type of decent and respectful attire she chooses to wear."
However, the CBS News team covering the story in Riyadh for a week, producers Graham Messick and Vanessa Fica witnessed first-hand the impact the crown prince's reforms are having -- and some of the growing pains of a changing society.
In an interview with "60 Minutes" Overtime's Ann Silvio, producer Fica explained that the broadcast team was outside on a sidewalk, waiting for a restaurant to open, when a car pulled up next to them. A man from the Saudi religious police began shouting in Arabic through a megaphone, imploring Fica to cover her hair. Fica replied that she didn't have a head covering, and after some negotiating, the man drove away.
"We were surprised, but we're pretty read-in here, and the religious police have lost their ability to make arrests," Messick explained.
When O'Donnell relayed this story to Mohammed al Sheikh, one of the crown prince's closest advisers, he suggested that the incident shows how much the crown prince's reforms are impacting society. "See?" al Sheikh said. "About three years ago, you probably would have been arrested."
While in Riyadh, O'Donnell also left her hair uncovered, but she wore a long black abaya as a sign of respect. She said the crown prince sees issues like women's dress as a difference between religious and cultural influences.
"I think he's trying to teach people about Islam, and that's why he talked about bringing back to a more moderate Islam," O'Donnell said.
https://www.cbsnews.com/news/amani-alkhat-muslim-girl-editor-saudi-arabia-religious-police-head-scarf-crown-prince-mohammed-bin-salman/
--------
Muslim women protest against Triple Talaq bill in Nagpur
March 20, 2018
Demanding a withdrawal of Triple Talaq Bill, scores of burkha clad women on Tuesday hit the streets of Maharashtra's Nagpur.
The rally was organised by the All India Muslim Personal Law Board women wing.
They marched on the road raising slogans against the move.
"We are here to protest for the withdrawal of Triple Talaq Bill because it is not only anti-Muslim but also anti-human and anti-family," said board member Monisa Bushra Abida told ANI.
Earlier on March 10, Muslim women from Pune had also protested against the implementation of Triple Talaq Bill.
The 'Muslim Women Protection of Rights on Marriage Bill' proposed a three-year jail term for a Muslim man, who divorces his wife via talaq-e-biddat (instant triple talaq). The bill has been passed by Lok Sabha is yet to be passed by Rajya Sabha to become a law.
The Supreme Court has set aside instant triple talaq or talaq-e-biddat as a "manifestly arbitrary" practice.
http://www.business-standard.com/article/news-ani/muslim-women-protest-against-triple-talaq-bill-in-nagpur-118032001399_1.html
--------
Nigeria Failed to Act in Schoolgirl Kidnappings by Boko Haram, Report Says
By DIONNE SEARCEY and EMMANUEL AKINWOTU
MARCH 20, 2018
DAKAR, Senegal — Security officials in Nigeria failed to act after being alerted that Boko Haram militants were on their way to a town where they eventually kidnapped 110 schoolgirls, Amnesty International said on Tuesday, in findings that were swiftly denounced by the military.
The Nigerian Army and the police received at least five calls up to four hours before militants raided a boarding school in Dapchi last month, but they did not take measures to stop the abduction or to rescue the girls after they were gathered into vehicles and driven away, Amnesty said in a news release.
Military officials responded in forceful terms to Amnesty's accusations, with a spokesman suggesting the group was being "economical with the truth" and trying to undermine "our military and our institutions."
In a longer statement issued on Tuesday, the military went further in its criticism of the rights group. "Most of their narratives are outright falsehood and a calculated attempt to whip up sentiments and mislead unsuspecting Nigerians," the statement said.
Boko Haram fighters descended on Dapchi in the evening of Feb. 19, arriving in vehicles that looked similar to those used by the military and wearing fatigues.
Confused students, some as young as 11, thought the militants were soldiers trying to help them, and many scrambled to get inside the trucks. Residents reported hearing the captured girls scream as the trucks sped away.
Amnesty said police officers in the town had fled because they feared they would be overpowered. The police in Dapchi could not immediately be reached for comment.
"The Nigerian authorities must investigate the inexcusable security lapses that allowed this abduction to take place without any tangible attempt to prevent it," Osai Ojigho, Nigeria director of Amnesty International, said in the news release.
"As an even greater priority, the government must use all lawful means at its disposal to ensure that these girls are rescued," she added.
The military spokesman, Gen. John Agim, said the rights group should have reported its concerns to a committee set up to investigate the kidnapping.
Six weeks before the attack, the military abandoned a checkpoint at the entrance to Dapchi after soldiers were redeployed to fight Boko Haram near the border with Niger. The town had not had security issues in the months before the attack.
General Agim noted that the United States was in the process of selling fighter jets and weapons to help Nigeria fight the war with Boko Haram, and said that Amnesty's aim was "to see how they can scuttle those efforts and U.S. help to Nigeria."
American military officials have said that Nigerian officials have requested intelligence assistance to find the girls, who are believed to have been kidnapped by a faction of Boko Haram affiliated with the Islamic State.
Amnesty has released numerous reports critical of the Nigerian military, alleging actions such as the unlawful detention of civilians. The military has a record of abuse, including indiscriminate massacres, in its hunt for Boko Haram members.
Amnesty said its researchers had visited Dapchi and interviewed 23 people, including girls who escaped, parents of abducted girls, local officials, witnesses and three security officials. The rights group said it shared its findings with Nigerian officials two weeks ago.
On the afternoon of the kidnappings, an initial call was made to the army command in Geidam, about 30 miles from Dapchi, informing soldiers that Boko Haram fighters had been spotted outside Geidam. Calls were later made to the command, with the answering officer responding that the military was aware of the situation, Amnesty said.
"However, the evidence documented by Amnesty International shows that the military did nothing to engage with Boko Haram and ensure the protection of civilians," the report said.
Later in the afternoon, Boko Haram fighters arrived in Gumsa, a town close to Dapchi, and stayed there two hours. Residents of Gumsa called friends in Dapchi to warn them that fighters were on the way.
"One villager who received such a call said he informed a police sergeant who promised to notify the Dapchi division police officer," Amnesty said.
The group's researchers learned that police officers had run away because they believed they would be no match for the Boko Haram fighters. Residents said the nearly 50 militants had at least one truck mounted with a high-powered weapon.
In Dapchi, residents said militants had passed the police station on their way in and out of town. At least two people said their friends had told them that they had called the police after seeing militants arrive, but that they had received no response.
Residents said the police chief was out of town the night of the attack.
Babale Abubakar, a government worker in Dapchi, said he thought it unlikely that residents would call the military, "because people do not readily just call them like that, but they will call their police or inform officers that they see in the town or other security agents."
In April 2014, Boko Haram militants stormed a school in the village of Chibok, kidnapping nearly 300 students. More than 50 girls escaped the night of that attack. The government negotiated the release of about 100 of them last year, and several have escaped. About 100 others are still being held by militants.
The Nigerian government has come under fire for allowing another similar kidnapping to happen again.
"The Nigerian authorities have failed in their duty to protect civilians, just as they did in Chibok four years ago," the Amnesty news release said.
Nigerian officials said on Monday they had deployed at least 2,000 armed police officers to more than 300 schools as part of an effort to bolster security in northeastern Nigeria, where Boko Haram is concentrated.
https://www.nytimes.com/2018/03/20/world/africa/nigeria-boko-haram-schoolgirls.html?mtrref=www.google.co.in&gwh=6B383E8304179396439A0FA7C54768D8&gwt=pay
--------
Sawab launches social media campaign on women
March 20, 2018
Abu Dhabi: The Sawab Centre has announced the launch of a new campaign on its social media platforms focusing on the role of women in society.
Under the hashtag of #WeTweetForHer, the three-day campaign started on Tuesday and will run till Thursday in Arabic and English on Sawab's Twitter, Facebook, Instagram, and YouTube platforms.
Sawab's latest campaign is inspired by the efforts of the General Women's Union in the UAE, chaired by Her Highness Shaikha Fatima Bint Mubarak, Chairperson of the General Women's Union, Supreme Chairperson of the Family Development Foundation and Chairwoman of the Supreme Council for Motherhood and Childhood, to support women's advancement and affirm their status as an equal partner to men both in building the nation and in supporting global causes.
The centre is a joint UAE-US initiative to combat the online propaganda of Daesh and other terrorist groups and to promote positive alternatives to violent extremism,
The campaign will draw attention to the remarkable contributions of women in all walks of life — in the community, workplace, home, and nation — and will highlight in particular the stories of women who overcame family and societal limitations or expectations to achieve success in their chosen fields.
As part of the campaign, the Sawab Centre will tweet in recognition of an Ugandan woman who risks her life to save refugee girls, an Egyptian university student who overcame blindness to graduate near the top of her class, and many others who surmounted challenges to become heroes to us all.
To coincide with the celebration of Mother's Day on March 21, the campaign will also highlight the lives and examples of extraordinary mothers who fought to protect their families and preserve their communities in the face of conflict or oppression. In contrast, the Sawab Centre will also catalogue the myriad ways in which terrorist groups try to diminish the roles of women and girls, including by enslaving, brutalising, and trafficking in them.
#WeTweetForHer is the Sawab Centre's 26th social media campaign either to directly counter terrorist messages or present positive alternatives to their violent and divisive ideologies. Other Sawab campaigns have focused on terrorism's devastation of families, communities, and ancient civilisations, as well as positive themes such as national pride and the powerful impact of youth.
Since its launch in July 2015, the Sawab Centre has encouraged governments, communities, and individual voices to engage proactively to counteract violent extremism online. Over this time, the centre has given voice to the millions of people around the world who oppose Daesh and other terrorist groups, while supporting efforts to expose these groups' sadistic and criminal nature.
http://gulfnews.com/news/uae/society/sawab-launches-social-media-campaign-on-women-1.2191731
--------
'Women's Army' Vows to Fight On in Syria After Briton's Death
March 20, 2018
LONDON —
An all-female Kurdish militia vowed to fight on after the death of a 26-year-old British woman during a major assault on a region in northern Syria where it has boosted women's rights.
Anna Campbell died on March 15 during an attack by the Turkish military, the YPJ brigade said on its website, the latest Western fighter to die alongside Kurdish forces in Syria's seven-year-old civil war.
"Together with three of her comrades, she joined the immortal martyrs," the group said. "We give our promise to gift them with the freedom of peoples and the victory of women, in which they so strongly believed."
Turkish forces and their Syrian rebel allies swept into the Syrian town of Afrin on Sunday after an eight-week campaign to drive out Kurdish forces, opening a new front in Syria's multi-sided civil war.
Turkey says Syrian Kurdish fighters are an extension of a militant group waging an insurgency inside Turkey, and vowed to crush what it described as a "terror corridor" along Turkey's southern border with Syria.
The YPJ, a Kurdish acronym for women's protection units, was established in 2013 in the self-proclaimed autonomous region of Rojava, wedged between Turkey and territory held by Islamic State.
It describes itself on its website as "the first women's army," fighting for women's freedom and a democratic Syria. The site depicts young women being trained with military drills and using automatic weapons.
The unit also said that it has "dozens of nationalities" in is ranks, inspired by Ivana Hoffmann, a young German woman who died in 2015 fighting for the YPJ.
Campbell appeared in a video posted by the YPJ on Facebook on Monday in which she described her excitement at going to fight in Afrin, and explained why she initially went to Syria.
"I joined because I wanted to participate in the revolution of women that is being built up here," she said.
The YPJ won praise for its prowess battling Islamic State, including the liberation of Yazidi families under siege near Sinjar in northern Iraq in 2014.
The Syrian conflict grew out of popular protests against President Bashar al-Assad in 2011, and evolved into civil war after the government responded with force.
Britain's foreign office warns against all travel to Syria.
"Anybody who travels to Syria against our advice is putting themselves at considerable risk, particularly if they travel to join an armed group," it said in a statement.
"We urge strongly against any participation in this kind of activity."
https://www.voanews.com/a/women-army-vows-to-fight-on-in-syria-after-briton-death/4307698.html
--------
Belgian Women Among ISIS Widows in North Syria Camp
20 March, 2018
"We regret what we've done, and we want to fix our mistake," Tatiana and Bushra told Belgian TV station "VRT" from inside a makeshift camp in northern Syria, where many ISIS widows and wives await to know their fate.
Tatiana and Bushra, both 25, are awaiting the decision of the Belgian Court of Appeal of Antwerp on their case for joining ISIS ranks.
The public prosecutor has asked for a five-year sentence for the two defendents. "If we are sentenced to 20 years in prison, we will respect the court's decision," Tatiana said.
Bushra, for her part, said: "As long as our children are safe, go to school and live normal lives in Belgium, then nothing matters."
Bushra and Tatiana spoke to Tony Franks, a reporter for the Dutch-language VRT, from a closed camp in northern Syria.
Bushra said they succeeded in escaping from Raqqa and surrendered to the Kurdish forces. Now, they are waiting to know if it is possible for them to return to Belgium, where they will not be sent to prison because they have surrendered instead of being arrested.
None of the Belgian officers from the Embassy has visited them since their arrival at the camp.
Tatiana traveled with Bushra in 2013 to meet her husband Noureddin, Bushra's brother, while Bushra sought to join her husband Saeed. Both men were members of Sharia group in Belgium before traveling to Syria to fight there.
Shortly after Tatiana and Bushra arrived in Syria, their husbands were killed in clashes and did not attend the birth of their children.
The two women returned to Belgium in 2014 and each was treated as the widow of an ISIS militant.
In 2015, they agreed to return to Syria with their children.
"The Belgian state failed to fight extremism, and it did not ban us from traveling to Syria although you imposed control on us 24 hours a day and for seven days a week. We traveled to Syria because it is the duty of every Muslim, and you pushed us to do it," Bushra wrote on her Facebook page.
After reaching Syria, the two women remarried other ISIS elements, who disappeared shortly thereafter, leaving them in the closed camp which the Belgian TV reporter visited.
https://aawsat.com/english/home/article/1211061/belgian-women-among-isis-widows-north-syria-camp
--------
'Protecting Women Rights In Line With Islamic Teachings': Pak Federal Minister
March 18, 2018
Islamabad: Federal Minister for Human Rights Mumtaz Ahmed Tarar has said the government was endeavouring to protect rights of women according to Islamic teachings, social norms of our society and international obligations, says a press release.
Addressing a national conference on women rights titled 'Gender Equality in Islam' organised by Universal Interfaith Peace Mission (UIPM) in collaboration with the Ministry of Human Rights to mark International Women Day of United Nations, Tarar said that rural women were our top priority and the government was doing all it can to protect their rights.
Among list of distinguished guests, European Union Human Rights Counsellor Ms Javeria Khan, Dr Amineh Hoti, Director Interfaith Dialogue Centre Islamabad, Mrs Marzia from Baha'I community, Mrs Farha Amjad, Ms Mahwish Sabah, Ms Shabana Kausar as well as religious scholar Allama Sajid Naqvi, Qari Shafeeq Allama Miskeen, Father Jacob Dogra, Mirza Kamal, Bishop Aftab and others were present on the occasion. Universal Interfaith Peace Mission Chairman Allama Dr GR Chishti delivered the key-note address.
Tarar said government was also working on the welfare of vulnerable groups of the society and striving to ensure equal rights for them. For the purpose, he said, the National Plan of Action for human rights is being enforced in the country under the directions of the Prime Minister. Under the action plan a campaign had been launched to bring a positive change in the behaviour of people and counter extremism from our society, he said.
In his welcome address, UIPM Chairman Dr GR Chishti tried to point out the reasons women were deprived of their due rights due to lack of knowledge on part of religious scholars and politicians. He pointed out that at the times of ignorance, the Arabs were the most ignorant people who did all the cruelties and deprived women from their status and rights. Islam at that time (1400 years ago) abolished all the dark practices of the ignorant Arabs and bestowed women with due rights that no any other religion has given so far and thus women in Islam are considered precious and valuable and have been granted recognition, protection, respect, modesty and are honored with integrity, prosperity and due rights in all codes of life. "Islam is a complete code of life not only for men but also for women," he added.
Quoting various examples from Holy Quran, Dr Chishti spoke at length about the spiritual, economic, social, educational, legal and political rights of women in Islam. "Women has right to be consulted as other family members have right to be consulted. Many people believe that it is folly to act or listen to women's advice. In fact they themselves are disbelievers and unaware to the sunnah of Holy Prophet Hazrat Mohammad (peace be upon him)," said Dr Chishti.
Speaking on the occasion, Dr Amineh Hoti said the objective of observing the International Women's Day was to make the country's women self-reliant and provide them with an effective status in the society.
Ms Shabana Kausar encouraged women to also contribute their services in different professional fields to match their women contemporaries in the world.
Ms Mahwish Sabah, was of the view that it is very unjust if anybody is blaming Islam for the present state of suppression of women in the Muslim society. "In fact it is not Islam to be blamed it is because of forgetting the teachings of Islam," she added. https://www.thenews.com.pk/print/293945-protecting-women-rights-in-line-with-islamic-teachings
--------
Princess Basma praises Jordanian women's resilience under economic hardship
Mar 20,2018
AMMAN — HRH Princess Basma on Tuesday praised Jordanian women for their persistent endeavours to achieve a better life for themselves, their families and their country.
Princess Basma also paid tribute to Arab women who "bear enormous challenges and face very real dangers", under conditions of fear, killing, destruction and displacement.
"I salute Arab women for their commitment to uphold family cohesion during a time when they are forced to be resilient in order to protect their families from separation and loss. I pray that, within the near future, Arab women will celebrate International Women's Day in peace and security," HRH said.
She was speaking at the Jordanian National Commission for Women's (JNCW) event to commemorate International Women's Day (IWD), under the theme "Time is Now: Rural and Urban Activists Transforming Women's Live".
Princess Basma said that the present economic and political situation in Jordan can be reflected in the economic and social reality of Jordanian families from both rural and urban areas within the Kingdom.
"Problems relating to poverty, unemployment and disparity in opportunities have become exacerbated and are a heavy burden on Jordanian families, especially women," Princess Basma told an audience of over 500 people.
Although it is crucial for women to work in the context of this economic environment, the Princess added, "the economic participation of women in Jordan is amongst the lowest in the world".
Therefore, she continued, this year's theme for the IWD "is very relevant to our present-day economic situation, which led the JNCW and its partners to address the fields of information technology [IT] and tourism as prospective sectors for employment of women that should be explored".
"Looking at the information technology sector, we find that it is an attractive and promising sector for women. It is not exclusive to men. Here in Jordan, women make up to 29 per cent of the IT workforce, which is impressive compared to other countries," Princess Basma said.
JNCW Secretary General Salma Nims also addressed the gathering, saying that 2017 witnessed women empowerment in the fields of legislation and economy as well as socially.
"It is of extreme importance to eliminate any barriers that could stand in the way of women wanting to join the technology and tourism sectors," Nims stressed.
The audience then listened to several stories by leading Jordanian women who spoke about the challenges they faced to become business owners or pursue their education.
In a recent statement, UN Women said that this year's IWD focused on empowering women in all settings, rural and urban, and on celebrating the activists working relentlessly to claim women's rights and realise their full potential.
People across the world were also encouraged to make commitments to improve gender equality in their markets, by signing the Women's Empowerment Principles, improving diversity in senior management and on the boards of directors, developing more gender-friendly policies, developing a gender-themed investment product, or improving transparency on gender policies and practices, the UN Women statement said.
http://www.jordantimes.com/news/local/princess-basma-praises-jordanian-womens-resilience-under-economic-hardship
--------
UAE a friend of women, children and young adults: Shaikha Fatima
March 20, 2018
Abu Dhabi: On the occasion of Mother's Day, which is marked in the UAE on March 21, Her Highness Shaikha Fatima bint Mubarak, Chairwoman of the General Women's Union, President of the Supreme Council for Motherhood and Childhood, and Supreme Chairwoman of the Family Development Foundation, said that Emirati mothers have demonstrated their strength and resilience, becoming a role model of motherhood, some being mothers of martyrs who sacrificed their lives to defend and protect the homeland for future generations.
In a speech on the occasion, Shaikha Fatima also praised the UAE mother's keenness to raise her children to noble values and virtuous principles, which resulted in an educated generation able to contribute effectively to the UAE's march of development under the leadership of President His Highness Shaikh Khalifa Bin Zayed Al Nahyan, and following in the footsteps of the late Shaikh Zayed Bin Sultan Al Nahyan, who have always supported women's empowerment.
Shaikha Fatima said that as part of her efforts to empower women, she has drawn up a national strategy for motherhood and childhood in 2017, which aims to make the UAE "a friend of women, children and young adults," and boost ongoing efforts to encourage their participation in building society and enable them in all fields.
Strategies
The strategy will also work to enhance the rights of mothers, children and adolescents as a key component of its objectives, policies, initiatives and projects, by providing support and better maternal healthcare.
The strategy also includes creating mother-friendly environment in public spaces as well as mother-and-child friendly workplaces, in addition to improving healthcare and safety for children and support opportunities for their learning and development.
She said: "The UAE is keen to strengthen the education of mothers and support them through a variety of development programmes, and to encourage parents to have a balanced relationship, based on dialogue, mutual understanding, and to be open and considerate to each other's ideas."
"Maintaining the health of the mother has always been one of the main areas of concern to me. It makes me so happy to witness the tremendous development seen by the health sector throughout the country since the establishment of the UAE in 1971, a period which successfully eliminated all epidemic diseases," she added.
"In the UAE, we are committed to supporting mothers and to providing them with quality healthcare in order to protect their lives and the lives of their children."
Her Highness pointed out that the quality of pre-natal and post-natal care in the country has risen to levels comparable to those in the most developed nations in the world, and that the average life expectancy of UAE women is comparable to European countries and North America, as a result of a significant reduction in infant and maternal mortality rates.
Shaikha Fatima congratulated Emirati mothers and all mothers in the Arab and Islamic world, on the occasion, which she said is an opportunity to highlight the role of mothers in raising generations and helping them succeed.
Shaikha Fatima a symbol of giving: Hamdan Bin Zayed
Abu Dhabi: Shaikh Hamdan Bin Zayed Al Nahyan, Ruler's Representative in Al Dhafra Region and Chairman of the Environment Agency - Abu Dhabi (EAD), has paid tribute to Her Highness Shaikha Fatima Bint Mubarak, Chairwoman of the General Women's Union (GWU), President of the Supreme Council for Motherhood and Childhood, and Supreme Chairwoman of the Family Development Foundation (FDF), on the occasion of Mother's Day, which is celebrated in the UAE every year on 21st of March.
Shaikh Hamdan made the remarks while presenting a gift of five life-size bronze sculptures of the most important land and marine species in Abu Dhabi to Shaikha Fatima on Tuesday as a token of gratitude to her for carrying forward the vision of the late Shaikh Zayed Bin Sultan Al Nahyan.
"The achievements made by the Emirati women through the past decades are a source of pride, not only for the UAE but for the whole world," said Shaikh Hamdan.
"The directives of President His Highness Shaikh Khalifa Bin Zayed Al Nahyan and the support of His Highness Shaikh Mohamed Bin Zayed Al Nahyan, Crown Prince of Abu Dhabi and Deputy Supreme Commander of the UAE Armed Forces, enabled women of the UAE to play a vital role in shaping the bright future of the country," he added.
Environment protection
Shaikh Hamdan also referred to the values instilled by the late Shaikh Zayed Bin Sultan Al Nahyan in environment protection and preservation of natural resources.
"It is our duty to continue this legacy and to always do what is necessary to ensure a better life for the generations to come," he added.
Shaikha Fatima said she was pleased with the sculptures, symbolising nature, which the late Shaikh Zayed Bin Sultan Al Nahyan took time and efforts to nurture.
Razan Khalifa Al Mubarak, Secretary-General of EAD, said the collection of sculptures, named "Jewels of Abu Dhabi," depicts UAE's iconic species — the Arabian Oryx, Dugong, Hawksbill Turtle, Flamingo and Saker Falcon.
She revealed that the sculptures, made by Jill Parker, a leading artist in bronze animal sculptures, will be displayed to the public at the Umm Al Emarat Park in Abu Dhabi.
http://gulfnews.com/news/uae/society/uae-a-friend-of-women-children-and-young-adults-shaikha-fatima-1.2191871
--------
Caritas helps Pakistani women find work
March 21, 2018
Neetu Dilesh was overjoyed when Caritas Pakistan Karachi told her she was among 20 women to be supported to run her own business. She started earning 4,000 rupees (US$36) a month during her training and could afford to send her two daughters to school to begin their education.
"It was a dream for me to get my daughters, aged five and seven, to go to school but due to the hand-to-mouth income of my husband, it was not possible," Dilesh said.
"I heard about this training by Caritas and I joined to learn the cutting and stitching of clothes. During the four months of training, I started stitching clothes.
"I am happy Caritas gave me a sewing machine with a motor. Now I will be able to work more effectively and earn more to support my husband and children."
The Karachi chapter's Livelihood program launched an entrepreneurship project with the slogan "Empower Women, Empower Pakistan" and trained 240 women and young girls from November 2017 until February 2018.
Coordinator Samina Maqbool said: "The training included candle making, handicrafts, jewellery making, block printing, screen printing, foil work, cutting and stitching, dress design and fashion design. We also trained them to bake cakes and make Easter eggs and Christmas and other Easter items."
Maqbool is an entrepreneur and runs a home-based business making candles.
Elizabeth Pervez was also chosen by Caritas to receive a sewing machine.
"I am fully supporting my husband. Through my earnings of around 10,000 rupees, I pay my utility bills, school fees for my children and part of the house rent. I am grateful to Caritas for supporting me," she said.
"We are migrants from Punjab and renting a house in a city like Karachi is not an easy thing. We were only able to fulfill our basic needs. I am enjoying my work and feel good that we are also able to save a bit for the future of my children."
Caritas Pakistan Karachi has given training to 625 people in the past year, helping them to run their own businesses or to get jobs in factories.
Executive secretary Mansha Noor said Caritas was working to help people living below the poverty line.
"I have seen the actual conditions of these people and most of them are very poor. After finishing their training, we take them to factories in our Caritas vans to make sure they get jobs," she said.
"It is God's grace that many factory owners listen to us and give respect to us and our good work. I am happy that we have seen changes in the lives of the people."
Father Anthony Ibraz of St. James' Parish said he had seen the passion of Caritas staff. "With love, they are serving not only Christians but Hindus and Muslims too."
https://www.ucanews.com/news/caritas-helps-pakistani-women-find-work/81769
--------
URL: https://www.newageislam.com/islam-women-feminism/51-per-cent-khyber-pakhtunkhwa/d/114669
New Age Islam, Islam Online, Islamic Website, African Muslim News, Arab World News, South Asia News, Indian Muslim News, World Muslim News, Women in Islam, Islamic Feminism, Arab Women, Women In Arab, Islamophobia in America, Muslim Women in West, Islam Women and Feminism