New Age Islam News Bureau
5 Sept 2018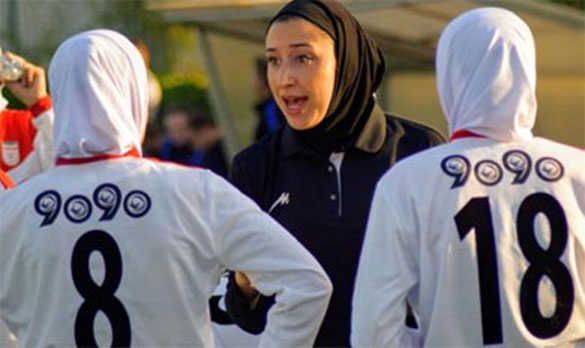 Katayoun "Kat" Khosrowyar teaches women soccer in Iran (Twitter)
-----
• Hijab-Clad Kat Heads Iran Women's Team Aims To Make It Asia's Football Powerhouse
• Bumpy Road Ahead For Egypt's First Female Coptic Governor
• The World Is Failing Women and Girls Whose Bodies Have Been Weaponised
• Biased Attitude towards Muslim Women Negation of West's Women Rights Claim: Jamaat-e-Islami
• Man Accused of Insulting Emirati Actress for Backing Saudi Driving Ban Lift
• Bangladeshi Embassy Workers in Saudi Accused of Abusing Tortured Maids
• Pakistan National Assembly Speaker Calls for Steps to Ensure Women's Rights
Compiled by New Age Islam News Bureau
URL: https://www.newageislam.com/islam-women-feminism/290-saudi-females-enrol-passport/d/116293
--------
290 Saudi Females Enrol for Passport Security Staff Training
September 5th, 2018
The Directorate General of Passports has launched the first stage of its training program for the 290 recently appointed female security personnel.
The training program, which started last Sunday, is being carried out in Makkah, Madinah, Riyadh, the Eastern Province, Tabuk, Al-Jouf, Northern Border Province, Al-Qasim, and Assir.
The program will continue for two weeks under the supervision of the Passports Department training center.
Director General of Passports Maj. Gen. Sulaiman Al-Yahya said the program is being held for the first time in the Kingdom.
Female trainees are acquainted with work procedures in the sector, methods of checking documents, work ethics and getting training on security skills in dealing with the public.
Yahya said the program is the first stage for the training of the recently appointed female security personnel. The trainees must pass the first stage to be promoted to the next stage.
https://www.albawaba.com/business/290-saudi-females-enroll-passport-security-staff-training-1181742
--------
Hijab-Clad Kat Heads Iran Women's Team Aims To Make It Asia's Football Powerhouse
September 4th, 2018
In 2011, after getting through the first round of the Olympic qualifications, the Iranian women's team were getting ready for their next game when a FIFA representative told them they were disqualified.
The reason – their hijabs. "It was one of the most embarrassing moments of my life," recalls Katayoun Khosrowyar.
"I felt so bad and from that day, I promised myself that I will do everything I can to prevent Iranian girls from going through this same experience. So, here we are."
And here she is, indeed. The thirty-year-old is now attempting to break barricades in the conservative Islamic country, as she heads the Iranian Under-19 Women's National Team.
From the women's national team captain to a coaching career, she is the first Iranian female to receive the FIFA/AFC 'A' licence for football coaching. She has previously coached the Under 14 as well as the Under 16 Women's National teams, leading both to the top 8 of Asia.
Now, with her girls in the U19 team, she aims to qualify for the Asian Games and make women's football in Iran an Asian football powerhouse.
After the hijab incident in 2011, Katayoun kicked off an effective campaign called Let Us Play, encouraging FIFA to acknowledge women who choose to wear the hijab while playing the sport.
In 2014, the campaign reached its goal and FIFA allowed 'head covering for religious reasons' for every Muslim female player in the organisation's member countries.
This inspiring story of an aspiring young coach is impressive by all counts, but hearing Katayoun's personal background is simply mind-blowing.
Born in Oklahoma, USA, Katayoun, also known as Kat, grew up as an average and normal Midwestern girl. From the age of five, she says her dad wanted her to get involved in sports.
Read also: The pioneering women changing the face of conservative Jordan through football
"I was playing football with my sisters, with my dad, with everyone I could. It was my natural way of development. Football started for me before I could even make decisions for myself, thanks to my father," she tells The New Arab.
So how did she swap the fields of Oklahoma for Tehran?
"When I was 16-years-old, I came to Iran for a two-week holiday to visit my family. I wanted to understand a bit more about my culture and roots," she reveals.
"In the US, I was already on my state team, playing on a high level. When I came here there was no female gym nor any decent sport options for women," she adds.
"A few of my dad's friends said that the only thing that they have close to football for women was futsal. So, I started playing."
Katayoun says that after a couple of sessions, more and more people started to turn up to watch her train.
"'Who is this American girl?' they were asking. They were kind of amazed by a young girl with a footballer's body, a six-pack and broad shoulders," Katayoun says.
"A few days before I was due to leave Iran, I met Shahrzad Mozafar, the women's futsal national team coach. She told me that she was starting the first women's football national team after the revolution.
"I want you to be part of it," she told me.
"So, without asking permission from my family I shook hands with her and said, yes."
That was Katayoun's life-changing decision at the age of 16, and since then she has not looked back.
"My whole family supported my decision. They understood that this is something big and that I'm doing something historic, something that would make a change, a positive one," Katayoun explains, when asked about their reaction to this sudden change.
"My family knows that I'm a crazy child, but they also know that with my craziness, something good will always come out of it. I always did the hardest things. I chose to study chemical engineering. I played field hockey, tracking field and football at the same time while also learning piano.
"I did everything that I loved, and on the best level. So, they trusted my intuition. When I was called up for the national team, they were laughing. 'Kat, we always knew that you would make it to a national team, but we just didn't think it would be Iran,' my family said."
Although, joining the Iranian national team was an easy decision for Katayoun, her predicament came with whether or not to wear her hijab while playing.
"After playing in the Western world for so long, it was different for me. During my first practice in Iran, I went out on to the field in shorts. Everybody was telling me: 'No no! You should go back and change!' But it was ok, I said to myself: 'If these women can play with a hijab, then so can I.'"
Katayoun adds that she wanted to be like her Iranian counterparts. "I wanted to understand what it is to be like them, instead of being that spoiled American girl where everything is served for her on a silver plate. I wanted to understand a different culture with different dynamics."
Iranian football made many headlines in the past year. From the male team's early qualification into the World Cup, to the US sanctions influencing preparations for the tournament, Team Melli's great performances against Spain and Portugal, and of course, the record number of players flooding the European market. But women's football in Tehran is making just as many waves, both for good and bad reasons.
"Football is the national sport here, for women and men alike. There's no doubt about it. Football is what can get this nation crazy, in a good way, and in a bad way too," Katayoun laughs.
But is has not been an easy ride for women and football in the conservative country.
Since 1979's Islamic Revolution, men and women have not been allowed to take part in sports together or attend most games involving the opposite gender. This has been particularly hard hitting for women.
According to Iranian authorities, the female spectator ban is enforced is in order to protect religious norms and decency, claiming that the atmosphere at the stadiums and revealing nature of the athletes' sportswear make the matches unsuitable for female attendance.
Rights activists, however, say the restrictions are simply another example state-sanctioned gender discrimination in Iran.
This has been extremely evident in football games, where women have struggled to attend and watch their much-loved sport. Dozens of women have been arrested while attempting to attend games, while some have gone to the lengths of dressing up as men to sneak in to stadiums.
A campaign kicked off last year calling for women to be allowed to enter stadiums, and even two of Iran's most prominent football players came out in support of ending the country's ban on women at men's sports events.
Former Bayern Munich midfielder Ali Karimi, who is regarded as one of Iran's greatest football players, said he hoped that President Hassan Rouhani would support changes "for women to enter stadiums" as spectators.
In March this year, Iran promised FIFA that it would 'soon allow women into football stadiums to watch games,' after endangering its place in this year's world cup for its gender discriminatory policies. But it has still been a slow progress.
However, Katayoun remains optimistic and slowly, but carefully sees the light at the end of the tunnel.
"The only stadium which is problematic is the Azadi stadium in Tehran," she explains. "In Esfahan, I go to the stadium with men and watch the games with no problem at all. Though it's a very complicated situation in Tehran, I believe we are really close. There are true plans for opening women stands in the games."
Evidently, it has been a tough ride for women and football in Iran, but Katayoun hopes to break some of these boundaries and barriers.
"When football started for women in Iran, it took over the rest of the other sports. Today, everyone wants to get involved in football here. Every day I get around 20 messages or calls from fathers who want their daughters in the national team."
"In the beginning, the girls here didn't have proper football shoes. They didn't even play on grass," Katayoun said.
"Now, we are tackling, pushing, running and coming up with tactics like pros. I am trying to bring the global game to Iranian women, so we can compete globally. It is all about giving back to the community and inspiring these girls to have the same conditions as the girls in the US have."
Talking about her training techniques, Katayoun says she is trying to use her own experience of playing in the States to help coach her team in Tehran.
"I grew up as a strong independent woman. I had the best coaches, the best upbringing and supportive environment as a student-athlete in the US. So, what I'm trying to do here in Iran is mimic this, but in a society that is very different culturally, yet with a lot of potential.
"I am trying to develop the things I learned and how I was trained in the US, here with my own team, but in my own manners and structure. I feel like people trust me here more because I am American. I think it's intriguing for them to see a girl born in the Midwest, who is now living and working in Iran. I am just trying to break this negative vibe, because we are all humans. I want everyone to be trained in the best way, to make the game even more beautiful."
The team are now preparing for the next Asian Games in Myanmar, due to kick off from October 24. They will play against Myanmar, Laos and Palestine.
"It's going to be a tough one for us," the coach says.
"The locals have a foreign coach from the Netherlands, Laos are a strong and fast team as they play against boys occasionally, and the Palestinian team are very talented."
But Katayoun is going to strengths to prepare her young team. She has them playing against a senior team for practice, while focusing on their fitness and conditioning. The team are also watching at least two games at every camp session where they analyse and present what they think they should do in the forthcoming games.
"I want them to become creative in any aspect of the game," Katayoun says. "I am trying to encourage and build teamwork."
Her goals for her team are clear – but what about her own personal goals?
"Of course, I want to become the senior national team coach. But before that, I need to get some experience in European leagues. I am way too young for this role and I want to gain enough experience before that," Katayoun says.
"I want to see this system working independently. A self-efficient system of women football in Iran, and then I can continue to other places," she adds.
"After women's football started here in 2005, we went to the Asian Games and came second place. No one thought that we could do it, and it showed the federation that the girls are talented. They then understood that they need to invest in them.
"But the problem is that it is hard to attract good coaches to come and work here. This is where we stagnate. In futsal, a man and woman can work side by side, so they are succeeding. In football it's different. We don't have a proper league, we don't have a junior league, we don't have a league for the grassroots, so how are these girls supposed to understand the game quick enough? If there is no organised league structure, I don't think there will be serious progress," Katayoun explains.
"In Iran, you really must fight for it. You don't have the system, the set-up, the structure. One week it can happen, the next one you don't know. Football here, also in the men's level, has progress to make in terms of conditions and facilities," she says.
But the young coach is not giving up on her efforts for change in the country.
"I want the girls, especially, to understand that yes, you are in Iran, you are dressed differently, you look different, but this should not harm your progress, growth or success."
https://www.albawaba.com/editorchoice/hijab-clad-kat-heads-iran-womens-team-aims-make-it-asias-football-powerhouse-1181188
--------
Bumpy Road Ahead For Egypt's First Female Coptic Governor
Menna A. Farouk
September 4, 2018
Women's rights activists and Christian figures rejoiced as Egypt appointed its first Coptic Christian woman as governor of the Nile Delta city of Damietta.
The appointment of Manal Awad, the first Christian woman to hold the position of governor in Egypt, reflects an unprecedented state willingness to empower Christians and appoint them in leading government posts.
Former member of Egyptian parliament Gamal Assad said the Egyptian leadership's attitude toward Christians has dramatically changed under the reign of Egyptian President Abdel Fattah al-Sisi.
Assad added that there will have to be community support to any initiatives or decisions that are made in the interests of Christians in Egypt. "The new Christian governor in Damietta is going to be under threat because there are still followers of the Muslim Brotherhood group out there, and they are of course opposing the appointment of any Christian in a leading post," he told Al-Monitor.
Assad recalled demonstrations by thousands of Muslims in 2011 following the appointment of a Christian man as governor of the Upper Egyptian city of Qena. "The demonstrations revealed how the Egyptian society was in total rejection of having a Christian in a leading post. That is why genuine community backing is very crucial," he added.
Awad, who has a Ph.D. in natural sciences from the University of Alexandria, is the second Egyptian woman to hold the post of governor in Egypt. Nadia Abdu was Egypt's first woman to assume office as governor when she was appointed to the Nile Delta governorate of Beheira.
Activists and Christian figures described Awad's appointment as unprecedented and promising for both women and Christians in Egypt.
Randa Fakhr El Deen, executive director of the NGOs' Union Against Harmful Practices on Women and Children, said that the appointment signals a change of attitude from the Egyptian government toward Christians. Egyptian Christian women hold leading posts in Egypt nowadays, including current Minister of Migration Nabila Makram Ebeid.
"It is a dream coming true for many Christian women in Egypt and a very encouraging gesture that would inspire them to pursue their aspirations in holding leading posts in the country," Deen told Al-Monitor.
Deen said that Awad would nevertheless face uphill challenges during her tenure in office due to a societal misperception that women and Christians should not lead a Muslim community.
"It is not just about the fact that she is a woman. She is also Christian, and that would put a lot of challenges before Governor Awad with the existence of extremists and religious people who think that Christians should not take over leadership posts," she added.
Shortly after her appointment, Awad held a meeting with the heads of the governorate's directorates to follow up on the work mechanisms at each of them. During the meeting, she asserted the necessity to exert all-out efforts to serve, meet the needs of citizens, develop work at each directorate, and follow up with field visits on all the governorate's conditions.
Awad was appointed deputy governor of Giza in 2015 and worked on community service and environmental development. In that role, she was responsible for the development of informal settlements in the Giza governorate. Awad was able to obtain a large number of grants and funding from international organizations to develop informal settlements and carry out several projects in the city.
She was also under-secretary for the Veterinary Serum and Vaccine Research Institute at the Ministry of Agriculture.
Egypt has the largest Christian community in the Middle East, representing about 10% of the Egyptian population — which currently stands at about 95 million.
The country's Christians have long accused the government of persecution, negligence and marginalization. Christians were also targeted in several attacks by Islamist extremists.
Nevertheless, Sisi showed a very different approach toward the Christian community by visiting the Coptic Orthodox Church several times and urging the government to restore churches that were torched and destroyed during the era of ousted President Mohammed Morsi.
In 2016, the Egyptian parliament approved a law that sought to ease restrictions on building churches. In April this year, the Cabinet approved the legalization of unlicensed churches in order to make it easier for Christians to practice their religious rituals.
https://www.al-monitor.com/pulse/originals/2018/09/first-female-coptic-governor-welcomed.html
--------
The World Is Failing Women and Girls Whose Bodies Have Been Weaponised
Lilianne Ploumen
5 Sep 2018
Remember #BringBackOurGirls? It was a cry for help by the families of the girls from Chibok in Nigeria. Their daughters were abducted by Boko Haram in 2014. Some have been released, others are still held. Survivors tell horrific stories of rape and forced marriages.
Remember Mount Sinjar in Iraq? Thousands of Yazidi families took refuge from Isis on the mountain in 2014. Others fell into the militants' hands. Women were sold into sexual slavery, held captive and raped.
And the Rohingya, forced to flee their villages in Myanmar in 2017? Women and girls saw relatives burned, tortured and murdered. They were raped by Myanmar's armed forces. They related their traumatic experiences to members of the UN security council during a long-awaited official visit to Cox's Bazar in Bangladesh.
In countless conflicts, rival parties weaponise women's bodies as part of their strategy – has anyone been held accountable?
Rape has been acknowledged as a weapon of war since the conflicts in the former Yugoslavia. But this has not stopped perpetrators from carrying out such atrocities.
As research from the Overseas Development Institute shows, even when conflict subsides, the conditions in which girls and women are left puts them at risk of sexual violence.
The UN security council has the power to act. It can issue sanctions against a country and specifically include sexual violence against women and girls as a reason. Perpetrators can be hit by a travel ban, have their financial assets frozen, and an arms embargo can be implemented. It can make them pariahs of the international community, and rightly so.
However, research by Georgetown University shows that targeted sanctions for sexual violence are mostly not being used.
For example, the sanctions regime against Libya, where rape has been widespread, ignores sexual violence. The sanctions regime on Yemen does not include gender-based violence as a criterion by which individuals can be sanctioned. Yet a recent report confirms again that rape is one of the atrocities that are taking place. The sanctions regime against Central African Republic is the only one that includes gender-based violence as a key criterion.
Why is the security council failing to make these sanction regimes work? Politics. Bringing justice to women and girls is too often crushed by powerplay, geopolitical manoeuvering, multifaceted negotiation strategies and economic interests.
We can do better: we should aim for one worldwide sanctions regime to address sexual and gender-based violence in conflict. One that will sanction all those who weaponise women's bodies and that can be applied regardless of borders. One regime that can be implemented without ongoing, fruitless debates – perpetrators of sexual violence should be sanctioned regardless of what the security council wants.
In his annual report to the security council on women, peace and security, the UN secretary general, António Guterres, has suggested such a regime.
Individuals and entities who conduct conflict-related sexual violence would be listed and all UN states would be required to apply sanctions against them. It would bring justice for women and girls and enforce security council resolution 1820, adopted in 2008, which condemns the use of sexual violence as a weapon of war. No more negotiating country by country, vulnerable to the geopolitics of the day.
A worldwide sanctions regime against international terrorism already exists, created in 2001 by the security council. It targeted Osama bin Laden and associates as terrorists and made it possible to sanction every individual associated with him. Currently, it targets members of the Taliban, al-Qaida, Isis and associated groups. This reaffirms that peace and security transcends borders, and provides evidence of the value of worldwide, thematic sanctions to address global threats.
At my request, the Netherlands government has committed to assess the feasibility of such a regime for sexual violence. I have asked Sweden, Denmark and Belgium to do the same. I call on all other UN security council members to put their weight behind this proposal.
The UK, as a permanent member of the security council, can play an important role, given the emphasis on the rights of women and girls in its development and security policies.
We have an opportunity now to hold sexual terrorists accountable. We must acknowledge the fact that we have fallen short of our duty in the UN and work to reverse this now to bring justice to women and girls.
Lilianne Ploumen is a Dutch MP and former minister of international trade and development cooperation. She is founder of women's rights organisation SheDecides and distinguished fellow of the Overseas Development Institute
https://www.theguardian.com/global-development/2018/sep/05/the-world-is-failing-women-and-girls-whose-bodies-have-been-weaponised-lilianne-ploumen
--------
Biased Attitude towards Muslim Women Negation of West's Women Rights Claim: Jamaat-e-Islami
September 5, 201818
Ameer, Jamaat-e-Islami (JI) Senator Sirajul Haq has said that the hatred and biased attitude of the West towards Muslim women negates its own claim of being the champion of women rights.
In telephonic conversation with the President of the International Muslim Women Union, Dr Samiha Raheel Qazi on Tuesday, on the occasion of international Hijab Day, Sirajul Haq said the West was becoming a battle ground of racial and fascist ideas and hatred and narrow mindedness for the Muslims was intensifying.
He said the Muslim women had rendered matchless sacrifices to secure the right of Hijab but the west was denying this right to the Muslim women. Girl students wearing Hijab and scarf were being expelled from schools and colleges .On the other hand, the people ridiculing Islamic signs and symbols were being honoured, he added.
The JI chief lauded the efforts of the International Muslim Women Union for the promotion of Hijab as it had created awareness about Hijab all over the world. He said that the International Hijab Day on September 04 reminded one of the minor girl who embraced martyrdom in a German court and of the Turkish lady who lost her citizenship and membership of the parliament for the same cause.
Sirajul Haq said that Pakistan was an Islamic country and a Muslim society and there was need to provide an Islamic environment to the women wherein they could lead their lives in accordance with religion and ideology as this was also the demand of the constitution of the country.—INP
https://pakobserver.net/biased-attitude-towards-muslim-women-negation-of-wests-women-rights-claim-siraj/
--------
Man Accused of Insulting Emirati Actress for Backing Saudi Driving Ban Lift
September 4, 2018
The complainant is a well-known person in the UAE and also has many fans and followers on social media.
A social media influencer has been accused of posting abusive video messages on Instagram in which he allegedly insulted an Emirati actress who hailed Saudi Arabia's decision to allow women to drive.
The Abu Dhabi Misdemeanour Court heard that the Emirati man made the insulting comments against the woman on his social media account after she posted a video on Instagram and Snapchat in which she appeared while driving a car along with Saudi Arabian women in a convoy to show her support following the new Saudi rule.
Official court documents stated that the man, with a huge following on social media, had on June 26, posted a video on Instagram in which he allegedly insulted the Emirati woman for celebrating the new move.
The complainant, popularly known as Kashoona, is a well-known person in the UAE and also has many fans and followers on social media. She has acted in many drama series and participated in a series of art works.
Her lawyer Abeer Dahmani, said that her client was undermined by the insults and abusive comments made by the Emirati man because the woman is a public figure and a respected member of the community.
According to the lawyer, when the decision allowing women in Saudi Arabia to drive cars was announced, her client participated in the celebrations as the first Emirati woman to drive a car in Saudi Arabia. She was along with a Kuwaiti woman and a large number of celebrities from several countries.
"A few days later, my client was surprised to see the defendant, one of the famous person on social media had recorded a video commenting on the event, which he posted on Instagram," said Dahmani.
"In the video, the man insulted my client and abused her using all sorts of bad words. The comments were so offensive, undermining and had damaged the reputation of my client among her fans and in the society."
The abusive video, which circulated on social media, according to the lawyer, also caused moral and psychological damage to her client.
Prosecutors charged the man with defamation and violating online laws.
The trial was adjourned until September 17 for the Emirati man to enter a plea and to also file his defence.
The UAE cybercrime laws stipulate a penalty of imprisonment for between one year to three years and or a fine of between Dh250,000 and Dh1 million if someone is found guilty of the offence.
Dos and Don'ts for UAE social media users
> Do not post other people's pictures or videos without consent: Don't post without asking, whether it's a friend or a photographer. It could be breach of privacy or copyright.
> Do not make threats: Posts or comments that are threatening to others can land you in court.
> Do not post vulgar pictures or of alcohol: Drunken photos that offend Islamic values or morals of the UAE can lead to legal trouble. Do not post pornographic or material that contains nudity.
> Do not tag anyone without consent: The Telecom Regulatory Authority (TRA) warns that tagging without permission can be a breach of defamation and privacy laws, both of which can carry hefty fines and even jail time.
> Do not insult Islam: The TRA warns against offending Islamic morals and values.
> Do not gossip: People could face fines up to Dh1 million if they spread false information.
> Do not bully or harass: Users must not post content which includes hate speech, incites violence or which is threatening or contains graphic or gratuitous violence.
https://www.khaleejtimes.com/news/crime/social-media-influencer-insults-emirati-actress-for-driving-car-along-with-saudi-women-
--------
Bangladeshi Embassy Workers in Saudi Accused of Abusing Tortured Maids
4 September 2018
The Bangladeshi embassy in Saudi Arabia has suspended two workers accused of abusing women who had fled to the embassy-run shelter in Jeddah after being tortured by their Saudi employers.
Local authorities took action after an abuse victim, who had been working as a maid in Saudi Arabia, tried to kill herself at Dhaka airport in Bangladesh last week.
The tortured maid attempted to kill herself by swallowing insecticide inside a toilet in Dhaka airport, according to official Bangladeshi police documents seen by Middle East Eye.
According to the documents, fellow abuse victims who accompanied the woman from the safe house in Saudi Arabia intervened, alongside airport cleaning staff, to stop the woman from killing herself.
Airport police officers interviewed the woman and then filed a case against four employees of the Bangladeshi embassy in Saudi Arabia, accusing them of directly contributing to her desire to take her own life.
Bangladeshi police detained the woman, who remains in detention because killing oneself is a crime in the country.
Aid workers familiar with the incident said the woman attempted suicide after an embassy employee promised to marry her and expedite her repatriation to Bangladesh in exchange for sexual favours.
Female workers who have returned to Bangladesh from the safe houses told aid workers that four male employees were involved in exploiting women, also promising to help them in exchange for sexual favours.
They told aid workers that the abuse took place regularly in the safe house and lasted for several months, with the employees moving from one victim to another. Aid workers added that the employees who perpetrated the abuse were reported to be Bangladeshi drivers and porters who worked for the embassy.
"These women are in an incredibly vulnerable state when they come to the safe houses. The most they deserve is knowing they will be safe from further exploitation," Shariful Hasan, head of the BRAC Migration programme, told Middle East Eye on Tuesday.
"The abusers told women that if they give sexual favours, then they will go home in one week, and later get married when in Bangladesh.
"But any of these women were afraid to speak out while in Saudi and complain to the Bangladeshi embassy because they wanted to come home so badly.
"We have heard about these incidents from returnees who have suffered incredibly, but this suicide attempt should be a wake-up call for the authorities to act."
Bangladesh set up safe houses inside Saudi Arabia in 2015 in a bid to protect hundreds of women at risk of facing sexual and physical abuse at the hands of their Saudi employers.
Leaked diplomatic cables seen by MEE earlier this year showed that the safe houses were built after up to four women a day were seeking refuge at the embassy.
The repatriation of abuse victims takes several months, meaning the women wait for a prolonged period before going home.
Those that do come home, however, face the stigma of being victims of sexual abuse, with some rejected by their families, forcing them to become homeless or live in safe houses sponsored by local NGOs.
Rothna Begum, senior women's rights researcher at Human Rights Watch, told MEE that the Bangladeshi authorities must create safeguards and reporting mechanisms for abuse victims to report any issues they face inside the safe houses.
"This is what happens when women are not told what their options are once they flee abusive employers. Rather than turning to a driver, the women should be able to approach embassy staff to discuss their options, and be given the support they rightfully deserve," said Begum.
"Part of the problem is that we are seeing no mechanism for the women to complain when inside the shelters. There is this level of impunity due to a lack of complaint procedures."
The Bangladeshi embassy in Riyadh said on Monday that it planned to launch a committee to look into creating a "neutral investigation into the allegations".
"If the allegations are true, those responsible will be sued and terminated from the jobs," Bangladesh's ambassador to Saudi Arabia Golam Moshi said in the statement, according to Bangladeshi outlet Daily Star.
Begum highlighted that this would not be the first time embassy staff of a foreign country in the Gulf would have abused victims of torture.
In 2013, Filipino embassy workers in Kuwait and Saudi Arabia were accused of demanding sex from abuse victims in exchange for paying the cost of their flight tickets back to the Philippines.
The scandal led the Philippine authorities to deploy female diplomatic officials to its embassies at the time in a bid to impose safeguards to stop the abuse.
https://www.middleeasteye.net/news/bangladeshi-embassy-workers-saudi-accused-abusing-tortured-maids-1734147969
--------
Pakistan National Assembly Speaker Calls for Steps to Ensure Women's Rights
September 5, 2018
ISLAMABAD: Speaker National Assembly Asad Qaiser on Tuesday said it's high time to recognise the meaningful role of women and take substantial steps for ensuring equal participation of women by accepting the fact that the Constitution of Pakistan promises dignity, freedom and equality to all citizens and forbids discrimination on the basis of gender.
"Women in our society are confronting severe problems regarding education, healthcare and employment and there is a need to change the mindset and perception of people to protect women rights and to bring them into main stream," he expressed these views while talking with the general assembly of Women Parliamentary Caucus (WPC) in Parliament House on Tuesday. The Speaker National Assembly said that WPC in the National Assembly is significant achievement of women parliamentarians.
He further said that the Caucus has provided them a forum where they could work for development, empowerment and emancipation of women above party politics. The Speaker National Assembly shared his experience when he was Speaker of KP Provincial Assembly and acknowledged the working and participation of WPC in KP Assembly with the participants of the meeting.
Highlighting the role of the Women Parliamentary Caucus, the Speaker said that the Caucus' central task is to evolve consensus on gender issues on a bipartisan basis.
He said that there is no denying the fact that participation of the womenfolk is imperative for socio-economic development of a state and society. "No headway in this regard can be made without their visible and active participation," he said.
The Speaker National Assembly said it's high time we recognised the meaningful role of women and take substantial steps for ensuring equal participation of women by accepting the fact that the Constitution of Pakistan promises dignity, freedom and equality to all citizens and forbids discrimination on the basis of gender.
The Speaker said that women in our society are confronting severe problems regarding education, healthcare and employment. He said there is a need to change the mindset and perception of people to protect women rights and to bring them into main stream.
Asad Qaiser added that Pakistan has demonstrated a sincere commitment to international human rights treaties endorsing women rights and gender equality in its society. "The country encourages women participation parallel to men in various fields of socio-economic and political sphere," he said. On this occasion, he extended every possible support for Women's Parliamentary Caucus from the Speaker Office and National Assembly Secretariat. On this occasion, Ms. Munaza Hassan MNA was unanimously elected Secretary of the WPC. Patron of WPC Dr. Fehmida Mirza and former Secretary Ms. Shaista Pervaiz Malik also briefed the working of WPC and their achievements to the general assembly.
https://www.thenews.com.pk/print/364000-na-speaker-calls-for-steps-to-ensure-women-s-rights
--------
URL: https://www.newageislam.com/islam-women-feminism/290-saudi-females-enrol-passport/d/116293
New Age Islam, Islam Online, Islamic Website, African Muslim News, Arab World News, South Asia News, Indian Muslim News, World Muslim News, Women in Islam, Islamic Feminism, Arab Women, Women In Arab, Islamophobia in America, Muslim Women in West, Islam Women and Feminism