New Age Islam News Bureau
31 Jan 2014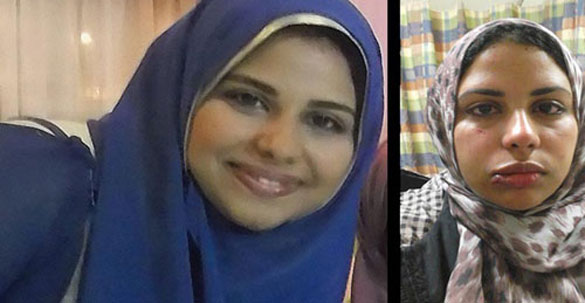 Alaa Saad before confrontations and after. Photo: Alaa Saad
-------------
• The British Babies Killed In the Womb Just For Being Girls
• Kenya: Cyber Bullies Target Kenya's Women
• Egyptian Woman Attacked In Tahrir Square As Police Watch, Laugh
• Intended To Safeguard the Modesty, Burqa Has Now Become a Fashion in Hyderabad, India
• Asma Jahangir Wins Human Rights Award
• 'Honour' Killing in Pakistan: Two Hang Sister's Alleged Boyfriend
• Women at Work in Afghanistan
• New Marvel Superhero Is Muslim Teen from Jersey
• Girl Education Gives White Rann Beauty Spot
• Female Genital Mutilation Affects A Fifth of Young Girls In Sub-Saharan Africa
• Detained Palestinian Children Face Staggering Rate of Violence
• 3 Dhaka Police Stations to Get Help Desks for Women
Compiled by New Age Islam News Bureau
URL: https://newageislam.com/islam-women-feminism/270-women,-including-95-saudis/d/35534
------------
270 Women, Including 95 Saudis Treated For Drug Addictions
Jan 31, 2014
RIYADH — As many as 270 women drug addicts, including 95 Saudis, are currently being treated at the Al-Amal Rehabilitation Center, Al-Hayat newspaper reported Wednesday quoting a senior official at the Directorate General to Combat Drugs.
Abdulilah Al-Sharif, assistant director general of the directorate for preventive affairs, said most women addicts had picked up the bad habit as a result of their deviant behavior.
Al-Sharif, also a UN international expert for combating drugs, believed women do not usually become addicts from taking sedative pills such as Tramadol, Zantax or Roosh.
He, however, said women were more attracted to amphetamines and hashish. "Drug addictions among Saudi women have not yet become a phenomenon. Our women are still in a better position than women elsewhere."
Al-Sharif asked all pharmacies not to sell sedatives without official medical prescriptions.
"The selling of sedative medicines should be strictly controlled," he said. He described the Kingdom's efforts to curb the drug smuggling as successful and said the Kingdom's youths have been targeted by drug dealers. Al-Sharif said the directorate has a special department to look after women addicts.
The directorate has a program to raise awareness among girls at schools and colleges about the hazards of drugs in addition to another program to treat and rehabilitate addicts.
Al-Sharif said only seven women, including three Saudis, have so far been arrested for drug trafficking though there are a large number of networks for women smugglers throughout the world.
He said: "The Kingdom is a spacious country with many inlets. It is also a target for drug smugglers."
http://www.saudigazette.com.sa/index.cfm?method=home.regcon&contentid=20140130194158
------------
The British Babies Killed In the Womb Just For Being Girls
Jan 31, 2014
From a terrace house near London's Olympic Stadium, a mother whispers her secret down the phone to me. She is speaking fast because she is afraid someone will come in before she has told me the shocking story of how she killed her unborn baby after an NHS hospital pregnancy scan revealed she was expecting a girl.
'I went to a private abortion clinic and lied that I could not cope with the baby because I was so young,' says 33-year-old Asha, a former bank clerk.
'I was panicking that I was going to have a girl because I knew my family wanted a boy. I was worried about her future growing up in my community that is still deeply hostile to girls. She would have to fight prejudice all her life, as I have done.'
Listening to her words, it is hard to believe they are being spoken by a British-born mother in the sophisticated capital of a modern, first-world country, where women have enjoyed the same voting rights as men since 1928.
Yet Asha, a Sikh whose parents came here from the Punjab, is telling me about a practice campaigners fear is worryingly common among some families living here originally from India, Pakistan, Afghanistan and Bangladesh. It has been discovered that the selective abortion of female foetuses (often with the unwitting connivance of the NHS) has provoked significant shifts in the natural sex-ratio of these migrant communities in favour of boys. Up to 4,700 unborn girls are estimated to have been deliberately aborted, following an analysis of the 2011 national census figures which revealed that in some areas of Britain, the proportion of boys born compared to girls is much higher than the natural rate.
The usual ratio is 105 boys to 100 girls, which keeps the population balanced as boys are more likely to die in childhood. But in some areas of the UK, ratios have reached as high as 120 boys for every 100 girls for the second child of families.
Asha, who spoke to me on condition of secrecy and is afraid of repercussions from her family for doing so, is far from alone in aborting a girl baby.
Rani Bilkhu, of the Slough-based women's charity Jeena International, which is campaigning to halt the sex-selective abortions, told the Mail: 'The Government can no longer brush this practice under the carpet as they have done. They are hiding behind political correctness to appease certain migrant communities who practice what I call "womb terrorism".
'This is not a debate about the rights and wrongs of abortion, but an issue of violence against women before they are born.
'It is common among Pakistani, Indian and Bangladeshi communities not to value girls. Gender-selective abortions are rife in their home countries and the same practices have been brought here to Britain.
'We went home and soon he told me I must get rid of the baby. I begged him to let me keep it as I thought it was too late for an abortion. Then he attacked me to try and get me to miscarry'
'Even women born and brought up here are ashamed if they have girls rather than boys. It is not a religious thing, but a cultural belief that boys are superior and of more value to the family.
'When I had a daughter myself, I found that other members of the Sikh community felt sorry for me. They did not congratulate me on having a healthy child but tried to commiserate with me because it was not a boy. I am always hearing women who have had girls being told "better luck next time".
'A baby girl is viewed as a financial burden and is a second-class citizen. It is a village mentality and the further up north in the UK you go, the worse it gets. It is just like living back home in the Punjab where baby girls are routinely aborted by the mother eating a poisonous plant.'
Jasvinder Sanghera, a Midlands-based campaigner opposing forced marriages and 'honour' violence against women, has also warned that there is 'absolutely no doubt' that sex-selective abortions are happening in Britain.
'I think almost any Asian woman you talk to would say she feels pressure to have a male child.
'There will be many, many Asian women out there who are pregnant and who are thinking "please, please let it be a boy". In those circumstances, women are seeking abortions if they find out the child is a girl.'
I have heard heartbreaking stories of women being put under pressure to have abortions to get rid of baby girls. Divya, a 33-year-old Sikh from the Midlands, remembers how she was sat down by her mother-in- law in the front room of her home when she became pregnant with her second girl.
A scan at the local NHS hospital had confirmed the child was female. Instead of the congratulations she might have expected, her family, even her husband, begged her to get rid of the baby.
She resisted the pressure, but it irretrievably changed her relationship with her husband, who sided with his mother in telling his wife their unborn girl 'should disappear'.
Even now, ten years later, she feels that the family does not love her daughters as much as they would if they were boys.
'When I had a daughter myself, I found that other members of the Sikh community felt sorry for me'
'I know that they wish my second child was a boy and that they think me giving birth to another girl has brought shame on the whole family here and back in India. It's a bone of contention between me and my husband which has not helped our marriage. I have refused to have any other children as a result.'
In South-West London, a 32-year-old Muslim housewife called Uraj had an even more sad tale to tell. She lives in a council house with her two girls of seven and eight after being divorced by her Pakistani husband, who beat her up when she was expecting her second daughter, hoping she would lose the baby.
'He tied my hands behind my back with string, pushed me to the floor, and then began to hit me. He was aiming at my stomach and I curled in a ball to protect the baby,' she told me last week.
'He pulled out clumps of my hair, gave me a black eye, and beat me on my arms, legs and body. When he had finished with me, I was unconscious. I came round and managed to ring the police, who turned up to arrest him, but he had disappeared.'
Uraj never saw her husband again. He had fled to Pakistan. A few months later, after she'd had the baby girl alone in her local NHS hospital, she received a solicitor's letter asking her to agree to a divorce. She agreed.
Today, she remembers the traumatic events that led up to that beating, which doctors later told her could have killed her.
'I had an arranged marriage when I was 22 after meeting my husband in Karachi, Pakistan, at a family wedding.
'He was 15 years older than me, but both the families approved of the match. We moved to Britain and our first baby was a girl. He did not like that at all and made it clear he wanted the next child we had to be a boy,' she says now.
'When I became pregnant with my second baby a year later, I was definitely very worried it would be a girl. My husband took me to the NHS hospital for a scan when I was five months into the pregnancy.
'After they had done the scan, my husband was the one to ask the nurses what the sex of the baby was. The nurses said a girl, and he went very quiet. I was very frightened about what would happen next.
'We went home and soon he told me I must get rid of the baby. I begged him to let me keep it as I thought it was too late for an abortion. Then he attacked me to try and get me to miscarry.
'I think now that he hated me for the fact I had given birth to girls. He was never fatherly to my first daughter. He never picked her up, cuddled her, or looked at her.
'My daughters had brought shame on his family. Even my own sister said I should have stayed with him, got rid of my second girl, and made the marriage work,' she recalls.
'I also think it would have been a better marriage if I'd had a boy. It would have been a success because having a boy would have made him happy.'
'I think it would have been a better marriage if I'd had a boy. It would have been a success because having a boy would have made him happy'
Following recent revelations, the Government has launched an investigation into the rate of illegal abortions of female foetuses in some of our ethnic communities.
Officials are being pressed by campaigners, such as the vocal Rani Bilkhu, to keep the sex of an unborn child secret from parents-to-be during ultrasound scans in order to prevent abortions of girls later taking place. NHS England says that disclosing the sex of a foetus is a decision to be made locally by hospital trusts, although a resulting abortion on the grounds of gender-selection is against the law and unacceptable.
While many hospitals still offer this information to parents, a number of trusts withhold it - unless it is directly requested - until a later date in the pregnancy.
For instance, Wexham Park Hospital in Slough - a town with a high ethnic minority population, where the Jeena International charity is based and where it says there are many cases of selective abortions - confirms it has a policy of not offering information on a child's gender but would, if asked, reveal it at a 20-week scan.
Ms Bilkhu says that a combination of events lead up to the horrific abortions. In almost all cases, the process begins with an NHS scan when the hospital staff tell the couple that they are expecting a girl.
The parents then go to a private clinic and pay for the abortion or ask their local GP to authorise the procedure.
In either case, they do not tell the truth about the reason they want an abortion, often citing excuses such as their family being too big already or not having enough money for more children.
Often, the parents lie that the wife will not be able to cope emotionally with an extra baby.
It was exactly how Asha and her husband, an office manager in East London, organised the abortion of their own little girl. Asha was 21 and had already had two healthy boys when she fell pregnant with her third child.
'I was so worried it would be a girl that I began to panic. I could not face the thought of having a daughter or what my own family or my in-laws would say if it was not a boy,' she remembers.
'When you have a baby girl in the south Asian community, they treat you as if someone has died. If anything, the number of women having these selective abortions is getting bigger.
'I believe there are more girls now being killed than ever before. There is such a strong feeling that boys are best.
'The dread over the cost of paying a dowry to the husband when a daughter marries hangs over families from the day a daughter is born. A dowry cripples the girl's family financially. Cash is handed over, gold, cars, washing machines. The system is a lot to blame for sex-selective abortions.'
And so, like so many other women, when the NHS scan showed Asha was expecting a girl she went to a well-known abortion clinic, which has branches up and down the country, and spun the yarn she would not be able to cope with the child.
'I already had two healthy sons and I was panicking. I did not tell the doctors or nurses that I knew the baby was a girl from my NHS scan and I paid for the abortion privately. They believed my story,' she says.
Then as she starts to say goodbye at the end of our phone conversation, she adds a sad postscript: 'I often regret that abortion and there are days when I think a lot about the daughter I never had.'
Many thousands of other women must feel the same about their lost girls too.
http://www.dailymail.co.uk/femail/article-2548349/Slaughtered-thousands-British-babies-killed-womb-just-girls.html#ixzz2rvSmIVap
------------
Kenya: Cyber Bullies Target Kenya's Women
Jan 31, 2014
Nairobi — For a seasoned politician like Kenya's Rachael Shebesh, few things hold her back from rallying for women's rights. But when it comes to furthering her platform on social media - it is the one thing that this Nairobi County women's representative avoids.
Like all women hooked on technology here, this hardliner politician has not been spared the muck of cyber bullying.
She has endured demeaning attacks suggesting that she is a feminist "not fit for leadership" and also comments full of sexual innuendo on social media sites.
Kenya's office of the Director of Public Prosecutions acknowledges that women who are victims of cyber crime and bullying very rarely report the crime.
"Cyber crime [and bullying] is targeting everybody. I am a politician and I know we get targeted and that is why I keep off social media," Shebesh tells IPS.
According to the Kenya ICT Action Network (KICTANet), a multi-stakeholder platform for people and institutions interested and involved in ICT policy and regulation, cyber crime and bullying against Kenyan women is on the rise.
The organisation says that this involves incidents of cyber stalking, sexual harassment, persistent abusive mobile messages, sex trafficking and humiliating comments that reinforce gender stereotypes.
There have also been cases of professional sabotage, identity theft and incidents where intimate photos and videos have been used to blackmail women.
"They seem to go hand-in-hand with women and girls' lack of knowledge of the risks and the extent of the damage that they continue to sustain through cyber crime," says a KICTANet report released in June 2013 titled, "Women and Cybercrime: the Dark Side of ICTs".
This East African nation lacks legislation to police cyber crime. Last year, the Business Daily Africa reported that the country's cyber security remained one of the weakest in the world and that experts were able to "intercept [mobile phone] voice traffic and obtain temporary secret keys for some subscribers, revealing the high level exposure."
Currently, Kenya's laws are unable to effectively prosecute cyber crime and online hate speech. This is why the Kenya Internet Governance Forum Steering Committee (KIGFSC) is now pushing for the draft Cyber-Crime and Computer Related Offences Bill 2014 to be signed into law. The draft will only be presented to parliament in March.
KIGFSC chairperson, Alice Munyua, tells IPS that the legislation is expected to protect all Kenyans, but there is a need to specifically protect women from cyber attacks.
"Cyber crime affects women differently," argues Munyua. "The cyber security bill should have a few clauses that deal specifically with how cyber crime affects women."
However, not everyone is convinced that Kenya can deliver on this legislation. The Communication Commission of Kenya (CCK), the agency charged with drafting the bill, refuses to share details of the legislation with the public.
And the International Association of Women in Radio and Television (IAWRT) believes that Kenya should first engage in finalising the African Union Convention on Cyber Security, which covers issues of e-transaction, cyber security, personal data protection and combating cyber crime.
According to IAWRT, once African countries become signatories to the convention, they will be bound by international law to have their own legislation in place.
"The convention is expected to serve as a blueprint and guide countries to develop cyber security legislations," Grace Githaiga, IAWRT vice-chairperson, tells IPS.
Githaiga says that the convention was originally meant to have been signed this month, but the process was postponed until June because of Kenya's involvement with the International Criminal Court (ICC).
Kenya's President Uhuru Kenyatta and his deputy William Ruto have been charged by the ICC for crimes against humanity, which occurred during the country's disputed 2007 elections. Ruto is already on trial while Kenyatta's case has been postponed.
However, the Kenya Police Service insists that cyber violence against women is classified as a serious crime.
"Officers have been trained on cyber investigation at the Criminal Investigation Department and are well equipped to handle such cases," Marcela Wanjiru Andaje, the superintendent of police in charge of community policing, gender and child protection, tells IPS.
However, Kenya's office of the Director of Public Prosecutions (DPP) acknowledges that women who are victims of cyber crime and bullying very rarely report the crime. The DPP receives more cases of child pornography than ones of cyber crime and intimidation against women.
But Shebesh believes that government agencies like the CCK and the Kenya Police Service can easily contain this emerging crime.
But, she says, the process of seeking justice is too lengthy for anyone's comfort.
"Today, if you want to catch someone who has abused you through social media you can. But you have to go through a process that is too taxing for the ordinary Kenyan and so they normally leave it," says Shebesh.
http://allafrica.com/stories/201401310143.html?viewall=1
------------
Egyptian woman attacked in Tahrir Square as police watch, laugh
Jan 31, 2014
Alaa Saad left work at Shorouk News on the evening of Jan. 28 and walked to Tahrir Square. After arriving at the square, she walked to nearby Mohamed Mahmoud Street and took out her mobile phone to take a few photos of some graffiti. Such drawings fill the walls along the street and are a testament to the numerous events that Egypt has witnessed since the January 25 Revolution.
he said she had only taken one photo when she noticed someone forcefully pulling her shirt from behind, asking her, "What are you doing here?" When she turned around, she saw a woman dressed in a police uniform. She was a member of the women's police, and she grabbed at Alaa's mobile phone, trying to take it from her. She then grabbed Alaa herself and tried to pull her into a police car parked nearby.
Alaa refused to get into the car, at which point, the policewoman began hitting her and pulling on her hijab, which came off. The woman then began pulling her hair. Alaa screamed, "I haven't done anything!"
Alaa told Al-Monitor that a number of policemen were standing nearby, but none of them lifted a finger or tried to break up the skirmish. According to her account, they were laughing and even prevented a passerby from trying to help.
Things did not end there, however, as a number of "honest citizens," as she called them, gathered and joined in beating her. An old lady repeatedly hit Alaa with a cane, while a man carrying photographs of Gen. Abdel Fattah al-Sisi began cursing her. Another man started touching and sexually harassing her. She could do nothing but scream as the policemen continued to watch and laugh.
Alaa said that she forcefully resisted until she was able to escape from the crowd and flee to a side street near Mohamed Mahmoud Street. She put her hijab back on and flagged down a taxi, which she took to Halal Hospital, near Tahrir Square. At the hospital she received treatment for the wounds she had sustained to her face and body.
Alaa was not trying to take photos of graffiti so she could write an article about it. Rather, she went to Tahrir Square to reminisce about the days of the January 25 Revolution on the anniversary of the 2011 "Day of Rage," when Egyptians revolted against police injustice. After taking some photos, she had planned to stroll the same streets that witnessed the events of the revolution. Instead, she was met with violence from the police and citizens themselves, without knowing what she had done that was so wrong. She now says, "I just want to get out of this country. It is no longer for me."
Saad refused to file a report at the police station since she felt it would be of no use. She said hundreds of youth have been killed at the hands of the police and there has been no justice served for them, so she didn't expect it to be any different for her.
The Interior Ministry's response to the incident came through its spokesman, Maj. Gen. Hani Abdel-Latif, who denied any knowledge of the incident. He told Al-Monitor: "She should have filed a report at the nearest police station to prove the incident occurred and so that we could deal with the [alleged] attackers."
Abdel-Latif also denied that there were any female police in Tahrir Square on that day. "Many Egyptians were in the square celebrating the anniversary of the [January 25] Revolution, so how could [the accused] attack a girl who did nothing?" he added.
On the other hand, Azza Kamel, the director of the Appropriate Communications Techniques for Development Center (ACT), told Al-Monitor that the sexual assault Saad was exposed was not the first, nor will be the last, in the series of attacks against women in Egypt. She noted that conditions in the country are not to blame for the disrespect women face in Egypt, since such incidents began many years ago.
Kamel confirmed that the incident involving Saad was the first time she had heard about a female police officer assaulting a woman. She said that all of the reports she has received have involved women being sexually assaulted or attacked by normal citizens.
http://www.al-monitor.com/pulse/originals/2014/01/egypt-alaa-story-police-attack-citizens.html#ixzz2rvQ8UKEu
------------
Intended To Safeguard the Modesty, Burqa Has Now Become a Fashion in Hyderabad, India
31 January 2014
Hyderabad, January 31: Islam has ordered Muslim women to draw veil over themselves. The Quran announced that pious ladies must be properly and modestly dressed so that when they go out of their houses people should recognize them as domestic chaste, pure and pious ladies and they should not be teased or chased.
Even as the sale of Burqa has increased in Hyderabad during the recent few years, the trendy Burqas are very much in demand. Most shops in the city are selling latest Burqa creations. There is a good collection of exotic Burqas which blend style and fashion into this religious attire. With the changing fashion college going girls also change their Burqas. It has negative impact on poor girls as they suffer from inferiority complex.
Shahran market houses 80-100 Burqa shops. The owners of these shops say that there is an increasing demand of stylish and embroidered Burqas these days. College going girls prefer satin Burqa or montos which are available in different colours besides black colour.
One would be surprised to know that Burqa has attracted women from different religions. Burqa-clad women are seen at the places where respectable family girls will never go. Many Burqa clad women are seen indulged in the indecent activities which raises the question whether the Burqa clad women indulged in shameless activities are really Muslims? Whatever be the answer, the sanctity of Burqa needs to be maintained.
http://www.siasat.com/english/news/intended-safeguard-modesty-burqa-has-now-become-fashion
------------
Asma Jahangir wins human rights award
Jan 31, 2014
WARSAW – The Polish government January 29 conferred its Pro Dignitate Humana human rights award to Pakistani lawyer and human rights advocate Asma Jahangir, the Polish embassy in Islamabad said in a statement January 30.
"Asma Jahangir comes from a part of the world that seems far from Poland ... but wherever people are struggling for fundamental justice and dignity, in Pakistan or Ukraine, they deserve full recognition and support," Foreign Minister Radosław Sikorski said.
The Polish Foreign Ministry established the award in 2011 to honour a person or organisation who exhibits full commitment and uncompromising work to defend human rights and dignity.
http://centralasiaonline.com/en_GB/articles/caii/newsbriefs/2014/01/30/newsbrief-12
---------
'Honour' killing in Pakistan: Two hang sister's alleged boyfriend
Jan 31, 2014
BAHAWALPUR: Two brothers hanged a man to death on Wednesday. Police said they had suspected that the deceased was having an affair with their sister.
Police believe that there were at least two more men involved in the crime. An FIR had been registered with the brother of the deceased as the complainant.
Muhammad Shafiq, a resident of Chak 112-NP, told police that one of the suspects, Muhammad Zubair, had suspected that his (Shafiq's) brother Muhammad Saleem had had an affair with his sister.
He said on Wednesday, Zubair, his brother Muhammad Adnan and their friends Muhammad Ejaz and Kala visited their house, wanting to meet Saleem.
He said Saleem left with them saying he would be back in some time. When he did not return, Shafiq said, he went looking for him and found his body in a sugarcane field. He said there was a rope around his neck and bruises on his face, neck and chest.
Police were informed and the body was sent for a post-mortem examination.
Police said an FIR had been registered against the suspects. They said they were looking for the suspects, who were missing
http://tribune.com.pk/story/665091/honour-killing-two-hang-sisters-alleged-boyfriend/
------------
Women at work in Afghanistan
Jan 31, 2014
Off a dusty, unpaved street near Kabul University, Roya Mahboob's software company is designing a web platform to let Afghan women create content from home even if Taliban militants return to power and curb their rights.
"I just make myself more invisible in the society" while "becoming more visible" on the internet, Mahboob, 26, a computer science graduate of Herat University, said of her tactic for coping with opposition in a country that faces potential upheaval after international combat troops leave at the end of this year.
Retreating behind the electronic veil of the internet isn't an option for Zarghuna Sherzad, 46, a partner in Jahan Guldozi, an embroidery factory that employs 20 women about 5 kilometres from Mahboob's office in Kabul.
"I grew up in the war, and I've spent a very difficult time in the past," she said through an interpreter at her factory, recalling that when the Taliban ruled Afghanistan before the American invasion in 2001, she endured beatings just for wearing sandals that showed her feet. "I'm always praying that regime should not be repeated."
Women such as Mahboob and Sherzad are at risk of losing the freedoms they have won since the United States and its allies upended the Taliban, who cited their interpretation of the Quran to ban girls from attending schools and women from leaving their homes. Those gains already are under stress as international combat forces prepare to leave by the end of this year.
"Insecurity might increase at the provincial level, and that could limit the freedom of women, particularly their movement in terms of their political participation in the provinces and in terms of their businesses," said Nilofar Sakhi, executive director of the International Center for Afghan Women's Economic Development at the American University of Afghanistan.
Afghan women have gained legal rights and protections in the past decade. Women are now 27 per cent of the country's parliament and have started to join police forces. A decree signed by President Hamid Karzai in 2009 made rape a crime for the first time, while also banning violence against women, child marriage, forced marriage and the denial of rights to education or work.
Those gains are tentative, the International Crisis Group said in an October report, "Women and Conflict in Afghanistan". The decree signed by Karzai has yet to be ratified by the Parliament, where conservative lawmakers have called it unIslamic, the group said. The country's new electoral law calls for reducing a quota for female parliamentarians to 20 per cent from 25 per cent.
Since Afghan National Security Forces took the lead role from US and other foreign forces in the middle of last year, "insurgent threats to women have increased", according to the Brussels-based group. Women's rights "are also under attack from yesterday's warlords, now power brokers both within and outside government".
While some of the candidates for president have affirmed their support for women's rights, the Taliban say that if they return to rule or share power they will bar women from wearing Western clothes and girls from sharing classrooms with boys.
"A change in the present Afghan constitution is highly required to keep Afghan women's rights low," Zabihullah Mujahed, a Taliban spokesman, said in a phone interview.
Women in public roles increasingly have come under attack. On January 2, two gunmen on a motorbike in the western Afghan city of Herat shot to death Yalda Waziri, 25, who worked for the local government, according to the BBC. In the same province, Lieutenant Negar, 38, a female police official who like many Afghans went by one name, was shot and killed in September, a few months after her female predecessor was killed in a similar fashion, the BBC reported.
"There are real fears of losing the progress that has been made," said Afshan Khan, chief executive officer of Women for Women International, a Washington-based non-profit group that helps women in war-torn countries rebuild their lives.
In the past decade, Women for Women has trained 46,000 Afghan women, providing them with skills to operate small businesses. The group also has distributed $26 million (Dh95 million) in stipends and microcredits, Khan said.
Sherzad, who had no schooling and raised two daughters after her husband disappeared, graduated from Women for Women's one-year training programme. She teamed up two years ago with Nesar Ahmad to expand the embroidery business he operated.
Together, they have invested $250,000 in computerised Chinese machines that make decorative embroidered panels. Afghans sew the embroidery on to a shalwar-kameez, a loose-fitting tunic and pyjamas worn by men in the country.
In addition to the 20 workers at the factory, the company employs 300 women who work from their homes and turn out handmade embroidery, Sherzad said. The products are sold in Afghanistan as far west and south as Herat and Kandahar, generating a profit of about $5,000 a month, the co-owners said in interviews.
In a country where conservative Islamic groups still forbid mixing genders, the partnership between Ahmad, 50, and Sherzad stands out all the more because they belong to tribes that traditionally have clashed. She is a Pashtun, a Sunni majority group from the south that includes the Taliban, and he is a Hazara, a predominantly Shiite minority group from the north.
Sherzad's family, including her missing husband's brother and other Pashtun men, "were against the partnership because I'm a Hazara", Ahmad said through an interpreter. He said he persisted because "she has very good skills in marketing, and knows how to encourage people, and how to talk to people and sell products".
Ahmad said he prevailed by telling Sherzad's brother-in-law: "If you're feeling so protective about her, why don't you provide food for her and her two daughters? If you can, that's OK. But if you're not, then she should be able to work."
Amid uncertainty over a presidential election scheduled for April and the departure of most foreign troops by year-end, "there's a fear if Taliban return to power, we'll lose all the progress we've made", Ahmad said. "She will not be able to come work here, and I will not be able to reach her."
In contrast, a select group of Afghan girls and women who have grown up in the past decade, gone to school and are familiar with computers may find online sanctuary if Mahboob's online initiative succeeds.
Internet penetration in Afghanistan has grown to 5.5 web users per 100 people in 2012 from 1 per 1,000 in 2003, according to World Bank data. By comparison, Afghanistan's neighbour Pakistan had 10 internet users per 100 people in 2012, according to the bank.
Mahboob, whose Afghan Citadel Software Co was started with the help of the US Defense Department's Task Force for Business and Stability Operations, has developed an online blogging and film platform called Women's Annex.
It lets women work from their homes to produce content that is then featured on social-media websites. Advertising revenue generated by the sites is shared with the content creators, Mahboob said.
"We have created a technology that shows influence" and a scoring system that indicates the popularity of content that members of the Women's Annex develop, Mahboob said. "Based on that they can make $5 to $100 a day" depending on how popular their blog or story is, she said.
The average daily wage for an Afghan construction worker in 2012 was $5.70, according to the UN Office on Drugs and Crime. Among the few jobs paying more than what Mahboob cited as the minimum women can earn online is the thriving drug trade: Collecting opium gum from poppies yields $11.70 a day, the agency found.
Mahboob's business is based on Film Annex, a technology that her Italian business partner, philanthropist Francesco Rulli, developed to create web videos. Mahboob's company also has developed an online examination and vocational training tool called Examer that she is promoting to Afghan schools, as well as to other countries in the region.
Mahboob — who was named one of Time magazine's 100 most influential people in the world last year because of her role as a female entrepreneur working to expand internet access for women — says a conservative interpretation of Islamic theology isn't the only force threatening to confine Afghan women behind closed doors.
She said they also must contend with common criminals, as well as men envious of a successful woman.
"I'm worried about kidnapping or they say bad stuff about me," Mahboob said. Those are all reasons why "I've shifted my business to work online and want to give these tools to other women", Mahboob said.
"Even if the Taliban are back, women can get online education, even if fighting starts," she said, before pausing to acknowledge a potential weakness in her plans.
"If fighting starts, then I don't know if the internet will be available," she said.
http://gulfnews.com/news/world/afghanistan/women-at-work-in-afghanistan-1.1284122
------------
New Marvel superhero is Muslim teen from Jersey
Jan 31, 2014
Marvel is introducing a new character: Kamala Khan. She's a 16-year-old Muslim public high school student in Jersey City. She's also the new Ms. Marvel, and the first Muslim superhero to star in her own mainstream comic book series. Author G. Willow Wilson spoke with Tell Me More host Michel Martin about her new series.
On Kamala Khan's challenges to come
People can expect a lot of the fun, you know, action-adventure that characterizes most superhero books. She will be up against villains. She will be plying her superpowers in the name of good and struggling to sort of reconcile what it means to have these superpowers in reference to her own life. But because of her unique background, she'll also have the struggles that I think a lot of young American Muslim teens, particularly those of immigrant parents, face, which is trying to mesh that American identity with her inherited identity and create that third culture for herself.
Can she be a superhero with a curfew? Can she be a superhero who doesn't eat bacon? You know, a lot of it is this day-to-day stuff that we don't even think about as being significant. ... She does wear a mask. And that's kind of part of her dilemma is that she's not kind of an out superhero, because she doesn't want to bring that scrutiny on her family or her background.
On Kamala's family
Part of what we wanted to do with this series was show that there is a huge diversity of belief and practice within the American Muslim community, that it's not a monolith. And so you have Kamala, who's sort of on the more relaxed end of the spectrum, although she is observant in the fact that she doesn't drink alcohol or date — or you know we have her in the first issue, she's sort of looking longingly at this BLT sandwich that she's not going to eat. But she does have an older brother who is a bit more strict. He's very involved in his local mosque. He's very idealistic. He can be a bit tiresome at the dinner table about that kind of stuff. You know, but on the other hand, you've got her father who's a little bit more progressive and has high hopes for his daughter in terms of her career. You see these characters interacting, and it's underscored by love. You know, that you can have all these different opinions and it works as it does in any family.
On increasing diversity in comics
I think mostly people, since they are used to seeing things done a certain way, and they're used to associating a certain look with a certain character, they're afraid that they're somehow going to be marginalized, or that that history isn't important in some way. And I think to answer that — the point of all of this, the point of what is happening in the comics industry right now, where we are seeing a more diverse cast of characters, is to make as much room at the table for as many people as possible.
http://www.npr.org/2014/01/27/267029383/new-muslim-ms-marvel-doesnt-drink-date-or-eat-bacon
------------
Girl education gives White Rann beauty spot
Chitra Unnithan,TNN | Jan 31, 2014
AHMEDABAD: One man in Dhordo has changed the education dynamic for girls in the Banni grasslands of Kutch and its 45 villages. Miyan Husain, sarpanch of Dhordo who is barely literate himself, is the first man in the area to have sent his daughter to high school, thus inspiring other girls in the village to pursue higher education. Husain's daughter now studies in the second year of college.
It was following Husain's efforts that a government secondary school was established here in June 2009. However, the school had only male teachers because of which the mostly Muslim villagers shied away from sending their daughters to school. Husain, who belongs to the a Muslim Maldhari community, arranged for a women teacher and today the number of girls attending school has gone from zero to 10.
Dhordo is between the Banni grasslands and White Rann, made famous by Amitabh Bachchan through his 'Khushboo Gujarat Ki' campaign for Gujarat tourism.
"No girl had studied beyond class 7 in our village which houses around 450 people. We are certain that more girls will be inspired to pursue higher education now," said Hussein, whose father Miyan Gul Beg, was the sarpanch for decades.
To encourage girls from neighbouring villages to pursue higher education, Husain now plans to set up a girls' hostel in the village.
Acknowledging Husain's efforts, Mukesh Patel, district education officer, Kutch, said that education, especially of girls, is indeed a major challenge in Banni. "Parents in the region don't listen to government officials but community leaders like Husain have great influence. He is helping convince the community to pursue education, which is a remarkable feat especially for girls' education," he said
Even Bachchan had praised his efforts. "I gifted him a shawl at a function. He liked its embroidery so much that he decided to use it in one of the ads where he is seen driving a chhakda," said Husain.
http://timesofindia.indiatimes.com/city/ahmedabad/Girl-education-gives-White-Rann-beauty-spot/articleshow/29625916.cms
------------
Female genital mutilation affects a fifth of young girls in sub-Saharan Africa
Jan 31, 2014
Almost one in five young girls in sub-Saharan Africa are still forced to endure female genital mutilation (FGM), according to a UN report that paints a grim picture of the state of the world's children.
Statistics released by Unicef, the UN agency for children, in Every child counts: revealing disparities, advancing children's rights, published on Thursday, shows problems such as violence, child marriage and FGM are widespread across some of the world's poorest countries. The release of the figures comes ahead of the 25th anniversary of the convention on the rights of the child in November.
Unicef refers to figures published last year in its first report summarising and analysing data from the 29 countries in Africa where FGM is the most prevalent. Eighteen of these countries are in west and central Africa. In 2012, the UN general assembly passed a resolution demanding greater efforts to eliminate the practice. The resolution specifically called for data to be collected using common methods and standards.
FGM, recognised internationally as a violation of the human rights of girls and women, can cause severe bleeding and problems urinating. It can also lead to cysts, infections, infertility and complications in childbirth. About 140 million girls and women worldwide are living with the consequences of FGM, which is mostly carried out on young girls between infancy and age 15.
The Unicef report highlights the importance of data in making progress for children and exposing the unequal access to services and protections.
"Data has made it possible to save and improve the lives of millions of children, especially the most deprived," said Tessa Wardlaw, head of Unicef's data and analytics section. "Further progress can only be made if we know which children are the most neglected, where girls and boys are out of school, where disease is rampant, or where basic sanitation is lacking."
The figures show that almost four-fifths of the world's children are subject to violent discipline – defined as physical punishment or psychological aggression – at home or in school. In the Democratic Republic of the Congo, which has been plagued by conflict for decades, 92% of children face physical violence at school or at home.
"In countries of conflict, children are in danger of seeing violence as a part of everyday life – often witnessing horrific scenes of fighting and then experiencing further violent acts at home or school," says Unicef. "Children who experience violence can often go on to commit it themselves, which makes breaking the cycle essential."
Rates of child marriage are high, with around one in 10 girls in the world being married before the age of 15 – jeopardising their rights to health, education and protection. Girls in Central African Republic are now almost twice as likely to be forced into marriage by the age of 15 compared with girls in Afghanistan (29% and 15% respectively). More than a third of girls in Niger are married before they reach the age of 15.
Figures reveal large disparities between rich and poor families, particularly in deaths of under-fives. High-income countries accounted for 11% of the world under-five population in 2012, but only 1.4% of global under-five deaths. Low-income countries accounted for around 20% of the world's under-five population, but had one-third of under-five deaths.
Of the roughly 18,000 children under five who die every day – 6.6 million children under five died in 2012 – a disproportionate number are from areas of cites or the countryside that are cut off from services because of poverty or geography. Although diarrhoea can be treated effectively and cheaply with oral rehydration salts, children with diarrhoea from the richest homes are up to four times more likely to be treated than those from the poorest homes.
Some 15% of the world's children are involved in child labour, infringing on their right to learn and play.
But Unicef's data also shows gains made in the last decade: about 90 million more children would have died had mortality rates stayed at their 1990 level (before the 2000 millennium development goals were introduced); and deaths from measles among under-fives fell from 482,000 in 2000 to 86,000, thanks in large part to increased immunisation.
http://www.theguardian.com/global-development/2014/jan/30/female-genital-mutilation-affects-girls-africa
------------
Detained Palestinian Children Face Staggering Rate of Violence
Jan 31, 2014
Palestinian children detained in 2013 by Israeli military forces faced violence in the hands of their captors at shocking rates, a new report finds.
Three out of four Palestinian children detained by the Israeli military in the West Bank last year were forced to endure physical violence during their arrests and interrogations, reveals the Defense for Children International-Palestine in a study released Thursday
Furthermore, night arrests jumped to 56.1 percent from 45.2 in 2012, according to 98 affidavits by children between the ages of 12 and 17 that were analyzed by DCI-Palestine. Israeli forces held children in solitary confinement for an average of ten days in 21.4 percent of all cases.
DCI-Palestine's findings follow a year-end review by the Public Committee Against Torture in Israel highlighting reports of widespread torture of Palestinian prisoners, many of them children, including placing prisoners in outdoor cages during winter.
Between 500 and 700 Palestinian children are tried in Israeli military courts each year, where they are denied due process. A majority of these children are charged with throwing stones, DCI-Palestine reports.
"Despite international condemnation and awareness of Israel's widespread and systematic ill-treatment of Palestinian child prisoners, there have been no practical steps taken to curb violations," said Ayed Abu Eqtaish, Accountability Program director at DCI-Palestine, in a statement about the findings. "The international community must demand justice and accountability."
http://www.commondreams.org/headline/2014/01/30-2
------------
3 Dhaka police stations to get help desks for women
Jan 31, 2014
To encourage women to approach and seek police assistance, help desks to especially cater for them will be set up in three police stations in the capital and 12 in Jamalpur, Sylhet, Cox's Bazar and Patuakhali, said a home ministry joint secretary yesterday.
To be set up in collaboration with United Nations Population Fund (UNFPA), the Dhaka stations are in Mohammadpur, Pallabi and Kamrangirchar, added Jyotirmay Dutta.
The districts are among 20 judged by the Millennium Development Goal parameters as the "worst-performing", he said.
Moreover, a common database called Management Information System will link 44, police stations, including the aforementioned, to streamline coordination among the stations, headquarters and ministry to better deal with women repression cases, he said.
He was addressing a workshop, "Protection and Enforcement of Women Rights", the ministry organised in the capital's Cirdap auditorium yesterday where discussions were held on issues barring prevention of women repression.
"It is true that even police can be insensitive," said Shamima Begum, deputy commissioner, Women Support and Investigation Division, Dhaka Metropolitan Police.
Society teaches humans to blame the victims instead of the perpetrators and police are no different. "For this reason and many others, a large percentage of women repression cases remain unreported," she said.
Only 11.3 percent of married women facing domestic abuse filed police reports, stated speakers quoting Violence against Women Survey 2011.
Shamima also stressed the need for more policewomen to boost women-friendly policing. "Five percent of the total force is not enough to tackle the situation," she said.
UNFPA Representative in Bangladesh Argentina P Matavel Piccin said the project will help police gain more knowledge on laws concerning women's rights.
http://www.thedailystar.net/city/3-dhaka-police-stations-to-get-help-desks-for-women-9076
------------
URL: https://newageislam.com/islam-women-feminism/270-women,-including-95-saudis/d/35534