New Age Islam News Bureau
4 Jul 2014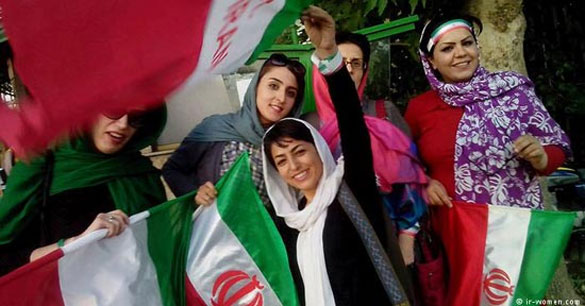 Iranian Female Spectators Beaten and Arrested at Recent Volleyball Game
---------
• Muslim Women's Forum Seeks Ban on Triple Talaq
• Malala Speaks Up for Abducted Nigerian Girls
• Iraq Crisis: 46 Nurses Set To Be Released, Maybe Back in India 'Late Tonight'
• FGM Hot Topic in UK Parliament
• Urgent Care Needed For 250,000 Iraqi Women, Girls: UN
• Pakistan: '95pc of Home-Based Women Workers without Legal Protection'
• A Friendlier Workplace for Women in Jeddah
• Report: Women Increasingly On the Front Lines of Syrian War
• 130 Women Sign Letter to Protest Iranian Women Barred From Entering Azadi Stadium
• UNICEF Reveals About the Greatest Impact on Children Inequities
Compiled by New Age Islam News Bureau
URL: https://newageislam.com/islam-women-feminism/23-saudi-guardians-sued-refusing/d/97901
-------------
23 Saudi Guardians Sued For Refusing Their Consent to Marriage
04 July, 2014
Twenty-three Saudi women sued their guardians last year for refusing to let them get married; a source at the National Society for Human Rights (NSHR) was quoted by the local media as saying.
Riyadh had the most cases at 11, followed by Madinah with four, and two each in Dammam, Makkah, Jeddah and Jazan. The cases are known in Arabic as "adhl."
Suhaila Zain Al-Abideen Hammad, a rights activist and member of the NSHR, has called on the government to introduce a law to protect women from adhl. "It is imperative to introduce legislation that would give women the power to marry once they reach a certain age, without getting approval from their guardians."
She said women are now at the mercy of their guardians. The NSHR recently dealt with several cases where guardians refused to allow women under their care to marry because they disapproved of the suitors' tribe, or wanted to live on the women's salaries, she said.
Hammad said adhl could cause severe psychological trauma for women including depression, suicidal tendencies and drug addiction.
http://www.arabnews.com/news/596416
-------------
Muslim Women's Forum Seeks Ban on Triple Talaq
04 July, 2014
CHENNAI: Releasing a draft of a codified Muslim personal law, which seeks a total ban on oral, unilateral and triple Talaq, the Bharatiya Muslim Mahila Andolan has sought a discussion on the proposal in Parliament.
Briefing the media on the important features of the draft code, Jaiaibunisha Reyaz Babu, state convener of BMMA, said the main objective was to bring about a gender-neutral and fair Muslim personal law based on Quranic principles. Scores of Muslim women suffered in the country owing to lack of knowledge and awareness about the Quranic tenets in matters such as marriage, divorce and other family matters, she pointed out.
The situation, in her view was compounded by the total absence of any laws in written or codified form. As a result, women get divorced instantly and are thrown out with nowhere to go. Similarly, there also exists a huge amount of misinformation about the right of a Muslim man to marry more than once. Polygamy was not given a free hand in Quran, which points towards monogamy as an ideal. The draft code is an effort to put an end to such suffering of women, she added.
Former MLA Bader Syed also stressed on the need for codification of Muslim personal law. The proposed draft law has put forward several demands stating that the minimum age of marriage be fixed at 18 for girls and 21 for boys, a total ban on oral, unilateral and triple Talaq, ban on polygamous marriage, a well-laid out Quran-based procedure, Talaaq-e-Ahsan, for a husband to divorce the wife and vice-versa, minimum Mehr in consonance with the groom's annual income and compulsory registration of marriages.
Besides, the draft code has also sought for maintenance support of wife and children during marriage, separation and divorce.
http://www.newindianexpress.com/cities/chennai/Muslim-Women%E2%80%99s-Forum-Seeks-Ban-on-Triple-Talaq/2014/07/02/article2310113.ece
-------------
Malala Speaks Up for Abducted Nigerian Girls
04 July, 2014
When girls are targeted by terrorists, no matter where they are in the world, it hits home for Malala Yousafzai.
In 2012, she was shot and nearly killed by the Pakistani Taliban because of her efforts to promote education for women and girls. The attack only amplified her voice.
In an exclusive interview with VOA's Deewa service, the Pakistani human rights activist said she considers it her "duty" to speak up for the more than 200 teenage girls kidnapped by Islamic radical group Boko Haram in Nigeria.
"I stand up with those girls for their rights ... and I request the whole world that they should also raise their voices for those girls," Yousafzai said recently.
Boko Haram – whose name in Hausa means "Western education is a sin" – abducted the girls from a secondary school in the Nigerian town of Chibok on April 14. The militants killed hundreds of students, both male and female, in previous attacks on schools.
"I believe that every girl has the right to go to school," said Yousafzai, who'll turn 17 on July 12. "And girls in Nigeria also have the right to go to school. It's their right to go to school to get education, as it is the right of girls in the developed countries."
In late June, suspected Islamist militants carried out another mass kidnapping in the same region – the northeast state of Borno – seizing 60 women and girls.
Yousafzai is worried for their safety.
"We don't know in what conditions those girls are," she said. "They are all alone, they are without their families, and no one knows what feelings they would have at this time."
Nigerian authorities have been unable to rescue the girls, despite intelligence and surveillance help from the United States and other countries.
Officials have expressed concern that any military operation to free the girls would endanger their lives.
http://www.voanews.com/content/malala-speaks-up-for-abducted-nigerian-girls/1950493.html
-------------
Iraq Crisis: 46 Nurses Set To Be Released, Maybe Back in India 'Late Tonight'
04 July, 2014
All 46 Indian nurses abducted from Tikrit in strife-torn Iraq could be released by ISIS militants soon.
"We got an SMS saying they (the nurses) are on their way to Erbil airport, which is 70kms away from Mosul. If everything goes well, they will be back in the country by late tonight," one of the relatives told HT, a day after the nurses were shifted to Mosul.
There are reports that an Air India jet is on standby in Delhi airport for their evacuation. There was no official confirmation, however.
The nurses reached Mosul unharmed on Thursday night, their relatives told HT. They were forcibly moved out of Tikrit by the Sunni insurgents who were holding them captive.
Earlier in the day, Shobha Sasikumar, mother of abducted nurse Shruti, said, "My daughter called me last night saying they reached Mosul around 11pm (Indian time). They are in an old building that is without electricity. So far, the abductors were friendly towards them."
Chief minister Oommen Chandy, who has been camping in Delhi, also said the nurses were safe and efforts were on for their safe evacuation. "They are safe. I can't say now who abducted them."
The abduction of the nurses, all of them women and from Kerala, spelt a fresh trouble for India. A month ago, the Islamic State of Iraq and the Levant (ISIS) militants, who now control northern and western Iraq, snatched 40 Indian construction workers from Mosul. All but one of them are still in captivity.
The Centre had said on Thursday that it was trying its best to combat the crisis. The government sought the help of some prominent Indians settled in Saudi Arabia and other Gulf countries.
Some reports also said external affairs minister Sushma Swaraj called up politicians in Gulf countries and sought their help in view of the crisis in Iraq.
Kerala local self-government minister Manjalamkuzhi Ali, who is also camping in Delhi along with the CM, said efforts were on to shift the nurses to Erbil airport, 70kms away from Mosul.
Since ISIS is a militant group, the authorities are finding it difficult to engage them in talks, sources said on Friday morning. If the nurses are released, it would be a big boost to the Centre's diplomatic efforts.
According to sources in the government, the "decision" to make the nurses obey ISIS order came after Swaraj and Chandy met twice during the day when nurses were also spoken to.
http://www.hindustantimes.com/world-news/iraqonthebrink/indian-nurses-reach-mosul-kerala-cm-says-they-are-safe/article1-1236585.aspx#sthash.wTOrkJKq.dpuf
-------------
FGM Hot Topic in UK Parliament
04 July, 2014
The prevalence of female genital mutilation (FGM) in Britain is a "national scandal," lawmakers said Thursday, warning that up to 170,000 women may have had the procedure and another 65,000 young girls are at risk.
A damning report from the House of Commons home affairs committee condemned the failure of the government, police, health and education authorities over many years to address what it said was an "extreme form of child abuse."
Read also: Female Genital Mutilation in U.S. sparks warnings
FGM, which ranges from removal of the clitoris to more widespread mutilation, has been outlawed in Britain since 1985, but the first prosecution only took place this year.
The committee blamed "misplaced concern for cultural sensitivities" for the failure to address a practice largely associated with communities from parts of Africa.
It called for prosecutions to send a "clear message" that the practice was taken seriously in Britain, as well as increased checks by medical professionals on girls considered to be at high risk.
The lawmakers said that if there was no increase in the reporting of incidents of FGM in the next year, the failure to report should become a crime.
"FGM is an ongoing national scandal which is likely to have resulted in the preventable mutilation of thousands of girls to whom the state owed a duty of care," said committee chairman Keith Vaz.
The report suggests FGM is an increasing problem, a fact blamed on population growth and rising migration from practicing countries, notably Somalia and the rest of the Horn of Africa.
Government figures from 2007 suggested that 66,000 women in England and Wales were living with the consequences of FGM, and a further 24,000 girls under the age of 15 were at risk.
Thursday's found that around 170,000 women and girls were living with FGM across the whole of Britain, and 65,000 girls under the age of 13 were at risk.
The report hailed France's pro-active approach, although it said it would be "disproportionate" to follow their example of examining all children from at-risk communities, which doctors are asked to do during routine health checks.
Crime prevention minister Norman Baker said the government was engaged in a new effort to tackle "this extremely harmful and misguided practice," working with communities affected as well as health and other professionals.
Prime Minister David Cameron will also be hosting a summit later this year aimed at ending FGM within a generation.
The United Nations Children's Fund, UNICEF, estimates that 125 million women and girls around the world have undergone FGM, the majority in Africa.
http://www.dawn.com/news/1116830/95pc-of-home-based-women-workers-without-legal-protection
-------------
Urgent care needed for 250,000 Iraqi women, girls: UN
04 July, 2014
UNITED NATIONS, (Xinhua) -- The UN Population Fund ( UNFPA) has warned that an estimated quarter of a million women and girls, including 60,000 pregnant women, affected by the conflict in northern and western Iraq, are in need of urgent care, a UN spokesman told reporters here Thursday.
"As health facilities are overstretched, UNFPA expects that the number of unassisted childbirth may rise, jeopardizing the lives of mothers and newborns," UN spokesman Stephane Dujarric said at a daily news briefing here.
"Moreover, it remains concerned, as in any emergency, about the vulnerability of women and girls to gender-based violence and exploitation," he said.
The executive director of the UNFPA, Babatunde Osotimehin, said that the agency is redirecting its resources to respond to the crisis and that it needs some 6.5 million U.S. dollars to meet the needs of more than 200,000 women and girls.
Earlier this month, UN officials voiced their grave concerns at targeting of women and children, who have reportedly been kidnapped, raped and forcibly married to militants of the Islamic State of Iraq and the Levant (ISIL/ISIS) and other armed groups.
Meanwhile, the UN Children's Fund (UNICEF) reported that it has made its first delivery of essential humanitarian supplies to Sinjar, in the western Governorate of Ninevah. The town is now sheltering some 50,000 displaced people, more than half of them children.
The UN agency has delivered water, hygiene kits, jerry cans as well as safe birth kits to help displaced families cope with the crisis.
http://www.globalpost.com/dispatch/news/xinhua-news-agency/140703/urgent-care-needed-250000-iraqi-women-girls-un
-------------
Pakistan: '95pc of home-based women workers without legal protection'
04 July, 2014
HYDERABAD: Labour leaders speaking at a seminar on home-based women workers' rights observed that employers and governments always exploited workers and denied their due rights.
The two-day seminar was held in the office of the Strengthening Partici­patory Organisation (SPO) in which a large number of labour leaders and home-based workers expressed their views.
All Pakistan Wapda Hydro Electric Workers Union president Abdul Latif Nizamani told the participants women workers had always been neglected in all sectors which was a great injustice.
He said the capitalist and feudal systems were being protected in the country, adding that a change could be brought about only through struggle. Mr Nizamani said 95 per cent women home-based workers did not have any legal cover and the number of the women workers covered under the relevant labour laws and rules was shrinking.
He observed that women workers were given low wages as compared to their male counterparts. He noted that labour laws existed but were not being implemented.
He said women workers had no say in the organisations where labour laws did not exist. He urged women workers to organise themselves because no one would pay attention to their problems if they remained disorganised.
Mustafa Baloch of the SPO said that after the French revolution, it was Russian revolution that was labour-specific. He said that now America observed a labour day in September instead of May 1 because they had launched a new phase of struggle.
Home-based Workers regional coordinator Nuzhat Shireen said that in Pakistan, the Articles 8 to 28 of the constitution dealt with human rights but due to an ineffective implementation mechanism, problems were increasing. She said her organisation had sent a draft to the Sindh government's labour department for home based workers' policy so that it could be enacted into a law.
Mehboob Ali Qureshi of the Pakistan Workers Confederation and Zainab Khan of the Home-Based Workers also spoke.
http://www.dawn.com/news/1116830/95pc-of-home-based-women-workers-without-legal-protection
-------------
A friendlier workplace for women In Jeddah
04 July, 2014
An official source in the Ministry of Labor said that the ministry had imposed fines and penalties on violators of the regulations set for female employment in companies.
The source said that the penalties include preventing the violating establishment from recruiting labor, renewing visas, transferring sponsorships and withholding human resource support. Companies will also be required to pay fines ranging from SR1,000 to SR 5,000.
A draft law published on the community's portal to participate in the "Together" initiative had 11 conditions for suitable female work environment. If establishments are able to meet these conditions, they will not be required to get a permit from the Ministry of Labor, the source said.
The conditions will apply to all companies and establishments with female employees, regardless of whether they are working there temporarily or undergoing training.
The draft confirmed the independence and privacy of women by providing them with a separate building or a special section. Moreover, establishments should have signs which clearly say "No men allowed".
The buildings or sections allotted to female staff should be equipped with fire extinguishers in addition to the basic services such as prayer areas, rest areas and toilets. The facilities should also have suitable furniture.
Establishments should define the name of a supervisor or section head for the female sections in their work force records. They should keep a register for working women with their job data including name, nationality, civil register, residency number, wages and job title.
If the establishment receives a lot of people, it should appoint a security system for the women's section. Women should abide by modest dress codes and be committed to Shariah dress rules, or wear the official uniform of the establishment.
The draft said that the penalties for the violators would include the withholding of support from the Human Resource Fund for a period of three years for the first violation, and five years for the second violation in addition to a fine of between SR1,000 and SR5,000.
These conditions have led to complaints from some businessmen regarding the difficulty of separating men and women employees especially in the administrative affairs department.
They cite the cases of women who have acquired managerial posts which make them responsible for both male and female departments making it difficult to put the segregation in place. However, they said that the existence of private offices in addition to other services guaranteed privacy for women.
Hattoun Farisi, director of employees' affairs in Al-Kabili Holdings, pointed to the impracticality of some of these conditions especially in administrative affairs. "Implementing these decisions will raise the cost for business owners and weaken the chances for promoting female employees," she said.
She stressed the importance of looking at the nature of businesses in a wider perspective and see how the implementation of the conditions for female employment can be carried out, particularly in businesses which declare their inability to separate male employees from the female staff.
The government's initiative to include more women in the work force has led to many opportunities for qualified Saudi women.
However, the law of the land requires a strict implementation of the Shariah, which enjoins that men and women not related by blood or marital alliance may not share the same space.
http://www.arabnews.com/news/596401
-------------
Report: Women increasingly on the front lines of Syrian war
04 July, 2014
Syrian women have borne the burden of the country's brutal three-year conflict, with many having taken on new roles as political activists, caregivers, humanitarians and family breadwinners — often at great personal risk, a report said Thursday.
Researchers from Human Rights Watch (HRW) spoke to a number of women caught up in the civil war, with many reporting shocking details of torture, sexual abuse in prison and the impact of losing family members and their homes as a result of the fighting.
"Women have not been spared any aspect of the brutality of the Syrian conflict, but they are not merely passive victims," said Liesl Gerntholtz, women's rights director at HRW. "Women are taking on increasing responsibilities — whether by choice or due to circumstance — and they should not have to pay with intimidation, arrest, abuse or even torture."
The report, titled "We are still here: Women on the front lines of Syria's conflict," profiles 17 women who fled violence in Syria and are now living in Turkey. Its release comes one day before a United Nations review of the situation for Syrian women in Geneva, and HRW hopes to draw attention to the many challenges faced. Understanding their needs is critical to developing appropriate responses for women in Syria and refugee camps.
The United Nations said in June that almost half of Syria's population needs humanitarian aid. The conflict that began as a peaceful uprising against President Bashar al-Assad has spiraled into a ruthless civil war that has left no part of the country unscathed. Over 150,000 have been killed and 9 million displaced in the war that has also created a massive refugee crisis.
International aid for medical, psychosocial and economic needs is urgently needed for women displaced within the country or living as refugees in neighboring nations, HRW said in the report.
Women, as well as men, have been targeted for civil activism and participating in protests, the report said. Kinda, a 21-year-old Syrian Druze woman from Sweida, was one of the four 'brides of peace' that marched in November 2012 wearing white wedding dresses through Damascus calling for an end to military action. Half an hour later, they were arrested by government forces and detained.
"When we entered [the captain] started to shout the worst words I have ever heard: 'Now I have four whores to entertain myself tonight,'" Kinda told HRW.
Before she was taken away to be beaten with four entwined electric cables, the captain threatened to arrest and torture her farther, and told the guards, "I want to hear their screams from my office."
Particularly vulnerable
Arbitrary arrest, detention and torture have characterized Syria's conflict since it began in March 2011. HRW has documented systematic torture in 27 government-run detention facilities as well as others run by anti-government groups. Syrian monitoring group Violations Documentation Center said it has information relating to over 50,000 detentions including that of almost 1,500 women. Over 40,000 of those documented are still awaiting release.
Nayla, 52, was a teacher in Daraa when the uprising began. In March 2012, she and a male friend agreed to transport a Syrian military defector about 50 miles to Damascus. The car was stopped at a checkpoint, where government soldiers discovered the defector and took them to a detention facility in Mezzeh, Damascus.
"We were underground and we didn't know if it was day or night. They used the same plastic boat to give us food as they used in the toilet," Nayla told HRW. She said she saw a man crawling on the floor, his feet so blue and swollen from beatings that he couldn't walk.
"You can't imagine — day and night, the screaming, the crying, the beating," she said, adding a description of a man who was hanging outside of the women's cell. "His nails had been pulled out. He was talking and talking and talking. They would stamp on his bare feet without toenails."
The report recommends that the U.N. Security Council and other concerned governments impose an arms embargo on the Syrian government and publicly condemn torture in detention by all armed groups operating there.
Women are particularly vulnerable to abuse while being held, and some have reported sexual assault and rape. Layla, 21, said she was detained by government forces in November 2012 for providing temporary housing and other necessities to displaced families from the besieged city of Homs.
She was taken to a military intelligence branch in Damascus, where she was hung in a stress position from the ceiling and molested by government forces – who also forced her to perform sexual acts. Layla has not been able to access psychological help since escaping the country.
"I don't have any feelings at all – no happiness, no sadness, no nothing," Layla told HRW.
Thirty-year-old Maisa, an intensive care nurse from Damascus, had been treating the wounded in government-controlled areas — which the regime did not permit. Later, she began hosting a pro-opposition weekly program on TV – with her face covered – but the government tortured a fellow activist to get her identity and eventually arrested her, according to the report.
"They slapped me on the face. They pulled me from my hair. They hit me on my feet, on my back, all over," she said, adding that police often sexually harassed and tortured other female detainees.
"I used to hear a woman screaming," she said. Maisa saw the woman – who was handcuffed, naked, and alone in a cell. The guards made the woman beat another female detainee in Maisa's cell until she was bruised all over. Some women would trade sex for food or phone calls, Maisa added.
After her release in September 2013, Maisa learned that her sister Samar was arrested by armed men in Aleppo for civil activism and not wearing a hijab. The family has no idea where Samar is, Maisa said.
Extremist groups have placed discriminatory restrictions on women and girls in Aleppo, al-Hassakah, Idlib, and Raqqa governates, the report said. They have imposed strict dress codes and limitations on women's engagement in public life. The groups also control women's ability to move freely, as well as their access to education and employment.
With over 98,000 civilian deaths reported in the war as of June, including 10,700 women and thousands of children, many Syrian women have lost husbands, brother and fathers – whether they were detained, killed, or left home to fight. As men's presence and ability to fulfill traditional roles decreases, more women have emerged as head of the household, the report said.
Amal, 44, was walking home in July 2013 with her 10-year-old son one day when government forces bombed her Aleppo neighborhood.
"When we heard the barrel bomb I said to my husband, 'God help those who have been bombed.' Then I found out it was my house and I lost my children," Amal told HRW. Her four other children died in the attack.
She said that soon after, her husband had a heart attack and stroke – leaving him partially paralyzed and unable to speak or work, making her the sole-breadwinner for the family. They now live in a public park in Turkey, and rely on a restaurant that provides free meals to Syrian refugees.
Civil activism
Women and children are often caught in the center of the fighting, the report said. Forty-year-old Salwa said her home was located between a Free Syrian Army position and government troops which were constantly shelling each other.
In October 2013, a tank shell struck their house and a cooking gas canister caught fire – severely burning Salwa and her daughter. Her brother took her to the hospital, and when they returned the house was destroyed, she told HRW.
A sniper shot 45-year-old Aisha while she was shopping at an Aleppo market in February 2013, according to the report.
"I was in the middle of the street trying to buy vegetables … the bullet entered me on the back of the neck," she told researchers. X-rays by HRW showed the bullet lodged at the top of her spine. She can't use her left hand or her legs and is mostly confined to a bed in Turkey, where the family fled in March 2013.
Tiba, a 37-year-old schoolteacher, said that students stopped coming to class after the situation in Aleppo deteriorated due to heavy fighting and airstrikes by government forces. She and her family moved homes multiple times in an attempt to avoid being hit, but after the barrel bombs began, Tiba said they gave up trying.
"If you are going to die anyway, it is better to die in your home," Tiba said. When she left for Turkey with her family, her husband lost his good job in Syria and became unemployed — which she said was hard for him mentally and emotionally.
Despite all of the loss and risks they face, Syrian men and women continue to engage in civil activism to promote peace and democracy. Maha, a 28-year-old first grade teacher from Aleppo, was part of a local activist group and newly married to husband Mustafa when they went to a demonstration in November 2012.
"I felt something falling above me and I started to run. I turned back and saw dust. I looked for [my husband] … I couldn't find him. I started looking through the bodies," Maha told HRW. She found one of her friends – who was bleeding profusely – but did not find her husband.
Finally someone told her that he was in the hospital, and Maha said, "I saw a child without legs. I saw every kind of injury. But my only worry was: Where is Mustafa?"
Mustafa died a few hours later in surgery, along with 13 others from the protest — leaving Maha shocked and hopeless, she said. She left a few months later for Turkey, but continued activism as a human rights blogger.
"On the news you only see blood and destruction," Maha said, "You don't see that behind it, there are civilian groups doing things peacefully."
Women's meaningful inclusion at all levels in peace negotiations and state-building initiatives must be a priority, the report said, as they have stepped up into important roles during the conflict.
HRW called on the international community to hold the Syrian government and armed groups responsible for abuses against women and girls. They said donor governments should help to meet the immediate humanitarian needs of the 2.8 million refugees — half of which are women and girls — and the 6.5 million internally displaced persons. Syrian women also need international support for their medical and psychological needs – especially those who have been detained and abused.
"The women of Syria have faced extraordinary loss," Gerntholtz said. "Yet they persist as activists, caregivers, and humanitarians."
http://america.aljazeera.com/articles/2014/7/3/syria-women-hrw.html
-------------
130 Women Sign Letter to Protest Iranian Women Barred From Entering Azadi Stadium
04 July, 2014
More then 130 women's rights activists have asked the President of the International Volleyball Federation to protect the right of Iranian women to enter sports stadiums and attend volleyball matches. "We demand an end to gender discrimination in the sports stadiums and believe that the Iranian society is not an island isolated from the rest of the planet. The Iranian sports federations must end their selective disobedience which is neither consistent with the international regulations of the games, nor with the Iranian people's culture and wishes," the open letter stated.
The letter, signed by 2003 Nobel Peace Laureate Shirin Ebadi and many other women's rights activists, notes that the Iranian Volleyball Federation has attempted to deceive the international public opinion by placing female employees of the Federation as spectators inside the stadium during matches in order to claim that Iranian women are present at the games, while female fans have in fact been kept from attending the games.
Iranian police and security agents prevented women from attending any of the World League volleyball matches between Iran, Brazil, Italy, and Poland. At the first game of the League on June 13, in which Iran played Brazil, Iranian women were prevented from entering the Azadi stadium in Tehran even as Brazilian women were allowed to attend and cheer their team. On June 20, 2014, during the Iran-Italy match, the police harassed, physically assaulted, and arrested several women who were attempting to enter the stadium and attend the game, including a female journalist who had gone to the stadium to report on the match.
Jila Baniyaghoub, a journalist present at the stadium reported on her Facebook page that: "The Stadium was full of anti-riot agents and police vehicles. A large number of police were in constant motion in the paths leading to the stadium and prevented women from gathering. This time their treatment with the women and their male supporters was more violent." She noted that the police were also cracking down on the men who were accompanying the women. "Several times, the men who were supporting the women were beaten and insulted and several of them were arrested. They put some of the women inside the police vans and took them away," Baniyaghoub reported.
Fatemeh Jamalpour, the sports reporter for Shargh Newspaper wrote in her Facebook page: "The plainclothes agent jumps in front of my car and stops it. He says 'get off; I will have to check your identity.' I get off and give my card to him again. He takes it and asks the van to move forward and says 'this lady is going to the detention center.' I ask 'on what charges? Why?' He yells and says 'Get her. Don't resist.' And a few moments later, I am lying on the floor, and they are slapping me on my face. My Islamic robe and my purse are torn and…next is 6 hours in detention."
Shahindokht Mowlaverdi, Vice President of Women's Affairs in the Rouhani cabinet told Mehr News Agency on June 17 that the President had ordered an investigation into the matter of women's attendance at the volleyball matches.
Ary Graça, head of the International Volleyball Federation, responded to a letter from ILNA about the ban on women's attendance at the matches by saying that members of the World Volleyball League will address the issue in their next meeting. The Volleyball World League will end on July 7, 2014.
http://www.iranhumanrights.org/2014/07/130-women/
-------------
UNICEF Reveals About The Greatest Impact On Children Inequities
04 July, 2014
Nutrition remains a major challenge with high levels of stunting wasting and underweight, cutting across both rich and poor. According to the new report which was jointly launched by the Ministries of Planning and International Cooperation and Social Affairs and Labour, in collaboration with UNICEF, almost half of all children under the age of five in Yemen are chronically malnourished; fifty one per cent of these are amongst the poorest, whilst twenty four per cent are amongst the richest.
The National Social Protection Monitoring Survey is the first survey of its kind in the Middle East and North Africa Region. The survey has two key objectives, the first is to monitor social protection and living conditions of poor and vulnerable households in Yemen; and the second is to provide evidence on the impact of the public cash transfer programme administered by the Social Welfare Fund (SWF). The Report provides national data on a range of issues from housing; water and sanitation; education; child health and nutrition; child protection; and food security to work, income and livelihoods.
Around half of the Yemen's estimated 23 million population lives below the poverty line. "The importance of the NSPMS comes from the fact that it provides the data necessary for the Government to formulate a comprehensive and adequate social protection programme to better tackle poverty and social inequities in Yemen", says Dr. Mohammed Al-Sa'adi, Yemen's Minister of Planning and International Cooperation.
In the education sector, the poorest children are less likely to be in school. The Report reveals that only 48% of the poorest children are enrolled in basic education compared with 88% of the richest children; 38% of the poorest girls are enrolled in basic education compared with 88% of the richest girls and absenteeism due to the need to work is the highest among children from the poorest quintile.
In the area of child protection, Birth registration rates have decreased from 22% in 2006 to 15% in 2013. Only 1% of the poorest children under 5 years are registered compared to 51% of children in richest households.
Access to safe and clean water for drinking and domestic use is a fundamental human right. However only 6% of the poorest households are using improved sanitation facilities compared to 97% of the richest. Similarly, 36% of Yemenis in the poorest households have to walk more than 30 minutes to access water, compared to only 1% among the richest.
"This Report presents another stark reality of the dire situation of children in Yemen," says Jeremy Hopkins, Acting UNICEF Representative in Yemen. "The roll out and implementation of an effective social protection mechanism at sub- national, community and household level, specifically targeting poor children, will require the continued strong leadership of the Government and a robust response from development and humanitarian partners" Hopkins emphasized.
A recent Oxfam Report also highlights that millions of Yemenis are going hungry, drinking unsafe water and increasingly falling between the cracks of an inadequate social safety net, as they bear the brunt of yet another fuel crisis. This report makes a strong call to the Government of Yemen to increase the provision of social welfare while also undertaking public finance reform, to ensure the safety of all Yemenis.
As the world commemorates the 25th Anniversary of the Convention on the Rights of the Child this year, crossing the finish line, in addressing the Millennium Development Goals (MDGs), for countries like Yemen, would require quadruple effort at all levels, to ensure the fulfilment of the basic rights of every child, especially the most vulnerable.
http://nationalyemen.com/2014/06/29/unicef-reveals-about-the-greatest-impact-on-children-inequities/
-------------
URL: https://newageislam.com/islam-women-feminism/23-saudi-guardians-sued-refusing/d/97901