New Age Islam News Bureau
31 Dec 2018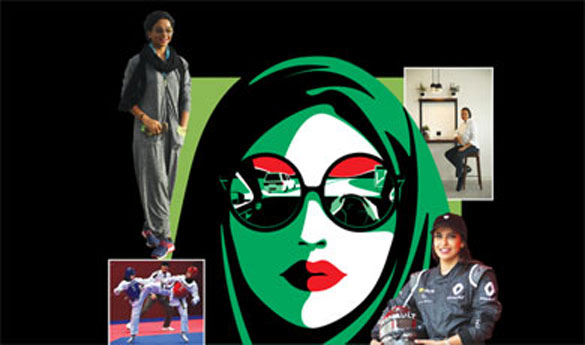 A series of momentous changes have given a huge boost to Saudi women's ability to participate fully in public life
------
• Disabled Women Disregarded Under Inhumane Policies in Iran
• Egypt's Sisi Calls on Women to Think before Getting Pregnant
• First Afghan Female Scales Country's Tallest Mountain Thanks To Aid of Western Isles Charity
• Egypt Court Jails Woman For Inciting Debauchery After Pet Shop Monkey Video Goes Viral
• Belgium To Appeal Order To Repatriate ISIS-Supporting Women And Their Kids From Syria
Compiled by New Age Islam News Bureau
URL: https://www.newageislam.com/islam-women-feminism/2018-be-remembered-momentous-saudi/d/117319
--------
2018 Will be Remembered as Momentous for Saudi Women
December 31st, 2018
Undoubtedly, 2018 has been a landmark year for Saudi Arabia — but even more so for women in the Kingdom, who have had a momentous 12 months enjoying newly acquired freedoms and being at the forefront of change under reforms led by Crown Prince Mohammed bin Salman.
From getting behind the steering wheel, to being the driving force in prominent international, governmental and business roles, women are welcoming landmark social change.
As the Kingdom makes giant strides toward gender equality and female empowerment, international experts say progressive moves granting women greater rights seen in 2018 have barely scratched the surface as they outline how women in Saudi Arabia will help drive the country forwards.
"2018 has indeed been a year of firsts for women in Saudi Arabia, in terms of some very specific reforms," said Emily Hawthorne, regional analyst for Stratfor, a geopolitical intelligence platform. "Most notable have been youth-focused reforms, such as loosening tight restrictions on driver's licenses as well as allowing men and women to attend music concerts."
With the ending of the world's only ban on women drivers on June 24, several driving schools for women opened in Riyadh and Jeddah. Consultancy firm PricewaterhouseCoopers predicted that about three million women in Saudi Arabia could be driving by 2020. The move is expected to boost women's employment and, according to a Bloomberg estimate, add $90 billion to economic output by 2030.
Kent Davis-Packard, practicum director at the SAIS Women Lead (SWL) initiative, a global women's leadership development program, said: "Saudi women have made phenomenal progress, and not just because of the recent reforms. It was the work of Saudi women over the past decades that sufficiently transformed the national consciousness of the country to be ripe for the changes made by its current leadership."
A year of milestones for women in the Kingdom began only a few days into 2018. On January 12 Saudi women were allowed, for the first time, to enter a sports stadium in designated seating areas to watch a local soccer match. The government has announced plans to open up more women-friendly facilities at stadiums around the country.
Fast forward two months and Saudi Arabia's military began taking applications from women for the first time. Later in the year a flight school in the Kingdom announced it would start admitting female students. Oxford Aviation Academy received hundreds of applications from women hoping to start lessons that could open the way to previously unavailable career options. Increasing the number of Saudi women in the workforce is part of the Vision 2030 reforms, which seek to raise women's participation in the workforce from 22 percent to 30 percent.
In King Salman's annual address to the consultative Shoura Council, which comprises 150 members, including 30 women, a key theme was empowering females in the Kingdom to play an even bigger role across Saudi Arabia.
In another notable step King Salman appointed four women to important roles: Tamadur bint Youssef Al-Ramah became the first woman to be appointed deputy labor minister in conjunction with a major military and political reshuffle, while Professor Kawther bint Mousa Al-Arbash and Dr. Ghada Bint Ghunaim Al-Ghunaim were appointed as members of the Board of Trustees of the King Abdulaziz Center for National Dialogue. Iman Al-Mutairi was also appointed as assistant to the Minister of Commerce.
Women have also been appointed to prominent municipal and international positions in 2018. Jeddah Mayor Saleh Al-Turki appointed four women to key positions in the municipality, while on the world stage Dr. Samar Al-Homoud, a Saudi consultant colorectal surgeon at King Faisal Specialist Hospital and Research Center, was appointed by the International Agency for Research on Cancer (IARC) of the World Health Organization (WHO) as chair of its ethics committee — the first member from the Middle East region to hold this position — and Dr. Sumaya Al Nasser was appointed as the first Saudi ambassador for Peace Without Borders.
Saudi Arabia also took a major step towards welcoming more women into the workforce by hosting its first business forum for women in March. The Women in Leadership Economic Forum, called "Let's Talk About Tomorrow," showcased the Kingdom's top female business leaders and demonstrate the important role of women in driving the future of its economy.
Women can now also open their own businesses without a guardian's permission. Saudi Arabia's Ministry of Commerce and Investment said in February that women would be able to "start their own business freely."
Davis-Packard said that by allowing women in Saudi Arabia to shine Crown Prince Mohammed bin Salman will take the country into "the free, dynamic, spiritual, prosperous state it has all the potential to become."
He added: "Women also contribute to addressing one of the biggest political and security challenges of the Middle East today: the Islamist — secular divide.
"Women tend to not be driven by power and loyalty to dogma, but rather are mission-oriented and support general movements for social progress. By empowering more women, you bridge the social divisions, and you end up with a force to be reckoned with."
Arab News is also playing its part in gender equality, by vowing to become the first to 50-50 gender-balanced newsroom in the Kingdom by 2020. The announcement was made at the opening of the inaugural Arab Women Forum at King Abdullah Economic City (KAEC). It will involve active recruitment, training and career guidance with the help of its publisher, the Saudi Research and Marketing Group.
Hawthorne said women in the wider Middle East are "a catalyst for change in their families, workplaces and societies when given the means and space to act."
She continued: "When women are given opportunities, they find ways to multiply the benefits for their communities. Saudi Arabia's vision 2030 simply cannot succeed without the inclusion of women into the Saudi workforce. The economic benefit for the country of greater inclusion of women into the economy is a driver behind the drafting of the ambitious vision plan in the first place."
The year 2018 has seen a litany of other female-led achievements, such an all-female Saudi Arabian team winning the Guinness World Record-breaking Hajj Hackathon, and Saudi racing driver Reema Al-Juffali becoming the first woman in the Kingdom to race in a championship, finishing second and third in the silver category of the TRD 86 Cup's season-opener at the UAE's Yas Marina Circuit.
Women have also been enjoying greater social freedom than ever before. In April, Saudi Arabia for the first time allowed a mixed-gendered concert to take place.
As Saudi businesswoman and activist Muna AbuSulayman said: "People are still grappling with this changing Saudi Arabia and you still see some of the old stereotypes being bandied about, but they simply no longer hold true. In the past 10 years, women in Saudi Arabia have pushed for and succeeded in implementing major reforms. Saudi women can lead. This is the key to the realization of the Saudi Vision 2030 and Nation al Transformation Program."
https://www.albawaba.com/editorchoice/2018-will-be-remembered-momentous-saudi-women-1232540
--------
Disabled Women Disregarded Under Inhumane Policies in Iran
Dec 1, 2018
Overlooking women's rights is institutionalized under the clerical regime in Iran. Likewise, disabled women in Iran face additional indifference when it comes to administrative promotion of their rights and well-being.
The annual observance of the International Day of Persons with Disabilities was proclaimed on December 3, 1992, by the United Nations. The purpose of this day is to promote the rights and well-being of persons with disabilities in all spheres of society and development, and to increase awareness of the situation of persons with disabilities in every aspect of political, social, economic and cultural life.
In 2004, the Iranian regime passed a law entitled 'Disabled Persons' Rights' that remained unimplemented. In 2017, a general bill on this issue was again passed by the mullahs' parliament, the implementation of which was conditional on the adequacy of the government budget and, therefore, was not executed.
According to statistics released by the mullahs' parliament in 2017, more than 11 million disabled people live in Iran, with women accounting for 35% of the figure. The number of disabled women who have to earn their living was 39,372 and almost twice as much as disabled men in the same situation. Annually, 100,000 people are added to the number of disabled persons in Iran.
In the field of employment, disabled people make up about 3-5% of the unemployment in each region. The number of unemployed disabled women is twice the number of men. That is, only one-sixth of women with disabilities might have an opportunity in the job market. While others cannot even afford to pay for their own transportation. This situation also makes them incapacitated for their medical and healthcare expenses which is an immediate basic necessity for any person with disabilities.
In addition to the economic problems, women with disabilities are 1.5 times more likely to suffer violence, harassment, abuse and discrimination than men with disabilities. Disabled women are forced to accept and tolerate cruel behavior and relationships because of their physical and social limits.
Family poverty, lack of decent homes, lack of urban services and appropriate transportation services for the disabled, and the neglect of educational facilities required for the disabled are all the more causes of disregarding people with disabilities and excluding them from the society.
What remains is the release of videos and images of the disabled women and girls who have been forced to sell goods on the streets and rummage through waste. This is just another aching agony added to all the other plights of the plundered nation of Iran. As with other deprived sectors of the society in Iran, people with disabilities have raised their voices in protest to their conditions. Between October 6 to 10, 2018, during a series of protests by employees of the Edalat Stocks Cooperative, women with disabilities and head of households gathered in protest to the cooperative's failure to pay 43 months of their salaries. On November 2, 2017, a number of people with disabilities gathered at the Iranian Press Exhibition in Tehran to protest against the Iranian parliament for not passing the bill on the rights of disabled people, the rights that will not be achieved except through the establishment of a democratic government.
https://women.ncr-iran.org/2018/12/01/disabled-women-disregarded-under-inhumane-policies-iran/
--------
Egypt's Sisi Calls on Women to Think before Getting Pregnant
December 27, 2018
Egyptian women should "think before deciding to bring a new child in to the world", President Abdel Fattah Al-Sisi said yesterday.
Speaking at the opening of a mega infrastructure project in the coastal province of Alexandria, Al-Sisi said: "If you live in one room, how can you bring four kids to life? Where would they sleep? How would you look after their education?"
His comments came in response to a documentary which aired recently showing a women talking about her life as a mother of six.
"You are telling the story as if the state and I were criminal for not providing your needs," the Egyptian leader said: "No, I swear to God you are guilty yourself."
Egypt's population was reported to have reached 98 million in the second half of this year while unemployment reached 11.8 per cent.
https://www.middleeastmonitor.com/20181227-egypts-sisi-calls-on-women-to-think-before-getting-pregnant/
--------
First Afghan Female Scales Country's Tallest Mountain Thanks To Aid of Western Isles Charity
December 31, 2018
And Linda Norgrove's legacy is still making a mark in the country where she worked and died.
A 24-year-old Afghan woman has become the first female to scale Afghanistan's tallest mountain thanks to a project supported by Western Isles based charity, the Linda Norgrove Foundation.
The Foundation was set up to honour the legacy of the kidnapped aid worker who was killed aged 36.
Her parents Lorna and John have since raised more than £1million to aid women and children affected by the war in Afghanistan.
Now, Afghan woman Hanifa Yousoufi has become the first woman to scale the countries tallest mountain Noshaq, standing at 24,580 feet, after being aided by US-based charity Ascend, which has been funded by the Linda Norgrove Foundation.
Over the past three years, Ascend has provided projects aimed at empowering women in the Middle Eastern country.
Lorna Norgrove, mother of tragic Linda, explained their support for Ascend: "We were hugely impressed by what this project is doing for women's empowerment in Afghanistan. News of their achievements has already reached more than 4 million Afghan women and the project is changing the lives of these young women for ever.
"I think the project particularly resonated with us because as a family we are all keen hillwalkers and both John and I were keen rock climbers. We know Linda would have loved this project and we're sure that it will appeal to the many people in the UK who enjoy climbing the hills and mountains. We take for granted the freedom to climb the hills, but this is something which can change lives for these young women in Afghanistan."
Ms Yousoufi joined Ascend's ranks after being rescued by a family member from an abusive marriage to an older man, which took place when she was just 15 years old. Afraid of being tarnished with the social stigma of being a divorced woman, Ms Yousoufi was refined to spending the next two years of her life in a single room of her family home. Her life changed when a relative took her along to Ascend where she learnt how to read and write before taking on the mammoth challenge in August of scaling her nation's highest peak.
Marina LeGree, Ascend's founder, said while ongoing conflict poses challenges, "the girls' courage and dedication make it a privilege to keep moving forward."
As well as providing the opportunity for members to scale the peaks of Afghanistan, Ascend also offers classroom work alongside the many months of intense physical training, with these designed to assert what it means to be a leader and a role model, as well as equipping members with the relevant skills to work together as a team.
https://www.pressandjournal.co.uk/fp/news/islands/western-isles/1641267/first-afghan-female-scales-countries-tallest-mountain-thanks-to-aid-of-western-isles-charity/
--------
Egypt Court Jails Woman For Inciting Debauchery After Pet Shop Monkey Video Goes Viral
27 Dec 2018
An Egyptian misdemeanour court sentenced a woman to three years in jail on Thursday for sexually harassing a monkey in an incident that took place around two months, a judicial source told Ahram Online.
The twenty-year old woman, identified as Basma Ahmed, was charged with inciting debauchery and committing an obscene act publicly, the source added.
The accusations stem from a 90-second video that showed the woman laughingly touching the genitals of a pet monkey at a pet shop in the Nile Delta city of Mansoura, while making sexual innuendos.
The woman was arrested in October after the video of the incident went viral online, and has since been in detention.
Thursday's sentence can still be appealed.
http://english.ahram.org.eg/NewsContent/1/64/320793/Egypt/Politics-/Egypt-court-jails-woman-for-inciting-debauchery-af.aspx
--------
Belgium To Appeal Order To Repatriate ISIS-Supporting Women And Their Kids From Syria
December 30, 2018
Belgium will appeal against a judge's order forcing it to repatriate two Belgian women convicted of being Islamic State militants and their six children from Syria, the migration minister said on Sunday.
A judge said on Wednesday that Belgium had to bring back Tatiana Wielandt, 26, Bouchra Abouallal, 25, and the children they had with militants, from the Al-Hol camp where they were being held in a Kurdish-dominated part of Syria.
Maggie De Block, the minister in charge of migration policy, told broadcaster VTM that a distinction had to be made between the mothers and the children.
"The children have not chosen to be born in such circumstances … Four of the six are Belgian children, they have grandparents here, one child is reportedly very ill. We are responsible for seeing what we can do," she told VTM.
She did not specify what the country might do about the other two children.
"The mothers, that's a different story. They have been convicted here. They have contributed to the planning of terrorist attacks here. I think we have to assess the risks and not just willingly accept them."
Both women were convicted in absentia of being members of Islamic State, and each sentenced to five years in jail by an Antwerp court in March.
Hundreds of European citizens, many of them babies, are being held by U.S.-backed Kurdish militias in three camps since Islamic State was ousted from almost all its territory last year, according to Kurdish sources.
European nations have been wrestling with how to handle suspected militants and their families seeking to return from combat zones in Iraq and Syria.
France is working to bring back children held by Syrian Kurdish forces, but will leave their mothers to be prosecuted by local authorities, French officials have said.
Paris is concerned that if these minors are left in Syria, they could eventually also become militants.
The Kurds say it is not their job to prosecute or hold them indefinitely, leaving the women and children in legal limbo.
The judge said on Wednesday that Belgium must organize the travel within 40 days after being notified of the decision or pay a daily penalty of 5,000 euros ($5,718) for each child, up to a maximum 1 million euros.
https://globalnews.ca/news/4802293/belgium-islamic-state-militant-women-repatriation/
--------
URL: https://www.newageislam.com/islam-women-feminism/2018-be-remembered-momentous-saudi/d/117319
New Age Islam, Islam Online, Islamic Website, African Muslim News, Arab World News, South Asia News, Indian Muslim News, World Muslim News, Women in Islam, Islamic Feminism, Arab Women, Women In Arab, Islamophobia in America, Muslim Women in West, Islam Women and Feminism