New
Age Islam News Bureau
7 March 2014
• US Army Lauds Bangladeshi Female Army Officers for Professionalism
• Pak Female MPAs Dress up To Celebrate International Women's Day
• Woman Who Defied Odds to Educate Village Children in Pakistan
• Pak women can compete in all fields: Religious Scholar
• Sisters in Islam Co-Founder Gets France's Highest Award
• Egypt Deports Female Activists Attempting To Access to Gaza
• Fatima Bhutto Nominated For Fiction Prize
• 49% of Saudi Women Do Not Donate Blood: Study
• Saudi First As Woman Becomes Investment Bank Chief
• Maldivian NGO Voice of Women Fears Further Discrimination for IGMH Scandal Victim
• Dr. Nasrin of Afghanistan Receives International Women of Courage Award
• Saudi Wins International Women of Courage Award
Compiled by New Age Islam News Bureau
URL: https://newageislam.com/islam-women-feminism/201-births-recorded-shelter-pregnant/d/56031
------------
201 Births Recorded At Shelter for Pregnant Teens in Malaysia
Mar 07, 2014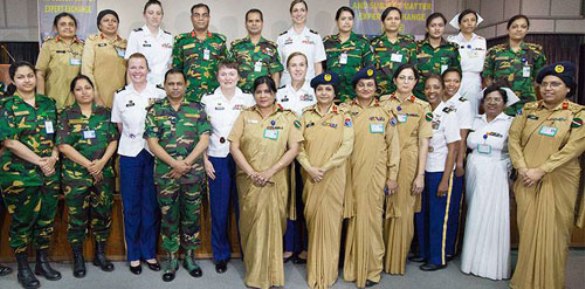 Army officers pose for group photo session following a two-day long joint seminar on 'US and Bangladesh Female Officers & Soldiers Subject Matter Expert Exchange' at the Army
MALACCA: A shelter for pregnant teens, Sekolah Harapan, in Jasin has recorded 201 births since it opened in September, 2010.
State family and women development, and welfare committee chairman Datuk Latipah Omar also said to date, 216 pregnant teens from all over the country had taken refuge at the school. It started with 14 teens in 2010, 84 (2011), 51 (2012), 61 last year and six during the first two months of this year.
She told the state legislative assembly sitting today that 28 teens took the public examinations. Twenty-one did the Sijil Pelajaran Malaysia and seven the Penilaian Menengah Rendah.
Speaking to reporters later, she said the babies were either raised by their grandmothers or put up for adoption.
Sekolah Harapan ensured that the teens return home after neonatal abstinence, she added.
http://www.malaysiandigest.com/news/491724-201-births-recorded-at-shelter-for-pregnant-teens.html
------------
US Army lauds Bangladeshi female army officers for professionalism
Mar 07, 2014
A visiting delegation of the United States Army yesterday commended the Bangladeshi female army officials for their motivation, enthusiasm and professionalism.
Col Jennifer Walker, head of the delegation, said the Bangladeshi female officers and soldiers had already demonstrated their professionalism in military service.
Jennifer told the Dhaka Tribune, "The first thing that I have been so impressed with is how motivated everyone is. They are so enthusiastic. When your country relies on volunteer service members you have to rely on the factors that they are motivated and enthusiastic…It is same in the US Army."
The senior US army official added: "The other thing is the professionalism. They have already demonstrated their professionalism and are looking to continue to develop their professionalism."
Jennifer shared her views with this correspondent while attending a two-day-long seminar titled "US Bangladesh Female Officers and Soldiers Subject Matter Expert Exchange" held at Bangladesh Army Headquarters.
In her address, Major Sifat said the condition of women in Bangladesh was better than that in many other countries across the world.
"Though the US Army has around 250 years' tradition of female army officers and is more developed than the Bangladesh Army, they also find it difficult to manage the family life and service life simultaneously."
However, Major Nusrat Nur Al Chowdhury echoed Sifat, saying the big challenge was to keep a harmony between family life and service life.
Captain Jannatul Ferdous said: "It is a tough job, but if anyone has determination the challenge can be overcome."
All female officers of Bangladesh army participated in the two-day-long seminar to address the obstacles they faced during their service in the armed forces.
Officials of Adjutant General's Branch said recruitment of female regular officers started since 2001 and for the first time in the country's military history some 1,263 female soldiers were recruited.
They added that of the 1,263 female soldiers, 945 were for medical core who would be on training for one year.
Major General Ashraf Abdullah Yussuf, adjutant general of the Bangladesh Army, said in his concluding speech that the Bangladesh Army attached due importance to the services of female members and recognised their contributions to nation building activities.
"Considering Bangladesh society, religion and the service…we can realise that inclusion of female officers and soldiers in the army has been a timely decision and certain. The female intake of ours would increase further," he said.
This seminar was organised with the objectives of changing role of female officers in military service, identifying their potentiality and the challenges they faced in Bangladesh Army and bringing them to the mainstream military practices alongside their male counterparts.
http://www.dhakatribune.com/development/2014/mar/07/us-army-lauds-bd-female-army-officers-professionalism#sthash.xLIFADT2.dpuf
------------
Pak Female MPAs Dress Up To Celebrate International Women's Day
March 7, 2014
KARACHI: With the Sindh Assembly building in the background, the deputy speaker happily announced the plans for women-related legislation to all those present.
"A group of female parliamentary members will soon be formed, a bill on provincial commission on women will be presented and that will be followed by bills on domestic and home-based workers," said a beaming Shehla Raza to a decked-up audience. "We will have legislations for all those women who can't leave their homes because they aren't given their rights."
On Wednesday, female MPAs, along with members of the Aurat Foundation, spent an evening to celebrate the upcoming International Women's Day on March 8, with an aim of 'Inspiring change'.
Out in the courtyard of the assembly premises, a beautiful copper and gold marquee was spread out and was adorned with purple lights. Clad in a pink embroidered dress, Raza dashed around the place, making sure that all her party parliamentarians were seated comfortably.
Two Muttahida Qaumi Movement (MQM) parliamentarians sat quietly in a corner, Pakistan Muslim League — Nawaz's Sorath Thebo and Pakistan Tehreek-e-Insaf's Seema Zia sat at the opposite ends while Pakistan Muslim League — Functional's female representatives were glaringly absent.
Raza, who insisted on personally greeting all the parliamentarians — using their names to exchange pleasantries — quipped, "Now you know the advantage of being a deputy speaker." She hoped that the gap in legislation for the genders will soon be eliminated. While women in this region now change the face of politics in countries, Pakistan was once the trend-setter as Benazir Bhutto was one of the first women to not only fight for the equality of women but for the rights of one and all, she recalled.
Those present at the event wore their best clothes — some were in heavily glittered shalwar kameez usually restricted to weddings, others used the opportunity to show off their gold bangles and diamond rings.
Quipping over the sudden influx of new faces in the Pakistan Peoples Party (PPP) women reserved seats, PPP MPA Farheen Mughal, a much more recognisable figure, said that even she doesn't know all of the new ones yet.
The event was, however, not restricted to women only. Male assembly members also graced the occasion but would have perhaps wished that they had not. From PPP's Murad Ali Shah and Hasan Shah to MQM's Khalid Ahmed, all the men present looked thoroughly bored as the women laughed and joked. Even the usually ferocious Khurram Sher Zaman sat meekly as the women around him seemingly had the time of their lives.
Starting the event an hour and half late, Aurat Foundation's Rubina Brohi said that change had already come as women are now part of the parliament. She pointed out that the domestic violence bill was passed last year on International Women's Day, and dubbed it a collective victory for the women of Sindh. "Now the child marriage bill is pending in the assembly, hopefully you will help pass it," she said, addressing the assembly members present.
Social activist Shahnaz Wazir Ali said that every woman has a story to tell when she decides to leave her home and work for the society or the country, individually or collectively. "The battle for women's rights should now be fought in the assembly," she said. "Today there is no dictatorship in the country, but despite democracy, women in many parts are still deprived of their rights. They are forced into marriages, their properties are taken away and they are not allowed to work or study."
http://tribune.com.pk/story/679797/gender-equality-female-mpas-dress-up-to-celebrate-international-womens-day/
----------
Woman who defied odds to educate village children in Pakistan
2014-03-07
KARACHI: Humaira Bachal knows firsthand how lack of education hurts her community. She had a cousin who died because his mother couldn't read the expiry date on a bottle of medicine. She knows women in her neighbourhood who died giving birth at home because their families didn't know to send them to the hospital.
"These things are breaking my heart and every time I am raising the question `why are people doing this?'" said the 26-year-old Bachal. "Maybe when my people are educated these problems would be reduced."
So at the age of 13, she began teaching other girls what she learned in school. Those classes at home between friends grew into her life's work – bringing education to children in Muwach Goth, where families often keep their girls out of school and where even boys struggle to get decent learning.
Through hard work and a sweet-but-stubborn attitude, Bachal has gone from a teenager who hid her schoolbooks from her father, who opposed her education, to running a foundation that teaches 1,200 boys and girls at her Dream Model Street School.
Hers is a story about the power of one woman to change not only her own future but the future of people around her. With help from domestic and international donations – Madonna has given money – the foundation is building a new 18-room home for the school, which has grown to 33 teachers.
It will be a massive improvement from their current site, a rented one-level, cinder-block building where curtains divide the classrooms.
Like many in poor communities, Bachal's family didn't want to educate their daughter. She finished primary school, but her father forbade her to continue, preferring his eldest daughter get married.
With her mother's help she studied in secret, hiding her school uniform and books at a friend's house. This went on for nine months until a day of reckoning she remembers as one of the most important of her life.
She was preparing to go to school for a test, but her father came home early and questioned where she was going. When he discovered she had been secretly going to school, he was livid and slapped her cheek. A showdown ensued between her parents with her father beating her mother and her mother defiantly telling Bachal to go to school.
"I just ran from the house and went to the school and did my exams. I was worried about my father beating my mother. I didn't know what was happening in my home," she said.
Eventually her father agreed to let her continue her education as long as she married whomever he chose. She has yet to marry but she certainly pursued her studies. She graduated from high school, got a bachelor's degree, is studying for her master's, and learned English.
Bachal said she hasn't faced any violence, just stiff resistance from community elders. She started out at 13, with help from her younger sister Tahira, with a makeshift classroom in her house, teaching about 10 of her girlfriends who were not able to go to school. Within two years, she had moved her now-150 students, Tahira and three other girls who had joined as teachers into a rented building.
At the same time, she lobbied families in the area to send their children to school although the reception wasn't always great. She said local elders asked her family to move, saying they weren't a good influence.
The owner of the building she was renting tried to lock them out once. So they held classes in the street in front of the building until he relented.
"The community is made up of labourers and people who are non-skilled workers. So she's had to convince them why education is important to begin with," said Academy Award-winning filmmaker Sharmeen Obaid-Chinoy, who's made a film about Bachal's school. "Here are people who have 8 or 10 children, and they want their children to work."
"I thought it might be God's help that she came to the door," said Salma Haji, a teacher who volunteered to help at the school after Bachal visited her home.
One parent, Ashraf Khatoon, said her father and uncle taunted her for getting her daughters an education, insisting instead they should marry. But Khatoon wants her daughters to be "civilised" and "not like me, I am illiterate".
Tahira, who is studying accounting, is the principal of the school. The Dream Foundation, which Bachal heads, runs the school and offers mentoring programmes, health screening for students and teacher training.
"Some people don't like what I'm doing but there's a way to convey the message to these kinds of people," she said.
Her next dream? Building a university.—AP
https://www.dawn.com/news/1091552/woman-who-defied-odds-to-educate-village-children
------------
Pak women can compete in all fields: Religious Scholar
March 7, 2014
KARACHI: Renowned religious scholar Dr Amir Liaquat Hussain said that the Pakistani women had the ability to compete the women of other countries in all walks of life.
He said this while expressing his vies at a seminar organised by Department of Islamic Learning, Jinnah University for Women, with reference to International Women's Day.
Topic of the seminar was 'Islam, Women Rights and Social and Economic Stability'. Renowned religious scholar Dr Amir Liaquat Hussain was the chief guest on the occasion.
The seminar began with the recitation from the Holy Quran followed by 'Na'at' in respect for Prophet Muhammad (SAW).
As the programme started, Chancellor of the university, Wajeeh-ud-Din Ahmed presented a bouquet to the chief guest. Chairman of the Department of Islamic Learning, Professor Fazal Ahmed hosted the programme.
During the reception address, Dr Shahana Urooj Kazmi welcomed the participants and informed that ceremonies with relevance to International Women's Day would take place in Jinnah University for Women till March 29. In his speech, Dr Amir Liaquat noted that today's woman had the capability to face any kind of challenges. He said that terrorists wanted to extinguish the candles of knowledge but they would not succeed in their intentions.
He said that the nations who wanted to overpower Pakistan should know that Islam prevailed in Pakistan already.
With regard to the role of women, Dr Amir said that the Holy Prophet (SAW) took advice for the first time from Hazrat Khadija. Second, he said that on the Day of Resurrection, everyone would be called from his/her mother's name.
He observed that those who had daughters were lucky ones. He maintained that Prophet Muhammad (SAW) loved his daughters very much.
Dr Amir Liaquat further said that women are future of the nation and they should work for the protection of their rights as enshrined in Islam.
Dr Shahana Urooj Kazmi, Shameem Kazmi, Qamar-un-Nisa Qamar also spoke on the occasion.
Dr Amir Liaquat also announced to reward the founder of Jinnah University, Dr Riaz-ud-Din Ahmed Akbar Abadi with Pakistan Ideal.
http://www.thenews.com.pk/Todays-News-2-236798-Pak-women-can-compete-in-all-fields:-Dr-Amir
------------
Sisters in Islam co-founder gets France's highest award
Mar 07, 2014
Advocacy group Sisters in Islam (SIS) co-founder Zainah Anwar, who will be conferred the French government's highest award, the Legion of Honour, regards it as a recognition of the advocacy group's courage in standing up for its cause.
"It is also a recognition that a group like ours is regarded by many nationally and internationally as a model of what the leadership should be in a multi-ethnic and multi-religious country like Malaysia.
"We should be coming together to share the nation and not look at it as one winning over the other," she told The Malaysian Insider.
French Ambassador to Malaysia, Martine Dorance, will confer the honour on Zainah this evening, a press statement from the embassy said.
The order, created in 1802 by Napoleon Bonaparte, rewards men and women, French and foreigners, for their distinguished merits and the exemplary services rendered to causes supported by France.
Previous Malaysian recipients of the award, the Chevalier de la Légion d'Honneur, include former Bersih co-chair and lawyer Datuk Ambiga Sreenevasan, Bank Negara governor Tan Sri Zeti Aziz and AirAsia group chief executive Tan Sri Tony Fernandes.
A reception is also being held today in conjunction with this year's International Women's Day.
Sisters in Islam's main cause is to promote an understanding of Islam that recognises the principles of justice, equality, freedom and dignity within a democratic nation state.
Zainah and SIS have been criticised by some Malay groups for challenging the traditional understanding of Islam.
However, Zainah has been consistent in the group's cause, which includes the freedom of religion.
On Wednesday, she attended a flash mob gathering in Bangsar, Kuala Lumpur, held by a social activist group called Malaysians for Malaysia to express solidarity with the Catholic Church which is appealing against a Court of Appeal ruling that validates a ban on Catholic weekly Herald from using the word "Allah".
Meanwhile Suri Kempe, programme manager for SIS, said the movement was extremely proud of Zainah, adding that her tireless advocacy has created a space for and amplified the voices of women.
"All over the world, women are reclaiming an Islam that is just, equal and fair.
"International recognition of Zainah's work is also a testament to the moral courage and commitment it takes to challenge injustices, particularly those committed in the name of religion," she said.
Suri added that SIS continues to be inspired by Zainah's passion and honours her achievements by consistently promoting the principles of gender equality, justice, freedom and dignity in Islam and empowering women as advocates for change.
http://www.themalaysianinsider.com/malaysia/article/sisters-in-islam-co-founder-gets-frances-highest-award
-----------
Egypt Deports Female Activists Attempting To Access to Gaza
World Bulletin / News Desk
Mar 07, 2014
Some 36 foreign activists left Cairo on Friday morning after ending a one-day sit-in inside Cairo Airport after Egyptian authorities refused to allow them into the country to continue their way to the Gaza Strip.
Airport sources told Anadolu Agency that 22 of the female activists boarded an EgyptAir flight to Paris.
Eight activists flew to Istanbul on a Turkish Airlines flight while six others left for London on an EgyptAir flight.
The foreign activists had ended late Thursday their sit-in inside Cairo Airport and decided to leave the country.
Thirty-one activists had already left Cairo earlier, including some who had been deported on arrival.
On Wednesday, Egyptian authorities prevented a women's delegation from leaving Cairo Airport on the way to the Gaza Strip through the Rafah crossing on the border between Egypt and Gaza.
The delegation members had planned to mark the International Women's Day, which is marked on March 8 of every year, in the Palestinian enclave, which has been suffering an Israeli blockade since 2006.
Egyptian authorities have tightened their control over the border with Gaza, repeatedly closing the Rafah crossing – Gaza's only window to the outside world.
The Egyptian army has also launched a major campaign aimed at destroying the network of tunnels linking Gaza to Egypt's Sinai Peninsula, which in recent years had been used to bring vital commodities into the besieged coastal enclave, home to nearly 2 million Palestinians.
Hamas, an ideological offshoot of Egypt's Muslim Brotherhood, the group which propelled ousted president Mohamed Morsi to power in 2012 elections, has controlled the Gaza Strip since 2007.
http://www.worldbulletin.net/headlines/130433/egypt-deports-female-activists-attemtping-to-access-to-gaza
------------
Fatima Bhutto nominated for fiction prize
2014-03-07
LONDON: Fatima Bhutto, the niece of assassinated former prime minister Benazir Bhutto, has been nominated for the Women's Prize for Fiction, the judges announced Friday.
Bhutto is among 20 women on the long list for the award, which was formerly known as the Orange prize and is open to English-language novels from anywhere in the world.
She is nominated for "The Shadow of the Crescent Moon", her first attempt at fiction following several fact-based books, including a memoir of her family's blood-soaked history.
Bhutto is a fierce critic of her charismatic aunt, who twice served as prime minister, claiming she was power hungry and "morally responsible" for the murder of her brother, Fatima's father Murtaza Bhutto, in 1996.
The winner of the prize, which will be announced at the Royal Festival Hall in central London on June 4, receives #30,000 ($50,000, 36,500 euros) and a bronze known as a "Bessie".
Other nominees for the 19th annual award include "The Luminaries" by New Zealand author Eleanor Catton, which won the 2013 Booker Prize.
Australia's Hannah Kent is nominated for "Burial Rites", while Indian-American Jhumpa Lahiri is long-listed for "The Lowland".
Penguin Books UK's managing director Helen Fraser chairs the five-woman judging panel, which will announce the short list on April 7.
"This is a fantastic selection of books of the highest quality — intensely readable, gripping, intelligent and surprising — that you would want to press on your friends," she said.
Former winners Chimamanda Ngozi Adichie (2007) of Nigeria and Suzanne Berne (1999) of the United States are on the long list, which also contains six debut novels.
The other long-listed authors are from Britain, Canada, Ireland and Pakistan.
US writer A. M. Holmes won last year's prize with "May We Be Forgiven".
https://www.dawn.com/news/1091601/fatima-bhutto-nominated-for-fiction-prize
------------
49% of Saudi women do not donate blood: Study
Mar 07, 2014
A recent study revealed that 49 percent of women in Saudi Arabia do not donate blood because they find it difficult to access donation centers, while 35 percent of women refrain from donating blood due to fear of developing anemia.
For around 60 percent of males, however, the main obstacle remains lack of time.
The study, conducted by the King Abdullah International Medical Research Center at the University of King Saud bin Abdulaziz for Health Sciences, found that educational programs are essential for raising awareness and improving overall perception for blood donation.
More than half of participants had previously donated blood, while 39 percent of donors have donated more than once.
It also found donation more prevalent among males than females.
http://www.arabnews.com/news/535571
------------
Saudi first as woman becomes investment bank chief
2014-03-05
RIYADH: Saudi Arabia's National Commercial Bank said Wednesday it has named Sarah al-Suhaimi to head NCB Capital, making her the first woman to lead a top investment bank in the kingdom.
Such appointments are rare in the ultra-conservative kingdom where women face multi-layered restrictions, including not mixing with men at the workplace.
Suhaimi has an impressive resume. She joins NCB from Jadwa Investment, where she was head of asset management, responsible for assets exceeding 17 billion riyals ($4.53 billion), NCB Capital said in a statement.
She was earlier head of portfolio management at Jadwa, which she joined in 2007 after five years in a senior position at Samba Financial Group.
In February, Soumayya Jabarti became the first woman to be named editor-in-chief of a Saudi daily, when she was promoted to lead the Saudi Gazette.
Saudi Arabia imposes a strict interpretation of Islamic law, forbidding women to work or travel without authorisation from their male guardians.
It is also the only country to ban women from driving, and a woman cannot obtain an identification card without the consent of her guardian.
https://www.dawn.com/news/1091209/saudi-first-as-woman-becomes-investment-bank-chief
------------
Maldivian NGO Voice of Women fears further discrimination for IGMH scandal victim
Mar 07, 2014
Maldivian NGO Voice of Women has expressed concern that the victims of the recent HIV scandal at Indira Ghandi Memorial Hospital (IGMH) will suffer from further discrimination.
"Our foremost concern is that the mother and child will be subject to unfair and unfounded discrimination based on societal myths and misinformation about the disease," said the women's rights NGO.
Despite acknowledgements that the Maldives as a society exhibits a number of high risk behaviors for transmission of HIV, the number of people reported to be living with the illness is less than 100.
The incident, in which HIV positive blood was given to a female patient – whom local media has reported to be pregnant – became public last week.
Following similar calls from the Human Rights Commission, Voice of Women has called for the protection of the patient's identity as well as urging concerned parties to initiate public awareness campaigns.
The opposition Maldivian Democratic Party (MDP) has accused the government of hiding the news – first discovered 8 days prior to the public announcement – until the conclusion of celebrations marking its policy achievements since assuming power.
Health Minister Dr Mariyam Shakeela has rejected calls for her resignation, arguing that the incident was a one off. She did, however, inform a Majlis committee last week that the health sector was severely underfunded.
An Indian expatriate – allegedly responsible for incorrectly marking the blood test – is currently being held in police custody. IGMH Deputy CEO Dr Mohamed Habeeb told MPs on the government oversight committee that the Indian national had admitted his culpability in the incident.
Voice of Women have been critical of the tone taken by Dr Shakeela in the aftermath of the incident, suggesting she had failed to take responsibility for the systemic failures that led to the incident – instead blaming a single individual.
"We are concerned by repeated calls by the Minister for harsh and criminal punishment for an individual. The punishments should be relevant and take into consideration the failure of the system (if that is the case) rather than laying responsibility solely on an individual," read the group's press release.
The NGO also questioned the police's ability to conduct what it suggests ought to be a medical inquiry.
Further incidents and president's response
Local media yesterday reported that a similar incident had occurred in nearby Hulhumalé Hospital, with a male patient attempting suicide after mistakenly being told he had hepatitis B.
CNM reported that hospital staff had advised the man to separate from his wife before discovering that the test results were in fact those of another patient. After taking a knife and some rope to the local football pitch, locals dissuaded the man from killing himself. The family are reportedly planning to submit a complaint to the Health Ministry.
Director General of Health Services Dr Sheeza Ali was not responding to calls at the time of press, while Permanent Secretary at the Health Ministry Geela Ali denied any knowledge of the incident.
After being criticised for failing to mention the incident during yesterday's state address at the opening of the Majlis, President Yameen last night commented on the IGMH incident for the first time.
During a campaign event for Henveiru Dhekunu constituency PPM candidate Mohamed Riyaz, the president was reported as saying that the incident ought not to have happened under any circumstances.
Yameen went on to note that overcrowding at IGMH – which he described as being "busier than the fishmarket" – was a problem that needed resolving urgently.
"If we look at the health minister's statements at the People's Majlis committee, there are clinics in Malé. There is a land and building given at a cheap rate – free – called ADK," Haveeru quoted Yameen as saying.
The privately-run ADK hospital is the capital's second largest, and is run by the ADK Group. The group is chaired by the Maldivian Democratic Party candidate for the Komandoo Dhaairaa constituency, Ahmed Nashid.
Vice President Dr Mohamed Jameel Ahmed met today with representative of the World Health Organisation (WHO), though the President's Office did not report the IGMH incident as having been discussed.
Shakeela has said that she sought the assistance and advice of the WHO upon learning of the incident on February 19.
http://minivannews.com/politics/voice-of-women-fears-further-discrimination-for-igmh-scandal-victim-78993
------------
Dr. Nasrin of Afghanistan Receives International Women of Courage Award
Mar 07, 2014
Dr. Nasrin Oryakhil, a prominent leader in the field of maternal health in Afghanistan, has been selected by the US for the prestigious International Women of Courage Award.
Dr. Nasrin was among the ten winners who received the award at an awards ceremony at the State department in Washington.
She is a doctor of Gynaecology and Obstetrics and has been the Director of the Malalai Maternity Hospital in Kabul since 2004.
The first centre for obstetric fistula repair at Malalai Maternity Hospital in Afghanistan was also founded by Dr. Nasrin.
Dr. Nasrin also provides emergency obstetric care to women, including for rural women who come to Kabul because of medical complications. She is also firmly committed to strengthening the role of women in medical professions in Afghanistan. She has increased the recognition of the essential role of midwives and supported the establishment of the Afghan Midwives Association.
She is the president of the non-governmental organization Afghan Family Health Association, which is currently implementing innovative reproductive health programs, providing a hotline for youth and shelters for women, and conducting outreach sessions in high schools to raise reproductive health awareness among students.
She is also an active member of the Afghan Women's Network, has spoken before the Parliament many times, has presented at professional medical conferences, and is part of the working group tasked to establish a Medical Council in Afghanistan.
The other award winners for the year 2014 were Ms. Roshika Deo from Fiji, Bishop Rusudan Gotsiridze from Georgia, Judge Iris Yassmin Barrios Aguilar from Guatemala, Laxmi from India, Ms. Fatimata Toure from Mali, Dr. Maha Al Muneef from Saudi Arabia, Ms. Oinikhol Bobonazarova from Tajikistan, Ms. Ruslana Lyzhychko from Ukraine and Ms. Beatrice Mtetwa from Zimbabwe.
The annual Secretary of State's International Women of Courage Award was established in 2007. Women around the globe who have exemplified exceptional courage and leadership in advocating for human rights, women's equality, and social progress, often at great personal risk are being honoured with the award every year.
Malalai Bahaduri, First Sergeant, Afghan National Interdiction Unit, received the Women of Courage Award from Afghanistan last year.
She was recognized as a courageous and brave woman since she was the first female Sergeant of the Afghan National Interdiction Unit for her services to empower law to fight against the opium and drugs in Afghanistan.
http://www.khaama.com/dr-nasrin-oryakhil-receives-international-women-of-courage-award-4003
------------
Saudi wins International Women of Courage Award
Mar 07, 2014
A Saudi doctor has been chosen as one of 10 winners of the International Women of Courage Award, according to local media.
Maha Al-Muneef is a specialist in paediatric infectious diseases and the executive director of the National Family Safety Program, the first organization in Saudi Arabia to address domestic violence and child abuse.
Al-Muneef was not present at the awards ceremony in the US for health reasons, local media said.
US first lady Michelle Obama handed out the awards at a ceremony last week to mark the 103rd anniversary of International Women's Day.
Al-Muneef has been an adviser to the Shoura Council since 2009 and public advocate for survivors of domestic and sexual violence. Her work in hospitals helped change protocols for victims of rape and abuse, created new regulations for handling cases, and set up special training programs for medical personnel.
Speaking to local media, Al-Muneef said she was honoured to have received the award. She remained committed to helping vulnerable children in the Kingdom from abuse.
The women honoured included Ukraine singer Ruslana and others from Afghanistan, Fiji, Georgia, Guatemala, India, Mali, Tajikistan and Zimbabwe.
Established in 2007, the annual award "honours women around the globe who have exemplified exceptional courage and leadership in advocating human rights, women's equality, and social progress, often at great personal risk," according to the US State Department website.
http://www.arabnews.com/news/536221
------------
URL: https://newageislam.com/islam-women-feminism/201-births-recorded-shelter-pregnant/d/56031