New Age Islam News Bureau
13 Jan 2017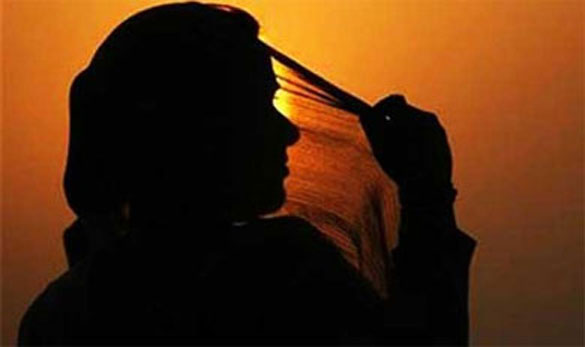 15,222 women killed for honour in Pakistan in last 12 years: A report was published by Petarian Human Rights Organization (PHRO).
----
• Hezbollah Woman Tries Recruiting Saudi Citizen for $2,000 A Month
• The Muslim Feminist Who Believes Islam and Feminism Can Co-Exist
• Boko Haram Defeat Tied To Rescue of Remaining Chibok Girls – Buhari to Malala
• A Muslim American Woman's Response to President Obama's Farewell Speech
• Muslim Woman Founded the First University in the World in the Year 859
• Saudis Investigate Twitter Baby Abuse Video Case
Compiled by New Age Islam News Bureau
URL: https://www.newageislam.com/islam,-women-and-feminism/new-age-islam-news-bureau/15,222-women-killed-for-honour-in-pakistan-in-last-12-years/d/109711
-------
15,222 Women Killed For Honour in Pakistan in Last 12 Years
13 January, 2017
ISLAMABAD (Roznama Dunya) - At least 15, 222 women fell prey to menace of honour killing in last 12 years despite fact that the federal and provincial governments have increased punishments for people who commit this heinous crime.
Report published by Petarian Human Rights Organization (PHRO) states that at least 4,734 cases of sexual harassment, 5,508 cases of women abduction were notified in last 12 years whereas 1,535 women were set ablaze and 35,935 women committed suicide during same period.
Likewise, 1843 women were subjected to domestic violence.
PHRO Chairman Ehsan Ali Khosa deplores absence of legislation to stop violence against women.
"On October 30-2011 in Jacobabad, Reema and Imran Chachar tie the knot upon which Jirga announced Rs2lac prize money for their killing.
"Likewise, disabled Nusrat Billo was also tried to be killed for restoration of honour in Mahesar Goth area of Ghotki.
"Similarly, Shikarpur's Gulshan Shar escaped murder attempt by her husband and took shelter in Darul Aman, said Khosa.
Last year 1100 cases of honour killing were reported, but the Human Rights Commission of Pakistan (HRCP) estimates at least another 1,000 went unreported.
"We need to change the mindset of the society," says Abdul Hai from the HRCP.
The perpetrators of honour killings -- in which the victim, normally a woman, is killed by a relative on the pretext of defending family "honour" -- often walk free because they can seek forgiveness for the crime from another family member.
A 2005 amendment to the law pertaining to honour killings prevented men who kill female relatives pardoning themselves as an "heir" of the victim.
But punishment was left to a judge's discretion when other relatives of the victim forgive the killer -- a loophole which critics say had been exploited.
Last year, the National Assembly passed a bill, mandating judges to sentence someone who kills in the name of "honour" to life imprisonment, even if they have been forgiven and thereby avoid the death penalty.
http://dunyanews.tv/en/Pakistan/370182-15222-women-killed-for-honour-in-Pakistan-in-last
-------
Hezbollah Woman Tries Recruiting Saudi Citizen for $2,000 A Month
12 January 2017
Conspiracy charges have been pressed against a Saudi citizen for having links with Hezbollah, which has been designated a terrorist organization by several countries.
Saudi daily newspaper Okaz has reported that the suspect initiated contacts with al-Manar News Channel, owned by Hezbollah, with the intention to join and fight for the Lebanese militant group.
Al-Manar assigned a woman to recruit the unnamed suspect to carry out tasks in return for a monthly payment of $2,000 (SAR 7,500) the report said. The Public Prosecutor demanded the suspect be indicted in accordance with Saudi Arabia's Cybercrime Prevention Act.
The six-member Gulf Cooperation Council (GCC) labelled Hezbollah a "terrorist" organization last year, effectively banning the group in the region.
https://english.alarabiya.net/en/News/gulf/2017/01/12/Hezbollah-woman-tries-recruiting-Saudi-citizen-for-2-000-per-month.html
-------
The Muslim Feminist Who Believes Islam and Feminism Can Co-Exist
12 JAN 2017
Moroccan author Asma Lamrabet is used to multi-tasking – mixing her writing with a career in medicine – but perhaps her most noteworthy balancing act is being both a faithful Muslim and a committed feminist.
A tireless advocate for gender equality in a region where women's rights often lag far behind those of men, Lamrabet has accumulated a body of work showing how feminism and Islam can co-exist despite centuries of male-centred dogma.
"There's a tendency to conflate models and ideals. But just as there are different models of democracy, there are different types of feminism," says Lamrabet.
"So if Moroccan feminists fight for true equality with men on the ground or against the marriage of minors, Saudi (women) claim the right to drive, vote and live in freedom."
Although women in Morocco have far more freedom than their Saudi counterparts and gender equality is theoretically guaranteed by law, the north African kingdom has yet to adopt legislation criminalising violence against women, and child marriage is not uncommon.
Lamrabet's key message is that gender inequality is less to do with the tenets of Islam and more down to its interpretation within male-dominated societies.
Her latest work, Faithful and Feminists, examines passages of the Koran and argues that there is nothing in the text itself to enshrine female subordination.
"In all religious traditions, you find a certain stereotypical representation of women," she says.
"The problem doesn't come from religious texts but instead from the interpretation of these texts by men."
It is for this reason, argues the Rabat native, who writes award-winning texts in between a career as a pathologist, that "it's absolutely necessary to read the Koran in context.
"When the Koran speaks of reason and justice, they need to be seen as universal concepts. But there are some verses that respond to given historical circumstances," says Lamrabet, her thick black hair draped in a bright blue veil.
"We must keep this spirit, but not take it literally."
Western 'hegemony'
Although wholly committed to universal women's rights, Lamrabet says she took inspiration from renowned Indian feminist theorist Gayatri Chakravorty Spivak in her belief that the feminist cause has long been dominated by Western voices.
She's quick to disparage this "hegemony", which she says seeks to "speak for all women in the world."
Western feminists "continue to consider women of the (global) south as subordinate.
"The priorities and demands of women may change depending on the context even though the principles remain the same," Lamrabet insists.
One defining factor of Moroccan social discourse in recent years has been dogged disagreement over the role of religion in politics.
The kingdom is facing an unprecedented political deadlock after a power struggle between the Islamist Justice and Development Party (PJD), which won October's general election, and the secular runners-up.
Lamrabet is an unalloyed supporter of secular rule, which she says "is the only way of truly protecting individual freedoms while also protecting religion".
She admits that secularism has a bad reputation in Muslim Arab nations, though, "as it's often associated with atheism".
Morocco is keen to be viewed as a beacon of moderate Islam and has embarked on a vast imam training scheme that has seen some 50 women preachers oversee religious development at some mosques.
While Lamrabet finds the idea of female preachers "interesting", she's at pains to point out that having women as messengers changes little if the message itself remains essentially "patriarchal".
"These preachers don't advance women's cause," she says. "Judicial equality, dignity, liberty and emancipation. These are the keys to feminism." – AFP
http://mgafrica.com/article/2017-01-12-the-muslim-feminist-who-believes-islam-and-feminism-can-co-exist
-------
Boko Haram defeat tied to rescue of remaining Chibok girls – Buhari to Malala
Jan 13, 2017
Nigerian President Muhammadu Buhari has said defeat of terrorist group Boko Haram will be incomplete until the remaining Chibok girls are rescued.
Buhari's new position on the terrorist group was in a letter to Pakistani Nobel laureate, Malala Yusafzai, who has repeatedly called on the government to do all it takes to rescue the remaining girls.
Buhari's letter was in response to one that Malala addressed to him during the second anniversary of the abduction of the Chibok girls. The Ministry of Information added that the said letter also outlined efforts of the government as it tried to negotiate the release of the remaining girls.
Touching on the release last October of 21 of the girls, Buhari said, ''They are being given comprehensive medical, nutritional and psychological care and support, and anyone who has seen them in recent times will attest to the fact that their reintegration back to the society is progressing well.
''The Federal Government believes that it is not too late for the girls to go back to school, and everything will be done to ensure that they continue the pursuit of their studies," he added.
In 2015 months after assuming office, Buhari told the BBC that Boko Haram had been technically defeated. Last October, he reiterated that stands asserting that the group had been defeated in his independence day address.
The Army recently took over the bastion of the insurgents known as Camp Zero in the Sambisa Forest and has since planned to turn the place into a military training ground. The insurgents now use suicide bombers to attack civilian population in the country's north east.
In a letter posted on the blog section of malala.org in April last year, she addressed the parents, sharing their grief two years on, adding that; ''I think of you every day since we first met two years ago – and join millions of people around the world in praying for the safety and swift return of your girls.''
In 2013, Malala, who is the youngest-ever Nobel prize laureate was shot together with two friends by insurgents in her native Swat region while on her way to school. A global outcry followed after which she was flown abroad for treatment.
She has since 'grown' into a global voice that champions the interest of educating girls the world over. She was awarded the Nobel Peace prize in 2014.
Meanwhile, as part of the commemoration 1000 days in captivity, the Bring Back Our Girls campaign group are marching through the streets of Nigeria's capital Abuja in a week of activism demanding more action from the government.
http://www.africanews.com/2017/01/13/boko-haram-defeat-tied-to-rescue-of-remaining-chibok-girls-buhari-to-malala/
-------
A Muslim American Woman's Response To President Obama's Farewell Speech
Jan 13, 2017
Watching President Obama give his farewell address in his hometown and a city I have been lucky enough to call home pulled at more than just my heartstrings. Like most of the Chicago audience, I supported Obama both times he ran for the office of president, and I am quite saddened to know his days as our leader are nearing an end. However, as all effective rhetoric does, Obama's words left me in the paradoxical state of disturbed serenity, a combination of having hope and confidence in one's agency but with a push towards readjusting and re-evaluating one's own perceptions.
As a Muslim American woman of color, I expected myself to become most engaged with his speech when he addressed issues of Islam and Muslim Americans; the audience certainly responded most resoundingly to his defense of Muslim Americans' patriotism than to any other part of his speech. This moment was indubitably reassuring—it told me, as many Americans have in the now two months after the election, "You are not alone." Having the POTUS, the individual in arguably the most American job there is, publicly validate the Americanness of a group I identify with and that has had its place in American society questioned for over a decade felt empowering and comforting. I cheered along with the audience.
Still, as grateful as I am to Obama for reiterating his view on Muslims, the point felt anticlimactic. Islam, terrorism; Islam, fundamentalism; Islam, patriotism—these words are now, in one direction or the other, always linked in a predictable way in public political rhetoric. It's as if Islam and Muslims must always be addressed if terrorism is being discussed, even if it is to deny a universal connection. The sharper part of Obama's speech in my psyche, the one that made me gasp inwardly ever so slightly due to the unexpected new thought it opened within the folds of my political identity, was a different moment, when he said the following:
In his own farewell address, George Washington wrote that self-government is the underpinning of our safety, prosperity, and liberty, but "from different causes and from different quarters much pains will be taken… to weaken in your minds the conviction of this truth."
And so we have to preserve this truth with "jealous anxiety;" that we should reject "the first dawning of every attempt to alienate any portion of our country from the rest or to enfeeble the sacred ties" that make us one.
Obviously, the POTUS's comments refer to the United States as a whole and emphasize the importance of autonomy and unity of the American people. As a Muslim American woman, though, I couldn't help feeling that I was a microcosm of the macrocosm. In fact, it was fitting that lines from one of America's greatest poets, Walt Whitman, danced casually through my mind at that moment: "I am large, I contain multitudes" ("Song of Myself," Leaves of Grass). Even before the rise of Islamophobia over the past year, even before president-elect Trump's proposal to ban and/or register Muslims, even before ISIS, before Iraq and Afghanistan, before 9/11—being a Muslim girl in America was complicated.
I know I won't make friends by saying this, but traditional Islamic values do threaten the self-government of its female followers. Before the prejudiced use this statement as a way to confirm their stereotypes about Islam and the faithful use it as an indignant topic to disconfirm, let us consider the lived experiences of the women themselves. It is absolutely true that modern-day Islam is diverse, with a spectrum of both beliefs and theological intensity. It is also absolutely true that Muslims, especially in the West, increasingly have relationships and worldviews that align greatly with their Western peers. What also remains true, though, is that the gendered and oppressive language of certain social institutions—marriage, for example—continue to be carried on in the same subtle way sexism still persists in the U.S. in general.
My research through The University of Chicago has given me insight into the multi-layered challenges Muslim American girls and women face.
The self-government of Muslim women—the ability for us to say this is who we are, neither entirely American nor entirely Muslim—is indeed a threat to both American and Muslim societies. The "different causes" and "different quarters" are to this day relentless in their quest to weaken our sense of self, one that does not fit neatly into either society.
In my own experience, on the one hand, I have had highly educated people in university settings question my ability to speak English, the subject I happened to be teaching. On the other hand, I have had respected figures in my religious community warn me against pursuing "too much" education, as men do not like to marry women who are smarter than them. Hearing President Obama quote George Washington's warning against alienating any "portion of [the] country from the rest" seemed the perfect metaphor to address this conundrum that I know I am not alone in experiencing.
Each Muslim woman is a nation unto herself, as vast and rich as our country itself. The more she holds in her being, though, the more she embraces contradictory ideas. Increasingly, women are becoming more comfortable with these contradictions as I have found in the research interviews I have conducted, accepting them as part of who they are and what makes them unique rather than trying to splice away aspects of their identity to appease one side or the other.
Whitman says, "Do I contradict myself?/Very well then, I contradict myself." It is this American boldness that Obama's speech made me realize I value the most about who I am, a boldness that every Muslim American woman I've ever encountered—and I've encountered many—also seems to harbor, whether openly or secretly. It is the gold we hide in our rocky chests that no diggers will ever be able to profit from save ourselves. I hope we take away from our history, political and personal, and from Obama's farewell words just that: that we fare well, with our country, with each other, and with our richly diverse selves.
Tasneem Mandviwala is a PhD candidate at the University of Chicago who is researching the experiences of Muslim American women from a socio-cultural viewpoint. She writes, paints, and sings (badly) and hopes to contribute love and understanding to the world.
http://www.altmuslimah.com/2017/01/muslim-american-womans-response-president-obamas-farewell-speech/
-------
Muslim Woman Founded the First University in the World in the Year 859
Jan 13, 2017
By Amal Al-Sibai
At a time when women were deprived of their rights to education and inheritance elsewhere in the world in the year 859, two Muslim women were building mosques, a university, and library.
Fatima Al-Fihri was born in the area that is known as Tunisia today. Her family migrated from their original home to the city of Fez in Morocco in the ninth century. Fez at that time was a bustling metropolis of the 'Muslim West', known as Al-Maghrib. One of the most influential Muslim cities, Fez boasted a rich combination of religion and culture, both traditional and cosmopolitan. This was the city where Fatima's family settled and she eventually married.
Fatima's family was blessed with prosperity. Her father, Muhammad bin Abdullah Al-Fihri, had become a successful businessman in Fez. Fatima and her sister, Mariam, were both well educated.
After the deaths of Fatima's husband, father, and brother in short succession, Fatima and her sister received a sizeable inheritance from their father's wealth, which ensured their financial independence. Fatima and Mariam were visionary women. The two sisters vowed to dedicate their wealth for the benefit of their community.
Observing that the local mosques in Fez were becoming overcrowded with the growing population of worshipers, many of whom were refugees from Islamic Spain, Mariam built the grand Al-Andalus Mosque in the year 859.
Fatima founded Al-Qarawiyyin Mosque, which was the largest mosque in North Africa. The mosque she built was a large complex and within its walls a university was built, which is still a part of the mosque to this day. The University of Qarawiyyin is considered by historians to be the oldest continuously operating, degree-granting institution of higher education in the world. The university was regarded as one of the leading spiritual and educational centers of the Muslim world.
Fatima directly oversaw and guided the construction process in great detail. She had ambitious aspirations, and early on began buying property adjacent to the initial land, thereby significantly increasing the size of the mosque. She diligently spent all that was required of time and money to see the project to completion. She was also extremely pious and devout in worship and made a religious vow to fast daily from the first day of construction in Ramadan 245 AH/859 CE until the project was completed some two years later, whereupon she offered prayers of gratitude in the very mosque she had so tirelessly worked to build.
The location of the university within the compounds of the mosque attracted scholars from far and wide. The university produced great thinkers such as Abu Al-Abbas, the jurist Muhammad Al-Fasi, and Leo Africanus, a renowned traveler and writer. Other prominent names associated with the institution include the Maliki jurist Ibn Al-Arabi, the historian Ibn Khaldun, and the astronomer Al-Bitruji (Alpetragius).
The university played a leading role in cultural and academic relations between the Islamic world and Europe. The university's outstanding caliber attracted Gerber of Auvergne who later became Pope Sylvester II and went on to introduce Arabic numerals and the concept of zero to medieval Europe. One of the university's most famous students was the Jewish philosopher, theologian, astronomer, and physician, Maimonides.
Alongside the Qur'an and Fiqh (Islamic jurisprudence), other subjects that were also taught at the university included grammar, medicine, mathematics, astronomy, chemistry, history, geography, and music. Gradually, a broader range of subjects were introduced in the university, particularly natural sciences, physics, and foreign languages.
Fatima Al-Fihri also founded a library in the University of Qarawiyyin, which is one of the world's oldest libraries, preserving some of Islam's most valuable manuscripts. The library is rich in the oldest works of Islamic literature. Among the manuscripts it has kept safe are volumes from the famous Al-Muwatta of Malik written on gazelle parchment, the Sirat Ibn Ishaq, a copy of the Qur'an given to the university by Sultan Ahmad al-Mansur in 1602, and the original copy of Ibn Khaldun's book Al-'Ibar. The library's collection of over 4000 manuscripts includes a 9th century Qur'an and the earliest collection of Hadiths.
Over the years, the library's century old buildings began to deteriorate, and the treasures within were at risk. While scholars had access to the materials, the library's deteriorating condition meant it had been closed to the public. In 2012, Kuwait's Arab Bank provided a grant for cultural preservation to the Moroccan Ministry of Culture, to fund the restoration of the buildings, protect the materials, and to open the library as a new public space.
The Moroccan Ministry of Culture asked the brilliant architect, Aziza Chaouni, to restore the library so that it can reopen to the general public. This major project, headed by Chaouni, took three years to be completed.
The library opened in May of 2016. The public can now wander through a reading room, stacks of books with that musty smell of old books, a conference room, a manuscript restoration laboratory, a section for the rare books collection, along with new administrative offices and a café.
Chaouni also commissioned furniture from local craftsmen who used native wood, and built courtyard umbrellas that provide shade and mist on hot summer days.
Chaouni proudly said, "Both Moroccans and foreign visitors will get to glimpse, for the first time, some of the library's amazing and unique manuscripts, as well as to enjoy its architecture."
According to UNESCO, the University of Qarawiyyin is the oldest operational educational institution in the world. The fact that the first university in the world was founded by a woman is fascinating, and her being a Muslim woman makes it even more so.
http://saudigazette.com.sa/life/faith/muslim-woman-founded-first-university-world/
-------
Saudis investigate Twitter baby abuse video case
12 January 2017
Saudi authorities are investigating after being alerted by a viral video allegedly showing a woman's ex-husband physically abusing their baby girl.
The Syrian woman shared the footage on Twitter, after reportedly receiving it from her Saudi former partner to compel her to come back to him.
As a result of her appeal, an Arabic hashtag backing the mother was tweeted more than 118,000 times in 24 hours.
Officials say the three-month-old has now been taken into care.
The mother has gained more than 14,000 followers as the Arabic-language hashtag #Mother_wants_her_daughter_back_in_her_arms has gained traction on social media.
One of the videos showed the man beating and smothering the baby.
Another showed him slapping the baby repeatedly while she cries and then vigorously shaking her head. One image also showed a lit cigarette held near the baby's face while she sleeps.
The Saudi Ministry of Labour and Social Development and the Human Rights Commission have since told the mother that they are following up on the case.
A ministry spokesman said that the infant is in the care of protection services in Mecca for a medical check and "necessary action will be taken to protect the child".
The mother thanked the authorities for their efforts but did not specify on her Twitter account whether her daughter has been handed back to her.
When Saudi women marry foreigners
Saudis on Social: Faith, Freedom and Fun
Earlier, she dispelled reports that she had her daughter back after a picture was circulated on another account and videos were shared on Twitter showing the same child being handed over to a woman.
A ministry spokesman said that the infant is in the care of protection services in Mecca for a medical check and "necessary action will be taken to protect the child".
The mother, interviewed on Saudi network Al-Arabiya TV, said that her former husband was abusive towards her throughout their four-year marriage and that she escaped to her family living in Mecca and divorced him.
Her family made her give up her daughter to the father so that she could formally seek custody of her via the courts, she said.
According to the mother, her ex-husband sent her the abusive clips, telling her "either you come back to me, or I kill her".
She said on 11 January that she would have approached the police if she could have, but that she is a foreigner in the kingdom who married without obtaining the special "permission" required to wed a Saudi.
Saudi nationals usually need special permission from the government to take a non-Saudi spouse.
http://www.bbc.com/news/world-middle-east-38595996
-------
URL: https://www.newageislam.com/islam,-women-and-feminism/new-age-islam-news-bureau/15,222-women-killed-for-honour-in-pakistan-in-last-12-years/d/109711
New Age Islam, Islam Online, Islamic Website, African Muslim News, Arab World News, South Asia News, Indian Muslim News, World Muslim News, Womens in Islam, Islamic Feminism, Arab Women, Womens In Arab, Islamphobia in America, Muslim Women in West, Islam Women and Feminism, Moderate Islam, Moderate Muslims, Progressive Islam, Progressive Muslims, Liberal Islam