Age Islam News Bureau
29 Nov 2012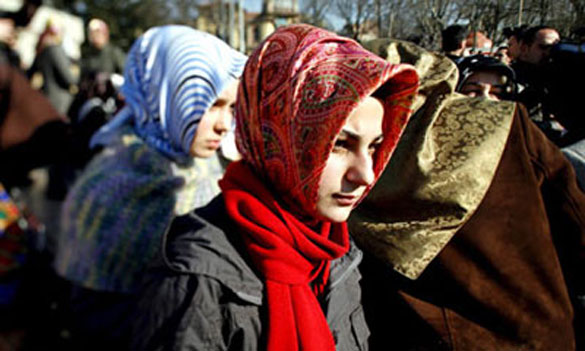 • Turkey Lifts Ban on Headscarves in Schools
• 'Stop Girl Child Marriage' Campaign Launched In Islamabad
• Malala's Wounded Classmates Return To School
• Conference to End Violence against Women Begins In Bangladesh
• Islam for Successful US Marriages Says a Group of US Muslim Women
• Sundance Books Record Slate of Female Filmmakers for Top Honours
• Carme Chacón Touted As Spain's First Female P M: 'I Am Catalan, I Am Spanish, I Am European'
• Woman Member of Pakhtunkhwa Assembly quits PML-N
• Former Israeli Foreign Minister Announces Her Return to Israeli Politics
• The Woman Who Ran Nonstop From Dubai to Fujairah
Compiled by New Age Islam News Bureau
Photo: Turkey Lifts Ban on Headscarves in Schools
URL: https://www.newageislam.com/islam,-women-and-feminism/new-age-islam-news-bureau/15-year-old-afghan-girl's-throat-slit-over-refusal-to-wed/d/9476
------------
15-Year-Old Afghan Girl's Throat Slit Over Refusal to Wed
November 29, 2012
KUNDUZ, Afghanistan: Two men have been arrested for slitting the throat of a 15-year-old Afghan girl after her family refused a marriage proposal, police said Thursday.
The girl was carrying water from a river to her village home in northern Kunduz province on Wednesday when she was murdered, police spokesman Sayed Sarwar Hussaini told AFP.
"The two men attacked her and slit her throat with a knife," he said. "They were arrested and are in police custody."
Hussaini said one of the suspects had proposed marriage to the girl but her family had rejected the offer.
Extreme violence against women and girls remains a major problem in the conservative Muslim nation more than a decade after US-led troops brought down the notoriously brutal Taliban Islamist regime.
According to figures by British charity organisation Oxfam, 87 percent of Afghan women report having experienced physical, sexual or psychological violence or forced marriage.
Last month a 20-year-old woman was beheaded by her husband's family in the western province of Herat after she refused to become a prostitute, police said. Four people were arrested over the brutal killing.
And in September, five people were arrested over the public flogging of a 16-year-old girl for allegedly having an affair.
The girl was whipped 100 times in front of village elders and family members in central Ghazni province. Her alleged boyfriend was fined.
Unmarried girls are often confined to the home and forbidden from maintaining any contact with men outside the immediate family.
http://tribune.com.pk/story/472674/afghan-girls-throat-slit-over-refusal-to-wed/
------------
Turkey lifts ban on headscarves in schools
Move is criticised by secularists who see it as evidence that government of Tayyip Erdogan is pushing an Islamic agenda
28 November 2012
Turkey has lifted a ban on female students wearing headscarves in schools providing religious education, in a move drawing criticism from secularists who see it as fresh evidence of the government pushing an Islamic agenda.
Education has been one of the main battlegrounds between religious conservatives, who form the bedrock of support for the AK party of the prime minister, Recep Tayyip Erdogan, and secular opponents who accuse him of imposing Islamic values by stealth.
Those secularist fears were fuelled this year when Erdogan said his goal was to raise a "religious youth", and his party, in power for the past decade, pushed through a reform of the education system that boosted the role of religious schools.
Under the latest regulation announced on Tuesday, which takes effect in the 2013/2014 academic year, pupils at regular schools will also be able to wear headscarves in Qur'an lessons.
Erdogan said the reform, which also ends a requirement for pupils to wear uniform, was taken in response to public demand.
"Let's allow everyone to dress their child as they wish, according to their means," he said at a news conference in Madrid on Tuesday.
"These are all steps taken as a result of a demand."
The latest reform followed a law approved in March allowing "imam hatip" schools specialising in religious education combined with a modern curriculum to take children from the age of 11 instead of 15.
The Egitim-Sen education sector union was critical of the move on school uniforms and the headscarf.
"The changes in the clothing regulations are important in enabling us to see the intense degree to which the education system is being made religious," the union said in a statement.
"Religious symbols which spread a religious lifestyle in schools and which will have a negative impact on the psychology of developing children should definitely not be used."
But others voiced support for the reform.
Gurkan Avc, head of the Democratic Educators' Union, said it had removed a legacy of the 12 September 1980 military coup by changing the dress code.
"We will not be able to rescue the education system from the perverse consequences of the oppression, rituals, dogma and thinking of the 'cold war' period until teachers and pupils are liberated," he said.
http://www.guardian.co.uk/world/2012/nov/28/turkey-lifts-ban-headscarves-schools
------------
'Stop Girl Child Marriage' Campaign Launched In Islamabad
November 29, 2012
ISLAMABAD: ActionAid Pakistan, Plan International and Ideas for Life Trust have jointly launched a campaign titled 'Safeguard My Childhood: Stop Girl Child Marriage' to address the practice of girl child marriage. The campaign is part of a 16-day activism for eliminating violence against women.
The event focused on sensitising the youth about the issue by involving them into painting, poetry writing and music. Specially designed bookmarks, pocket calendars, and doll key-chains were distributed among the youth. For this campaign, the organisers projected dolls as the mascots, which symbolises childhood. Youth from art colleges were mobilised and they creatively portrayed the issue as a negative customary practice through their artwork.
ActionAid Pakistan representative Zohra Bano said that girl child marriage leads to early childbearing, even before the girls' bodies have fully developed; psychological trauma and increased risk for sexually transmitted diseases, complications from childbirth and even death for the young mother or her baby.
This challenge is global in scale and severe in impact, but with political will and sustained investments, it is solvable.
We can prevent child marriage by empowering girls to have a longer, safer and more fulfilling childhood – where they go to school, play with friends, and develop their potential as productive citizens.
Plan International Adviser Sofia Naveed Gender said that while parents may think that marriage may safeguard the girl, in fact it is a violation of her rights.
Her play with dolls is replaced by responsibilities for additional domestic work, looking after in-laws and the husband and bearing children at an early age – putting her health as well as her child's health at risk.
Expressing their views about the issue, youth from art colleges were of the view that the public needed to be made aware of the issue. It is assumed in the rural set-up, girls are married at a younger age. However, in reality, it equally exists in the urban areas as well. Some students shared their personal experience regarding the practice.
Speaking on the occasion, Ideas for Life Trust Gender Resource Person Sadaf Raza said that child marriage not only robs girls of their childhood and educational opportunities but also make them susceptible to the vicious cycle of domestic violence and poverty. "Our focus has always been to highlight the issues which results in women being subjected to violence," she said.
The youth expressed their views and concerns about the practice of girl child marriage in a variety of mediums. The consistent message in most of the artwork is how marriage at an early age damages a girl in terms of her health, educational opportunities, empowerment and emancipation, and how it reinforces gendered nature of poverty.
The three partners, ActionAid Pakistan, Plan International and Ideas for Life Trust, have planned further events in other public and private universities of Rawalpindi and Islamabad. The activities will culminate into a final event, which will be a policy dialogue with the youth, government representatives and civil society organisations in Islamabad.
http://www.dailytimes.com.pk/default.asp?page=2012\11\29\story_29-11-2012_pg11_1
------------
Malala's wounded classmates return to school
November 29, 2012
PESHAWAR: Two girls shot by a Taliban hit squad trying to kill their classmate, Malala Yousafzai, returned to school on Thursday under tight security.
A gunman attacked Yousafzai, who campaigned for girls' education despite threats from the Taliban, on October 9 as she was leaving school in Swat. She was wounded in the head and her two school friends were also wounded.
The shooting provoked widespread outrage and brought Yousafzai, who is recovering in a British hospital, international admiration for her campaigning.
On Thursday, police escorted her teenaged classmates, Kainat Riaz and Shazia Ramazan, back to school.
Full report at:
http://tribune.com.pk/story/472699/malalas-wounded-classmates-return-to-school/
------------
Conference to End Violence against Women Begins In Bangladesh
November 29, 2012
The first ever Bangladesh International Model United Nations (BIMUN) conference began in the capital yesterday, aiming to end violence against women.
Around 300 representatives from twenty countries, most of them students, are attending the four-day conference to discuss the issue and eventually reaching an international youth consensus to resist violence against women globally.
The event is underway at the Senate Bhaban of Dhaka University. The participants come from Bangladesh, UK, USA, Malaysia, Portugal, Turkey, Albania, Sri Lanka, Indonesia, India, Morocco, Nigeria and Pakistan, among others.
Full report at:
http://www.thedailystar.net/newDesign/news-details.php?nid=259253
------------
Islam for Successful US Marriages Says A Group Of US Muslim Women
28 November 2012
CAIRO – Seeking to promote family bonds, a group of US Muslim women are championing efforts to build strong marriages based on Islamic teachings and American values.
"I think this is an excellent forum for women to come together and learn," Rania Abdellatif of Laguna Nigel told Los Angeles Times on Sunday, November 25.
Abdellatif was one of Muslim women in Orange County in Los Angeles who found support in a group called "Wise Wives".
The group was launched by Angie El Sherif, a 27-year-old Muslim, to help wives looking to strengthen their marriages in line with Islamic teachings.
Full report at:
http://onislam.net/english/news/americas/460176-americas-muslim-wise-wives.html
------------
Sundance Books Record Slate of Female Filmmakers for Top Honours
David Germain, The Associated Press
November 29 2012
The Sundance Film Festival has an apparent record line-up of female directors competing for its top honour this January.
Half the entries — eight of the 16 films — announced Wednesday in the festival's US dramatic competition were directed by women for the next instalment of Robert Redford's independent-cinema showcase, which runs Jan. 17-27 in Park City, Utah.
Going back to 1992, the best showing previously for female filmmakers was in 2000, when six of the 16 US dramatic contenders were directed by women.
Full report at:
http://www.thejakartapost.com/news/2012/11/29/sundance-books-record-slate-female-filmmakers.html
------------
Carme Chacón Touted As Spain's First Female P M: 'I Am Catalan, I Am Spanish, I Am European'
Politician touted as Spain's first female prime minister explains why she thinks federalism is the answer for Catalonia
Giles Tremlett in Madrid
28 November 2012
Carme Chacón hails from Barcelona, but while her fellow Catalans fret about independence the former Socialist defence minister is widely seen as eyeing up a prize of her own – the title of Spain's first female prime minister.
The 41-year-old made her name as one of the female ministers in José Luis Rodríguez Zapatero's famous government of parity – when Spain boasted a cabinet in which half the members were women.
Full report at:
http://www.guardian.co.uk/world/2012/nov/28/catalonia-carme-chacon
------------
Woman Member of Pakhtunkhwa Assembly quits PML-N
28 November 2012
PESHAWAR: Member of Khyber Pakhtunkhwa Assembly Shazia Aurangzeb on Tuesday announced to resign from the basic membership of Pakistan Muslim Party-Nawaz and said she would soon join a political party, which gave the due respect and status to its workers.
Ms Shazia, the former Central General Secretary of PML-N Women Wing, told a news conference here that she had to quit the party because the leadership was not ready to heed her grievances.
She said all members of PML-N Women Wing from Hazara division had also resigned from the party's basic membership, while women workers from Peshawar division would follow suit very soon.
Full report at:
http://dawn.com/2012/11/28/woman-mpa-quits-pml-n-2/
------------
Former Israeli Foreign Minister Announces Her Return to Israeli Politics
27 November 2012
The former Israeli foreign minister, Tzipi Livni, has announced her return to politics, telling supporters she is forming a new party to run in January's parliamentary elections on a platform promising an aggressive push for peace with the Palestinians.
Livni, who served as Israel's foreign minister and chief peace negotiator from 2006-09, bitterly attacked the prime minister, Binyamin Netanyahu, as she announced the formation of her new party, called the Movement.
"I came to fight for peace … and I won't allow anyone to turn peace into a bad word," she said.
Full report at:
http://www.guardian.co.uk/world/2012/nov/27/tzipi-livni-return-israeli-politics
------------
The woman who ran nonstop from Dubai to Fujairah
By Mazhar Farooqui
November 28, 2012
Dubai: In an extraordinary display of mental and physical strength, a Dubai-based woman ran nonstop from Dubai to Fujairah in a Coast to Coast challenge.
Aussie Dr Catherine Todd set off from Lime Café in Jumeirah at 1am on Thursday, November 15, and reached the Le Meridien Al Aqah Beach resort Friday morning at 6.30am, covering the 220km distance in 29 hours and 29 minutes.
"The conditions were pretty harsh. I was still around 20 kilometres from my destination when I developed blisters on the little toe of my right foot. It was quite painful so I cut a hole in my shoe and ran the remaining distance with my toe sticking out of the shoe hole," recalled Todd, who is an assistant professor of computer science at the University of Wollongong in Dubai (UOWD) by day and uses her spare time to fulfil her most cherished hobby — long distance running.
Full report at:
http://gulfnews.com/about-gulf-news/al-nisr-portfolio/xpress/the-woman-who-ran-nonstop-from-dubai-to-fujairah-1.1111686
------------
URL: https://www.newageislam.com/islam,-women-and-feminism/new-age-islam-news-bureau/15-year-old-afghan-girl's-throat-slit-over-refusal-to-wed/d/9476