New Age Islam News Bureau
10 May 2020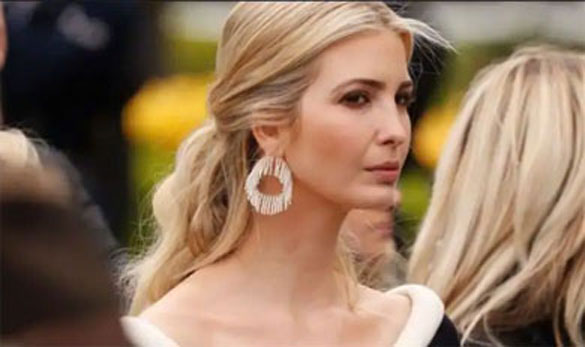 Ivanka Trump's personal assistant has tested positive for the deadly coronavirus, making her the third White House staff member to be infected from COVID-19
-----
• 1,400 Emirati Women Apply to Be the UAE's Next Astronaut
• Karachi Woman with Covid-19 Gives Birth, Baby Tests Negative
• Italian Woman Freed 18 Months After Being Kidnapped in Kenya: PM
• 'The Simplest Things Opened My Eyes To Islam': Writer Shares Experience Of Being Spanish Muslim Woman
• Coronavirus: Ivanka Trump Aide Tests Positive For COVID-19
• Systemic Barriers and The Needs of Muslim Women During a Pandemic – Nausheena Hussain
• Sisters' Circle: Connecting Muslimahs to Community During the COVID Lockdown
• Lebanese Women with Foreign Spouses Denied Coronavirus Aid
• On Mother's Day, Malaysian Campaign for Equal Citizenship Reminds Govt Of Women's Vulnerability Under Citizenship Law
Compiled By New Age Islam News Bureau
URL; https://www.newageislam.com/islam-women-feminism/1400-emirati-women-apply-be/d/121808
-------
1,400 Emirati Women Apply To Be The UAE's Next Astronaut
May 10, 2020
Ashley Hammond
Dubai: Out of 4,300 applicants for the Emirates Astronaut Programme, 1,400 are Emirati women and 130 are Emiratis with PHDs, it was announced by Sheikh Mohammed Bin Rashid Al Maktoum, Vice President and Prime Minister of the UAE and Ruler of Dubai, on Sunday.
In a tweet posted by Sheikh Mohammed, the Dubai Ruler said, "Today, I received the statistics of applicants for the Emirates Astronaut Program… where we will announce two Emirati astronauts soon… 1,400 Emirati girls among the applicants out of 4,300 applicants… and 130 Emiratis with a PHD in the applicants… proud of desire… proud of passion. Proud of the people of this country.."
Hazzaa AlMansoori became the first Emirati in space last September when he embarked on a successful eight day mission to the International Space Station.
Registrations for the second batch of Emirati astronauts opened in December 2019. The initial deadline was March 31 but was extended to May 1.
https://gulfnews.com/uae/science/1400-emirati-women-apply-to-be-the-uaes-next-astronaut-1.71422692
--------
Karachi woman with Covid-19 gives birth, baby tests negative
Imtiaz Ali
May 09, 2020
In the second case of its kind in Karachi, a woman who was diagnosed with Covid-19 last week gave birth to a healthy baby boy on Saturday, and the baby has initially tested negative for the virus, officials said.
The 35-year-old mother was registered with the hospital at Dow University of Health Sciences (DUHS) Ojha campus. She was tested for the virus after she started showing symptoms last week.
The baby was born on Saturday through a scheduled caesarian section and weighed 3.1 kilogrammes at birth. The patient's previous two children were also born via C-section, according to the DUHS.
The mother and the baby were both doing well, the hospital administration said, adding that the newborn was immediately shifted to the children's unit of the hospital and his samples were taken to ascertain whether he was infected with the novel coronavirus.
In the evening, "the newborn's initial coronavirus test came back negative," Prof Saeed Khan said, adding that blood samples of the baby had also been taken to test for Covid-19 anti-bodies.
In late April, another woman who had recently tested positive for the coronavirus had given birth at the Dr Ruth Pfau Civil Hospital in Karachi. The hospital management had at the time said both the newborn and the mother were in stable condition, according to a news report by The Express Tribune.
In February, Chinese doctors had said pregnant women infected with the new coronavirus may be able to pass it to their unborn children.
Doctors at the Wuhan Children Hospital said the transmission was possible after an infected coronavirus patient gave birth to a baby on February 2. The newborn was given a test 30 hours later and confirmed to have the virus, doctors said at the time.
https://www.dawn.com/news/1555799/karachi-woman-with-covid-19-gives-birth-baby-tests-negative
------
Italian woman freed 18 months after being kidnapped in Kenya: PM
May 10, 2020
A young Italian woman who was kidnapped in late 2018 from an orphanage in Kenya, has been freed, Prime Minister Giuseppe Conte announced on Saturday.
Silvia Romano was 23 and working as a volunteer in the orphanage in Chakama village in southeast Kenya when she was seized by gunmen in November 2018.
"I'd like to thank the women and men of the external intelligence services. Silvia, we look forward to seeing you in Italy!" he added.
During the attack on November 20, 2018, the armed assailants shot and injured five people in the orphanage, including three children.
A spate of abductions on the coast in 2011 saw a British man shot dead and his wife kidnapped from a resort island, while weeks later a French woman was taken from her home on the Lamu archipelago.
Soon afterwards Al-Shabaab gunmen abducted two Spanish aid workers from the Dadaab refugee camp close to the Somali border in the only confirmed case of kidnapping inside Kenya by the jihadists.
In April 2019, two Cuban doctors were kidnapped in northeastern Kenya and whisked to Somalia before $1.5 million (1.35 million euros) was demanded for their release.
Kenyan police sources said the kidnapping bore the hallmarks of Al-Shabaab, a militant outfit that has been waging an insurgency against Somalia's foreign-backed government for over a decade.
https://www.thejakartapost.com/news/2020/05/10/italian-woman-freed-18-months-after-being-kidnapped-in-kenya-pm.html
------
'The simplest things opened my eyes to Islam': Writer shares experience of being Spanish Muslim woman
MOUNA EL-HAIMOUD
May 09, 2020
MADRID: This might not be her first Ramadan, but for Spanish Muslim Amanda Figueras it still feels new.
"At the beginning, when I used to practice Islam alone with no one in my family to share it with, I used to go to the mosque and break the fast there and pray taraweeh. I always loved how I was welcomed by my sisters in Islam."
Now it is different. Since her marriage a few years ago she shares her faith with her Egyptian husband and a three-year-old son. "We have done some decorations at home we try to show our son the spirit of Ramadan."
"I did not change from one religion to another. I was not a believer, simply I did not have any faith. This makes my personal awakening fascinating because I found that there is God and that Islam was what I wanted for my life," she said. "I encounter Islam because as a journalist I had to write about Muslim people, and I realized that I had no idea at all. I started to read non-stop and I fell in love with our Prophet Muhammad (Peace Be Upon Him) after knowing about his generous character and genuine humbleness.
"Then, reading the Holy Qur'an, especially those ayas emphasizing the perfection of nature, I started to find and feel Allah. The simplest things were those which opened my eyes to Islam."
"For my family it was not easy, they reacted in the normal way: with fear. For me it was painful to see how at the same time that I was finding happiness, tranquility, and calmness, they were feeling bad about it. But Islam was giving me only good things.
Nevertheless, I am happy I have a little family and a husband who is always supportive of my projects and of course of my curiosity to know more about our religion.'
"The main barrier that I encountered when I started to feel that I really liked Islam was that of my own prejudices and some misconceptions. However, I discovered that Islam is beautiful, that it is all about trust, generosity and forgiveness," she said.
Amanda is passionate about fostering dialogue and building bridges between different peoples, as well as fighting Islamophobia and hate speech.
"It is a non-profit civil society organization based in Spain that works to promote understanding through what we call 'interreligious dialogue and interfaith action.' I started to be interested in this topic after being selected for the fellowship program of the United Nations' Alliance of Civilizations.
"At Foro Abraham we do activities to connect people of different backgrounds and it is an amazing experience. Before the COVID-19 crisis we were working on a cycle of dialogue sessions with refugees and migrants in Europe, in collaboration with the International Dialogue Center — Kaiciid (King Abdullah Bin Abdulaziz International Centre for Interreligious and Intercultural Dialogue) — as I am a Kaiciid European Fellow 2020, but now our activities are postponed due to the pandemic."
"Today, I still face glances of hatred both on the part of those who hate Islam — without knowing it — and on the part of those who think that I have renounced the European 'developed culture' to adopt the culture of the barbarians. I am Spanish and that is my culture, which is perfectly compatible with Islam.'
She insists that Spanish Muslims have the same rights as any other citizens: "We are a small community but are getting bigger and stronger. However, we are mainly considered as only 'Muslims', we are only given the microphone when it comes to talking about 'Muslim issues,' mainly about the hijab," she said.
"We are not considered full citizens with valuable opinions about any other topic. It is harder for us to reach certain work positions and we lose a lot of time justifying ourselves like: 'Yes, I am a Muslim and I am a normal person and I can work and achieve the same as any other person.'
"It is journey I started in the aftermath of the 2004 terrorist attacks in Madrid. At that time, I was a journalist at El Mundo newspaper, and I had been asked to investigate the consequences among the Muslim community in Spain.
"I realized that I knew little about Islam and Muslims in general. In my book, while I describe my experience as a new Muslim, I explain basic but important things about my faith to the reader. I also address some of the common misunderstandings surrounding women."
https://www.arabnews.com/node/1672256/lifestyle
-----
Coronavirus: Ivanka Trump aide tests positive for COVID-19
10 May 2020
Tommy Hilton
Ivanka Trump's personal assistant has tested positive for coronavirus, according to US media outlets.
Ivanka works as a senior adviser to her father, US President Donald Trump, raising concerns that the virus could be circulating in circles that are in close contact with the 73-year-old president.
However, the assistant had been working from home for nearly two months and had not come into contact with Ivanka for nearly two weeks, reported CNN.
Katie Miller, who is Vice President Mike Pence's press secretary and married to Stephen Miller, a close adviser to President Trump, tested positive on Friday.
"She is a wonderful young woman, Katie, she tested very good for a long period of time and then all of a sudden today she tested positive," Trump announced on Friday.
The US has the most infections and most deaths from coronavirus than any other country. As of Sunday, more than 1.3 million cases had been confirmed in the country, and nearly 80,000 deaths.
https://english.alarabiya.net/en/coronavirus/2020/05/10/Coronavirus-Ivanka-Trump-aide-tests-positive-for-COVID-19.html
-----
Systemic Barriers and The Needs of Muslim Women During a Pandemic – Nausheena Hussain
By Cirien Saadeh
MAY 10, 2020
Nausheena Hussain is the Executive Director and Co-founder of Reviving the Islamic Sisterhood for Empowerment (RISE), a nonprofit whose mission is to amplify the voices and power of Muslim women by building networks, storytelling, leadership development and civic engagement.
In response to warnings about the coronavirus, Hussain and her team officially closed RISE's office on March 12th, a day before Governor Waltz declared a state-wide peacetime emergency, and two weeks before the stay-at-home order asking Minnesotans to stay home except for essential needs.
Luckily, RISE was able to squeeze in its 2020 Muslim Women's Leadership Conference on March 7th, but after that, the organization canceled all programs, work-related travel and trainings. This has meant moving programming to digital platforms and trying to maintain organizational relationships with most staff, volunteers and community members — including carrying out the hiring process for a new employee — digitally, since mid-March.
"That was tough because we've already created our trust and team dynamics in person," Hussain said. "But [our new employee was] coming in and I feel bad she's not having the opportunity to hang out with us and experience our office banter. We have really deep conversations about '-isms' and inequities."
Hussain said her ethnically diverse staff of almost all Muslims bond in person by sharing about their different religious and cultural practices as Muslims with geographic roots and religious schools of thought from all over the world.
She is especially cognizant of staff members who live with multigenerational families, noting that her staff ranges from people who are single to an employee who has 11 family members under one roof — a huge spectrum in family experience.
"What I'm hearing from people is that it's hard to work from home," she said. "Even [for] me. I cry everyday because something makes me sad or something makes me angry or something makes me realize how blessed I am with my team."
One of the biggest challenges not just for Hussain and her team, but for the world, has been coping emotionally and mentally during the COVID-19 outbreak.
Hussain shared that she hears staff and community members talk about their fear for loved ones, and she herself has not been sleeping well — indicators the CDC lists as stress symptoms that an infectious disease outbreak like the coronavirus can cause.
Based on Hussain and the RISE team's shared experiences with stress and anxiety since news of COVID-19 started picking up, the organization decided to send out a survey to Muslim women, asking what they needed to feel supported during the pandemic. Overwhelmingly, the results said that Muslim women need resources that fill the gap between wellness and spirituality.
"Spirituality isn't: "Teach me how to pray or do Ramadan." It's more about: 'How do I get through this time rooted in my deen (faith)?'" Hussain said.
Hussain said most masjids do not address holistic health and wellness when discussing spirituality — at least, not often and not consistently enough, and they tend to be lacking when it comes to the specific needs of women.
In fact, for the past few years, Hussain has been hearing from many Muslim women that there is an unwelcoming culture in most masjids toward them, which speaks to systemic barriers of equity and accessilibity that can impact Muslim women's health, Hussain said.
All of this is why RISE decided to start Sisterhood at Home, a bi-weekly Zoom call for Muslim women to learn, connect and feel spiritually uplifted, Hussain said.
Each Zoom call is structured like a workshop, with a different guest leading on a specific topic. The call starts with a Qur'an recitation, including prayers, and incorporates time for a group conversation about anything from climate justice in Islam, to how civic engagement is rooted in the Sunnah (the traditions and sayings of the Prophet Muhammed (peace be upon him). Other Sisterhood at Home sessions have included topics on mental health by licensed therapists, physical wellness exercises, and creative writing.
"It is so important to keep connecting digitally and we're trying to do it in a way that is meaningful," Hussain said. "The Zoom call is so hard not being in person but nobody else is doing this, creating that space for Muslim women to do wellness, so we're trying to do our best in creating it."
One opportunity Hussain is seeing for Muslim women is being able to access halaqas (Islamic Qur'an and Hadith group study) online, something that would be more challenging in-person due to the physical and cultural barriers toward women in many masjids.
"One cool thing about these Zoom calls for hijabis is they don't have to put their camera on; they can just listen," she said. "I don't have to worry about if some man sees me with my hair out. I can just get the knowledge."
Hussain said the pandemic, in a way, has broadened access for women because of the abundant recordings posted online for anyone to listen to on their own time.
"That gives us more power and agency over our time, and it's not based on the men's schedules," she explained. "There's more flexibility in consuming Islamic knowledge for Muslim women right now, and on that I feel very positive."
Still, Hussain said the pandemic has uncovered systemic inequities, and that this is a time to reckon with ourselves and our secular and religious institutions. For example, much of the local and national public information about COVID-19 has been in print, online, and/or in English, which is a challenge when the Muslim community represents so many cultures, and dozens of languages.
Even if health and government bodies publicized information in written Somali or other languages, many eastern communities' traditions and communication styles tend to be oral, especially among elders.
"So who's going to help translate that? Who is being given the resources to communicate with these elders, to answer their questions in their language?" she said.
And, it's not just about understanding what COVID-19 is, but also how to apply for unemployment and get access to food security or healthcare, she added.
"We're seeing all the inequities in the systems. Now they're in your face. But what will we do with that? Will we change the institutions?" she added.
There is a verse in Qur'an chapter 13, which states that God will not change the condition of a society until they work to change their condition themselves. It's a powerful message Muslims use to challenge themselves to do more for themselves and others.
"We have to ask ourselves right now what initiatives we're taking to change ourselves, as institutions, as people," Hussain said. "Because we can't change the condition of society unless we change ourselves."
https://theuptake.org/2020/05/09/systemic-barriers-and-the-needs-of-muslim-women-during-a-pandemic-nausheena-hussain-rise/
--------
Sisters' Circle: Connecting Muslimahs to Community During the COVID Lockdown
by Chelby Daigle
MAY 10, 2020
Staying connected in the context of physical distancing is presenting challenges for many Muslims who long for the social interactions with their fellow Muslims that pre-COVID life had to offer.
Although Muslim organizations have been creating dynamic online programming with religious scholars and community subject matter experts, the opportunities to exchange experiences and ideas with ordinary Muslims have been scarce. That's where the Sisters Circle, a weekly online discussion forum for Muslim women launched by Toronto-based Muslimahs Gilary Massa and Timaj Garad, comes in.
Gilary Massa: I am an Afro-Latina Muslim. My mother moved to Canada when I was about 4 years old from Panama. She converted to Islam a few years after immigrating. She was soul searching and struggling as a single mother. I suppose the challenges of immigration and single motherhood really had her craving for a closeness with her creator. She met some Muslims in her English class, and that was her introduction to Islam. I now live in Toronto with my husband and my two kids, and work as the Human Rights Outreach and Engagement Officer for the Toronto District School Board (TDSB). I have a long-standing history in community engagement, public education and activism related to equity, human rights, and social justice. With roots in both the Labour movement and Student movement. Before joining the Toronto District School Board (TDSB) in 2019, I worked as the Advocacy Coordinator for the National Council of Canadian Muslims (NCCM) where I spearheaded their efforts in engaging school communities on issues related to better supporting the needs of Muslim students and their families. I enjoy creating space for marginalized communities to have a voice, that is the motivation behind everything I do.
Timaj Garad: I'm Timaj - an Ethiopian, Harari Muslim living in Toronto, Canada. Growing up in Toronto, as a third culture kid navigating my "otherness", I was inspired to tell and witness stories from the margins, stories that create spaces to belong in. I'm now a multi-disciplinary storyteller & performer using the mediums of poetry, theatre, and music. My art is autobiographical, working at the intersections of a Black Muslim woman challenging injustice, unearthing truths, and healing. As an award-winning Artist, I've had the honor to perform on over 300 stages. As an Arts Educator, I also facilitate arts-based workshops, series, and events, including Luminous Fest - Canada's first Black Muslim Arts Festival. I also work as a Program Manager for a Bridge training program for internationally trained media & communications professionals. In addition to my The Sisters' Retreat work, I'm currently working on my debut album "Blooming at the Mouth", to be released later this year, God willing. I believe in the transformative power of artistic expression to build capacity for individuals and communities to flourish.
We started the Sisters' Retreat out of the desire to create space for Muslim women to have space where they could connect and engage in self-care. We started in 2019, right after the horrific Quebec mosque shooting. It was a heavy time to be a visible Muslim woman in Canada. It felt lonely. We just got to thinking, if we were feeling the heaviness of being a Muslim woman there must be others.
Our flagship event is a International Muslim women's retreat in Panama. We really wanted to create an all inclusive vacation experience that prioritised the needs of Muslim women. Often we go on vacation and can't take advantage of all the vacation has to offer. If you are a Muslim woman who wears hijab, or is a bit more modest in what you wear, pool-sides or beach vacation can be a challenge. Our trip takes care of all that. We take care of the need for privacy and hijabi friendly activities. We take care of making sure we have halal food at all of our meals. Plus the week is packed with wellness programming curated by Timaj, for our guests to enjoy.
We also host a number of Toronto-based events, spa days, ladies only parties, yoga and brunch events. We are always trying to find creative ways for Muslim women to connect and unwind.
The motivation behind Our Sisters' Circles was really to find a way for us to continue to connect as Muslim women even in a time where physical distancing was being mandated.
Initially it was designed to be a simple self-care check in. We understood that many of us were struggling with our new normals, trying to find ways to manage it all, and we just wanted to create a space for people to be able to talk.
Very quickly we began to get requests for our sessions to focus on different topics. Faith and identity, love and relationships. So that is what the Sisters' Circle has become, a community of Muslim women from all over the world, spending 2 hours together, every week, talking about the issues that are most important to us.
There are so few spaces within our communities (Muslim or otherwise) for Muslim women to just come as they are. We think people are drawn to the Sisters' Circle because we create space for people's doubts, challenges, joys, and insecurities. We make space for it all. We don't pretend to be perfect Muslim women. But together we are working towards being the best versions of ourselves in all of our spaces, in person and online. It's beautiful to see how complete strangers from diverse backgrounds can come together and share so openly.
We have had participants from Europe, the United States, South America and all over Canada. We share space with women born into Islam, are newly converted, or are second or third generation Muslim. Wear hijab, don't wear hijab. New moms, married women, single women, Sunni, Shi'a. It really is a diverse group. Every week, every event, and retreat is so beautifully eclectic.
Faith, Identity, Religious Plurality, Love and relationships, Hijab, Challenges in Deen (faith), Self-Care, Community Care, World Issues, Racism, Sexism, Islamophobia...
You were interviewed by CBC in a segment about Faith going Online in the midst of the COVID lockdown. You were the only non-male and non-religious professionals interviewed for the segment. Why do you think it is important for just regular Muslims to be creating community spaces to connect during the pandemic outside of those created by religious institutions?
There are so many voices in faith-based communities that are chronically ignored and unheard. Being Muslim, we often feel societal pressure to perform our 'Muslimness' in ways that are acceptable to the Ummah /Muslim community-at-large leaving little room to be our flawed imperfect selves. The weight of these expectations and the judgement that often follows them has deterred many Muslims, young and marginalized Muslims especially, from traditional spaces of worship, leaving many 'unmosqued'. It's important to have safe spaces where Muslims feel comfortable to be themselves in a community where they feel a sense of acceptance because that is what fosters a sense of belonging and feeling loved. This is why we are seeing a number of 'third' alternative spaces emerging that focus on inclusivity for Muslims, The Sisters' Retreat being one of them. The Sisters' Retreat was born from an understanding that Muslim women experience erasure and, although we are the pillars of our communities, we rarely are given much consideration in them much less a platform. We, therefore, need to create our own spaces - to heal, to grow, to just be, especially in times like this where we need each other the most.
https://muslimlink.ca/news/sisters-circle-connecting-muslimahs-to-community-during-the-covid-lockdown
--------
Lebanese women with foreign spouses denied coronavirus aid
May 9, 2020
By Abby Sewell
LIKE many Lebanese families these days, Layal El Hallak's family is having a tough time.
During the nationwide lockdown to slow the spread of coronavirus, her husband continued to work at a supermarket, but his salary was cut in half as a result of the ongoing economic and currency crises. Meanwhile, the prices of many goods have doubled or tripled.
Last month, they were relieved to learn the government would be distributing cash assistance payments of 400,000 Lebanese lira (about $267 at the official exchange rate, and $100 at the current street exchange rate). They learned about the program through the public school their two eldest children attend in the southern city of Saida, and they filled out the required form and were put on the list to receive the assistance.
Under Lebanese law, children of Lebanese women married to foreign men do not have Lebanese citizenship, as citizenship is derived only from the father.
"I said to them, 'I am Lebanese, and I live in Lebanon, and all of my family are Lebanese people' and they said, 'No, your kids are Palestinian because their father is Palestinian, so you're not going to get any help,'" Hallak told Al Arabiya English. She noted that the family has also not received any aid from UNRWA, the UN agency overseeing Palestinian refugees, during the COVID-19 crisis.
Lebanon's nationality law allows Lebanese men to pass their citizenship to their children, as well as to their foreign-born wives, but does not grant women the same right. The law has been the subject of multiple attempts at legal reform over the years, but none of the attempted amendments have succeeded.
The debate is not unique to Lebanon. According to the Global Campaign for Equality rights, Algeria is the only country in the Middle East and North Africa region that grants men and women equal nationality rights. However, a number of countries in the region – including Egypt, Iraq, Mauritania, Morocco, Tunisia, and Yemen – have passed legal reforms in recent years, in most cases allowing women to pass their nationality to their children but not to their spouses.
Lebanon remains a holdout largely because of sectarian concerns. Opponents of reform efforts have expressed concerns that if the children of women married to Palestinian and Syrian refugees, who are primarily Sunni Muslims, were given the nationality, it would skew the demographics of the country, disadvantaging Christians and Shiites.
"In every field, Lebanese women who are married to foreign people are really suffering," said Hallak, who is an activist with a group called Jinsiyati Karamati (My Nationality My Dignity) that is pushing for legal reforms.
Her children, for instance, do not have the right to own property in Lebanon. "We are Lebanese women; we've lived here and [have] been raised here, and our families are all Lebanese and we are the ones who are raising the kids."
The 400,000 lira payments were announced by the Minister of Social Affairs, Ramzi Moucharafieh, in early April, and the Lebanese Armed Forced were designated to handle the distribution.
A source in the Ministry of Social Affairs said the decision to bar Lebanese women married to foreigners from receiving the assistance had been made by the Army, not by the ministry.
From the ministry's perspective, the source said, "It's not an official policy not to give to the women married to foreigner, to prevent this right from them. They are all eligible."
An army spokesman said that the list of names for aid distribution had come from the municipalities, and the army's role was limited to checking each recipient's identification to make sure he was on the list. "We cannot change the names, we cannot do anything about the names – the names come directly from the municipality of each region."
"Good news for Lebanese mothers married to non-Lebanese men: Today the Minister of Foreign Affairs and the Minister of Social Affairs assured me that the children of a Lebanese mother and a foreign father will not be excluded from the assistance of the Ministry of (Social) Affairs, nor from repatriation trips of Lebanese from abroad."
Zeina Chatila, a mother in Beirut who is also active with My Nationality My Dignity campaign, said she was denied the aid despite the fact that she is divorced, and is now the sole provider for her 13-year-old daughter. Like Hallak, Chatila initially heard about the aid payments via the public school her daughter attends, which asked the parents to fill out a form to apply for the assistance. Chatila said all the families she knew with Lebanese fathers had received the payment.
"I know that the principal is innocent and has nothing to do with it, but she is in the front," Chatila said. So, upon hearing that her family was not eligible, she said, "I told her, 'Please send my message that the Lebanese women, [and] their children are Lebanese, and what you did, it's unfair, and it's nonsense.'"
Another group pushing for reforms, the My Nationality is a Right for Me and My Family Campaign, provided Al Arabiya English with copies of a number of complaints they had received from women in similar situations, who had also been denied the aid payment.
"Today the school called us and told us we won't get anything because my husband is Syrian," one woman wrote. "Ok, in this situation, neither me nor my husband are working. We are selling our things from our house to be able to feed the children."
The campaign's coordinator, Karima Chebbo, said a number of officials had promised to ensure that there would be no "exceptions or discrimination" against Lebanese women married to non-Lebanese men in distributing the aid. But in the end, she said, "There is still discrimination and they are still not giving them... They're not solving anything." -- Al Arabiya English
https://saudigazette.com.sa/article/592870/World/Mena/Lebanese-women-with-foreignspouses-denied-coronavirus-aid
--------
On Mother's Day, Malaysian Campaign for Equal Citizenship Reminds Govt Of Women's Vulnerability Under Citizenship Law
May 10, 2020
PETALING JAYA: The Malaysian Campaign for Equal Citizenship (MCEC) today reminded Putrajaya that the inability for mothers to pass on citizenship to their children born overseas has made women vulnerable.
MCEC said when Malaysian women cannot pass on citizenship to their children born overseas, it could lead to situations where they are compelled to rely on their foreign husbands' citizenship for their children.
"This leads to situations where these women may be forced to live abroad and sometimes in abusive and vulnerable situations," it said in its Mother's Day message.
The pressure group said Malaysian mothers also face obstacles when it comes to returning home with their non-citizen children, including restrictions on their children's right to stay, access to national schools and healthcare.
Hence, it said, these women opt to live in their husband's country overseas, "making it difficult to leave toxic or abusive marriages".
"Malaysian citizenship laws in effect infringe on women's rights over their children, although they may be the principal caregiver," it said.
MCEC said divorced Malaysian mothers with non-citizen children will also require the help of their foreign ex-husband to renew the passport of their children as long as their Malaysian citizenship applications are pending.
"The unequal treatment of women with regards to the passing on of citizenship to their children is a direct discrimination against Malaysian mothers," it said.
It said the Covid-19 pandemic has amplified the vulnerability of Malaysian women who are unable to obtain citizenship for their children.
This is because the group chooses to remain in high-risk countries instead of returning to Malaysia as their non-Malaysian children are generally issued short-term visas, especially without the presence of the foreign father.
It said not only are Malaysian mothers treated as unequal citizens by the law, they are also considered unequal guardians for their children by such discriminatory policies.
"On this Mother's Day, we call upon the Malaysian government to amend provisions of the Federal Constitution which deny Malaysian mothers equal rights with respect to passing on citizenship to their children born overseas, on a similar basis as Malaysian fathers," it said.
https://www.freemalaysiatoday.com/category/nation/2020/05/10/on-mothers-day-group-reminds-govt-of-womens-vulnerability-under-citizenship-law/
--------
URL: https://www.newageislam.com/islam-women-feminism/1400-emirati-women-apply-be/d/121808
New Age Islam, Islam Online, Islamic Website, African Muslim News, Arab World News, South Asia News, Indian Muslim News, World Muslim News, Women in Islam, Islamic Feminism, Arab Women, Women In Arab, Islamophobia in America, Muslim Women in West, Islam Women and Feminism