New Age Islam News Bureau
1 Jun 2014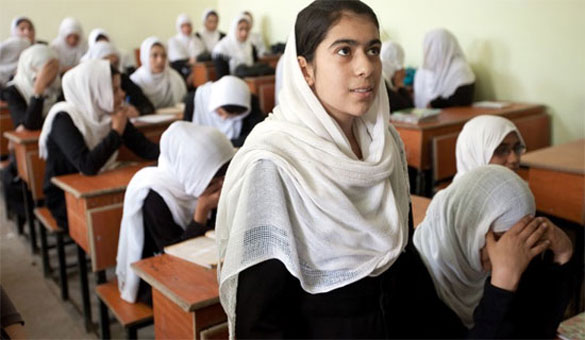 Afghan Girls Strive for a Bright Future at Refurbished High School, Graham Crouch / World Bank
----------
• Sudan: Woman on Death Row to Be Freed
• Female Activists 'Doing Harm To Women's Rights': Nahla Al-Anbar
• Pakistani Female Civil Servant Challenges Termination
• Saudi Couple 'Breastfed by Same Woman' Ordered To Separate After 25 Yrs
• Jolie in Crackdown on Sexual Violence in Conflict
• Women Workers Must Dress Modestly: Saudi Ministry
• In US and Abroad, New Focus on Anti-Women Violence
• Israel's Female Combat Soldiers Complete Training with 20km March
• Female Boxing Kicks Off On Small Scale
• Afghan Girls Strive For a Bright Future at Refurbished High School
Compiled by New Age Islam News Bureau
URL: https://newageislam.com/islam-women-feminism/14-year-old-pakistani-wants/d/87296
------------
14-Year-Old Pakistani Wants Her Father Punished For Forcefully Marrying Her Off
June 1, 2014
KARACHI: Though her father's beatings and death-threats still haunt her, S*, who was forced to say 'Quabool hai' at the tender age of 14, now wants to take her father and other perpetrators to court.
"I was too young to get married," she said, as she narrated her story at the office of the Madadgar National Helpline in Karachi on Saturday. The teary-eyed girl recalled the time around five months ago when her father took her to a relative's house and forced her to put on a shining red dress to get married.
"I did not know he was taking me to the relative's to marry me off," she said. "My mother died when I was young I have been raised by my maternal grandmother and aunt." Her father received a motorcycle and Rs70, 000 for marrying her off to a physically handicapped son of a police officer, the 14-year-old claimed.
S* claims she was regularly subjected to abuse and often beaten up by her husband and in-laws. She finally managed to run away to her grandmother's house in a slum of Gulshan-e-Iqbal.
Fearing threats to her life, she was moved to the Panah shelter home where she stayed for two months. On Thursday, however, the court handed her custody back to her grandmother, dismissing the abduction case that her father had filed against her maternal relatives.
S*'s aunt, Rukhsana, who was also present at the press conference, said that they were constantly receiving threats from her father. She said that the girl's elder sister was also married at the age of 14 to a man who already had six children. "This was a Watta Satta arrangement as S*'s father got married to a young girl and in return, married his daughter to an elderly man of the family. We couldn't do much then, but now we want to do something for S*."
Lawyer Zia Ahmed Awan, who is the founder of the organisation, hopes to get her case registered under the Sindh Child Restraint Marriage Act which was recently passed by the Sindh Assembly, as well as under the Cruelty against Children Act.
"We will register an FIR against all the perpetrators," he said, demanding a medical board to determine her age since the girl does not have a birth certificate. "Her father made a fake certificate declaring her to be 18 years-old but her age is not more than 14."
Awan said that other provinces should follow Sindh's example and also pass law against child marriages. According to the organisation, their helpline received 42 cases of early and forced marriages across the country during the first four months of the current year.
"She is traumatised as she has been abused by her husband and in laws," said Awan. "For two months, she was at the shelter home, and has been going to the court for her case. She needs a lot of counseling."
http://tribune.com.pk/story/716029/forced-marriage-14-year-old-wants-her-father-punished-for-marrying-her-off/
------------
Sudan: Woman on Death Row to Be Freed
June 1, 2014
Sudan's foreign ministry says a Sudanese woman sentenced to hang for identifying herself as a Christian will be freed "within days," following an international uproar over her conviction for apostasy.
Ministry spokesman Abdullah al-Azraq announced the development late Saturday in Khartoum, just days after the woman — 27-year-old Mariam Yahya Ibrahim — gave birth in prison while awaiting her execution.
Ibrahim is also the mother of a 20-month-old son. Both children are incarcerated with their mother.
Born to a Christian mother and a Muslim father and raised Christian after the father left the family, Ibrahim said she had never herself been a Muslim, despite Sudanese law defining children of Muslim fathers as Muslims by definition.
A court in early May gave her four days to recant her Christian faith, and imposed the death penalty when she refused to do so.
Christian-Muslim unions such as Ibrahim's marriage to U.S. citizen Daniel Wani are defined under Sudanese law as adultery, prompting the judge to impose an additional sentence of 100 lashes on the young mother.
Ibrahim's husband, Daniel Wani, is a Christian. He was not allowed to visit his wife and children on the day of the daughter's birth, but did see his family a few days afterwards. He says they are all doing well.
The death sentence sparked widespread criticism from Western governments and human rights organizations. The U.S. State Department protested the ruling and called on the Khartoum government to respect the right to freedom of religion. British Prime Minister David Cameron said the ruling has "no place in today's world."
Amnesty International also condemned the death sentence, calling it "abhorrent" and a flagrant breach of international human rights law.
Sudan's 2005 constitution guarantees the right to freedom of worship. But in practice, the government enforces a form of Islamic law.
http://www.voanews.com/content/sudanese-woman-sentenced-to-death-gives-birth-in-prison/1926691.html
------------
Female Activists 'Doing Harm To Women's Rights': Nahla Al-Anbar
June 1, 2014
JEDDAH — Female activists have the right to voice their opinions regarding certain issues but they should not carry out this mission at the expense of the Kingdom's image on the global stage, said Nahla Al-Anbar, executive assistant to Prince Al-Waleed Bin Talal.
She said some female activists have done more harm than good to women's rights in the Kingdom.
In an interview with Okaz/Saudi Gazette, Al-Anbar said a Saudi woman who aspires to make a change in the country should not depict her country negatively.
"I'm not against women's rights activists but I am against the methods and approaches that are used by them, which, by the way, don't befit our Saudi traditions," she said.
She lambasted Saudi activists who talk to foreign journalists and newspapers and criticize the Kingdom.
"What does the West have to do with Saudi women and their rights? Saudi women make headlines today in Western newspapers. This is not right and it should be stopped.
"Undoubtedly, these acts give the wrong impression about Saudi women. They make others think that Saudi women are constantly oppressed, are always reckless and do not use their minds when making decisions.
"Of course, none of this is true because if it were, why do we have so many Saudi women today who have proved, through perseverance and excellence, that they are successful in all fields?" she said.
According to Al-Anbar, some female activists have done more harm than good to women's rights because of the lack of a clear path through which they can demand their rights without harming their country's interests.
"For example, women's driving was one of the issues that were abused. I support the issue heart and soul but I don't like the way activists brought attention to it. We can demand our rights without causing any harm to the country's reputation," she said, adding that the activists took advantage of the traditions of Saudi society and put the issue under the spotlight.
"I want women to drive cars but this should be done according to the government's regulations."
Al-Anbar called on the Shoura Council's female members to exert greater efforts and bring important women's issues to the council's table.
Answering a question about introducing physical education classes for girls at schools, she said exercise is a basic right for all girls.
"The fact that the country has consistently reported high obesity rates is reason enough to introduce gym classes in girls' schools," she said.
Al-Anbar described her work with Prince Al-Waleed as very rewarding and enriching. "We have learned immensely from Prince Al-Waleed and his vast experience and the way he deals with things."
http://www.saudigazette.com.sa/index.cfm?method=home.regcon&contentid=20140601207009
------------
Pakistani Female Civil Servant Challenges Termination
June 1, 2014
ISLAMABAD: A female civil servant who lost her job after failing to clear the Final Passing Out Examination (FPOE) challenged her termination on Saturday, on the grounds that she was denied the opportunity to defend herself.
Husna Jamil filed a departmental appeal against her termination as assistant collector (probationer) of Pakistan Customs Service (BS-17). She argued that the Federal Board of Revenue (FBR) discharged her from service without serving her a show cause notice, as required by law.
"The law requires that I be issued a show cause notice, followed by the opportunity for a personal hearing, but this was not done," Husna said in her appeal. "I have been treated illegally and unfairly by the department."
She also argued that her termination order was not passed by the competent authority and was dealt with at a junior level.
Husna pointed out the case of a Foreign Service probationer, who she said was treated beneficially by the president and awarded 2.5% grace marks, and sought equal treatment. She added that four other officers were granted exemption from FPOE and demanded their records be examined as well.
"Although failure to pass FPOE renders a civil servant liable to removal from service… no officer has actually been removed from service on this ground alone to date," Husna said in her appeal. "There is, in fact, a plethora of precedents of officers remaining in service despite failing FPOE … hence, the need to prevent miscarriage of justice due to utter discrimination in my case."
It is the first time in the country's history that a civil servant has been sacked for failing to clear FPOE.
http://tribune.com.pk/story/716045/departmental-appeal-female-civil-servant-challenges-termination/
------------
Saudi Couple 'Breastfed by Same Woman' Ordered To Separate After 25 Yrs
June 1, 2014
A Saudi court has ruled that a couple who have been married for the last 25 years with seven children must separate after it was discovered they had been breastfed by the same woman, it was reported.
The judge issued the verdict on the basis of a religious edict issued by Grand Mufti Sheikh Abdul Aziz Al Sheikh in which he quoted a saying by the Prophet Muhammad that "breastfeeding makes forbidden what is forbidden by blood relations".
The case surfaced three months ago. However, a final verdict was given on Tuesday after consultation with the Grand Mufti, the English-language Arab News said.
It is unclear as to the circumstances surrounding the couple's bizarre infancy rendezvous, with no details given of how they came to be breastfed by the same woman.
There is no suggestion they are related and details of how the pair's seven children will be cared for were also not reported.
http://www.arabnews.com/news/580181
------------
Jolie in Crackdown on Sexual Violence in Conflict
June 1, 2014
Angelina Jolie, Special Envoy for the U.N. High Commissioner for Refugees, is working towards stamping out sexual violence in conflict and will be co-chairing a global summit in London next month.
The Global Summit to End Sexual Violence in Conflict will also be headed by the British Foreign Secretary William Hague and will be held June 10-13. On Twitter, the hashtag #TimeToAct has been used to promote the summit and its cause.
The summit promises to be the "largest gathering ever brought together" on sexual violence in conflict, a statement obtained by Al Arabiya News from the organizers said.
The meeting has "a view to creating irreversible momentum against sexual violence in conflict and practical action that impacts those on the ground," the statement added.
Earlier this month, the Oscar-winning actress revealed plans to take a step back from Hollywood so she can focus on campaigning against sexual violence.
"I've had a wonderful career and I'm happy to have had all those opportunities to tell stories and work for as long as I have," she said. "But I'm able to be selective and I would like to focus more on writing and directing; and above all I would like to focus more on my work with the U.N. and with PSVI [the Preventing Sexual Violence Initiative]."
In March, Jolie arrived in Sarajevo with Hague to take part in a conference on sexual violence in war.
Jolie's 2011 directorial debut, "In the Land of Blood and Honey," dealt with the issues of war crimes and violence against women during Bosnia's war.
Most recently, she commented on Nigerian extremist group Boko Haram's kidnapping of more than 200 schoolgirls, saying she was "sickened" by it.
"I'm absolutely sickened by it. And the thought of them out there right now, terrified and being abused, and sold ... it's infuriating, and it kind of goes beyond understanding that somebody could do this," Jolie told French news channel i-Tele.
Jolie's role as a U.N. representative has taken her around the world, from Jordan's refugee camps to Afghanistan, where she set up a school for girls in 2013.
http://english.alarabiya.net/en/News/world/2014/05/31/Angelina-Jolie-works-to-end-sexual-violence-in-conflict.html
------------
Women Workers Must Dress Modestly: Saudi Ministry
June 01, 2014
RIYADH — The Ministry of Labour has said women working at women's accessories stores are obligated to wear modest clothing that complies with the Islamic dress code. Spokesman for the ministry Tayseer Al-Mufarrej told Makkah daily that the ministry obliges women workers to comply with Shariah teachings, but that it did not oblige them to wear the Niqab (face veil). The head of the Commission for the Promotion of Virtue and Prevention of Vice (Haia), Abdullatif Bin Abdulaziz Al-Alsheikh, said the Haia had not asked the Ministry of Labor to oblige working women to wear the Niqab and added that the Haia is concerned with any acts or behaviors that are against public morals and ethics and Shariah teachings.
http://www.saudigazette.com.sa/index.cfm?method=home.regcon&contentid=20140601207006
------------
In US and abroad, new focus on anti-women violence
June 1, 2014
Nearly 300 schoolgirls abducted in Nigeria. A pregnant Pakistani woman stoned to death by her family for marrying the man she loved. Widespread rape in many war zones. And in California, a murderous rampage by a disturbed young man who had depicted sorority members as a prime target.
From across the world, startling reports of violence against women surface week after week. The World Health Organization has declared the problem an epidemic, calculating that one in three women worldwide will experience sexual or physical violence — most often from their husband or male partner.
Yet even as they decry the violence and the abundance of misogynistic rhetoric, women's rights activists see reasons for hope.
"The violence has been happening forever — it's not anything new," said Serra Sippel, president of the Washington-based Center for Health and Gender Equity. "What's new is that people in the United States and globally are coming around to say 'enough is enough,' and starting to hold governments and institutional leaders accountable."
Even in India — where just this past week, two teenage cousins were raped and killed by attackers who hung their bodies from a mango tree — there are signs of change. Public outrage over the 2012 gang rape and murder of a 23-year-old student led the government to expedite legislation increasing prison terms for rapists. In April, a court sentenced three men to death for raping a photojournalist in Mumbai.
In the United States, the military says it's stepping up efforts to combat sexual assault in the ranks and President Barack Obama's administration is campaigning against sexual violence at colleges and universities. A month ago, for the first time, the Department of Education revealed its list of schools under investigation for how they have responded to the problem.
On May 8, Sen. Barbara Boxer, D-Calif., and several of her colleagues introduced the International Violence Against Women Act, a bill intended to make anti-women violence a higher diplomatic priority for the United States. And from June 10-13 in London, British Foreign Secretary William Hague and actress Angelina Jolie will co-chair the first-ever Global Summit to End Sexual Violence in Conflict.
"It's absolutely essential that we shed a light on how pervasive this problem is," said Julia Drost, policy advocate for Amnesty International USA's women's human rights program. "From the top on down — world leaders to family members — people need to take responsibility."
In some important respects, the May 23 rampage in California was different from the systemic violence against women that abounds in much of the world. The assailant, Elliot Rodger, had been plagued by mental health problems for years, and four men were among the six University of California, Santa Barbara students that he killed.
Nonetheless, accounts of Rodger's hostility to women, and his bitterness over sexual rejection, led to an outpouring of commentary and online debate over the extent of misogyny and male entitlement. On Twitter, using hashtags such as YesAllWomen, many women worldwide shared their experiences with everyday harassment and sexism.
"People are beginning to make the connection between the violence and how women are treated on a day-to-day basis," said Liesl Gerntholtz, executive director of the Women's Rights Division of Human Rights Watch.
She welcomed the ever-expanding ability of women around the world — and their male allies — to show solidarity and voice anger via social media.
"It's an issue that's being taken seriously in a way that it wasn't before," she said. "Governments are acknowledging there's a responsibility of the state to prevent violence against women — even in the home — and bring perpetrators to justice."
The next crucial step, according to Gerntholtz and other activists, is to engage more men and boys in efforts to break down gender stereotypes and condemn anti-women violence.
Yet even as Rodger's rampage prompted an outcry against misogyny, it also sparked a backlash from men and women who said it was wrong to suggest the California killings reflected a broader problem of sexism in the U.S.
"Sure, this guy hated women, but this is a hatred we should be able to recognize as insanity," said Charlotte Hays, director of cultural programs for the Independent Women's Forum. "This has nothing to do with violence against women."
Rodger "hated everyone, he was a misanthrope," said Christina Hoff Sommers, a resident scholar at the American Enterprise Institute who often writes skeptically about contemporary feminism.
"Is there misogyny in American culture? Yes," she said. "But we also have a problem with male-bashing and hatred of men."
Sommers questioned the efforts to link developments in the United States to the violence and discrimination faced by women abroad.
"We're a society where women are equal before the law ... though certain activists don't like to hear that," she said. "Creating this idea that women in America are an oppressed class, that we are held back by patriarchy similar to our sisters living under Sharia law — that's just ridiculous."
In contrast, Terry O'Neill, president of the National Organization for Women, said it was appropriate to draw international parallels. She contended that government neglect of anti-women practices has been widespread, whether in developing nations where girls are blocked from attending school or in the United States, with its problems of sexual assault on campus and in the military.
"The specific expression takes different forms in different countries," she said. "But the underlying attitude is the devaluing of women as human beings."
Follow David Crary on Twitter at http://twitter.com/CraryAP
http://www.sfgate.com/news/crime/article/In-US-and-abroad-new-focus-on-anti-women-violence-5518866.php
------------
Israel's female combat soldiers complete training with 20km march
June 1, 2014
In Israel's 'Caracal Battalion', two-thirds of the combatants are women who serve in combat roles alongside men.
In Israel, men and women both perform mandatory military service in the IDF. Three years for men and two for women. Caracal, however, is a unique combat brigade in which men and women serve side by side performing combat roles and duties for three years.
Two-thirds of Caracal's ranks are filled by women. The battalion's primary role is conducting patrol's on Israel's Egyptian border, intercepting infiltrators and disrupting smuggling from the Sinai desert while keeping a watchful eye on the country's neighbors across the border.
http://www.jpost.com/Defense/PHOTO-GALLERY-Israels-female-combat-soldiers-complete-training-with-20Km-march-354882
------------
Female boxing kicks off on small scale
June 1, 2014
KARACHI: Youngsters from the Kalyana Academy became the first female players to lay the foundation for women's boxing in the country as they competed at the Pakistan Boxing Federation (PBF) backed school tournament in Karachi's District Central on Saturday.
The Inter-Classes Kalyana Boxing Tournament for girls and boys was more than just a regular junior event. According to the PBF officials and international referee Ali Akber Shah Qadri, the dream of formally introducing the sport for females after 15 years of planning had finally borne fruit.
The one-day competition featured 10 girls in five bouts between the ages of 10 to 13 years in weight categories of 22-48kg.
"We've never had female boxing in Pakistan before and this is just the beginning," Qadri told The Express Tribune.
"I dreamt of this day 15 years ago. Back then, the Islami Nazariya Council had dismissed this notion. I had to bear zealous opposition from hardliners, but today we hope that Pakistan is a different society. Hopefully people will accept female boxers and they can make their name in the sport like the women from other countries have."
During the competition, Warda Rafi defeated Ariba Rafi 2-1 while Noor-e-Saba outclassed Arsalah 3-0 and Zainab defeated Soniya 3-0. Fatima Furqan outplayed Samra 3-0 and Khatija overcame Sumera 2-1.
Mohamad Ali, Arsalan and Abdul Wasay also registered wins in the boys' category.
Qadri further stated that moral support from the parents had proved important in helping the PBF and Kalyana Academy to take the first step.
"The parents wanted to see their daughters take up boxing. If girls can play wrestling, kabaddi, martial arts, then why not boxing?"
According to Kalyana Academy Boxing Programme Director and Karachi Boxing Association official Syed Ashraf Ali, the girls had shown interest to participate in the event after watching the boys train.
"When they showed their interest, I told them that they would need at least a month's training before coming in the ring with our coach Rafiullah. They took up the task.
"Coming inside the ring is the biggest challenge. It's about driving the fear away before performing in front of the spectators. I hope other academies and schools in the country can also take inspiration from this event," said Ali.
http://tribune.com.pk/story/715815/female-boxing-kicks-off-on-small-scale/
------------
Afghan Girls Strive for a Bright Future at Refurbished High School
June 1, 2014
MAZAR-E-SHARIF, Balkh Province - Sometimes, the taller girls at Turabi Girls' High School amuse other students by trying to simultaneously touch both walls in their tiny old classrooms. It's a game that gets everyone laughing, especially in summer when the rooms are so stifling that studying is almost impossible.
Those oppressive afternoons are fewer now that the school has 11 more classrooms, including an airy new science laboratory, in a big blue building across the compound. Behind a brick boundary wall in the heart of Mazar-e-Sharif in Afghanistan's northern Balkh province, the school has recently doubled in size with support from the Ministry of Education's Education Quality Improvement Program (EQUIP). EQUIP receives financial support from the World Bank and Afghanistan Reconstruction Trust Fund (ARTF).
EQUIP aims to increase access to education, particularly for girls, through school grants and teacher training. It's now estimated girls' enrollment has increased to 3.4 million from less than 200,000 in 2002, and boys' attendance has grown to about 5.3 million from less than one million.
"All the girls want to be in the new building now," says teacher Fawzia Faizi, 25. "In these old rooms, it can be very hot, and when it rains, the water comes through the roof and they get scared, but still they want to study so we need to keep using both these places."
Civil war and subsequent Taliban rule in the 1990s largely destroyed Afghanistan's education system and girls were not allowed to attend school. Today, about 50 percent of the country's schools do not have proper buildings, and more than half of teachers have not graduated from Grade 12.
Community support for school
At Turabi Girls' High School, about 2,000 students now attend grades 7 to 12 in two half-day shifts, and more are arriving every few months, says Principal Shakila Noori. "People are hearing this is a good, safe place for their daughters to study," says Noori. "We want people to think of this as their home. Other schools may have burned, but not here. The community is fully supporting us."
The enrollment increase at Turabi Girls' High School is due, in large part, to the work of the school shura, says Noori. A council or shura of local elders, teachers, parents, and students regularly meets to discuss any challenges facing the school. Part of EQUIP's mandate is to assist with the creation and training of school shuras. Now approximately 228 operate in Balkh province, say program officials.
A retired bank worker, Mohammad Ali, 65, joined the Turabi shura after his daughter started teaching at the school. "Now, we all go out in the community and to the mosques to tell everybody to bring their boys and girls here. If they don't, we encourage them until they do," Ali says with a grin.
Aqela Nawabi, 15, is one of two students on the shura. She says members of the group recently "sat a few times" with one family who wouldn't give permission to their daughter to attend school because they were worried about her security.
"But after some time, they agreed and now she is here in Class 11," says Aqela.
School council tackles challenges
It was also the shura that applied for the construction of the new school building which opened three years ago, and requested EQUIP to supply funds for a small library, books and the science laboratory equipped with skeletons. "Actually, we are doing a very good job," says Ali. "Already, we need even more space."
Education is clearly essential to the girls in the white headscarves who still sit shoulder to shoulder in many classrooms, says student Zahra Bahar, 16. "This school has made the future very bright for us. Before we were studying under the trees, in the shade beside the wall, or in tents, but now we have a roof over our heads, and in our new building, there are fans, so this is very good," says Zahra, a Class 10 student who wants to be a judge or lawyer some day.
Sewita Asalzada, 18, plans to be an engineer so she can "rebuild my country, and create even more beautiful schools."
"Afghanistan has been a destroyed place because there are some people who wanted to defeat us. But we won't admit defeat. We will take our place in the future," says Sewita, a Class 11 student. For her own family, she envisions a modern home with a swimming pool in the garden.
"Life should be a pleasing experience, like these murals on our walls," adds Sewita, pointing at a nearby school artist putting the finishing touches on a painting of a former Afghan king. In the new building, other colorful murals depict famous poets or the periodic tables.
Teacher Palwasha Faizudin agrees the school has made much progress, but a few problems still exist, such as the lack of books that would better explain how to teach class material to the upper grades.
"But this is why I am part of the shura," says fellow teacher, Faizi. "We are working on solving all these problems. Just in the last few months, we have started a school development plan. There is still much to do, but already we have come so far."
http://www.worldbank.org/en/news/feature/2014/05/28/afghanistan-girls-strive-for-a-bright-future-at-refurbished-high-school
------------
URL: https://newageislam.com/islam-women-feminism/14-year-old-pakistani-wants/d/87296