New Age Islam News Bureau
23 Apr 2018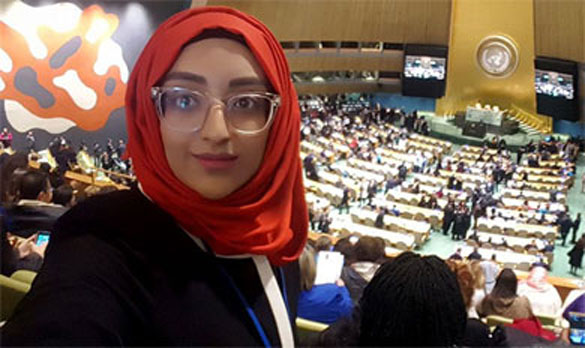 MQI Representative, Safyah A. Malik at the Opening Session of the Commission on the Status of Women at the UN General Assembly Hall. (Pictured above)
-----
• Minhaj-ul-Quran Women Delegation Participates In UN CSW Conference 2018
• Afghan Girl Sitara Wafadar Spends Life Disguised As "Son" Her Parents Wanted
• US Public Library Exhibits Islamophobic Poem Insulting Muslim Women
• Shoura to Vote On Freeing Women Prisoners Sans Male Guardians
• Boko Haram Raid Kills 5 Girls, Source Says
• Fatima Donates $1m to Support Fund for Refugee Women
• Wafd Party Elections Raise Issue of Female Empowerment in Egypt
Compiled by New Age Islam News Bureau
URL: https://www.newageislam.com/islam-women-feminism/1308-women-india-go-haj/d/115019
--------
1,308 Women from India to Go On Haj without Male Guardians: Union Minister
Apr 22, 2018
A total of 1,308 women from the country will, for the first time, perform Haj without the company of a 'Mahram' or male guardian, Union Minister of Minority Affairs Mukhtar Abbas Naqvi said on Sunday.
The minister was in the city to participate in a training programme organised for Haj pilgrims.
"A total of 1,308 women have applied to go for Haj without a 'mahram'. These women have been exempted from the lottery system and will be allowed to proceed to perform Haj," he told reporters.
The minister said that it was the first time that women from India would be going for the pilgrimage without a male guardian.
Naqvi said that 3,55,604 applications had been received for Haj and this number comprised 1,89,217 men and 1,66,387 women.
"This year, a total of 1,28,002 pilgrims will go to perform Haj through the Haj Committee of India. Women comprise 47 per cent of this number. Another 47,023 Haj pilgrims will go through private tour operators," he said.
The pilgrimage will he held in August.
Naqvi said that women Haj assistants will be deployed to help women pilgrims and monitor facilities provided to them, adding that this too was a first-time feature for the country.
"In 2017, the government paid Rs 1,030 crore to various airlines for flying 1,24,852 pilgrims. In 2018, the payment for this would be Rs 973 crore and the number of pilgrims would be 1,28,002," the minister said.
This figure is Rs 57 crore less than what was paid, he said.
Naqvi said that the Union government's decision to allow Haj pilgrims to choose the embarkation point most suited to them, instead of the earlier practice of fixing such a point for them, was benefiting those going to perform Haj.
"Due to this new rule by the Union government, Haj pilgrims can board a flight from the airport most convenient for them. It has saved the government a lot of money," he added.
https://www.hindustantimes.com/india-news/1-308-women-from-india-to-go-on-haj-without-male-guardians-naqvi/story-3LZ5XmDy9pJ71g8ZtUky0J.html
--------
Minhaj-ul-Quran women delegation participates in UN CSW Conference 2018
Mustansar Abbas
APRIL 22, 2018
LAHORE: Minhaj-ul-Quran International (MQI) Women delegation participated in a session titled "United Nations Commission on status of Women" organised at the United Nations Headquarters in New York.
According to the statement, MQI North America representatives including Social Media Coordination Council member and President of MYL Sisters in Canada Safyah A. Malik and executive member of MYL Sisters Canada Aisha Ahmad attended session on behalf of Minhaj-ul-Quran International.
The opening ceremony of session was held at the UN General Assembly Hall. While briefing the attendees, UN Executive Director Women Phumzile Mlambo-Ngcuka directed all participating NGOs to present notes regarding their field of work.
Speaking on occasion, Safyah told the attendees about MQI's ongoing work, both in the West and the Muslim world, which is aimed at providing solid evidences of nefarious role of terrorist organisations are playing, and the importance of counter-narrative of terrorist ideology.
She told that "Islam is a religion of love, peace and tolerance. Islam supports women's political, social and economic role in national life. Those who want to curtain of women role indifferent aspects of life they are ignorant of true teachings of Islam."
The statement further said that the topic under discussion was titled "how the UN can help women who are abused" and that Minhaj-ul-Quran was the only NGO in the session that was representing Muslim women living in West.
Moreover, the issue of young females who were oppressed and brainwashed into becoming "Jihadi Brides" was discussed, while questions were posed on how the UN was working to improve those policies that promote violence and adversely affect women and children.
MQI pattern in chief Tahirul Qadri congratulated the women delegation participating in the UN conference and for presenting true teachings of Islam regarding empowerment of women.
MQI has special consultative status in UN since 2011, therefore is regularly invited at UN meetings and conferences around the world, including North America and Europe.
https://dailytimes.com.pk/231159/minhaj-ul-quran-women-delegation-participates-in-un-csw-conference-2018/
--------
Afghan Girl Sitara Wafadar Spends Life Disguised As "Son" Her Parents Wanted
April 23, 2018
SULTANPUR, AFGHANISTAN: Sitara Wafadar yearns for long hair like other girls. Instead, the Afghan teenager has disguised herself as a boy for more than a decade, forced by her parents to be the "son" they never had.
With five sisters and no brothers, Sitara lives by the gender-twisting custom known as "bacha poshi", which in Dari refers to a girl "dressed as a boy", enabling her to safely perform the duties of a son in the patriarchal country.
The 18-year-old, who resides with her impoverished family in a mud-brick house in a village in Afghanistan's eastern province of Nangarhar, has pretended to be a boy for most of her life.
Every morning she puts on the baggy shirt and trousers and flip flops typically worn by Afghan males. Sometimes she covers her short brown hair with a scarf and deepens her voice to conceal her real gender.
"I never think that I am a girl," Sitara tells AFP at the brick factory where she and her elderly father work six days a week as bonded labourers to repay money they borrowed from the owner and feed the family.
"My father always says 'Sitara is like my eldest son'. Sometimes... I attend funerals as his eldest son" -- something she would never be allowed to do as a girl.
Bacha poshi has a long history in deeply conservative Afghanistan, where boys are valued more highly than girls and women are often confined to the home.
Normally it is families with no male heirs who make a daughter dress as a boy so she can carry out the duties of a son without getting harassed, or worse.
But some girls choose to pose as boys so they can enjoy the freedom their male counterparts take for granted in a country that treats women as second-class citizens.
While most bacha posh, as they are known, stop dressing as a boy after reaching puberty, Sitara says she keeps wearing male clothing "to protect myself" at the brick kiln.
"When I go to work most people do not realise that I am a girl," Sitara says.
"If they realised that an 18-year-old girl was working morning to evening in a brick factory then I would encounter many problems. I could even be kidnapped."
No choice
Sitara started working at the factory when she was eight, following in the footsteps of her four older sisters, who also made bricks instead of going to school -- until they married, after which they stayed home.
She makes 500 bricks a day in return for 160 Afghanis (just over $2).
From 7:00 am to 5:00 pm she crouches on the ground preparing mud and clay and then pushing it into brick moulds under the hot sun that has turned her skin brown.
"I don't feel ashamed about what I am doing but people my age tell me 'you have reached puberty and now you don't have to work at a brick factory'," Sitara says.
"But what should I do? I don't have any other choice."
Sitara's father, Noor, says "almighty Allah" did not give him a son, leaving him with no choice but to force his daughter to dress as a boy and work.
The family says they owe 25,000 Afghanis to the factory owner and relatives that they borrowed to cover the medical expenses of Sitara's diabetic mother.
"If I had a son I would not have faced all these problems and my daughter's life would be peaceful and prosperous," Noor tells AFP.
"All the responsibility is on my and Sitara's shoulders -- we have to provide for the family and pay back the loans."
'I wish I had a brother'
Bacha poshi tends to be followed in "particularly conservative areas" of Afghanistan, Kabul University sociology professor Baryalai Fetrat tells AFP.
But after years of dressing as a boy, the girls can be left feeling confused about their gender identity and status in the male-dominated society.
"Girls find it difficult to go back to their normal self or act as a submissive wife to their husbands, which can lead to depression and also domestic violence," Fetrat says.
Sitara's mother, Fatima, wishes Sitara could wear female clothes and stay at home, but she needs her to "bring groceries, take me to the doctor and do other work because my husband is old".
While Sitara recognises that her situation is "unfair and unjust", she is resigned to it, mainly because her younger sister, who is 13, would "face the same fate as me" if she stopped.
"I will do the hard work because I don't want my younger sister dressing as a boy and working at the factory," Sitara says.
"If I don't work we will face a lot of hardship and problems."
But even after so many years acting as a boy, Sitara still finds herself imagining what it would be like if she had a brother and could be free to have long hair and go to school.
"When I put on boy's clothes I wish I had a brother, then my dreams would have been fulfilled," she says.
https://www.ndtv.com/world-news/afghan-girl-sitara-wafadar-spends-life-disguised-as-son-her-parents-wanted-1841405
--------
US public library exhibits Islamophobic poem insulting Muslim women
APRIL 23, 2018
A public library in the U.S. state of Illinois has received harsh criticism on social media after exhibiting on Saturday an Islamophobic poem written on a Confederate flag background that insults Muslim women.
The poem, written by Professor George Miller, chair of the philosophy department at Lewis University, says "Hijab to me means jihad, so keep that s*** out of the country I love," in addition to several other lines disrespecting Islam.
"Is this really on display there?" a baffled Twitter user commented on a post criticizing the exhibit. "Not only is this on display, it's in the front lobby," the poster responded.
The public library of Aurora, Illinois, decided to take down the poem promoting hate speech after initially resisting the harsh feedback from hundreds of users on Twitter and Facebook.
"We are pleased that people are talking," an initial Facebook post of the library said, describing the criticism as "good discourse."
A person who did not identify their name shared a written complaint sent to the library, asking how it can be justified to display the hateful poem at the entrance of the library.
A library manager responded to the complaint in defense of the poem, and said it was approved within the framework of the library's policies of free speech.
"We invite all to come, see and contemplate this exhibit. Then, use it as a learning experience," the library employee wrote in the email.
A few hours after the initial Facebook post regarding the poem, the library announced that the panel would be taken down within a day.
Documenting the anti-Muslim hate crimes in the U.S., a report published by the Council on American-Islamic Relations (CAIR) in 2017 suggests that "the number of hate crimes in the first half of 2017 spiked 91 percent compared to the same period in 2016," which was the worst year since 2013, the year CAIR began to document incidents in a new system.
According to the report, "the number of bias incidents in 2017 also increased by 24 percent compared to the first half of 2016."
"The most prevalent trigger of anti-Muslim bias incidents in 2017 remains the victim's ethnicity or national origin, accounting for 32 percent of the total. Twenty percent of incidents occurred because of an individual being perceived as Muslim. A Muslim woman's headscarf was a trigger in 15 percent of incidents," the report also indicates.
https://www.dailysabah.com/islamophobia/2018/04/22/us-public-library-exhibits-islamophobic-poem-insulting-muslim-women
--------
Shoura to vote on freeing women prisoners sans male guardians
APRIL 23, 2018
DAMMAM — The Shoura (consultative ) Council will vote on April 30 on a proposal to release women prisoners, who have served their prison terms, without the need for their male guardians to come and pick them up personally.
The proposal was tabled by female Council member Latifa Al-Shaalan who asked the Ministry of Labor and Social Development to allow the released women prisoners to leave the hospitality and social protection homes immediately after completing their prison sentences.
She said there is no need for the ministry to wait for the male guardians to come and pick them up.
Shaalan said the released women prisoners should be treated similar to men who are allowed to leave the prisons as soon as they have completed serving their prison terms.
"The concerned ministries and government departments should provide the released women prisoners with protection, accommodation and job opportunities," she said.
Shaalan recalled that a royal decree has asked the government departments not to ask women for the approval of their male guardians so as to provide them with services.
She also said the prison systems and regulations do not make it a condition on the male guardians to come and pick up their women prisoners after their release.
Shaalan said the administrative procedure of releasing the women prisoners who have completed their sentences should not be delayed for any reason.
A number of Council members said there should not be any disparity between men and women in applying human rights.
They said all forms of discrimination against women should be immediately erased.
Some members said a male prisoner, who is only 20 years old, would be released after serving his prison term but a 40-year-old woman will have to remain in her prison until a male guardian comes to take her home.
http://saudigazette.com.sa/article/533255/SAUDI-ARABIA/Shoura-to-vote-on-freeing-women-prisoners-sans-male-guardians
--------
Boko Haram raid kills 5 girls, source says
April 22, 2018
DAPCHI, Nigeria — Boko Haram on March 21 released most of the 110 schoolgirls kidnapped from Dapchi, Nigeria, a month ago, but five girls still missing are now believed to be deceased and a lone student remains captive because of her faith, the Associated Press (AP) reported March 22.
A parent of one of the five missing girls were told by a student that the five girls died of injuries suffered in a stampede when Boko Haram abducted them Feb. 19 from the Government Girls Secondary School, the AP reported. The reportedly deceased girls were buried in graves in the bush, the student said, but the deaths have not been confirmed.
A sixth student still missing remains captive because she is Christian, a student told the AP. A released student said Boko Haram retained the girl in order to convert her to Islam.
Boko Haram released a total of 106 people, the Nigerian military said in press briefings, including 104 students and two townspeople who also had been captured in the February raid. The terrorists released the captives at the school in the middle of the night and warned parents not to educate the girls. In the Hausa language, Boko Haram translates "Western education is forbidden." (BP)
http://www.thealabamabaptist.org/boko-haram-raid-kills-5-girls-source-says/
--------
Fatima donates $1m to support Fund for Refugee Women
April 22, 2018
Abu Dhabi: Her Highness Shaikha Fatima Bint Mubarak, Chairwoman of the General Women's Union, President of the Supreme Council for Motherhood and Childhood, and Supreme Chairwoman of the Family Development Foundation, has donated $1 million to the Fund for Refugee Women.
The Fund, launched in 2000 in collaboration with the Emirates Red Crescent, ERC, and the UN High Commission for Refugees, seeks to provide protection and assistance for refugee woman and children.
The donation aims to create new opportunities to empower refugee women, as part of Shaikha Fatima's attention to philanthropic work and ease the suffering of needy and affected people, including refugee women and children all around the world.
Shaikha Fatima praised the leadership's role in improving the humanitarian and charitable work and the efforts being made to improve the stability of refugees, provide them with basic needs and help them overcome the challenges facing them. She stressed that paying attention to refugee issues is a constant principle in the UAE's humanitarian approach.
She went on to say that the UAE has always placed the plight of refugees and displaced persons at the forefront of its foreign aid agenda, to help ease their suffering and improve their dire living conditions.
"The strengthening of partnerships between humanitarian organisations is necessary to improve the status of refugees, and draw attention to their urgent needs. The UAE's refugee aid policy reflects the values of tolerance, love, and brotherhood between peoples, as instilled by the late Shaikh Zayed Bin Sultan Al Nahyan."
Shaikha Fatima expressed her hope that the Fund for Refugee Women will make greater strides in assisting vulnerable communities, and providing refugee women and children with necessary support and better living conditions, away from the consequences of natural disasters, crises and wars.
She highlighted the role the UNHCR plays in providing care and protection for the millions of displaced persons and refugees across dozens of countries, adding that she is proud of the strong partnership between the Fund and UNHCR, which promotes wider horizons of cooperation and serves the interests of refugee women and children.
As part of this framework, she endorsed the signing of an agreement between the ERC and the UNHCR, to implement a project to assist Southern Sudan Refugees so that they can establish themselves in Uganda, which will cost $1 million in the form of a grant from the fund.
Shaikha Fatima highlighted the importance of such types of projects to empowering refugees economically and encouraging them to work, develop and benefit from their skills, as well as enabling them to continue living with determination.
According to the agreement, which was signed today at the headquarters of the ERC, the project will provide opportunities for refugees from Southern Sudan to work productively in agricultural and livestock programmes. The project is expected to benefit 41,660 refugees, with 60 per cent of them being women.
The agreement was signed by Dr. Mohammad Ateeq Al Falahi, Secretary-General of the ERC, and Khalid Khalifa, Regional Representative of the UNHCR in the GCC.
Dr. Maitha Bint Salem Al Shamsi, Minister of State, said the fund was established through the generous initiative of Shaikha Fatima Bint Mubarak, to ease the suffering of female refugees and provide them with the means of a decent life, while adding that starting the project will support her efforts to empower women economically and socially, and will help improve their living conditions.
Al Shamsi stressed that Shaikha Fatima's initiatives to support refugees have made her one of their leading donors and supporters.
Dr Al Falahi praised the humanitarian efforts of Shaikha Fatima and added that she is a symbol of unlimited human giving, not only in the UAE but also in the region and around the world.
He noted that the ERC, under the leadership of Shaikh Hamdan Bin Zayed, has prioritised development projects that aim to benefit victims of conflicts and disasters, which he considers a fundamental solution to fulfilling their growing humanitarian needs.
"We are confident that this agreement will coordinate the efforts of the ERC and the UNHCR and make them more efficient, to reduce the suffering of refugees from Southern Sudan in Uganda," Khalifa said.
https://gulfnews.com/news/uae/government/fatima-donates-1m-to-support-fund-for-refugee-women-1.2209836
--------
Wafd Party elections raise issue of female empowerment in Egypt
N.A. Hussein
April 22, 2018
CAIRO — Secretary-General of the Wafd Party Hani Sarie El-Din announced April 16 that the party has prepared a list of cadres to take part in the upcoming local council elections scheduled for early 2019. He pointed out that the party was keen to give the bigger share of the list to women and the youth.
But finding strong and well-known female cadres in the Wafd Party is not an easy task. Women do not currently fill any positions within the Wafd Party. Five candidates competed March 30 for the leadership of the party. While these candidates represented many segments of society, none of them were women or Copts. Bahaa Abu Shoqa, the former secretary-general of the Wafd Party, won the elections.
Of note, the Wafd Party adopts an objective approach in its relations with the current regime. While its members of parliament supported Egyptian President Abdel Fattah al-Sisi in many decisions, many of its members refused the Maritime Demarcation Agreement signed between Egypt and Saudi Arabia, which led Egypt to give up its sovereignty over Tiran and Sanafir islands to Saudi Arabia.
Yusri al-Azabawi, a researcher at the Al-Ahram Center for Political and Strategic Studies, told Al-Monitor, "The party's elections included many trends, ages, orientations and demographics. While the absence of women and Copts cannot be deemed as an indication of marginalization given that each party has its own age, political and demographic composition, the absence of women from a lot of Egyptian party leaderships remains a phenomenon that deserves to be explored."
"The absence of women is more remarkable than the absence of Copts, considering that Copts represent about 15% of Egyptian society, while women represent about 50%, a rate that increases among the youth, who are supposed to be at the core of partisan work," he added. "I think that the weak and immature partisan experience in Egypt did not care much about empowering women in partisan life. Party leaders were busy settling their struggle for partisan leadership. One example is the conflict between Noman Gomaa and Mahmoud Abaza over the leadership of the Wafd Party in 2006. [Egyptian] parties only embarked on including women in parliament after the 2014 constitution stipulated a quota for women on each party's list."
Only one woman has assumed the post of party leader in the history of partisan life in Egypt — Hala Shukrallah, a Christian who served as the head of Al-Dostour Party in the wake of the February 2014 partisan elections. However, Shukrallah resigned in August 2015 in protest against what she deemed to be confusion in the party's policy and failure to heed the demands of the people.
For her part, Sabah al-Saqqari ran in 2012 for the presidency of the Freedom and Justice Party, the political arm of the Muslim Brotherhood, but did not win.
In an attempt to identify the reasons behind the absence of women from the Wafd Party elections in Egypt and the Egyptian partisan life in general, Nihal Ahdi, the head of the Women's Union of the Wafd Party, told Al-Monitor that the crisis is not limited to the Wafd Party or to partisan life alone, as the problem is embedded in Egyptian society, which she described as patriarchal. Most Egyptians, she said, including women, favor men occupying partisan and local council positions.
She pointed out that the most important step that should be taken by the Wafd Party in the coming period and before the local council elections is to organize intensive awareness campaigns across Egypt to encourage women to elect women. Also, the historical role of women in political and partisan work needs to be highlighted because women participate more than men in the elections. Still, women chose to support men.
"When female cadres make it to local councils and parliament and manage to earn the trust of the Wafd Party members, then they will be able to assume leadership positions within the Wafd Party," she said.
The Wafd Party was the first political party to allow women to join its ranks. Safiya Zaghloul, the wife of Saad Zaghloul, the first leader of the Wafd Party, led the women's secretariat in the party and was succeeded by Huda Shaarawi, one of the leaders of the Egyptian women's movement.
Abu Shoqa told Al-Monitor that women are not well-represented within Egyptian parties. And Sisi's experience in the empowerment of women during 2017, which he declared as the year of women, showed that political parties are the ones who need women, not the other way around. Women assumed high positions without any partisan support. Sahar Nasr assumed the post of minister of investment and international cooperation, and Nadia Abdo assumed the post of governor of Beheira.
"My presidential program for the Wafd Party is based on an integrated strategy that aims to empower women both within the party and in the local council elections," Abu Shoqa added.
Hoda Badran, the president of the Egyptian Feminist Union, ruled out that women will be allowed to assume higher positions in partisan life in Egypt.
"Most Egyptian parties witness occasional splits when a certain group in the party rejects the leadership's policy, and developing a strategy to empower women at the expense of some party activists may lead to further splits. Women will not reap any benefits from being represented within parties plagued by splits," she told Al-Monitor.
https://www.al-monitor.com/pulse/originals/2018/04/egypt-wafd-party-nominates-female-candidates-local-elections.html
--------
URL: https://www.newageislam.com/islam-women-feminism/1308-women-india-go-haj/d/115019
New Age Islam, Islam Online, Islamic Website, African Muslim News, Arab World News, South Asia News, Indian Muslim News, World Muslim News, Women in Islam, Islamic Feminism, Arab Women, Women In Arab, Islamophobia in America, Muslim Women in West, Islam Women and Feminism