New Age Islam News Bureau
3 March 2016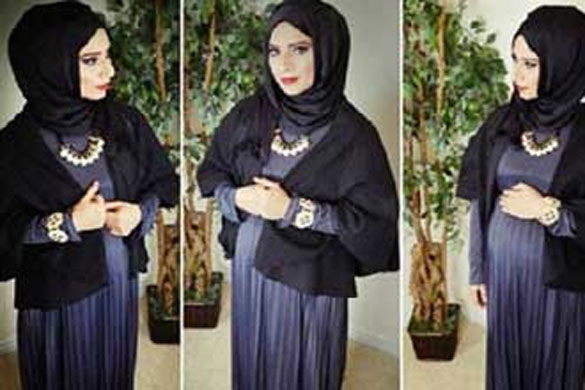 Photo: Canadian Muslim Woman Shows How to Be Beautiful With Hijab Styling Tips
------------
• ISIS Sells Yazidi Sex Slaves Far And Wide
• UAE Woman, 30, Wins Right to Marry Love of Her Life
• 16m Girls Will Not Get Basic Education, Fears Unesco
• Afghanistan CEO: No Compromise on Women's Rights in Peace Process with Taliban
• Canadian Muslim Woman Shows How to Be Beautiful With Hijab Styling Tips
• Almost Half Of African Women Are Entrepreneurs; These Are Their Struggles...
• 2 Women Killed After Staging Armed Attack on İstanbul Riot Police Station
Compiled by New Age Islam News Bureau
URL: https://newageislam.com/islam-women-feminism/12-year-old-girl-latest/d/106540
---------
12-Year-Old Girl Latest Executioner for Islamic State
Thu, March 3, 2016
A 12-year old girl who is under the control of the Islamic State is the brutal terror group's latest executioner.
Speaking on Wednesday, March 2, a local source in Ninveh told Alsumaria News, "On the evening of March 2, a 12-year-old Islamic State girl executed five women including a doctor who refused to take care of ISIS fighters who were injured during an air strike conducted by the international coalition. She shot the victims in the El-Razalani (Ghazlani) camp [in Mosul, Iraq]. This was considered to be the first time ISIS used a young girl as an executioner."
Mosul has been under the control of the Islamic State (ISIS/ISIL) since June 2014. Since the takeover, residents of the city have been suffering from a security and humanitarian crisis under the extreme strictures of the group.
clarionproject.org/news/12-year-old-girl-latest-executioner-islamic-state#
------
ISIS Sells Yazidi Sex Slaves Far and Wide
Thu, March 3, 2016
The Islamic State has been selling Yazidi girls captured in Iraq as far away as Afghanistan, Chechnya and Pakistan, according to the mayor of the Iraqi town of Shingal.
He found the information by speaking to freed Yazidi women and girls whose families had paid the substantial ransoms to the Islamic State through mediators.
"At this moment we do not know how these girls were moved outside of Iraq or Syria but we believe they could have smuggled them out of the countries overland," Shingal Mayor Mihemma Xelil told the Kurdish news agency Rudaw.
Of the 6,255 Yazidis kidnapped by the Islamic State, 3,878 are believed to still be in captivity, according to the Kurdistan Regional Government (KRG).
"We have paid the ransom for many of the rescued victims, especially in cases where we knew for sure that they would be released for ransom" Hussein Koro of the KRG told Rudaw.
clarionproject.org/news/yazidi-sex-slaves-sold-far-away-pakistan
------
UAE Woman, 30, Wins Right to Marry Love of Her Life
Thu, March 3, 2016
A 30-year-old woman in the United Arab Emirates was forced to go to court to win the right to marry the man of her choice.
The woman appealed to the courts after her father, who is her legal guardian and must approve whom she marries – nixed the man of her choice saying he did not fit the family's social stature.
After trying to convince her father that the man, whom she had met at work, was of good character and well educated, she filed a case in court to get married without obtaining her father's permission.
The court ruled in her favor and ordered a judge from the Sharia Court to be her guardian and facilitate the marriage.
However, the woman's father appealed the case in a higher court which overturned the initial ruling. The woman then took the case to the UAE's highest court, which upheld the initial ruling, allowing the woman to finally marry the love of her life.
clarionproject.org/news/uae-woman-30-wins-right-court-marry-man-choice
------
16m girls will not get basic education, fears Unesco
March 3rd, 2016
UNITED NATIONS: The United Nations Educational, Scientific and Cultural Organisation (Unesco) has warned that some 16 million girls between ages six and 11 will never get the chance to learn to read or write in primary school, compared to about eight million boys if current trends continue.
A Unesco report, released in the run-up to International Women's Day to be held on March 8, says that girls are still the first to be denied the right to education despite all the efforts and progress made over the past 20 years.
"We will never achieve any of the sustainable development goals without overcoming discrimination and poverty that stunt the lives of girls and women from one generation to the next," Unesco Director General Irina Bokova said in a press release.
"We must work at all levels, from grassroots to global leaders, to put equity and inclusion at the heart of every policy so that all girls, whatever their circumstances, go to school, stay in school and become empowered citizens," she added.
Gender disparities remain highest in the Arab states, sub-Saharan Africa and South and West Asia. Across sub-Saharan Africa, 9.5 million girls will never set foot in a classroom compared to five million boys.
In total, more than 30 million children aged six to 11 are out of school across the region. Some will start at a later age, but many more will remain entirely excluded.
www.dawn.com/news/1243153/16m-girls-will-not-get-basic-education-fears-unesco
------
Afghanistan CEO: No Compromise on Women's Rights in Peace Process with Taliban
By Khaama Press - Thu Mar 03 2016
The Chief Executive Officer Abdullah Abdullah promised that the government will not comprise on women's rights as efforts are underway to revive peace talks with the anti-government armed militant groups.
In his speech during an event to mark the International Women's Day, Abdullah said as the government is preparing for peace there will not be any compromise on women's rights and their achievements.
Insisting that the women's rights is not a gift, Abdullah said the Afghan women have suffered the most from the war in the country and the government's ongoing efforts for peace process are aimed at providing a peaceful environment both for men and women of the country.
Abdullah further added that the Afghan women can freely raise their voices now which were once silenced and had no right to share their opinion, calling the change a big achievement since the fall of the Taliban regime.
The remarks by Abdullah comes as the Afghan government is expecting to meet the Taliban representatives during a direct face to face meeting to discuss the peace process.
Pakistan has offered to host the first round of direct talks between the Afghan government and Taliban representatives following the conclusion of the fourth round of Quadrilateral Coordination Group (QCG) meeting late last month.
The Afghan women suffered the most during the Taliban regime as the group implemented strict law in the country, preventing the women to participate in social affairs, even barring the girls and women of the country to have access to the educational institutions.
khaama.com/abdullah-no-compromise-on-womens-rights-in-peace-process-with-taliban-0234
------
Canadian Muslim woman shows how to be beautiful with hijab styling tips
Thursday 03 Mar 2016
Toronto, Canada (IINA) - Saman Munir, a Canadian Muslim mother of 3 children from Toronto, says she wants to show women how to style their hijab so they'll be 'covered and still look beautiful,' Malaysia Chronicle online news reported. Saman has been accustomed to posting videos on YouTube, Facebook and Instagram since 2011.
'I've always loved fashion, and you can inspire so many people through social media,' 35 year-old Saman says. 'When Dolce and Gabbana launched their hijab range recently I was so happy and impressed. Finally, a big designer is catering to Muslims too; it makes us involved in the fashion world.
'I do what I do because I want to wear my hijab confidently and to admire it, not just wear it.'
While she has over half a million online followers, she admits she does get some negative comments. 'The first few seconds you feel fuming and then after a deep breath you let it go.'
'I think sometimes it's just jealousy, or because people have only seen the hijab worn in a certain way before.'
However, she says most people are positive about what she does and women tell her she's inspiring them to wear their hijab confidently.
'Sometimes even non-Muslims are inspired and message me about my styles, saying they love the way I wear hijab and that they want to wear one too,' she says.
She started posting her videos in 2011 because she couldn't find many styling tips online. 'I was looking for three years for someone who'd show me different styles but I couldn't find anything,' she explains.
'The way you pin your headscarf gives you a different look as well, or you can even add different accessories to it,' she adds. 'It's amazing what you can come up with different colours and materials.'
She also now sells her own hijab online and gets sent designs from all over the world. And her fans aren't just online. 'My daughter says "Oh mummy I want to be like you," but I tell her she needs to be a bit older first,' Saman added.
SM/IINA
iinanews.org/page/public/news_details.aspx?id=147776&NL=True
------
Almost half of African women are entrepreneurs; these are their struggles...
02 Mar 2016
Women entrepreneurs bridging the gender gap. Photo: www.sairec.org.za
Women in Africa are creating opportunities for themselves and giving back to communities and that is what makes women entrepreneurs in Africa different, says Melanie Hawken, Founder of Lionesses of Africa.
Rwanda was recently voted one of the best countries in the world to be a woman and according to the World Bank, almost five years ago, women owned about 48 per cent, nearly half, of all enterprises in Africa - but still they don't have sufficient access to credit.
"I think this is actually a time for Africa to show the rest of the world what is happening for woman entrepreneurs, having opportunities, creating opportunities - more importantly – I think the interesting thing here in Africa is that women are creating those opportunities for themselves and I think that is a game changer," said Hawken.
Hawken states that Africa was recently rated as having one of the highest numbers of women entrepreneurs in the world and 25 per cent of women on the continent set up businesses in various sectors.
"Because things are happening, whether you are an entrepreneur or taking a corporate career, it is a good place to be a woman entrepreneur and that is the same across the continent," she said.
"Where women see that the opportunities don't exist, they are looking to see what resources are available on the ground and how they can create new businesses, new opportunities, new community projects that will actually have a major impact and I think that is the difference."
However the lack of gender parity and gender lens funding in numerous sectors on the continent is among the many issues that need to be addressed as we move towards creating a level playing field.
"Gender lens investing is a really a hot topic right now and I think - because access to finance is probably the thing I hear most mentioned by women entrepreneurs - getting access to finance when you're a woman is tough - I think that is the reality," said Hawken.
Hawken says women are taking control of that now where they are reinvesting in women - a sort of gender lens investing of their own.
cnbcafrica.com/news/east-africa/2016/03/02/women-entrepreneurs-bridging-the-gender-gap-in-africa/?utm_source=CNBC+Daily+Newsletter&utm_campaign=3ddf81b3a6-RSS_EMAIL_CAMPAIGN_Daily&utm_medium=email&utm_term=0_37ea1a8e5e-3ddf81b3a6-216221861
------
2 women killed after staging armed attack on İstanbul riot police station
March 03, 2016
Two women were killed in an operation by police after they staged an armed attack on a riot police station in İstanbul's Bayrampaşa district at approximately 10 a.m. on Thursday.
The pair were identified as Berna Yılmaz and Çiğdem Yahşi, two members of the outlawed Revolutionary People's Liberation Party/Front (DHKP/C), according to police reports.
One female assailant threw a grenade and another opened fire with what appeared to be a machine gun outside the station. The attack targeted a police bus heading towards the station's entrance.
Police returned fire, injuring one of the women, and tracked them to a nearby building. Two officers were also slightly wounded during the clash. An operation backed by a special forces unit and a helicopter was launched in the neighborhood by police, who closed off the street the women had fled to and evacuated its residents. Both of the women were killed.
Special forces officers conduct a search operation following the attack. (Photo: Reuters)
The Cihan news agency has reported, however, that there were three attackers in total.
İstanbul Governor Vasip Şahin went to the police station where the assault took place and issued a statement informing the public that the "two terrorists were exterminated and two officers were slightly injured."
Attacks on the security forces have increased as violence has flared in the country's predominantly Kurdish Southeast, where a cease-fire between Kurdistan Workers' Party (PKK) militants and the state collapsed last July. The PKK, considered a terrorist group by Turkey, the United States and the European Union, launched a separatist armed rebellion against the Turkish state more than three decades ago. More than 40,000 people, mostly Kurds, have since been killed. Turkey has also become a target for Islamic State in Iraq and the Levant (ISIL) militants, who are blamed for three suicide bombings -- one last year in the town of Suruç near the Syrian border and another in the capital, Ankara, and one in İstanbul in January. Those attacks killed more than 140 people in total.
There was no immediate claim of responsibility for Thursday's attack. The radical leftist group the Revolutionary People's Liberation Party/Front (DHKP/C) has repeatedly staged similar attacks on police stations, largely in İstanbul's suburbs.
A suicide car bombing that targeted military buses in Ankara killed 29 people last month. The government said that attack was carried out by a member of the People's Protection Units (YPG), a Syrian Kurdish militia, with help from PKK militants.
todayszaman.com/national_2-women-killed-after-staging-armed-attack-on-i-stanbul-riot-police-station_413869.html
URL: https://newageislam.com/islam-women-feminism/12-year-old-girl-latest/d/106540
New Age Islam, Islam Online, Islamic Website, African Muslim News, Arab World News, South Asia News, Indian Muslim News, World Muslim News, Womens in Islam, Islamic Feminism, Arab Women, Womens In Arab, Islamphobia in America, Muslim Women in West, Islam Women and Feminism