New Age Islam News Bureau
16 March 2014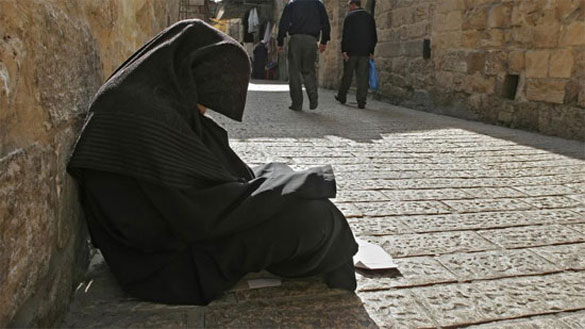 Neighbours were speechless when they learned she left behind a fortune estimated at SR4 million. (File photo: Shutterstock)
------------
• Female Role Significant In Justice Delivery: Bangladesh CJ
• Vulnerable Women Being Cheated In Lalmonirhat
• Bid to Boost Feminism among British Muslim Women
• Game Of Thrones Actress Asks: 'Why Are All The Women Naked?'
• Moroccan Dancers Argue Over Decency of Art
• France Indicts 2 Women over 'Syria-Bound' Girl
• Women Indicted In US Exorcism Deaths
• Women's Education KLE Brings Confidence to Southern Afghanistan
• Above 7,000 Pakistani Women Working Abroad On Prominent Posts
• The Problem with Our Drama Industry and Its Depiction of Pakistani Women
• Ja'fari Law Takes the Iraqi Government's Violation of Women's Rights to a New Level
• Portuguese Runs for Bangladeshi Slum Children
Compiled by New Age Islam News Bureau
URL: https://newageislam.com/islam-women-feminism/100-year-old-female-saudi/d/56159
---------------
100-year-old Female Saudi beggar, Eisha dies leaving million-dollar fortune
By Ibrahim Shihab | Okaz/Saudi Gazette
Sunday, 16 March 2014
Over 50 years of panhandling on the streets of Jeddah had taken its toll on her and residents of the downtown al-Balad district never suspected that their blind, haggard centenarian neighbor had secretly amassed a fortune and real estate portfolio that rivaled those of the city's millionaires.
Eisha's life came to an end in the bathroom of her home when the 100-year-old woman, who had spent the majority of her adult life begging, suddenly died.
Neighbors were saddened to see an ambulance pull up to her home and carry away her body on a stretcher, but they were left speechless when they learned that she left behind a fortune estimated at SR3 million, including four buildings in the same district, and an additional SR1 million in jewels and gold coins (a total of just over $1 million).
Ahmed al-Saeedi grew up with Eisha in the same district since they were children and spent a considerable amount of time caring for her. He said Eisha did not have any relatives except her mother and sister, both of who were beggars, and alleged that the four women were able to build up a small fortune while scrounging on the streets of Jeddah.
"They used to get a lot of sympathy and assistance from philanthropists throughout the year, especially during Eid. Eisha continued to beg after the deaths of her mother and sister. She was just an old, blind woman who did not have any relatives in this world," said an emotional Saeedi who buried her in Ummana Hawwa (Our Mother Eve) Cemetery in the al-Ammariya neighborhood.
Saeedi was one of the few people who knew of the wealth Eisha possessed. When asked if he ever broached the subject with her, Saeedi said he had tried to convince Eisha to stop begging on several occasions.
"I asked her to give up this profession as she possessed a huge amount of wealth but she always refused and said she was preparing for hard times," he said.
Eisha had given all of the gold coins she had to Saeedi and told him to keep them until she decides when the time is right to sell them. That was 15 years ago when the coins were each worth SR250, but at current market prices, they are valued at SR1,000 each.
Feeling the magnitude of the responsibility, Saeedi said he reported the matter to the police and a local court and was informed the matter will be dealt with according to regulations.
"Until now, neither the police nor the courts have done anything so I was compelled to hand over the fortune to one of the most respected and trusted residents of the district, who has promised to give it to the authorities. All of my neighbors witnessed me handing over the gold and money Eisha had kept with me for safekeeping," he said.
Saeedi said a number of families live in the four buildings Eisha owned. She had allowed them to live in the buildings but after her death, they were required to vacate them so they can be formally handed over to the concerned authorities.
Residents of the buildings said no one could ask them to vacate them because they were never rented to them in the first place. One resident who spoke on condition of anonymity said Al-Saeedi had filed a complaint against him for his refusal to vacate the building. He insisted, however, that it was Eisha's desire that he and the others reside in the building for free.
Neighbors were sympathetic toward the occupants of Eisha's buildings because, like her, they too were beggars. "They are all poor people. Saeedi is insisting that the properties be handed over to the authorities but where will these poor people go?" asked one neighbor.
The district chief (umdah) of Al-Balad, Tal'at Ghaith, acknowledged that after Eisha's death all of her property deeds were handed over to the authorities concerned. He said he had documents as well as official police reports that proved that Saeedi had notified the relevant authorities about Eisha's fortune and properties.
"The old woman hosted several families in her buildings before her death. They lived and grew up with her. After her death, none of the families have left the buildings. Even though I'm the umdah of the district, I have no right to evict them from the buildings. The whole case is before the pertinent authorities that will issue a final decision on it," he said.
http://english.alarabiya.net/en/variety/2014/03/15/Game-of-Thrones-actress-asks-Why-are-all-the-women-naked-.html
---------------
Female Role Significant In Justice Delivery: Bangladesh CJ
March 16, 2014
The number of female judges and lawyers in Bangladesh is rising, greatly contributing to dispense justice, Chief Justice Md Muzammel Hossain said yesterday.
"Despite such achievements there is no room for complacence and we shall have to go a long way for establishment of true equality of men and women and complete eradication of violence against women," he said.
He was addressing as chief guest the inaugural ceremony of a two-day, "Justice Sector Conference on Violence against Women", in the capital's Ruposhi Bangla Hotel.
United Nations Development Programme (UNDP) and the Ministry of Law, Justice and Parliamentary Affairs jointly organised the conference.
The programme aims to reinforce commitment among all concerned of the judiciary, including judges, prosecutors, lawyers and court officials, to ensure justice for women.
Muzammel said despite substantial advancement towards gender equality and women empowerment, lack of tolerance and rise of extremist ideologies and their consequences continue to haunt women around the globe.
He added that without proper implementation, formulation of "good laws and best policies" alone are not enough to end the century-old inequality and disparity deeply ingrained in the cultures, customs and values of both men and women.
Addressing as the guest of honour, Nick Beresford, deputy country director of UNDP Bangladesh, said his organisation would continue to support steps to curb violence against women.
ASSM Zahirul Haque, secretary, Law and Justice Division, the law ministry; Additional Inspector General of Police Nazmul Haque and Additional Attorney General MK Rahman also spoke.
http://www.thedailystar.net/city/female-role-significant-in-justice-delivery-15776
---------------
Vulnerable women being cheated in Lalmonirhat
March 15, 2014
The women in 45 unions of the district, who were given VGD (Vulnerable Group Development) cards by the government for their impoverished condition, have been distributed about four kilogram less wheat among them against their each card.
Sources said they were supposed to get 30kg each as per card, instead of, they were given 26kg.
Protesting the misappropriation of social safety net programme materials, VGD card-holder 178 vulnerable women of Kulaghat union in sadar upazila staged demonstration in front of the union parishad on Thursday noon.
The agitating women alleged they as well as 9,621 cardholders like them under 45 unions of five upazilas here have been allotted 5-6kg wheat less in every month by the concerned union parishad leaders.
Rashida Begum, a cardholder and a resident of Char Khatanari village in the union, said the women don't dare to protest the pocketing in fear of losing the franchise.
"Where the government fixes 30kg wheat against each card, but the union parishad leaders distribute us only 25 to 26kg and the gap goes to the pockets of the UP chairmen, members, relief officers, village police and brokers," she added.
Another cardholder named Rezia Begum, a dweller of Dhairkhata village, said they complained about the matter to the relief officer but in vain.
"We are poor, we are vulnerable, we get little support from the government to survive but the union parishad leaders are also stealing wheat from the paltry allotted 30kg," said Jamila Begum, of Baruya village.
However, sadar upazila nirbahi officer (UNO) Nazmul Huda talked to the women and assured them of taking stern actions against the UP leaders if the allegation brought against them was proved.
In a query on the allegation, Kulaghat union parishad secretary Sirazul Islam said only the chairman could answer to the question of the misappropriation properly because he is all in all of the parishad.
Contacted, Kulaghat UP chairman Idris Ali said, "Weigh problem is not only here, but also in all of the 45 union parishads."
Enamul Haque, tag officer (relief) and also Lalmonirhat upazila Jubo Unnayan
Officer, said he was unaware about the matter although he was present during the distribution.
Lalmonirhat Woman's Affairs Officer Shamim Ara said it was the tag officer whose duty is to check the distribution. "I will clarify the matter in field level."
http://www.dhakatribune.com/crime/2014/mar/15/vulnerable-women-being-cheated-lalmonirhat
---------------
Bid To Boost Feminism Among British Muslim Women
15 March 2014
For many feminists the Hijab is a glaring symbol of male oppression and the patriarchal power of religion. But now there is a small but growing number of Muslim women looking to take their places in Britain's rapidly expanding women's movement.
A new project to connect Islam to feminism has been launched to tackle long-standing concerns that religious Muslim women are excluded from the women's rights debate.
In what is a deeply controversial area for many in Islamic communities and for many mainstream feminists, the linkup between a Muslim charity and the project is seen as a pioneering step to bring women from different cultural backgrounds together in the battle for sexual equality.
The social enterprise Maslaha, established by the Young Foundation to work on improving social conditions in Muslim and minority communities, said the programme had attracted a huge response in the past few days.
"An awful lot of Muslim women have felt excluded from the debate about women's rights and this project really focuses on bringing ordinary women into a debate about Islamic feminism that has so far only really been heard in academic circles," said Latifa Akay of Maslaha.
She said the online resource islamandfeminism.org was bringing out some extraordinary responses from British Muslims who reported feeling previously isolated.
"This is really taking off. Islamic feminism is not a new thing, which will probably surprise most people, but Muslim women have the same core concerns as white, secular, British women: the workplace, discrimination, childcare.
"And also they have different layers of struggles and different layers of oppression, just as a black lesbian will have different struggles to white disabled women, and none of them should be excluded just because they are diverse.
"There has been a dire lack of spaces for women within Islam to have these kinds of conversations and they have felt very much that their religious beliefs exclude them because religion is seen as patriarchal."
Feminism has been on the rise over the past few years in various Islamic countries around the world, including Saudi Arabia, Pakistan and Iran, but it remains a taboo in many more traditional communities who fear that it will lead women away from religion.
"The internet will help Muslim women find each other, just as it has for young secular women in Britain, and start a real conversation," said Akay.
While a number of new books on Islam and feminism have been appearing around the world in recent years, the UK has been slow to catch up.
Last year when a University of Derby lecturer, Dr Sariya Cheruvallil-Contractor, published Muslim Women in Britain: De-mystifying the Muslimah, she said she believed that many of the misconceptions around Islam were directly linked to how people believed the faith treated its women.
"The media portray Muslim women as oppressed and subjugated and Islam is often presented as misogynist and patriarchal," she said, and her book was intended as an antidote to that.
The term Islamic feminism first made its appearance in the 1990s. In 1992, Shahla Sherkat, an Iranian who took part in the revolution of 1979, published the first issue of an Islamic feminist magazine, Zanan, which was later banned.
Feminism from an Islamic perspective
KÜBRA GÜMÜSAY
Consultant in innovation at the University of Oxford
"At first I was not very interested in feminism because I felt excluded. I thought mainstream feminism in the west did not include a woman like me and that me being feminist would mean I would have to not be religious.
" But now feminism to me is about making conscious decisions yourself. It doesn't mean I have to give up my cultural background or religious beliefs. Feminism is about standing up not just for my right to dress the way I dress but also standing up for the rights of other women so they can also dress the way they want to dress."
MYRIAM FRANÇOIS-CERRAH
Former actress and now author
"Unfortunately people assume it's an oxymoron if you say you are both a Muslim and a feminist, but I find that a little patronising. There is still a fair bit of resistance to the idea that people of faith have anything to contribute to feminist ideals, particularly because religion is still viewed through a prism of it perpetuating patriarchial practices. And to some extent, undeniably it does.
"For Islamic feminists, the framework is Islam, the references are the core texts of Islam. My frame of reference as a Muslim is the texts, but truth is truth wherever it's coming from – and something I hear from any feminist, Gloria Steinem or Germaine Greer, that reflects truth then becomes part of my Islamic lexicon."
HANNAH HABIBI HOPKIN
London artist
"It's very important to introduce other ways of looking at feminism and bring in other voices who may have felt ostracised from the movement in the past. I've met some really go-getting, exciting young women who have not called themselves feminists and that's because it's been practised in a very Eurocentric, white, Wasp-ish kind of way.
"It's been too easy to dismiss Muslims as being anti-feminist. I wore a hijab for six years. Just because a woman chooses to wear a hijab doesnt mean she can't be feminist, and to think that is a bit naive."
http://www.theguardian.com/world/2014/mar/15/british-muslim-women-find-feminist-voice
---------------
Game of Thrones actress asks: 'Why are all the women naked?'
By Staff writer | Al Arabiya News
15 March 2014
Game of Thrones star Sibel Kekilli recently highlighted double-standards over why women are required to reveal far more skin in comparison to men in the American fantasy drama television series.
When the 33-year-old German actress was asked during a London press conference whether more of the show's male actors should shed their clothes, she said "Yes, of course. Why are all the women naked?" UK daily the Independent reported on Saturday.
Baring flesh
"We're going to talk to [writers] David Benioff and Dan Weiss," she sarcastically added.
Known for its sexual content, Games of Thrones has its female characters often seen naked, while the male actors remained covered.
Kekilli is not the first female actress to express such sentiments. Her co-star Carice van Houten has also voiced her opinion over the disparity when it comes to who appears naked on the show.
The show will enter its fourth season in April.
http://english.alarabiya.net/en/variety/2014/03/15/Game-of-Thrones-actress-asks-Why-are-all-the-women-naked-.html
---------------
Moroccan dancers argue over decency of art
Staff writer, Al Arabiya News
Saturday, 15 March 2014
A provocative Moroccan belly dancer, who goes by the stage name "Noor," and Hakima al-Arousi, a dance teacher at a Spanish institute in the country, recently engaged in a war of words over the decency of the art form.
Noor accused Arousi's dancing of being cheap, while Arousi in turn described her as "spreading vulgarism and ignorance" in her dance style.
Noor, who was born as a male before changing her gender, said that belly dancing does not merely involve shaking the body in order to excite spectators as is often thought.
Instead, she said, dancing is a movement of "physical elaboration," and that she "does not usually dance to get money like some of the dancers do, but practices belly dancing for authentic personal pleasure."
Physical elaboration
Nour, who was in her childhood a male known as "Noordin" before changing her gender, said belly dancing is not just a simple way of moving the body to excite spectators, but is instead a series of movements of "physical elaboration."
However, the spat between the two dancers is all part of the art's "intense competition" in the country, said Mohammad Didi, a professor of expressionist dance in Rabat.
"These accusations reflect the intense competition between the most famous Moroccan dancers, as each one strives to be on the top of oriental belly dancing throne in the country," said Didi.
http://english.alarabiya.net/en/life-style/art-and-culture/2014/03/15/Moroccan-dancers-argue-over-decency-of-art.html
---------------
France indicts 2 women over 'Syria-bound' girl
16 March 2014
PARIS – French prosecutors on Friday charged two women over the disappearance of a 15-year-old girl who is believed to have traveled to Syria to fight alongside militants.
The pair were charged by a Paris court with complicity in criminal association in relation to a terrorist undertaking, a judicial source said.
Investigators suspect that the high school girl from the southern city of Avignon had briefly stayed with one of the two indicted women.
One of those, a 24-year-old mother of four, is a resident of a Paris suburb and is believed to have been preparing to travel to Syria herself to join her husband and support militants in their fight against President Bashar Al-Assad's regime.
"My client denies any desire to leave for Syria with her children. It appears she has fallen prey to pressure from abroad," the mother's lawyer, Yassine Yakouti, said on Thursday.
According to Interior Minister Manuel Valls, as many as 700 French nationals could have joined the fighting in Syria.
Another four people — three men and a woman — suspected of being involved in organizing travel to Syria for the purpose of waging the so-called 'jihad', were also charged in a separate case.
The woman, 21 years old, who has been placed in provisional detention, is accused of organizing a system of fake consumer credit to finance militants, said a source close to the case. Another two men are being held in detention and a third was conditionally released. They are accused of organizing training in the Paris region and contacting French "facilitators" living in Syria, whom intelligence services believe are involved in organizing the arrival of their compatriots in the war-torn country and sending them to conflict zones. – AFP
http://www.saudigazette.com.sa/index.cfm?method=home.regcon&contentid=20140316198754
---------------
Women indicted in US exorcism deaths
March 15 2014
Two Maryland women have been indicted in the stabbings of four children in what authorities say the women believed was an exorcism.
Twenty-eight-year-old Zakieya Avery and 21-year-old Monifa Sanford were indicted Thursday on two counts of first-degree murder in the deaths of Avery's 18-month-old son and 2-year-old daughter in January at a home in Germantown, Maryland, outside Washington.
They were also indicted on two counts of attempted first-degree murder in an attack on Avery's 5-year-old daughter and 8-year-old son. Prosecutors have said the women told investigators they believed evil spirits moved between the bodies of the children and an exorcism was needed to drive the demons out
http://www.thejakartapost.com/news/2014/03/15/women-indicted-us-exorcism-deaths.html
---------------
Women's Education KLE brings confidence to southern Afghanistan
03.15.2014
KANDAHAR AIRFIELD, Afghanistan – Advocates for women's education, health and human rights traveled from different regions and provinces across southern Afghanistan to attend a Women's Education Key Leader Engagement, March 13, 2014, at the Kandahar International Airport, Afghanistan.
The event was hosted by the U.S. Embassy's Southern Regional Platform to recognize the accomplishments of a variety of supporters who contribute to women's education, and to discuss ways to continue to expand and better female education throughout the southern regions.
The KLE started off with a discussion between the advocates and Ambassador Edward Alford, RP (S) senior civilian representative for Regional Command (South) and (Southwest), and was followed by a certificate presentation and lunch.
Amanda Cranmer, RP (South) political economic officer, facilitated the event to give teachers, principals, trainers, and advocates, an opportunity to voice their opinion on ways to better education.
"We had ladies come in by the truckload from tens of kilometers out to voice their cause and talk with the ambassador," Cranmer said. "One of the ladies flew in from Helmand."
Many of the advocates highlighted a variety of concerns during the discussion, but a reoccurring theme was confidence.
"We need to give confidence to our youth, we need to give them direction and education. If the department of education supports and gains confidence of children, they will go to school," Dr. Laila Afaq, director of the Kandahar Women's Organization, said. Afaq talked about the importance of relevant teaching materials, especially when it comes to women's literature.
"New educational material is needed; there are no books about women. They need to understand that women can work in any department and work in any field," Afaq said.
Instilling confidence in young girls to pursue education is what Afaq said is needed, but there is more to it than just educating the females.
"The solution is to focus on educating everyone, not just the women, but educate the men," she added.
Ehsanullah Ehsan, director of the Kandahar Institute of Modern Studies, agreed that a continued investment in education makes a powerful difference.
"Invest in people, invest in capacity building, invest in teachers," Ehsan said. "Quality education will lead to quality training which will lead to improved curriculums."
Ehsan elaborated on how people are a better long-term investment than any building or structure could be.
"Lots of buildings have been built for education but if we don't understand the value of the building, it is of no use. Invest in people," Ehsan said.
Cranmer said that out of the approximately 45 Afghans that were in attendance, at least a fourth of them were males who were very passionate about women's rights and education.
"This was a very positive experience. Everyone was very outspoken and articulate, and to me that is huge progress," Cranmer said. "They all understand their rights, their needs and their wants."
For Cranmer, the event was about listening to what the advocates had to say about what was working with the current education systems.
"I'd say things are going pretty well when Afghan women talk to a senior U.S. official and tell him exactly what is on their mind," Cranmer said.
Cranmer said that the female turnout that they had and the number of females who spoke up on issues they were passionate about is a bright contrast compared to 12 years ago.
"We have women crying out demanding to be heard, and the men listened," Cranmer said.
Cranmer pointed out that education is not just limited to a school building, and knowledge is not limited to a book.
"Many of the vocational trainers have overcome adversity themselves and now teach for free in their homes for people who are too poor to get education or skills elsewhere," Cranmer said.
"They are getting beggar ladies off of the streets and they are getting trained," she added.
Cranmer explained that no matter the focus of the advocates, they are all contributing to short- and long-term effects for the next generation of Afghan women.
"It goes to show that they are not going to back down, and they are going to make sure girls and women are getting an education," Cranmer said.
Cranmer recognizes that although women's rights and education have made significant progress over the past decade, there are still issues and concerns that need to be addressed.
"(Today) was about finding out what is working and what's not working," Cranmer said. "Women's rights and education has a lot of chapters, but this is not the end of the story yet."
http://www.dvidshub.net/news/122065/womens-education-kle-brings-confidence-southern-afghanistan#.Uyb-uj9dUqM
---------------
Above 7,000 Pakistani women working abroad on prominent posts
03.15.2014
About 7,331 Pakistani women were sent abroad for employment during the last five years in different cadres. Official sources said that women have been appointed on important posts including Community Welfare Attaches (CWAs) in Pakistan embassies. These women were posted in Pakistan embassies of Saudi Arabia, United Arab Emirates, Qatar, Bahrain, Oman, United Kingdom, United States, Canada, Norway, Italy, Kuwait, Malaysia for resolving the problems of the Pakistanis. Elaborating the responsibilities of CWA, they said, these officials attend the problems promptly and take up issues with the concerned authorities. "Even the legal aid is provided wherever it is required and appropriate action is taken to resolve the issues of overseas", they said.
http://www.pakistantoday.com.pk/2014/03/16/city/above-7000-pakistani-women-working-abroad-on-prominent-posts/
---------------
The problem with our drama industry and its depiction of Pakistani women
March 15, 2014
The troubled image of modern Pakistani women conjured up by Pakistani dramas is extremely distorted and single dimensional. Stories, it is said, are a subtle yet are the most influential way of documenting the social evolution of a society. The story of a woman sells but the modern media has gone one step ahead by proving that the story of a woman being abused, tortured, beaten and humiliated sells faster.
The massive projection of domestic and women related violence might appear as an attempt to serve the cause but a closer look will reveal an entirely different and gross story. The disturbing image of woman being pushed, slapped, bad mouthed (mostly by close family) constantly overwhelms the TV screen. No matter how fast you switch channels, it is impossible to escape the harrowing images.
Domestic violence is a highly sensitive area and must be advocated in subtle and meaningful ways. If mishandled – the way it is on our dramas – it could create an impact far more unsettling than sexually explicit content. Such disturbing content must appear with prior warnings to avoid the uneasy situation in a family living room.
When children see family settings in a drama they instantly relate it to their own family and when it turns violent it certainly creates unfathomable effects of insecurity and fear in their subconscious. The sight of explicitly treated domestic violence creates embarrassing situation among the family as well.
Just to quote an example, Hum Tv's Kisay Apna Kahen shows the character Iqra cutting her wrist and soaking in blood over little skirmish in the house.
What kind of message are we sending across to the young girls especially with newspaper already filled of such news?
Somewhere, this over projection is making the idea of domestic violence socially acceptable as the constant exposure can make the society immune to it and further reiterate the patriarchal system. It is lethal for an audience already overdosed on terrorism and violence.
ARY's Shukk spins the same formula by making the hero ending up with two wives and both of them are clinging to the man, unwilling to let go, as if it is impossible for them to survive on their own. ARY's Kabhi Kabhi Pyar May starts with an independent, strong headed heroine Eshal but after being divorced by the love of her life, she tries to find refuge with another man.
There are no dilemmas, self-discovery and development of the female characters. The female leads are no more interesting, inspiring and awe worthy like they used to be; in fact, they have become repetitive, mindless, muted, predictable and flat.
The degeneration reminds me of strong female leads we used to have. I remember Shahnaz of Alpha Bravo Charlie, she chose Gul Sher over his stronger friends and his death led her to a profound road of self-discovery, instead of marrying one of the other friends. Zara of Tanhaiyan, turned an entrepreneur after her parents death and took care of her sister without looking for any fancy shortcuts. The character of Nazli in Dhuwan avenges her lover's death independently, instead of sulking in the Bechari-syndrome.
We are psyched into believing that the violence is fed to us on our demand but the reality is, like a curse, the degeneration of society has seeped into our dramas. Drama industry is cocooned into the safe zone and not ready to venture out and experiment. We are living in the exciting times of Sharmeen Obaid Chinoy, Samina Baig and Malala Yousafzai, so let them shine in our stories. Trust me, their stories will sell too.
An avid reader, freelance writer and home maker.
http://blogs.tribune.com.pk/story/21387/the-problem-with-our-drama-industry-and-its-depiction-of-pakistani-women/
---------------
Ja'fari law takes the Iraqi government's violation of women's rights to a new level
Haifa Zangana
14 March 2014
If you think the Iraqi government has reached its limit in violating women's rights, think again. On 25 February, the Iraqi council of ministers approved a new personal status law called Ja'fari law, named after the sixth Shi'ite imam Ja'afar al-Sadiq, who founded his own school of jurisprudence (Shi'ite). It was submitted to parliament for a vote. The draft was put forward by the justice minister Hassan al-Shimari, a member of the Shi'ite Islamist Fadhila (Virtue) party to deal with issues of marriage, divorce, inheritance and adoption.
The current law, No 188, was issued in 1959 and is considered to be the most protective of women's rights in the Arab countries. It stipulates the following: the legal age of marriage for both men and women is 18; polygamy is prohibited and taking a second wife is extremely restricted; a Muslim male is allowed to marry a non-Muslim female without conditions or restrictions; and a woman can disobey her husband if he behaves tyrannically and harms her by failing to provide adequate housing or care should she fall ill.
Now, let us read a few articles of the new bill. Article 16 sets the legal age of marriage for females as nine and males as 15, although it could be even lower with the consent of a guardian, father or a grandfather. Article 104 permits unconditional polygamy. Article 101 says men have the right to "enjoy" sex with their wives any time they want, and wives cannot leave their marital home without their husband's permission. Article 126 says husbands are not required to pay financial support (nafaqah) when their wife is either a minor or a senior and hence unable to sexually satisfy them. Article 63 prevents Muslim males from permanently marrying non-Muslim females, which means a Shi'ite Muslim male is allowed to marry non-Muslim females temporarily in what is called mut'a marriage. Mut'a is when a man who wants to have sex with a woman "marries" her in the presence of a religious figure, who acts as a mut'a broker. The man will specify how long the marriage will last, ranging from a few hours to many years. A small mehr (dowry) will then be paid to the woman. Such marriages have no protection or guarantees for women and/or their offspring in Iraq. Only a man has the right to renew it when it expires – for another mehr – or to terminate it early. Temporary marriage and unregistered marriages in civil courts were prohibited before 2003 but are on the increase among widows and poor women since then.
The highlighted articles, not to mention others, are in breach of Iraqi laws, international agreements and UN conventions which Iraq ratified on human rights, in particular those relating to women and children. The draft law ignores article 2 of the UN's Declaration on the Elimination of Violence against Women by legalising marital rape. The Cedaw committee, the body of international experts which reviews state compliance with the convention, urged in its 28 February review of Iraq that the government "immediately withdraw the draft law".
What is the justification for drafting this law? The UN's representative to Iraq, Nickolay Mladenov, condemned the legislation. He wrote on Twitter that the bill "risks constitutionally protected rights for women and international commitment".
"It is a divine Sharia, it is a must," said the Virtue MP Susan al Saad on Alhurra TV, justifying her enthusiasm to ratify the bill. But is it? The Association of Muslim scholars in Iraq does not agree. To convey its dismay at this draft law it has issued a statement arguing that the existing family law is "the outcome of consultation with specialists in Sharia law and civil law representing all Iraqi people … when the need to change or adjust arises, that will [be] carried on as it has been done in the past". Women's groups and activists have taken to the streets demanding the withdrawal of the draft law, and there is public outrage at the hypocrisy of the sectarian political parties using Islam as a blanket to cover up their corruption and endemic violations of women's rights.
The corrupt ruling alliance is desperate to pass this law in the next few weeks to boost its chances in next month's general elections. But the outcry at the bill has been so widespread inside Iraq and internationally, in addition to the general public belief that it is an election ploy rather than a religious reform, that it might lessen the possibility of it passing, for the time being at least.
However, it is absolutely clear that this law, if enacted – and no matter how it is marketed – would undoubtedly damage what Iraqi women have been struggling to get rid of for more than a century. It is a degrading step for both Iraqi men and women alike. http://www.theguardian.com/commentisfree/2014/mar/14/jafari-law-iraqi-violation-women-rights-marital-rape
---------------
Portuguese runs for Bangladeshi slum children
Aiming to raise $1 million for Bangladesh's underprivileged slum children, a Portuguese woman ran seven 50-kilometre ultra-marathons in seven continents in less than seven weeks since January's end this year.
Maria Conceicao, also the first Portuguese female to have conquered Mount Everest, said she was also expecting to earn a place in Guinness World Records for undertaking such a gruelling challenge.
"Running these seven ultra-marathons was the toughest challenge I ever took. But that is nothing compared to the daily struggle the kids face on the streets of Dhaka," she told a press conference in the capital's Drik Gallery yesterday.
"My aim is to raise one million dollars and draw global attention and to break the vicious cycle of poverty in Bangladesh by helping the impoverished to live up to their maximum potential."
Maria is also the founder of Maria Cristina Foundation which has been raising funds for the past nine years to provide education for underprivileged children worldwide.
Currently, it is helping five such Bangladeshi children study in the United Arab Emirates.
In order to raise funds, Maria already accomplished feats such as travelling to the North Pole and reaching the summits of Aconcagua in South America, Kilimanjaro in Africa and Mount McKinley or Denali in Alaska.
http://www.thedailystar.net/city/portuguese-runs-for-bangladeshi-slum-children-15779
---------------
URL: https://newageislam.com/islam-women-feminism/100-year-old-female-saudi/d/56159