New Age Islam News Bureau
30 Nov 2019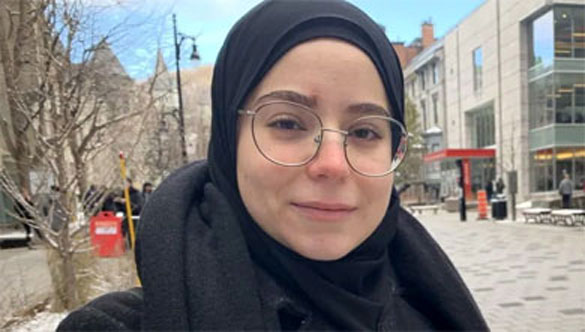 Seeba Chaachouh, 24, is a law student at Montreal's McGill University who says she will seriously consider moving to Manitoba thanks to the province's ad targeting Quebecers who feel limited by Bill 21. (Alison Northcott/CBC)
------
• Muslim Woman Says She Was Told to 'Go Home' After Boris Johnson's Burqa Comments
• Question Time: Muslim Woman Told To "Go Home" After Boris Johnson's "Letterbox" Comment
• Bradford-based Muslim Women's Council Marks Tenth Anniversary
• Federation of Muslim Women of Ghana, Visit Mahama
• Democratic Rep. Ilhan Omar's Opponent Has Twitter Account Permanently Suspended
Compiled By New Age Islam News Bureau
URL: https://www.newageislam.com/islam-women-feminism/wouldn-t-i-go-somewhere/d/120403
------
'Why Wouldn't I Go Somewhere Where I Feel Welcome?' Asks One Law Student Of Quebec Who Wears A Hijab
Nov 29, 2019
Benjamin Shingler
As a political spat plays out between Manitoba and Quebec over Bill 21, some Muslim women affected by the province's ban on religious symbols say they are tempted by the offer to move to the Prairie province.
Seeba Chaachouh, a third-year law student at Montreal's McGill University, says she felt her options shrink after the legislation was passed into law earlier this year. She said the Manitoba government's ad campaign attempting to lure Quebecers is more than gamesmanship.
Relocating is something she will seriously consider upon graduation.
"If this persists, and as a result of this there are more hate crimes against me and my people, then why wouldn't I? Why wouldn't I go somewhere where I feel welcome?" said Chaachouh, who wears a hijab.
"I know that if I go there, they will look at my skills rather than what I am wearing on my head."
The ad campaign launched Thursday is aimed at Quebecers who feel limited by the province's secularism law, which prohibits public servants in positions of authority from wearing religious symbols. These include the hijab, skullcap and turban.
In a nod to Bill 21, the ad lists 21 reasons why Manitoba is an appealing place to move, ranging from its diverse population to its plethora of provincial parks.
There isn't, in fact, much history of movement between the two provinces. In 2018, for example, only 341 people moved from Quebec to Manitoba (and 799 went the other way).
Chaachouh is under no illusions a government ad means she would be safe from discrimination in Manitoba.
At the very least, though, Chaachouh said it is encouraging to see a province take a stand against the legislation, while Ottawa has shied away from doing the same.
The Manitoba government's campaign was dismissed as a political ploy by Premier François Legault and much of the opposition in Quebec City.
Legault said Bill 21 will ensure secularism in the public sector, and that the law is "a decision to be taken by Quebecers and Quebecers only."
But Shahad Salman, a lawyer who runs a public relations firm in Montreal, said the message appealed to her as well.
"The fact that they used 21 reasons — that made me laugh," she said.
"I think it's an interesting move from another province: They take something bad happening somewhere else and turn it into a good thing for them."
Salman, 32, said she would consider such a move. But a better solution? "Not having Bill 21," she said.
The legislation is facing multiple legal challenges.
Critics say it infringes on a person's right to practice their religion, and disproportionately targets Muslim women who wear a headscarf.
In a Quebec Court of Appeal hearing earlier this week, civil rights groups argued the law is causing immediate and irreparable harm.
"People's lives are being ruined. People are being forced to leave their professions. People are being forced to leave this province," Catherine McKenzie, a lawyer representing the groups, told the court.
Fighting inside Quebec
Nour Farhat, a 28-year-old Montrealer who recently completed a master's in criminal law, is involved in one of the legal challenges.
She says the law thwarted her dream of becoming a Crown prosecutor in Quebec.
She said the Manitoba ad was like "a breath of fresh air," and such a move is appealing.
But Farhat, who works in litigation, has no plans to leave.
"Why can't I be this person here, where I was born and raised? Why do I have to go to the other side of the country to realize my dream?" she said. "This is why I won't go to any other province — because I want to be able to do this here in Quebec."
https://www.cbc.ca/news/canada/montreal/quebec-manitoba-bill-21-reaction-1.5377426?cmp=rss
------
Muslim woman says she was told to 'go home' after Boris Johnson's Burqa comments
Basit Mahmood
Friday 29 Nov 2019
A Muslim woman says she was told to 'go home' and gets 'physically assaulted in broad daylight' after Boris Johnson's comments comparing the Burqa to 'letterboxes'.
Her comments came during last night's BBC Question Time, and were directed at journalist and author Lionel Shriver, who was on the panel.
During the discussions, Ms Shriver says the prime minister's comments, in which he used a Telegraph column to describe Muslim women who wear the Burqa to 'letterboxes and bank robbers', were taken out of context.
As she attempted to defend Mr Johnson's statement, a Muslim woman in the audience is asked how she feels.
She responds: 'When I walk down the street, I get told, after that, to go back to my own country.
'I am from here'.
She then goes on to ask Ms Shriver to 'take responsibility'. Spectator writer Lionel Shriver tries to defend Boris Johnson's use of slurs Play Video Loaded: 0% 0:00Progress: 0% PlayMute Current Time0:00 / Duration Time1:34 Fullscreen
Another woman then goes on to accuse the author of 'spreading hate' by saying 'what's wrong with saying it's a letterbox'.
Ms Shriver says that Mr Johnson's column was arguing about the right of Muslim women to wear what they want, to which the Muslim woman responds, 'that also includes the niqab'.
She adds: 'There are consequences to what you say, because of that I get abuse on the streets, I'm talking on behalf of many Muslims.
'I get physically assaulted just walking to the gym in broad daylight'.
https://metro.co.uk/2019/11/29/muslim-woman-says-told-go-home-boris-johnsons-Burqa-comments-11239190/?ito=newsnow-feed
------
Question Time: Muslim woman told to "go home" after Boris Johnson's "letterbox" comment
ByAbigail O'Leary
29 NOV 2019
A Muslim woman in the Question Time audience said she was told to "go home" while walking down the street following Boris Johnson's "letterboxes" comment.
The young woman in the audience was responding to comments made by American author Lionel Shriver, who defended the Prime Minister's remark made in a newspaper column.
Mr Johnson said women in Burqas resembled "letterboxes" - a comment that critics have linked to a 375% rise in Islamaphobic hate crimes.
However, as part of the last night Question Time panel, Shriver asked, "Why is that so insulting?" - defending the remark by saying it wasn't a "standard slur".
The audience groaned loudly at her comment, before she continued: "It's just an image, he was being lighthearted and it has been taken out of context."
https://www.mirror.co.uk/news/question-time-muslim-woman-told-20986705
------
Bradford-based Muslim Women's Council Marks Tenth Anniversary
By Felicity Macnamara
A GROUP which has dedicated a decade to empowering women celebrated its tenth anniversary with a special event.
The Bradford-based Muslim Women's Council (MWC) marked the milestone at the Mercure Bradford Bankfield Hotel, joined by the Lord Mayor of Bradford, Councillor Doreen Lee, and other dignitaries.
The night paid tribute to those who have been part of the organisation's journey and also welcomed on board new members, including broadcaster, writer and academic Dr Myriam Francois; vocalist and tutor Shabnam Khan and solicitor Kehkshan Ahmed.
The event heard from international speaker Dr Hany El-Banna OBE, the co-founder of Islamic Relief - the largest Western-based international Muslim relief and development non-governmental organisation.
He touched on the positive ways MWC had impacted the lives of communities and worked to empower Muslim women, while the Lord Mayor highlighted MWC's wealth of knowledge and inspiration.
The evening profiled MWC's work over the last 10 years, highlighting its annual conference 'Daughters of Eve', a variety of seminars and fundraising events, plus an evening with Jon Snow, who sent the MWC a personal congratulatory message. It also recognised the efforts of volunteers who have given their time for the Curry Circle, feeding the vulnerable and homeless in Bradford as well as providing hot food, support and solidarity.
PC Fiz Ahmed, a trailblazer for Asian women in policing and an equality champion, was honoured with an award for her services to the community, while Bradford-based MyLahore was also honoured for its support to the Curry Circle.
Bana Gora, chief executive of MWC, said: "We are delighted to have hosted this tenth anniversary event celebrating Bradford's female Muslim powerhouse. We are incredibly proud of what we have achieved and look forward to establishing new and sustaining partnerships to carry our work forward into the future".
Incoming chair, Shuruq Naguib added: "We were honoured to share our achievements with so many of our friends, supporters, funders and well wishers. I look forward to holding the MWC torch and leading the organisation forward into the next decade."
MWC aims to provide a local and regional platform for Muslim women, promote greater understanding and confidence between Muslims and wider society, promote meaningful engagement between Muslims and the media, policy makers and leaders and engage with senior decision makers and leaders to hold them to account and influence policy.
https://www.thetelegraphandargus.co.uk/news/18070398.muslim-womens-council-marks-tenth-anniversary/
------
Federation Of Muslim Women of Ghana, Visit Mahama
By Kwesi Coomson
The Federation of Muslim Women of Ghana, (FOMWAG) has paid a courtesy call on the flagbearer of the National Democratic Congress,(NDC) former President John Dramani Mahama at his office.
Their discussion centered on issues that could inure to the benefit of the Ghanaian womanhood.
The former President in his welcome address expressed his discontent on an initial attempt by the government to change the educational curriculum for the aborted Comprehensive Sexual Education, (CSE ) for minors in schools.
"The recent issue of Comprehensive Sexuality Education, which has proven controversial, is an issue which drew condemnation from many civil society organizations, it is heartwarming to learn government has withdrawn that curriculum from the subject".
He continued, "We have our traditional means of educating our children on their sexual parts and how they relate to each other, and all that if there are deficiencies we know how to adjust to that.
"We must not hastily import other people's culture and tradition which are alien to our cultural norms. Can they also allow us to export our culture to their land as they seek to impose theirs on us," he intimated.
The (FOMWAG) women group thanked the former President and expressed their appreciation for the warm reception accorded them and the insightful discussion that ensued thereafter.
Source: The Punch Newspaper
Email: atosam13@gmail.com
https://www.modernghana.com/news/970622/federation-of-muslim-women-visit-mahama.html
------
Democratic Rep. Ilhan Omar's Opponent Has Twitter Account Permanently Suspended
Nov 29, 2019
Kate Sullivan
(CNN) - A Republican candidate running to challenge Democratic Rep. Ilhan Omar of Minnesota had her Twitter account permanently suspended for repeated violations of Twitter rules, according to a Twitter spokesperson.
Danielle Stella says she was banned for a tweet in which she spread a baseless claim about Omar and said if the claim is true, Omar should be tried for treason and hanged, according to a post to her Facebook account. Two Twitter accounts of Stella's have been suspended, her campaign confirmed to CNN.
Omar has been a frequent target of smears and attacks by President Donald Trump and his supporters. In April, Omar said she experienced an increase in death threats after Trump tweeted about a speech she had given the month before.
"This just shows how far the Republican Party has fallen under Trump. Their campaign strategy is just threats, disinformation and smears against their opponents and the people will continue to reject it," Omar said in a statement.
On Friday, Omar reacted to the suspension in a post on Twitter, saying "violent rhetoric" leads to "violent threats."
"This is the natural result of a political environment where anti-Muslim dogwhistles and dehumanization are normalized by an entire political party and its media outlets," Omar said. "Violent rhetoric inevitably leads to violent threats, and ultimately, violent acts."
The Minnesota freshman was elected last year and is the first Somali-American member of Congress, and she and Democratic Rep. Rashida Tlaib of Michigan are the first two Muslim women ever elected to Congress. Omar has been at the center of numerous controversies since being sworn into Congress, including making comments criticizing US support for Israel that were seen as invoking anti-Semitic tropes and stereotypes.
In a statement to CNN, Stella strongly criticized Twitter for the suspension and its policies.
Twitter has come under fire from critics who say tweets from politicians, including Trump, often violate its rules against bullying, dehumanization and threatening harm but are not taken down. Twitter announced in June that they would not always remove tweets from world leaders, which break its rules when Twitter decides they are in the "public interest." The company said then that they plan to place disclaimers on tweets that they decide to leave up.
The company provided a list of criteria that would inform this decision, including "Whether preserving a Tweet will allow others to hold the government official, candidate for public office, or appointee accountable for their statements."
Stella, who is not the only Republican looking to unseat Omar, describes herself as a special education needs professional. She writes on her campaign website that "as a result of the lack of honorable representation for Minnesota's 5th congressional district, I believe it is my duty and privilege to stand up and speak for the forgotten American citizens in the District and throughout the state."
Omar came to the US more than two decades ago as a refugee and became an American citizen in 2000 at the age of 17, according to The New York Times. She ran with the support of the Justice Democrats, the same progressive group that helped bring New York Rep. Alexandria Ocasio-Cortez into politics, and is a proponent of Medicare for All, abolishing ICE, tuition-free college and raising the minimum wage to $15 an hour.
CNN's Chandelis Duster contributed to this report.
https://www.kxly.com/news/politics/national-politics/omars-opponent-has-twitter-account-permanently-suspended/1146742908
------
URL: https://www.newageislam.com/islam-women-feminism/wouldn-t-i-go-somewhere/d/120403
New Age Islam, Islam Online, Islamic Website, African Muslim News, Arab World News, South Asia News, Indian Muslim News, World Muslim News, Women in Islam, Islamic Feminism, Arab Women, Women In Arab, Islamophobia in America, Muslim Women in West, Islam Women and Feminism