New Age Islam News Bureau
20 Jun 2013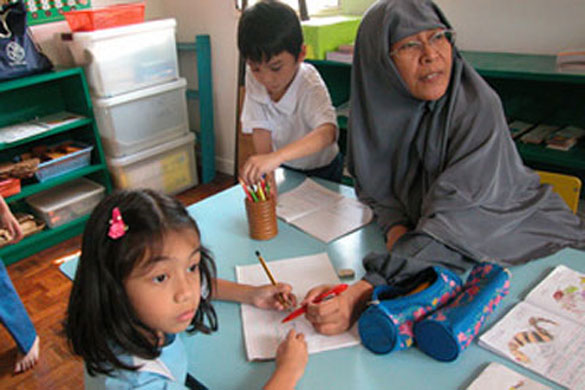 Photo: A teacher overlooks a reading and writing session at Al Hidayah, one of the leaders in a new wave of Islamic pre-schools that stress modern learning techniques. [Grace Chen/Khabar]
-------------
• An Indian State Govt Defends Underage Muslim Marriages
• Egypt Girl's Death Puts Spotlight on Genital Mutilation
• 6 Muslims Sentenced to Community Service for Gang Rape of 15 Year Old Swedish Girl
• Indonesian Police Set To Lift Ban on Hijab While on Duty
• First Saudi woman attains aircraft dispatcher license
• Muslim Women Sentenced to Hard Labour in Myanmar "Insulting Religion"
• Islamic Preschools Take on a New Look In Malaysia
• Muslim Girls Access Malawi Education
• 'She Died Doing What She Felt the Lord Called Her to Do'
• Kabul's Beauticians Make Up Their Own Rules
• 'Divine Empowerment' For Muslim Women
• Nigeria: CP Wants Women to Assist Police Command
Compiled by New Age Islam News Bureau
URL: https://newageislam.com/islam,-women-and-feminism/new-age-islam-news-bureau/-men-look-like-they-want-to-hit-muslim-woman-,-believes-tony-blair-s-sister-in-law/d/12182
-------------
'Men Look Like They Want to Hit Muslim Woman', Believes Tony Blair's Sister-In-Law
TONY Blair's sister-in-law believes men look like they want to hit Muslim women in the wake of the killing of Drummer Lee Rigby in Woolwich last month.
By: Owen Bennett
June 19, 2013
Lauren Booth, who converted to Islam two years ago and wears a Hijab covering her head, said she has noticed a change in people's attitude towards her since the murder.
Speaking on ITV's Daybreak this morning, the 45-year-old half sister of Tony Blair's wife, Cherie, said: "When I came to Islam two years ago and I first put on the scarf I was nervous about going on the Underground, I thought everyone is going to see me differently, and everyone was beautiful towards me.
"I was invisible for a few weeks and then I noticed that British people were smiling, same as we always do, we're really good at that, we're really good at absorbing and accepting people.
"But honestly, in the last two weeks I've been getting public transport and there are grown men looking like they want to hit Muslim women, and I'm a tall, white woman, I'm not easily threatened, but I have felt scared at times, so there is a change unfortunately."
Ms Booth, who was a contestant on 'I'm a Celebrity…Get Me out Of Here!' in 2006, is a pro-Palestinian activist who has visited the Gaza strip in the past.
Earlier this month Mr Blair, who is now a peace envoy in the Middle East, claimed there was a "problem within Islam".
He said: "We have to put it on the table and be honest about it.
He added: "At the extreme end of the spectrum are terrorists, but the world view goes deeper and wider than it is comfortable for us to admit. So by and large we don't admit it."
http://www.express.co.uk/news/uk/408812/Men-look-like-they-want-to-hit-Muslim-woman-believes-Tony-Blair-s-sister-in-law
-------------
An Indian State Govt Defends Underage Muslim Marriages
Jun 20, 2013
THIRUVANANTHAPURAM: A circular issued by Local Self Government (LSG) department of the government of Kerala has, through a blatant misrepresentation of facts, sought to reassure unconvinced registrars across the state that Muslim marriages involving a male aged less than 21 and a female aged less than 18 is legal.
The circular says that such marriages should be registered in accordance with Kerala Marriages Registration Act, Section (9) 3, provided the involved parties produce a document duly certified by the concerned religious authority.
The circular says that such marriages should be registered in accordance with Kerala Marriages Registration Act.
The June 14, 2013, circular contends that The Child Marriage Prohibition Act, 2006, does not deem marriage between a male aged below 21 and a female aged below 18 null and void. This is a clear contradiction of this particular Act which unambiguously defines a "child as a person who, if a male, has not completed 21 years of age, and if a female, has not completed 18 years of age."
The circular also violates provisions in Special Marriage Act 1954. As per this Act, if a marriage has to be solemnized, the man has to be 21 years old and the woman must be 18 years of age. Both the Child Marriage Prohibition Act and Special Marriage Act are applicable to the whole of India except the state of Jammu and Kashmir.
The June 14 government circular was issued following complaints from various parts of the state that registrars have been denying marriage certificates to Muslim girls and boys who got married at an age below 18 and 21 respectively. "The circular has been issued as a reminder to those registrars who have refused to register the marriages of Muslim girls who get married below 18. It has been introduced to clear certain confusion regarding the registration of Muslim marriages. The law department had analyzed it before the issuance of the circular," said James Varghese, principal secretary, LSG department.
Incidentally, and as the circular points out, Muslim Marriage Act, 1957, does not make it mandatory for a boy to be 21 years and girl to be 18 years at the time of marriage. "We had been receiving complaints from various Panchayats that registrars wouldn't register the marriages of Muslim girls if they are aged below 18. Since Muslim Marriage Act allows such marriages, we asked for a clarification from LSG," said P P Balan, director of Kerala Institute of Local Administration.
Apart from the questionable legality of the circular there is also, as various scholars explained, the regressive society such decrees encourage. "This would come in the way of Muslim women's social advancement as marriage below the age of 18 would hamper their political and educational life besides thwarting their chances of getting a job," said M N Karassery, reputed Malayalam writer and critic. "We have to protest against the order and it should be challenged before a court of law," he added.
Also claiming that the circular smacks of "religious discrimination", Karassery said, "Marriageable age should be the same for all women in the country, irrespective of their religion. But this order offers a different marriageable age for the women of a particular community."
http://timesofindia.indiatimes.com/city/kochi/Govt-defends-underage-Muslim-marriages/articleshow/20672350.cms
-------------
Egypt Girl's Death Puts Spotlight on Genital Mutilation
19 June 2013
The death of a 13-year-old girl during a genital mutilation procedure has brought the issue back into the spotlight in Egypt. While some Egyptians are fighting for the practice to be eradicated, others justify it in the name of religion, as the BBC's Aleem Maqbool reports.
"We have been brought up according to certain morals. It shows good upbringing, a way of controlling a girl's sexual desire."
Sameya Mohammad Abdel-Razek, a grandmother from the Egyptian city of Giza is talking about female genital mutilation.
It has been condemned by international health organisations for years. It was made illegal in Egypt in 2008, and yet it is still very widely practised.
In some rural areas in Egypt, it is estimated that more than 75% of women have had the procedure, but it is common in urban areas too.
"I had the operation done for each of my three girls when they were 11 years old," Ms Abdel-Razek tells me. "I told each daughter this operation is extremely important, and that it is just like having their tonsils removed."
In fact, of course, the procedure means varying amounts of a girl's genitalia are cut away. In rural areas it is often done without anaesthetic.
In very extreme cases so much is removed that the wound fuses to leave only a small hole through which to urinate.
But Sameya said that each time one of her girls had the operation done, the family held a party to celebrate. She says she fully expects her granddaughter to have it, too.
Across north-east and West Africa where female genital mutilation is most prevalent, studies have documented cases where there have been severe complications.
Girls have even lost their lives because of the procedure.
This month, 13-year-old Suhair al Bata'a died during an operation in a village north of Cairo. Initial findings say she suffered an extreme loss of blood pressure.
'No political will'
Research has shown common psychological effects as well.
"There is a huge negative impact," says Dr Naglaa el-Adly, who is in charge of research at Egypt's National Council for Women.
"It is the humiliation of a girl's humanity," she says. "They face a type of terrorism as human beings. They are depressed and feel pain and the operation is introduced suddenly which is shocking."
Dr Adly explains that the procedure's origins in the region are ancient, but that now it is often rationalised as relating to religion, and to purity.
"When they tell the girl it is a religious practice she believes Islam is against her," she says. "So her perception of religion is changed."
Dr Adly fears there is currently no political will in Egypt to enforce the laws that ban female genital mutilation.
'Common sense'
On the contrary, there have been statements from the ruling Muslim Brotherhood defending the practice.
"It is left to the media to change attitudes," says Dr Adly. "And to the religious leaders, they need to tell people it's not related to Islam or Christianity."
However, religious leaders have given ambiguous messages.
While, in the past, some clerics in Egypt have stated that female genital mutilation has no religious basis, other clerics continue to openly advocate it.
"'Circumcision' is ordered by Allah, Sharia [Islamic religious law] from Allah. Orders from Allah must be realised," says Sheikh Yussef al-Badri, a cleric who has repeatedly petitioned the country's courts to make female genital mutilation legal again.
Sheikh Badri claimed Muslim countries in which the practice did not take place were imitating the West and were not pious, and insisted it was necessary for a harmonious society.
"This makes the girl control her common sense about sex because women quickly feel sex, before men."
Over the years, the type of justification for this medieval practice given by the likes of Sheikh Badri has filtered down to the large swathes of Egyptian society.
The grandmother we met in Giza, Sameya Mohammad Abdel-Razek, repeated many of the same arguments we had heard from the cleric.
She says she was not even aware genital mutilation was illegal in Egypt.
"These are human laws anyway," she told us. "They are not Sharia, God's laws."
Human rights campaigners in Egypt feel that the government is doing a poor job of defending many aspects of women's rights.
As a result, they fear eradicating female genital mutilation in Egypt has become all the more difficult.
http://www.bbc.co.uk/news/world-middle-east-22975400
-------------
6 Muslims Sentenced to Community Service for Gang Rape of 15 Year Old Swedish Girl
June 20, 2013
Six teenage boys aged 15 to 17 were convicted on Friday after raping a 15-year-old girl in a north-western suburb of Stockholm in March.
Five of the teens were found guilty of aggravated rape by the Solna District Court on Friday, with the sixth guilty of attempted aggravated rape.
The attack took place in early March at an apartment in Tensta, where one of the teens dealt out condoms while the other five took turns raping the 15-year-old girl.
The court took into account that the girl's information included "a cohesive, long, and relatively detailed account" of the incident that did not contain "any contradictions or elements to the story that could be considered inexplicable".
Despite denying the incident occurred when the trial opened, four of the boys have since confessed to having had intercourse with the girl at the time, but have denied committing any crime. The boy who allegedly provided the condoms has denied everything.
"According to the court, their explanations as to why they've changed their story are not sustainable, but suggest that they're trying to hide something," the court wrote, according to the TT news agency.
Five of the boys have been sentenced to over 100 hours of community service each, and have been ordered to pay 55,000 kronor ($8,500) each in damages to the victim.
The punishment was less severe than it could have been as the boys are minors, and the court also concluded that they had already been punished to some extent by having their pictures and their personal details exposed on the internet.
The case was the third suspected gang rape to take place in the Stockholm area earlier this year. In January, three men, two of whom were teenagers, were ordered held on remand on suspicion of raping a woman in central Stockholm in December.
Also that month, a woman reported being attacked and raped by five men in Sundbyberg, just west of Stockholm.
http://www.aina.org/news/20130618161925.htm
-------------
Indonesian Police Set To Lift Ban on Hijab While on Duty
Margareth S. Aritonang
June 20 2013
Bowing to pressure from Muslim groups, politicians and rights activists, the National Police is set to revoke an internal regulation that bans female officers from wearing the Muslim headscarf or Hijab.
National Police spokesperson Brig. Gen. Boy Rafli Amar said that a team led by the National Police chief Gen. Timur Pradopo was working on a draft regulation that would allow female members of the corps to wear the Hijab while on duty.
"We could revise the existing regulation [on the ban] or issue a new regulation to accommodate the rights of female officers to wear the hijab," Boy said, referring to a 2005 decree by the National Police chief that ordered all members of the corps to wear only official uniform items and specifically prohibited female officers from wearing the hijab.
The decree, however, excludes female members of the corps in Aceh due to the province's 2011 Sharia-inspired bylaws that oblige all women to cover their hair.
The police have been under pressure since earlier this month as Muslim and human rights groups called on the National Police to review its regulation banning female officers from wearing the Hijab, a move deemed essential to restore justice and religious freedom.
Critics of the ban, including Muslim cleric Amidhan Shaberah of the Indonesian Ulema Council (MUI) cited the ban as a sign of the repressive nature of the police institution.
Although supporters of the ban have argued that the hijab could compromise female officers' duties, particularly during conflicts involving different faith groups, human rights campaigners including the National Commission on Human Rights (Komnas HAM) and Imparsial have slammed the ban, saying that it violates basic human rights.
Earlier on Tuesday, Timur told the House of Representatives Commission III overseeing law and human rights that the police would seriously consider the criticisms, including those from Commission III lawmakers.
"We don't prohibit [plain clothes or off-duty] female officers from wearing the hijab. But, there is a regulation that needs to be followed. Nevertheless, we welcome all suggestions regarding the ban, including from respected figures. We will definitely use them as input in our evaluation of the regulation," Timur said in response to lawmakers.
In the hearing, lawmakers criticized Timur for maintaining the ban, which was first imposed during the tenure of Gen. Sutanto in 2005.
Several commission members wanted Timur to include the Hijab as part of the National Police's standard uniform.
"Female members of the corps in Aceh wear the Hijab, so why not allow female officers in other parts of the country? There is no acceptable reason to prohibit them following the example of their colleagues in Aceh. So, I strongly urge you to revise the regulation," said Ahmad Yani, a United Development Party (PPP) lawmaker.
Fellow Commission III member Taslim from the National Mandate Party (PAN) said the ban could offend the majority Muslim community in the country.
"Wearing the hijab is part of religious freedom. Therefore, I hope that National Police officers will not make policies that are offensive to Muslims in the country," he said.
http://www.thejakartapost.com/news/2013/06/20/police-set-lift-ban-hijab.html
-------------
First Saudi woman attains aircraft dispatcher license
20 June 2013
Aisha Jaafari has become the first Saudi female to attain an aircraft dispatcher license, after passing the General Authority for Civil Aviation exams.
Eight other Saudi women have been trained and are taking their final exam, reported Saudi daily Al-Iktisadiya.
An aircraft dispatcher plans flight paths for pilots after gathering and studying technical data.
"My love and passion for aviation pushed me to attain this license," Jaafari said. However, she added that she will not be going out on the field and will perform her duties in a "suitable environment."
Full report at:
http://english.alarabiya.net/en/News/middle-east/2013/06/20/First-Saudi-woman-attains-aircraft-dispatcher-license.html
----------
Muslim Women Sentenced to Hard Labour in Myanmar "Insulting Religion"
June 20, 2013
A court in Myanmar has found two Muslim women guilty of setting off a recent outbreak of sectarian violence, one of them by bumping into a Buddhist novice monk. Myint Thein of the pro-government National Unity Party, who attended their trial, said Wednesday that the two women in the central township of Okkan were convicted of "insulting religion." Both were sentenced to two years in prison with hard labour. A police officer in Okkan, who did not want to be identified because he is not authorized to speak to the news media, confirmed the sentences.
Full report at:
http://www.nytimes.com/2013/06/20/world/asia/muslim-women-sentenced-to-hard-labor-in-myanmar.html
-------------
Islamic preschools take on a new look in Malaysia
By Grace Chen for Khabar Southeast Asia in Kuala Lumpur
June 19, 2013
Once regarded as exclusive and having a dubious syllabus, Islamic preschool education in Malaysia now has a new face. More and more such institutions are focused on modern learning techniques, and they welcome children from non-Muslim families.
The Al Hidayah Islamic Preschool Centre, founded in 1992, is one example. Classes are capped at 15 students and most instruction is in English. Through the Montessori method, the emphasis is on language, communication, and cognitive and creative skills.
The first thing a visitor hears is not the chanting of the Qur'an but the chorus of numbers and alphabets as children take their first steps in reading, counting and writing. The preschool also has a policy that allows girls to choose if they want to wear the hijab.
Full report at:
http://khabarsoutheastasia.com/en_GB/articles/apwi/articles/features/2013/06/19/feature-02
-------------
Muslim Girls Access Malawi Education
19 June 2013
LILONGWE – After long years of neglect, girls' education is gaining a maximum attention and support among Muslims in Malawi, a progress hailed as a result of Muslim efforts to enlighten the community about the process.
"It's been a long held belief among some parents and communities that education for girls is a sheer waste of time and resources," Dinala Chabulika, national coordinator of the Islamic Information Bureau (IIB), told OnIslam.net.
"But sadly this has in the end worked against them."
He said opposition to girls' education has nothing to do with Islamic teachings.
"Those who disapprove of girls' education are not speaking from a sound religious perspective," he said.
Full report at:
http://www.onislam.net/english/news/africa/463201-muslim-girls-access-malawi-education.html
-------------
'She Died Doing What She Felt the Lord Called Her to Do'
June 20, 2013
Five years ago, SERVE Afghanistan worker Gayle Williams was gunned down by the Taliban in Kabul where she had been helping deprived and injured children. She was 35 and a committed Christian. CHRISTINE FOLLETT takes up the story
Monday 20 October 2008 seemed like any other ordinary day. Gayle dressed in her traditional clothes for work and wound her shawl around her head, ready for the walk to the office.
She and her friend Katja had shared time over a cup of coffee and exchanged plans for the day.
Full report at:
http://www.inspiremagazine.org.uk/Stories/International?storyaction=view&storyid=392
-------------
Kabul's Beauticians Make Up Their Own Rules
Jane Ferguson
19 Jun 2013
Kabul, Afghanistan - In feminist thought, beauty parlours are hardly synonymous with women's empowerment. But most Afghan women don't have the luxury of worrying about such principles: A job is a job, and it's a crucial step forward for Kabul's beauticians.
Soraya has been battling to stay self-employed for years. A motherly, smiling lady, it's hard to imagine how she defied Taliban fighters even after they smashed up her parlour in 1996.
So she took her work underground. Women would sneak into her house during the Taliban's rule from 1996 to 2001, determined to look their best as brides.
Full report at:
http://www.aljazeera.com/indepth/2013/06/201361871516351747.html
-------------
'Divine empowerment' for Muslim women
June 20, 2013
KUALA LUMPUR: A conference aimed at empowering Muslim women will be held on June 29.
Organised by Mercy Mission Malaysia, the Being ME (Muslimah Empowered) conference would highlight challenges faced by women and focus on seeking divine empowerment from the Quran and Sunnah.
It will be held at the Putrajaya International Convention Centre.
Mercy Mission Malaysia national manager Aizuddin Othman said the conference, themed "Divine Liberation" would have lectures, interactive workshops, a bazaar and a Muslimah attire show, among others.
Full report at:
http://thestar.com.my/news/story.asp?file=/2013/6/20/nation/13262780&sec=nation
-------------
Nigeria: CP Wants Women to Assist Police Command
JUNE 19, 2013
The Commissioner of Police, Nasarawa State, Alhaji Umar Shehu, on Wednesday called on women to assist the police to tackle insecurity and maintain peace in the state.
Shehu said this when he received the Federation of Muslim Women Association of Nigeria (FOMWAN) in his office in Lafia.
He described women as promoters of peace, and urged them not to relent in helping the security agencies to fight criminal activities in the state.
The commissioner, who commended the association for identifying with the command, urged them to report any strange movement to the police.
Full report at:
http://www.dailytimes.com.ng/article/cp-wants-women-assist-police-command
-------------
URL: https://newageislam.com/islam,-women-and-feminism/new-age-islam-news-bureau/-men-look-like-they-want-to-hit-muslim-woman-,-believes-tony-blair-s-sister-in-law/d/12182