New Age Islam News Bureau
1 Jun 2013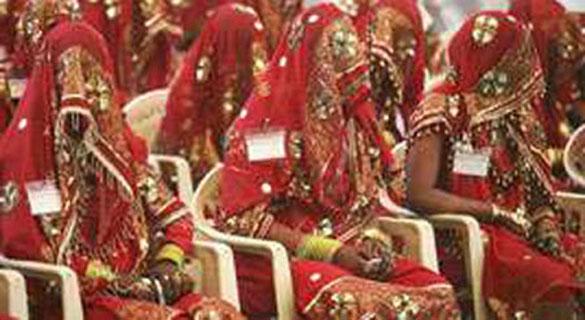 Photo: Bihar women put their foot down, no wedding bells for 'undeserving' men
----------
• 'Council of Islamic Ideology's Observation on DNA Test in Rape Cases Defies Logic'
• Two Xinjiang Villages Bar Women from Covering Faces
• South Sudanese Police Force Underage Girl to Marry A Soldier
• Femen Activists Protest Topless in Tunisia, Claim the Start of a 'Women's Spring'
• 54 Pregnant Girls Discovered In Lagos Public Schools
• Bihar women put their foot down, no wedding bells for 'undeserving' men
• Pakistan Court Condemns Police over Rape Christian Girl
• Outlawed GMF Chief's Wife Held in Dhaka
• Look Out! Your Daughter May Run Away
• UN for Active Participation of Women in Drafting of New Libyan Constitution
Compiled by New Age Islam News Bureau
URL: https://newageislam.com/islam-women-feminism/mehram-woman-haj-pilgrims-haj/d/11849
----------------
'Mehram' Must For Woman Haj Pilgrims: Haj Committee of India
By Express News Service
31st May 2013
The Haj Committee of India on Thursday submitted before the High Court that the bilateral agreement for Haj-2013 signed between the Government of India and the Kingdom of Saudi Arabia provides that women could undertake the pilgrimage only if accompanied by their Mehram (close relative).
The committee made the submission on a petition filed by Aminakutty Mohammed of Kadalundi challenging its decision which denied her permission to travel with another woman companion. According to the committee's rules, Muslim women have to be accompanied by a male family member to perform Haj.
The Haj committee's decision is violation of Article 14 of the Constitution, which guarantees right to equality before law and prohibits discrimination on grounds of religion, race, caste, sex, or place of birth, the petition stated.
In an affidavit, the committee said as per the agreement, women performing Haj should be accompanied by a male member of the family. Such a male member is termed 'Mehram' in Shariah, the moral code and religious law of Islam. The stipulation is not new and it is imposed by the Islamic Shariah and applicable to women from all countries, it said. It also said a maximum of five applicants comprising family members or close relatives can apply in a single cover. The head shall be responsible for payment of the persons included.
Under no circumstances should an outsider be included in the cover. The accommodation status of all pilgrims under one cover should be same, it said.
In case a few pilgrims under one cover intend to change the date of flight, it would not be permitted.
If a male applicant, who is Mehram of a female applicant, cancels his application, he should indicate the name of any other applicant from among the male members of the cover as "Mehram" along with relation with the woman. Otherwise her application shall also be treated as cancelled, it said.
Change of Mehram is allowed only in specific cases like on account of death or medical grounds, the committee added.
http://newindianexpress.com/cities/kochi/Mehram-must-for-woman-Haj-pilgrims-Panel/2013/05/31/article1613608.ece
----------------
'Council of Islamic Ideology's Observation on DNA Test in Rape Cases Defies Logic'
June 1, 2013
LAHORE: Former Supreme Court Bar Association president Asma Jahangir said on Friday the Council of Islamic Ideology's (CII) observations on admissibility of DNA evidence went to show that its members were either keen to protect rapists or were anti-women.
Council members on Wednesday were reported to have said that DNA tests were not admissible as main evidence in rape cases. They had observed that the tests could, at best, serve as supplementary evidence.
Jahangir said the CII members' logic was beyond comprehension. She said the council members were refusing to reach out for the truth in rape cases and had given such urgency and prominence to their recommendation as if acceptance of DNA testing was a great threat to Islam.
She said the members had defied logic in undermining forensic reports in cases of rape and paternity disputes.
She said governments should take appointments to the CII seriously and not fill them with "women haters."
She said interpreting religion was a serious matter and should not be left in the hands of those who made a mockery of their positions.
http://tribune.com.pk/story/557265/rape-prosecution-cii-observation-on-dna-test-defies-logic/
----------------
Two Xinjiang Villages Bar Women From Covering Faces
2013-05-31
Authorities in two Uyghur villages in China's restive Xinjiang region are punishing relatives of Muslim women who cover their faces by not authorizing their marriage applications and disallowing them to perform pilgrimage to Mecca, according to local officials.
Community officials in Beshtugmen and Igerchi villages outside Aksu city have been enforcing the measures after residents in Beshtugmen opposed fines against women in the village who wore headscarves in June last year, villagers said.
Since then, community officials had eased restrictions on women wearing headscarves, but that women who cover their faces with traditional veils still face curbs enforced by Beshtugmen's United Front office, the local branch of a ruling Chinese Communist Party organ tasked with guiding local religious and ethnic policy.
Many Uyghurs say headscarves are a marker of Uyghur rather than Muslim identity. Chinese authorities, however, discourage the wearing of headscarves, veils, and other Islamic dress in the region, which is home to some 9 million mostly Muslim, Turkic speaking Uyghurs.
"We do not approve the applications for marriage certificates or pilgrimages to Mecca if the applicant has relatives who cover their face," the head of the United Front office in Beshtugmen village, who gave his first name as Eziz, told RFA's Uyghur Service.
He said "three generations" of the relatives of women who cover their faces are screened for possible punishment.
The United Work office community officials first identify women wearing face veils at the local bazaar.
"Our job is to uncover the faces of veiled women," said Eziz, who refused to give his surname.
He said the curbs on the relatives were part of United Front's policy of encouraging local residents to support the Chinese Communist Party's policies on ethnicity and religion.
"We work on changing their stubborn attitudes to make them follow our government and not their religion," he said.
"We mainly counsel and explain the development of our region and compare it to what it was like before the [Chinese Communist] Party's rule. We propagandize our Communist Party's warm policy and shed light on the farmers' thoughts."
"It is not easy, because these people are brainwashed with religion," he said.
A top official of the United Front office in neighboring Igerchi village said similar restrictions were in place there for women who wore the veils.
"We explain to them our policy, and if they do not listen then we crack down on them according to law," he said, refusing to give his name.
"We do not approve their relatives' applications for pilgrimage to Mecca, and we do not give them marriage certificates," he said.
Fines for veils
Both officials refused to specify whether women could be fined for wearing veils over their faces, but local residents in Beshtugmen said some women had faced steep fines.
Rights groups have hit out at local restrictions in Xinjiang curbing Muslim women dressing and discouraging men from sporting beards, saying they not only hindered religious practices but also Uyghur traditions.
One Beshtugmen farmer, speaking on condition of anonymity, said the women's husbands also faced detention.
"If a woman who wears a veil over her face is discovered by the community watch group from the United Front office, she faces a 1,000 to 5,000 yuan [U.S. $160 to $800] fine, and her husband will be detained for 10 to 15 days," he told RFA.
Eziz said that community officials do not arrest women who wear veils over their faces.
"We can't arrest them, because there is no law or regulation for us to do that."
Eased since last year
Women in Beshtugmen who wear the veils avoid going to the local bazaar for fear of being caught, sources said.
But they said that restrictions on traditional dress in Beshtugmen had eased since June of last year, when community officials gathered women in the village who wore headscarves and told them to stop the practice, fining them 400 yuan (U.S. $65) when they refused.
"Last year in June, they forcibly gathered all of the women in Beshtugmen village who whore a hijab," one local woman farmer speaking on condition of anonymity said, referring to headscarves.
"These women included government workers' wives, village cadres, and imams' wives. But these women all together strongly opposed taking off their hijabs, so they were fined 400 yuan and then allowed to go."
Other sources also said the women had been fined for wearing headscarves, not veils over their faces at that time.
When community officials gathered women wearing headscarves again in July, local residents refused to cooperate, and since then the community officials had stopped pressuring women not to wear headscarves, the woman farmer said.
"This time, all of the farmers, government workers and imams all together opposed the community workers and said that if their women are going to be told to take off the hijabs, no one will cooperate."
"Since then, they have stopped bothering women who wear the hijab as much," she said.
'Open discrimination'
Top regional officials have rejected claims of curbs on traditional Islamic dress in the region, with Kuresh Kanjir, an Uyghur delegate to the Chinese Communist Party's 19th Party Congress telling a Hong Kong newspaper late last year that there is "absolutely no ban."
In a report this year, the U.S.-based Uyghur Human Rights project decried an "open discrimination" against Uyghurs, especially women leading religious lives, raising concerns about public signs barring entry to and reports of government assistance withheld from Uyghurs dressed in "Islamic" fashion.
Most of the restrictions are aimed at women who wear veils and men who have beards, but campaigns against headscarves have also been reported in different parts of Xinjiang.
"Chinese authorities have launched numerous campaigns on women wearing headscarves and men wearing beards, in an attempt to dilute Uyghurs' adherence to their Muslim beliefs," the UHRP said in a report last year.
In a report this year, it said officials in the region had also targeted students and teachers with campaigns against Islamic dress.
One Uyghur teacher in Aksu city told RFA this month said that in May last year she had been forced to remove her headscarf—which she had wearing while her head was bald due to a skin condition—after being threatened with losing her job.
"They forced me to take off my hijab. I showed them my bald head and begged them to leave me alone," she said.
"But they didn't listen and threatened that I would be fired from my teaching job if I continued to wear a hijab."
Earlier this month, students in Xinjiang's Atush city took to the streets in a rare protest over the right of Uyghur girls to wear headscarves to school.
Local residents had said some 70 students wearing headscarves and doppa, traditional Uyghur caps for men, had taken part in the demonstration outside the Kezhou No. 1 High School's gates after the school tried to enforce a ban on the head coverings.
School officials rescinded the ban after the protest, online reports said.
Reported and translated by Rukiye Turdush for RFA's Uyghur Service. Written in English by Rachel Vandenbrink.
http://www.rfa.org/english/news/uyghur/hijab-05312013175617.html
----------------
South Sudanese Police Force Underage Girl to Marry A Soldier
29 MAY 2013
Juba — South Sudanese police forced a 17-year-old girl in Lakes state's Wulu county from her classroom to marry a soldier against her will on Tuesday, local people and witnesses told Sudan Tribune.
One of the girl's relatives is alleged to have beaten the girl when she refused to marry the man.
The headmaster of Morngenyi primary school, where Rebecca is in her eighth year, tried to stop the forced marriage, standing up for her right to decide who she wants to marry.
Describing Atong as a "most brilliant student" he said that her future would be brighter if she was not forced to married a man she does not like.
An eyewitness told Sudan Tribune that the head teacher only let the girl leave the school after the police threatened to arrest him. The girl's refusal to marry the man meant that she was beaten and locked in a room at her parents' house, local sources say.
The South Sudanese government has remained silent over the many instances of forced and underage marriages in Lakes state.
Young men in Lakes state complain of high bride prices and accuse government officials of marrying underage girls.
High bride prices are one of the causes of conflict in Lakes state where cattle raiding from neighbouring counties and across the state border in Unity and Warrap is common.
Dowries are often paid with money, honey and cattle in Wulu county, which has a history of violence against girls who refuse to marry men chosen for them by their parents.
In October 2010, Nyikada Ngoki from the Yidula tribe killed herself with a gun after she was forced to married Adal Mangok of the Yiberti tribe.
The previous month 15-year-old, Adut Makur Matak broke into tears as she told Sudan Tribune how her parents are attempting to force her to marry a man over twice her age. "I don't love this man - this is first time I see him in all my life" she said.
A girl from Rumbek North county was beaten to death in February 2011 by her uncle's son in a dispute over her forced marriage. The girl is reported to have been killed after she demanded to be given ivory jewelry, a symbol of marital status in Dinka culture, before the wedding. The marriage had been negotiated by the families with a dowry of 80 cattle agreed to be given to girl's family.
The murdered girl, Agok Monyman Apach requested her parents to be given and ivory and other traditional marital gifts before she was handed over to her future husband. The gifts are given to honour the girl and confirm her new social status in Dinka culture.
The girl's cousin, Kamic Mabuong Apach, is accused of killing her after she refused to marry the man before she received the traditional gifts.
In both incidents of girls being killed and beaten by their relatives, government did not intervene either to protect the girl or to enforce the parent's decision. The police's intervention on the side of the family rather than the girl appears to be first time this has happened in Lakes state.
http://allafrica.com/stories/201305300082.html?aa_source=acrdn-f0
----------------
Femen Activists Protest Topless in Tunisia, Claim the Start of a 'Women's Spring'
By Maxine Wally
1 June 2013
Three members of the radical activist group Femen were arrested Wednesday for protesting in front of the Justice Ministry in Tunisia bare-breasted.
The European women were demonstrating against the incarceration of a fellow Femen member Amina Tyler, a Tunisian woman who shocked her community by putting up topless photos online in March, with the words, "my body is my own and not your honor," written on her chest.
Tyler's father was forced to put her in hiding, after conservative religious leaders threatened to kill the 19-year-old girl. She said last month that she would perform one final breast-baring protest before she left to study journalism in France. The Associated Press reported that she was arrested May 19 in the religious center of Kairouan. Police took her in for carrying a dangerous object, as she allegedly was holding a canister of pepper spray.
Full report at:
http://www.hngn.com/articles/4128/20130531/femen-activists-protest-topless-tunisia-claim-start-womens-spring.htm
----------------
54 Pregnant Girls Discovered In Lagos Public Schools
By Feyi Afisunlu
May 28, 2013
A recent statistics released by the Office of Youth and Social Development, an arm of the Lagos State Ministry of Youth, Sports and Social Development has uncovered that 54 girls were pregnant and 200 students were on drugs in Lagos public secondary schools.
This unhealthy discovery showed that 54 pregnant girls were counselled by the school social services in the last one year out of the 378 schools visited.
Out of the 54 pregnant girl students counselled, 18 of them who were with seriously depressed were brought under supervision of the social welfare service.
The report also revealed that 154 cases of sexual assault were uncovered and the victims were counselled, while 27 of such affected students were placed under supervision. 91 victims of physical abuse were counselled, with 27 placed under supervision.
Daily Post gathered that about 102 students who absconded were also counselled by the department with 50 of such students placed under supervision.
Full report at:
http://dailypost.com.ng/2013/05/28/54-pregnant-girls-discovered-in-lagos-public-schools/
----------------
Bihar women put their foot down, no wedding bells for 'undeserving' men
Prashant Ranjan , Hindustan Times Ara, Bihar, June 01, 2013
Men calling off marriages because they are dissatisfied with the bride to be is almost a sociological cliché in this country. But of late, women in Bihar have set off an interesting new trend. Several girls have rejected their husbands to be moments before tying the knot.
A man's inability to count small denomination currency notes adding up to Rs. 100, had his life as a bachelor extended as the girl who was to be his bride refused to exchange wedding vows with him.
"Sorry, I can not place my future into the hands of an illiterate person", said the 21-year-old bride to be, minutes after she had arrived for her scheduled wedding with the man.
The prospective groom's lack of counting ability was exposed when he had to offer a sum of Rs. 100 to the priest, before he started conducting the wedding rituals.
Full report at:
http://www.hindustantimes.com/India-news/bihar/Bihar-women-put-their-foot-down-no-wedding-bells-for-undeserving-men/Article1-1069323.aspx
----------
Pakistan Court Condemns Police over Rape Christian Girl
May 31, 2013
LAHORE, PAKISTAN (BosNewsLife) -- A Pakistani court on Friday condemned police for the way they investigated the rape of a Christian girl and rejected the main Muslim suspect's request to be released on bail, a leading attorney told BosNewsLife.
The Lahore High Court also "scolded the chief police investigator for not mentioning the second suspect. He was not prosecuted, perhaps because of corruption or pressure from local powers," said attorney Sardar Mushtaq Gill.
Another court also questioned police pressure on the family of 15-year-old Fouzia Bibi, who was raped January 25 by two armed Muslim men, Gill said. The Judicial Magistrate Feroz Wala Court in Sheikhupura District therefore ordered the release of her father's cousin Alam Ashiq, a Christian, who was "arrested on [false] charges filed against [other] unknown persons six months ago," Gill added.
Full report at:
http://www.bosnewslife.com/28502-breaking-news-pakistan-court-condemns-police-over-rape-christian-girl
----------------
Outlawed GMF Chief's Wife Held In Dhaka
1 June 2013
Rapid Action Battalion (Rab) arrested Sahida Khatun, wife of outlawed Gono Mukti Fouz (GMF) Chief Aminul Islam Mukul, with a pistol and two bullets from the capital's Kalabagan area yesterday.
Rab-2 Deputy Commander Maj Anwarul Haq Choudhury told this correspondent that they arrested Sahida after conducting a raid in a house around 4:30am.
"During primary interrogation, we came to know that Sahida was also involved in the outlawed party's activities," he said.
Police and Rab in Kushtia said Mukul, also a resident of Kushtia, is accused in at least 25 murder cases. He fled the country after the last caretaker government assumed the power.
In 2010, he was arrested by Indian police. An Indian court in Paschimbangla sentenced him to two years' jail for illegally staying in India in the same year, they said.
http://www.thedailystar.net/beta2/news/gono-mukti-fouz-chiefs-wife-held-in-capital/
----------------
Look Out! Your Daughter May Run Away
June 01, 2013
Girls running away from their homes represent a serious problem that has not yet been fully addressed by society.
There may be a number of reasons for this phenomenon. These include the disintegration of the family as a result of psychological disturbances of a drug-addict father. The lack of a role model in the family may also be one of the reasons.
However, there are other more complex reasons, including abject poverty in the family. A girl may feel frustrated because her family is poor and cannot provide her with all her needs. Our society has become a consumer one and the girls may want to satisfy their desire for consumer goods.
Full report at:
http://www.saudigazette.com.sa/index.cfm?method=home.regcon&contentid=20130601168082
----------------
UN for Active Participation of Women in Drafting of New Libyan Constitution
1 June 2013
The United Nations today called on Libya to ensure women in the country actively participate in the drafting of the new constitution, stressing their contributions are necessary to rebuild the nation.
"It is no secret that the drafting of the constitution and the preparations involved are of special significance to Libya's democratic transition towards stability and prosperity," the UN Support Mission in Libya (UNSMIL) said in a news release.
"Representation and meaningful participation of women in the Constitution-Drafting Assembly and in the process of drafting the constitution will consequently contribute to the building of the new Libya."
Full report at:
http://allafrica.com/stories/201305300600.html?aa_source=acrdn-f0
----------------
URL: https://newageislam.com/islam-women-feminism/mehram-woman-haj-pilgrims-haj/d/11849