New Age Islam News Bureau
17 Jul 2016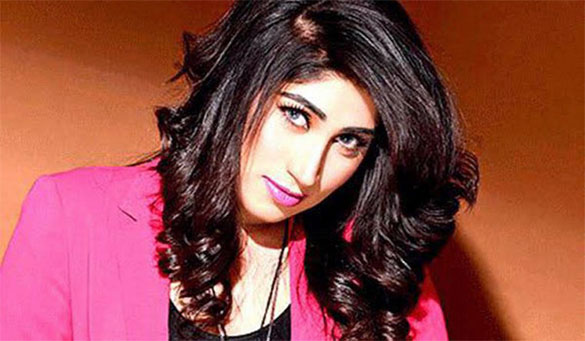 Photo: Qandeel Baloch
---------
• Why Qandeel Baloch's Killer May Go Unpunished
• Muslim Women Happy With Personal Law: All India Muslim Personal Law Board
• I Was the First Muslim Woman to Be SAS Trained By Azi Ahmed
• The Freedom of Competition for Muslim Women
• UN Women Liaison Office to bridge Abu Dhabi, New York
• Report: Saudi Women's Lives Dictated By Male Guardianship
• Mixed Messages at All-Female Islamic Schools
• Omanis Constitute 38.7% of Public And Private Sector Women Employees: Mocs
Compiled by New Age Islam Bureau
URL: https://newageislam.com/islam,-women-and-feminism/new-age-islam-news-bureau/-life-of-a-muslim-girl,-andleeb-zaidi,-turned-model-/d/107989
-------
'Life of a Muslim Girl, Andleeb Zaidi, Turned Model'
Priyanka Bhatt | TNN | Jul 14, 2016
The phrase 'Log Kya Kahenge' has definitely killed more dreams than anything else in the world. This is the 21st century, but wearing a bikini is still considered taboo in some parts of our society.
We thought our mindset is changing, until we saw this post by our fbb Femina Miss India 2016 Bangalore and Campus Princess 2016, season 1 finalist, Andleeb Zaidi.
In a Facebook post, Andleeb went on to share the shame she had to go through after her relatives saw her bikini pictures that were clicked as a part of the pageant.
Is this what she deserves? Does she deserve to be shamed just because she wore a bikini? You read and decide..
Read the full letter here -
"Life of a Muslim girl turned model..
No journey is easy and especially when you belong to a Muslim family things become even worse.
Most of you know about my Miss India journey and also about my modelling career but what you all need to know is about the shaming and the boycott I have to face along with my parents.
After the Miss India pageant my bikini picture went viral and the 'oh-so-not-literate' relatives found the best opportunity there to pass a judgement for me. They called themselves my 'well-wishers' but hoped for the worst for me. Ever since my parents had to listen to comments like "your daughter is shameless", "she won't find place even in hell", and the most important one "She has brought disgrace to the family".
Till this day I kept quiet, did not talk back to them because I respected them but it has to end now.
I am one educated person who is legally eligible to decide her fate. It is my decision to be or not to be a model. To wear or not to wear whatever I want. I do not give anybody the right to correct me except for my parents.
Nobody has the right to judge me for what I wore in a beauty pageant.
This is my open letter to all those who think that I've committed the greatest sin of the time.
It's my life. I cannot be you and you definitely cannot be me.
And seriously, even if I was you, I'd wanna be me too."
- Andleeb Zaidi
Can we just let the girl fly and stop being so judgemental?
You go girl! We loved the way you opened up about this and didn't succumb to the pressure. You are more than a piece of cloth you wear. Keep going. We're proud of you.
beautypageants.indiatimes.com/miss-india/Life-of-a-Muslim-girl-turned-model/articleshow/53203613.cms
-------
Why Qandeel Baloch's killer may go unpunished
Ganesh Kumar Radha Udayakumar | Jul 16, 2016, 05.58 PM IST
NEW DELHI: Just days after Pakistani model Qandeel Baloch enhanced her own notoriety by posting a video of herself "twerking" , she was killed on Friday night. The murder happened in Multan, in Punjab province, and it is alleged that the killer was her own brother . Baloch was all of 26 years old.
Even if the police investigation proves that Baloch was a victim of an "honour" killing, her murderer may escape punishment, despite recent progress on the legistative front for women's rights in Pakistan. He may simply be pardoned by his kin.
In March, Pakistan's Senate passed the Anti-Honour Killings Laws (Criminal Laws Amendment) Bill, 2014, but the bill lapsed before it could be passed by the National Assembly, the Dawn reported. The legislation - in its current form - contains a loophole that murderers can use to go free: they may be pardoned by the victim's family members, even in open-and-shut cases. Since the killers are so often members of the victim's family, forgiveness is often granted, and crimes go unpunished.
Police have said that Baloch's brother - her alleged assassin - had been threatening her over her Facebook posts, and that her family had told her to quit her modelling career, and stop posting provocative content on social networks.
If Baloch's brother is indeed her killer, and if he is pardoned, the episode will only be the latest chapter in a long history of tragic "honour" killings in Pakistan. According to the country's Human Rights Commission, in 2014-15, over 2,000 women and girls were victims of honour killings in Pakistan. And men aren't safe either: last year, 88 men lost their lives in such incidents.
More recently, an 18-year old woman was choked and burned alive by her own mother for marrying her lover, an adolescent who helped her friend elope was tortured, poisoned, and burned after a council of elders ordered her killing, and a woman slit the throat of her daughter who married for love. The long list of victims now contains the name of Fouzia Azeem, known to the world as Qandeel Baloch.
timesofindia.indiatimes.com/world/pakistan/Why-Qandeel-Balochs-killer-may-go-unpunished/articleshow/53241205.cms
-------
Muslim Women Happy With Personal Law: All India Muslim Personal Law Board
July 17, 2016
Even as the feasibility of a Uniform Civil Code is being widely discussed, women members of the All India Muslim Personal Law Board (AIMPLB) have said that the attempt to impose the uniform code was an intrusion into the Muslim personal law, which is drawn from the Muslim Personal Law (Shariat) Application Act, 1937.
AIMPLB executive committee member Asma Zehra told reporters here on Saturday that 99 per cent of Muslim women were happy with the existing personal law and there was no need for a new law. "The problems are with the society, not with the law. What we need is social reformation," said Dr. Zehra, citing various tenets of the law dealing with marriage, divorce and women's rights.
'Marriages successful'
"I can say that 97 per cent of marriages in the Muslim community are successful. The partners enjoy equal freedom and live in peace and happiness. In case of dispute and differences, the door of 'divorce' is kept open only to make life easy and relieve each partner of torture and suffering," she said.
She said there was no need to create the impression that the Uniform Civil Code was for the benefit of oppressed Muslim women. "Islam has elevated the status of woman and has given her a respectable position in society as mother, daughter, wife, and sister. Muslim women are socially more empowered than the women of any other community," Dr. Zehra said. There were more pressing matters such as female foeticide, infanticide, dowry, ostentatious marriages and denial of proper education that need to be addressed, she added.
Polygamy
The rate of polygamy has come down to 3.5 per cent among Muslims in India, despite the practice being allowed as per the Muslim personal law. On the other hand, polygamy rate has gone up to 6.5 per cent in the Hindu community, she said. There were enough laws such as the Muslim Women (Protection of Rights on Divorce) Act, 1986 and the Dissolution of Muslim Marriages Act, 1939 for the protection of Muslim women.
thehindu.com/news/cities/kozhikode/muslim-women-happy-with-personal-law-aimplb/article8861602.ece
-------
I was the first Muslim woman to be SAS trained by Azi Ahmed
17 July 2016
Growing up in a working class Muslim household in Oldham, in the 1980s, life was about hard work and respect. By the age of twelve, I had been fully trained in all the skills my mother thought were necessary to becoming the perfect Muslim housewife: knitting, sewing, sitting pretty and respecting my elders.
But frankly, I had other ideas. I was the youngest of the four children, and although I was little; skinny; an easy target for my big brothers and the kids who called me curry breath in the playground, I was no pushover. At eighteen, I infuriated my parents by choosing to study art rather than education or medicine at University. And at twenty-one, I dodged the bullet of an arranged marriage by forging my mother's signature on the paperwork.
But I never dreamed my determined streak would take me to the elite squad of the British Army. Fast forward five years and two degrees later, and I found myself at the British Army's Chelsea Barracks, somewhat surreally, signing up to do a trial session with the SAS. I heard they were taking on people part time and I thought it would be a fun "after work" activity. Serves me right: the 'warm up' alone turned out to be a 2.5 hour workout, a mixture of running and press-ups across London in the driving rain and wind. I lagged two miles behind the other girls and wheezed my way to the finish as my instructor laughed and called me a "waster". Maybe Zumba would have been better..
My physical ability wasn't perfect but my tenacity and endurance had been noted, and I was asked to join the 200 men and eleven women who were to start the initial six-week training course.
Going on exercise was very tough. One time we'd been out for 12 hours with 50lb rucksacks on our backs. I bent over to be sick from physical exhaustion. 'While you're down there, do 80 press-ups,' barked the trainer. It was relentless. I'd go home scratched and bruised and have to wear trainers under my shalwar kameez so my parents couldn't see my blackened toenails.
But it was training in the Brecon Beacons for 48 hours non-stop that was the toughest mental and physical challenge of my life. We started with an eight-mile run. Our superiors deprived us of sleep and would suddenly wake us in the middle of the night with shouts of, 'Enemies are on the ground, 400 metres, get into position.' We'd have to leap from our sleeping bags and do 'section attacks', getting into groups of four and 'attacking' our fellow soldiers as if they were enemy; firing blank rounds using a SA80, a M16, jungle weapons, pistols. It was hard-core and I almost died twice - nearly falling off a cliff, and being submerged underwater unable to get the heavy pack off my back.
My parents taught me "Always finish what you start" and it wasn't in my nature to quit. One by one my colleagues fell by the wayside as they got injured or couldn't cope with the rigour. By the end of Selection training there were 20 men and two women left. I was one.
Azi Ahmed's book Worlds Apart: A Muslim Girl with the SAS is available to buy via Amazon, Kindle and leading retailers. For more information about her please visit aziahmed.com She tweets @aziahmed1
femalefirst.co.uk/books/azi-ahmed-worlds-apart-964287.html#ixzz4EfdrhewY
-------
The freedom of competition for Muslim women
Jul 17, 2016
DUBAI, United Arab Emirates — In a coffeehouse with the world's tallest building preening from 2 miles out the front window, here sits another groundbreaker: a 26-year-old, female, Emirati, Arab, Muslim, competitive weightlifter with a vitality in her tone, a hijab on her head and a herniated disk hollering from her lower back.
Not so long ago, 19-year-old Amna Al Haddad never would have guessed she would reach spring 2016 speaking in enthusiastic paragraphs about her unforeseen odyssey.
She never would have envisioned herself just off her national team's attempt to qualify for next month's Olympics in Rio de Janeiro. She certainly would not have imagined herself as part of a concept gaining familiarity in the Middle East in the 2010s, that of the female athlete.
"I'm seeing it unfold, basically," she said, and 20 athletes from seven nationalities, plus those who raised them or coach them or know them, agreed in recent interviews.
Zahra Lari practices at the Zayed Sports City Ice Rink in Abu Dhabi in April. She hopes to compete at the 2018 Winter Olympics in Pyeongchang, South Korea.
They said there is less loneliness in being a female athlete in the region, even as they acknowledge that women still face significant impediments toward achieving Olympic-level excellence — entrenched cultural norms about the role of women foremost among them.
In London four years ago, Saudi Arabia, Qatar and Brunei became the last three countries to send female athletes to the Olympics. Sixteen Muslim countries from the Middle East sent a total of 158 women to the London Games, according to nation-by-nation figures compiled by the BBC, with Egypt sending its largest continent of female competitors — 37 — since it began participating in the Olympics in 1912.
In North Africa, Algeria sent 21 women, including a volleyball team; Morocco sent 18; and Tunisia's Habiba Ghribi, with a silver medal in the 3,000-meter steeplechase, became that country's first female medalist.
The Summer Olympics that open in Rio on Aug. 5 could see an increase in those totals. It would be a remarkable development for a region in which the idea of women competing in sports was discouraged, if not forbidden, less than a generation ago.
"It is at the birth of something," said Fatima Adwan, a spokesman for the6-year-old Fatima Bint Mubarak Ladies Sports Academy in Abu Dhabi, a government-backed organization aiming to increase female participation in sports, including its organization of weekly workouts routinely attended by 1,300 women.
"We don't want to get rid of anything," Adwan said. "The culture is what it is, and it's a beautiful culture as it stands. We want to say that you don't need to go against your culture to participate in sports."
A total transformation
Invariably, the region's female athletes seem to have the furnacelike insides of pioneers, as if charisma might stem from endorphins. Even when shorter than average, like Al Haddad at 5 feet 2 inches, they might talk in compelling barrages as she does, once ending a long answer with, "I don't know what I'm saying now. Ask me a question." They range from the ambitious to the recreational, and they often have support from governments. Here and there, they have renovated thinking, ignored critics in the dungeons of social media and transformed households.
"Amna has made all of us in the house love sport," said Amira Budebs, mother of six, with Amna the second. By now, their spacious house contains the gym Al Haddad carved out of a storage room, a training area she calls "raw" and "rough" and "dusty," with a squat rack against the wall and a silver barbell with stacked weight plates. It is among the places where she revs herself up by listening to metal such as the American bands Papa Roach, As I Lay Dying, and Disturbed.
Nowadays, a conversation around the house might feature her proud father, Salman Al Haddad, a retired oil and gas executive who keeps a gardening company, saying, "You were in the newspaper the other day," and Amna saying, "Really, which one?" Her mother, hailing from a generation in which young women did not consider going to gyms, now goes three times a week. She smiles and says something once inconceivable: "I love Zumba dancing."
Somehow, her daughter has waged a path that has led from the storage room to Seoul and Akron, Ohio, and Tashkent, Uzbekistan.
At a CrossFit event in Seoul in 2012, Al Haddad, as the only athlete covered in a headscarf, had the transformational experience of a camera crew following her, of strangers encouraging and congratulating her.
In Akron, mostly in 2015 after she had sharpened her focus to weightlifting, she did something rare for Middle Eastern single adults: She lived in her own apartment, learned to cook, do laundry, pay the internet bill. She worked with a trainer she had met in Columbus, where she competed three times in the Arnold Sports Festival, and he painstakingly deconstructed and then reconstructed a technique that needed help because of her late start in the sport.
She had come to joke that, in Akron, the only two Nike-sponsored athletes she could think of were herself and, as she charmingly misstated, "James LeBron."
In Tashkent, in April 2016, she competed in the Asian Weightlifting Championships, marveled at the Chinese team nearby, marveled further that the number of covered athletes had increased, from the Pakistani pioneer Kulsoom Abdullah, to the friendly Iraqi team, to one Thai athlete. She competed with her United Arab Emirates team — seven women, three men, some promising female teenagers — that came within a puny two points of Olympic qualification, then awaited the drug-testing results of the teams up ahead.
Near the end of the 10 days she had an epitome of an experience at the sports complex, on a stairwell. There, she happened across one of her 6,200-odd Instagram followers, Mohammed Simsim, the president of the Saudi Arabian Weightlifting Federation. "And he said to me, 'Amna, you are doing a great job. You're very well-known for your manners. Maybe, you know, I would like to have, one day, a Saudi female weightlifting team. And you could come in and teach.'"
If such thinking graces the officialdom of Saudi Arabia, renowned among its conservative neighbors for being far more conservative than its neighbors, then, she said, "Now, that is a memorable conversation for me! That, I could not forget, ever!"
All along, all over the place, she has seen hints of sports' social effects. Having competed for three years running (2013-15) in Columbus, she said, "In the States it's, 'Oh, she's covered, but she's doing sports. So they're not as oppressed as we think they are.'" She got thank-yous from a Kuwaiti CrossFit athlete who saw fit to compete covered, from a woman in Portland who decided to keep going to the gym even though everybody stared, even from Saudi husbands whose wives had joined them in sports.
She has met weightlifting bright lights such as Pyrros Dimas and Valerios Leonidis. She appeared, with seven other women from various nations, in the January 2015 issue of Cosmopolitan — or, as she puts it cheerily, "Cosmo USA!" (She meant it was not the foreign editions.) She says, "I am an athlete who is sponsored by Nike from the UAE. That's huge. That is something that I'm very proud of."
It has been some seven-year path for an erstwhile 19-year-old university student on antidepressants, a detail Al Haddad volunteers counterculturally. ("I don't care. For me, it's about educating people.") It began when she took a walk in Safa Park in Dubai. She decided she would have to change herself to elude her misery. She became a "fitness junkie," as she put it. She quit the antidepressants with a haste not generally prescribed. In her typically ardent research, she started reading that strength training cuts body fat. Once going, she adored the feeling of improved strength, eventually channeling full-on into weightlifting.
"Weightlifting is a very frustrating sport," she said. "And I feel I have grown a lot because of that frustration that I dealt with, with the sport. For me, what kept me going and not giving up on the sport, because I learned to become patient. I'm far from patient. I'm an angry person normally. For some reason the sport really calmed me down. I have no idea how. Like one of the best gifts I've had is when I approach the bar with such coldness."
It matters enough to her that she persisted after six months ago, when her doctor expressed worry that her back would shriek through her "second life," or postcompetitive life. In early May, when the back would not let her so much as organize her closet — her sister helped out — the doctor ordered six weeks off.
It would be her longest hiatus from exercise since her walk in Safa Park.
This is some way from when she first told her mother of plans so alien that they never would have even glanced across a mother's mind.
"Never, ever," Budebs said. "Never, ever, ever, ever. No, this is a surprise in my life. Something unusual. And you know our culture, people see it and it's very strange. But with her ambition, her willpower, she did it." She joked, "Maybe I am too much patience." She said, "It was something strange for me, and in my heart, I wanted her to change her mind. But she is the one who let others believe in what she is doing."
'She inspired us'
That kind of parental realization has dotted the region.
Just 75 miles down the wild and gleaming highway in Abu Dhabi, an 11-year-old girl in the middle of the last decade saw the film "Ice Princess," whereupon she hurried out to buy skates, whereupon she accidentally bought hockey skates and headed to Abu Dhabi's ice rink inside a sports complex. She quickly became a mainstay, until she reached mid-teens, when Zahra Lari's father, Fadhel, echoed a sentiment held around the region: that sports are not serious business, and that there comes a time to home in, especially on school.
Lari's mother, Roquiya Cochran, recalls her husband saying to Zahra, "'It's time you started to back away from it. You've done it. You've enjoyed it. OK, there's other things in life, and move on.'"
He did take the family to Dubai for a skating event in which Zahra would have competed had she continued, and where she could cheer for her still-skating friends. "And it just honestly, it broke his heart," Cochran said, "because she was cheering and she was happy for everyone else, but you know, you could see that she felt sad for herself. You could see it. … And yeah, it just broke his heart and he said, 'OK, I give up. You can continue.'"
Zahra, by now 21, the only daughter amid two supportive brothers, tacked on even more respect for a father she clearly adores. "He was like, 'You know what? Forget about what colleagues say at work,'" she said. "'Forget about whoever tells him anything.' And he was like, 'I know it's something that you love. You're not doing anything wrong. Then why not? Just go and work hard.' Because my dad, at work, he's got people telling him, 'Why do you allow your daughter doing this?' But I mean, he just ignores it. He's like, 'It doesn't matter what they say. I'm your father. I want the best more than anyone. And if I knew this was something wrong, I wouldn't let you do it.'"
So, in their fine house in a residential area just outside Abu Dhabi, a 21-year-old university student sets her alarm each day for 4 a.m., pushes the snooze button several times, mulls sleeping in, thinks of the 2018 Winter Olympics in South Korea, rises at 4:30 and drives to the ice rink.
Even for parents who never wavered in finding sports healthy, revelations have come. Zaid Al Bitar and Rania Dalloul, the parents of Sameera Al Bitar, the 26-year-old triathlete who swam for Bahrain in the 2004 and 2008 Olympics, already staunchly advised Sameera to ignore such troubles as a local newspaper columnist who objected to her competing in a swimsuit. Yet along the way, an even deeper feeling materialized. "What made us also give her the support, was herself, how much obedience (to her training), how much persistence," Zaid Al Bitar said by telephone from Cairo, where he and Dalloul reside nowadays.
He said, "That was really something to us we could not ignore."
And, he said, "She inspired us more than we inspired her."
At the Abu Dhabi World Professional Jiu Jitsu Championships in April, as men and women competed on adjacent mats, the male Lebanese-Syrian coach and teacher Khalid Walid Merii, 29, spoke of the fresh trickle of Middle Eastern women participating and said, "I think the more the generations keep going, it will keep changing more and more."
In a further wrinkle hatched this decade, 15 universities now hold intercollegiate competitions for about 550 men and about 450 women, said Peter Dicce, the assistant dean of students and director of athletics at New York University Abu Dhabi. Ninety percent of the women are local, he said. For soccer, they play in shorts at venues at which all the people — players, coaches, referees, assistants, spectators — are women. The women often find a possibility long unseen in the region: that sports can complement, rather than imperil, their academics.
'I lift a nation'
Of course, like other members of this flowering sisterhood, Al Haddad does note the obstacles. They far exceed the slight complications of when a headscarf slips during weightlifting.
She feels disconnected from peers who tend to lack her seriousness. In cultures where just about everyone yearns to get married, she surmises it will take "a very secure man" to marry her, even as she hopes for just such. She feels disconnected from peers who tend to lack such drive. "So as I get closer to 30, I'm my own woman," she said. "Nobody can tell me what I can and cannot do." She paused. "I mean, no one ever tells me what I can and cannot do anyway."
She laughed.
Starting late, in a generation that tended to start late, brought "a lot of challenges" and "a lot of struggles," Al Haddad said. "The way my body reacted is not the way I wanted it to." Technique suffered, becoming "a major setback for me, because the older you get in your sport, the harder it is to teach yourself the motor skills. And honestly just to see how I used to lift a few years ago and how I lift now, to me that's an achievement on its own."
As always, there is the issue of what to do about critics, who seldom pop up face to face but do tend to lurk behind keyboards.
"It is very easy to be criticized when you are a covered woman and you are doing sports," she said. "It is not something that is common. It is not something that is looked positively upon for some. So obviously I get a lot of negative comments. Personally I never pay attention to the comments, positive or negative, to be honest, because I know who I am and what I set out to do. Those who support me, I appreciate them, but those who don't, they don't even, like, exist, you know?"
If, for others, such critics are within families, that can prove prohibitive. "I know there are women who may love sports but may not want to ever pursue it further because they are afraid of what their family will say," she said. "Because it is 'shameful for a woman to do this and that,' blah-blah-blah."
With that reality in mind, she said, "Amna is more than a clean-and-jerk, a snatch and a total (points score). I tend to get a lot of questions, and one of the first questions I get from people is, 'How much do you lift?' My answer is, 'I lift a nation.'"
Come late June 2016, the UAE team would learn it had qualified for the Olympics because three teams ahead of it had failed doping tests. Based on recent results, the federation chose Aisha Al Balushi, 24, to represent the team in Rio. "I'm just really, really happy I was part of this, and I could say that I actually did it," Al Haddad said.
Earlier, in May, another woman who ventured from norms a generation ago, when she went away to university in Jordan, sat on the last seat of the left side of a front row of an auditorium at New York University Abu Dhabi.
There, Amira Budebs would hear a daughter she never imagined speak to a 100-strong assembly of students, professors, administrators. She had never seen Amna speak in person. She felt nervous just going, then sat wordlessly in front in her traditional black abaya. Outside, the merciless summer heat was well on its way, but indoors in the air conditioning, listeners heard of a different intensity.
For an hour, Al Haddad showed some of her Nike videos, showed quotations on the screen and spoke encouragements such as: "This is why I'm here today, because I did not try to get ahead of anyone, but ahead of myself." She told the listeners, "I used to get so angry. And now I'm super-chill."
When the loquacious speaker finished speaking, her mother's mind had been on some journey. "I had so many thoughts," she said, eyes wide, and soon she added, "Today when I am listening, I'm listening not to my daughter. I am listening to my teacher."
bendbulletin.com/sports/4496199-151/the-freedom-of-competition-for-muslim-women
-------
UN Women Liaison Office to bridge Abu Dhabi, New York
July 17, 2016
NEW YORK: In an agreement signed on July 16, the Government of the United Arab Emirates committed to the opening of the new UN Women Liaison Office for the Gulf Cooperation Council (GCC) in Abu Dhabi.
As a founding member of the Gulf Cooperation Council, the UAE has poised itself as a forward looking country committed to gender equality and the empowerment of women and girls.
It is also a top contributor to UN Women from the Arab Region.
The agreement was signed by UN Women Deputy Executive Director Lakshmi Puri and UAE Assistant Minister for Legal Affairs Abdulrahim Yousif Al Awadi, who also signed onto UN Women's HeforShe campaign.
"This is a pioneering moment and beginning of a new phase of our partnership," said UN Women Deputy Executive Director Lakshmi Puri, commending the leadership and political will that the government of the UAE has shown towards the advancement of gender equality and women's empowerment.
The Liaison Office in Abu Dhabi will be the only one of its kind in the region.
The UN Women Liaison Office for GCC will be hosted by the General Women's Union (GWU), which plays a fundamental role in empowering women in the UAE at all levels.
Due to the visionary leadership of Her Highness Sheikha Fatima Bint Mubarak, Chairperson of the GWU, the UN Women – UAE partnership has reached a new level with the signing of this agreement opening the way for enhanced and strengthened collaboration to advance gender equality and the empowerment of women and girls.
A leader in the region on gender equality and women's empowerment, in the recent years, the UAE has developed several policies to support women's economic empowerment and political participation at the national level.
Today there are 20,000 women entrepreneurs in the UAE, comprising 10 per cent of all Emirati entrepreneurs representing a 58 per cent growth since 2012.
In December 2012, the UAE passed a law calling for women's mandatory representation in all boards of governmental corporations and bodies, making it the first country in the region to implement such a law.
With its headquarters in New York, liaison offices in Belgium, Denmark, Japan and now the UAE, with 89 country offices around the world, UN Women works to remove barriers to equal opportunities for women and girls and to ensure that laws and commitments on gender equality and women's empowerment are fully implemented.
The new Liaison Office will have a strategic focus on partnership development in the area of policy advice and political advocacy with Gulf and Arab institutions.
The office will also assist to advance the status of women in the region, support national governments in the Gulf Cooperation Council and strengthen collaboration on gender-responsive implementation of the 2030 Agenda for Sustainable Development.
gulftoday.ae/portal/a529ca2d-6e35-424c-b366-c52d236302d8.aspx
-------
Report: Saudi women's lives dictated by male guardianship
July 17, 2016
DUBAI, United Arab Emirates — Saudi Arabia's guardianship system, which bars women from traveling abroad, obtaining a passport, marrying or exiting prison without the consent of a male relative, remains the most significant impediment to realizing women's rights in the kingdom, according to a report released Sunday by a leading human rights group.
The Human Rights Watch study takes on increasing significance as the kingdom works to implement its "Vision 2030" and "National Transformation Plan" to wean the country off its dependence on oil, including government targets to boost women's participation in the workforce.
The report also comes just seven months after Saudi women were allowed the right to run and vote for the first time in the country's only local elections, for municipal council seats.
The report finds that even with these greater opportunities, a woman's life in Saudi Arabia rests largely on "the good will" of her male guardian — often a father, husband, brother, or in some cases her son.
A 25-year-old referred to as Zahra in the report says her father used to beat her so severely that at one point she temporarily lost her vision and had to be taken to a hospital. Though her parents divorced and she lived with her mother, her father remains her legal guardian. He refused to allow her to study abroad on scholarship and she cannot travel abroad for work without his permission.
HRW, which interviewed 61 Saudis inside and outside the kingdom over the past nine months, says it used pseudonyms for its interviewees for security reasons.
"Guardianship really creates a system that is ripe for abuse," said the report's author Kristine Beckerle, a fellow in HRW's Mideast division.
The underpinning of Saudi Arabia's legal system and social norms is an ultraconservative Islamic ideology widely known as Wahhabism. Powerful Wahhabi clerics in the kingdom support the imposition of male guardianship based on a verse in the Quran that states men are the protectors and maintainers of women.
Other Islamic scholars argue this misinterprets fundamental Quranic concepts like equality and respect between the sexes. Other Muslim-majority countries, even those with Shariah courts, do not have similarly restrictive male guardianship laws.
HRW says the Saudi system effectively renders adult women as legal minors. The report also cites the kingdom's ban on women driving and an almost complete segregation of the sexes as further impediments.
Because of a variety of rules and informal restrictions, women in Saudi Arabia cannot make decisions for themselves "because they need to worry if their dad or father is going to agree." This could include signing a lease, getting a job, traveling, studying or getting married, Beckerle said.
Some guardianship restrictions have been loosened over the past decade, with women granted the right to work without male permission.
Under the kingdom's ambitious economic reform plans, women are encouraged to enter the workforce and companies are given incentives to boost female employment. However, penalties are not imposed on employers who refuse to hire women without the permission of male relatives. Some universities also require guardianship permission to enroll.
Other reforms have included granting Saudi women the right to obtain national identity cards without male permission. But in order to be granted an ID card, women must present a family card, which is issued to men. Recently, the government issued a directive allowing divorced and widowed women to obtain family cards, which grants them the ability to enroll their children in school, for example.
A law was passed in 2013 that criminalizes domestic abuse, and women can seek protection in shelters without the approval of a male guardian.
But women still cannot travel abroad with their children without the permission of the father, who remains the children's legal guardian, and women cannot provide consent for their daughters to marry, or pass their nationality to their children, the report said.
Informally, both public and private hospitals sometimes require a male guardian to agree before performing procedures, such as a C-section. Though not strictly enforced, women who are granted scholarships to study abroad must be accompanied by a male guardian. Female inmates must be released to a male guardian, leaving many either lingering in jail or shelters.
"There have been reforms on the margins that have no doubt had an impact on women's lives... but by and large they can't really get around without a male helping them," said Beckerle.
Associated Press writer Sam McNeil in Amman, Jordan contributed to this report.
stripes.com/news/middle-east/report-saudi-women-s-lives-dictated-by-male-guardianship-1.419573
-------
Mixed messages at all-female Islamic schools
July 17, 2016
Karachi: At 22, Wahabba Hussain had never worn a headscarf. As she walked into the classroom at Al Huda, an all-female Pakistani institute for Islamic studies, on a December afternoon in 2014, she felt a pang of worry.
Would the other women judge her immodest? A bad Muslim?
Hussain exhaled when she saw many of her classmates had removed their veils. Her teachers, some as young as she was, had angelic faces. For the next several months, studying the Quran and the life of the Prophet Mohammad (PBUH) among two dozen women every Friday became a haven for her in male-dominated Pakistan.
"I wanted something to feel at peace," Hussain said, lingering over a juice at an upmarket cafe in Karachi. "There is a very big sense of masculinity in this city. The classes are one of the best ways for women to connect with God in a way that is ours."
Al Huda — which caters mainly to educated urban women — is the best known of a growing number of female-only academies that form an important outlet in an increasingly conservative country. They offer women a space outside the home to study and socialise while empowering them with a measure of the religious authority long monopolised by powerful male mullahs.
Yet there is a paradox at the heart of the schools' appeal. Even as they seek to embolden women, many preach an austere interpretation of Islam that segregates the sexes, tolerates unequal gender roles and rejects other strains of the faith — philosophies that critics say contribute to Pakistan's growing fundamentalism.
A former Al Huda student was Tashfeen Malik, who went on a shooting spree with her husband in December at the Inland Regional Centre in San Bernardino, killing 14 people and wounding 21 others. Before the killings, the couple pledged loyalty to the leader of Daesh, raising questions about the role Al Huda might have played in radicalising Malik during the several months she spent attending classes in the southern Pakistani city of Multan.
It was the first time the school was directly linked to such an attack. Al Huda's founder, Farhat Hashmi, a Pakistani-born woman living in Canada, said the organisation "denounces extremism, violence and terrorism of all kinds" and should not be held responsible for students' "personal acts."
Hussain said none of her teachers at Al Huda — or any other academy — endorsed violence. "I've been to all of them and they never taught me anything like that," she said.
"There are so many girls going to these institutions. If all of them went around shooting ... well, the ratio is very, very low."
Many women say the academies have allowed them to reassert themselves in a society that often feels hostile to their gender. In Karachi, the sprawling port city where Husain lives, violence and lawlessness, combined with a creeping religious orthodoxy, conspire to restrict even many educated working women to roles as wives and homemakers.
Classes taught by women, for women, fill the drawing rooms of the city's best neighbourhoods and banquet halls in five-star hotels, as well as classrooms and more modest venues. Tickets for Quranic lectures are sold at coffee shops and perfume boutiques, aimed squarely at women from the middle class and above.
"It's an alternative space outside the home or kinship networks that women didn't have access to earlier, and it's important that they can justify to their families that it is something noble and religious," Faiza Mushtaq, a sociology professor at the Institute of Business Administration in Karachi, said.
"Farhat Hashmi and others like her have shrewdly found a space that spoke to the needs of these women. You could call it Islamic feminism: they offer a chance to be modern but also religious and educated at the same time."
One Karachi woman said she began studying Islam in 2000 to cope with the "emptiness" she felt after giving birth to two daughters. Al Huda drew women from different social classes together, a rarity in stratified Pakistan. Women who came to classes in chauffeur-driven SUVs picked up friends from the bus stop.
Yet the woman, a journalist in her mid-40s, quit after a few years in frustration over her teachers' failure to address social issues such as rape and extremist violence.
"I didn't see anything that advised us to act in a violent way. But it did make people profoundly religious," she said.
"I sensed that I was becoming more rigid. I was avoiding my husband's male friends and [avoiding] visiting places that had music. It started to create problems at home."
Like other women interviewed for this story, the ex-student requested anonymity because she has not disclosed to co-workers that she studied at Al Huda, which remains controversial despite its popularity. The religious establishment regards Hashmi as unqualified to teach the Quran and her methods as too modern. In liberal and secular circles, she is seen as reactionary and antifeminist.
Founded in 1994, Al Huda began as a response to the traditional schooling administered by large Islamist organisations, which many educated women had begun to view as regressive and overly political.
Muslim women have long gathered for informal study circles known as dars. Hashmi, who earned her Ph.D. in Islamic studies from the University of Glasgow in Scotland, created a university-style system with admissions requirements, fixed class schedules, homework assignments and an 18-month diploma programme.
In lectures, Hashmi advocates women's right to go to school and hold jobs.
She has raised the ire of traditionalists by ridiculing certain ritualistic beliefs such as barring women from entering mosques when they're menstruating or not allowing them to pray while wearing nail polish.
But generally, Al Huda's curriculum is in line with the orthodox Sunni Muslim establishment that has held sway in Pakistan since the 1980s. Shiite Islam, Sufism and other strains of the faith are seen as sacrilegious. Some students said divorce was discouraged. All said they began to dress more modestly.
About a year after she began attending classes, Hussain decided to don the Islamic headscarf, or hijab. She hangs out with her friends less often in public places now, preferring to invite them to her house for barbecues. Recently, she was engaged to a young man of her family's choosing.
But she hasn't shunned her other male friends or broken off her old friendships. She listens to Islamic music, but she remains a huge fan of pop artists like Taylor Swift and Imagine Dragons.
"Music continues to be my weakest point," Hussain said laughing. "I would still call myself a struggling practicing Muslim."
Another woman, a psychotherapist, appreciated many of Hashmi's views but found some former teachers and classmates too conservative. She recalled one class in Karachi where all the women were dressed in full-length abayas and gloves.
"They all looked like Ninja Turtles to me," she said. She felt more comfortable at Zaynab Academy, a moderate institution in Karachi that often holds classes at teachers' houses, followed by tea and snacks.
Al Huda, Zaynab and other academies operate outside the jurisdiction of the five waqfs, or boards, that govern Islamic education in Pakistan. Most operate as non-profit, which gives the government authority to inspect their finances, but otherwise there is no formal oversight of their curriculum.
Some Pakistanis assume that, because the Islamic institutes have proliferated so quickly in a country where mainstream schools lack sufficient teachers and supplies, the institutes have received at least some funding from Saudi Arabia. US officials and international experts have found that Saudi Islamic charities are among the primary financiers of religious schools in Pakistan, a key ally and part of the kingdom's strategy to spread Sunni orthodoxy across the Muslim world.
"They are contributing to the more conservative, more intolerant, narrowly sectarian view of Islam that's spreading in Pakistan," Mushtaq said.
"But there is no question that they are empowering women. They have unsettled the model of Islamic learning and knowledge that was dominated by men."
gulfnews.com/news/asia/pakistan/mixed-messages-at-all-female-islamic-schools-1.1863661
-------
OMANIS CONSTITUTE 38.7% OF PUBLIC AND PRIVATE SECTOR WOMEN EMPLOYEES: MOCS
July 16, 2016
Omani women constituted 38.7 per cent of the total number of women employees in the public and private sectors as at the end of 2015.
According to statistics from the Ministry of Civil Service (MoCS) and ROP there were 318,286 women working in the civil service and private sector as at the end of December 2015. Of them 123,301 were Omanis and 194,985 expatriates.
Statistics show that there were 73,056 Omani women in the civil service units working in educational services and assisting jobs.
Omani women working in medicine, public health and assisting jobs represented 46.9 per cent of the total Omani employees that stood at 155,761.
The number of Omani women working in the private sector stood at 50,245, representing 24 per cent of the total number of 209,544 Omanis in the sector as at the end of last December.
According to the MoCS statistics until the end of 2015, the number of Omani women on standardised grading scale totalled 58,569, whereas the number of Omani women in sectors such as medicine, pharmacy, engineering, health assistance, nurses, assistant pharmacists, health information management, teaching staff in the health institutes affiliated to government medical institutions stood at 14,487.
Statistics showed that Omani women on financial grades, from eighth to tenth grades on the standardised grade table, which does not include those employees who are not on the medical regulation, accounted for 72.7 per cent, with 42,553 women from the total number of Omanis.
They accounted for 12.8 per cent on financial grades from the special grade to the seventh grade, and 14.5 per cent on financial grades, from 11th to 18th grade in the standardised table.
The number of expat women in the civil service units stood at 12,557 and included 41 women from the GCC countries, 3,589 Egyptians, 793 Sudanese, 218 Jordanians, 766 Tunisians, 58 Iraqis, 24 women from other Arab countries, 4,501 Indian nationals, 231 Pakistanis, 60 Sri Lankans, 108 Bangladeshis, 2,120 Filipinos, six British and 42 of other nationalities.
The annual report of MoCS said that 36,873 Omani women had training opportunities both inside and outside the sultanate during 2015, constituting 54.4 per cent of the total number of trained personnel, of whom 245 women were enrolled in training courses abroad.
Statistics published by the National Centre for Statistics and Information (NCSI) stated that the Governorate of Muscat accounted for the largest proportion of Omani working women with 24,938, constituting 49.4 per cent.
The Governorate of North Batinah came second with 13.8 per cent and 6,937 women; 3,839 women in the Governorate of South Batinah and 3,495 women in the Governorate of Dakhliyah.
Statistics showed 23,025 or 45.8 per cent of the total Omanis insured working women in the private sector were earning a monthly salary between RO325 and RO400.
While 7.13 per cent were earning a salary of RO400-RO500 per month, 7.9 per cent earned between RO500 and RO600, 7.9 per cent between RO1,000 and RO2,000, and 1.7 per cent more than RO2,000.
muscatdaily.com/Archive/Oman/Omanis-constitute-38.7-of-public-and-private-sector-women-employees-MoCS-4rfj#ixzz4EffHloFY
URL: https://newageislam.com/islam,-women-and-feminism/new-age-islam-news-bureau/-life-of-a-muslim-girl,-andleeb-zaidi,-turned-model-/d/107989
New Age Islam, Islam Online, Islamic Website, African Muslim News, Arab World News, South Asia News, Indian Muslim News, World Muslim News, Womens in Islam, Islamic Feminism, Arab Women, Womens In Arab, Islamphobia in America, Muslim Women in West, Islam Women and Feminism