New Age Islam News Bureau
3 May 2019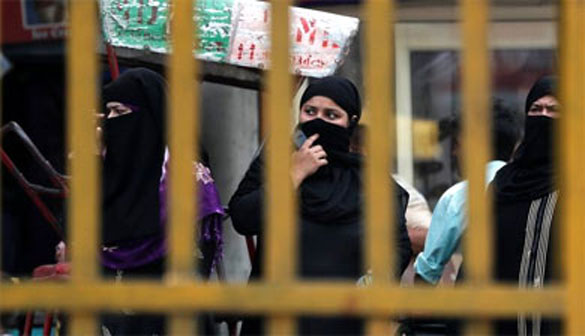 Kerala's Muslim Education Society bans burqa on its campuses
-----
• Dozens of Yemeni Girls and Women Face Secret Houthi Trials on False Prostitution Charges
• German Conference on Islamic Veil Sparks Controversy
• Malaysia's First Female Top Judge Is 'Big Step' For Women's Justice
• Local Personality Mizz Nina Asks Women to Join the Hijab Challenge This Ramadan
• 7 Ways Moroccan Women Prepare for Ramadan
• Forum Organized to Boost Women's Role in Saudi Labour Market
• Saudi Arabia Temporarily Frees Four Women Activists
• Teachers Day in Iran Marked By Teachers' Protests to Dire Conditions
Compiled by New Age Islam News Bureau
URL: https://www.newageislam.com/islam-women-feminism/let-follow-islam-kerala-islam/d/118492
--------
'Let's Follow Islam in Kerala, Not Islam of Middle East': Muslim Education Society Bans Burqas on Campuses
May 2, 2019
Thiruvananthapuram: The Muslim Educational Society (MES) in Kerala has banned all face-covering attires, a circular issued on April 17 said.
The Kozhikode-headquartered MES that runs over 150 educational institutions in the state banned all face covering attires from their campus from the upcoming academic year 2019-2020.
MES President Fazal Gafoor, a medical professional, issued the circular last month and directed that this should be strictly adhered to by both students and teachers in all their educational institutions.
"Let's follow the Islam in Kerala and not the Islam of the Middle East," Gafoor told News18 Kerala. "For the last five years orthodox Muslim groups have been imposing their dress code in Kerala institutions...we have decided to curb this menace. We have a dress code — salwaar kameez for females."
"There is no need for any controversy as the circular states that the dress code should be decent and the face should not be covered. This is our view and it will be implemented," he added.
Set up in 1964, MES runs more than 150 institutions including more than 50 schools, a number of postgraduate colleges, women's colleges, professional institutions like engineering colleges, medical college, nursing college and dental college.
However, Sayyid Muhammad Jifri Muthukkoya Thangal, president of the popular Muslim organisation Samastha Kerala Jamiyyathul Ulama, said these are all religious issues.
"MES cannot decide on religious issues and it's not right in what they have done," said Thangal.
The circular has led to protests among other Muslim organisations, who say it goes against the religious tenets and sentiments of the community and the educational society should consult various organisations before taking such a decision.
On Wednesday, the Shiv Sena in its mouthpiece 'Saamana' asked Prime Minister Narendra Modi to follow Sri Lankan President Maithripala Sirisena's footsteps and ban burqas and other face-covering garments in India considering the threat it poses to the nations' security.
Responding to the editorial, All India Majlis-e-Ittehadul Muslimeen (AIMIM) leader Asaduddin Owaisi hit out at Shiv Sena saying that the fight against terrorism does not entail the dress, but the mindset.
https://www.news18.com/news/india/lets-follow-islam-in-kerala-not-islam-of-middle-east-muslim-education-society-bans-burqas-on-its-campuses-2125721.html
--------
Dozens of Yemeni Girls and Women Face Secret Houthi Trials on False Prostitution Charges
Mina Aldroubi and Ali Mahmood
May 2, 2019
Concerns are growing over the fate of 65 women and underage girls on trial in Houthi courts this week on false charges without legal representation.
The women have been in rebel detention for more than a year and are falsely accused of prostitution and aiding the Arab Coalition that is trying to restore the government of President Abdrabu Mansur Hadi.
"Houthi rebels have forced the women against their will to confess to taking part in prostitution rings after they rounded up, forcibly disappeared and tortured them, while blackmailing their families," a Yemeni human rights activist said.
A Yemeni human rights activists said the Houthis tortured the women and girls, and forced them to confess to being part of a prostitution ring, then blackmailed their families.
Female associates of the rebels tricked the women into meeting them for food and medical supplies, then abducted them and took them to secret prisons in the capital Sanaa, the activist said.
"They were tortured to confess in front of cameras that they took part in prostitution networks belonging to Yemen's former president Ali Abdullah Saleh's regime."
Mr Saleh and his supporters formed an alliance with the rebels against the government in 2014 but it later fragmented.
The former leader was accused of treachery and was killed in late 2017.
The Houthis are requesting large sums of money from the women's families for their release, a Yemeni government official told The National.
Most of the women have been subjected to the most heinous forms of psychological and physical abuse.
A national commission in Aden that investigates human rights breaches has opened an inquiry into the women's disappearance.
Under-age girls are among the kidnapped women, Huda Al Sarari, lawyer and president of Yemen's human rights organisation, told The National.
"Houthis have committed many serious violations against women and girls to blackmail their families with money by abducting them and demanding financial ransom," Ms Al Sarari said.
Families of the women and girls have agreed with the Houthis not to protest against the rebel movement in return for their freedom, another human rights activist said.
"The Houthis did not fulfil their promise and they know that Yemeni families will be afraid to go public," he said.
"This issue is very sensitive among Yemenis and therefore they know they can twist the arms of their families as much as they like."
Yemen has been embroiled in a civil war after the Iranian-backed rebels seized Sanaa in late 2014, and forced the internationally recognised government out.
The war has tipped the country to the brink of famine.
Last January, the Associate Press and human rights groups said that dozens of women were held in secret prisons operated by the rebels in Sanaa.
Thousands of Yemenis have been imprisoned by the rebels during the four years of the war and many have been tortured, the reports said.
Houthis have also arbitrarily arrested and detained critics and opponents, journalists, human rights campaigners and members of the Bahai community.
But they deny the existence of secret prisons and illegal and arbitrary detentions.
The government has called on international organisations to release all detainees, men and women, held by the rebels.
"We urge the UN to act," Majed Fadhil, Yemen's deputy human rights minister, told The National.
"Until now they have not taken any action, nor have they released any reports regarding this crucial issue, which encourages the rebels to commit further violations."
https://www.thenational.ae/world/mena/dozens-of-yemeni-girls-and-women-face-secret-houthi-trials-on-false-prostitution-charges-1.856588
--------
German Conference on Islamic Veil Sparks Controversy
02.05.2019
Islamic veils and headscarves remain the subject of heated public debate in Germany. Some view them as part and parcel of religious freedom; others as a symbol of women's oppression in Islam. The German court system has already taken up the issue of whether school teachers should be banned from wearing a partial headscarf or full veil — or any other openly religious symbols — in class. To complicate matters further, not all of Germany's 16 states see eye-to-eye on the matter, which is gaining in visibility due to the country's changing demographics.
Germany's Muslim population, which has rapidly increased in recent years due to immigration from Muslim-majority countries, was estimated at between 4.4 and 4.7 million people or approximately 5.5% of the country's total population in 2015, according to the Federal Statistical Office. The number is doubtless higher now, according to the agency, but updated official figures exist.
With these demographic changes come societal debates — one of which, that of the Islamic veil, has been a continual source of discussion. The latest veil controversy, which made headlines all across Germany, has occurred over a planned academic conference — something that even its organizer did not expect.
Academic accused of peddling 'anti-Muslim sentiments'
Professor Susanne Schröter, who has been researching Islam in Europe at Frankfurt University since 2008, has planned a conference titled "The Islamic veil – Symbol of dignity or oppression?" for May 8. A small group of students has criticized the conference, accusing her of wanting to spread Islamophobic sentiment and calling for her resignation.
Zuher Jazmati, a member of the "Uni gegen antimuslimischen Rassismus" ("University against anti-Muslim racism") initiative told DW: "We do not believe a value judgment ought to be made on whether or not someone wears a veil. Making such a judgment is annoying for and a burden on any woman wearing one." Jazmati believes that such discussions even encourage violence against Muslim women.
He also opposes several of the invited conference speakers. Jazmati takes issue with the attendance of German journalist Alice Schwarzer, who publishes Emma, a feminist magazine. He also opposes Islam critic Necla Kelek, whom he accuses of having expressed highly contentious statements in the past and of perpetuating a racist discourse. "When we discuss this topic we should do so with women in attendance who wear a veil so they can speak for themselves," Jazmati underlines.
'Just a regular conference'
Schröter is adamant that the event will go ahead as planned. She told dpa press agency: "I assumed that this would be just a regular conference that would not stir controversy. After all, we have been discussing the Islamic veil for nearly 20 years now." While she said the Islamic veil had indeed become a hotly debated topic, she underlined that the conference had been planned merely to contextualize the controversial "Contemporary Muslim Fashions" exhibition at Frankfurt's Museum of Applied Arts. The professor noted that proponents of the veil, like theologian and Quranic expert Dina El-Omari, who herself wears the covering, have been also been invited to the conference.
Still, Schröter is known for her critical view of Islamic veils. In August last year while attending a conference of the nonprofit women's rights organization Terre des Femmes, she reportedly stated that the covering impedes women's freedom and is often "tied to a whole bundle of restrictions."
In early April this year, she published an article in German daily Frankfurter Allgemeine Zeitung titled "What does God have against showing hair? Those who favor Islamic fashion should be aware of its repressive nature."
Freedom of speech under threat?
Meanwhile, the German Association of University Professors and Lecturers (DHV) warned that freedom of speech was under threat at German universities. "Dissenting opinions must be respected and tolerated," insisted DHV president Bernhard Kempen. Differences of opinion must be resolved through debate and not by boycotting, bashing, mobbing or violence, he stressed.
Birgitta Wolff, the president of Frankfurt University, has backed Schröter, stressing that it is part of her job as professor to organize academic conferences at which differing opinions are voiced.
Schröter says that universities should be about freedom of speech and a plurality of opinions: "Universities are a place for discussions, not a place where small lobby groups decide what can and cannot be said." In an interview with German daily Die Welt, Schröter said critics have tried to "intimidate" and "defame" her, and that they were attacking the principle of free speech, adding that they were accusing her of "anti-Muslim racism" because they reject all criticism of Islam.
At present, it looks unlikely an amicable solution to the conference dispute will be found. Jazmati says that the list of invited speakers means neither he nor other members of his organization will attend the event, though he says he will look at conference excerpts released afterwards to see if the things his organization expected did happen. So far, there has been no direct communication between Schröter and the group Jazmati represents.
https://www.dw.com/en/german-conference-on-islamic-veil-sparks-controversy/a-48581723
--------
Malaysia's First Female Top Judge Is 'Big Step' For Women's Justice
3 May 2019
By Beh Lih Yi
KUALA LUMPUR, May 3 (Thomson Reuters Foundation) - In a rare move for Asia, Malaysia has appointed its first female top judge, leading to calls from human rights activists on Friday to reform the country's judiciary and improve the low conviction rates for crimes against women.
Widely seen as a progressive judge, Tengku Maimun Tuan Mat, an ethnic Muslim Malay woman, was unveiled as the country's next chief justice by the prime minister's office on Thursday.
There have been a rising number of female judges in Malaysia's top courts in recent years but women's rights groups hoped her appointment would help tackle the low conviction rates in cases like rape and domestic violence.
"We hope there will be more justice for women who go to court," Majidah Hashim, a spokeswoman for the Kuala Lumpur-based women's rights group, Sisters in Islam, told the Thomson Reuters Foundation.
Among the 10,810 cases of domestic violence reported between 2015 and 2016, only 7 percent resulted in a conviction, according to official figures cited in a report by the non-profit Women's Aid Organisation.
For rape, out of some 28,700 rape cases reported between 2005 and 2014, only about 3 percent saw guilty verdicts, the report showed.
In cases such as divorce and domestic violence, Majidah said women sometimes have had to wait up to 10 years to get a court judgment granting a separation because of a "lack of empathy" among male judges.
Women at the helm of the judiciary are rare in Asia.
Maria Lourdes Sereno was the first woman chief justice in the Philippines until she was ousted last year after President Rodrigo Duterte called her an "enemy" for voting against controversial government proposals.
Latheefa Koya from Lawyers for Liberty, a non-profit of human rights lawyers, said the appointment was a "big step".
"It makes a difference when it comes to cases which involve the rights of women - rights at the workplace, marriage and divorce," said the executive director.
"If you have gender balance in the judiciary it only means there will be consideration and understanding from a woman's perspective," she added.
Malaysia's government, which came to power a year ago on promises of reforms, has pledged to improve its record on women rights.
Women's rights groups however, have criticised the government for failing to fulfil an election promise to have at least a third of women in policy-making positions.
Malaysia was ranked 101 out of 14 countries in the World Economic Forum's 2018 Gender Gap Index after scoring poorly on political empowerment.
http://news.trust.org//item/20190503085417-640dy/
--------
Local Personality Mizz Nina Asks Women to Join the Hijab Challenge This Ramadan
03 May 2019
By Mark Ryan Raj
PETALING JAYA, May 3 — Former musician, Mizz Nina, 38, has taken to Instagram to invite women of all faiths and backgrounds to take part in a 30-day Ramadan Hijab Challenge.
In a post on her official social media pages, Shazrina Azman, also known as Mizz Nina, urged women from all over to partake in the #Hijab30 challenge as a show of solidarity for Muslim women who face discrimination for 'covering up'.
The challenge is pretty simple.
They have to start wearing a headscarf on the first day of Ramadan, expected to begin on May 5 until the last day on June 4.
There is no requirement for you to be a Muslim to take part, as women from other walks of faith are also encouraged to experience what it would be like to wear a headscarf, and later share their experiences on social media using the hashtag, '#Hijab30'.
Her post garnered mainly positive comments.
Having recently celebrated her sixth year since wearing a headscarf, Shazrina, who is also co-founder of the Islamic lifestyle channel Dopstv, hopes that by encouraging more people to put on a headscarf, the whispers of Islamophobic discrimination can slowly be silenced through awareness amongst communities around the world.
In another post, she said that wearing a headscarf is a choice and that it is also a way for her and other Muslims to express their love and submission to God, which is why the discrimination they face is uncalled for.
https://www.malaymail.com/news/showbiz/2019/05/03/local-personality-mizz-nina-asks-women-to-join-the-hijab-challenge-this-ram/1749432
--------
7 Ways Moroccan Women Prepare for Ramadan
By Safaa Kasraoui
May 1, 2019
Rabat – Muslims across the globe are preparing to welcome the holy month of Ramadan. Moroccan women, however, have multiple missions to accomplish during the month of Sha'ban, the eighth month of the Islamic calendar, which comes before Ramadan.
Moroccan women welcome Ramadan in special ways, but each woman has a preference for what she starts with. For women with jobs, Moroccans find the time to balance their employment and housework.
While keeping in mind that Ramadan is a period to devote most of the time to prayer and reciting the Qur'an, women also find time to get extra work done, the following seven in particular.
Fasting for extra divine rewards
During Sha'ban, the eighth month in the Islamic calendar, some Moroccan women start fasting some extra days ahead of the holy month either to gain rewards from God or to make up for days they did not fast during the previous Ramadan.
In Islam, women are allowed to eat during their menstrual periods in the holy month, but they usually will fast for the same number of days they missed in the weeks or year following Ramadan. Women are also not allowed to pray during menstruation.
Celebrating Sha'bana
When Ramadan is only 10 days away, Moroccan women, especially in the old medinas (walled cities) celebrate a ceremony called Sha'bana. The word is derived from the month's name.
One woman takes the initiative to host the ceremony at her house and offers foods and pastries to her female friends and relatives.
The ceremony is also often accompanied by special music, especially "amdah" or "issawa," musicians who perform religious chants.
During the ceremony, Moroccan women also adorn their hands with green Moroccan henna.
Shopping, shopping, shopping
With Ramadan coming closer, Moroccan women rush to the nearest souqs to buy all the products they will need to make traditional foods ready for the Ramadan table.
Some products and spices are more important than others! Into the shopping bag go sesame seeds, almonds, cinnamon, colorful spices, nuts, dates, and many more ingredients women need to make sweets and pastries.
Some Moroccan women also tend to buy new kitchen materials during Sha'ban, such as new bowls and the famous wooden spoons used for eating harira, a flavorful red chickpea soup.
Preparing ingredients
But after shopping is when the magic begins to happen. The period is when Moroccan women start using their ingredients to make delicious food and pastries to serve during the breaking of the fast, called "iftar" in standard Arabic and "ftour" in the Moroccan Darija dialect.
But before they can make the food, there are several steps to prepare the ingredients that take place in the majority of houses across Morocco, including sifting the stones and extra material out of products like sesame seeds before using them.
Women gather with their female relatives every evening to clean sesame seeds using wood, plastic, or metal basins.
After thorough cleaning days, women wash the sesame seeds, which they will later toast and use in several recipes.
Women use the same procedure for all other seeds.
Making the food
The first thing women make is the famous sellou and chebakia, two important foods that Moroccans serve throughout the holy month.
Following all the shopping and cleaning, women start using the ingredients in their dishes. To prepare chebakia, Moroccan women use seeds, butter, cinnamon, blossom water, saffron, honey, and vinegar.
Once they mix the ingredients and shape the dough, the pastry makers fry chebakia in a large pot filled with hot vegetable oil. The sweet little chebakia flowers should be removed from the oil when they get a sandy color, and Moroccans will pour a large quantity of honey onto them.
For sellou, Moroccan women will use a pot to slowly melt butter. In another container, cooks mix all dry ingredients: Browned flour, powdered sugar, a pinch of cinnamon, ground mastic gum, and salt. Moroccans then add crushed and ground almonds, sesame seeds, and honey.
Stocking the fridge
Correct me if I am wrong, but if you look into a Moroccan kitchen now, you will find that most are stuffed with plastic bags of pureed tomatoes, chopped-up coriander and celery leaves, and frozen chickpeas.
Women tend to make life easier for themselves during Ramadan by stocking up and preparing ingredients ahead of time. The stored items will be used for a fresh and flavorful harira soup.
Grand house cleaning
After the shopping, cleaning, and preparation of sellou and chebakia, women mobilize themselves for a grand cleaning, especially in their kitchens.
Some families also like to dye their houses during the month of Ramadan, which symbolizes purity for them and serves as an opportunity for Muslims to clean their souls through prayers.
https://www.moroccoworldnews.com/2019/05/271995/moroccan-women-ramadan-traditions/
--------
Forum Organized to Boost Women's Role in Saudi Labour Market
May 03, 2019
RIYADH: The Council of Saudi Chambers' Coordination Council for Women Affairs (CWA) organized the first forum for the recruitment of women in beauty companies and salons in cooperation with the Riyadh Chamber on Tuesday.
The event was held to promote communication between beauty companies and salons and women looking for a job, raise the participation of women from 20 to 30 percent and increase the number of beauty salons and companies, as well as showcasing 371 administrative and specialized job opportunities.
The forum included three workshops. The first discussed ways of dealing with bosses, colleagues and auditors. The second tackled the labor laws and related regulations, while the moderator of the third workshop spoke of her work experiences in beauty salons and companies and the road to success in the field.
The CWA aims to increase Saudi women's contributions to the labor market, train working women, provide women with new job opportunities, promote their role in economic development, identify and address the challenges facing working Saudi women and address them, and organize specialized training programs and sessions.
The beauty industry is one of the Kingdom's promising economic sectors with 70 percent or SR3 billion ($800 million) of women's investments.
http://www.arabnews.com/node/1491686/saudi-arabia
--------
Saudi Arabia Temporarily Frees Four Women Activists
May 3, 2019
Four more women's rights activists have been temporarily freed in Saudi Arabia, bringing the total to seven in two months.
UK-based Saudi rights organisation ALQST said Hatoon Al-Fassi, Amal Al-Harbi, Maysaa al-Manea, and Abeer Namankani were all released, with reports a fifth had also been let out.
They are among 11 women held for about a year on charges related to the country's cyber-crimes law.
Saudi officials are yet to comment.
The terms of their release and when they will return to jail are unclear.
The government in Riyadh has come under international pressure to free the women who were arrested last year in May shortly before authorities lifted a ban on women driving.
All 11 women were put on trial in March. When they were detained in 2018, the public prosecutor's office said they were suspected of harming national interests.
They have been accused of contact with foreign journalists and human rights organisations.
Some of the women in court appearances say they have been electrocuted, flogged and sexually harassed in prison, allegations Saudi authorities have denied.
In March 36 states at the UN Human Rights Council jointly condemned Saudi Arabia for the women's detentions, the first collective rebuke of the Gulf kingdom since the council was set up in 2006.
While the release of the three activists in March ignited hopes for change, in April the kingdom detained a number of other activists - including two dual US-Saudi citizens and a pregnant women.
The group are said to be bloggers and writers who have discussed reform.
Scrutiny of Saudi Arabia's human rights record has intensified since the murder of journalist Jamal Khashoggi at the Saudi consulate in Istanbul last October.
Turkish investigators and others have pointed the finger at Crown Prince Mohammed bin Salman, seen as the real power behind the throne, alleging he orchestrated the murder.
But the Saudi authorities deny he was involved and blame a "rogue" operation. Eleven people went on trial in January.
The arrests of activists and writers are seen as an attempt to shut down criticism of the crown prince, who has himself enacted some reforms.
https://www.bbc.com/news/world-middle-east-48142640
--------
Teachers Day in Iran Marked By Teachers' Protests to Dire Conditions
May 2, 2019
The Teachers Day in Iran on May 2 was marked by widespread protests and demonstrations by working and retired teachers and educators across Iran.
On this day, Iranian teachers held protests and demonstrations in a number of cities upon the call by "the Coordinating Council of Educators Guild."
In Tehran, teachers and educators held a protest in front of the Education Department. Their gathering was attacked by security forces and a number of protesting teachers were arrested. The participants, however, continued their protest. Women teachers played an active role in this protest.
The protesting teachers chanted, "Our suffering is yours, people join us", "neither the parliament, nor the government, think of the nation."
Other gatherings on the Teachers Day were held in the provinces of Razavi Khorasan, Qazvin, West Azerbaijan, East Azerbaijan, Alborz, Kermanshah, Hamedan, Kurdistan, Lorestan, Fars, Markazi, Mazandaran and Isfahan. The cities where the gatherings were held outside the departments of education were Ardebil, Tabriz, Mashhad, Sanandaj, Malard, Karaj, Javanrood, Torbat-Heydarieh, Khorramabad, Sari, Khomeini-Shahr, Rasht, Divandarreh, Homayoun Shahr, Marivan and Mahabad.
Iranian teachers and educators protested against their dire living and job conditions and blasted the regime's wrong policies on education on the Teachers Day.
Some of their placards read, "Imprisoned teachers must be freed", "stop turning education to an enterprise", "free, high quality, and fair education is the right of all children," and demanded that the bank in charge of handling the salaries of educators be changed.
These protest gatherings are the first of their kind in the new Iranian year which began on March 21, 2019, which was extensively accompanied by the active role played by women.
Throughout the last year, women actively participated in at least 581 acts of protest by teachers and retirees. Teachers held five nationwide protests and sit-ins during the past year.
https://women.ncr-iran.org/2019/05/02/teachers-day-in-iran-marked-by-teachers-protests-to-dire-conditions/
--------
URL: https://www.newageislam.com/islam-women-feminism/let-follow-islam-kerala-islam/d/118492
New Age Islam, Islam Online, Islamic Website, African Muslim News, Arab World News, South Asia News, Indian Muslim News, World Muslim News, Women in Islam, Islamic Feminism, Arab Women, Women In Arab, Islamophobia in America, Muslim Women in West, Islam Women and Feminism