New Age Islam News Bureau
3 Jun 2017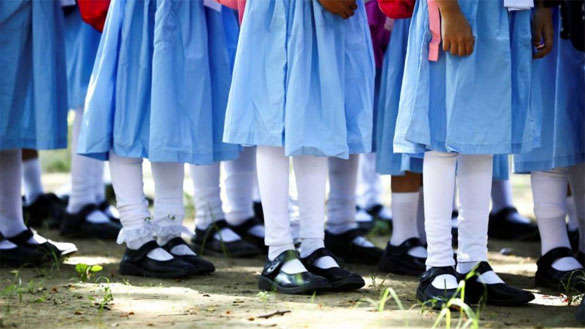 There are a total of 12 million child marriages below the legal age.
---
• Saudi Woman Arrested For Going Out Without Traditional Muslim Clothing
• Muslim Man Refuses To Shave Beard, Wife Throws Boiling Water on Him in Aligarh
• Burqa Ban in Mosul: Iraqi Army Stops Women Covering Their Heads As ISIS Militants Use the Garments While Launching Suicide Bombings
• New Shelter for Muslim Women Coming To Windsor
• 19-Year-Old Tasmida to Be First Rohingya Muslim Girl to Appear Class 10 Board Exam In India
Compiled by New Age Islam News Bureau
URL: https://www.newageislam.com/islam-women-feminism/law-child-marriage-conflict-with/d/111401
-------
'Law against Child Marriage In Conflict With Muslim Personal Law': Indian Judge
By A Vaidyanathan | Updated: June 02, 2017
NEW DELHI: More than 85 years after the first law to outlaw child marriage was enacted, official statistics show that the practice is still prevalent in a large number of states. On Thursday, a top Supreme Court judge said laws prohibiting the menace had failed because laws often could not force societies to change. And it did not help if a social evil banned by a law had sanction from the society or personal laws of a religion.
Speaking at the release of an analysis of child marriage statistics in the country, Supreme Court Judge Justice AK Sikri said the prevention of child marriage was a secular law but was in conflict with Muslim Personal Law.
"Prevention of child marriage act is a secular law. But the Muslim personal law says once a girl attains puberty, she is ready for marriage. Nowadays, a girl attains puberty at the age of 11," the judge said, pointing that such situations arose in case of personal laws of other religions too.
Citing the overhaul of the rape laws after the national outrage over the brutal gang rape of a Delhi girl in December 2012 as one instance where society compelled parliament to enact a law, the judge said child marriage was one of those laws that had failed to deliver because of their non-acceptance by society.
Dowry was another. "In marriages, dowry is openly given. Though it is an offence, no one reports it," he said, releasing the report compiled by Young Lives, an NGO in collaboration with National Commission for Protection of Child Rights.
Stuti Kacker who heads the commission said both boys and girls were still getting married in large numbers with a total of 12 million child marriages below the legal age. The largest proportion of child marriages in the country take place in Rajasthan, followed next by Andhra Pradesh.
http://www.ndtv.com/india-news/law-against-child-marriage-in-conflict-with-muslim-personal-law-judge-1706882
------
Saudi Woman Arrested For Going Out Without Traditional Muslim Clothing
May 31, 2017
The police of Saudi Arabia have detained a young woman for violating modesty rules after she walked through one of the main streets of the Saudi capital of Riyadh presumably dressed in a jacket over a dress rather than in traditional robe and headscarf, local media reported.
The woman was reportedly arrested after a complaint was filed by the Saudi religious police known as the Promotion of Virtue and Prevention of Vice Authority.
"Police officers have detained a girl who had removed her abaya on al-Tahliya street, implementing a challenge she announced on social media several days ago," the Riyadh police spokesman, Colonel Fawaz al-Maiman, told the Saudi Al-Sharq newspaper.
An abaya is a loose-fitting, full-length robe that woman are required to wear in public in Saudi Arabia alongside with hijab, which is a headscarf that leaves a face open, or niqab – a full-face veil leaving only a small opening for the eyes.
Even non-Muslim female foreigners are usually required to wear at least the abaya and Muslim women are expected to wear at least the hijab when they enter the Arab kingdom.
The arrested woman is identified as Malak Al Shehri, who provoked a wave of condemnation on Saudi social media platforms in late November by posting photos of herself wearing a dark blue coat, bright multicolored skirt and boots while walking though the Riyadh streets on Twitter.
Before posting the photo, Shehri told her followers that she was going out to breakfast without wearing a hijab or abaya, International Business Times reported. She was asked to post a photo. The picture quickly began circulating throughout social media and Shehri eventually started receiving threats and hateful messages that forced her to delete her account.
That led to online insults and condemnation. Some even called for her prosecution and execution. On Twitter, an Arabic hashtag was launched that read "#we_demand_imprisonment_of_Malak_Al-Shehri."
But the woman appears to have a lot of supports as well – a hashtag #FreeMalakAlshehri was launched both in English and Arabic after reports of her being arrested.
A Saudi student, who re-tweeted Shehri's posts alongside with screenshots of hateful messages she received, told IB Times that women in Saudi Arabia are deprived of even "the simplest of freedoms."
"I'm an atheist and I still wear the hijab in most places because that's how society here is it's inexcusable to remove it, in fact, many of my atheist friends have to cover their faces because their families are more conservative than mine, and it's not just atheists, many Muslim women want to remove them," she said.
Saudi Arabia is one of the most conservative countries when it comes to women's rights. It is particularly the only state where women are banned from driving. In Late November, a Saudi Prince, Alwaleed bin Talal, said that the regulation making it illegal for women to drive should be scrapped by his proposal failed to gain enough support in the Saudi most influential advisory body, the Shura Council.
Last year, under the late King Abdullah, female advisers were appointed to the Shura Council, and women were given the ability to vote and run in municipal elections. Authorities also said that divorced and widowed women would be allowed to obtain family ID cards for their children in future, so that they could register them in schools and with healthcare services.
However, Saudi women still need permission from a male relative or guardian to marry, travel, enroll in higher education or even get a passport under what is called male guardianship.
In September, some 14,000 women filed a petition calling for the removal of the laws, on which the male guardianship practice is based. The move was preceded by a social media campaign waged under the hashtag #StopEnslavingSaudiWomen and an Arabic hashtag that translates as "Saudi women want to abolish the guardianship system."
In September, Twitter suspended accounts engaged in the #StopEnslavingSaudiWomen hashtag, which had begun to trend.
http://www.womenagainstshariah.com/2017/05/saudi-woman-arrested-for-going-out.html
-------
Muslim Man Refuses To Shave Beard, Wife Throws Boiling Water on Him in Aligarh
Jun 3, 2017
ALIGARH: A dispute between a young couple over shaving of beard has left 32-year-old Salman Khan from Aligarh, with serious burns after his wife Nagma threw boiling water on him.
According to police, there was an argument between the couple over Salman's refusal to shave off his beard because of his religious beliefs. An infuriated Nagma allegedly threw boiling water on Salman leading to serious burn injuries.
Police said the couple, who got married six months back used to fight often on the issue of how Salman should dress and keep his physical appearances. Nagma used to insist that he should give up his habit of wearing kurta-pyjama and shift to pants and shirts, which Salman did not agree to.
SP crime, Aligarh, Ashutosh Dwivedi said that Salman has filed a complaint against his wife, Nagma and a case of attempt to murder has been registered against her under Kwarsi police station and further investigations are on.
Talking to media, Salman, a fruit seller, who lives in Jamalpur area on rent, said that he is a religious person while his wife is "open minded" and doesn't approve of his lifestyle.
He told media that she was boiling water when he came back home after work on May 31 and when he asked what she was doing, she said that she was boiling eggs. He said he had dozed off and it was then Nagma threw the boiling water on him.
"When I started screaming, many people gathered there and they took me to JN Medical College where my treatment is going on," said Salman.
Medical superintendent of JN Medical College Prof Haris Manzoor Khan said that Salman sustained over 20 per cent superficial burn injuries and face and arm got affected. He said, patient is stable and will be discharged in a day or two.
http://timesofindia.indiatimes.com/city/agra/muslim-man-refuses-to-shave-beard-wife-throws-boiling-water-on-him/articleshow/58965573.cms
-------
Burqa ban in Mosul: Iraqi army stops women covering their heads as ISIS militants use the garments while launching suicide bombings
1 June 2017
The Iraqi army has banned the use of burqas in Mosul after Islamic State used the garment to carry out deadly attacks in the city.
Residents will not be able to wear the headscarf nor the niqab - the full-face veil - as the government troops attempt to flush the terrorists out of the Iraqi city.
The ban is understood to be a temporary one, and Mosul joins a long list of countries, cities and organisations who prohibit the piece of religious clothing.
Both the niqab and the burqa have been used extensively by men and women to carry out suicide bombings and hit-and-run attacks on army checkpoints in the city, a military source told Al-Masdar News.
The controversial garment has divided opinion in Europe and many countries have discussed stopping residents from wearing it, many citing security fears.
In the UK, there is no law restricting people wearing a burqa for religious reasons, but some judges have asked women to lift their veils to verify their identity in court.
Ukip's plans to ban the burqa and niqab would see legal action brought against anyone wearing anything that covers their face, Paul Nuttall has said.
The Ukip leader said the controversial policy which would ban garments traditionally worn by Muslim women would apply to items of clothing such as balaclavas.
Ukip's manifesto explicitly said the party 'will ban wearing of the niqab and the burqa in public places'.
Speaking while campaigning in Boston, Lincolnshire, Mr Nuttall said the policy would apply to 'face-coverings in general'.
Asked if this would affect people wearing balaclavas, he said: 'How many people have you ever seen wearing a balaclava in public? You don't see it, you don't even see it in winter.
'What's happened is that the Westminster media have tried to mock and deride what we're trying to say, maybe because they feel uncomfortable about it, I don't know.'
France became the first European country to prohibit the full-veil in public spaces with a law 'banning the hiding of the face in public spaces', with a law that took effect in April 2011.
This year, Morocco banned the production and sale of burqa full-face Muslim veils for security reasons, imposed due to reports felons have been using the garment to help carry out their crimes.
The issue has been brought even further into the spotlight in 2017 with a number of world leaders travelling to the Persian Gulf on political trips.
At the end of last month, Angela Merkel arrived in Saudi Arabia without a headscarf ahead of talks with King Salman.
Women in the kingdom are subjected to strict dress codes in public which includes full-length robes and covering the hair with a veil, but the German chancellor shunned the protocol.
She was not the first to do so, with Theresa May, Hillary Clinton and Michelle Obama all having refused to wear the garment, which is seen as a sign of oppression by some critics.
Meanwhile, Iraqi forces are fighting to retake the last ISIS-held areas of Mosul, a city that was the jihadist group's emblematic stronghold.
Iraqi forces are more than seven months into a massive operation to recapture the city, and have already taken back its whole eastern side and much of the west.
Three neighbourhoods north of Mosul's Old City - Al-Shifaa, Al-Saha and Al-Zinjili - are now the target of a broad assault by Iraqi soldiers, police and special forces that was launched last week.
ISIS is mainly relying on 'snipers and suicide bombers' to target Iraqi forces, as it is running low on mortar rounds and explosives after losing sites it previously used to produce them, Iraqi Brigadier General Shakir Kadhim Mohsen said.
The United Nations has warned that up to 200,000 civilians who are believed to remain in IS-held areas of the city are in grave danger and that large numbers could flee.
Lise Grande, the UN humanitarian coordinator for Iraq, said: 'We are deeply concerned that right now, in the last final stages of the campaign to retake Mosul, that the civilians... in ISIS areas are probably at graver risk now than at any other stage of the campaign.'
The World Food Programme said Tuesday that it 'has identified worrying signs of an increase in the rate of malnutrition among newly displaced children from western Mosul'.
http://www.dailymail.co.uk/news/article-4561572/Iraqi-army-bans-burqa-Mosul-curb-ISIS-attacks.html
-------
New shelter for Muslim women coming to Windsor
June 2, 2017
Windsor will soon become the third city in Canada to offer a transitional home for Muslim women fleeing domestic violence or poverty.
Through an arm of a national organization that provides support services to the Muslim community, local proponents hope to have a shelter up and running here by August.
It will join existing locations in Mississauga and Surrey, B.C.
Local Nisa Homes project manager Mahwish Ayub said the group is "still actively looking" for a suitable house to purchase or rent.
The eventual location will not be disclosed to protect the women and children staying there but ideally Ayub says it will be an existing three- to four-bedroom unit.
Ayub said this area was chosen because Windsor-Essex has one of the largest Muslim populations in Canada at an estimated 25,000.
Nisa Homes is a project of the National Zakat Foundation. Zakat refers to the obligatory annual payment made under Islamic law for charitable or religious purposes.
"Our donors have the power to change the lives of many Canadian Muslims," the foundation's website states.
Locally, Ayub and a group of volunteers started a crowd-funding campaign a few days ago hoping to raise $25,000 for startup costs and ongoing operational support.
The group has also started to collect donations of furniture and household items.
"The idea is to have a place that caters to cultural sensitivities and stigmas," Ayub said. "We want to provide special care to a group that may not reach out. We want those who do need help to at least have an option."
For too many Muslim women, speaking about domestic violence is considered taboo. There's a cultural stigma to speaking about it and a perceived lack of support afterwards.
"Absolutely there's a need," said Sudip Minhas, the executive director for Windsor Women Working with Immigrant Women. "There's a need for a certain comfort level for women of colour and especially women who wear the hijab and come from certain countries. Leaving a family and going to a shelter is looked down upon. "
Minhas added having a shelter that caters to Muslim women eliminates "a huge blame game" that can occur when a Muslim wife or mother seeks refuge in one of the area's existing shelters. Her family will condemn her actions as spurred on by Western influences.
"A shelter like this takes that argument away," Minhas said.
Thom Rolfe, the executive director of Hiatus House, can see the value in a smaller venue.
"There's lots of issues in terms of communal living at a bigger shelter," said Rolfe who oversees a 42-bed facility.
He noted approximately 10 per cent of those who use the services at Hiatus House are Muslim which translates to between 30-40 women a year.
Added services for victims of domestic abuse are welcome, said Rolfe, to an area of the province that's underserviced.
Rolfe noted Hiatus House currently has an expansion proposal before both the Ministry of Community and Social Services and the Ministry of Health and Long Term Care.
The proposal suggests a 40-bed shelter be built in Leamington and connected to the hospital.
Ayub said the Nisa home would offer services in a wide array of languages including Urdu, Arabic, Hindi and Punjabi with on-call support for those who speak Somali, Farsi, Dari, French, Kurdish and Turkish.
"We want to offer care in the language they understand so they feel safe enough to talk about the issues," Ayub said.
Ayub stressed that while the home will cater to Muslim women, they will welcome any woman in need, if space is available.
Donations to the crowd-funding campaign can be found at http://www.launchgood.com/project/nisa_homes_windsor#.   To make an in-kind donation of furniture, non-perishable foods, household items or toiletries go to www.nisahomes.com.
Due to storage issues, organizers may ask donators to hang on to large items until closer to a move-in date.
http://windsorstar.com/news/local-news/new-shelter-for-muslim-women-coming-to-windsor
-------
19-year-old Tasmida to be first Rohingya Muslim girl to appear Class 10 Board exam in India
June 1, 2017
By Nithya Nair
Tasmida will become the first Rohingya Muslim girl in India to appear for Class 10 board examination. In Myanmar, Rohingyas are not allowed to study beyond Class 10 and to ensure that authorities keep their mark sheets with them. Tasmida fled Myanmar with her family in 2002. Her father was put behind the bars for selling groceries and fish in Myanmar' Rakhine state. After his release, the family fled to Bangladesh and lived there in disguise for eight years. Tasmida did her schooling in a local school and topped every year. But anti-Rohingya violence once again forced them to take a train to Delhi along with 50 other families.
When Tasmida insisted on studying further at the junior school at Bosco Refugee Assistance Project in Jangpurher, her family disapproved of it. But her brother Ali Johar, a college student and activist supported his sister's wish. Today 14 Rohingya children from different camps in Delhi study at the National Institute of Open Schooling. Many women also attend the one hour-long Hindi tuition classes arranged by UNHRC which is conducted thrice a week. In the recent past, some Rohingya women have started taking up small jobs to earn a living. Some have started working as ragpickers including Tasmida's mother, while some run grocery shops with their husbands. Pankhuri Gidwani, Miss India 2016 second runner-up secures 97.25 per cent in ISC Class 12 exams
The Indian Express quoted the 19-year-old as saying, "I want to be a doctor because no doctor tended to the Rohingyas back home… I will not get married till I become a doctor." Former United Nations Secretary-General Ban Ki-moon has termed Rohingyas "the world's most persecuted minority". As per reports, an estimated 1,40,000 Rohingyas have been displaced from Myanmar. While around 40,000 Rohingya Muslims live as refugees across India as per the data of Ministry of Home Affairs. (Image-The Indian Express)
http://www.india.com/buzz/19-year-old-tasmida-to-be-first-rohingya-muslim-girl-to-appear-class-10-board-exam-in-india-2190419/
-------
URL: https://www.newageislam.com/islam-women-feminism/law-child-marriage-conflict-with/d/111401
New Age Islam, Islam Online, Islamic Website, African Muslim News, Arab World News, South Asia News, Indian Muslim News, World Muslim News, Women in Islam, Islamic Feminism, Arab Women, Women In Arab, Islamophobia in America, Muslim Women in West, Islam Women and Feminism