New Age Islam News Bureau
10 December 2022
• Farideh Moradkhani, Niece of Iran's Supreme Leader Sentenced to 3 Years in Prison after Backing Protests
• Two Women, Fadhlina Sidek and Lim Hui Ying, Take Charge of Education Ministry, In a Malaysian First
• Paraguayans Try on Hijab and Learn about Women's Rights In Islam
• Indonesia, Qatar Host Conference Supporting Women's Education
• Bahrain Motor Federation Chief Praises World-Class Bahraini Women
Compiled by New Age Islam News Bureau
URL: https://newageislam.com/islam-women-feminism/ruwa-romman-georgia-hijab-palestinian/d/128604
--------
'It's Imperative That More Voices Like Mine Are at the Table': Ruwa Romman Georgia First Hijab-Wearing Palestinian American Representative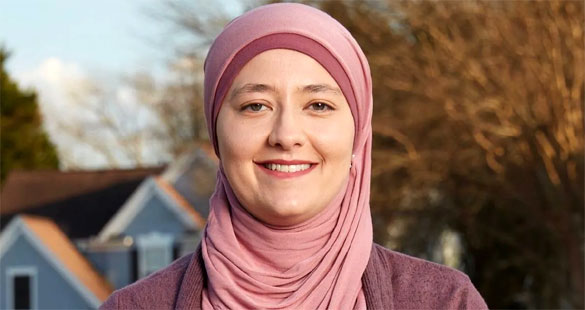 Ruwa Romman [ruwa4georgia]
-----
December 9, 2022
A hijab-wearing Palestinian American woman was elected to the Georgia House of Representatives for the first time.
Ruwa Romman has made history earlier this month as the first Muslim and Palestinian-American elected to any office in the State, following ten months of actively campaigning.
Having worked in local politics for quite some time as the Communications Director at the civil rights and advocacy group, Council on American-Islamic Relations (CAIR), and devoting her spare time to local organising with Georgia Muslim Voter Project, Ruwa has been outspoken on the fight for religious equality, civil rights of Muslims and marginalised communities.
According to an analysis published by CAIR along with Jetpac, a non-profit focused on increasing Muslim political representation in the US, Muslim Americans won at least 83 seats across this local, state, and federal mid-term elections, which they have been tracking for the last six years.
This exceeds the prior record of 71, which CAIR and Jetpac counted in 2020.
"It's been surreal but overwhelming," says the Democrat, regarding her journey to serve in Georgia's legislature. "I have faced extreme Islamophobia working for CAIR Georgia, such as receiving death threats, but that built much higher tolerance personally and professionally."
"The most interesting part about it all is that it's all because of my name," says Ruwa. "When I hand out the literature which has my name printed on it and knock on the doors, I was no longer going as a volunteer but as a candidate to say 'I am here to listen to your concerns.' And that's a huge adjustment and very different for me."
According to an analysis conducted by CAIR, almost 150 Muslim Americans had run this year for office, including 51 state legislative candidates across 23 states and at least 83 seats across the recent local, state, and federal mid-term elections have been won.
Ruwa, whose platform included expanding access to health care, covering the mental health needs of those who have aged out of existing services, and fully-funding education in the state, successfully won the election over Republican opponent, John Chan.
She will be representing District 97, north-west of Atlanta.
However, the most amusing part regarding Ruwa's win is the wonderful accidental start to it all, as the 29-year-old politician had never intended to run for office during this election cycle.
"I always thought my role in this space would be behind the scenes, like focusing on outreach to people and never as the one whose name is on the postcard," she says.
It was not until a journalist who had been covering the Georgia Muslim Voter Project training session at which Ruwa was in attendance, had written an article mistakenly announcing Ruwa's plans to run for office.
"Even though it wasn't in my plans, my community was so excited about the prospect, especially since we lived in a newly drawn district with no incumbent," explains Ruwa. "So I really couldn't say no at a time when we desperately need someone who understands our community in every way."
"Not just the Muslims and the Palestinians," she added, "but also our district that for so long hasn't really had a voice in the State house."
Before she knew it, family, friends and members of the community reached out from all corners eager to join in her campaigns and share initiatives, compelling her to be the best representative, collaborator and neighbour.
Together, she noted, they had knocked on over 15,000 doors, sent 75,000 texts, and made 8,000 phone calls. Moreover, 40 per cent of the volunteers had never previously taken part in political campaigns.
"It's my mum's food that got everyone involved," she laughed, as she shared, "I wish I was joking but there was literally no better volunteer retention. I kid you not, if I went back and checked which days we had the most volunteers, I'm willing to bet anything it was the days my mum cooked for us. But I think it's such a beautiful example of how each of us have a part to play in this, even if you don't see yourself as a politically savvy person, you have a part in this space by bringing whatever talent you have to the table. Campaigns need that."
Born in Amman, Jordan, to Palestinian parents, Ruwa immigrated to the US with her family about a month before 9/11 and immediately, fell victim to the ensuing surveillance and aggressive policing.
"I had a high school teacher who pulled me out of class to question me and make sure that me and my family were not part of any terrorist organisations, just because he overheard that I was a Palestinian. That is such an indicator of the fear and the mistrust that exists," she says.
Such experiences played a significant role in sparking her determination and voice to call for action and change. She has since graduated from Oglethorpe University in Georgia, where she served as president of the Student Government Association and earned a master's degree in public policy at the McCourt School.
Based on her years of observations and experience in grassroots movements, she noted how people are defeated by the idea of making a change for themselves due to lack of money, time and energy.
However, she noted how people neither have to approach nor work through a mediator but can, in fact, take on the role as policy makers themselves. "People ignore the political process to their detriment and then suffer the consequences of these decisions every single day," says Ruwa.
Therefore, her priority is to empower those around her by encouraging participation in politics and bringing their voices to the decision-making table.
"For far too long, a lot of voices have been ignored because of the way the system has been set up, which many people assume you must always have time, energy and money in order to have influence," she says.
"So it's become clearer than ever that if we are to ever change anything, whether it's related to policy or the world around us and government services that people rely on, it's imperative that more voices like mine are at the table."
Source: Middle East Monitor
https://www.middleeastmonitor.com/20221209-its-imperative-that-more-voices-like-mine-are-at-the-table-georgia-first-muslim-palestinian-rep/
--------
Farideh Moradkhani, Niece of Iran's Supreme Leader Sentenced to 3 Years in Prison after Backing Protests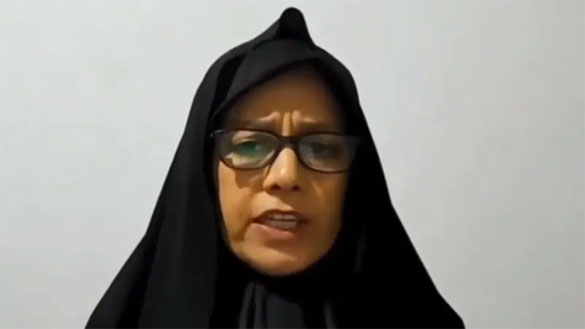 Farideh Moradkhani, a niece of Iran's supreme leader and an outspoken critic of the Islamic Republic, declares her support for the ongoing anti-regime protests in the country. (Screengrab)
-----
09 December, 2022
Farideh Moradkhani, a niece of Iran's Supreme Leader Ali Khamenei and an outspoken critic of the Islamic Republic, has been sentenced to three years in prison, her lawyer said on Friday.
Moradkhani was arrested last month after she declared her support for the ongoing anti-regime protests in Iran and called on the international community to cut ties with Tehran.
Moradkhani's lawyer, Mohammad Hossein Aghasi, said on Twitter that his client was initially sentenced to 15 years in prison.
After an appeal, Moradkhani's jail sentence was reduced to three years, he said.
Aghasi said Moradkhani was tried by Iran's Special Clerical Court – a court independent of the country's judiciary. The court is tasked with prosecuting clerics and answers only to the supreme leader.
Agahsi said the court had no jurisdiction over his client's case given she is not a cleric.
He did not say what Moradkhani had been charged with, and there has been no comment from authorities or state media on the case.
Moradkhani has been critical of the regime in the past and was arrested on two other separate occasions – earlier this year and in 2018.
Earlier this week, Badri Hosseini Khamenei, Moradkhani's mother and a sister of Supreme Leader Ali Khamenei who lives in Iran, declared her opposition to her brother's regime and called on military forces to join protesters "before it is too late," in a letter shared by her France-based son.
"Ali Khamenei's Revolutionary Guards and mercenaries should lay down their weapons as soon as possible and join the people before it is too late," the letter read.
"As my human duty, many times I brought the voice of the people to the ears of my brother Ali Khamenei decades ago. However, after I saw that he did not listen and continued the way of [ex-Supreme Leader Ruhollah] Khomeini in suppressing and killing innocent people, I cut off my relationship with him," she said.
Protests have swept across Iran since September 16 when 22-year-old Iranian Kurdish woman Mahsa Amini died after her arrest by the morality police in Tehran.
Demonstrators have been calling for the downfall of the regime in movement that has become one of the boldest challenges to the Islamic Republic since its establishment in 1979.
At least 458 people, including 63 children and 29 women, have been killed by security forces in the protests, according to the Oslo-based rights group Iran Human Rights (IHR).
Source: Al Arabiya
https://english.alarabiya.net/News/middle-east/2022/12/09/Niece-of-Iran-s-supreme-leader-sentenced-to-3-years-in-prison-after-backing-protests
--------
Two Women, Fadhlina Sidek and Lim Hui Ying, Take Charge of Education Ministry, In a Malaysian First
December 9, 2022
PETALING JAYA: Anwar Ibrahim's unity government has made history by appointing two women MPs to take charge of the education ministry.
The minister is Fadhlina Sidek, appointed last week, and the first woman to hold the post. Her deputy is Tanjong MP Lim Hui Ying of DAP, who was appointed today.
Both Fadhlina and Lim are first-time MPs and represent Pakatan Harapan.
Fadhlina has experience as a social activist and lawyer in Islamic family law and child welfare. She is also the Wanita PKR chief and was made a senator in 2021, prior to her election win.
She is also the daughter of Dr Siddiq Fadzil, the former president of the Malaysian Islamic Youth Movement (Abim), a Muslim youth organisation founded by Anwar.
Lim is a DAP central executive committee member and secretary of Penang DAP. She was also a senator, appointed in August 2018 to represent Penang.
She is the daughter of DAP veteran Lim Kit Siang and sister of party chairman and former finance minister Lim Guan Eng.
Bersatu vice-president Radzi Jidin was the previous education minister. He had two deputies in Mah Hang Soon from MCA and Mohamad Alamin from Umno.
Source: Free Malaysia Today
https://www.freemalaysiatoday.com/category/nation/2022/12/09/in-malaysian-first-two-women-take-charge-of-education-ministry/
--------
Paraguayans try on hijab and learn about women's rights in Islam
9th December 2022
Lajna Imaillah Paraguay held a virtual event called "Hijab: Personal choice or oppression?". It was attended by 28 people, including local Ahmadi converts and non-Ahmadi guests.
A presentation about the Islamic teaching of hijab was given by my humble self, and the women had an opportunity to ask questions as well. The rights of women in Islam were shared and a lot of misconceptions and doubts about Islam and the hijab were removed. A few female converts shared their stories regarding their personal journey with the hijab.
In light of the success of this virtual class, we later decided to hold the same event in person for women who wanted to meet with other Muslim women face-to-face. The event was held at a local cafe and was attended by 18 people. A book stall and Quran exhibition were also held as a "try on a hijab" stall.
The event started with an icebreaker where all attendees introduced themselves. Then the presentation was given and the local lajna members again shared their experiences and conversion stories with the group.
For the local guests to meet and speak to Paraguayan Muslim converts was inspiring. Sister Vanessa Grange had the honour of meeting Hazrat Khalifatul Masih Vaa in the UK earlier this year and became emotional as she shared her mulaqat experience with all the women.
At the end of the event, all women wanted to try on a hijab and did so; some bought hijabs to take home.
Many attendees bought Jamaat literature and some expressed their desire to keep learning about Islam and to also visit the mosque in future. They were invited to attend the weekly Quran classes that take place at the mosque. Many friendships and contacts were created and it is our prayer that Allah may guide the righteous souls to accept Islam Ahmadiyyat.
Source: Alhakam
https://www.alhakam.org/paraguayans-try-on-hijab-and-learn-about-womens-rights-in-islam/
--------
Indonesia, Qatar host conference supporting women's education
December 10, 2022
The International Conference on Afghan Women's Education, co-chaired by Indonesia and Qatar, was convened in Bali, Indonesia on 8 December 2022.
At the International Conference on Afghan Women's Education, representatives from more than 30 countries stressed the need of supporting women's education in Afghanistan.
The foreign minister of Pakistan, who attended the conference, said that his country supports women's access to education, saying an investment in female education is an investment in the future of the nation.
"The constitution of Pakistan recognizes women's equal right to education, we are convinced that an investment in female education is an investment in the future of the nation," Pakistan's foreign minister Bilawal Bhutto Zardari.
Speaking at the conference, the foreign minister of Pakistan also mentioned offering scholarships to Afghan students.
"We recently announced the Allama Iqbal scholarships for Afghan students under the program. 4,500 fully funded scholarships will be offered for eligible Afghan students to study in Pakistan. 1,500 of these scholarships have been reserved for Afghan women," said Zardari.
Meanwhile, the United Nations Children's Fund (UNICEF) said that it will expand education opportunities across Afghanistan.
"600,000 more children learning. 20,000 community-based classes. In 2023, we're expanding education opportunities across Afghanistan. We're repairing classes so they're safer & more conducive to learning," UNICEF tweeted.
"The Islamic Emirate should remove all restrictions so that all men and women in the country have access to education," said Islamullah Muslim, religious cleric.
"The women of Afghanistan are deprived of their basic human and Islamic rights, including their right to study, education, work, and their political rights," said Soraya Pikan, women's rights activist.
However, the Islamic Emirate has previously said that, within the framework of Islamic law, it is committed to all the rights of women in Afghanistan.
"All the affairs of our country are carried out in accordance with the principles of the Islamic framework, and attempts are still being made to deal with them if there are any problems or flaws," said Bilal Karimi, deputy spokesman of the Islamic Emirate.
It has been more than 445 days since schools in the nation were closed to female students above grade 6. The Islamic Emirate has said that the work on the reopening of girls' schools has not yet been finished.
The International Conference on Afghan Women's Education was held in Bali, co-organized by the governments of Indonesia and Qatar — the first such meeting to take place since the Islamic Emirate came to power, gathering representatives of 38 countries, international organizations, NGOs and academics.—Tolonews
Source: Pak Observer
https://pakobserver.net/indonesia-qatar-host-conference-supporting-womens-education/
--------
Bahrain Motor Federation Chief Praises World-Class Bahraini Women
DECEMBER 10, 2022
Bahrain Motor Federation (BMF) president and FIA Vice-President for Sport for MENA Shaikh Abdulla bin Isa Al Khalifa affirmed yesterday that Bahraini women have proven their competence and value in various places and positions, thanks to the support and attention they receive from the Kingdom's wise leadership.
This came on the occasion of BMF team member Faten Amin receiving the Best Chief Observer of the Year award at the the FIA Volunteers and Officials Awards.
The awards recognise the tireless efforts of the men and women who are the backbone of motorsport competitions all over the world.
Faten has become the first Bahraini woman to receive the prestigious honour. Shaikh Abdulla said that Faten's winning the award reflects the high level of Bahraini women's abilities at all levels and sectors.
The BMF chief added that women are an essential partner in the development and decision-making process in motorsport. For her part, Faten expressed her great delight in receiving the award.
She said that she feels proud and that the honour reflects the support that Bahraini women enjoy in the Kingdom of Bahrain.
Faten added that she is grateful for the BMF, headed by Shaikh Abdulla, and their keenness to activate the role of women and assign them various tasks, which has contributed to their emergence on the national, regional and international arenas.
Source: News Of Bahrain
https://www.newsofbahrain.com/sports/86443.html
--------
URL: https://newageislam.com/islam-women-feminism/ruwa-romman-georgia-hijab-palestinian/d/128604
New Age Islam, Islam Online, Islamic Website, African Muslim News, Arab World News, South Asia News, Indian Muslim News, World Muslim News, Women in Islam, Islamic Feminism, Arab Women, Women In Arab, Islamophobia in America, Muslim Women in West, Islam Women and Feminism