New Age Islam News Bureau
19 Oct 2013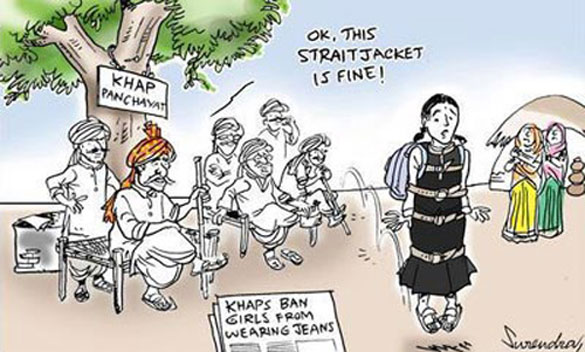 Khap Panchayats (caste councils) in the State have hit out at girls "for being the agents who pollute society and bring a bad name to the community".
-----------
• Jeans, Mobiles and Khap Panchayats
• Why Do Women In Lebanon Stay In Abusive Relationships?
• Government Scheme 'Bidayee' To Help Muslim Girls in Karnataka
• Iran's TV Falls Prey to a Parody Written in Dawn on Malala
• Malala Skips School to Meet With Queen Elizabeth II at Buckingham Palace
• Yearly Mammogram A Must From Age 40 to Diagnose Early Breast Cancer
• Afghanistan: Stark, Beautiful - And a Danger to Mothers
• UAE Project Develops Low-Cost Heart Monitor for Pregnant Women
• Mother's Ten-Hour Ordeal after Losing Daughter during Haj
• Pilgrim Fulfils Pledge to Serve His Mother, Who Had Gone In Coma at His Birth
• Saudi Women's Slow Drive to Reform
• Young Campaigners Force Yemeni Parents to Set Lower Dowries
Compiled by New Age Islam News Bureau
URL: https://newageislam.com/islam-women-feminism/islam-no-longer-'religion-male,/d/14053
-------------
'Islam No Longer a 'Religion of the Male, By the Male and For the Male: Survey
M N Karassery | Oct 19, 2013
The survey has indeed debunked the myth propagated by the Muslim clergy that Islam is a religion of the male, by the male and for the male.
Muslim clergy at all times and in all regions has arrogated to itself the final say even on burning issues concerning women. I must say that this notion is un-Islamic. The survey has proved beyond doubt that girls should also have a say in deciding religious matters that directly affect their lives.
Those who want to marginalise women conveniently forget that there were a number of women in the assembly of Prophet Muhammad. He gave them opportunity to ask questions and seek clarifications on certain stances.
He allowed women to travel with him even during the times of war. His beloved wife Aisha has reported many sayings of the Prophet and has even given her own interpretation of religious laws.
The meeting of religious scholars in Kozhikode on September 21, 2013, to discuss the marriageable age of Muslim girls was unfortunately an assembly of men alone. There was not even a single woman to represent the voice of women. Such a meeting is totally contradictory to the tradition established by the Prophet and his disciples. Caliph Umar, who ruled from AD 634 to 644, always consulted women in religious matters which affected them.
I am so happy to learn that the girls have come forward to express themselves, questioning the clergy. We have seen that in every religious community the clergy behaves like landlords and treats the followers as tenants. The religious leaders reserve the right to opine on religious matters to themselves. But they forget that the Prophet himself has declared that "no priesthood in Islam".
It is heartening to see the democratic spirit in expressing one's own views on religious issues. Democracy need not be confined to politics alone; it can be applied to all walks of life, including religion.
The finding of the survey that the Muslim girls are anxious to pursue studies and want to be independent after getting jobs is quite encouraging. I am sure they had the arranged marriages in their minds when they said they are reluctant to marry persons from other communities. The notorious 'honour killing' is a custom in other parts of India, Pakistan and Bangladesh. Fortunately, it has not yet entered Kerala.
The finding of the survey that majority is in favour of moral policing is really disturbing. Though we need morality and policing, both are lacking in moral policing, which emanates from religious fundamentalism. It is plain religious Goondaism.
Muslim girls have made giant strides in Kerala in the past three decades. Their progress in the field of education is amazing. I suspect that the clergy and the so-called community leaders are apprehensive of the success the girls have achieved in all walks of life.
It was really surprising to see that different Muslim organisations were anxious to bury their differences in belief and practice and sat together to rein in the women. We know that this is not a new thing. A similar situation had emerged in 1985 when the Supreme Court ruled that a Muslim husband should give maintenance to his divorced wife till her remarriage or death.
The Child Marriage Restraint Act, 1978, stipulates that the marriageable age of boys is 21 years. Technically this is also against the Muslim law (Sharia) as there is no marriageable age fixed for boys too in the law. But the clergy is not concerned about this because for the religious leaders Islam is a religion of the male, by the male and for the male.
http://timesofindia.indiatimes.com/city/kozhikode/Islam-no-longer-a-religion-of-the-male/articleshow/24353434.cms
-------------
Jeans, Mobiles and Khap Panchayats
October 19, 2013
Haryana's caste councils feel a strict dress code on women will curb the spate of honour killings
Khap panchayats (caste councils) in the State have hit out at girls "for being the agents who pollute society and bring a bad name to the community".
Within days of a young couple in Rohtak being hacked to death in public last month for marrying in defiance of kinship taboos held by the Jat community, two prominent panchayats of this belt have imposed a dress code for women and, in some villages, appointed men to watch and report on the activities of college girls who violate the code.
The panchayats argue that such restrictions will curb the rising rate of honour killings in the region — not some remote rural pocket, but comprising districts that now form part of the National Capital Region. Each gruesome killing of a young couple, which is quite common in this region, has spurred khap panchayats to issue increasingly unreasonable diktats in the name of upholding societal morals. Wearing a pair of jeans, going for a drive with a male friend or even talking on a mobile phone — behaviour which is considered perfectly normal for any young girl just a few miles away from khap-dominated areas — can attract brutal punishment here. "We believe that a woman should be covered from head to toe in loosefitting clothes that do not attract the male eye. Our idea of beauty is a woman whose hands alone are visible. Even her eyes should preferably be under a veil," says Rajinder Singh, vice president of Barah Birohar Khap, as he puffs a hookah.
The new dress code for any girl above 10 years of age in these villages is a salwar-kameez. Even a churidar-kurta — they look with disdain at my modest green churidar and cotton dupatta — is offensive as it outlines the legs, they say (forgetting, for some reason, that black churidars with shirts were common attire among elderly women in rural Haryana till a few years ago).
Last month, two separate panchayats held at Rohtak and Birohar, two days after the Rohtak honour killing, ruled that the "unconventional" behaviour of girls and young women was causing shame to the society and said drastic steps were needed to "keep them in check".
Speaking to The Hindu, Om Prakash Dhankar, a member of the Sarv Khap Haryana (a conglomeration of several khap panchayats), said, "It was brought to our notice that girls in at least three locations near the town pay Rs. 200 to Rs. 500 to shopkeepers to indulge in immoral activities."
These, according to him, were college girls changing over to western dresses in shops after leaving their homes in salwar kameez and going for outings after picking up mobiles in the shops.
While the Sarv Khap has appointed squads of "mature men" to spy on such deviations and submit their report at the next meeting, the 12 Birohar visited some high schools to "advise girls not to break the rules in their own interest". The khaps are also pressing schools and colleges to have separate buses for boys and girls.
Says Mr. Dhankar, "This might seem drastic but we believe that this is the only way to stop honour killings in this region. Intermingling of girls and boys and influence of television has led to this situation. Even if the government will not do anything, we still have a duty to uphold the morals of our society."
The diktats of these khaps, rooted in the medieval past, have for long been described as "Talibanic" by activists. The urban intelligentsia often dismiss them as extra-constitutional bodies, but in the hinterland, few dare to oppose the councils publicly as they enjoy social sanction and political patronage.
Kamla (name changed), a lecturer at the DAV college in Jhajjar, has reconciled herself to donning a veil over her face as she drives through a half-kilometre stretch along the village outskirts on her way to work. "I know it is retrograde, but I still do it to avoid a confrontation. It is a small price to pay for peace in the village."
But not all are so accommodative of the khaps' rules. In Jhamri, 17-year-old college student Savita says, "Girls from the town wear jeans and western outfits in college, but who will get them for me? We also want to wear something other than this salwar kameez, but our elders won't hear of it."
Barah Birohar is proud of the fact that they have managed to restrict the use of loud DJs and "vulgar" dancing during weddings. Nonetheless, young people have — ban or not — begun installing floor DJs and arranging dances in the courtyards of their homes.
http://www.thehindu.com/news/national/jeans-mobiles-and-khap-panchayats/article5248924.ece
-----------
Why Do Women In Lebanon Stay In Abusive Relationships?
October 19, 2013
BEIRUT: As a resident doctor at AUB Medical Centre, Lubna Abul-Husn took a deep interest in domestic abuse. Ten years ago, she interviewed dozens of patients, cataloguing their experiences at home with "intimate partner violence," a term that refers to physical, emotional and verbal abuse of a close partner or spouse.
She then spent a year in France studying family legal medicine before returning home and ending her engagement with a fiancé from her province.
Her fiancé broke into her home, killed her, her mother and her sister, before committing suicide, according to her colleagues at the time.
"It was devastating," said Johnny Awwad, Professor of Obstetrics and Gynaecology and head of the division of Reproductive Endocrinology and Infertility at AUB Medical Centre, and Abul-Husn's colleague.
Awwad, along with other doctors at AUB, completed the analysis of Abul-Husn's research. The paper was finally submitted for publication this year in the Journal of Interpersonal Violence.
"We couldn't really look at this paper for the longest time," he said. "We had been avoiding looking back at this phase but I don't think that gives her justice."
The study polled 100 married women aged 20-65 who were visiting the AUB Medical Center for gynecological care, 91 of whom responded to the survey. It is one of the few that tries to quantify the prevalence of domestic abuse in Lebanon, and that looks at the reasons behind why women here stay in abusive relationships.
But perhaps its most startling discovery is how even women in these relationships find it completely normal for such abuse to happen – a testament to how ingrained the gender imbalance is in society.
"Intimate partner violence is an underestimated problem in Lebanon and has been largely ignored by the local authorities," the study said. "The Lebanese health care system has failed so far to play a proactive role in identifying and referring abused women, mostly because the recognition of an abusive pattern in women is often blurred by cultural and societal taboos."
Over 40 percent of the women polled said they had suffered from physical abuse. A third endured sexual abuse, nearly two-thirds were victims of verbal abuse, and 19 percent said they had experienced emotional abuse.
More than a fifth of the women had suffered social isolation imposed by their husbands.
The top reasons women expressed as a reason for staying in an abusive relationship were a lack of familial and social support, lack of financial resources and fear that their husband would take away the children.
In eight of the cases that suffered physical abuse, medical attention was required and three cases were admitted to hospital with vertebral fractures and miscarriages.
But the study went further, selecting a subsample of 33 women and asking them open-ended questions on their husbands' treatment.
All the women, including those who were abused, said they were satisfied with their husbands' treatment.
"Many abused women are totally resigned to their situation and decide to stay in an abusive relationship because of the fear of losing their children, the need to conform to social expectations, the lack of financial independence, the lack of family support, and the duty to obey their spouses," the researchers said.
Domestic abuse appeared to usher in other social ills. Women who suffered physical and verbal abuse were more likely to be smokers. Husbands who had a history of alcohol abuse were more likely to impose social and economic isolation on their wives.
Declining monthly income made it more likely for a husband to use a weapon against his wife, while a higher number of children offered a protective factor for women, illustrating the challenges wrought by economic, security and political instability in the country.
The head and the extremities were the most frequent areas of the woman's body suffering from physical injury, and hitting was the most frequent mechanism of abuse followed by slapping and pushing.
The rate of domestic violence in Lebanon is in sync with other developing countries and Arab societies, where comparable rates of abuse are present as well as similar justifications for staying in abusive relationships.
As part of their recommendations, the study's authors, who are all doctors at AUB Medical Centre, said that health centres in Lebanon ought to routinely screen patients in order to identify victims of domestic abuse.
Awwad said that such a step, while there is no evidence that it reduces abuse, would be a first step toward referring victims of abuse to support groups and treating the root causes of some of their problems.
But part of the issue is that the conversation around domestic abuse in Lebanon often focuses on anecdotal cases of violence, rather than tracking the prevalence of the issue in society.
"It is not enough to create support groups in our society that come and tell you that he's been hitting you, he's been abusing you, come to us and we're going to support you," Awwad said.
"Then what? Who is going to support the kids and secure her re-entry into society that stigmatizes her," he said. "They cannot create another society for her. It's a dead end, unfortunately, in this part of the world."
That is partly because of the tribal nature of Lebanese society.
"Lebanon is a big tribe," he said. "Where you go people would know you and would stigmatize you. You would have to travel and leave the country. So you'd have to stay with the family and your husband and believe that it's normal."
This, he said, leads to an acceptance of domestic abuse as a normal part of existence. The other issue is cultural.
The study's authors said that domestic violence against women tends to be seen as a private, internal matter and not a major public health issue in Arab societies that are "patriarchal and characterized by male authority and dominance."
That is reflected in how intimate partner violence had been largely ignored by local legal and religious authorities.
Awwad and his colleagues point to the initial rejections by religious authorities of domestic abuse legislation, which they saw as usurping the role of religion which already deals with the issue of domestic violence, and the continued failure to pass laws against domestic abuse.
A law protecting women from violence has been in legislative limbo for a long time due to Parliament's failure to convene. Religious authorities initially opposed the legislation because they said Islam already deals with women's rights and domestic relations.
"It would be a good step to pass this law," Awwad said, adding that it could help deter some abuse, but would not be able to erase the "inherent right" that many men feel they have in wielding power in the household.
That built-in inequality is what poses enormous challenges to those who seek to challenge domestic abuse and society's complacency toward it. There is little recourse but to begin at a young age, when minds are malleable and prejudice has not yet taken hold.
Values such as equality of women should be introduced at an early stage in education in order to combat such attitudes, Awwad said.
"I think it needs a generation, unfortunately," he added.
http://www.dailystar.com.lb/News/Lebanon-News/2013/Oct-19/235036-why-do-women-in-lebanon-stay-in-abusive-relationships.ashx#ixzz2iCfNbWOh
-------------
Government Scheme 'Bidayee' To Help Muslim Girls in Karnataka
October 19, 2013
The Karnataka government will launch a new scheme 'Bidayee' to help poor Muslim girls by providing financial assistance for their marriage, Minister for Minorities Welfare Qamar-ul-Islam said on Wednesday.
At a press meet here, Islam said the State Cabinet and Finance Department have cleared the scheme. A sum of `5 crore has been set aside for the purpose. "We aim to provide financial assistance to 1,000 poor families of the Muslim community to help them with their daughters' marriage. Each district has been given a target based on the Muslim population there," he said.
"In order to be eligible for 'Bidayee', the annual income of the family should be less than `1.50 lakh. The girl's application would be processed within a month and each beneficiary would get financial assistance of `50,000," he explained.
The minister also said the Nagarottana Yojana would be implemented in 19 cities of Karnataka, including Haveri, Dharwad, Kolar, Chikballapur, Kodagu, Hassan, Mandya, Mysore, Chamarajnagar, Bangalore (rural), Udupi, Dakshina Kannada, Bijapur, Chitradurga and Koppal.
http://newindianexpress.com/states/karnataka/Bidayee-to-help-muslim-girls-in-Karnataka/2013/10/17/article1839955.ece
-------------
Iran's TV Falls Prey to a Parody Written in Dawn on Malala
Iran's TV Claims Malala is a Really a Polish Christian Girl Named "Jane"
October 12, 2013
By Daniel Greenfield
It's actually worse than that.
Iran fell for a parody written in Dawn, Pakistan's biggest English language paper. How could the intrepid journalists of Iran's PressTV have fallen for such a hoax?
You be the judge. And yes, that photo is part of the Dawn article.
However, the officer kept refusing to talk to us but finally relented on the condition that we refer to him as 'Master X'.
Master X met one of our reporters at an abandoned girls' school in lower Swat. To hide his face, the officer wore a Spiderman mask.
Talking to the reporter he said: "This had to come out one day. And I just couldn't let myself continue to keep such a dangerous secret hidden. I am a true patriot."
He then added: 'My father once told me, 'Peter, with great power comes great responsibility'.'
His revelations led us to our next shocking discovery (with evidence):
Malala's shooting was staged by intelligence agencies. The officer told the reporter that the whole shooting incident was a stunt planned by Pakistani and US agencies to pave the way for the Pakistani army's invasion of North Waziristan: "It was all a drama," he explained. "It was staged so the Pakistan army would have an excuse to invade North Waziristan."
When asked why he was using the word 'invasion' when North Waziristan was a part of Pakistan, the officer replied: "North Waziristan is an autonomous Islamic Emirates. It has been like that for centuries. But our history books distort the facts and teach our children that it is part of Pakistan. The area has unimaginable amounts of oil, gold, copper, silver, bronze, coal, diamonds, gas and fossilised dinosaur remains underneath its rugged grounds. That's what the Americans are after."
Our reporter then asked whether he had any evidence to prove his claim.
The officer pulled out a few photographs and showed it to the reporter. The photographs showed a few bones. "Dinosaur bones," he explained.
How could Iran's top journalists have known? How?
Showing us the report, he said he extracted Malala's DNA when as a child she visited his clinic (with her parents) complaining of an earache.
"After she was supposedly shot last year, I remembered I had a bottle where I had kept some of her earwax," the doctor explained. "Collecting earwax of my patients is a hobby of mine," he added.
He went on to claim that according to the DNA, Malala is a Caucasian, most probably from Poland.
Iranian journalism. Now worse than Pakistani journalism.
http://frontpagemag.com/2013/dgreenfield/irans-tv-claims-malala-is-a-really-a-polish-christian-girl-named-jane/?utm_source=feedburner&utm_medium=feed&utm_campaign=Feed%3A+fpm+(FrontPage+Magazine+%C2%BB+All)
-------------
Malala skips school to meet with Queen Elizabeth II at Buckingham Palace
October 19, 2013
LONDON — Malala Yousafzai skipped school for the day but she had a pretty good excuse: she was meeting Queen Elizabeth II.
The 16-year-old advocate for girls' education and survivor of a Taliban assassination attempt gave the 87-year-old queen a copy of her book, "I Am Malala," and spoke Friday with her about the importance of education.
Malala said she wouldn't ordinarily miss a school day but had made an exception. The pair also chatted about Malala's homeland, Pakistan's Swat Valley, which the queen visited decades ago.
Malala was one of the guests invited to the reception on youth and education at Buckingham Palace in London. Earlier this month she was ranked by bookmakers as one of the top possible contenders for a Nobel Peace Prize.
Copyright 2013 The Associated Press. All rights reserved. This material may not be published, broadcast, rewritten or redistributed.
http://www.washingtonpost.com/entertainment/celebrities/malala-skips-school-to-meet-with-queen-elizabeth-ii-at-buckingham-palace-education-event/2013/10/18/ca01371a-37fd-11e3-89db-8002ba99b894_story.html
-------------
Yearly Mammogram A Must From Age 40 to Diagnose Early Breast Cancer
Staff Reporter / 19 October 2013
Finding breast cancer early reduces your risk of dying from the disease by 25-30 per cent or more.
DUBAI — Mammography is probably the most important tool doctors have to help them diagnose and evaluate breast cancer, according to Dr Badhri Sivaji, Specialist Radiologist, Zulekha hospital, Sharjah.
Safe and highly accurate, a mammogram is an X-ray photograph of the breast. The technique has been in use for about 30 years. It can detect most breast cancers at an early stage, before symptoms develop.
Routine mammography is not available to women under 30 unless you have a first-degree relative (mother or sister) who has had breast cancer at a young age.
Mammography saves lives. About 1 in 12 women develop breast cancer at some stage in life, mostly over the age of 50. Finding breast cancers early with mammography has also meant that many more women being treated for breast cancer are able to keep their breasts. When caught early, localised cancers can be removed without resorting to breast removal.
There's a lot of confusion about when and how often to get a mammogram. For now, the recommendation is that women get a mammogram once a year, beginning at age 40. If you're at high risk for breast cancer, with a strong family history of breast or ovarian cancer, or have had radiation treatment to the chest in the past, it's recommended that you start having annual mammograms at a younger age (often beginning around age 30).
Most women have a normal mammogram. Some women are asked to attend again if the X-ray picture is not clear, or to look more closely at a special area of the breast which needs a further detailed check. A small number are found to have early breast cancer and are offered referral to a surgeon for treatment. If any abnormality is detected, the patients would be advised to have an ultrasound of the breast with FNAC (a small needle would be put through the area of abnormality with or without ultrasound guidance, where cells would be taken from that site and sent for microscopic evaluation for cancer cells.)
Three important things to know about mammograms
1. They can save your life. Finding breast cancer early reduces your risk of dying from the disease by 25-30 per cent or more. Women should begin having mammograms yearly at age 40, or earlier if they're at high risk.
2. It is a fast procedure (about 5-10 minutes), and discomfort is minimal. The procedure is safe: There is only a very tiny amount of radiation exposure from a mammogram.
3. It is the most powerful breast cancer detection tool. However, mammograms can still miss 15-20 per cent of breast cancers that are simply not visible using this technique. Other important tools — such as breast self-exam, clinical breast examination, ultrasound, and MRI scan and should be used as complementary tools, but there are no substitutes or replacements for a mammogram.
http://www.khaleejtimes.com/nation/inside.asp?xfile=/data/nationhealth/2013/October/nationhealth_October28.xml&section=nationhealth
-------------
Afghanistan: Stark, Beautiful - And a Danger to Mothers
October 19, 2013
Who would ever wish to be pregnant in a place with that kind of danger? But Afghan women living in the remote northern province of Badakhshan have had no other choice. In 2009 we travelled to the villages with the worst ever recorded rate of women dying in childbirth.
At that time in Afghanistan a woman was dying every 27 minutes. Clinics were scarce and there weren't enough trained midwives or birth attendants.
Across large swathes of this starkly beautiful mountainous region, there were no roads or transport. Many women had to travel on foot or on donkey for days to reach a clinic. They still do.
But Afghanistan has made progress when it comes to maternal mortality. For our 100 Women series, I've spoke to Minister of Health Suraya Dalil at Malalai Hospital, the oldest and largest hospital in Kabul.
http://www.rawa.org/temp/runews/2013/10/14/afghanistan-stark-beautiful-and-a-danger-to-mothers.html#ixzz2iCfzAq9B
-------------
UAE project develops low-cost heart monitor for pregnant women
October 19, 2013
ABU DHABI // One hundred pregnant women could soon be testing a unique home foetal heart monitoring device.
It is hoped the low-cost gadget could help those in developing countries check their babies' health from home.
The trial is part of a project by Khalifa University, in collaboration with the Sheikh Zayed Institute for Paediatric Surgical Innovation at the Children's National Medical Centre in Washington DC.
Dr Ahsan Khandoker, assistant professor of biomedical engineering at the university, is working with the institute to create the device.
Stillbirths and infant deaths are a major problem in developing countries, said Dr Khandoker, from Bangladesh. While most of them can be attributed to the lack of advanced maternal care, many complications can be avoided through early intervention.
"This way if something goes wrong with the foetus, if it is not getting enough oxygen, for example, then doctors can immediately decide on the necessary intervention," he said.
"If you put a microphone on the mother's abdomen you will hear many sounds, including the mother's breathing, her heartbeat, the embryonic fluid movement as well as the foetal heart movement.
"The foetal heart movement is a very tiny sound, so we are developing a signal processing technique that will distinguish the foetal heart sound from all other sounds."
The device uses a driver installed on a mobile phone, and acoustic sensors plugged into the phone's sound card are placed on the mother's abdomen.
Researchers are perfecting the technology and hope to have a prototype ready by the end of this year.
A normal foetal heart averages 110 to 180 beats per minute, although it can vary with gestation.
A rate that falls below 100 is cause for concern, Dr Khandoker said.
Another feature detects heart-rate variability. The heart rate of a healthy foetus will typically increase or decrease by 10 beats a minute, Dr Khandoker said.
If it falls below this, it could indicate a problem, most commonly hypoxia, or the lack of oxygen.
"Hypoxia can also damage the foetal brain," he said. "If the baby doesn't get enough oxygen for even 10 seconds, it could cause severe neurological damage."
An incorrect foetal position could also result in a low heart rate.
"There are many explainable reasons but the important thing is the immediate intervention that could save the baby," Dr Khandoker said. "That is the bottom line."
The research is being funded by a US$100,000 (Dh367,000) grant from Khalifa University and $100,000 from the Bill and Melinda Gates Foundation. The team hopes for another $1m to begin clinical trials on 500 mothers next year. One hundred of them will be in the UAE.
Eiman Alhmoudi and Noaf Falah Ali Al Wahab, biomedical engineering students at Khalifa University, worked on the project as part of the annual Student Innovators Programme at the Sheikh Zayed Institute.
Ms Alhmoudi, 22, said the biggest challenge was keeping the cost of the sensors low while making the technology sophisticated enough to distinguish the foetal heart sound from all others.
The Emirati said she was proud her country was home to such innovation.
"Most people don't know what we're capable of, so to have a professor from one of our universities come up with such a wonderful concept is something to be proud of," she said.
"Now when you say the UAE, people don't just associate it with wealth, but also with innovation."
If successful, the driver would be available to download for free from the internet and the sensors would cost no more than $2.
Dr Mary Teresa Donofrio, director of the foetal heart programme at the centre in Washington, and Dr Anita Krishnan, a paediatric cardiologist, said problems that could be avoided using this technology included early signs of treatable abnormalities in foetal rhythm, early signs of foetal distress, and fetuses with intrauterine growth restrictions or placenta problems.
The direct benefit to the mother, however, is still unknown.
Doctors said there may not be any, although if a slow foetal heart rate was detected, this could point to the mother either having an autoimmune disease or a heart-rhythm problem.
While other foetal heart monitors exist, most cost several hundred dollars, are complicated to use and are typically used in a clinical setting, said Dr Keven Cleary, technical director of the bioengineering initiative at the Sheikh Zayed Institute.
"Foetal heart rate is a good overall indicator of foetal wellbeing," he said. "Not only would this make the information more accessible to mothers in low-income countries, but also empower them to take action when it's necessary."
newsdesk@thenational.ae
http://www.thenational.ae/uae/health/uae-project-develops-low-cost-heart-monitor-for-pregnant-women#ixzz2iCgsvgZN
-------------
Mother's Ten-Hour Ordeal after Losing Daughter during Haj
October 19, 2013
MINA — A mother lived through the most difficult ten hours of her life when she lost her daughter in Arafat on Oct 14. Neda's mother and father kept searching for her among the sea of crowds to no avail. Her mother broke down and cried, thinking the unthinkable. They waited and waited for hours but could not find her even after pilgrims left Arafat and Mazdalifah. The next day, the father's phone rang. He could not believe it when he heard the voice of his six-year-old daughter Neda at the other end telling him she was safe and sound at the centre of lost children in Mina. Immediately, the father and mother headed straight to the centre. They found Neda laughing and playing with female guides who found her and brought her to the centre.
Neda's father said he prostrated on the floor thanking Allah for returning his daughter. Maha Fetaihi, head of female guides, said all women took a year-long course on how to deal with lost children and serve pilgrims who lost their loved ones during Haj. "There are 16 ladies and a psychologist who deals with kids who get scared and cry because they are away from their parents."
http://www.saudigazette.com.sa/index.cfm?method=home.regcon&contentid=20131019183984
-------------
Pilgrim Fulfils Pledge to Serve His Mother, Who Had Gone In Coma at His Birth
October 19, 2013
MINA — A Pakistani pilgrim has set a shining example of how a son can be grateful to his mother. He carried his old mother on his back at a brisk pace under the sun in order to get her to the train station. Other pilgrims admired Muhammad Amin for his service to his mother as he stormed his way through the crowds. Though Okaz reporter tried to talk to him, he did not reply as he was focused on his mission: getting his mother to a safe place from the sun.
The reporter followed Amin till the station, where Amin told him that his mother was sick and he was worried about her. "I have always wanted to serve my mother during Haj. My beloved mother went into coma right after she gave birth to me and almost died. Ever since my father told me that, I made a promise to carry her on my back during Haj, knowing for sure that I'd never be able to pay her for what she did for me."
Amin came to the Kingdom few years ago and kept saving money in order to pay for his mother's Haj.
http://www.saudigazette.com.sa/index.cfm?method=home.regcon&contentid=20131019183981
-------------
Saudi Women's Slow Drive to Reform
October 19, 2013
Despite taking a prominent role in revolutions across the region, women have so far witnessed few tangible gains from the Arab Spring. However, in the traditionally closed society of Saudi Arabia, women have seen steady and substantial progress as the government has initiated a subtle expansion of women's rights. While the government cannot mandate a change in public attitudes or legislate an end to discrimination, its efforts demonstrate a concerted will to reform.
On Aug. 27, the Saudi cabinet approved a law banning domestic violence and imposing penalties on all forms of sexual abuse, whether physical, verbal or psychological. It is possibly part of an attempt to draft a more comprehensive family status law, and the latest in a series of recent measures demonstrating the government's commitment to improving women's rights and changing public attitudes.
In September, the cabinet granted foreign wives and mothers of Saudi citizens the right to receive residency permits, along with medical, education and welfare benefits.
In October, the Justice Ministry for the first time granted several women licenses to practice law, and last spring hired female staff for several administrative courts.
In February, King Abdallah swore in 30 newly-appointed female members of the Majles al-Shura. In late 2011, he granted women the right to vote and run for office in the next municipal elections.
Starting from a low bar
The government will face major hurdles in enforcing the new domestic abuse law and full implementation may be years away, especially given pervasive cultural attitudes toward women. Saudi Arabia currently ranks 131 out of 135 countries in the Global Gender Gap Report, with particularly poor marks for economic participation and political empowerment. Predominant interpretations of Salafist Islam prohibit the mixing of sexes and encourage strict measures to preserve the honor of wives and daughters. Many religious scholars hold to the rule that women cannot work in jobs that bring them into direct contact with men, walk in public with a man who is not a blood relative or compete in sports where their bodies might become visible to male spectators. They cannot apply for a driver's license and they cannot travel without the permission of their spouse or male guardian.
While the Saudi government probably does not want to wade into the depths of a heated religious debate, it is probably motivated by a desire to make the economy more productive and respond to the expectations and demands of a younger generation that has been exposed to the West. The government's very slow and gradual pace of reform to the labor laws parallels the very slow rise of female participation in the workforce, from 14.6% of Saudi nationals in 1999 to 20.1% in 2012, according to the Saudi Central Department of Statistics.
Diversity lags, however, with 86.9% of working women today serving in the education and health sectors. (Many of these positions appear to be civil service appointments, as newspapers report that women comprise 38% of all civil service government jobs.) The same government statistics also show that 358,870 women are currently unemployed, with 73% of unemployed women holding college degrees. Accurate unemployment numbers are notoriously difficult to track and these numbers probably only show a small part of a much larger and more complicated situation. Regardless, as the population grows and the welfare system expands in response to public grievances, the state cannot afford to have a large, highly-educated sector of the workforce go unutilized. Under the Hafiz welfare program initiated in 2011, 86% of all Saudis receiving unemployment benefits are women.
Silent march of progress
Throughout the Arab world, women actively participated in protests and revolutionary movements, yet they saw few gains and in some countries actually lost rights assured them under the old regimes. From the start of the Arab Spring, Manal al-Sharif led the cause for Saudi women's rights by defying the ban on driving. She received widespread international attention, but her efforts provoked little substantive response from either the public or the government. In fact, many more Saudi women from across the country have been far more active in promoting the cause, though their efforts have received much less international attention.
Saudi women have posted a petition online, demanding a government pledge to reform, and they received 14,000 signatures despite having one of the websites blocked by the Saudi government. Three female members of the Majles al-Shura have proposed legislation allowing women to drive, and even if they are unlikely to succeed, their efforts in the Majles will at least lend greater legitimacy to the protest rally for women drivers that is scheduled for Oct. 26. The petition rejects the notion that women must wait for societal attitudes to change before legal reform is possible, yet the tone belies the fact that change in Saudi society comes through consensus and consultation. The petition is not a forum for individual civil society activists to promote themselves or their organizations — it is a broad, inclusive invitation for all Saudis to participate and work with their government in bringing about change.
The kingdom has benefited from the bold stands of several rulers who initiated a process of top-down reform, but it does not have a tradition of charismatic civic leaders paving a path through the wilderness. Interestingly, in 2010, members of the Jeddah Chamber of Commerce proposed the creation of a Ministry of Women's Affairs and the drafting of a national strategy for women's participation in the economy. That would presumably place a woman in the cabinet for the first time, and give Saudi women a focal point for their concerns, while working to reform the system from within. However, that concept has been around at least since the 2004 session of the Saudi National Dialogue forum on the subject of women's rights and responsibilities, and the government has never acted on it, according to Amani Hamdan's 2005 article, "Women and Education in Saudi Arabia: Challenges and Achievements."
Rather, slow but steady change is taking place in Saudi Arabia because of the interaction between broad-based government reform efforts and the involvement of numerous women who take a quiet but confident role in society. The government's reform efforts are opening a space for public debate about gender equality, with newspapers and social media focusing on the constraints women face and the poor facilities afforded them.
The Internet is promoting public awareness of cases where women have committed suicide, run away or risked arrest in pursuit of freedom, equality and safety. Moreover, many senior royal princesses have taken prominent roles supporting causes that empower women, including Adilah bint Abdallah, Louloua bint Faisal, Jawaher bint Nayef, Hussa bint Salman, Sara bint Musaid, Reema bint Bandar, Ameera al-Taweel and Basma bint Saud. There are even two princesses on the Majles al-Shura: Sara bint Faisal and Moudi bint Khaled.
Challenging expectations
Saudi Arabia is starting from a very low point of gender equality, and no doubt the media and human rights activists have high expectations for rapid improvements. However, civil and personal rights are seldom won through stunning and swift action that results in revolutionary change. Specific historical moments are later memorialized by future generations as turning points on a teleological path to progress, but that should not obscure the fact that civil rights are rarely at the top of any revolutionary agenda. Civil rights' advocates are engaged in a tug-of-war with societal norms, pushing and pulling against entrenched interests for years before any meaningful laws can be passed, enacted and enforced.
These government attempts to promote a more tolerant and open society run counter to the situation in many of the Arab countries that recently underwent popular uprisings. It is not a revolution of civil rights in Saudi Arabia; it is a slow and quiet process of change sustained by a broad interaction of societal forces, encouraged by the free exchange of ideas on the Internet, and supported by a wide range of activities and institutions receiving backing from prominent members of society. The highly-charged issue of drivers' licenses could turn out to be the last privilege that women receive, long after they have gained basic employment and family rights. Surprisingly, among all of King Abdallah's attempts to establish a legacy, the advancement of women's rights may turn out to be the most successful initiative well into the future.
Disclaimer: The views and opinions expressed in this article do not represent those of the State Department or the US government, and are solely those of the author.
http://www.al-monitor.com/pulse/originals/2013/10/saudi-women-rights-slow-reform.html#ixzz2iCfAuID1
-------------
Young campaigners force Yemeni parents to set lower dowries
19 October 2013
Young demonstrators in central Yemen launched a campaign to reduce marriage dowries to $1,000.
Local sources said that dozens of unmarried youngsters from al-Jarf village, in the Taaz governorate, 256 km south of Sanaa, demonstrated in the evening of the second day of Al-Adha, calling for a reduced marriage dowries.
Al Arabiya learned that the demonstration was a reaction to a recent incident where a future father-in-law in the village decided to raise the dowry of his daughter to 500,000 Yemeni riyals ($2,500).
Demonstrators visited all the houses of the village, forcing fathers and village elders to sign a pledge where they promise to refrain from setting a dowry costing more than 200,000 riyals ($1,000).
The demonstrators threatened to increase their demands in the event of anyone signing and then refusing to abide by their pledge.
The campaigners are seeking for a radical solution to the high rate of unmarried people in the village, and believe that lower dowries will encourage singles to get married.
Yemen suffers from a high rate of spinsters which has become a social phenomenon, boosted by the high levels of poverty and unemployment, coupled with tribal traditions that boosted marriage dowries exponentially.
Moujib Abdulwahab, a social researcher, told Al Arabiya that in many regions, especially those with a heavy tribal influence, the dowry asked by the bride's father can be as much as 3 million riyals ($15,000).
Local sources noted that the reason behind high dowries in some regions is that most of the brides hold U.S. passports, with the dowry intended to cover the cost of travelling to the United States.
http://english.alarabiya.net/en/variety/2013/10/19/Yemeni-parents-forced-to-set-lower-dowries.html
-------------
URL: https://newageislam.com/islam-women-feminism/islam-no-longer-'religion-male,/d/14053