New Age Islam News Bureau
22 Jan 2014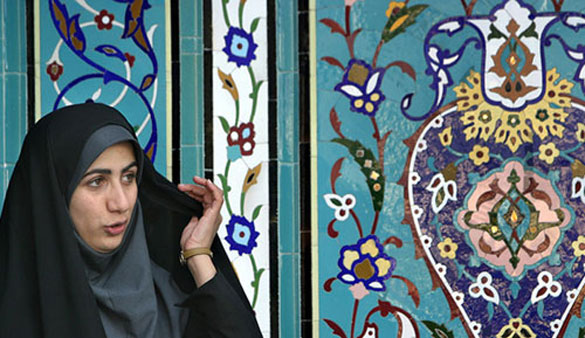 A young Iranian veiled woman stands in front of a mosque at the 18th Tehran International Book Fair, May 8, 2005. Photo by REUTERS/Morteza Nikoubazl
---------
• The EU's Duty to Defend Women's Rights in Afghanistan
• Saudi Female MP Calls for Accelerated Steps to Empower Women
• Pak Teen Hopes Bangalore, India, Doctors Will Fix Her Heart
• Russia Hunts Suspected Female Sochi Suicide Bomber
• 'Women-Only' Hangouts Could Break - Or Bolster - The Palestinian Glass Ceiling
• Iranian Women Warned About Wearing Chador
• Yemeni Women Marginalized Even In Death
• Iraqi Women Mostly Absent From Political Scene
• Knesset Producing Film to Fight Anti-Circumcision Laws
• Village Girl's Golden Run Goes on at Mumbai Marathon
Compiled by New Age Islam News Bureau
URL: https://www.newageislam.com/islam,-women-and-feminism/new-age-islam-news-bureau/-i-don't-know-if-i-ll-survive-next-attack,--writes-beirut-girl-before-death/d/35393
-----------
'I Don't Know If I'll Survive Next Attack,' Writes Beirut Girl before Death
Jan 22, 2014
18 year old Maria al-Jawhari foretold her own death after writing on her Facebook page that she had barely escaped three Beirut-based bombings and that she didn't know if she would "survive the fourth," reported The Daily Star on Wednesday.
The Lebanese teen was killed in the bombings on Tuesday when she was working at a shoe store.
Jawhari died on the same street that was struck by an earlier bombing on Jan. 2, at almost exactly the same place.
"She was very light-hearted, it was a pleasure to sit with her ... She treated everyone equally, old, young – she treated me like a friend, not an auntie," said a family friend of Jawhari.
"She worked in the store but she had dreams, like any girl her age. She dreamed of having a life, a future, of living in security," she added.
With a recent surge in bombings in Lebanon, many empathise with the vulnerability the teenager felt on her social media page.
One woman, who would not give her name, says she thinks about leaving the southern suburbs "every day."
"Every time I walk down the street, every car I see, I think 'is this it?'" she says, adding hopefully that over time Hezbollah supporters will become tired of paying the consequences for the party's actions.
Residents near the site of the bombing insist there were no military or Hezbollah-affiliated targets on the street.
Tuesday's suicide attack occurred in Beirut's southern suburb of Haret Hreik, an area of Hezbollah support, killing at least four people and injuring another 31.
The Lebanon branch of the Nusra Front claimed responsibility for Tuesday's attack, vowing to continue to strike Hezbollah over its role in the Syrian war.
The other fatalities included Ahmad al-Obeidi, Ali Ibrahim Bashir, and Khodr Srour.
Social media flooded with pictures of Bashir, who also died at the young age of 20. Obeidi died while driving with his son, who was injured by the blast but survived.
http://english.alarabiya.net/en/perspective/2014/01/22/-I-don-t-know-if-I-ll-survive-next-bombing-writes-Beirut-girl-before-death.html
-----------
The EU's duty to defend women's rights in Afghanistan
Jan 22, 2014
United Kingdom Prime Minister David Cameron may feel that his country's Afghanistan mission is 'accomplished'—but Afghan women paint a much bleaker picture. Despite 12 years of armed conflict, investment and capacity-building by foreign governments in Afghanistan, including by European Union governments and the EU itself, women's rights remain in peril in Afghanistan.
Violence against women and forced marriage are rife while high-profile female government officials and civil society activists face threats and attacks by the resilient Taliban insurgency. All too often, the government appears unable or unwilling to bring to justice the perpetrators of these crimes. Worse, in the last year Afghan government officials have themselves attacked some of the most basic legal safeguards for women.
On the International Day for the Elimination of Violence Against Women, November 25, news broke that Afghan government officials had participated in preparing a draft law that would have reinstated the Taliban-era punishment of execution by stoning for adultery. This is only the latest example in a recent string of serious setbacks or attempts by government officials and parliamentarians to roll back women's rights.
These attacks threaten to unravel the fragile but important advances in women's rights in Afghanistan since the fall of the Taliban regime in 2001.Those gains are real and deserve recognition, particularly in the areas of education, health care, and the role of women in government and politics. But delivering long-term, sustainable improvement in the rights of women and girls in Afghanistan is still a distant goal: literacy and female school attendance remain low while maternal and infant mortality remain high. The Taliban insurgency has largely maintained the same approach to women's rights as that of the Taliban regime, which barred women from education, working—or even leaving their homes unescorted.
The threats to women's rights in Afghanistan demand meaningful EU action. On January 20, EU foreign affairs ministers had an opportunity to take concrete steps to address the threat to Afghan women's rights when they met in Brussels to discuss the EU's Afghanistan strategy. The conclusions of the meeting expressed concern about the situation of women in Afghanistan and called for urgent action to better enforce women's rights, but it was unclear how the foreign ministers intend to ensure that this urgent action happens.
This matters because the EU institutions, together with the 28 EU member states, have significant influence in Afghanistan, both politically and financially. As we told ministers in a recent letter, at this crucial time the EU and its member states need to make it absolutely clear that women's rights are a non-negotiable, core aspect of the EU's relationship with Afghanistan.
The EU has committed itself to women's rights often enough. High Representative Catherine Ashton and other officials have stressed that a country cannot be safe and secure unless its women are, and that "women are essential to democracy."
Now is the time to put those words into action.
In recent meetings Human Rights Watch had in Brussels and other European capitals to discuss these attacks on women's rights, diplomats and officials largely agreed that women's rights matter and that they face increasing threats in Afghanistan. But their expressed concern about these abuses didn't always extend to offering meaningful support in combatting them.
Some officials claimed that this was the "wrong time" to discuss women's rights. Others reasoned that women's rights are not linked to security, "which is what matters right now." There were concerns by a few officials that pushing women's rights was awkward or inappropriate at a time when – in their view - the government and Taliban are negotiating and a deal could be achievable. The timing of the upcoming April presidential election was also seen as a potential complication to advocating for women's rights. And, too often, we heard that even if this would be the right time for such advocacy, and even if this were a true emergency, they didn't have the leverage to do anything more.
The women and girls of Afghanistan don't have the luxury of time. If now is not the time to discuss women's rights, when is? After more police women get murdered? When more women's rights activists have fled the country out of fear?
The lack of vocal, consistent criticism and concern by the EU and others about the deterioration in women's rights in Afghanistan makes it easier for those inside and outside the Afghan government to roll back advances women achieved since 2001 without fear of international protest.
For example, in May 2013, the Afghan Ministry of Justice added a provision to a new criminal procedure law that prohibits family members from testifying against each other. That prohibition would effectively prevent prosecutions for domestic violence, forced marriage and child marriage.
On May 18, 2013, conservative parliamentarians attacked the Law on Elimination of Violence Against Women (EVAW law), the most important law on women's rights since the constitution, calling for it to be overturned as counter to Islam. Also in May, the lower house of parliament reduced reserved seats for women on provincial councils. Afghanistan President Hamid Karzai has compounded the government attack on women's rights by informing women's rights activists that he will no longer publicly back the Violence Against Women law.
The EU needs to ensure that Afghan leaders and activists on the frontlines of the battle to protect women's rights receive firm political and financial support. In the words of High Representative Ashton, "The battle for women's rights is becoming the decisive contest between prejudice and democracy."
Following the January 20 meeting, the EU has an opportunity to ensure that message is heard in Kabul loud and clear.
http://www.trust.org/item/20140121120052-boj32/
-----------
Saudi female MP calls for accelerated steps to empower women
Jan 22, 2014
A Saudi female lawmaker on Tuesday criticized what she said was slowness of the Justice Ministry to implement previously declared reforms to empower women.
"When it comes to women, the progress needs to be accelerated because there are many projects that the Justice Ministry has introduced to empower women but has been very slow in implementing them," Hanan al-Ahmadi, a member of the Saudi Shura Council, told Al Arabiya News Channel.
She said the ministry has made several announcements, such as the formation of departments specialized in women's issues related to divorce, alimony and child custody.
"Announcing these services on the media is not enough. There needs to be a strong will for these services to see light," Ahmadi said.
She said bureaucracy is first to blame for not speeding up the reform process.
"There is a lot of bureaucracy and the priorities are established in a different manner. We in the Shura Council hope that women's issues are prioritized by the Justice Ministry," Ahmadi added
She said one of the major obstacles women still face in courts is related to identification.
A woman's identity card is not always accepted and a witness is often required to affirm the woman's identify.
Ahmadi praised, however, some major steps recently taken by the Justice Ministry to empower women, such as granting them permission to work as lawyers.
She said female members of the Shura Council will be pushing for increased reforms to improve women rights in the kingdom.
http://english.alarabiya.net/en/News/middle-east/2014/01/21/Saudi-female-MP-calls-for-accelerated-steps-to-empower-women.html
-----------
Pak Teen Hopes Bangalore, India, Doctors Will Fix Her Heart
Saswati Mukherjee B,TNN | Jan 22, 2014
BANGALORE: "I want to study a lot and become a doctor," says Kiran Soomro, 17. This teen from Karachi is in Bangalore to get her heart mended. And the first thing this Class V dropout wants to do on returning home is seek admission in a school.
It was six years ago when Kiran fell unconscious one day. Next thing she knew she was diagnosed with a hole in her heart. "She was a normal child and never complained of any problem," says Sikander Ali Soomro, Kiran's father, who followed it up with local doctors. They prescribed advanced treatment which wasn't available locally, and asked Ali, a former Survey of Pakistan employee who now sells potato chips for a living, to take Kiran to India.
"Main bhi kisi patient ka elaaj karungi (even I will treat a patient)," says Kiran, as her eyes reflect her dreams of making it big someday. Kiran is in India under the Aman ki Asha initiative, a collaboration of The Times of India with The Jang Group of Pakistan. Her treatment and accommodation at Narayana Health in Bangalore is being sponsored by Rotary International under its Needy Heart Foundation.
Remembering the tough times
A clearly nervous but optimistic Kiran is pinning her hopes on the fact that she can walk now, something that wasn't possible even eight months ago. "I used to lie down all day and keep staring blankly at people doing things around me. I couldn't even get up to fetch a glass of water," says a misty-eyed Kiran.
Eldest of six children, Kiran hasn't spoken to her younger siblings after reaching Bangalore on Monday midnight. Her mother, Shamshad Soomro, who is accompanying her daughter and husband on the trip, is worried for her children back home.
"My youngest daughter is seven but I have to be with Kiran now. It has been traumatic to see her bed-ridden all these years. We are hopeful she'll be cured here," says Shamshad.
While Mathematics is this teenager's favourite subject, she also likes to dress up well, and hopes to join her friends in school soon.
Doctors to evaluate her
Kiran Soomro's lung pressure is extremely high. Dr Devi Shetty, chairman, Narayana Health, says it'll take them a couple of days to evaluate her medical condition.
"We'll do an echocardiogram and an angiogram and check if she is ready for operation. If not, we'll put her on medication and follow up on her for the next five to 10 years. She might then require a heart and lung transplant," says Dr Shetty.
Kiran was in Delhi last year where doctors said no to an operation because both her lungs were severely infected. She was put on medication for six months after which she returned to Karachi and started walking.
First came Noor
Just over a decade ago, two-and-a-half-year-old Noor Fatima came to Narayana Hrudayalaya from Lahore, Pakistan. Noor had multiple holes in her heart and a narrow pulmonary valve - a congenital heart disorder. On July 15, 2003, she underwent an open heart surgery, and returned to Pakistan on recovery. Dr Devi Shetty was little Noor's surgeon.
Times View
In the midst of frosty ties between India and Pakistan, people-to-people initiatives like Aman ki Asha have shown that barriers break when hearts meet and people reach out. Kiran Soomro is a case in point. At a time when border conflicts, one-upmanship and blame games over terror cases rule the roost, the efforts to save a teen from Pakistan in India spell hope. With several people and organizations coming together to facilitate her medical treatment, this should be a lesson to governments that more such initiatives will minimise the mistrust and help normalize relations.
Post a comment
http://timesofindia.indiatimes.com/city/bangalore/Pak-teen-hopes-Bangalore-doctors-will-fix-her-heart/articleshow/29173184.cms
-----------
Russia hunts suspected female Sochi suicide bomber
January/22/2014
Russian police in Sochi are hunting for a woman they fear may be planning to carry out a suicide bomb attack.
They have put up wanted posters in hostels around the town, which is hosting the Winter Olympics next month.
The woman, 23-year-old Ruzanna Ibragimova from Dagestan in the North Caucasus region, is believed to be the widow of an Islamist militant.
She is thought to have slipped into Sochi earlier this month, bypassing tight security ahead of the Games.
At least two other potential female suicide bombers are also at large in the region, other police posters state.
Russian President Vladimir Putin has launched one of the biggest security operations in Olympic history, and has personally inspected the sites.
More than 30,000 police and interior ministry troops have been deployed and access to the area limited.
Security fears were heightened after two suicide bomb attacks killed 34 people in the southern city of Volgograd on 29 and 30 December.
US President Barack Obama, in a telephone conversation with the Kremlin on Tuesday, offered America's "full assistance" in making the Olympics "safe and secure", the White House said.
Two US warships will be on standby in the Black Sea when the Games begin on 7 February. Washington has also offered to supply Russia with hi-tech equipment to help detect improvised explosives.
Islamist militants from Dagestan and nearby republics of Ingushetia and Chechnya are considered by Moscow to be a major threat to the Games.
Several national Olympic associations have reported being sent an email threatening athletes with attack.
A spokesman for the Hungarian association said the IOC and the Sochi organising committee had declared that the threat was "not real".
http://www.bbc.co.uk/news/world-europe-25839176
---------
'Women-only' hangouts could break - or bolster - the Palestinian glass ceiling
22 January 2014
Social venues catering to women offer a safe space for customers, but critics worry about the risk of voluntary segregation.
RAMALLAH – Twenty-year-old, hijab-wearing interior design students Yusin and Tamara have escaped the catcalls of downtown Ramallah to smoke water pipes at Ladies' Café, a "women only" underground hangout discreetly located below a candy store.
http://www.haaretz.com/news/middle-east/.premium-1.569516
-----------
Iranian women warned about wearing chador
22 January 2014
On Jan. 7, 1936, Iran's then-ruler Reza Shah Pahlavi unveiled women by force as part of his clash with the clergy. On the anniversary of this significant event, influential conservative clergyman Ayatollah Safi Golpayegani issued a lengthy statement in the form of a news release titled "Warning Iranian Women," in which he expressed disappointment in women who opt to dress more fashionably and revealingly. He referred to the "hip" version of Iranian women's wear as "covering skin and concealing private parts as it should, but [falling] short of true coverage … and on the verge of being defined as haram." He went on to recommend the chador as the best choice of coverage, repeating what many Iranian officials have said over the years. His mindset is concluded in the famous phrase describing the veil: "Chador, the superior hijab."
I interviewed Mohammad-Ali Abtahi, a reformist clergyman and former Iranian vice president who lives in Tehran, and asked his take on the chador, Ayatollah Safi's comments and his religious interpretation. Abtahi told Al-Monitor, "From an Islamic standpoint, we as members of the clergy are to preach the right [path]. That's all. We are not to pursue people's behavior, nor should we attempt to correct it through publicly condemning it." He told Al-Monitor, "Chador is an Iranian option of coverage, and choosing to wear it or opting out does not define people's religious beliefs. It's simply like any form of dress. But what makes this a sensitive issue is that since hijab is mandatory in Iran, less coverage is interpreted as resisting the regime. And that's why all hell breaks loose when it comes to women's hijab."
Shahram Shabpareh, an Iranian pop singer, has old song called "Dokhtar Chadori" (Veiled Girl), in which he attempts to convince his crush to ditch the chador. He likens the garment to a black cloud covering the pretty face he'd rather see in the clear.
Iranians created the chador, which is free-standing overall head-to-toe cover. It's held in place by the hand or the more modern elastic band to make movement easier. Though there is much dispute over the roots of the word and the origin of its creation, the chador is mostly believed to be have been created in the Safavid era, around the time that Shiism was declared the official religion of Iran.
In Farsi, the word chador means "tent," and the name implies the head-to-toe coverage the garment provides, though some literature suggests otherwise. A woman who wears a chador is referred to as chadori. The "formal" chador is black and plain and offers near-total concealment. This type of chador is worn to the workplace, social gatherings and formal events. The "casual" chador is lighter, both in texture and in color, and it's usually worn when women answer the door or step outside for just a minute. In some cities of Iran, the light form of chador — generally white, with a colorful flowered print — is worn as outerwear.
Outside of Iran, in Shiite-populated sections of Lebanon and Iraq, some women wear the black chador, apparently inspired by Iranians. This specific form of coverage is mostly exclusive to Iranian women, which is why some officials refer to it as the "national style."
Some Iranian women and girls dislike and even despise wearing chadors, but are pressured to do so by their husbands, families or in-laws. For some, there are religious considerations and others are concerned with tradition or gossip.
The chador is not the only means of coverage for Iranian women, nor is it mandatory. In fact, chadori women can even make up the minority, particularly in bigger cities. The mandatory coverage — which many women discover ways to maneuver around — is a piece of clothing called a manteau, required to be worn as an over-garment. Hair is to be covered by scarves, and most chadori women wear scarves under the veil to conceal their hair.
Massoumeh, a 25-year-old college student living in Kerman, told Al-Monitor that she hates her black chador but is forced to wear it by her parents. She adds, "So I take it off, fold it and put it in my purse as soon as I'm a few blocks away from home, and I do the opposite when I get close to my house. I've a hunch that my folks know, but they haven't mentioned anything, at least not yet. I have a couple of friends in the same situation. Their solution is the same as well."
But for some Iranian women, just the thought of putting aside the chador is akin to stripping. One of those women is Fatemeh, who told Al-Monitor that she doesn't feel safe or comfortable without her chador. She added that at times, it's quite convenient. She said, "You could keep your house clothes on. It's quick and easy; you just slip on your chador and you're good to go."
Chadori women support one another. On an Iranian website called "Chadoriha" (The Veiled), the group encourages peer support, pride in wearing the chador, chador-related news and voting for fellow chadori women running for public office.
Though the regime is all for the chador, most people are not. Embarrassment or mockery, or even getting bullied — particularly in bigger cities — are among the consequences of choosing the chador. Homa, a teacher in Tehran, told Al-Monitor that she understands older women's choice to be veiled, but has absolutely no respect for younger chadoris. She says, "I usually drive carefully when it rains, so the muddy water wouldn't splash on passersby. But if I see a younger chadori passing, I totally allow myself to be inconsiderate. Let me give you another example: I go to pilates class twice a week and never say hi to the three chadori women in my class."
http://www.al-monitor.com/pulse/originals/2014/01/iran-chador-hijab-resistance-social-pressure-veiled-women.html#ixzz2r4cIgW18
-----------
Yemeni Women Marginalized Even In Death
22 January 2014
It's a sad, painful time in Yemen. On the evening of Dec. 5, the day following the attack on the al-Arida hospital at Yemen's Defense Ministry that left 56 dead and more than 150 injured, I had dinner with a senior military official. A phone call he took involved the strangest discussion I have ever heard.
Speaking with the father of one of the victims of the previous day's massacre, the official insisted that the man's daughter could not be buried in Martyrs' Cemetery, where male victims were being interred. That evening was the first time I realized that Martyrs' Cemetery did not contain a single woman's grave, despite there having been dozens of female martyrs in Yemen over the years.
In Yemen, especially in the cities, women are not only marginalized in public life, but even after their death they are not given a grave that befits their memory and the sacrifices they made for this country.
Women in Yemen are usually the ones who give the most, yet they receive the least recognition. While women sometimes outperform men in countries where the sexes are afforded equal opportunities in education and employment, for this to occur in Yemen — a male-dominated country — is very unusual.
Education
In the list of Yemen's top high school students released a few months ago, female students occupied all of the positions in the literary section and two-thirds of the positions in the scientific and English sections. This came despite female students making up only about 35% of the total student body.
Although Yemen's male and female populations are roughly equal in number, statistics indicate that girls have less involvement in education than boys do. This is especially true in rural areas, where the exclusion of women from public life is particularly pronounced.
Discipline is imposed on girls at home at an early age to safeguard their reputations, thus preserving their eligibility for marriage. As a result, girls are usually more serious students than boys are, albeit at the expense of a normal social life. However, poor scholastic performance can lead to forced marriage at an early age. More than 42% of Yemeni housewives were married before age 18, and about 8% of them were brides at 12.
Having recognized the gender gap in school enrolment, Yemen's educational authorities devised a long-term strategy to increase female enrolment rates, with the goal of achieving a 95% female enrolment rate by 2015. But implementation of the strategy has been lacklustre. In its 2012 annual report, UNESCO reported that Yemen would not achieve gender equality in educational opportunities by 2015— or even by 2025.
Employment
The marginalization of women is not motivated by purely social and cultural reasons, as is commonly believed, but also subject to political will. About a decade ago, the Yemeni authorities announced that they would begin introducing women into the military. This sparked an intense debate and the majority of parliament voted against the decision, motivated by a commitment to custom. However, the authorities remained committed to the move and a presidential decree created a very limited female military track. It passed peacefully and was accepted by society, while the parliament stayed silent.
Yet discipline and precision in performing tasks is not always the road to greater success when the responsibility level increases and the few women who have assumed the leadership of ministries have not exhibited superior performance when compared to their male counterparts. Of the three ministries in the current government that are run by women, none were included in the lists of high-performing or low-performing ministries. This may be because the women-led ministries are not service-based ones, and thus are not scrutinized by the public. Their work is routine, and the main trait distinguishing female ministers is that they typically arrive at the office earlier than the men.
Although some of the working teams from the National Dialogue Conference (NDC) have passed resolutions imposing a quota for women that will not necessarily strengthen the female presence in executive and legislative positions. This is because even the appointments made in the name of women's rights in Yemen are subject to traditional political and elitist calculations. In other words, these resolutions might be less about empowering average Yemeni women of distinguished qualifications, and more about enabling elite women with ties to authorities to maintain their pre-existing privileges. Appointees include the heads of the Welfare Fund for Wounded, the Families of Martyrs of the Peaceful Youth Revolution and the Peaceful Southern Movement. The quota is also reflected in the fact that women hold 30% of leadership posts in the Supreme National Commission for Fighting Corruption, a high-level body that enjoys great sovereignty.
Civil leadership
There is room for Yemeni women to compete in civil organizations, dozens of which are led by women. Some have actually succeeded in their work — in light of the weak competition from other women — while others have succeeded in marketing themselves and in increasing donors' interest in women's issues. Within the civil society context, many women have been appointed to the NDC, becoming well known faces. The quota imposed by the international community on the NDC is the only thing that forced traditional professional elites to include women, and their involvement seems weak, a mere formality.
Yemen has a rich history of leadership roles for women, and former female rulers still garner admiration and acclaim. These rulers begin with the Queen of Sheba, who ruled beginning about 1,000 B.C., stretching to Queen Arwa, who ruled in the 12th century A.D. Their reigns were characterized by stability, diversity and prosperity — states rarely seen in Yemen's more recent troubled history. The Queen of Sheba's temple in the city of Marib remains one of the country's most renowned historical sites. Yemenis are proud of this distinction, and it serves a symbol of this country's ancient history and the role of women in it. Today, however, the province of Marib suffers some of the country's lowest rates of female school enrollment and employment.
The culture of strict feminine obedience results in Yemeni women's absence from debates and discussions about their basic rights. Rather than worrying about quotas, Yemeni women are today struggling for equality in burial and honor for dying in national service. Burying Dr. Asmaa al-Thalaya, who died in the hospital attack, in the Martyrs' Cemetery with the male victims would not have detracted from this honor. Ironically, burying her in another cemetery benefited another woman — Thalaya's mother. The latter is only allowed to visit the grave of her husband (himself a martyr) in Martyrs' Cemetery once a week. A high-ranking military official issued the decision that Thalaya not be buried in the same cemetery in accordance with the wishes of her mother, whose tears have not yet dried.
Women remain a constant topic in the rhetoric of politicians and partisans because they represent a crucial bloc of electoral votes. Yet despite this rhetoric, only one woman won in the recent parliamentary elections, alongside 300 men.
http://www.al-monitor.com/pulse/originals/2014/01/yemen-women-marginalized-death.html#ixzz2r4cwMsEf
-----------
Iraqi women mostly absent from political scene
22 January 2014
After the mid-1970s, when demands to grant Iraqi women equal rights in the different aspects of political, social, economic and military life were on the rise, a decision package was issued by the Iraqi government in line with these demands. For example, the personal status law was modified, granting women the right to file for divorce and prohibiting men from marrying a second wife without a prior written approval from the first. It also opened the door for women to join the police and military forces, rendering the sight of female officers in the army and police normal for Iraqis.
During the last 25 years, however, the empowerment of Iraqi women has witnessed a slump and men taking multiple wives has made a huge comeback. Political and civil work of women dwindled, after the former regime of Saddam Hussein led a ferocious attack against it and targeted the leaderships and popular bases of religious and leftist parties. In addition, the deteriorating economic situation — which resulted from the economic sanctions imposed in 1990 by the UN Security Council on Iraq after its invasion of Kuwait — left women choosing between two devils, either stay at home, do the housework and raise the kids, or keep a state job with a salary that barely pays for transportation to get to work. Women were forced to opt for the first option.
The dramatic change in the power structure, which came to light after the US invasion and the toppling of the Saddam regime in 2003, has created a golden chance for women to return to the political and civil life. According to a quota share, the Iraqi electoral law gave women a share in parliamentary seats of no less than 25%.
It is true that political parties have used this quota to gain a larger number of parliamentary seats, through fielding female candidates who lacked the skills and knowledge required for this position, notably during the first elections held in 2005. Some female members of parliament (MPs), however, have proved to have a strong presence during parliamentary discussions and interrogations, and the speaker of parliament as well as parliamentary committees found it hard to deal with them. This has led some female MPs to call for quotas matching their demographic weight, while others were tempted to demand higher positions in the state, such as deputy president and speaker of parliament.
In this regard, MP Aliya Nussayif said, "There is a lot of injustice against women in the executive branch. If it were not for the quota, we would not have had this representation on the political scene." Nussayif told Al-Monitor, "In the executive branch, women are looked down at from a tribal and Islamic lens, which deprived them from a large number of their rights." She added, "One of these rights includes the participation in the executive branch and the three premierships."
For her part, MP Nada al-Jabbouri said, "If a woman had assumed one of the three premierships, or a decision-making position, many decisions would have been implemented."
"When the former government was formed, all political coalitions refused for women to assume a ministry, and this has become an established approach," Jabbouri told Al-Monitor. "What prevents women from assuming one of the premierships is the patriarchal mindset of politicians and society in general. Their view of women is regressive." She added, "The participation of women in the parliament allows them to be part of the decision-making process on the legislative and nonexecutive level."
Leading member of the Iraqiya List, Maysoon al-Damluji, limits the whole issue to the social factor, telling Al-Monitor, "Outdated traditions and customs prevent women from assuming one of the three premierships, even though female MPs attend parliamentary sessions more [than men], are more active during discussions and a lot less corrupt than male MPs."
Talking of their aspirations to assume one of the three premierships in Iraq, Jabbouri said, "The issue is not about presenting my candidacy for one of the three positions — because I will not receive support — the issue is about political coalitions naming me."
In this regard, Nussayif said, "When positions were distributed according to quotas, we called on the position of vice president to be reserved for women. When the crisis of security ministries erupted, we called on a woman to be named [to assume the ministry]."
Damluji said, "In the last parliamentary elections, I presented a political platform and an action plan to the parliament and I presented my candidacy for the speaker of parliament position. The political platform, however, was not the main factor [taken into consideration] by the coalitions. But my candidacy was useless, which is why I withdrew it."
Damluji does not rule out the possibility of a female politician assuming one of the three premierships, because the integrity of some of them is widely acclaimed among Iraqis. Nussayif, however, believes that this situation requires time and effort until the Iraqi society reaches a level where it is convinced with the effectiveness of women and their political role.
http://www.al-monitor.com/pulse/originals/2014/01/iraq-women-absent-role-politics.html#ixzz2r4d39JR0
-----------
Knesset producing film to fight anti-circumcision laws
22 January 2014
The Knesset is producing a short pro-circumcision documentary, to be filmed this week and shown in a committee of the Parliamentary Assembly of the Council of Europe next week.
On Monday, MK Nachman Shai (Labor) will represent Israel in the PACE Committee on Social Affairs, Health and Sustainable Development, where he plans to screen the film.
German ex-MP Marlene Rupprecht, who pushed through a motion limiting ritual circumcision last year, invited four doctors to the committee. She also invited filmmaker Victor Schonfeld to present It's a Boy, an anti-circumcision documentary he had produced.
"It's a Boy is very bad for the Jewish tradition, Shai said. "We demand equal time for our views."
Shai received approval from Knesset Speaker Yuli Edelstein on Monday to hire a production company that will interview experts on the topic of circumcision.
The seven- to eight-minute short will also feature Israeli doctors who traveled to Africa to circumcise men in an effort to fight AIDS.
"Maybe we'll call our film 'It's a Circumcised Boy,'" Shai quipped.
The Knesset plans to reuse the film to explain the importance of not outlawing ritual circumcision during lawmakers' visits to Europe and other places around the world.
Meanwhile, Thorbjørn Jagland, secretary-general of the Council of Europe, during a meeting with Muslim and Jewish clerics on Monday slammed the 2013 resolution by his organization's legislative arm expressing opposition to ritual circumcision.
The council is a pan-European intergovernmental organization of 47 member states that is not affiliated with the European Union, and which cannot pass binding laws.
Speaking with a delegation of rabbis and imams that the New Yorkbased Foundation For Ethnic Understanding organized, Jagland asserted that "starting to limit the rights of minorities is a very dangerous avenue to pursue.
"Whenever we have limited their rights, it has always led to catastrophe," he told the delegation, that included Said Aalla, the former imam of Strasbourg, where COE is headquartered, as well as René Gutman, the city's chief rabbi.
FFEU president Rabbi Marc Schneier praised Jagland, and said he believed that the battle for ritual circumcision was "not an issue which affects only Jews or only Muslims, but truly hurts the traditions of a large percentage of the peoples of faith both here in Europe and around the world."
"What the secretary-general basically said is that this is a moot discussion because they can discuss and debate and deliberate all that they want but there is no way that the Council of Europe is ever going to accept such a resolution or proclamation.
It is just not going to happen," Schneier told the Post. "If we were to ban circumcision then Muslims and Jews would no longer be able to continue living in Europe."
The Parliamentary Assembly of the Council of Europe passed a resolution in October calling male ritual circumcision a "violation of the physical integrity of children" and urging the organization's member states to "initiate a public debate, including intercultural and interreligious dialogue, aimed at reaching a large consensus on the rights of children to protection against violations of their physical integrity according to human rights standards."
Jewish organizations reacted harshly, with the leaders of some European communities deeming the measure to be deeply anti-Semitic. Israel and Turkey, both COE member states, issued denunciations. Israel has prepared a text for a counter-resolution, which it hopes to pass through PACE.
This is not the first time that the COE secretary-general has denounced the PACE resolution. In November, Jagland told a gathering of European rabbis in Berlin that "in no way does the Council of Europe want to ban the practice of male circumcision."
"Female genital mutilation violates human rights. Male circumcision does not. That is my position. That is the position of the Council of Europe," he said.
While the PACE resolution has no legal standing, such resolutions exert a powerful moral influence in Europe, and the secretary-general's statements asserting the body's opposition to the concepts embodied in the resolution can be seen as an effort to change the prevailing discourse surrounding circumcision.
European Jewish activists believe that Jagland's statements are part of a battle to set the moral agenda in Europe on issues of religious freedom, and that the resolution, non-binding as it is, was the opening salvo of an effort to turn local initiatives against circumcision into a continent-wide moral crusade against the practice.
Speaking with The Jerusalem Post on Monday, Conference of European Rabbis chief Rabbi Pinchas Goldschmidt expressed his concern that PACE "has not yet rescinded its position against circumcision," but expressed hope that during next week's debate "the members of PACE will reflect on their infringement of religious freedom, which is a fundamental value of the Council."
Maren Lambrecht, a COE official, confirmed to the Post that it is procedurally impossible to cancel a previously passed resolution, but indicated that a special panel will examine the topic next week and that several medical experts and religious leaders will attend and present their views on the matter. While there will not be a formal decision taken at the end of this meeting, she said, the discussion is necessary due to the "harsh international debate" engendered by the 2013 resolution, among other reasons.
"What it could lead to is that some of the people who might be interested in preparing a new text would listen to some of the debates next week, and maybe this could influence what they are going to write in a new report," Lambrecht said.
Despite news reports, she said, "there will not be a discussion at this meeting on the [Israeli] counterproposal" during the session.
http://www.jpost.com/Jewish-World/Jewish-News/Knesset-producing-film-to-fight-anti-circumcision-laws-338794
-----------
Village girl's golden run goes on at Mumbai Marathon
January/22/2014
Lalita Babar, 25, bought her first pair of shoes after she was prevented from running barefoot at a national track event in 2005. She went to a local shoe store in Satara district, where she was born and raised. Unaware of the brands that fellow athletes used, she bought a regular pair which cost her Rs.1,200 and pinched her pocket.
"I hadn't even heard of Adidas, Puma and Reebok. I still remember those shoes. They were of a local company called Pama. It was much later that I started buying branded shoes fit for running," said Ms. Babar who successfully completed a hat-trick of titles at the Mumbai Marathon on Sunday. She also set a new course record among Indian women athletes by clocking 2:50:31. Her demeanour a day after, however, personified humility and poise, as she answered congratulatory calls and messages. She wants to use the prize money to sponsor her youngest brother's education.
Born to farmer parents in the drought-ridden Maan taluka of Satara district, Lalita has not been a stranger to hardship. But her parents tried to shield her from everything that could come in the way of her budding career in sport. "If there were days my parents went hungry so that my stamina wasn't compromised upon, I did not know," said Ms. Babar, the oldest of four siblings.
Her tryst with running started at a young age when she ran to school, which was four kilometres away. "From the beginning, I was drawn to sport. Initially, I played kho-kho but then wanted to do individual sport. I would enjoy running to and from school. My parents are simple people who didn't understand much about sport. But it was my father's brother who encouraged me and started training me," she said.
Ms. Babar started athletics in school and moved on to district, State and national levels. She won her first gold at the under-20 nationals in Pune in 2005. That's when she got a job offer at the Indian Railways as a ticket checker. "A steady job meant a steady income to send back home," said Ms. Babar, who has been training at the Bangalore national camp since 2006. For this year, she has her eyes set on the Commonwealth and Asian games.
Her younger sister Jayashree, who works as a constable in the Mumbai Railways, said Ms. Babar had always been a source of inspiration. "When I think of my sister, I see her running in my mind. Watching her, I got interested in sport too. I participate in all the competitions organised by the Police Force," she said.
Her parents' work at the farm and their rather impoverished condition don't let them travel to watch their daughter win accolades and medals across the world. "But they make it a point to watch me on television. My mother has kept a file with all the newspaper cuttings. I get to go home only once in one-and-a-half years or so and stay just for a couple of days. When I go, I try to spend time with my family but everyone from the village wants to meet me," Ms. Babar said.
http://www.thehindu.com/news/national/village-girls-golden-run-goes-on-at-mumbai-marathon/article5602942.ece
---------
URL: https://www.newageislam.com/islam,-women-and-feminism/new-age-islam-news-bureau/-i-don't-know-if-i-ll-survive-next-attack,--writes-beirut-girl-before-death/d/35393