New Age Islam News Bureau
14 Aug 2018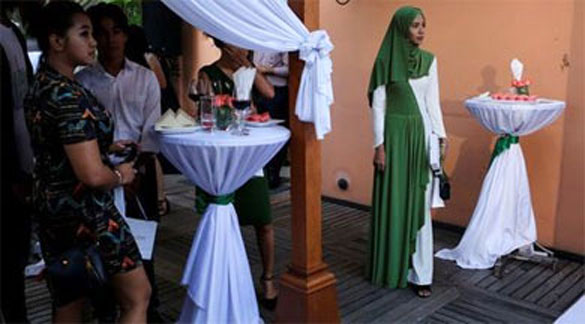 Blogger Win Lae Phyu Sin, 19, attends a beauty product launch event with other beauty bloggers in Yangon, Myanmar, May 1, 2018. REUTERS/Ann Wang
-----
• Malaysia: Two Muslim Women to Be Caned For 'Attempting Lesbian Sex'
• US Women Counter Islamophobia with Hip-Hop
• Indonesia Woman Irked By Mosque Noise on Trial for Blasphemy
• 74% of Saudi Women Found Begging Illiterate
• Sangh Parivar Affiliated Muslim Rashtriya Manch Launches Pension Scheme For Needy Muslim Women In Maharashtra
• How Boris Johnson's 'Letterbox' Gaffe Has Impacted UK Women in Niqab
• Triple Talaq Has Ruined Lives of Muslim Women in India: PM Modi
• Pepsico Empowers Saudi Women with Launch of Region's First MWM Chapter
• Women played prominent roles in recent protests in Tehran and Rasht
Compiled by New Age Islam News Bureau
URL: https://www.newageislam.com/islam-women-feminism/hijab-key-myanmar-muslim-blogger/d/116120
--------
'Hijab Is Like a Key': Myanmar Muslim Blogger Battles Bias with Beauty Campaign
Aug 14, 2018
Muslims in Buddhist-majority Myanmar usually keep a low profile for fear of intimidation, but Win Lae Phyu Sin, one of the community's rare bloggers on beauty care, has gone the other way.
The 19-year-old was the centre of attraction at a recent launch of beauty products in Yangon, her striking multi-coloured make-up offset by a long-sleeved green-and-white gown and matching hijab, a headscarf worn by some Muslim women.
"I don't regret my decision to wear the hijab," the blogger said. "Our God opens many ways for me. Hijab is like a key for me. I can use it to go where I want to go, and do what I want."Muslims, who make up about 5 percent of the nation of around 50 million, say they have not been able to open new mosques in decades and struggle to rent apartments from Buddhist landlords.
Systematic persecution of Muslims is growing in Myanmar, rights groups say, though world attention has focused on its stateless Rohingya Muslims, with the United Nations and aid groups saying more than 700,000 were driven into neighbouring Bangladesh after an army crackdown last year.
But many Muslims of all ethnicities had been refused national identity documents, and denied access to some places of worship, Burma Human Rights Network said in a report last year.For some of Win Lae Phyu Sin's students, her tutorials are not merely about applying eyeshadow and highlighter, but also about building confidence and pride in an identity constantly questioned by Buddhist fellow citizens.
"I saw her applying make-up while wearing the hijab and it's amazingly beautiful," said Hay Mann Aung, 20."I wanted to be as beautiful as her."
Win Lae Phyu Sin's effort to impart a cool, chic vibe to the image of Myanmar Muslims, deploying stylish clothes that match her hijabs, elaborate mascara, and eyeshadow layered in bold colors, has drawn admirers.
She has 6,000 followers on social media site Facebook and 600 students have attended more than 150 classes on the use of cosmetics run in a makeshift studio.(For photo essay, click on
CRITICISM
But her high profile has drawn criticism and even discrimination: a Buddhist woman who enrolled in her class backed out on discovering Win Lae Phyu Sin was Muslim.Some Facebook commenters have attacked her for being too flamboyant and using make-up, which conservative Muslims regard as taboo, but the blogger refuses to let critics waste her time.
"When people attack or criticise me outside and online, I choose to ignore them," she said. "I have a lot of work to do."
Her growing fame, fed by dozens of online make-up tutorials and events at shopping malls, has prompted trips to Myanmar's second largest city, Mandalay, and she plans to visit Kuala Lumpur, the capital of neighbouring Malaysia.
Win Lae Phyu Sin started with tutorials on make-up filmed in a bedroom shared with her sister, posting them on Facebook before offering classes.
"After I graduated from high school, my boyfriend gave me make-up palettes as a present," she said. "I didn't know how to use them so I Googled it and learned."
But acquiring professional expertise proved too expensive, so Win Lae Phyu Sin came up with the idea of six-hour sessions, aimed at regular "girls like me", that cost less than $25.
A year on, she brings to every lesson two bags packed with eyeliners, brushes and small mirrors for every student. At one recent session, she discussed skin types before handing out bottles of foundation and eyeshadow for students to try.
Win Lae Phyu Sin is undeterred by those who denigrate her for being a Muslim and wearing a hijab that exposes the face.
"'Don't you know you will go to hell if you do that? Why don't you take off the hijab during shooting?'" she quoted some Facebook critics as asking.
But she added, "I will keep on doing this, because this is my passion."
http://www.dnaindia.com/world/report-hijab-is-like-a-key-myanmar-muslim-blogger-battles-bias-with-beauty-campaign-2649752
--------
Malaysia: Two muslim women to be caned for 'attempting lesbian sex'
August 14, 2018
Two Malaysian women convicted for attempting to have lesbian sex will be fined and caned, a prosecutor said on Tuesday, in a rare case against gay people in the Muslim-majority country. Islamic enforcement officers in the conservative northeastern state of Terengganu found the two Muslim women attempting to engage in sexual acts in a car during a patrol in April, according to prosecutor Muhamad Khasmizan Abdullah.
The women were charged under the Islamic sharia law known as musahaqah – which bans lesbian sex – and sentenced to six strokes of the cane and a fine of 3,300 Malaysian ringgit ($806) each this week after pleading guilty, the prosecutor said. The conviction comes amid concerns around growing intolerance toward the lesbian, gay, bisexual and transgender (LGBT) community in Malaysia after activists criticised some officials for making homophobic remarks in recent weeks.
"Sexual intercourse between people of the same sex is forbidden in Islam. It is an offence and morally wrong," Muhamad Khasmizan told the Thomson Reuters Foundation by phone.
"This verdict is a first for us," the prosecutor added, saying it was the first time people had been convicted for same-sex relations in Terengganu.
Malaysia is home to 32 million people, where ethnic Malay Muslims make up more than 60 percent of the population and the remaining ethnic minorities practice other religions such as Christianity, Buddhism and Hinduism. It has a dual-track legal system, with Islamic criminal and family laws applicable to Muslims running alongside civil laws.
The two women, aged 32 and 22, are on bail pending the execution of the sentence on August 28, Muhamad Khasmizan said, adding that the religious officers who saw the women found one in a state of undress, and also discovered a dildo in the car.
"The caning would be carried out within the court premise," he said. "Under the sharia rules, they will be whipped with a rattan cane on their back with their clothes on while they are seated."
Thilaga Sulathireh from rights group Justice for Sisters condemned the court's decision as a form of torture. She said there have been previous cases of lesbian couples being arrested, but it was not known if they were convicted.
"Consensual sex between adults is not a crime. This is a precedence and it will increase discrimination toward LGBT people," she told the Thomson Reuters Foundation.
A minister last week ordered the removal of portraits of two LGBT advocates from a public photography exhibition as they promoted gay activities, sparking criticism from rights groups.
Sodomy is a crime in Malaysia, which is punishable by up to 20 years in jail, although enforcement of the law is rare.
https://indianexpress.com/article/world/malaysia-two-muslim-women-to-be-caned-for-attempting-lesbian-sex-5306410/
--------
US Women Counter Islamophobia with Hip-Hop
15 Aug 2018
KOTA BARU: Two female Muslim hip-hop dancers from the United States are here to share their passion for hip-hop dance, their experiences as Muslims in America, and how to overcome Islamophobia.
Amirah Sackett, 40, said she used hip-hop dance as the medium to change the perception of society towards Muslims.
The founder of women dance group "We Are Muslim, Do Not Panic" said hip-hop was part of American culture and so it was the best preaching medium.
Speaking to reporters after attending "The Get Down Session" at Universiti Malaysia Kelantan's city campus in Pengkalan Chepa on Monday, she said: "When the audience see me dancing in fully covered attire, it can negate their bad perception towards us. They can accept the fact that Muslims can also perform a 'cool' dance."
"This is my first time visiting another country to share our experience, our culture and our passion to dance.
"I believe it is one way to cultivate discipline and increase confidence level," Mary said.
Meanwhile, US cultural affairs assistant officer Sarah J. Talalay said the two hip-hop dancers were brought to Malaysia to share American culture with Malaysians in Johor, Kelantan and Kuala Lumpur from Aug 9 to Aug 18.
"We want to expose Malaysians to American culture and also to give them an opportunity to meet and interact with their Muslims sisters from America," she said. — Bernama
https://www.thestar.com.my/news/nation/2018/08/15/us-women-counter-islamophobia-with-hiphop/
--------
Indonesia Woman Irked By Mosque Noise on Trial for Blasphemy
Aug 14, 2018
Indonesian prosecutors have demanded an 18-month prison term for a woman who was charged with blasphemy after she complained about the volume of a mosque's loudspeakers.
The ethnic Chinese defendant, Meiliana, 44, was arrested on May 18, about two years after her case triggered a riot in Tanjung Balai, a port town in North Sumatra province.
A spokesman at the local prosecutor's office, Sumanggar Siagian, said Tuesday the sentencing demand for Meiliana was made at the District Court in Medan, the province's capital, on Monday.
Prosecutors said the defendant had violated Indonesia's criminal code by committing blasphemy against Islam, the dominant faith in Indonesia.
Mobs burned and ransacked at least 14 Buddhist temples throughout Tanjung Balai in a July 2016 riot after reports of Meiliana's complaint emerged.
Police arrested more than a dozen suspects but only two were charged with being instigators of the violence.
Meiliana's lawyer, Rantau Sibarani, said there was no clear evidence she had committed blasphemy.
"This case seems to be very forced," Sibarani said. "This is only to fulfill the will of the people."
Indonesia is the world's most populous Muslim nation. Its constitution guarantees freedom of speech and religion but in recent years blasphemy cases have been filed against those perceived as offending Islam, and the overwhelming majority end with guilty verdicts.
Presiding Judge Wahyu Prasetyo Wibowo said the trial will resume Thursday with the defendant's lawyers making their final arguments.
https://abcnews.go.com/International/wireStory/indonesia-woman-irked-mosque-noise-trial-blasphemy-57163122
--------
74% of Saudi Women Found Begging Illiterate
Aug 15, 2018
JEDDAH — The Ministry of Labor and Social Development has reported that 74 percent of Saudi women found begging in the street are illiterate.
The ministry said 14 out of the 19 Saudi women beggars held in the past year were illiterate while five of them had only primary school education. It said 42 percent of the women were married and 26 percent of them divorced while 16 percent were widows.
Two of the beggars were single and one was an elderly abandoned woman.
The report carried by Al-Madina newspaper said 15 of the beggars were above 35 years, 2 above 30 and two in their 20s.
Minister of Labor and Social Development Ahmad Al-Rajhi said anti-beggary offices would report directly to the ministry's directorates in each province and governorate.
"These offices will take the Saudi beggars off the street and investigate their social situations while non-Saudi beggars will be handed over to the police," said Al-Rajhi.
The ministry will be working with several government ministries such as the Interior, Foreign Affairs, Islamic Affairs, Education, Health, Culture, Housing, and Commerce and Investment to tackle the begging issue, he said.
http://saudigazette.com.sa/article/541181/SAUDI-ARABIA/74-of-Saudi-women-found-begging-illiterate
--------
Sangh Parivar Affiliated Muslim Rashtriya Manch Launches Pension Scheme For Needy Muslim Women In Maharashtra
Aug 15, 2018
The Sangh Parivar- affiliated Muslim Rashtriya Manch (MRM) will launch a pension scheme for divorced and needy Muslim women in Maharashtra. The sustenance allowance will be initially given to 50 women, which includes victims of oral, triple-talaq, with the numbers being increased gradually. It will be launched on Thursday by senior RSS functionary Indresh Kumar, who is also the chief patron of the MRM, which is the only niche organisation for Muslims in the Sangh Pariwar's ecosystem.
Irfan Ali Peerzade, national convenor, MRM told DNA that initially, these women, which also includes 10 needy widows, would be given a monthly dole of Rs 500.
"The scheme is being launched from Mumbai. We will give them the amount for three months at one go. These funds have been raised from donors, the community and our own workers," he said, adding that the MRM also planned to launch skill-based training for needy women, especially divorcees, to help them gain economic independence.
"The monthly pension amount and the number of beneficiaries will also rise with the number of donors and the amount collected," said Peerzade. The scheme, which is being helmed by the MRM's 'Khudai Khidmatgar Committee,' will be launched in a function at Kurla on Thursday. The MRM has also come out against the practice of oral, one-sided triple talaq which is given at one go and has also called for the introduction of a uniform civil code.
"The Centre's triple talaq bill must be approved in the Rajya Sabha and oral, one-sided and instant triple talaq must be banned," stressed Peerzade, adding that a uniformity in civil laws through the approval of the UCC was necessary for the welfare and development of Muslims, especially women.
The MRM is also working on launching a Baitul Mal (fund) for divorced women and children, which will be financed through zakat contributions. This fund will be channelized to beneficiaries through the MRM's 'Shaheed Ashfaque Ullah Khan Memorial Trust.'
In a bid to deepen its outreach among Muslims, the MRM was established in 2002 at the behest of the then RSS chief K.S Sudarshan. It was initially called "Rashtravadi Muslim Andolan-Ek Nayi Raah" and later re-christened as the MRM in 2005.
http://www.dnaindia.com/mumbai/report-muslim-rashtriya-manch-launches-pension-scheme-for-needy-muslim-women-in-maharashtra-2649974
--------
How Boris Johnson's 'Letterbox' Gaffe Has Impacted UK Women in Niqab
By Sajeda Momin
15 August 2018
Ever since Boris Johnson, the former British foreign secretary, described burkas as resembling "letterboxes" and "bank robbers" last week, the number of hate crimes against Muslim women, particularly those wearing the hijab and niqab, has spiked abnormally.
The government-backed hate-crime monitoring group Tell Mama said that in the last one week they have received more than a dozen complaints from mostly niqab-wearing women who claim that the abusers either used phrases such as "letterbox" or referred to Johnson when harassing them.
Johnson made the Islamophobic comments in his column that appeared in The Daily Telegraph newspaper last Monday. In the week before Johnson's comments, Tell Mama reported no incidents against women wearing a niqab.
"Johnson's recent comments have made me fearful of even going to work or out of the house on my own. My husband and I are considering moving to an Arab country where we would feel more comfortable and do not have to put up with such abuse," said one of the victims of abuse who lives in central England.
The Muslim Council of Britain (MCB), which has pointed out Islamophobia in the Conservative party in the past, criticized Johnson's comment and the support he has received from a section of his party as validating their arguments. "The impact of Boris Johnson's comments is real and worrying and indicates the importance of a full, transparent and independent investigation into his conduct, in particular given the lack of action in previous cases of Islamophobia in the party," said Harun Rashid Khan, MCB's general secretary.
Johnson's comments on the burka as "oppressive and ridiculous" are seen as calculated and deliberate, which appeal to the alt-right both within the Tory party and outside, and part of the leadership challenge he is rumoured to launch against Prime Minister Theresa May in the autumn. Johnson had resigned from the Cabinet last month, ostensibly as he opposed the direction May's Brexit policy was taking, but his own aspirations to take over May's job are not a secret.
May asked Johnson to apologise for his comments, but the cunning politician has refused calling it 'ridiculous', claiming that they were part of his effort to speak up for 'liberal values'. His column has provoked anger from both Muslim and non-Muslim members of the Tory party.
A Conservative peer and former aide to Prime Minister David Cameron accused Johnson of "moral emptiness" and "courting fascism". Lord Cooper was scathing in his criticism. "The rottenness of Johnson goes deeper than even casual racism. He will advocate literally anything to play to the crowd of the moment. His career is a saga of moral emptiness and lies; pathetic, weak and needy; the opposite of strong," said Lord Cooper. Another senior MP, Dominic Grieve, said he would leave the party if Johnson became its leader.
Not a mistake
Baroness Sayeeda Warsi, one of the Conservative party's most high-profile Muslims has criticized Johnson for making "hate crime more likely".
"I refuse to accept that these phrases were some kind of a mistake and the offence inadvertent – Johnson is too intelligent and too calculating for that. No, this was all quite deliberate. His refusal to apologise supports that," said Warsi.
Lord Sheikh, the founder of the Conservative Muslim Forum, set up to encourage British Muslims to get involved in political life urged the Tories to withdraw the whip from Johnson, which amounts to virtually throwing him out of the party. "Take the whip from him. Why not? He's not a super human being, he's a member of the party" said Sheikh.
It is unlikely that May will do that as it would escalate the crisis and allow Johnson to divide the party further, but it is possible that he may be asked to take diversity training, which the former Mayor of London is unlikely to accept either.
Johnson has many defenders too. A recent poll for Sky News found that around 60% of the public did not see his comments as racist. Conservatives like Jacob Rees-Mogg said Johnson was simply using 'colourful' language and "pointing out that the burka is not an elegant form of dress".
An internal disciplinary investigation has already been launched by the party leadership. Its decision is awaited.
https://english.alarabiya.net/en/features/2018/08/15/How-Boris-Johnson-s-letterbox-gaffe-has-impacted-UK-Muslim-women-in-niqabs.html
--------
Triple Talaq Has Ruined Lives of Muslim Women in India: PM Modi
August 15, 2018
Attacking the opposition parties, Prime Minister Narendra Modi during his Independence Day speech today said that triple talaq has ruined the lives of Muslim women in India. Modi said that there were some people who did not allow the passage of the Triple Talaq Bill in Parliament during the just-concluded monsoon session.
PM Narendra Modi assured that the government will ensure that Muslim women get their part of justice. "The practice of Triple Talaq has caused great injustice among Muslim women. The Triple Talaq has ruined the lives of many women and many are still living in fear," Modi said in his Independence Day address from the ramparts of the Red Fort.
Modi said that his government tried to bring the Bill in Parliament in the just-concluded monsoon session after the Cabinet approval approved some amendments in the bill.
"But there are some people who do not want it to be passed," said Modi. The Triple Talaq Bill was deferred on the session's last day in Rajya Sabha due to lack of consensus.
"I assure Muslim sisters and daughters that their rights will be protected and the government will not leave any effort to protect them. I promise and assure that I shall fulfill your aspirations," Modi added.
https://www.indiatoday.in/india/story/triple-talaq-has-ruined-lives-of-muslim-women-in-india-pm-modi-1314954-2018-08-15
--------
Pepsico Empowers Saudi Women with Launch of Region's First MWM Chapter
Aug 15, 2018
RIYADH — Pepsico, the global food and beverage company, has launched the region's first Million Women Mentors (MWM) chapter in Riyadh. Million Women Mentors is a global movement designed to support the engagement of millions of Science, Technology, Engineering and Math (STEM) mentors, both male and female, in order to increase the interest and confidence of girls and women to persist and succeed in STEM programs and careers.
With female representation in the STEM fields still lower than that of their male counterparts, Million Women Mentors (MWM) aims to be a platform to give women in their early careers the boost they need to thrive in their professions, which have the opportunity to form the future of the society envisioned by Saudi Vision 2030. The pillars of Vision 2030 support a thriving economy in which men and women have the capacity to contribute to the community's growth and successes.
"Vision 2030 aims to increase women's participation in the workforce to 30% and encouraging more women into the male-dominated STEM industries will significantly contribute to this goal," said Satyavrat Pendharkar, General Manager and Vice President, Saudi Snacks Foods Ltd, PepsiCo Saudi Arabia. "PepsiCo has a global commitment to empowering communities, as well as to creating equal opportunities for anyone to succeed within our company. By deploying the principles of our Performance with Purpose philosophy here in the Kingdom, we hope to provide women with the backing they need to be confident when entering STEM careers."
MWM started in 2014 and had more than two million mentor commitments by 2018 with a goal of reaching three million by 2020. The new chapter in Riyadh is the first in the MENA region, with 12 mentors and mentees signed up so far across the fields of supply chain, information technology, research and development, and finance. New mentees will be enrolled into the annual program each year. The program as recently launched, features two components: STEM mentoring, in which each associate has been paired with a PepsiCo STEM mentor to receive one-on-one mentoring, and participate in PepsiCo's Supply Chain Academy, in which each associate will attend training courses and site visits, in addition to their mentoring time.
Within the coming five years, PepsiCo aims to have at least two of the program participants in leadership positions.
"PepsiCo walks the talk when it comes to providing women with opportunities to thrive within the company, and the launch of MWM in Riyadh will help to inspire more women to pursue rewarding careers within the industries that are shaping our changing world," said Delel Chaabouni, Chief Information Officer (CIO), PepsiCo Middle East and North Africa. "I am personally thrilled to have had the opportunity to launch this important initiative in Saudi Arabia. As a woman in a traditionally male-dominated field, I have first-hand experience in forging a career within a STEM sector, and believe that MWM has the potential to give women the boost of confidence they need to realize they can achieve success in whatever industry they want."
PepsiCo pursues sustainability through its Performance with Purpose (PwP) platform, including tackling societal issues and improving livelihoods. The company aims to do so by implementing gender parity and equal pay policies, while also working with local communities to provide opportunities for individuals to thrive. — SG
http://saudigazette.com.sa/article/541217/BUSINESS/PepsiCo-empowers-Saudi-women-with-launch-of-regions-first-MWM-chapter
--------
Women played prominent roles in recent protests in Tehran and Rasht
15 August 2018
Women played prominent roles in recent protests in the cities of Tehran and Rasht.
On August 14, 2018, women joined the protest rally of plundered investors of Caspian Credit and Alborz Iranian institutes in front of the Central Bank in Tehran, Iran. The protesting crowd slammed the regime's hollow promises and demanded their money back after two years of protests. They accused the officials of lying and turning a blind eye on their empty baskets.
Women played prominent roles also in the protest by employees of the Edalat Stocks company held outside the Ministry of Economic Affairs and Finance in Tehran.
On the same day, looted women of the Caspian Credit Institute in Rasht, capital city of Gilan Province, held a protest rally and chanted slogans, demanding the return of their deposits. These vigorous women have tirelessly staged numerous protests against the defrauding of the Caspian Credit Institute in Rasht. They have repeatedly expressed their disgust over the fraud and corruption pervading the country as credit and financial institutes operate with licenses endorsed by the government.
On August 13, 2018, the plundered customers of the Shideh Aviation Residential Project gathered in a protest rally outside the office of the Judiciary's first deputy in Tehran, demanding the Iranian authorities to return their properties and assets.
Women played prominent roles in all of the above protest rallies.
In another protest movement on Monday evening, August 13, 2018, the crowd participating at a concert in Milad Hall of Tehran's International Exhibition, chanted slogans of, "Death to dictator" and initiated an anti-government protest while departing the hall. Women played prominent roles in this protest as was reflected by the slogans that were mainly heard by female voices and echoed throughout the hall.
Iranian women played prominent roles in at least 320 demonstrations and protests from March to July 2018. This represents an almost double-fold increase in the average number of protests per month compared to last year's 426 protests registered from March 2017 to March 2018, where Iranian women actively participated.
https://women.ncr-iran.org/iran-women-news/5415-women-played-prominent-roles-in-recent-protests-in-tehran-and-rasht
--------
URL: https://www.newageislam.com/islam-women-feminism/hijab-key-myanmar-muslim-blogger/d/116120
New Age Islam, Islam Online, Islamic Website, African Muslim News, Arab World News, South Asia News, Indian Muslim News, World Muslim News, Women in Islam, Islamic Feminism, Arab Women, Women In Arab, Islamophobia in America, Muslim Women in West, Islam Women and Feminism