New Age Islam News Bureau
23 Jun 2017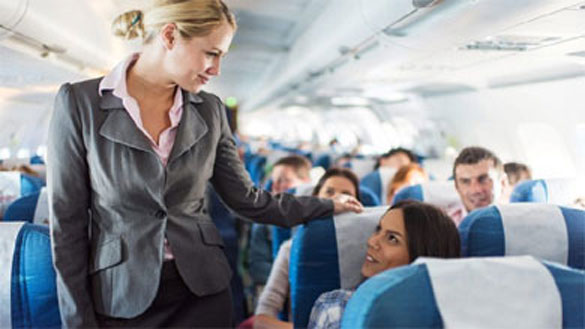 FILE PHOTO: El Al can no longer ask women to change seats for ultra-Orthodox men, Israeli court rules. Pictured: Smiling flight attendant talking to female passenger. Getty Images/iStockphoto
----
• Israeli Airline Can't Make Women Move Seats for Religious Reasons, Court Rules
• Mosque under Construction in Mali to Honour Nabra Hassenen, Slain During Ramadan
• Bangladesh Actress Happy Turns to a Fully-Veiled Ultra-Conservative Islamic Preacher
• UK Muslim Woman Sues Employer After He Claims Black Hijab Has 'Terror Affiliations'
• Let Women Drive and Make Own Decisions, Saudi Activist Urges New Crown Prince
• Saudi Arabia to Host Women's Professional Event
• 2 Detroit-Area Women Charged In US Genital Mutilation Probe
Compiled by New Age Islam News Bureau
URL: https://www.newageislam.com/islam-women-feminism/forced-conversion-i-want-live/d/111654
--------
'Forced' Conversion: I Want To Live With My Husband, Ravita Says In Sindh HC
June 23, 2017
Ravita Meghwar — who her parents alleged had been abducted by men from the Syed community of Wanharo village near Nagarparkar, Thar, on June 6 and forcibly converted to Islam — on Thursday told the Sindh High Court Circuit Bench, Hyderabad in a written statement that she wants to live with her husband.
Ravita denied being abducted or forced to convert, saying she was "in love" with Nawaz Shah and maintaining that her parents' claims were false.
Nawaz Ali Shah, the 'husband', in his statement said that they first met in their village, where he gave her a mobile phone to establish a communication channel. They remained connected through the device and decided to get married later.
Bhagwandas, the counsel for Ravita's father, argued that the girl may have given the statement under pressure since she was currently with Nawaz Shah.
After hearing both sides, Justice Salahuddin Panhwar decided to send Ravita, alias Gulnaz, to Darul Aman for a day where she will be able to see her mother.
June 23 has been set as the date for next hearing in the case.
Ravita had earlier claimed to have embraced Islam in the presence of Pir Mohammad Ayub Jan Farooqui, a preacher, near the Samarro town of Umerkot district.
According to the marriage certificate issued by the preacher, a copy of which is available with Dawn, "The girl is approximately eighteen years old, can marry the person of her choice and her Islamic name is Gulnaz".
The Hindu community, along with the girl's family, had previously alleged that she was kidnapped and forced to convert. School documents indicated her current age is 16 years.
Satram Das Meghwar, Ravita's father, had alleged that the abductors had kidnapped his daughter after giving sleeping pills to the family.
However, Ravita's parents say they will withdraw the case if she chooses to remain with her husband of her free will.
Nonetheless, Advocate Ali Palh of Rightsnow Pakistan, which is a party to the case, maintains that Ravita is underage and her marriage was in contradiction with Article 20 of Sindh Child Marriage Restraint Act. Therefore, her marriage should be declared null and void, he has argued in his petition.
He added that Rightsnow had used the case of Anjali and Peshawar Church as a precedent in their case.
"Even if her parents withdraw the case, Rightsnow will continue to fight as her certificates and physical appearance are proofs that she is a minor," Palh said while talking to Dawn.com.
Ravita's alleged abduction and protests had stirred protests by Hindu community and activist groups in Sindh.
https://www.dawn.com/news/1341086/forced-conversion-i-want-to-live-with-my-husband-ravita-says-in-shc
--------
Israeli airline can't make women move seats for religious reasons, court rules
June 23, 2017
El Al loses discrimination case brought by Holocaust survivor asked to move after ultra-orthodox man refused to sit next to her, reported by Guardian.
Flight stewards working for Israel's national carrier El Al cannot request female passengers to move seats to accommodate ultra-orthodox men who do not want to sit next to them, a court has ruled.
The landmark case was brought by 82-year old Holocaust survivor Renee Rabinowitz, who sued the airline for discrimination after being asked to move seats to accommodate an ultra-orthodox male passenger in 2015. When she challenged the practice, she was told by staff that the policy had been approved at board level.
Describing the controversial practice as "discriminatory", judge Dana Cohen-Lekah ruled that "under absolutely no circumstances can a crew member ask a passenger to move from their designated seat because the adjacent passenger doesn't want to sit next to them due to their gender".
Speaking in a Jerusalem court on Wednesday, Cohen-Lekah added that the policy was a "direct transgression" of the Israeli discrimination laws relating to products and services.
Rabinovitz, a retired lawyer who fled the Nazis as a child, said she was thrilled with the verdict.
"I didn't think the judge would close this case today. It was supposed to be a preliminary discussion. I'm happy with the verdict," she said.
"I hope El Al takes this verdict seriously. I look forward to my future flights with El Al, and I hope I could witness a moment in which an ultra-orthodox man says 'I won't sit until you move this woman' and the El Al flight attendant tells him the law prevents her from doing so."
The sight of flight attendants asking female passengers to move so ultra-orthodox men do not have inadvertent physical contact with women is a familiar sight on flights in an out of Israel.
In February this year, 10 ultra-Orthodox passengers stood in the aisles and refused to take their seats, causing a delay on an easy Jet flight to the UK before female passengers agreed to move so the flight could leave.
Similar incidents occurred on flights from the US, including a Delta flight in New York, which were delayed in 2014 after male ultra-Orthodox passengers refused to sit next to women.
Rabinowitz, who is religious herself, was returning from a family visit to the US when she was asked by a flight attendant to move seats at the request of the ultra-Orthodox man in the window seat. Although she moved, as she was waiting to leave the aircraft on landing, she talked to one of the pilots and complained about the practice.
In an interview with the Guardian last year, Rabinowitz said: "The man had no other reason to complain than my gender – and that's unlawful discrimination. It's no different than if a person of another religion had said: 'I don't want to sit next to a Jew.' And I don't believe El Al would move a person in those circumstances.
"I asked the flight attendant point blank if the man sitting next to me had asked me to be moved, and unabashedly he said yes. I then went back to the man and said: 'I'm an 81-year-old woman, what's your problem?'
"He started to tell me it was forbidden by the Torah. I interrupted him to say the Torah says nothing about a man sitting next to a woman. He conceded I was right but said there was a general principle that a person should not put himself in a dangerous situation."
At court, Rabinowitz was represented by the Israel Religious Action Center and its lawyer Riki Shapira Rosenberg, who said after the ruling that the centre had received dozens of similar complaints alleging discrimination on El Al flights.
IRAC added that it had approached El Al last year offering to help write guidelines to prevent in-flight gender discrimination, but the offer was turned down.
Anat Hoffman, IRAC executive director, said: "Renee Rabinowitz, an 82-year-old holocaust survivor, set out to fight El Al because she wanted to prevent humiliation and discrimination of other women on flights."
The ruling requires El Al to define its procedures and explain them to all in-flight staff in writing and through training. El Al was also told to pay Rabinowitz 6,500 (£1,450) shekels in damages. Her lawyer had asked for 50,000 shekels.
Commenting on the ruling, which gives El Al 45 days to change its policies, the airline said: "The sides reached an agreement that the airline's procedures on the matter would be clarified to its employees. The court validated this agreement and the company will respect the verdict."
http://nation.com.pk/international/22-Jun-2017/israeli-airline-can-t-make-women-move-seats-for-religious-reasons-court-rules
--------
Mosque under Construction in Mali to Honour Nabra Hassenen, Slain During Ramadan
June 22, 2017
The news came to Fahim Aref this week while he was on pilgrimage in Mecca: A teenage girl in Virginia had been slain walking to services at her mosque during Ramadan.
She, like he, had been trying to deepen her observance of the holy Muslim month.
Suddenly Aref's umrah — religious pilgrimage in Arabic — changed. No longer did he walk around Mecca's Kaaba, the most sacred site in Islam, for himself. He did it for Nabra Hassenen, who was bludgeoned to death Sunday (June 18) by a young man who allegedly acted in the throes of road rage, though many Muslims and others believe she was the victim of a hate crime.
"When I first heard the news I was devastated," said Aref, writing from Saudi Arabia in response to an inquiry from RNS.
He thought to himself: What if it was one of his own children that had been attacked?
"I wanted to give Nabra a gift, especially since she may have never experienced an umrah trip before," said Aref, who lives outside of Chicago. "I wanted her to at least get the reward for mine."
But the 37-year-old father of five thought he could do more. He would spearhead a campaign to build a mosque in her name, and a water well, for a community of poor Muslims.
It will be called Masjid Nabra, Aref said, and it is already fully funded and under construction in Koro, a central region in the West African nation of Mali. It is not yet clear whether the Hassenen family or her mosque, the All Dulles Area Muslim Society, know anything about it. Calls to the mosque were not immediately returned.
Aref is a businessman who also runs a charity, a two-year-old crowdfunding website called Pious Projects, and through it and other avenues he has raised money for clean water, schools and mosques from Flint, Mich., to the Middle East. Many of his projects are in Mali.
Giving charity on behalf of the dead is common among Muslims, said Sharif Aly, advocacy counsel at Islamic Relief USA, a charity unrelated to Pious Projects.
Aref's fundraiser for a mosque in Hassenen's name falls into the category of what is known in Islam as "sadaqah jariya," or a legacy donation, Aly said. The good work done in her name is believed to help her on Judgment Day.
"We increase her standing in heaven through our donations on her behalf," and her reward is even greater when this charity is given during the month of Ramadan, Aly explained.
In a separate crowdfunding project, Hassanen's mosque has raised more than $350,000 for her family through LaunchGood. Hassanen left behind her parents and three younger sisters.
In Mali, constructing a simple mosque and digging a well costs far less than it would in the U.S. Aref asked for $25,000 from potential donors for Masjid Nabra, and reached that goal within 24 hours of posting the idea on Pious Projects. Total donations for the mosque and well exceeded $37,000 from 1,884 people at the time this story was published. The extra money will go toward more wells in the region.
In the fundraising video for the project, which Aref shot with his phone and a GoPro camera, he appears at several of the sites pilgrims visit while performing umrah, and he shows himself having his head shaved — a sign of piety. In front of the Kaaba, in Islam's holiest mosque, he displays a piece of looseleaf paper on which he wrote "Nabra" and a prayer that she ascend to the highest level in paradise.
He said he hopes the mosque project offers an opportunity to others who feel the pain he feels over Hassenen's death but who can't perform umrah on her behalf. When finished, in about six weeks, the one-story, concrete mosque will measure about 20 by 15 meters, take power from solar panels and be cooled by a ceiling fan.
Hassenen's funeral was held Wednesday at her mosque, and vigils were also held in her honor in San Francisco, Philadelphia, New York and other cities.
Police have said they have no evidence that would lead them to believe that Hassenen's murder was a hate crime, though prosecutors say they haven't ruled out any motive. Her father said his daughter was killed because she wore the hijab, and the Council on American-Islamic Relations criticized as premature law enforcement's characterization of the suspect's motive as road rage.
Aref said he doesn't have all the facts, so he can't say for sure whether Hassanen is dead because she appeared to be Muslim. But too many hate crimes against Muslims are treated simply as crimes, he said.
"We are in a new era where Islamophobia is the norm," he said.
http://www.deseretnews.com/article/865683523/Mosque-under-construction-in-Mali-to-honor-US-teen-slain-during-Ramadan.html
--------
Bangladesh Actress Happy Turns to A Fully-Veiled Ultra-Conservative Islamic Preacher
June 21, 2017
Happy was weathering the Rubel scandal and part-way through shooting a new movie when the actress claims she had an "epiphany" that altered her life.
In Bangladesh, where morality tales top bestseller lists, the real-life transformation of Najnin Akter Happy from an actress embroiled in scandal to a fully-veiled ultra-conservative Islamic preacher has proved sensational.
An expose shedding new light on the 22-year-old's moment of revelation is flying off shelves in the conservative country, where a stricter interpretation of Islamic morals has gradually taken root in recent years.
"From Happy to Amatullah" — or female servant of Allah — is a rare, extensive interview with the reclusive young woman who today only surfaces to preach a puritanical vision of Islam on social media.
Readers hungry for celebrity intrigue and divine intervention have rushed bookstores to snap up a copy, with thousands sold since its release in June and publishers scrambling to reprint.
"We've been swamped by orders for the book from all parts of the country," said Mohammad Obaidullah, owner of Maktabatul Azhar, a publishing house specialising in Islamic books.
"Everyone wants to know what prompted her to quit the celebrity lifestyle for the ordinary life of a devout Muslim."
Happy was a star in Dhallywood, the Bangladeshi film industry, shooting to fame in her 2013 debut "Kichu Asha Kichu Valobasha" (Some Hopes, Some Loves).
Also Read- Actress sues cricketer Rubel
But it was the controversy surrounding shock rape allegations she levelled against star fast bowler Rubel Hossain in late 2014 that made Happy a household name across cricket-mad Bangladesh.
Happy alleged she was involved in an "intimate affair" with the then 25-year-old cricketer, whom she accused of walking away from a promise of marriage.
The revelations proved scandalous in the Muslim-majority country, where sexual relationships outside marriage are frowned upon and allegations of coercion can be seen to restore honour.
Rubel claimed he was being blackmailed but was remanded in custody. He was released a few days later to play in the World Cup, and a court later found no evidence to convict him.
Every twist received saturation coverage, spurring gossip long after Happy dropped the charges, saying she had forgiven Rubel.
Erasing her past
After so long in the public eye her sudden appearance in the black burka worn by only the most devout Bangladeshis fanned even greater curiosity about the young woman's life.
Happy was weathering the Rubel scandal and part-way through shooting a new movie when the actress claims she had an "epiphany" that altered her life.
Overnight, she committed to joining Tablighi Jamaat — a Sunni Islam evangelical movement that boasts millions of adherents in Bangladesh — and began severing all ties to her past life.
"That night she started deleting thousands of photos of herself she posted on Facebook. She then cut ties with the movie world," said Abdullah Al Faruque, who co-authored the book with his wife Sadeka Sultana Saqi, who was granted access to Happy for the interview.
"She renamed herself Amatullah. She started to wear a full-veiled burka and now even covers her hands and toes with socks."
Happy turned her back on her fans and a stunned film industry to embrace the austerity of a missionary's life, retreating to a madrasa to study the Koran where nobody would see "even the nails of my fingers".
Also Read- Happy unhappy as Rubel given clean chit
Determined to erase her past entirely and cement her pious makeover, Happy even fought unsuccessfully to stop the release of her final film "Real Man," arguing it starred a completely different person.
"I felt like a newborn baby," she wrote in the book, about the moment she donned the burka and abandoned her former name and identity.
"Now, I have no ties with my previous life. That's the tale of a different person."
Turning a new page
The entire incident involving Rubel has been airbrushed from the book by the authors, who said they did not want to "embarrass" Happy, who is now married.
"She has turned a new page since then. She no longer wants to dwell on the past," Al Faruque said.
But even without these details the moral lessons implied — that Happy was seeking some sort of redemption in the scriptures — have resonated with Bangladeshi readers.
The moderate Islam practised in Bangladesh for generations has been slowly replaced by a more orthodox version of the faith in recent years.
The burka most associated with the rigid Islam of Afghanistan and the Gulf is becoming more commonplace, new mosques and madrasas are flourishing and hardliners have won symbolic victories in their push to overhaul Bangladesh's secular constitution.
"From Happy to Amatullah" is just the latest addition to a thriving genre of Islamist literature in Bangladesh, where authors have captivated readers weaving piety into plots lamenting modern women and Western lifestyles.
Kasem bin Abubakar, who pens chaste love stories tinged with Islamic values, is one of the country's best-selling authors.
Suggestions Happy's transformation could be a publicity stunt destined to end as quickly as it began have been denied by her promoters.
"We asked her whether she would go back to the glamour world. She said she won't jump into that hellfire again," said Al Faruque.
http://www.dhakatribune.com/around-the-web/2017/06/21/rubel-happy-islamic-preaching/
--------
UK Muslim woman sues employer after he claims black hijab has 'terror affiliations'
23 June 2017
DUBAI: A Muslim woman in the UK is suing her former employer after a member of staff allegedly told her to remove her black headscarf over its "terrorist affiliations."
The woman, a former estate agent, had been working for a company called Harvey Dean in the town of Bury in Greater Manchester when she says her seniors took issue with the color of her hijab.
She does not wish to be named but filed a complaint with the Manchester Employment Tribunal claiming that she was told "it would be in the best interest of the business for her to change the color of her hijab, due to the supposed terrorist affiliation with the color black."
According to the complaint, a colleague allegedly said that the community around the company's office would "feel intimidated and scared if they saw the claimant," The Independent reported Thursday.
The woman claims that her manager even brought in colored hijabs for her to wear instead.
The claimant also said she was reprimanded by a male manager for texting her father during her lunch break.
"He then went on a tirade accusing the claimant of not working," read tribunal documents seen by The Independent.
"The claimant informed him that she was on her lunch break but he told her that he did not care (and) then proceeded to tell her to: 'Get the f*** out of here.'"
The woman left the office and submitted a letter of resignation a week later.
"I was shocked at what they were asking and the reasons they were giving," the woman told The Independent.
The filed complaint argues that her treatment created an "intimidating, hostile, degrading, humiliating and offensive environment."
The case will be considered at a preliminary hearing at the Manchester Employment Tribunal on July 20.
"What is of primary importance to me over and above anything is that this serves as a warning to employers that such pressure upon employees is absolutely and categorically unacceptable based upon illogical ideas with no evidence," the claimant said
"Young Muslim women, whether they attend schools, colleges or work in professional environments, should never have to feel that they have to compromise their religious beliefs or water down their Muslim identity for fear of intimidating people of other or no faith."
http://www.arabnews.com/node/1119331/world
--------
Let women drive and make own decisions, Saudi activist urges new crown prince
Heba Kanso
JUNE 23 2017
Saudi Arabian woman who was jailed for daring to drive is encouraging the conservative kingdom's new crown prince to let women drive and make their own decisions as adults.
Manal al-Sharif hit world headlines in 2011 when she filmed a video of herself driving in Saudi Arabia, the only country in the world to ban women from getting behind the wheel, and posted it on Youtube where it went viral.
Two days later she was arrested and imprisoned for about a week, in the process becoming the face of the women's driving movement much to the chagrin of the country's hardline clerics.
Now based in Australia, al-Sharif welcomed King Salman's announcement on Wednesday that his son Mohammed bin Salman, 31, is to be next in line to the throne, replacing his cousin, as the kingdom seeks to overhaul its oil-dependent economy.
She said she was hopeful the prince's young age and his work on the country's Vision 2030, that has a target to lift women in the workforce to 30 per cent by 2030 from 22 per cent, would open more doors for women.
"I do have big expectations ... all the things his predecessors couldn't do, he will have the power to overturn the unjust laws that hinder women from reaching their full potential," al-Sharif told the Thomson Reuters Foundation in a phone interview from Los Angeles.
Many younger Saudi Arabians regard Prince Mohammed's ascent as evidence that their generation is taking a central place in running a country whose patriarchal traditions have for decades made power the province of the old and blocked women's progress.
Al-Sharif, 38, said there has been some forward steps for women in recent years such as being allowed to work in certain retail and hospitality jobs. Women are now also allowed to vote and stand in municipal elections.
But she said there is one major advancement that's missing.
The male guardianship system, which requires women to get permission from a male relative before travelling overseas, getting married, or seeking medical care, gives Saudi women a legal status that resembles that of a minor.
In some cases, the male relative with responsibility over a Saudi woman may be her own teenage son.
"Calling a woman legally (an) adult. That will change the whole spectrum when it comes to women's rights in Saudi Arabia," said al-Sharif, who this month released a memoir called Daring to Drive: A Saudi Woman's Awakening.
"Then she doesn't need permission from anyone to work, or to leave the country ... or to go to court and file a lawsuit."
Al-Sharif said declaring a woman an adult at 18 should be the first change that should happen for women in the gender-segregated nation under Prince Mohammed.
As for driving, she doesn't know exactly women will get behind the wheel in her country.
"I hope before the self-driving car takes over," she quipped, encouraging more Saudi women to start driving. "This very simple act of civil disobedience will make society accept women drivers in my country ... accept women to be independent ... I will never stop campaigning until the first drivers license is issued to a Saudi woman."
http://www.smh.com.au/lifestyle/news-and-views/let-women-drive-and-make-own-decisions-saudi-activist-urges-new-crown-prince-20170622-gwwuyi.html
--------
Saudi Arabia to host women's professional event
June 23, 2017
LONDON: Saudi Arabia will stage a women's squash tournament later this year with world champion Nour El Sherbini and eight-time world title winner Nicol David appearing in a rare public airing for women's sport in the kingdom.
The Professional Squash Association (PSA) said the PSA Women's Masters will be staged at Princess Nora bint Abdul Rahman University in Riyadh from October 29 to November 2.
"Following recent initiatives from the General Authority of Sports in Saudi Arabia to increase sporting participation and awareness across the country, the $165,000 tournament will play a crucial role in inspiring a new generation of Saudis to become active within sport," said a PSA statement.
PSA Chairman and Saudi businessman Ziad Al-Turki said he hoped the event would encourage more women to take up squash.
"I'm hoping that this tournament will increase local participation in Saudi Arabia, and I look forward to working with all parties involved throughout the next six months insuring continued success for years to come."
Saudi authorities have often come under fire from rights groups for their approach to women in sport as well as in everyday society.
Only four women featured in the Rio Olympics in 2016 for the Saudis after two were named in the team for London in 2012, the first time the Gulf nation had sent female athletes to the Games.
Princess Reema bint Bandar bin Sultan, under secretary president of the Women's Department of the General Authority for Sport in Saudi Arabia, added:
"We look forward to growing the female participation of the sport of squash. It is a dynamic game that involves fast thinking and fast reaction times, skills that are well reflected in the women of Saudi Arabia." – AFP
http://www.dailyexpress.com.my/news.cfm?NewsID=118472
--------
2 Detroit-area women charged in US genital mutilation probe
Jun 22, 2017
Two Detroit-area women, who belong to an India-based Muslim sect, have been charged with allowing their daughters to undergo genital mutilation as federal authorities expand their case against members of a Muslim sect.
A new indictment filed on Wednesday raises the number of people charged in the case to six. The indictment also adds four girls from Michigan to the group of alleged victims. The case began with two girls from Minnesota.
The Associated Press isn't naming the two women to protect their daughters' identities. A judge entered not-guilty pleas on behalf of the women and released them on bond.
The main defendant is Dr Jumana Nagarwala, who is charged with cutting girls at a clinic after hours in suburban Detroit. She denies any crime and says she performed a religious ritual. All belong to an India-based Muslim sect called the Dawoodi Bohra. — AP
http://www.tribuneindia.com/news/world/2-detroit-area-women-charged-in-us-genital-mutilation-probe/426060.html
--------
URL: https://www.newageislam.com/islam-women-feminism/forced-conversion-i-want-live/d/111654
New Age Islam, Islam Online, Islamic Website, African Muslim News, Arab World News, South Asia News, Indian Muslim News, World Muslim News, Women in Islam, Islamic Feminism, Arab Women, Women In Arab, Islamophobia in America, Muslim Women in West, Islam Women and Feminism