New Age Islam News Bureau
19 Apr 2019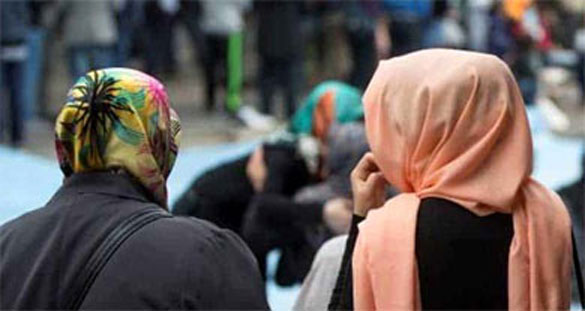 A Malaysian woman walks past mannequins displaying hijabs at a market in Kuala Lumpur. Photograph: Manan Vatsyayana/AFP/Getty
-----
• Qatar Sociologist Teaches Muslim Men How To Beat Women Correctly In Viral Video
• Teenage Hindu Girl's Kidnapping Sparks Protest in Pakistan's Punjab
• Malaysia Probes Book on Giving Up Hijab
• Woman shot dead in N.Ireland in 'terrorist incident'
• In Iraq, tribal traditions rob women, girls of rights
• Bangladesh girl burned to death on teacher's order: Police
Compiled by New Age Islam News Bureau
URL: https://www.newageislam.com/islam-women-feminism/dehijabbing-malaysia-move-islamic-authorities/d/118369
--------
'Dehijabbing' In Malaysia: Move by Islamic Authorities Condemned As Attempt to 'Intimidate Women Activists'
18 Apr 2019
Three women in Malaysia who held an event discussing their decision to stop wearing the hijab are being investigated by Malaysian Islamic authorities.
The event, hosted over the weekend at the Gerakbudaya bookshop in the Petaling Jaya area, was held to mark the launch of Unveiling Choice, a book documenting the author and activist Maryam Lee's decision to stop wearing the hijab.
The event, Malay Women and Dehijabbing, featured a three-hour panel discussion between Maryam and two other Malaysian women, Mohani Niza and Dian Sofia, who had also decided to no longer wear the hijab.
Maryam said the panel was an "intellectual discourse based on the women's lived realities", after which the audience had left "on a good note", but a backlash on social media began to build that had "distorted" the content discussed, mainly by those who had not attended the talk.
It caught the attention of the religious affairs minister, Mujahid Yusof Rawa, who expressed concern about the event and prompted the Islamic authorities of Selangor to investigate it in a "fair and just manner".
On Tuesday morning, Jabatan Agama Islam Selangor religious officers visited the bookshop, which is owned by the publisher of Unveiling Choice, and demanded to see copies of the book and get accounts of the event from staff.
The three women said that beyond the religious affairs minister making a public statement about the investigation, they had not been informed of what action was being taken against them or the publisher.
However, in a joint statement Maryam, Mohani and Dian said they were "unequivocal that there has been no transgression of Malaysian laws".
"We condemn this unnecessary investigation as abuse of power to harass and intimidate women activists who are speaking up on issues affecting women, and organisers for intellectual discussions that do not serve the status quo," they said.
Malaysia, where about 60% of the population is Muslim, has long been held up as moderate and relatively progressive. However, in recent years there has been a rise in Islamic conservatism, emboldened by the growing influence of the Malaysian Islamic party, which recently has pushed for elements of sharia law to be implemented throughout the north-eastern state of Kelantan.
In September two women were publicly caned after the north-eastern state of Terengganu's sharia high court found them guilty of trying to have sex with each other.
Latheefa Koya, executive director of Lawyers for Liberty, said women in Malaysia should not be investigated for discussing their religious choices.
"It does not mean those who attended the forum would lose their faith," she said. "Let a woman think freely and choose whether they want to wear the hijab or not."
https://www.theguardian.com/world/2019/apr/18/malaysia-islamic-authorities-investigate-women-activists-who-discussed-their-dehijabbing
--------
Qatar Sociologist Teaches Muslim Men How To Beat Women Correctly In Viral Video
April 18, 2019
A sociologist from Qatar recently made headlines when he posted a YouTube video teaching men how to beat their wives.
The sociologist, Abd Al Aziz Al-Khazraj, posted the video on his personal YouTube channel. The now-viral video is supposed to teach Muslim men 'how to be the leader of the house' and 'how he might feel the need to discipline his wife.'
The video starts with him saying, "Dear viewers, many people - especially people who are married - would like to know how to beat one's wife. Is beating your wife necessary? Must a man beat his wife every day? No."
Abd Al Aziz Al-Khazraj goes on to talk about how the man beats his woman 'out of love'. He says, "The beating should be light. The husband must make his wife feel the femininity and her husband's masculinity."
In the video, a young boy is also present, who helps the sociologist teach Muslim men 'how Islam teaches you to beat your wife.' A young boy is also part of the video, and the sociologist slaps the boy lightly on his shoulders to demonstrate what he is saying.
"The husband must make his wife feel his strength," and exactly how light the beating should be, are some of the things that the sociologist is teaching Muslim men and the young boy in the video.
"The Prophet Muhammad... Look how merciful Islam is. The Prophet forbade striking the face. He forbade men from beating their wives on the face", "Slapping the face, hitting the head, punching the nose - all of this is prohibited. The beating is for discipline," are some of his 'lessons'.
He says in the video, "First, we must understand that the man is the leader of the house. A leader has authorities, just like a company manager. The leader of the house may decide to discipline the wife so life can move on. How does a husband beat his wife? He gives her a disciplinary beating out of love. He loves her. Now, let's see how Islam teaches how to beat your wife. Let's imagine that Nayef here... Nayef is obviously a boy, but let's imagine that he is the wife. How should a husband beat his wife?" "First, he must admonish her - in other words, he should advise her. Then, he should refrain from sharing a bed with her. If all of this doesn't help, we start the beating as a last resort. This is a painless beating that does not leave bruises or cause bleeding. The beating I just gave Nayef is the true gentle beating in Islam," says the sociologist.
The video has received more than 5 lakh views on YouTube and has caused outrage online. The comments on the video were disabled after people slammed the sociologist.
https://www.indiatoday.in/trending-news/story/qatar-sociologist-teaches-muslim-men-how-to-beat-women-correctly-in-viral-video-1504754-2019-04-18
--------
Teenage Hindu Girl's Kidnapping Sparks Protest in Pakistan's Punjab
April 18, 2019
A teenage Hindu girl's kidnapping by an "influential" Muslim man in Pakistan's Punjab province sparked outrage among the minority community that held a sit-in here on Thursday, blocking the city's main road to press the Imran Khan government to recover her safely.
Holding placards and banners, the community members at Rahim Yar Khan, some 400-km from Lahore, were demanding the recovery of 17-year-old Naina and chanting slogans against forced conversions.
According to the FIR, Naina was kidnapped by Tahir Tamri, with the help of his father and brothers last month. It said the kidnappers took the girl to Karachi and got her to embrace Islam at a seminary, Jamiatul Saeed Gulshan-i-Maima, after marrying her.
She was given Muslim name Noor Fatima. The suspect uploaded their marriage and her embracing of Islam on social media.
The Hindu community members took to the streets on the second consecutive day Thursday to lodge their protest against the abduction and forced conversion of Naina.
"Stop the forced conversion of Hindu girls after kidnapping them, read a placard.
During the protest, the girl's father Ragu Ram threatened that he will set himself on fire if justice is not provided. Rahim Yar Khan district reportedly houses 150,000 Hindus.
The protesters ended demonstration after police high-ups assured them that the justice would be done.
Rahim Yar Khan police chief Umar Farooq Salamat said a police team has been sent to Karachi to recover the girl.
"A police team of RYK is present in Karachi to trace the girl and the suspect and hopefully we will soon trace them," Salamat said.
Last month, two Hindu teenage sisters - Raveena (13) and Reena (15) - were allegedly kidnapped by a group of "influential" men from their home in Ghotki district in Sindh on the eve of Holi. Soon after the kidnapping, a video went viral in which a cleric was purportedly shown soleminising the marriage of the two girls, triggering a nationwide outrage.
In its annual report, the Human Rights Commission of Pakistan (HRCP) this week raised concerns about incidents of forced conversions and marriages of Hindu and Christian girls, saying around 1,000 such cases were reported in the southern Sindh province alone last year.
"The cities where such cases occurred frequently included Umerkot, Tharparkar, Mirpurkhas, Badin, Karachi, Tando Allahyar, Kashmore and Ghotki," said the 335-page report titled 'State of Human Rights in 2018'.
A Hindu lawmaker from Prime Minister Imran Khan's party last month moved two bills in Parliament seeking enhancement of punishment for those involved in forced conversion and for making child marriage a cognisable offence.
The bills were accompanied by a resolution with the support of minority lawmakers from all major political parties condemning such incidents.
The five-point resolution called for immediate passage of the bill against forced conversions, which had been unanimously passed by the Sindh Assembly in 2016 and then reverted due to pressure of extremist elements, from all the legislatures.
Hindus form the biggest minority community in Pakistan.
According to official estimates, 75 lakh Hindus live in Pakistan. Majority of Pakistan's Hindu population is settled in Sindh province.
According to media reports, approximately 25 forced marriages take place every month only in Umerkot district in Sindh province.
https://www.indiatoday.in/india/story/teenage-hindu-girl-kidnapping-sparks-protest-pakistan-punjab-1505190-2019-04-18
--------
Malaysia Probes Book on Giving Up Hijab
APR 18, 2019
KUALA LUMPUR • Malaysia's religious authorities yesterday said they were investigating a book about Muslim women who choose not to wear a hijab, prompting a backlash from women's rights groups.
The probe is the latest in a series of incidents that have led to women's rights activists accusing the authorities of acting like "fashion police" by trying to control women's attire in the Muslim-majority nation.
It came after a government minister called for a probe into the launch of the book Unveiling Choice last weekend which featured Muslim women who discussed why they had stopped wearing a headscarf.
"It's just a sharing of experience, nothing more than that," said the book's author, Ms Maryam Lee, who hopes it shows that the hijab can be "both liberating and oppressive". "(Some) say this is something to promote 'de-hijabbing' - that's not true. It's a book about experience," she told the Thomson Reuters Foundation, referring to the removing of the headscarf.
Ms Lee said officers from the Islamic Affairs Department in the central state of Selangor had obtained copies of the book from the publisher's office on Tuesday.
A spokesman for the department when contacted said it was "looking into the matter" but declined to give further details.
Its director Haris Kasim did not respond to requests for comment.
Religious Affairs Minister Mujahid Yusof Rawa said he viewed the matter seriously and called for a fair investigation.
It was unclear what offences or laws the book was being investigated over.
Muslim women who do not wear the headscarf are a common sight in Malaysia, and include notable figures such as the wife and daughter of Prime Minister Mahathir Mohamad, former trade minister Rafidah Aziz and ex-central bank governor Zeti Akhtar Aziz.
More than 60 per cent of Malaysia's population of 32 million are Muslims, but it is also home to a large number of ethnic and religious minorities who openly practise their religion.
"It's really disappointing," said executive director Sumitra Visvanathan of the non-profit Women's Aid Organisation.
"I would tell the government to butt out of our private lives and how we choose to dress is our business. There is no law in Malaysia that stipulates a woman should or should not wear the headscarf."
Last year, Mr Mujahid said the government was planning to introduce a dress code for Muslim women in the workplace, sparking a public outcry.
https://www.straitstimes.com/world/malaysia-probes-book-on-giving-up-hijab
--------
Woman shot dead in N.Ireland in 'terrorist incident'
April 19, 2019
LONDON: A woman has been shot dead during riots in the city of Londonderry in Northern Ireland and the killing is being treated as a terrorist incident, police said Friday.
Images posted on social media showed a car and van ablaze and hooded individuals throwing petrol bombs and fireworks at police vehicles.
It was not immediately clear who the woman was or who shot her.
"Sadly I can confirm that following shots being fired tonight in Creggan, a 29-year-old woman has been killed," Assistant Chief Constable Mark Hamilton said in a statement on Twitter.
"We are treating this as a terrorist incident and we have launched a murder enquiry."
The violence came in the run-up to the Easter weekend, when Republicans opposed to British presence in Northern Ireland mark the anniversary of a 1916 uprising against British rule.
A car-bombing and the hijacking of two vans in Londonderry (also known as Derry) earlier this year were blamed on a dissident paramilitary group.
Arlene Foster, leader of the Democratic Union Party, which is in favor of Britain's presence in Northern Ireland, described the death as "heartbreaking news."
"A senseless act. A family has been torn apart. Those who brought guns onto our streets in the 70s, 80s & 90s were wrong. It is equally wrong in 2019. No one wants to go back," she wrote on Twitter.
A 1998 peace deal largely brought an end to three decades of sectarian bloodshed in Northern Ireland between republican and unionist paramilitaries, as well as British armed forces, in a period known as "the Troubles."
Some 3,500 people were killed in the conflict — many at the hands of the Irish Republican Army (IRA).
Police have blamed a group called the New IRA for the flare-up in violence in recent months.
Some have expressed fears that recent attacks could be a sign that paramilitaries are seeking to exploit the current political turbulence over Northern Ireland and its border with the Republic of Ireland caused by Brexit.
Michelle O'Neill, the deputy leader of Irish republican party Sinn Fein, condemned those responsible for the killing.
"My heart goes out to the family of the young woman shot dead by so-called dissidents," she wrote on Twitter.
"This was an attack on the community, an attack on the peace process and an attack on the Good Friday Agreement," she added, while calling for calm.
http://www.arabnews.com/node/1484786/world
--------
In Iraq, tribal traditions rob women, girls of rights
April 18, 2019
AMARAH, Iraq: Two weeks into Mariam's forced marriage to her cousin according to Iraqi tribal custom, she desperately doused herself in fuel, flicked on a lighter and attempted suicide by self-immolation.
The 22-year-old spent three days in hospital in Iraq's southern Misan province last summer before succumbing to her wounds, recalled sheikh Haydar Saadoun.
"A university classmate from a different tribe had proposed, but her relatives refused," said Saadoun, an official from the Bani Lam tribe in the town of Amarah in Misan.
"They said they had rights over her because of 'nahwa'," he said, referring to a tribal custom that authorizes the men of a clan to reject marriage proposals to a female member.
They arranged for her to wed her cousin instead.
"He was already married, had fathered multiple children and was illiterate, while Mariam was going to university," Saadoun said.
Wearing a modern three-piece suit under a traditional cape, he told AFP he tried to dissuade Mariam's fiance but was overruled.
"He told me: 'I'll break her nose. I'll marry her and rub her face in it'," Saadoun recounted.
Iraqi society remains largely conservative, bound by tribal traditions and customs practiced from its sprawling capital Baghdad to far-flung rural provinces.
In the country of nearly 40 million, clan names can carry weight in securing work, a spouse and even votes.
They often trump government institutions, as tribes look to their own mediation methods to resolve disputes instead of the official court system.
Women and girls often suffer under these patriarchal systems, with many forced to marry against their will, subject to domestic abuse and deprived of an education.
The southern provinces of Misan and Basra, where tribal influence is widespread, have the highest rates of child marriage in Iraq, the UN's children's agency UNICEF said in 2018.
In Misan, 35 percent of married women between 20 and 45 said they wed as teenagers, and in Basra the rate is 31.5 percent.
In one tribal custom known as "fasliya," women are married off as restitution for blood spilt between two tribes.
Karima Al-Tai, a women's rights activist in Misan, said the custom had ravaged her own family.
"Twenty years ago, a conflict broke out between my tribe and another. During the fighting, a man from the other clan was killed," said Tai, 50.
Calling for a truce, Tai's tribe offered "five virgins" to the opposing tribe — including her cousin, Sahar, who was married off to the victim's brother.
Over "20 years of hell" Sahar was bullied and harassed by her husband's family, Tai recalled. Even her children were publicly branded "children of the fasliya."
But when Sahar asked her family for help, said Tai, "her relatives would tell her, 'you're a fasliya. Accept your fate'."
"Fasliya" is still being practiced. In 2015, a tribe in the southern province of Basra married off 50 girls and women to another tribe under a truce.
With no family support or access to outside help, some Iraqi women and girls have turned to suicide.
A 2017 study of 62 attempted self-immolation cases in Basra found that family problems, including marital issues, were the precipitating factor in 80 percent of the cases.
Authorities in Misan said 198 women had attempted suicide over the past two years, and 14 of them lost their lives.
But details are scarce. Mental health problems in Iraq remain taboo, and efforts to discuss them with tribal leaders have seen little success.
Even Grand Ayatollah Ali Sistani, the top religious authority for most Iraqi Shiites, called last year for an end to "nahwas" and other tribal practices, to no avail.
The customs were criminalized in Iraq's 1959 personal status law, which was strictly implemented under Saddam Hussein's brutal rule.
Marrying a woman by force under "nahwa" is punishable by three years in jail for a cousin and 10 years for a more distant relative.
But as the central government lost influence across swathes of Iraq following the 2003 US-led invasion, tribal power structures took precedence.
Now, "this law is not applied because no woman would file a complaint against her own family," said lawmaker Intissar Al-Juburi.
And efforts to introduce tough laws to protect women have been hampered by political stalemates and an emphasis on security and economic issues.
Meanwhile, tribal customs are becoming further entrenched, according to Maytham Al-Saadi, a professor at Misan University.
"In the past, fasliyas would be proposed only in cases needing blood money, but in recent decades they've been used to end the simplest disputes between tribes," he said.
"It's modern slavery."
http://www.arabnews.com/node/1484686/middle-east
--------
Bangladesh girl burned to death on teacher's order: Police
19 April 2019
A schoolgirl was burned to death in Bangladesh on the orders of her head teacher after she reported him for sexually harassing her, the police said Friday.
The death of 19-year-old Nusrat Jahan Rafi last week sparked protests across the South Asian nation, with the prime minister promising to prosecute all those involved.
Rafi was lured to the rooftop of the Islamic seminary she attended where her attackers asked her to withdraw the sexual harassment complaint she had filed with police.
When she refused, she was doused in kerosene and set on fire. Police said Friday that one of the 17 people arrested in connection with her death had accused the school's principal of ordering the attack.
The teacher "told them to put pressure on Rafi to withdraw the case or kill her if she refused", senior police superintendent Mohammad Iqbal, who is leading the investigation, told AFP.
Rafi had gone to the police in late March to report the sexual harassment, and a leaked video shows the local police station chief registering her complaint but dismissing it as "not a big deal."
Iqbal said at least five of those under arrest, including three of Rafi's classmates, had tied her up with a scarf before setting her on fire.
"The plan was to pass the incident off as a suicide. But it fell through after Rafi managed to come downstairs while on fire because the scarf burnt and freed her hands and feet," he said.
Rafi suffered burns to 80 percent of her body and died in hospital on April 10. But she recorded a video before her death, repeating her allegations against the principal.
"The teacher touched me, I will fight this crime till my last breath," she said. She also identified some of her attackers.
The case has caused outrage in Bangladesh, with Prime Minister Sheikh Hasina vowing that "none of the culprits will be spared legal action."
Rights groups say the number of rape and sexual assault cases has increased in Bangladesh because authorities have failed to prosecute attackers.
"The horrifying murder of a brave woman who sought justice shows how badly the Bangladesh government has failed victims of sexual assault," Meenakshi Ganguly, South Asia director at Human Rights Watch, said in a statement.
"Nusrat Jahan Rafi's death highlights the need for the Bangladesh government to take survivors of sexual assault seriously and ensure that they can safely seek a legal remedy and be protected from retaliation," she added.
https://english.alarabiya.net/en/News/world/2019/04/19/Bangladesh-girl-burned-to-death-on-teacher-s-order-Police-.html
--------
URL: https://www.newageislam.com/islam-women-feminism/dehijabbing-malaysia-move-islamic-authorities/d/118369
New Age Islam, Islam Online, Islamic Website, African Muslim News, Arab World News, South Asia News, Indian Muslim News, World Muslim News, Women in Islam, Islamic Feminism, Arab Women, Women In Arab, Islamophobia in America, Muslim Women in West, Islam Women and Feminism