New Age Islam News Bureau
1 Apr 2018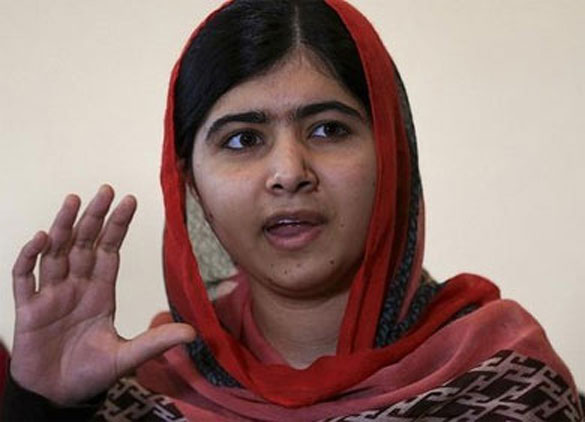 Malala Yousafzai
-----
• First Beirut Film Festival Gives Voice to Arab Women
• Facebook Picture Helps Afghan Woman Achieve Dream of College
• Training Women in Countering Terrorism
• Jordan Strikes Blow for Women's Football across the Middle East in AFC Asian Cup
• Alyasra Fashion to Establish Training Academy for Saudis
Compiled by New Age Islam News Bureau
URL: https://www.newageislam.com/islam-women-feminism/back-with-eyes-open-malala/d/114783
----------
'Back with eyes open': Malala Yousafzai visits Pakistan district where she was shot
AFP | Mar 31, 2018
MINGORA, Pakistan: Malala Yousafzai visited the Swat valley on Saturday for her first trip back to the once militant-infested Pakistani region where she was shot in the head by the Taliban more than five years ago.
"I left Swat with my eyes closed and now I am back with my eyes open," she told AFP, referring to how she was airlifted out in a coma after the attack in 2012.
"I am extremely delighted. My dream has come true. Peace has returned to Swat because of the invaluable sacrifices rendered by my brothers and sisters," she said at a school outside Mingora, the district's main town, where she was escorted by the Pakistani military.
The brief trip by the 20-year-old Nobel laureate is a highly symbolic moment for Pakistan, which regularly touts Swat as a success story in its long battle with extremism as it defends itself against accusations by the US and others that its northwest remains a safe haven for militancy.
The visit — on which she was accompanied by her father, mother, and two brothers — was kept tightly under wraps.
AFP news agency
?
@AFP
31 Mar
Replying to @AFP
#UPDATE Malala Yousafzai landed in the Swat valley for her first visit back to the once militant-infested Pakistani region where she was shot in the head by the Taliban http://u.afp.com/oTCo pic.twitter.com/GTuRRN22no
AFP news agency
?
@AFP
Malala Yousafzai was flown by army helicopter to the Swat valley accompanied by her mother, father and two brothers pic.twitter.com/10Cr9vtRyM
1:08 PM - Mar 31, 2018
View image on TwitterView image on TwitterView image on Twitter
74
52 people are talking about this
After flying by army helicopter from Islamabad, she met with friends and family before visiting the all-boys Swat Cadet College GuliBagh, some 15 kilometres (nine miles) outside Mingora.
Officials had earlier said she would address students there, but she stayed only a few minutes to take photographs before leaving again to return to Islamabad.
Mingora is where Malala's family was living and where she was attending school on October 9, 2012, when a gunman boarded her school bus, asked "Who is Malala?", and shot her.
She was treated first at an army hospital then airlifted to the British city of Birmingham.
Her near-miraculous recovery, and tireless career as an education advocate, have since turned her into a global symbol for human rights, and in 2014 she became the youngest person ever to be awarded the Nobel Peace Prize when she was just 17.
The trip comes two days after Malala, currently a student at Oxford University in the UK, made her emotional return to Pakistan, where her surprise visit has been met with widespread joy and pride.
She broke down in tears as she made a televised speech on Thursday, saying it was her "dream" to be back, and has vowed to Pakistani media that she will return permanently after she has completed her education.
However she has also been met with pockets of intense criticism. Malala is widely respected internationally, but opinion is divided in Pakistan, where some conservatives view her as a Western agent on a mission to shame her country.
AFP news agency
?
@AFP
31 Mar
Replying to @AFP
Malala Yousafzai was flown by army helicopter to the Swat valley accompanied by her mother, father and two brothers pic.twitter.com/10Cr9vtRyM
AFP news agency
?
@AFP
VIDEO: Malala Yousafzai flew by army helicopter to the Swat valley where she met friends and family before visiting the Swat Cadet College GuliBagh, where she is expected to speak with students before returning to Islamabad pic.twitter.com/HaftyhhdNe
1:13 PM - Mar 31, 2018
1,492
408 people are talking about this
There had been much speculation within the country over whether Malala would go to Swat during her visit.
The mountainous region, once a prized tourist destination famed for its pristine scenery, was overrun by the Pakistani Taliban in 2007.
The militants imposed a brutal, bloody rule, but the army drove them out in 2009. Recently restrictions on tourists visiting the area were lifted.
However security has remained fragile, as the assault on Malala three years after the military operation demonstrated. In February this year 11 military personnel were killed in an attack, and analysts have warned the militants still have a presence there.
Residents of the area have praised Malala to AFP in recent days, crediting her with helping to generate improvements in education -- especially for girls -- in the deeply conservative region, part of Khyber Pakhtunkhwa province.
Earlier this month an all-girls school built with money from the Malala Fund opened in Shangla district northeast of Mingora, where her family lived before moving to the city.
"This is the kind of task which was impossible to achieve even over two decades," Shangla district councillor Altaf Hussain Gulab told AFP on Friday. "Malala made it possible in a period of just a couple of years."
"We have just one Malala today but after a decade or so, we will have Malalas everywhere," agreed Farman Ullah, a shopkeeper in Shangla.
https://timesofindia.indiatimes.com/world/pakistan/back-with-eyes-open-malala-yousafzai-visits-pakistan-district-where-she-was-shot/articleshow/63555869.cms
----------
First Beirut film festival gives voice to Arab women
April 01, 2018
Egyptian actress ElhamChahine (2nd-L), festival founder Sam Lahoud (C) and members of "A Day for Women" original cast and crew.(Sam Lahoud)
In the front row. Egyptian actress ElhamChahine (2nd-L), festival founder Sam Lahoud (C) and members of "A Day for Women" original cast and crew.(Sam Lahoud)
BEIRUT - It was no coincidence that the first Beirut International Women Film Festival (BWFF) took place in March, a month that is commonly referred to as "Women's Month." The 6-day event, organised under the theme of "Women for Change," aimed to celebrate women by featuring films about females and by female film-makers.
The voices of women in the film industry are heard more than ever, festival founder Sam Lahoud said.
"Women's films are very much in the front row in all international festivals these days. It is about women producers, directors and scriptwriters and how women are portrayed in films," Lahoud said. "So we thought why not have a festival about women films in Beirut, especially that, in the Arab world, we lack such movement. Notably in the Levant and the Gulf we don't have any festival of the sort, while there is only one in Egypt and one in Morocco."
Lahoud, a scriptwriter, director, producer and founding chairman of Beirut Film Society, had his first experience with women's films in 2014 with the feature "Waynon" ("Void"), which represented Lebanon's entry at the Academy Awards in 2015.
"The film talked about six women waiting for people who disappeared during the war to come back home. It highlighted the women's plight while tackling the issue of the 17,000 missing of the Lebanese civil war. The film was directed by seven directors, including three women," Lahoud said.
He said he hoped BWFF would be an example copied in other Arab contexts. He described the festival, "which came late and should have happened some years ago," as the first step in recognising and celebrating women in the industry.
The selection of movies was based on women's topics as a priority and having female directors was favourable but great movies about women's issues are also directed by men, Lahoud explained.
"There was a wide variety of topics tackled in the participating movies. These included women's struggle between family and profession, domestic violence, female struggle on national and social issues, early marriage, sexual identity and political identity, et cetera. All were timely issues," Lahoud said, adding that the international selection of films highlighted women's stories of success and their willpower to generate change.
The festival featured 55 films from 30 countries, including 20 films from Lebanon, in feature film, feature documentary and short film categories. Egypt, the Palestinian territories, Tunisia, Morocco, Saudi Arabia, Algeria, Iran, France, Spain, Croatia, Belgium, the United States, Canada, India and New Zealand were among the participating countries. Seminars focusing on "Women in Leadership" and "Breaking the Stereotype of Women in Media and Film" took place on the sidelines of the festival.
The Lebanese film selections included: the popular Lebanese web-series "Zyara," which has been merged into a 60-minute film, along with "Go Home" and "Solitaire" in the feature film category and a variety of short films as well.
Egyptian film "A Day for Women" was screened on the opening night in the presence of the film's Egyptian producer and actress ElhamChahine and its director KamlaAbouZekry, one of the main female directors in Egyptian cinema.
The festival's jury included six Lebanese and three international women. It included cinema specialist Rose-Marie Chahine; actresses DiamandBouAbboud, Carole Aboud and Julia Kassar; director Lina Khoury and colourist Dima Geagea from Lebanon in addition to Nujoom al-Ghanem from the United Arab Emirates, MalakRahabouni from Morocco and Alexia Vassiliou from Cyprus.
"Parisienne" by Danielle Arbid won Best Lebanese Feature Fiction Film. It recounts the story of Lina, a Lebanese student who goes to Paris in 1993 only to find that the chaos at home was no different from what she witnesses in the French capital. Paris, however, offers her the opportunity to find herself and acquire a new self-confidence.
The Best International Feature film prize was awarded to "Quit Staring at my Plate" by Hana Josic from Croatia. It tells the story of Marijana, who takes over the role of head of the family after her father falls seriously ill. "While taking care of her irresponsible mother and mentally disabled brother, the new power constellation allows her to explore her sexuality and her inner strength and gives her a taste of freedom," a published description of the film states.
Other prizes were Best International Short Film: "Orbit" by RonyKhoubieh (France); Best Lebanese Short Film: "Tshweesh" ("Garble") by FeyrouzSerhal; Best International Documentary: "Strike a Rock" by AlikiSaragas (South Africa); and Best Lebanese Documentary: "Rasheed" by SamiaBadih.
Preparations for BWFF's second edition are under way after the first proved to be a success, Lahoud said, adding that 16 films have already been submitted
BWFF took Tanit as its symbol and the Tanit of Beirut as its prime award. Tanit is the Phoenician goddess of Carthage, known through the ancient Mediterranean and worshipped as a chief deity.
https://thearabweekly.com/first-beirut-film-festival-gives-voice-arab-women
----------
Facebook picture helps Afghan woman achieve dream of college
AP | Apr 1, 2018
Ahmadi was photographed with her 2-month-old baby asleep on her lap as she took the exam
She took the university entrance exam and scored a respectable 152 out of a possible 200
Inspired by her picture, an NGO helped Ahmadi get into a college
In this March 16, 2018 photo, Jahantab Ahmadi, 25, attend during at the university entrance exam in Daikundi in central Afghanistan.In this March 16, 2018 photo, Jahantab Ahmadi, 25, attend during at the university entrance exam in Daikundii... Read More
KABUL: With three children under the age of five and a husband who could neither read nor write, 25-year-old Jahantap Ahmadi dreamed of going to college.
Her high school degree was enough to become a teacher at the only elementary school in her village in central Afghanistan -- in an open field -- but she wanted more.
On March 15, cheered on by her husband, Jahantap set out for the Daikundi provincial capital of Nili to take the university entrance exam. She walked until her feet were blistered and bruised and then sat for 10 hours with her infant daughter, Khezran, cradled on her lap in a rickety bus over rugged rocky roads.
Once in Nili, she took the exam and scored a respectable 152 out of a possible 200.
Ahmadi2
But it was a picture of Jahantap posted on Facebook, sitting cross-legged on the classroom floor, her 2-month-old baby asleep on her lap as she took the exam that made the dream of going to college come true.
A teacher in Nili who was moved by Jahantap's determination to get an education posted pictures on Facebook. In Afghanistan, where women still struggle for even the most basic of rights, it went viral.
"My brother who was working in Kabul called me and said 'I saw your picture in Facebook,'" she said in an interview in Kabul where she is now enrolled at a private university.
"I wanted to get my education, so I could help my village, change my village. I want to help my society. But first I wanted it for my children, so one day they could be educated."
Nearly 17 years after the overthrow of the Taliban government, which outlawed women's education, an estimated 6 million children are in school in Afghanistan and a third of them are girls.
However, most girls don't study beyond elementary school, and of the 3.5 million Afghan children who have never gone to school, 75 per cent are girls, according to the 2017 annual report of the United Nations Children's Fund, which was released in February.
Zahra Yagana, who runs a small non-governmental organization that provides awareness of the environment and the value of education, said the picture of Jahantap on the floor, while other students sat at desks, inspired her to get Jahantap to Kabul and into a university.
"Life is still very difficult for women in Afghanistan. We need the international community to stay for 50 or 100 years to change things here for women," said Yagana.
"When I saw the picture of Jahantap on Facebook, I was so impressed," she said. "Right away the next day I wrote a story about her, but I thought we have to do something for her, help her get her education. She inspired me."
Yagana went to the government and recruited Farkhunda Zahra Naderi, a senior adviser to President Ashraf Ghani, as well as Sarwar Danish, a vice president. Naderi is paying Jahantap's university tuition and Danish will pay the rent on the family's home in Kabul.
"They said she is a symbol for women and education," said Yagana.
In a country that remains deeply conservative and patriarchal, Jahantap's husband, Musa Mohammadi, would seem an anomaly.
"I am so proud of my wife," said Mohammadi, who never attended school and is illiterate. "That's not the life I want for my children," he said. "I see a sign on the road and I can't read it. I go to the pharmacy to get medicine, but I can't read the name of the pills. That's not right. It is very difficult for me."
0F0C4BCC-4C02-4196-AC39-BF7A6E65DFB1
Before taking her entrance exams in March, Mohammadi said his wife taught children in the open field beneath the blistering summer sun. "I saw how many people wanted education. They all brought their children for her to teach."
His uncle, Mohammad Reza Hesani, said when Jahantap married Mohammadi she bought pens and books for the children in her new husband's family, most of whom had never been to school.
"Jahantap has given light to the women in our village," said Hesani. "We respect her. My wife is so interested now in going to school after she saw Jahantap."
Still, there's a lingering fear that any peace deal with the Taliban would set back the fragile gains made over the last 17 years. Already, women's rights groups have assailed Ghani's government for failing to pass legislation to protect women and allowing clerics to rail against rights for women, stalling the little progress made thus far.
Masuda Karokhi, a member of parliament, told The Associated Press she is "tired and disappointed" that each time legislators press for laws to advance the rights of women, including a law to eliminate violence against women, conservative members intervene to delay it.
https://timesofindia.indiatimes.com/world/south-asia/facebook-picture-helps-afghan-woman-achieve-dream-of-college/articleshow/63567062.cms
----------
Training women in countering terrorism
MunawerAzeemUpdated April 01, 2018
Women are also joining the force that specialises in countering terrorism. The Counter-Terrorism Force (CTF) in Islamabad was made operational in January with about 386 personnel, including 23 women.
The CTF was established under the National Action Plan (NAP) with the strength of 970 officials. Out of these posts, 76 are reserved for women. In the first batch, 23 women officials, including an assistant sub-inspector, were imparted training while another batch of 25 women is undergoing training and will join the force soon.
Women got the same training which was imparted to their male colleagues except for sniper training. They were trained on how to deal with violent extremism, sectarianism, militancy and terrorism.
Besides, they also got specialised training from the Elite Training School Bedian and the Special Services Group (SSG) as well as from the Intelligence Bureau (IB) Academy on intelligence gathering.
Like their male counterparts, they are equipped with weapons such as a sub-machinegun and a pistol, a dagger along with body armour when deployed either on security duty or action/raid.
The women officials participated in security duties on last Ashura and on Pakistan Day this year. Besides, they are also deputed to guard diplomats and foreign dignitaries. They also took part in search operations conducted by the police along with Rangers and other security agencies.
Some of the officials told Dawn that they joined the force of their free will. Most of them came from families which had a police service background.
"There is nothing uncomfortable in wearing the uniform. The scarf has been made a part of the uniform and we are comfortable with it," one of the trainee said.
Trainees listen to their instructor at the Police Lines Headquarters.
The women officials said they got training with their male colleagues and gave them a tough time during competitions, including race and physical fighting. They said the training helped them a lot in dealing with all types of people.
"We have the necessary training required to deal with all types of people, including criminal and terror elements," ASI ShakeelaAlam told Dawn.
Most of the women officials Dawn spoke to said people saw in them the soft image of the police.
"People, especially women, appreciate us and say our joining of the force will serve as an inspiration for the young generation," they said, adding, "many girls had sought details from them about the procedure for joining the force, especially the CTF."
"Many women and girls talk to us when they see us on duty and say that they admired us," a woman CTF official said.
Most of the women officials hail from the rural of areas of the country. Talking about the response of the villagers, they said: "We are getting more importance in our families since we joined the force. The villagers like to see us in uniform." They also said girls in their villages were also willing to join the force.
Some of the trainees dismantle their weapons. — Photos by Mohammad Asim
SSP Counter-Terrorism Force Amin Bukhari told Dawn that they were getting a positive response from women aspirants, including those already serving in the police department.
"We have been receiving numerous applications from women who are keen to join the force," he said, adding that CTF is providing a healthy working environment to women which is why they are applying in such large number.
https://www.dawn.com/news/1398777/training-women-in-countering-terrorism
----------
Jordan Strikes Blow for Women's Football across the Middle East in AFC Asian Cup
ALI KHALED | Published — Sunday 1 April 2018
TRAILBLAZER: MaysaJbarah (L) of Jordan tussles for the ball with Vietnam opponent Nguyen Thi Nga during the AFC Women's Asian Cup tournament in 2014. (AFP)
DUBAI: In 10 weeks' time, the World Cup kicks off in Russia and Middle East audiences, as much as any around the world if not more, will tune in to see how Egypt, Saudi Arabia, Morocco and Tunisia, not to mention Germany, Brazil, Spain, France and England, will get on.
Before that, however, there is one competition far closer to home that in many ways will perhaps have a longer-lasting impact on Middle East football.
In five days, the 2018 AFC Women's Asian Cup kicks off in Amman, bringing the continent's best 16 teams to an Arab country for the first time.
Only one Arab team, hosts Jordan, will compete. But the importance of their participation will send a positive message to the region.
Jordan are the highest-ranked Arab team in the world, at 51 in FIFA's rankings. The next best is Morocco at 73, while Bahrain are 77th and Egypt 78th. The UAE (the next highest Gulf team) are at 81 in the world.
Sadly, no other Arab nation from the Asian Football Federation (AFC) are close.
Being the only Arab team at the tournament may be a heavy burden, but it is one that Jordan's players will be happy to shoulder in front of their own fans.
The hosts have been drawn in Group A with China, Thailand and the Philippines. Group B has Japan, Australia, South Korea and Vietnam.
Coach Michael Dickey's team will not take their opponents lightly, but they will be pleased to avoid the three teams that beat them in the group stages of the 2014 AFC Women's Asian Cup: Japan, Australia and hosts Vietnam.
The team is better prepared this time, with star players such as captain Stephanie Al-Naber and goal machine MaysaJbarah set to play important roles.
A lot will depend on whether Jordan can reproduce their form of the past couple of years against West Asia's teams when it really matters against the continent's stronger nations.
But the tournament is about more than goals and results.
At the turn of the century, women's football across the Arab world barely existed in any meaningful sense.
That is not surprising, for a host of sociopolitical, cultural, sporting and logistical reasons.
We live in a different landscape now. Jordan continues to blaze a trail for Arab women's teams. In 2016, the country hosted the U17 women's World Cup, which was won by North Korea. Jordan were knocked out after losing to Spain, Mexico and New Zealand.
Yet the 16-team tournament was Jordan's first FIFA-sanctioned competition and empowerment has come from high places.
"To have young girls playing sports, and playing football specifically, can do so much to change attitudes and perceptions as to how society perceives women," said Jordan's Queen Rania.
"If a Jordanian woman wants to play football, I say 'go for it.' Because you are a role model for society, for changing traditional roles and challenging negative perceptions regarding women. And football is the healthiest and most inspiring way to do this."
Clearly, it is too early to compare women's football in the Arab world to the men's game in the Middle East or to other women's teams around the world. For now, it is enough to see the improvement in the region itself over the past decade or so. Across the rest of the Arab world, women's football is starting to be taken seriously.
Apart from pioneers such as Jordan, Tunisia and Morocco, Bahrain was the first to set up a women's team in the Gulf, in 2003.
In the past five years, the UAE Football Association has arguably done more than any other national body to promote the game among females, from grassroots initiatives to setting up a league that included local Emirati clubs as well as expatriate sides.
Although the UAE failed to qualify for next week's competition in Jordan, modest but steady progress is being achieved.
"We have played in a lot of competitions, especially in the AFC Asian Cup qualification in Tajikistan," UAE women's coach Houriya Al-Taheri said.
"That was a very big jump in terms of improvement in the performances of the players. It helped their understanding of the game; now they know a different level of football, not just the development level. They saw how Jordan, who were in our group, are one of the best Arab and West Asia teams."
As mentioned by Al-Taheri, Jordan took part in the qualifications despite being guaranteed a place at the tournament as hosts, the idea being to gain as much experience as possible.
It is hoped that such attitude and dedication will translate to performances on the pitch, starting this week.
But whatever the results, and before a ball has been kicked, Jordan has already struck an important blow for women's football across the Arab world.
http://www.arabnews.com/node/1277031/sports
----------
Alyasra Fashion to establish training academy for Saudis
ARAB NEWS | Published — Sunday 1 April 2018
Alyasra Fashion, a leading fashion and retail brand in the region, will establish a training academy to support careers of Saudi nationals in the retail industry.
The training programs, which include functional and behavioral training, are expected to help Saudis to achieve leadership roles and success in their careers.
"The aim of the retail academy will be to help launch and advance retail careers of Saudis, while supporting the country's fast-growing retail fashion sector within the framework of Saudi Vision 2030," the company said in a press release.
The announcement was made by Asil Attar, Alyasra Fashion chief executive officer. Attar, who is a global fashion industry expert besides being among the top 55 most powerful Arab women recognized by Forbes, told Arab News: "Alyasra will work together to leverage support of leading international academic fashion institutions to help develop the academy in Riyadh."
She said that a large number of Saudi men and women will benefit from the industry skills training as "Saudization is a key priority for Alyasrah, which is one of the top pioneers in supporting the feminization of stores."
Attar said the company has managed to achieve 100 percent feminization in brands such as DKNY and Trinkets, and aims to have 100 percent Saudization in all brands across the region by the end of August.
"Alyasra fashion has a strong foundation and we look for strategic opportunities that fit within our portfolio, placing our customer at the heart of everything we do," she added.
Alyasra Fashion has over 250 stores across the Middle East including stores selling everything from watches, jewelry, ready-to-wear fashion, leather goods, accessories and footwear. These include over 60 brands, such as Max Mara Group, LVMH, Jimmy Choo, DKNY, Fossil Group, OnTime, Cole Haan, Ecco and Trinkets.
http://www.arabnews.com/node/1277081/corporate-news
----------
URL: https://www.newageislam.com/islam-women-feminism/back-with-eyes-open-malala/d/114783
New Age Islam, Islam Online, Islamic Website, African Muslim News, Arab World News, South Asia News, Indian Muslim News, World Muslim News, Women in Islam, Islamic Feminism, Arab Women, Women In Arab, Islamophobia in America, Muslim Women in West, Islam Women and Feminism