New Age Islam News Bureau
14 Dec 2015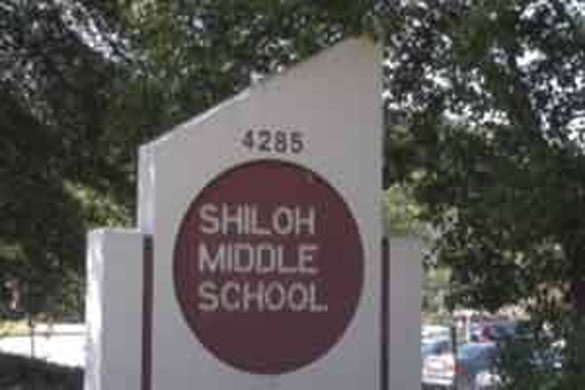 Photo: The Shiloh Middle School principal has apologised for the incident, according to a spokeswoman.
---------
• ISPR's new video message to terrorists is about revenge — through education
• The Terrorist Wears A Burqa
• Man attacks wife with acid in Rahim Yar Khan, children injured
• Elderly woman beaten to death 'by nephews' in Savar
• Extra fish consumption prevents hearing loss in women
• Female poet faces verbal attack at Jeddah Book Fair
• Man takes own life after killing wife
• Sophisticated Islamic State recruitment methods lure Jordanian woman
• Women surpass expectations, corner 19 civic council seats
• Women in Saudi Arabia still face barriers to equality after historic elections allow female vote for first time
• Muslim women explain their commitment and their concerns about wearing hijab, traditional head scarf
• Meet the 15-year-old Muslim girl fighting to box while wearing a hijab
• Christian college professor wears hijab in solidarity with Muslim women
• Gulf women raise flags after Jebel Shams climb
• Women workshop owners selling Tanazul for SR20,000
• KSA celebrates women's march toward progress
• 10,000 Saudi women join hands to break Guinness record for a cause
• Women find cosmetic surgery helps retain husbands' interest
• Knife-wielding Chino Hills man arrested after threatening Muslim woman
Compiled by New Age Islam Edit Bureau
URL: https://www.newageislam.com/islam-women-feminism/new-age-islam-edit-bureau/yet-again-teacher-asks-13-year-old-muslim-student-if-bomb-her-backpack/d/105598
---------
Yet again: US teacher asks 13-year-old Muslim student if she has a bomb in her backpack
Dec 14, 2015
The father of a Muslim middle school student says a teacher asked his daughter if she was carrying a bomb in her backpack
The school's principal has apologised for the incident, according to a spokeswoman.
Abdirizak Aden said the teacher at Shiloh Middle School in Georgia, stopped his 13-year-old daughter, who wears a hijab, and asked if she had a bomb.
Aden told The Atlanta Journal-Constitution that his daughter was extremely upset by the comment and he went to the school to see what had happened.
"I was upset," said Aden, who works as a truck driver and grocery store owner. "I was going to take my daughter out (of that school)."
"We are from Africa, we are Muslims, we live in America," he said. "I didn't teach my children to hate people or to think they are better than other people."
Sloan Roach, a Gwinnett County Public Schools spokeswoman, told the newspaper that the school's principal has apologised to the family.
"The remark was not appropriate, but based on their conversation and investigation," school officials don't believe it was made with "ill intent," Roach said.
She said the comment came as the teacher was urging students to put away their backpacks.
The incident "shows the level of Islamophobia impacting people's relationships with one another," Yusof Burke, board president of the Georgia Chapter of the Council on American-Islamic Relations, told the newspaper.
http://indianexpress.com/article/world/world-news/bomb-in-school-backpack-us-georgia-teacher-asks-13-year-old-muslim-student/
---------
ISPR's new video message to terrorists is about revenge — through education
Dec 14, 2015
The Inter-Services Public Relations (ISPR) released another poignant musical tribute to commemorate the over 130 children slain in the horrific Army Public School (APS) attack last year.
The song targets the perpetrators of the attack with its unique 'revenge-tactic'. With a young child's voice lending melody to the lyrics, the song conveys a message from children to extremists.
The proposed revenge tactic is moving; a child tells his mother that he will seek avenge the attack by educating the children of the misguided terrorists.
The main verse of the song carries the message:
Mujhay Maan Ussay Badla Lainay Jaana Hai... Mujhay Dushman Kay Bachon Ko Parhana Hai
Mother, I have to take revenge from him (the enemy)...I have to educate the enemy's children.
Aside from remembering the young lives lost, the song also pays tribute to the parents of students, who are mourning the loss of their children.
Wo Jis Ko Soch Kay Soti Nahi Maa, Kitaben Dekh Kay Roti Rahi Maa, Hain Kis Ki Wapsi Ki Raah Taktay, Ye Darwaza Khula Baba Kyyun Rakhte
The one whose thought does not let the mother sleep; the sight of books which make her cry, Why does the father keeps the door open; whose arrival does he look for?
The song is a sequel to 'Bara dushman bana phirta hai jo bachon se larta hai', another ISPR song, released about a month after the APS massacre.
While the previous song carried a message of conviction and resilience in the face of terrorism, the new video has a broader message — the message of peace and love. The message of killing the flames of radicalism with knowledge and education for the greater good.
Take a look: This ISPR tribute to Peshawar's lost children will move you to tears
The attack on Peshawar's Army Public School resulted in widespread condemnation from national and international quarters with the government quickly scrambling into action. A National Action Plan (NAP) was then developed in order to tackle the growing problem of terrorism, resulting in a significant decrease in attacks.
http://www.dawn.com/news/1226294/isprs-new-video-message-to-terrorists-is-about-revenge-through-education
---------
The Terrorist Wears A Burqa
December 14, 2015
A number of journalists initially claimed that a woman was behind the San Bernardino massacre, and that Tashfeen Malik radicalized her husband Syed Rizwan Farook.
Anyone who has studied Islamic terrorist killers and radical Islamic culture knows that this is very unlikely.
Samia Labidi, a French-Tunisian dissident and former Islamist, describes how Tunisian Islamist men infiltrated her family "very softly, by means of marriage." They also infiltrated universities by promising men to "restore their masculine dominance." Docile wives and polygamy in a post-feminist age might seem very attractive.
Radical Islam appeals to many men for this reason, among others.
According to Labidi, once an Islamist penetrates a single family, "the next step is to marry off the remaining sisters to Islamists." As a girl, her brother-in-law had Samia, her sisters, and their mother face-veil and subjected them to nightly at-home "political" meetings based on the Qu'ran. They were indoctrinated to believe that Islamic law "takes care of women and protects them" and that "what is good for Western women is not good for Muslim women."
Chillingly, Labidi writes that when such Islamists were exiled from their countries of origin they entered Europe and the internet to continue their work on a "global scale."
Labidi views the Western feminist embrace of a woman's alleged "religious" right to the burqa as a "betrayal" of feminism.
I totally agree. In my view, whenever burqas, heavy face veils, and dark, Iranian-style head, shoulder, and shapeless body coverings appear in the West, we must consider this as a symbol of radical Islam--or of Islamic Jihad.
Katherine Russell, an American convert to Islam and the widow of one of the Boston bomber's, wears very heavy head and body coverings as well as dark glasses.
Female Jihadists themselves are often heavily head-, shoulder-, and body-covered, if not face-veiled. Pakistani-born Aafia Siddiqui, "Lady Al-Qaeda," was a neuroscientist and wore dark head- and body-coverings; Pakistani-born Tashfeen Malik, studied to be a pharmacist. Her hijab is dark, heavy, and decidedly unfriendly.
Perhaps the most interesting (and most mentally unstable and dangerous) female Jihadist was American-born convert Margaret Marcus (Maryam Jameelah), who fled to Pakistan to become a propagandist and translator for Maulana Abul Ala Mawdudi, who adopted Maryam. She helped him as an editor and translator in his influential work which argued the case for militant Islam against the West and which justified Sharia law. Maryam wore an Afghan-style burqa.
Daniel Pipes has argued that the West should ban the burqa for reasons of security, which include crimes committed by men wearing burqas. I have argued for such a ban on the grounds that the burqa and niqab are sensory deprivation isolation chambers and, as such, violate the wearer's human rights. In addition, the increasing appearance of heavy hijab, niqab (face veils) and burqas on Western streets, psychologically rattles infidel and secular women. First, they cannot free these women—who also function as a warning: If radical Islam succeeds, this can happen to them.
While I don't think that women are the masterminds behind male Jihadists, I do think that our myths about female pacifism or passivity are dangerous. Women suicide killers and human bombs have a long history of killing civilians, including children, for nationalist and Islamic religious purposes.
http://www.frontpagemag.com/fpm/261108/terrorist-wears-burqa-phyllis-chesler
---------
Man attacks wife with acid in Rahim Yar Khan, children injured
Dec 14, 2015
RAHIM YAR KHAN: A man allegedly threw acid on his wife and two children after a household dispute in Ghareeb Shah area of Punjab's Rahim Yar Khan district on Sunday.
The woman was living at her parents' home after a dispute between herself and her unemployed husband.
When the accused went to his in-laws to bring his wife and children back, another dispute arose following the the woman's refusal.
The refusal enraged the husband, after which he threw acid on his wife, which also splashed onto the two children, who were next to their mother.
The children are aged seven years and one-and-a-half years, according to the victims's family.
The woman's eyes, and the seven-year-old child's eyes were affected in the attack.
The woman and her children are undergoing treatment at Sheikh Zayed Hospital in Rahim Yar Khan. Doctors stated that the woman had suffered 40 per cent burns on her body while the children suffered 20 per cent burns each.
Between 150 and 400 cases of acid attacks are reported in Pakistan every year. As many as 80 per cent of the victims are women, and almost 70 per cent are below 18. Such attacks are not used to kill the victim but to cause disfigurement, and can often cause blindness, hearing loss and physical and mental pain.
Statistics show that a common trigger is domestic dispute.
Besides domestic disputes, motives behind these cases include revenge, grievance of divorce, watta sattaor compensation marriage, monetary dispute, rejection of marriage proposal, suspicions of illicit relations, marriage of choice, quarrel with husband, property dispute and family feud.
http://www.dawn.com/news/1226098/man-attacks-wife-with-acid-in-rahim-yar-khan-children-injured
---------
Elderly woman beaten to death 'by nephews' in Savar
December 14, 2015
An elderly woman died of head injuries which she suffered allegedly when her nephews beat her in her Vakurta residence in Savar, outside the capital, yesterday.
Setara Begum, 55, was declared dead at a local hospital. Md Mohsin Ali and his brother Nazrul beat their uncle's wife, Setara, during an altercation among the three and Setara's son Shah Ali over a family dispute.
The body was sent to Dhaka Medical College Hospital morgue for autopsy. Filing of a case was under way. The brothers are absconding, said police.
http://www.thedailystar.net/city/elderly-woman-beaten-death-nephews-savar-186880
---------
Extra fish consumption prevents hearing loss in women
December 14, 2015
islamabad - Women who eat fish regularly have a lower risk of developing hearing loss compared to women who rarely or never eat fish, according to a study.
Researchers speculate that the Omega-3 fatty acids in fish may help maintain good blood flow to the inner ear, BBC health reported. These are two questions commonly used to screen for hearing loss, which affects more than one-third of people over age 65.
Women who ate two or more servings of fish per week had a 20 percent lower risk of hearing loss, according to researchers. Eating any type of fish - whether it's tuna, dark fish [like salmon] or light fish was associated with a lower risk.
The omega-3 fatty acids found in fatty fish are linked to a range of health benefits, including cutting the risk of heart disease, depression and possibly, memory loss. The findings come by way of the Nurses' long-term research study that includes more than 100,000 nurses.
The nurses were aged 27 to 42 when they started completing detailed surveys about what they ate and drank. And they were also asked whether they had a hearing problem and, if so, at what age they first noticed it.
The blood flow to the inner ear needs to be very well-regulated and "higher fish consumption may help maintain adequate cochlear blood flow," this could help protect against hearing damage.
How meditation can benefit health
For many people, the word "meditation" is likely to evoke images of a cross-legged individual, eyes closed, humming to themselves, but there is so much more to the practice than meets the eye.
Since a key focus of meditation is to induce a tranquil state of mind, it is perhaps no surprise that researchers have found the practice yields brain benefits.
Earlier this year, a study reported by Medical News Today suggested meditation may reduce brain aging.
The study suggested that mantra-based meditation - a form of concentrative meditation in which a word, phrase or sound is repeated to prevent distracting thoughts - may help older individuals with memory loss.
The researchers, from Thomas Jefferson University Hospital in Philadelphia, PA, found that 12 minutes of mantra-based meditation daily for 8 weeks increased cerebral blood flow to the prefrontal, superior frontal and superior parietal cortices of 12 older adults with memory problems and improved their cognitive function.
While it remains unclear exactly how meditation affects the brain, researchers are getting closer to finding out.
Last year, MNT reported on a study in which researchers found individuals showed higher brain activity in brain regions associated with processing self-related thoughts, feelings and memory retrieval when they practiced Acem meditation - a form of open-awareness meditation - compared with when they were resting.
However, when the same participants practiced concentrative meditation, their brain activity in these regions was the same as when they were resting. This, according to the researchers, suggests that open-awareness meditation allows greater processing of memory and emotions than concentrative meditation.
While medications such as opioids are commonly used to treat pain, studies have increasingly suggested meditation could be an effective pain reliever.
Last year, a study led by the Wake Forest Baptist Medical Center in Winston-Salem, NC, found an 8-week mindfulness-based meditation program that incorporated yoga reduced the frequency and severity of migraines; those who completed the program had 1.4 fewer migraines a month.
A study found that individuals who engaged in mindfulness meditation showed a 44% reduction in emotional response to physical pain and a 27% reduction in pain intensity.
Further investigation using brain imaging revealed that mindfulness meditation reduced participants' pain by activating the orbitofrontal and anterior cingulate cortex brain regions, which play a role in self-control of pain.
"Based on our findings, we believe that as little as four 20-minute daily sessions of mindfulness meditation could enhance pain treatment in a clinical setting," said lead author Fadel Zeidan.
A study reported by MNT found that mindfulness meditation improved the sleep quality of older adults; more than half of American adults aged 55 and older have problems sleeping.
And last year, a study by researchers from Canada found mindfulness-based meditation improved both mood and sleep quality for teenage cancer patients.
http://nation.com.pk/islamabad/14-Dec-2015/extra-fish-consumption-prevents-hearing-loss-in-women
---------
Female poet faces verbal attack at Jeddah Book Fair
Dec 14, 2015
Fatima Muhammad
Saudi Gazette
JEDDAH — Saudis on social media expressed mixed reaction to the action of two conservative men who entered the Jeddah Book Fair on Saturday and attempted to stop a female poet from reading out her poem in a public seminar.
A video of the incident has gone viral on social media. The video shows one of the men objecting to the poetess, saying what is going on in the book fair is against the Saudi tradition.
He also tells the person filming him that he does not bother being filmed.
Organizers guided the person out of the hall as he kept on raising objection against the presence of women "who speak in front of men," and asking the audience whether they approve this. To his surprise a number of voices exclaimed, "Yes we approve of it."
Ashjan Al-Hinaidi, the female poet, continued with her reading regardless of the verbal attack.
Al-Hinaidi, who had received an official invitation from the organizers of the book fair, said that though she has the right to lodge a complaint against these conservatives yet she preferred not to do so.
However, a hashtag on Twitter was devoted to thank the conservatives for their "brave reaction" at the book fair.
But another hashtag was trending under the title (yes we accept) in response to the objection of the conservatives.
Participants in this hashtag agreed that women can speak in public places and that the conservatives should not have interfered, especially that they are not representing a government body.
Wahid Al-Ghamdi, an author, wrote on his Twitter account, addressing the conservatives: "Your voice is no more the only".
http://saudigazette.com.sa/saudi-arabia/female-poet-faces-verbal-attack-at-jeddah-book-fair/
---------
Man takes own life after killing wife
December 14, 2015
A man committed suicide after stabbing his wife to death over family feud in Shafipur area in Kaliakoir upazila of the district on Saturday night.
The deceased are Raihan Ali, 38, a rickshaw puller, and his wife Halima Begum, 30, a worker of a local RMG factory.
Quoting locals, police said the couple, who lived in a rented house in the area, often quarrelled over family matters.
Raihan stabbed Halima indiscriminately with a kitchen knife while she was returning from her workplace around 10:30pm, Sub-inspector Saiful Alam of Mouchak police outpost said.
Hearing screams, as locals rushed in to save Halima, Raihan stabbed himself in the abdomen with the knife. Locals rushed them to Safipur General Hospital where the doctors declared the duo dead.
Being informed, police recovered the bodies and sent those to hospital morgue for autopsy, Officer-in-Charge Motaleb Mia of Kaliakoir Police Station said.
http://www.thedailystar.net/country/man-takes-own-life-after-killing-wife-186790
---------
Sophisticated Islamic State recruitment methods lure Jordanian woman
DECEMBER 14, 2015
A JORDANIAN woman who came close to joining the Islamic State group has described the sophisticated 14-month recruitment process by the extremists that she said landed her in a secret IS compound in Turkey with dozens of other women.
The 25-year-old was eventually persuaded by Jordanian politician Mazen Dalaeen — who earlier this year failed to extract his own son from the grip of IS recruiters — to return to her family.
The case highlights the systematic grooming of potential IS recruits through daily social media exchanges and follow-up on the ground for travel arrangements. In her case, an envelope was stuffed with cash for a plane ticket to Turkey, handed to her by a veiled woman in her home district of Karak in central Jordan.
The woman, jobless since earning a psychology degree in 2011, said IS recruiters exploited her vulnerability.
"They used my frustration … promising me a new life with a job and a house," she said in a phone conversation with Mr Dalaeen after her return to Jordan last month.
A recording of the call was given to the Associated Press by Mr Dalaeen, a vocal campaigner against the Islamic State group, which controls large areas of Jordan's neighbours Syria and Iraq in a self-declared "caliphate".
The woman also described her experience in a November 18 program on Jordan University's radio station, with her speaking by phone. Mr Dalaeen provided further details in an interview with AP on Thursday.
The politician said the case illustrated the extremists' deep reach into Jordan, an outspoken US ally in a Western-Arab military coalition against IS.
"Daesh has a strong organisation," Mr Dalaeen said, using the Arabic acronym for IS. "They can penetrate young people's minds easily and change certain thoughts."
Jordanian government officials have played down the extent of support for IS, saying any lingering public sympathies for the group vanished after it released a video in February that showed captured Jordanian fighter pilot Lieutenant Muath al-Kaseasbeh burning to death while trapped in a cage.
Observers say a strong undercurrent of discontent in Jordan creates tempting targets for IS recruiters. Like other countries in the region, Jordan struggles with high youth unemployment, including among university graduates, and there are few outlets for political dissent.
The Karak woman's father, a retired army officer, said his daughter and other young people fell prey to IS because of high unemployment and nepotism. He spoke on condition of anonymity to conceal his daughter's identity and turned down an AP request to interview her.
The story begins in Ai, the Karak district hometown of the woman, the pilot and the politician.
Earlier this year, Mr Dalaeen failed to foil the recruitment of his 23-year-old son Mohammed, who carried out a suicide attack on behalf of IS in Iraq in late September. The Karak woman's family sought Mr Dalaeen's help after she sneaked off to Turkey in late October.
Mr Dalaeen reached her on social media. He told her leaving home without her father's permission and traveling without a male chaperone violated Islamic principles and that this should make her question claims that IS represented the true Islam.
After a week, the woman's resolve to join IS weakened. But she was scared she would be imprisoned in Jordan or harmed for staining the family's honour. Mr Dalaeen guaranteed a safe return.
At the time, she was living in a dormitory-style complex in Istanbul for about 50 women from the Arab world who were waiting to travel to IS-held areas, she said.
"There was a very big screen in the dorm where we watched videos of killings and calls for killing anyone who doesn't pray," she told the radio show.
She told Mr Dalaeen that IS was "moving women from place to place for security reasons", gradually shifting them toward the Syrian border.
At one point, the Karak woman was able to evade the three female IS minders in her dorm and slip out, Mr Dalaeen said.
A few hours later, while keeping in touch with Mr Dalaeen, she met with Jordanian diplomats at a hotel in Istanbul. Mr Dalaeen said she was questioned by Turkish intelligence before being put on a plane to Jordan.
After her return, details of her recruitment emerged.
The woman said that 14 months ago she was befriended on Facebook by a woman from Raqqa, the unofficial capital of the Islamic State group's "caliphate" in Syria. They talked about religion and IS. Other IS supporters also contacted her.
Over the next few months, "they started sending me more than 200 videos full of killing and slaughtering," she said. "Finally, I started enjoying (seeing) the killing."
She said she received more than 500 messages urging her to travel to join IS. Recruiters also asked her "to kill my father or even my brother because they are infidels and soldiers in the Jordanian security forces," she said.
Eventually, her contacts arranged a meeting in Karak with a veiled woman who spoke with a Jordanian accent and handed her an envelope with 350 dinars ($500) for travel expenses, she said.
Daleen said IS recruiters had been active in his district.
Forty-five young men from the area are fighting for IS and three more young women were approached about joining, he said.
Experts say about 3000 Jordanians have joined IS in Iraq and Syria and between 400 and 450 have been killed fighting for the group. Jordan has imprisoned dozens of suspected IS sympathisers.
"We know we will win against those brutal murderers because we are defending the values of merciful Islam and world civilisations," government spokesman Mohammed Momani said.
Mr Dalaeen believes IS must not be underestimated.
"Jordan, honestly, has been completely penetrated by this organisation," he said.
Associated Press writer Mohammed Daraghmeh in Ramallah, West Bank, contributed to this report.
http://www.news.com.au/world/middle-east/sophisticated-islamic-state-recruitment-methods-lure-jordanian-woman/news-story/d6c7c0a6eeb645cbeabaa7ea6a7ddcc5
---------
Women in Saudi Arabia still face barriers to equality after historic elections allow female vote for first time
By Anne Barker
Dec 14, 2015
Human rights observers say the inclusion of women in Saudi Arabia's municipal elections is a landmark achievement, even if it is largely symbolic.
However, they say much more needs to be done to reduce gender inequality in the conservative Islamic kingdom.
Saudi Arabians have voted 17 women into public office in municipal elections.
It is the country's first election where women could vote and run as candidates, although councillors have only limited powers and no law-making role.
Human Rights Watch (HRW) said women's inclusion in the elections was a positive step toward greater political participation, but that Saudi Arabia continued "to discriminate against women through myriad laws, policies, and practices".
"The government should fix the problems that are making it hard for women to participate and build on this progress to create momentum for further women's rights reforms," Sarah Leah Whitson, HRW's Middle East director, said.
Less than 10 per cent of registered voters were female
Women made up less than 10 per cent of the voting pool, with 130,637 women voters registered, compared with 1.3 million men.
Local activists told Human Rights Watch that women faced several barriers in registering to vote.
Election officials set up single-sex voter registration centres, but only one-third were for women, and many were difficult to reach or hard to find.
Saudi women also faced problems proving identity and residency, HRW said.
While registration regulations applied equally to men and women, women faced greater difficulties in obtaining the necessary documents.
Although authorities now permit women to get their own ID cards, many women still do not have them.
Women also found it difficult to provide proof of residence, because women do not usually own property or pay the utility bills. Instead, a male guardian often holds the property in his name and pays the bills.
In such cases, women had to prove their relationship with the property owner, such as through a family ID, but the male guardian usually holds that. This meant men could block a woman's wish to stand for election.
Saudi Arabia also bans women from driving, making it difficult for women candidates to travel to polling booths or campaign before the election without a male chaperone.
There were bans too on male or female candidates campaigning to someone of the opposite sex, meaning women candidates could only directly approach women.
Incremental progress positive, but country has long way to go
Nevertheless, there has been progress for women in Saudi Arabia and many women are optimistic they will eventually be given more rights and empowerment.
"Saudi Arabia must take immediate steps to end all discrimination against women in the kingdom," Philip Luther, Amnesty International deputy director for the Middle East and North Africa said, when women were first granted the right to vote.
"While moving in the right direction, Saudi Arabia is moving far too slowly. Ultimately, it is no great achievement to be one of the last countries in the world to grant women the vote.
"The whole system of women's subordination to men in Saudi Arabia needs to be dismantled."
Saudi women face discrimination in almost every facet of life. Most women cannot travel, leave the country, open a bank account or marry without permission from a male relative. They have fewer rights when they divorce.
Women must also adhere to a strict dress code — wearing the full-length abaya and head scarf when they leave the house.
Even practicing sport or going to a gym was largely banned until a few years ago, the same year Saudi Arabia sent the first two women athletes to the Olympic Games.
Despite the obstacles to women's full equality, many women welcomed the right to vote in the elections.
One woman said just seeing women put forward their ideas during the campaign process was a "positive thing".
Another told HRW: "I said I should give up, but I am not giving up. I am going to get registered and I did ... I said this is our right. It is the first time they let us do something [like this] and we are not letting go.
"It is a door open, ajar, and we just have to push it wide open."
http://www.abc.net.au/news/2015-12-14/saudi-women-still-face-inequality-after-landmark-election/7027166
---------
Muslim women explain their commitment and their concerns about wearing hijab, traditional head scarf
December 13, 2015
ROSEVILLE, Calif. -- 16-year-old Zainab Chaudhry has big plans. She wants to go to dental school at University of Pacific or New York University.
She knows where she's going and, she knows who she is: an American Muslim.
"Hijab is my identity," said Zainab, an 11th grader in Roseville. "Hijab is my identity, and I don't plan on anyone taking it away from me."
The hijab is a religious scarf that covers the head and neck.
Like many other Muslim women, Zainab chooses to wear hijab to express herself and her beliefs -- despite growing concerns of retaliation against Muslim groups.
Zainab has worn one since the first grade and said she has no intention of removing it any time soon.
"I'm not letting others define me. I'm going to define myself," Zainab said. "It shows my character. It shows my modesty. I want to be strong. Thankfully, I haven't had any negative responses to me at our school. Our school is very accepting."
More American Muslim women who wear religious headscarves are debating whether they should remove them because of growing anti-Muslim rhetoric and harassment.
"My friends are concerned for me. They are concerned for me and they tell me you need to be very careful," said Ayesha Chaudhry, Zainab's mother.
Ayesha says won't remove her hijab despite her own concerns for her and her daughter's safety.
"When I go outside, I am scared. But, I have faith in my God. And, I will never change my identity," said Ayesha.
Like many other Muslim women, Ayesha says her hijab is an integral part of who she is.
"When I wear the hijab, it teaches me not to judge other people how they look," said Ayesha. "It gives me identity. It shows other people I am a Muslim-woman."
http://www.abc10.com/story/news/local/california/2015/12/13/muslim-women-explain-their-commitment-and-their-concerns-about-wearing-hijab-traditional-head-scarf/77249820/
---------
Meet the 15-year-old Muslim girl fighting to box while wearing a hijab
By Cindy Boren
December 14, 2015
Amaiya Zafar is a young girl in Minnesota who, like many her age, found a sport she loves and desperately wants to practice it, to learn more about herself and to test just how good she can become.
But there are significant barriers standing in Zafar's way. For one, the sport she fell in love with is amateur boxing. More significantly, she is a 15-year-old Muslim girl who is as devout as she is dedicated and she wants to wear a hijab, a headcovering for Muslim women, under her boxing headgear and uniform. While it's nearly impossible for her to find opponents in her size and age groups, the bigger roadblock is that international rules that govern the sport do not allow her to wear a hijab. Maybe, the 10th grader thinks, rules should evolve with the times.
"I think the rules are old school," Zafar, who lives in Oakdale, Minn., told The Washington Post. "I don't think there's anything wrong with getting them changed."
Her mother, Sarah O'Keefe-Zafar, believes the rule is now having unintended consequences. "I don't think they ever intended to exclude anybody from the sport," she told The Post.
Against the odds for most young girls, Zafar fell hard for boxing two years ago when she saw the ring at a Minneapolis-area gym. Her father, Mohammad, suggested that she take up fencing, but that wasn't for Amaiya. "I'll box before I'll fence," she told him. And that was that. He helped her understand the finer points of the sport by showing her videos and teaching her about amateur boxing. Finally, she stepped into a gym and then the ring.
"Everyone was like, 'That's Amaiya. She's the small one,' " she said.
Her parents, meanwhile, went from supportive to enthusiastic. "When she first trained, I came into this as a mom and a nurse," O'Keefe-Zafar said, "but she was dedicated and trained for over a year without sparring. And I watched her go from a timid little girl to a confident young person."
Finally, she had to prove herself in the ring against an opponent.
"All the boys around the ring kept telling him, 'She's just a girl. Punch her pretty little face off. You can't let a girl beat you,' " Amaiya Zafar said. After she scored the last jab, she had the last word with the boy and his friends: "I might be a girl, but you hit like a girl."
Eventually, she found acceptance in the ring. "Now they're my team," she said, adding that they work out together and that "it's fun to spar."
And when Zafar, one of three children in her family, takes a hit? "I look at it as something I did wrong defensively," she said. "I try to learn from it and focus a lot on defense."
Zafar is a boxing purist; she won't try to become the next Ronda Rousey. "I'm not a wrestler, I'm not a kickboxer. Amateur boxing is not like pro boxing," she said.
Rules about a hijab aren't the only obstacle in Zafar's way, though. She now stands 5 feet 1 inch tall and weighs 106 pounds; she's always, she says, "the small one" at the gym. There aren't a ton of possible opponents for women to begin with, let alone those in her height and weight class. In addition, opponents must be within two years of one another. And there's the hijab. Removing it isn't an option for a girl to whom faith matters deeply.
International boxing rules stipulate that she cover neither her arms nor her legs below the knees and Zafar would like to wear a long-sleeved Under Armour shirt and leggings beneath her tank top and shorts. USA Boxing has requested a provisional ruling from AIBA, the international boxing organization to which USA boxing defers on rules. Neither USA Boxing nor AIBA responded to a number of requests for comment from The Post. Martino cited safety as a consideration for the rules.
"If you're covering up arms, if you're covering up legs, could there be preexisting injury?" Michael Martino, the organization's interim executive director, told MPR News' Laura Yuen in September. "And then if someone got hurt during the event, the referee wouldn't be able to see it."
While USA Boxing awaits some sort of ruling from AIBA's headquarters in Lausanne, Switzerland, Martino said there was only so much officials could do.
"We have 30,000 amateur boxers in the United States," Martino said. "So if you make allowances for one religious group, what if another comes in and says we have a different type of uniform we have to wear? You have to draw a line some place."
Jaylani Hussein, executive director of Minnesota's Council on American-Islamic Relations, told WDAZ.com that USA Boxing's appeal was the right move. "You know, I think we are looking for an opportunity for this young girl to get a chance to do what all young teenagers [do], especially girls who want to play in this unique sport boxing and the only difference is that she's a Muslim," Hussein said.
Zafar isn't the first athlete to fight to wear a hijab during sports. In the spring of 2014, FIFA lifted a ban on players wearing religious head coverings during games.
While she waits for the evolution of her sport, she focuses on her training. Boxing is something that is always there for her: "If I'm in a bad mood, emotional or having a bad day, my mom will say, 'Get your butt out the door and get to the gym.' "
While her mother says the family is "patient and hopeful" that a rule provision will come down, Zafar is taking her enthusiasm for the sport in another direction, one that brings nearly the same note of excitement to her voice as merely talking about boxing does. "I'm teaching a boxing class at the gym on Saturday mornings," she said, "and I have eight [students] wearing hijab in the class."
After spending most of her career in traditional print sports journalism, Cindy began blogging and tweeting, first as NFL/Redskins editor, and, since August 2010, at The Early Lead. She also is the social media editor for Sports.
https://www.washingtonpost.com/news/early-lead/wp/2015/12/14/meet-the-15-year-old-minnesota-girl-fighting-to-box-while-wearing-a-hijab/
---------
Christian college professor wears hijab in solidarity with Muslim women
Dec 13, 2015
WHEATON, Ill. -
A professor at one of the most well-known Christian colleges in the world is lending her support for Muslim women this Christmas season.
Larycia Alaine Hawkins, an associate professor of political science at Wheaton College near Chicago posted photos to her Facebook page last week showing herself wearing a hijab in solidarity with Muslims.
"I don't love my Muslim neighbor because s/he is American. I love my Muslim neighbor because s/he deserves love by virtue of her/his human dignity," Hawkins said in the post.
The professor says as part of the Advent season, she will wear the hijab "to work at Wheaton College, to play in Chi-town, in the airport and on the airplane to my home state… and at church."
"I stand in religious solidarity with Muslims because they, like me, a Christian, are people of the book… and as Pope Francis stated last week, we worship the same God," the professor wrote.
Hawkins notes that she checked first with the Council on American Islamic Relations to make sure it was not offensive in any way for non-Muslim women to wear the hijab and she invites other women to join her effort as a way to express support and unity.
http://www.wptv.com/news/national/christian-college-professor-wears-hijab-in-solidarity-with-muslim-women
---------
Gulf women raise flags after Jebel Shams climb
December 13, 2015
Muscat: A group of women from different GCC states have climbed the highest mountain in the Gulf region.
The 16 women started the 20km climb of Oman's Jebel Shams on Thursday. The women raised the flags of their countries on Saturday when they reached the top.
Jebel Shams is one of Oman's most sought-after tourist destinations because of its scenic atmosphere. The climb was organised and sponsored by Husaak Adventures in collaboration with Oman's Ministry of Tourism.
http://gulfnews.com/news/gulf/oman/gulf-women-raise-flags-after-jebel-shams-climb-1.1636618
---------
Women workshop owners selling Tanazul for SR20,000
14 December 2015
ALKHOBAR: At a time when female workers' recruitment from abroad has become difficult, a number of owners of women's workshops are reportedly exploiting the Tanazul or sponsorship transfer system.
"These women proprietors have been selling the sponsorship of female expatriate workers for as much as SR20,000 each to get out of financial crisis," an online newspaper has reported.
According to the newspaper, the matter doesn't stop here. Filipino female workers have started marketing their services as housemaids at the waiting rooms of hospitals.
Sultan Al-Matheeri, director of inspections at the Ministry of Labor in the eastern region, was quoted as saying that the ministry does not accept transfer of sponsorship from an institution to an individual. This act, as well as Filipinos marketing themselves as housemaids, is also illegal, he said. The rules prescribe that if a person wants to give Tanazul, it has to be with the consent of the worker, and the profession cannot be changed without his or her wish.
He said that workshops and facilities that are on the verge of closure cannot give Tanazul. "It is allowed only if there is a drive to correct the status. However, this has stopped. Now, there is no transfer of sponsorship from commercial institutions to housemaids."
Owners of workshops now have two options: Either they can give Tanazul to the worker or give her final exit, Al-Matheeri added.
http://www.arabnews.com/saudi-arabia/news/850091
---------
KSA celebrates women's march toward progress
14 December 2015
JEDDAH: As soon as news of some women candidates winning municipal council seats from Makkah region came out, there was celebration by voters on Sunday.
"Recognizing women's role in decision making is a step toward equality," said Ali, who congratulated Salma Al-Otaibi for her election to the council of the Madrakah region of Makkah.
The other two women who won the elections from Makkah region are Dr. Lama Al-Sulaiman, vice-chairman of Jeddah Chamber of Commerce and Industry, and Rasha Al-Hifzi. They are among the 19 women who won in the historic elections.
For the first time in the history of Saudi Arabia, women were allowed to vote and stand as candidates in municipal elections on Saturday.
Such was the enthusiasm among women that Naela Mohammad Salih Nasief, a 94-year-old grandmother, was among the women as young as 19 years old who exercised their franchise.
Salih Nasief said she is an open-mind woman and that the election is only the beginning for Saudi women to get their rights.
Sahar Hassan Nasief, an activist and retired lecturer from King Abdullaziz University's English and European languages department, said women comprise almost half of the population in the Kingdom, so participating and winning in the election allows them to talk about women's rights and contribute in the development of the country.
She said that winning the election offers a good chance to women to raise their voice over issues such as divorce, marriage, women's retirement and insurance.
Wafa Abu Hadi, a Saudi writer, said: "It reflects a broader change in Saudi Arabia regarding women's rights and will stop those from commenting that the Kingdom is not giving rights to women."
Maha Saeed Al-Faiz, a prominent Saudi fashion designer and businesswoman, said the participation of women in the elections and their victory will pave the way for Saudi women to play a bigger role in society. "They will be able to solve problems pertaining to women and suggest amendments to laws that are unfavorable for women. It will particularly help businesswomen."
Municipal and Rural Affairs Minister Abdul Lateef Al-Asheikh, who is also the president of the General Committee for the Municipal Elections, said citizens' interaction with the elections and their awareness about the importance of the councils ensured that they voted for the best candidates.
Even expatriates living in the Kingdom praised the participation of women in the elections. Jamil Rathore, secretary general of PJF; and Azmat Ali, head of the Global NRI group; said participation of women is great news and it's a new beginning for Saudi women and a significant step toward having a more inclusive society. Even if women don't win many seats, just going through this process is important as it will bring positive changes, he added.
Judea bin Nahar Al-Qahtani, spokesperson for the General Committee for Municipal Elections, said the citizens participated in elections with enthusiasm. "However, 235 candidates, nine of them women, were stopped from participating due to violations, and they were penalized with SR50,000 each."
http://www.arabnews.com/saudi-arabia/news/850101
---------
10,000 Saudi women join hands to break Guinness record for a cause
14 December 2015
Some 10,000 women broke the Guinness world record in forming the biggest human ribbon of the universal symbol of breast cancer awareness under the initiative '10KSA' on Saturday.
Wearing pink scarves, the women stood hand-in-hand in the football stadium at Princess Nourah Bint Abdulrahman University at the conclusion of a day-long fair to raise awareness about women's health.
"Today 10,000 women announce that they believe that holistic health is important for our future as mothers, daughters, and sisters," the founder of social enterprise Alf Khair, Princess Reema Bint Bandar Bin Sultan Al-Saud, told Saudi Gazette.
"We are the voice of the future, and if we take care of ourselves, there will be a bright future. If we don't, it will be a very bleak future, and that's not something I'm willing to see nor are the 1,900 volunteers that participated with us today, not the 53 organizations that supported us nor the 10,000 women that arrived today," she said.
December 12 also marked the first time Saudi women were allowed to vote and run for public office.
Princess Reema Al-Saud said, "It's a very proud moment to be a Saudi woman because today we voted and we stood together for something that's positive for all of us with the support of our whole community. This is a big moment for all of us."
Dr. Modia Batterjee, co-host of the health awareness fair and cofounder of Albidayah Breastfeeding Resource and Women's Awareness Center, told Saudi Gazette that their main message is to promote a holistic health wellbeing of women, emphasizing that their overall health is "the basis of society as a whole".
"We wanted to maintain the fact that women need to understand prevention and health awareness, live a healthy lifestyle, do early detection, eat well, exercise, sleep well, breastfeed, take care of themselves and surround themselves with healthy people," she added.
Ambassador of 10KSA Hala Aseel, who is a member of Zahra Breast Cancer Cancer Association, said that through the awareness campaign today many people benefited. "I look forward to entering the Guinness Book of Records with 10,000 women!"
Guinness World Records adjudicator Seyda Subasi-Gemici said, "I'm in Riyadh to witness the official Guinness world record attempt for the largest human awareness ribbon which is carried out by the women of Saudi Arabia."
The record smashed the previous recording belonging to India which involved 6,847 participants.
"In order to qualify for this record, all participants have to wear the same color of clothing so that the overall image from the aerial view is one block of color. In addition to that, all participants have to be in position simultaneously for at least 5 minutes," Subasi-Gemici explained.
This article first appeared in the Saudi Gazette on Dec. 14, 2015.
http://english.alarabiya.net/en/perspective/features/2015/12/14/10-000-Saudi-women-join-hands-to-break-Guinness-record-for-a-cause.html
---------
Women find cosmetic surgery helps retain husbands' interest
14 December 2015
JEDDAH: The popularity of cosmetic surgery for women in the Kingdom has increased dramatically over the last few years.
This surgery acts as a form of assimilation and making women feel empowered since it represents an exclusionary beauty norm.
Confessing to the surgery, a Saudi woman, Sadia, said: "At 38 years of age, I have the face and body I deserve. Earlier, my upper arms were massive and fleshy, bearing no resemblance to the physique I had in my twenties. Cosmetic surgery helped in restoring my gym-honed figure and addressed the body confidence issues that were lost in me more so than exercise or therapy."
Moreover, an inspiring factor that causes most women to have cosmetic surgery and a willingness to go under the knife is marital problem. The pressure to look good has raised the demand for cosmetic surgery and other related medical procedures. Cosmetic surgeon Dr. Sarah H said that the reason most women between the ages 30 and 65 are drawn toward plastic surgery is to get a new and younger look. "People here are well informed about plastic surgery. It's amazing that they come to us well researched on all kinds of surgeries and the latest technique from the Internet," she said.
A Saudi woman, who did not wish to be identified in order to preserve her privacy, recently sought cosmetic surgery to restore her youthful look in order to retain the interest of her husband, after she learned that he was marrying a younger and more beautiful girl than her. She underwent five to six surgeries, including a facelift, Botox and nose correction surgery to look younger.
"After having children and being busy with household chores, a woman automatically stops caring about herself. I was so busy with everything that I forgot the way I looked and when my husband started to find me unattractive, I felt depressed, and to restore my beauty, cosmetic surgery was the option," she said.
Several other women mentioned that the reason to undergo a surgery is to address body confidence issues rather than therapy. "They come to us with emotional and physical pain. We sometimes play psychologists for depressed patients who seek surgery to distract themselves or to please their husbands," said Dr. Diana, a plastic surgery consultant.
She added that it is important that the patients are ready to go under the knife rather than rushing themselves into plastic surgery as it might sometimes disappoint someone who is looking for a more drastic change.
According to an Arabic daily, Saudis spend about SR826 million on plastic surgery and there has been a 7 percent increase in the number of cosmetic surgeries in 2014 compared to 2012.
http://www.arabnews.com/saudi-arabia/news/850106
---------
Knife-wielding Chino Hills man arrested after threatening Muslim woman
By Liset Marquez
12/13/15
CHINO HILLS >> Authorities may pursue hate crime charges after a 40-year-old man pulled a knife and threatened a Muslim woman late last week.
Authorities say the incident occurred just before noon on Thursday when a Muslim woman was at a car wash in the 14000 block of Pipeline Avenue. Daniel Senteno, 40, of Chino Hills, allegedly made threatening remarks to the woman and then brandished a knife. He then followed the victim until she approached the manager at the car wash, who called authorities, said Cindy Bachman, a San Bernardino County sheriff's spokeswoman in an email Sunday.
"It is my understanding the investigators will pursue hate crime charges," Bachman said in the email.
Senteno was taken into custody and booked at the West Valley Detention Center on suspicion of making criminal threats and brandishing a weapon. His bail has been set a $75,000.
Senteno is still in custody and is expected to be arraigned this week, Bachman said.
Thursday's attack appears to be the latest targeting the Muslim community since the San Bernardino shooting massacre on Dec. 2, which was carried out by Syed Farook and Tashfeen Malik, who were both Muslim.
On Sunday, mosques in Hawthorne were vandalized, and a mosque in Coachella Valley was firebombed on Friday.
It is not clear if the Muslim woman in Thursday's incident was wearing a headscarf, but Amjad M. Khan, national director of public affairs for the Ahmadiyya Muslim Community, USA, acknowledged American Muslim women could face scrutiny from the public.
Malik, one of the San Bernardino shooters, donned a headscarf. Muslim women wear a hijab, commonly referred to as a headscarf, as a sign of modesty and humility, Khan said.
"We don't want the headscarf to be associated with terrorism; we want her act to be associated with terrorism. The headscarf is the opposite, the headscarf is part of the solution," he said.
In Islam, more than 50 percent of the women do cover their heads, said Sadiqa Malik, president of the Los Angeles East chapter of the ladies auxiliary for Ahmadiyya Muslim Community.
"To put them in the same category, that would be unfair," she said.
Sadiqa Malik said she has not been under any scrutiny since the terror attack, especially sine she shares the same last name as one of the shooters.
"This is my security for me, and that's how I feel," Sadiqa Malik said about her headscarf. "This is keeping my modesty, keeping my humility and keeping my respect in public."
Khan said the most powerful message to send to the Islamic State and extremist was that American Muslim women will not take off their head scarves.
He said that his wife has not stopped wearing her headscarf, "even though she gets nervous, but she says 'this is the time to wear it.'"
"It's not just an act of religious worship, it is a symbol and a counter message to those who radicalized," he said.
http://www.dailybulletin.com/general-news/20151213/knife-wielding-chino-hills-man-arrested-after-threatening-muslim-woman
URL: https://www.newageislam.com/islam-women-feminism/new-age-islam-edit-bureau/yet-again-teacher-asks-13-year-old-muslim-student-if-bomb-her-backpack/d/105598
New Age Islam, Islam Online, Islamic Website, Womens in Islam, Islamic Feminism, Arab Women, Womens In Arab, Islamphobia in America, Muslim Women in West, Islam Women and Feminism