New Age Islam News Bureau
20 Feb 2016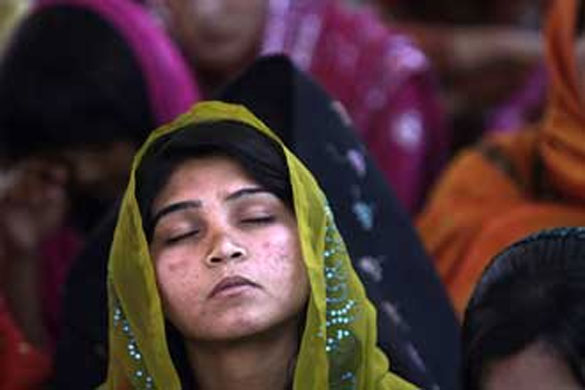 Photo: Kainat Soomro was 13 years old and on her way to buy a toy for her newborn niece when three men kidnapped her, held her for several days and repeatedly raped her.
----------
• U.S Muslim Woman Asked To Remove Religious Scarf at Omaha Bank
• Saudi Woman Terrorist Killed In Coalition Raid
• Gujarat Village Diktat: No Mobile for Unmarried Women
• Muslim Woman with Cancer Looking To Make Friends at Miami Jewish Synagogues Sparks Call To Cops
• Meet the Kickboxing Expert Teaching Muslim Women to Defend Themselves from Racist Attackers
Compiled by New Age Islam Edit Bureau
URL: https://newageislam.com/islam,-women-and-feminism/new-age-islam-edit-bureau/these-women-are-taking-on-islamic-law,-which-allows-kidnapping,-rape-and-injustice-to-flourish-in-pakistan/d/106415
-----------
These Women Are Taking On Islamic Law, Which Allows Kidnapping, Rape and Injustice To Flourish In Pakistan
February 20, 2016
Kainat Soomro was 13 years old and on her way to buy a toy for her newborn niece when three men kidnapped her, held her for several days and repeatedly raped her.
Eight years later, she is still battling for justice.
She sits on a steel-framed bed in her parents' three-bedroom home, and holds her blue shawl tight around her body.
When she describes the horror of her captivity her voice is barely a whisper, but it gains strength when she talks of the fight she has been waging: going to Pakistan's courts, holding protests, rejecting the rulings of the traditional Jirga council, taking on the powerful landlord and politician who she says are protecting her attackers.
Her battle for justice has inspired an award-winning 2014 movie, Outlawed in Pakistan.
Malala Yousefzai, the Pakistani teenage Nobel Peace Prize winner who was shot by the Taliban, invited Kainat to the Nobel award ceremony, and her fund has given Kainat financial help.
Yet Kainat's family has paid a high price for her bravery. One sister remains unmarried and another was divorced because her in-laws were ashamed to be associated with Kainat.
In 2010, her brother was killed over his sister's refusal to stay silent. Clutching a gold-framed picture of his son, Ghulam Nabi Soomro spat out words of condemnation. "They know about our troubles thousands of miles away but here in the next street no-one is helping us get justice," he said.
In Pakistan, women are often too fearful to report sexual violence, yet the independent Human Rights Commission of Pakistan recorded 423 rapes and 304 gang rapes in 2015
It also said that in 2015, at least one woman a day was killed in the name of honour — murdered for allegedly bringing shame on the family. "Each year a gamut of promises is made for the protection and development of women, but (they) remain unfulfilled by the year-end," the commission wrote in its 2014 annual report. Attackers are rarely jailed. Human rights workers say the police often refuse to even register a case involving attacks against women, and the powerful and rich are immune.
The groups trying to advance women's rights in Pakistan's deeply traditional patriarchal society suffered a painful blow in January when the national parliament refused to pass laws banning child marriage. The parliament buckled to the dictates of the Islamic Ideology Council, a religiously right-wing advisory group with no legal authority. The same body has also said that taking DNA tests to identify a suspected rapist is against Islam.
"Women's groups have been demanding that the Islamic Ideology Council be disbanded," says Uzma Noorani, an activist who also operates a women's shelter in Pakistan's port city of Karachi.
She says rights advocates are fighting a war for change and occasionally battles are won. Southern Sindh province, of which Karachi is the capital, has passed legislation aimed at protecting women and banning underage marriages. But then the war begins again as they fight to convince police and judges to register cases and implement the laws, and to take authority away from the Islamic Ideology Council and other hard-line groups.
"When you have a law it is like a weapon, when you need it you can use it," says one outspoken member of Sindh's legislature, Mahtab Akbar Rashdi.
She says that the national government is pandering to those who adhere to a narrow and restrictive view of Islam, which mostly targets women. "It's as if women for them are the biggest problem in Islam," she says of the Islamic Ideology Council.
One women's shelter in Karachi, surrounded by two walls and protected by guards, is home to around 40 women. Some have fled abusive husbands, some have been raped, others are being hunted down by families for choosing love.
When Azra was 18, her family sold her for $5000 to an older man who passed her around to strangers. She ran away, and now she is fighting for a divorce and too afraid to leave the shelter's walls. The courts have yet to decide on her case and Azra — who is just 20 — wonders where she will go when the time comes to leave the shelter.
Sidra Kamwal had left her abusive husband and moved back in with her mother when another man proposed to her. The man refused to take no for an answer. He pestered her and harassed her. And then one day he told her that if couldn't have her, no one could, and threw acid on her face. The months afterward were horrific. Her poverty meant doctors paid her little heed. One sent her home with only burn cream, but the pain and swelling were unbearable. Her nostrils had seared together. She returned to hospital and again, after three days, they sent her home.
Her four-year-old son refused to come to her after her attack. "He didn't recognise me. My face scared him," she says, pulling her headscarf over her twisted mouth and nose.
Nightmares haunt her sleep. Each time she closes her eyes his face appears. Sometimes he is hitting her, throwing more acid, pounding her. If her terror does not waken her, the small tube that runs between her burnt nostrils does. Without it, she struggles to breathe. It was not until she went to court that Noorani, the women's rights activist, saw her and she received treatment.
According to the Human Rights Commission, 55 acid attacks took place in Pakistan in 2015. To date, only 17 arrests have been made.
Unlike Kainat or Azra, Sidra's attacker is in jail, but his family has been embraced by the neighbours. The family jeers at her, and the neighbours applaud. Sidra, with her painfully disfigured face, is the outcast.
indiatimes.com/news/world/these-women-are-taking-on-islamic-law-which-allows-kidnapping-rape-and-injustice-to-flourish-in-pakistan-250956.html
---------
U.S Muslim Woman Asked To Remove Religious Scarf at Omaha Bank
February 19, 2016 by Karla James
The Council on American-Islamic Relations (C.A.I.R) is asking an Omaha bank to adjust their security policies to allow Muslim women wearing a religious scarf – or Hijab- to enter without having to remove them. This after an Omaha woman was asked on Tuesday to remove her Hijab at the Security National Bank at 78th and Cass Street. The woman says she was discriminated against and was emotionally distraught by the experience.
Security National Bank officials released a statement that they respect everyone in the community and this was in no way intended to be discriminatory and if they caused offense in any way they are sorry. Also in the statement:
"For security reasons, our policy for all walk-in customers is to remove all face, eye and head covering to allow our employees and security cameras to have a clear view of each person entering the bank. We routinely ask individuals to remove their hats, scarves and sunglasses prior to entering. This is done in an effort to keep our customers and employees safe." There is a sign on the door asking customers to comply with their regulations.
Ibrahim Hooper is the National Communications Director for C.A.I.R. and says, "Bank officials are responding pretty well in this situation. They've reached out to us and are working on language for a policy change that would allow anyone to go on into a branch as long as their face is fully visible. That is all we really request." He is optimistic that a solution can be worked out.
Omaha police were called to the bank Tuesday afternoon by the woman but no reports were filed.
nebraskaradionetwork.com/2016/02/19/muslim-woman-asked-to-remove-religious-scarf-at-omaha-bank/
---------
Saudi Woman Terrorist Killed In Coalition Raid
20 February 2016
RIYADH: A Saudi woman member of the Daesh terrorist group has been killed in Syria, according to a posting Friday by a Syrian activist on Twitter.
According to the post, Rima Al-Jareesh, known as a spokesperson and writer for the organization, was killed in a raid on Al-Shadadi city in Al-Hassakah in Syria.
Another tweet by the same person claimed that several other members of Daesh were killed by attacks carried out by forces of the international alliance.
Those killed included Adam Al-Shishani, Abu Abeer the Iraqi, and Abu Aeash Al-Jazrawi, a military official in Al-Shadadi.
There were also reports of people severely injured in raids in October 2015, but these could not be verified on Friday.
Al-Jareesh, who was wanted by the Saudi authorities, and whose husband is in prison in the Kingdom, fled the country in November 2014 with her four children to join Daesh in Syria.
This followed her pledging allegiance to Abu Baker Al-Baghdadi. She had met up with her son Moath, 16, who had joined Daesh in 2013.
Al-Jareesh had provided details of her story on Twitter, describing how she fled to Yemen where she meet Wafaa Al-Shahri, the wife of the Daesh's former second-in-command, and then to Syria. Al-Shahri had left the Kingdom in March 2009 to join her husband in Yemen.
Al-Jarish was arrested more than once because of a demonstration in Al-Qasim province in support of terror suspects. She had demanded the release of Heilat Al-Qasr, whose was known as the lady of Al-Qaeda.
arabnews.com/featured/news/883421
---------
Gujarat Village Diktat: No Mobile For Unmarried Women
HuffPost India | By Vyas Mohan
Posted: 19/02/2016 20:25 IST Updated: 19/02/2016 22:32 IST
In a diktat, the head of Suraj village in Narendra Modi's native district Mehsana in Gujarat has banned unmarried women from using mobile phones, even as the country's prime minister continues to promote his 'Digital India' drive.
Unmarried women caught with mobile phones will be fined Rs 2,100 while informers will be rewarded with Rs 200 in the village, situated 100 kilometres from the state's financial capital Ahmedabad, according to a report.
"Why do girls need cell phone? Internet is a waste of time and money for a middle-class community like ours. Girls should better utilise their time for study and other works," Suraj village sarpanch Devshi Vankar said.
However, there are no restrictions when it comes to unmarried women talking to relatives using their parents' phone.
The Sarpanch said that the entire village of 2,500 inhabitants, comprising of various castes, welcomed his decision.
The ban was imposed on February 12 in the village and is expected to spread other parts of northern Gujarat as the influential Thakor community, with the cooperation of other backward communities such as the Rabari and Vankar, has decided to bring more villages under this rule.
It all started with an alcohol de-addiction campaign for men started by the Thakors, which gradually extended to women's lifestyle after community heads observed that the use of mobile phones by unmarried women was as much a 'nuisance' to the society as alcoholic men.
The village heads then formulated rules and regulations for women, in the process prohibiting unmarried women from using mobile phones.
"Alcohol consumption by men and cell phone use by women create a lot of disturbance in society. Young girls get misguided. It can break families and ruin relationship," said Raikarnji Thakor, a community leader from north Gujarat.
"It (the ban) is the villagers' idea only," he added.
huffingtonpost.in/2016/02/19/modi-gujarat-village-bans_n_9272882.html
---------
Muslim woman with cancer looking to make friends at Miami Jewish synagogues sparks call to cops
BY Denis Slattery
NEW YORK DAILY NEWS
Friday, February 19, 2016, 8:09 PM
A Muslim woman with terminal cancer who stopped by a pair of synagogues and sparked fear amid Miami's Jewish community says she was just looking for a friend.
Nabila Ouakka and her mother Mamma Akhizz, who are Muslim, were spotted last weekend visiting two temples in North Miami Beach — sparking an investigation by four law enforcement agencies.
But Ouakka, who said she has been diagnosed with terminal breast cancer and is going through a divorce, was just trying to meet new people.
KING: AMERICANS NEED TO STOP RACISM, SOCIAL INJUSTICE TODAY
Nabila Ouakka, who's going through a divorce and was diagnosed with breast cancer, says she went into Jewish synagogues to meet people. CBS Miami
Nabila Ouakka, who's going through a divorce and was diagnosed with breast cancer, says she went into Jewish synagogues to meet people.
"I just wanted to say hello," Ouakka, who went by the North Miami Beach Police Department to clear up the matter, told CBS Miami.
"I wanted to meet new friends and get in touch with my brothers and sisters," Ouakka said. "As a person, I am sociable. I love people and love to be around people. My intentions were to get closer to my brothers and sisters."
The unannounced stops had raised concerns among the area's Jewish community after the women, both wearing reportedly asked about services and pulled out a Koran, the Islamic holy book.
Ouakka's trip to Jewish synagogues with her mother raised concerns and sparked an investigation by four law enforcement agencies. CBS Miami
Ouakka's trip to Jewish synagogues with her mother raised concerns and sparked an investigation by four law enforcement agencies.
Ouakka said she was curious about attending services but was unsure of the times.
"I went there to get the Torah, the book," she recalled. "I asked him where there were lectures. I thought they might have them on Saturdays. With Muslims we have them on Fridays."
The mother-daughter duo also stopped by a church in the neighborhood.
Ouakka also visited a church in the Miami area, whose congregants, she said, were more welcoming. CBS Miami
Ouakka also visited a church in the Miami area, whose congregants, she said, were more welcoming.
Ouakka said the folks at church were more welcoming. "They were very nice to us. They said they loved us. I said, I love you," she said.
Police investigated the incident, interviewing both Ouakka and her mother, but ultimately decided that no crime had been committed.
"We got a report of a suspicious person. She is a human being. Her mother is a human being, as are the rest of us. After a thorough investigation, we determined they were not a threat to anybody," said Major Rich Rand of the North Miami Beach Police.
Rabbi Yosef Marlow said he believes the authorities were justified in their investigation and says unannounced visits by strangers can be alarming.
"Common sense is that they would go through the proper channels and make an appointment before making an entrance of any sort," Marlow said.
nydailynews.com/news/national/muslim-women-jewish-friends-raise-alarms-article-1.2538153
--------
Meet the Kickboxing Expert Teaching Muslim Women to Defend Themselves from Racist Attackers
By Kieran Yates,February 19, 2016
Boxing instructor Khadijah Safari
"The last thing people think I've got in my bag is a load of boxing gloves," says Khadijah Safari. The 5'4" hijabi Muay Thai boxing instructor is struggling under the weight of the huge sports bag she's hauling to a class she teaches in Milton Keynes, outside the British capital. "When I lived in London, I'd get taxis all the time and drivers would say, 'Where are you off to? What do you teach?' I'd tell them, and they'd double-take, thinking perhaps I'd just covered my head because it was raining or something, but it was obviously my hijab... Once, I went to Holland & Barrett to buy training supplements for one of my students. The guy behind the counter loudly and slowly asked, 'Can. I. Help. You?' like he assumed I couldn't speak English. Though I suppose that's better than the time a man yelled, 'Go back to your fucking country!' and threw his sandwich at me.
Tales of this kind of racism aren't uncommon. What might be is Safari's response to it. Four years ago, she set up boxing classes in London that catered predominantly to Muslim women. She recently moved to Milton Keynes and has become even more ambitious—hoping to establish a national women-only kickboxing tournament that will allow Muslim and non-Muslim women to compete together. Her plan is to empower them, physically and emotionally, and give them confidence that they could kick the shit out of people on the streets in the real world—if they really had to.
You have to be strong—before I came here, I lived in Worcestershire and people would shout 'Muslim!' at me in the street.
The ethnic make-up of the streets that Safari's students inhabit has shifted significantly in recent years. In 2001, 13.2 percent of Milton Keynes residents were from an ethnic group other than "white British." By 2011—the most recent figures available—this had risen to 26.1. Only 4.8 percent of people in Milton Keynes identify as Muslim, but in a climate where ethnic difference can be seen as a threat to the political rhetoric of "British values," a feeling of unease prevails. In 2013, a petrol bomb was flung onto the roof of the local Zainabia Islamic Center. It was a relatively isolated incident, but it's recent enough to make it plain why local Muslim women feel a need to be defended.
"One of my students asked me to go the shop with her to get milk because she was wearing a niqab and was scared," says Safari. "People threaten them, pull veils from their heads. Imagine how many women are experiencing that, every time they go out?"
Self-defense classes aimed at Muslim women have existed for years across the United Kingdom. It's perhaps unsurprising, then, that many women are protecting themselves against a climate where their safety is being increasingly and aggressively compromised. Last September, a shocking figure showed that Islamaphobic attacks had risen 70 percent in London in the last year. The media reported stories of women being spat on and name-called, while the #afterseptember11 hashtag retold stories across Europe and the UK of how life had changed for women after 9/11.
Safari, left, and one of her students
??Safari's sessions are grueling. Headscarves hang on hooks at the back of the room, hair is tied back, and the sparring is rapid, sweaty, and punishing. When men are in the building, newspaper is stuck on the windows to respect "purdah"—the religious practice of screening women from men or strangers. Safari shouts at the panting women, who are blocking, punching, and memorizing sequences. At one point, she expertly raises her legs above her head and holds a firm static kick position for 30 seconds—a display of control that receives applause from the room.
When I visit on a Thursday, one of the attendees is 26-year-old Fatima. Her family is from London, via Sierra Leone, and she found Safari through Facebook. "It's a good skill for anyone to have, but particularly Muslim women because we are more overtly Muslim," she says.
Safari, who is a black belt in Muay Thai, now wants to take it to the next level by creating the first halal martial arts organization—Safari Martial Arts Association—to cater specifically to the needs of Muslims. Men and women train separately, so the idea is to have a space where women can remove their headscarves and be respectful of their religion and their sport at the same time.
Afshah, 33, is fixing her hijab with magnetic pins that the women are sharing around after the session as they remove black and red boxing gloves. She's from Islamabad but has been in the UK for eight years. "I have three kids at home, and I want something for myself," she says. "My husband wants me to get a black belt. You have to be strong—before I came here, I lived in Worcestershire and people would shout 'Muslim!' at me in the street. I felt so insecure. I didn't want to go out. This class has given me a little bit more confidence. If there was a competition, I would love to go to there."
Sisters need to be able to play football and go for a jog where they're not judged by the way they are dressed.
The current British female kickboxing champion is in fact a Muslim. Ruqsana Begum is the only Muslim woman who is a national champion in her sport. She also runs her own classes based in London and is in the middle of launching a "sports hijab range for sisters" later this year, called Sports Hijab by Ruqsana. Her point is simple, but one that keeps needing to be made—that Muslim women are capable of powerful, physically demanding athletic excellence, without being held back by stereotypes. "Sisters need to be able to play football and go for a jog where they're not judged by the way they are dressed," she says.
Safari plans to hold a competition to celebrate Milton Keynes's 50th birthday next year, which she hopes will lead to more interest and funding for a national competition. "It's very achievable," she says. "I don't see any reason why it couldn't be. It'd also be an opportunity to give positions like judges and referees, which are usually held by men, to women. In doing this, we're showing a totally different side of ourselves."
vice.com/read/muslim-women-boxing-gyms
URL: https://newageislam.com/islam,-women-and-feminism/new-age-islam-edit-bureau/these-women-are-taking-on-islamic-law,-which-allows-kidnapping,-rape-and-injustice-to-flourish-in-pakistan/d/106415
New Age Islam, Islam Online, Islamic Website, African Muslim News, Arab World News, South Asia News, Indian Muslim News, World Muslim News, Womens in Islam, Islamic Feminism, Arab Women, Womens In Arab, Islamphobia in America, Muslim Women in West, Islam Women and Feminism