New Age Islam News Bureau
9 Jan 2016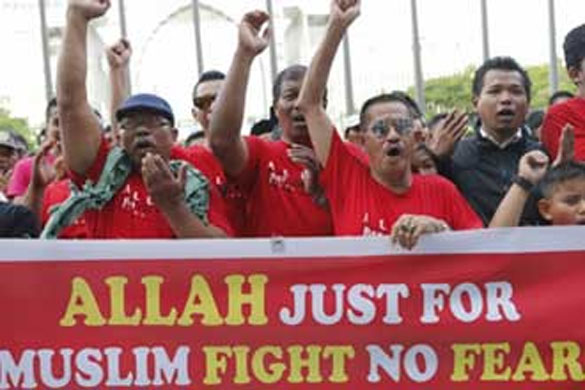 Photo: Muslim demonstrators gathered outside a court in Malaysia hearing a case about a ban on Christians using 'Allah' to refer to God. The ban was eventually upheld.
--------
• Malaysian mother loses court battle over conversion of children to Islam
• Saudi Arab: Male councilors refuse to sit with female colleagues
• 18 asylum seekers tied to attacks on women in Germany
• Lale Akgün: 'Muslim migrants need to accept German social norms'
• Muslim woman ejected from Donald Trump rally after silent protest over refugee comments
• Pupil 'forced to study Arabic' transfers to another school
• Islam doesn't discriminate against women; Muslims do
• American woman weds KP man after embracing Islam
• Mali gunmen abduct Swiss woman in Timbuktu
• Pakistani women in the police — bumpy road to equality
• Save the children, at least
• DGABAYA: D&G unveils discreet designs for Muslim women
• Girl killed by uncle over 'honor'
• OIC appoints four women to top posts
• Labor Ministry rejects report on fake Saudization
Compiled by New Age Islam Edit Bureau
URL: https://newageislam.com/islam,-women-and-feminism/new-age-islam-edit-bureau/rise-in-french-women-joining-is-group-ranks-as-jihadists-target-female-recruits/d/105931
----------
Rise in French women joining IS group ranks as jihadists target female recruits
2016-01-08
The number of French women joining the ranks of the Islamic State group in Iraq and Syria is on the rise, say figures reported in the French media on Thursday, a sign of the increasing importance placed on female recruits by the organisation.
French authorities have long been concerned by the number of the country's citizens undertaking the journey to the Middle East to wage jihad, particularly should they then return to France to commit terrorist acts on home soil.
The dangers of this were made apparent in the terror attacks on Paris in November last year, with several of the perpetrators French nationals who had fought in Syria.
Until recently, the vast majority of French nationals making the trip to Syria have been men. But figures from a confidential report by intelligence agencies seen by France Info show that women now make up more than a third (35 percent) of French citizens travelling to Iraq and Syria to join the Islamic State (IS) group, up from just 10 percent in 2010.
And the numbers are still rising. As of September last year, 164 French women were thought to have made the journey to join the IS group, France Info reported. By December that number had risen to 220.
The figures also reveal that one-third of the female recruits are converts to Islam, rather than raised Muslim, compared to just one sixth of French males fighting with the IS group in Iraq and Syria.
According to Wassim Nasr, FRANCE 24's expert on jihadist movements, the figures seem credible.
"It confirms a trend that has been ongoing since 2013," he says.
Women 'essential for IS group's strategy'
French and other foreign women travelling to IS group's Middle East strongholds are, however, likely to fulfill a very different role within the jihadist organisation's self-proclaimed caliphate to their male counterparts fighting on the front lines.
"They don't fight, they don't have the right," says Nasr.
Instead, their most likely role will be as wives to jihadist fighters – men they may well have already committed to marrying before leaving for Syria or Iraq and will meet in person for the first time upon their arrival.
French journalist Anna Erelle described in her book "The Skin Of A Jihadist" how an Islamic State group member in Syria attempted to recruit her online in 2014, believing she was a 15-year-old girl interested in jihad.
"It's my job to recruit people, and I'm really good at my job. You can trust me. You'll be really well taken care of here. You'll be important. And if you agree to marry me, I'll treat you like a queen," the recruiter told her.
But rather than peripheral figures confined to carrying menial tasks under the Islamic State group women instead form a key part of the organisation's vision of a functional Islamic state, says Nasr.
"It is wrong to think they just handle cooking in the kitchen or they are just there to have children. They have an education role, teaching in schools. We also see many women acting in medical roles, both for the IS group and other Islamist groups.
"They are preparing the next generation of jihadists. The IS group believes they are building a new model of society and in any model of society women are needed."
In the eyes of the jihadists, Western women are particularly useful in this role.
"Western women who join jihadists groups tend to be very motivated for ideological reasons, more so than women who are already on the spot in Syria or Iraq," says Nasr.
Another role awaiting some Western women travelling to Syria is membership of the Khansaa Brigade – an all-female religious police force that operates in territories controlled by the IS group, tasked with enforcing its strict interpretation of Islamic teachings.
Infringements such as wearing make-up or dressing in a way that does not sufficiently hide their body shape can invoke the wrath of the Khansaa Brigade for women in Mosul or Raqqa, with whippings, beatings and worse among the punishments reportedly meted out.
According to reports from former members, foreign women are well represented within the Khansaa Brigade's ranks.
Recruitment 'pipeline'
That women are crucial to the Islamic State group's strategy is evidenced by the apparent effort the organisation has put into recruiting Western women and girls.
One known tactic is to use social media accounts allegedly maintained by Western women who are married to jihadi fighters to convince others to follow them to Iraq and Syria.
"By creating content specifically targeting female jihadi supporters, the [Islamic State group] is able to establish a pipeline to assist Western women in traveling to Syria … and contribute to the formation of their new society," a 2015 report by the SITE Intelligence Group said.
For those women who do make the journey to join up with the jihadist group, it is often a one-way ticket, with reports of those wanting to return home again being prevented from doing so or even killed – as in the case of Austrian teenager Samra Kesinovic, reportedly beaten to death after trying to flee Syria.
Shukee Begum, a British woman who travelled to Syria to be with her husband, told the UK's Channel 4 News in an interview in October how she would "love to go back to the UK".
"This is what I want to make clear as well to other women thinking of coming into [Islamic State group] territory – that you can't just expect to come into [its] territory and then expect that you can just leave again easily. There is no personal autonomy there at all," she said.
It is a warning that vulnerable young women in France and elsewhere seem not to be heeding.
http://www.france24.com/en/20160108-france-women-islamic-state-group-female-recruits
---------
Malaysian mother loses court battle over conversion of children to Islam
08 January 2016
A kindergarten teacher in Malaysia is to appeal to a higher court after she lost a case challenging the conversion of all her three children to Islam by her ex-husband.
M. Indira Gandhi will appeal to Malaysia's Federal Court after the Court of Appeal ruled that her children's conversion could only be overturned by a sharia court and not a civil court.
The ruling highlights the predicaments faced by converts and others in Malaysia. It also means that Gandhi lost the right to be reunited with her daughter who has been in the custody of her ex-husband since the divorce nine years ago.
Gandhi, a Hindu, cannot in fact go to a sharia court to get the conversions of all three children overturned because she is not a Muslim.
The lawyer S. Selvarajah, who represented the Catholic church in its recent lengthy and ultimately unsuccessful battle to use the word "Allah" for God, said Gandhi will have no choice but to complete the legal process and have her case heard by the Federal Court.
The case is being watched with interest in Malaysia because of the controversies over conversions that take place there. Under Malaysia's federal constitution, a guardian or parent can legally decide the religion of any child of theirs under the age of 18.
Gandhi is arguing that the conversion of her three children by her former husband Muhammad Riduan Abdullah is unconstitutional because it was decided by one parent only, according to Malaysian Insider.
Two of the children, Tevi Darsiny and Karan Dinish, are in the care of their mother while the youngest, Prasana Diksa, is in the care of her father, originally called K. Patmanathan.
Former federal minister Datuk Zaid Ibrahim said in his blog, The Zaidgeist, that the case made him feel "angry and very sad".
He said: "It's heart-wrenching to know that a mother has been denied custody of her child simply because her ex-husband, Muhammad Riduan Abdullah (né K. Pathmanathan), converted their daughter, then aged two years, to Islam."
He added: "It has been almost nine years since Indira separated from Riduan, and I expect that the Court of Appeal decision will be upheld by the Federal Court. I ask myself: what kind of country have we become to produce such harsh laws and heartless judges? If Indira had been a Muslim mother, and the former husband did the unilateral conversion of the daughter to say Christianity, would the decision still be the same? Of course not. Indira did not get justice because she is not a Muslim.
"I have made reference to Indira's case in the books I have written, and I will not dwell on the law any further. I just feel sick, thinking how the legal system cannot grant relief to a mother who has been deprived of her daughter for so many years."
He added: "I would like to appeal to all Malaysians who care about this case to start raising funds; not to cover the legal costs of the appeal to the Federal Court, which will be futile, but to make a film about the tragedy suffered by Indira."
http://www.christiantoday.com/article/malaysian.mother.loses.court.battle.over.conversion.of.children.to.islam/76007.htm
----------
Saudi-Arabia: Male councilors refuse to sit with female colleagues
9 January 2016
JEDDAH: There was considerable controversy at the first meeting of the new municipal council in Jeddah recently when some male members refused to sit at the same table with two fellow female members.
This resulted in a partition being brought in so that the two women, Lama Al-Suleiman and Rasha Hafathi, could be separated from the men. However, Al-Suleiman objected to this. The partition was then removed and the women were moved to the back of the hall.
Even though this was agreed, there was further controversy when some members again objected to the women having their photographs taken with the male members of the council, according to the report.
According to a report in a local publication on Friday, the meeting was held to elect the president and deputy president of the council. The council was elected on Dec. 12 in the country's third municipal council elections, which saw women participate for the first time as candidates and voters.
When the meeting proceeded, the rules issued by the Ministry of Municipal and Rural Affairs was reviewed on how to choose the two officials. Abdulmajeed Al-Bitati was elected president and Adnan Al-Bar his deputy.
http://www.arabnews.com/saudi-arabia/news/862506
----------
18 asylum seekers tied to attacks on women in Germany
January 09, 2016
At least 18 asylum seekers are among 31 people who have been identified so far by the federal police as having played a role in a violent assault on young women in the German city of Cologne on New Year's Eve, the Interior Ministry said on Friday.
The police chief in Cologne was forced out of his job on Friday amid the growing uproar over the episode, which has ignited calls across the political spectrum for expelling convicted criminals, even if they are seeking asylum from war and persecution at home.
The 31 people linked to the violence in a police report include nine Algerians, eight Moroccans, five Iranians and four Syrians, said an Interior Ministry spokesman, Tobias Plate. Two Germans, an Iraqi, a Serb and a United States citizen were also among those linked to crimes that night, Plate said.
He said that a vast majority of the 32 criminal acts documented by the federal police on the night had been linked to theft and bodily injury. Three were related to sexual assaults, but the police had no names of suspects tied to those acts, Plate said.
The authorities emphasized that the 31 suspects were still under investigation, and that they had not been placed under arrest. On Friday, the authorities in Cologne announced two arrests — of a 16-year-old from Morocco and a 23-year-old from Tunisia — reportedly after the police found video clips of the violence on their cellphones. But the two were released because there was insufficient evidence that they were involved in the violence, said the Cologne public prosecutor, Benedikt Kortz.
About 170 people have now filed criminal complaints, about 120 of them relating to sexual assault, linked to the New Year's Eve episode in Cologne, according to a police spokesman in the city. A federal police report leaked to the German news media and confirmed as genuine by the Interior Ministry indicated that at least some young men, including asylum applicants, had planned in advance to meet around the Cologne railway station, where much of the violence is said to have occurred, on Dec. 31.
http://www.pakistantoday.com.pk/2016/01/08/foreign/18-asylum-seekers-tied-to-attacks-on-women-in-germany/
----------
Lale Akgün: 'Muslim migrants need to accept German social norms'
08.01.2016
Deutsche Welle: We still don't know much about the men who sexually harassed and attacked a large number of women on New Year's Eve in Cologne. We hear that they come from Islamic countries, where couples are not allowed to hold hands or kiss in public, and where women have to cover themselves up. What kind of effect does such a strict code of behavior have on the way young men in this region come to view women and sexuality?
Lale Akgün: Tenderness, love or just being together as a couple is completely separate from sexuality. Sexuality is seen as something bad or terrible, only to be tolerated in marriage for the purpose of procreation. That's why for men in these countries, sexuality is taboo. But in western Europe, they experience just the opposite. Women hold hands with their partner in public, they dress in a more revealing manner. For these men, women who don't live according to the teaching of their imams in their mosques are whores, objects of lust and contempt.
So they have two extremes: the honorable, virtuous women, and the dishonorable ones?
These men can think of women only in terms of good and evil. Women are there to tempt men. The Koran even says that a woman is worth one-half of a man, which shows you how patriarchal Islam is. And many Muslims still believe that Islam is not a faith, but a way of life. I am a Muslim, and for me, religion is something private, something for my soul. For fundamentalists, it defines the way they live. They are not able to reconcile their beliefs with the modern world. Their faith is tied to a value system and a lifestyle that is still stuck in the Arabian peninsula of the seventh century.
How can an Islamist fundamentalist ideology of women even exist in modern society?
Because of that moment when Islam becomes political. In the 1980s, people ignored the fundamentalist tendencies. Back then, people thought that it was a development that society would just have to bear. We bore it and ignored it until it began to impact us at home. One example is the stylization of the headscarf as something that enriches our multicultural society. That is nonsense. Headscarves are a sign of female oppression. Anyone who supports this particular image of women shouldn't be surprised when men in the same community view women who don't wear headscarves as "loose."
Has a sort of parallel world been created because of the tolerance and freedom of religion here?
Freedom of religion is not a parallel world, as long as religion remains something that is private. But when religion is politicized and requires political decisions to be made, then that's not something we should just politely accept. This is the point where it interferes in our lives. For example, when I as a mother have to think about whether or not to allow my daughter to be taught by a teacher who wears a headscarf. Do I want my daughter to be exposed to the kind of ideology that says women have to cover themselves up in front of men? If you don't acknowledge that these things are connected, then the young men who grope women on the street could seem like an isolated phenomenon. But they're not; they're part of a bigger problem.
But being raised and taught our societal values doesn't happen primarily through religion; rather, it's the result of parenting. What kind of role do women play in Muslim families? Can't they intervene and correct such views of women?
Men can only hold onto the power they have if they maintain the status quo. And that only works if they make sure that women understand that their system is the better one. They say, for example: Look at how these European women are being exploited. They have to work, raise children and do everything. But you can stay home, make yourself look pretty and look forward to your husband coming home in the evening. We, and by that I mean German society, have become too comfortable with this kind of role assignment in conservative Islam. One example: If we allow newly-arrived migrant women to take female-only German classes because their husbands would otherwise not permit them to take part, then that is the wrong approach. We have to make it clear to these people: If you want to benefit from our social system and have a good life here, then you have to accept our social norms.
Who is responsible for this conservative, backwards trend? People, the media, politics, religion?
If you see what kind of ideology the Central Council of Muslims supports, then it is clear that integration cannot be left to such associations. Not unless you want to make the current problems even worse. Islam doesn't need any such associations. These associations are a desperate attempt by politics to have contacts within the scene. If politicians don't do a U-turn and instead continue to cooperate with these conservative Islamic associations, then in the coming decades, you will find that conservative Islam has established itself here in Germany.
Lale Akgün (SPD) was a member of parliament from 2002 until 2008. Originally from Turkey, she now lives in Cologne, where she has long been an expert on the intersection of fundamentalist Islam and German society.
http://www.dw.com/en/lale-akg%C3%BCn-muslim-migrants-need-to-accept-german-social-norms/a-18967945
----------
Muslim woman ejected from Donald Trump rally after silent protest over refugee comments
09 Jan 2016
A Muslim woman was removed from Donald Trump's campaign event in South Carolina on Friday after standing in silent protest after comments he made about immigration.
Rose Hamid, 56, stood up during the Republican frontrunner's speech in Rock Hill when he suggested that Syrian refugees fleeing war in Syria were affiliated with the Islamic State.
Wearing a hijab and a shirt that read 'Salam, I come in peace,' Mrs Hamid had hoped that her presence might manage to change the opinion some Trump supporters have about members of the Islam faith.
But supporters around her began loudly chanting "Trump Trump" and demanded Mrs Manid, a 56-year-old flight attendant, leave.
One person shouted, "You have a bomb, you have a bomb," according to Mrs Hamid.
Major Steven Thompson of the Rock Hill Police Department told CNN Mrs Hamid was thrown out of the event because the campaign told him beforehand that "anybody who made any kind of disturbance" should be escorted out.
Mr Trump has previously made controversial calls for a temporary ban on Muslims entering the US.
Protesters repeatedly disrupted a Trump rally in Vermont on Thursday evening, despite attempts by his staff to screen the crowd.
Rally-goers with tickets in hand were asked as they entered whether they supported Trump. Those who said they didn't were promptly escorted out of the building.
"It's not what I expected," said Adam Linnebur, who is supporting Democratic candidate Bernie Sanders but noted that nothing on his ticket said he had to support Trump. He was turned away.
Trump defended the decision.
"We have more than 20,000 people that showed up for 1,400 spots. I'm taking care of my people, not people who don't want to vote for me or are undecided," he said in a statement released by his campaign.
The event was nonetheless interrupted repeatedly by protesters, who were escorted out of the theater. Vermont is a staunchly Democratic state and the place where Sanders, a Vermont senator, got his political start.
At first, Trump seemed to embrace the disruptions. "Isn't this more exciting?" he asked.
Later, he suggested that security staffers confiscate protesters' coats, noting that it was below freezing outside. Then his patience appeared to wear thin, and he suggested that security officers were afraid to respond with force.
"This is why we're losing control of our country. This is why. We lose control of our country 'cause everybody's afraid to do anything," he said.
Trump's rally was scheduled for the same time as President Barack Obama's televised town hall on gun violence in America. While Trump often vows to eliminate gun-free zones if he's elected, he expanded his pledge Thursday to include schools.
http://www.telegraph.co.uk/news/worldnews/us-election/12090720/Muslim-woman-ejected-from-Donald-Trump-rally-after-silent-protest-over-refugee-comments.html
----------
Islam doesn't discriminate against women; Muslims do
Syed Ubaidur Rahman
Jan 08, 2016
Muslims societies are usually patriarchal societies where women are kept at arm's length when it comes to giving them leadership status or even being treated equally. While Muslims claim that Islam accords Muslim women the highest status among the followers of any other religion, Muslim societies don't seem to either follow Islam when it comes to granting rightful status to their womenfolk - or follow what the modern societies accord to them.
Muslim women are still not allowed to pray in most mosques. And in places where some 'benevolent' management of mosques allow them, the women are given a small corner to pray at the far end of the praying area that is usually separated by a wall from the main hall. If you happen to visit any such praying area in any mosque in India or elsewhere you will invariably realize this is a place that is the most neglected area of the mosques.
But even if women get such a place to pray in a mosque they will be lucky. In the Indian capital New Delhi where there are thousands of mosques in this sprawling metropolis, there is not a single mosque where women have their own area to offer regular daily prayers. In Delhi, there are a couple of mosques where women are allowed to offer Friday prayers, but nowhere they have space for offering regular prayers.
Though this is a bit different in USA and Europe where many mosques have started reserving a space for women, these are still on the margins and women are not allowed to offer prayers in the main prayer areas.
It was only in a mosque in Frankfurt's suburbs in Germany where I saw Muslim men and women share the same prayer hall for offering prayers. In other places it is simply unthinkable.
The discriminatory behavior of mosque management forced a few women to protest in a Washington mosque where police was called to remove them from the main prayer hall of the mosque. Fatima Thompson, a woman Muslim activist walked into the National Mosque in Washington DC and protested. Later she described the area for females as a "penalty box," noting the 7-foot-high wooden panels separating her from the much larger prayer area designated for men.
The frustration later grew further and in the year 2005, Amina Wadud, a well-known Islamic feminist led a mixed prayer where both Muslim men and women were present. A few years later she also led a similar prayer in Oxford, UK.
Being denied the right to offer prayers in mosques is only one sign of deprivation of Muslim women's rights. It must be noted that during the time of the Prophet, women used to offer prayers along with men in the same prayer area. There is no dispute regarding it among jurisprudents who later deprived the women to offer prayers in mosques.
Women are not given leadership position in Muslim organization in the Indian subcontinent. You will not find Muslim women in leadership position in Muslim religious organizations. Many Muslim organizations have sprawling campuses in the Indian capital, nonetheless you wouldn't find a single woman working in any capacity in such organizations. These religious organizations that continue to parrot women equality in Islam, you will struggle to find women leaders. While these organizations have hundreds of full time employees, you wouldn't find a single woman in their offices.
Muslim leadership usually tries to sweep discussions on such issues under the carpet. While Muslim scholars have tried to justify the triple talaq in a single sitting, they have failed to come out with a rigorous punishment for something that is completely un-Islamic in nature. This is very disturbing not just for women but also many Muslim men who feel while a man destroys the life of a woman with uttering a four letter word (Arabic talaq) thrice, he is not punished under Islamic law. It must be kept in mind that Quran calls it zulm or transgression. While other sorts of zulm have a set of punishment described in detail, this transgression doesn't invite any punishment.
While most ulama don't utter a word against such people, a few tend to claim that Allah will punish such men in the Hereafter. It is only now that a few ulama have started demanding imposition of severe punishment to those men who give triple talaq in a single sitting. There is no denying the fact that this has given fodder to critics who call Islam misogynist and discriminatory in nature.
Asma Barlas in her essay, Islam, Women and Equality says, "The Qur'an also does not define men and women as opposites, or portray women as lesser or defective men, or the two sexes as incompatible, incommensurable, or unequal. In fact, it does not even associate sex with gender; thus, while the Qur'an recognizes biological differences, it does not assign them any gender symbolism making it difficult to derive a theory of sexual and gender inequality from its teachings. The Qur'an also does not link women and men to specific gender roles. There is not a single verse that suggests that men's gender roles are a function of their biology, or that biological differences between men and women make them unequal".
While Quran doesn't discriminate on the basis of gender between man and woman, Muslim societies tend to be very biased and prejudiced as such. While discrimination against Muslim men and Muslim women by non-Muslim employers or society at large is discussed in detail and condemned, Muslims usually don't utter a word when it comes to discrimination against their own women in their own societies.
Sheema Khan who was associated with CAIR's Canada chapter says, "From 2000 to 2005, I served as the chair of CAIR-CAN, a grassroots advocacy organization that fought discrimination against Muslims. Whether it was a Muslim woman denied employment because of her hijab, or the rendition of Maher Arar, we fought for basic human rights based on the Canadian Charter of Rights and Freedoms...I fought for Muslims to be treated with basic human dignity by the wider society, yet looked the other way when such treatment was denied to women within my own community... As chair, I came across incidents against Muslim women that would never have been tolerated had these been perpetrated by a non-Muslim. But if a Muslim did it, well, we would let it go, hoping that attitudes would one day change".
http://www.sify.com/news/islam-doesn-t-discriminate-against-women-muslims-do-news-columns-qbiqtSefcciga.html
----------
American woman weds KP man after embracing Islam
January 08, 2016
SHANGLA: An American woman traveled all the way from Las Vegas to Pakistan's northwest to marry her friend, whom she met on social networking website Facebook.
Nikah of Anglie and Taseerullah, a resident of Shangla in Khyber Pakhtunkhwa, was solemnized after the American girl embraced Islam. The bride is said to have returned to the United States after the Nikah ceremony which was held recently.
http://nation.com.pk/national/08-Jan-2016/american-woman-weds-kp-man-after-embracing-islam
----------
Mali gunmen abduct Swiss woman in Timbuktu
January 09, 2016
BAMAKO - Gunmen abducted a Swiss woman overnight Thursday to Friday in Timbuktu in northern Mali, where she had lived for several years and was previously held by extremists, official sources told AFP.
"Beatrice, a Swiss citizen, was kidnapped in her home in Timbuktu by gunmen," a Timbuktu government official told AFP.
A Malian security source said armed men had gone to her home on Thursday night, "knocked on the door, she opened, and they left with her." Beatrice Stockly was kidnapped a first time in April 2012 by Islamist fighters but released thanks to mediation efforts by Burkina Faso authorities. Two foreign hostages seized the previous year in 2011 by members of Al-Qaeda in the Islamic Maghreb (AQIM), a South African and a Swede, are still in captivity.
Militant fighters including AQIM members seized control of Mali's vast remote north in March-April 2012 but were chased out the following year by a French-led military intervention. A regional French counterterrorism force is still conducting operations in the area. Entire swathes of the north remain beyond the reach of both the Malian army and foreign troops, however.
http://nation.com.pk/international/09-Jan-2016/mali-gunmen-abduct-swiss-woman-in-timbuktu
----------
Pakistani women in the police — bumpy road to equality
January 8, 2016
While South Asian women, over the years, have made an indelible mark in statecraft, surprisingly in the sphere of the criminal justice system, they are yet to prove their worth. This is largely because the criminal justice systems in these states have not provided the required operational space for women to flourish. What is needed is a change in mindset of the ruling elite, ordinary citizens and the senior police hierarchy.
Police forces in South Asia, on average, have only a five per cent representation of women. According to a 2011 UN Women report, globally women constitute nine per cent of police organisations. Even in Scandinavian countries, women representation in police is not more than 30 per cent.
In 2015, the Commonwealth Human Rights Initiative made an attempt to assess the ground realities regarding women policing in four South Asian countries. Women participation in law enforcement in South Asia represents a bleak scenario. The police force in Bangladesh has women representation of 4.63 per cent, in India it is 6.11 per cent, in Maldives it is 7.4 per cent and in Pakistan it is a dismal 0.94 per cent. In this region, the policing function still operates on colonial lines and is used as an instrument of force. Hence, it is yet to transform into a public service. Policing in South Asia is reactive-cum-complainant-centric where victims' rights are often compromised. If it is transformed into a 'service', it will offer more space to women to perform. While the constitutions of India, Pakistan, Maldives and Bangladesh prohibit discrimination and guarantee equality, such ideals have not transformed into reality. Increased access to justice for women warrants an increased enrollment of women as police officers, judges, prosecutors and lawyers. In the dispensation of justice, the discriminatory and arrogant behaviour of a male-dominated criminal justice system is a potent barrier. An increased participation of women will not only soften the hard face of the criminal justice system, it will also improve human rights standards.
However, a mere numerical increase of women may not improve the situation. What is also required is their empowerment, clearly defined roles and capacity-building. In South Asia, recruitment campaigns for women in police do not get the same response as recruitment schemes for men. To attract more women to a career in the police requires a revision of recruitment, training and placement standards.
In Bangladesh, out of a total strength of 154,208 police personnel, 6,853 are women. There is a 10 per cent quota reserved for women in the country's police force, however, mere quotas or changes in legal frameworks and commitments to international legal instruments will not serve the purpose. More political ownership and change of attitude within the criminal justice system and the public will bring real change. Advocacy through the media can also be instrumental in mobilisation of public opinion and attracting more dedicated females to the police.
In Pakistan, Article 8 (2j) of the Police Order requires the establishment of Crime Against Women units. According to the National Police Bureau, out of a total strength of 425,978, only 4,020 are women. The FIA has a 9.68 per cent representation of women, the Motorway police has 3.14 per cent, Gilgit-Baltistan has 3.01 per cent, Punjab 1.2 per cent, Khyber-Pakhtunkhwa (K-P) 0.72 per cent, Sindh 0.61 per cent, Balochistan 0.31 per cent, Islamabad 1.55 per cent, the Railway police 1.71 per cent and Pakistani-administered Kashmir has a 0.93 per cent representation of women as part of law enforcement.
The Pakistani women policing model is knitted on the notion of isolation. This has basically meant that exclusively female police stations have failed to attain the desired objectives. By introducing women desks recently, the K-P police has tried to bring women policing out of the isolation syndrome. While this is a positive step to bring more inclusivity, its sustainability is yet to be proved.
Hurdles faced during recruitment, training, promotions and placement on managerial positions require special attention. Owing to the ongoing onslaught of militancy, policing has become a hazardous profession, therefore, initially women should be enrolled in specific areas of policing like investigation, public dealing, traffic, training, telecommunications, information technology and complaint cells. While there are quotas reserved for women, there is hardly any effort to assess their effectiveness. To make recruitment a success, it is imperative that women officers are made part of the selection team and process.
In one of its reports, the Indian National Police Commission recommended a greater role of women in investigation of offences related to violence against women and children. According to the Bureau of Police Research and Development, in 2014, the total strength of the Indian police was 1,722,786, including 105,325 female police officers. To improve female enrollment in police, the Indian government has issued advisories to states to target a 33 per cent representation of women in the police. The government has advised that every police station should have three female sub-inspectors and 10 female constables.
Maldives, a country made up of 1,192 islands, is policed by 3,683 police officials, including 275 female personnel. A majority of women police officials are deployed on desk jobs although there is a growing demand for deployment of more female officers on operational assignments. Further, there is a move to appoint more females in management positions.
Every police organisation should draft and publicise its recruitment policy vis-a-vis women that should clearly state the number of slots to be filled with the required standards and process. This should be widely disseminated through mass and social media. Prior to the recruitment process, career counselling sessions at educational institutions can attract dedicated talent. Transformation of a historically male-dominated profession into one that offers a more respectful status and opportunities to women is a gigantic task, which cannot be accomplished without political ownership and a change in public perception. In South Asia, cooperation between states in the field of law enforcement is a missing link. Hence, for improvement of women policing standards, the platform of Saarc should be used as a springboard. - Express Tribune
http://www.timesofoman.com/article/75049/Opinion/Columnist/Women-participation-in-law-enforcement-in-South-Asia-represents-a-bleak-scenario
----------
Save the children, at least
January 09, 2016
Sindh government's unparalleled apathy
It seems the Sindh government has no parallel when it comes to deliberate disregard for clearly unavoidable mass deaths of little infant children. Just as when hundreds died of malnutrition in Thar last year, the Sindh government is unmoved once again as tens of infants have died in the province due to water borne diseases. There is also, as usual, acute food shortage. And there is widespread pneumonia, adding to the poor people's plight. The government, typically, first did nothing. But, after long thought and wait, the chief minister doubled the budget for the hospital at Mithi.
At the time of the Thar deaths last year, when the provincial government naturally faced much condemnation, the Sindh government's then information secretary, instead of accepting some manner of responsibility, said PPP actually deserved credit for its work for the poor. Now, too, the party seems irritated at the slightest questioning of its competence. Little surprise, in this backdrop, that the party has been on a sharp decline ever since it came to office in '08. Since the '13 rout especially, it has struggled to find its feet, particularly in Punjab.
Sadly though, judging by its governance, the party does not seem much interested in regaining its lost political weight. Even now the party's turnaround campaign – from the looks of it, at least – centres on the same old slogans about the Bhutto family's losses and sacrifices for Pakistan; only this time a younger generation is seen raising the same slogans. On ground, however, there is a different reality. The life of the common man has not improved even in the party heartland in interior Sindh. In this day and age of advanced media, even the lowest social cadres are politically aware. Therefore not only the PPP's poor governance, but its offensive behaviour in face of severe tragedies like needless infant deaths – sometimes by the hundreds – stands to cost it dearly at the polls once again.
http://www.pakistantoday.com.pk/2016/01/09/comment/save-the-children-at-least/
----------
DGABAYA: D&G unveils discreet designs for Muslim women
January 09, 2016
ROME: Dolce & Gabbana, designers best known for womenswear inspired by the sultry sensualism of southern Italy, are attacking the booming middle Eastern market for high fashion with a collection of abayas and hijabs.
The Abaya line, which conforms with the modesty requirements of most versions of Islam, was launched this week in D&G's boutiques throughout the Middle East, as well as in Milan, Munich, Paris and London, popular destinations for well-heeled shopping tourists from the region.
The mini collection, billed as capturing the "allure of the Middle East", has generated a stir of interest on social media with designers Stefano Gabbana and Domenico Dolce generally winning praise for demonstrating that dressing modestly does not have to mean dressing drab.
A spokeswoman for the designers said there was no particular agenda other than catering for their customers' requirements.
"It is not the first capsule collection Dolce & Gabbana has designed and dedicated to a specific market, "she told AFP.
"In the past, they have created collections for the China market, as well as Brazil, Japan and Mexico. So it's a collection without any ideological or polemic attitude.
"The company describes the pieces as "a reverie amidst the desert dunes and skies of the Middle East: an enchanting visual story about the grace and beauty of the marvellous women of Arabia. "Ankle-length dresses come in both subtle, sandy shades and dark, almost black, hues.
Some are embellished with the bright motifs that featured in D&G's main spring/summer 2016 collection: daisies, lemons, white dots and red roses.
Fabrics include Georgette, a type of sheer crepe, and charmeuse, another lightweight material, with much use made of lace for trim and inserts.
Oversized jewellery and sunglasses also give the collection D&G's distinctive signature.
According to a report by management consultancy Bain, sales of personal luxury goods in the Middle East totalled $8.7 billion in 2015, up nearly 28 percent from 2014.
Other top fashion brands have already attempted to boost their sales in the region with collections tailor-made for the market, notably Oscar de la Renta, DKNY and Tommy Hilfiger.
Last year saw Japanese retailer Uniqlo enlist British designer Hana Tajima to design a range aimed at Muslim women in the run up to the fasting month of Ramadan, while Sweden's H&M cast its first hijab wearing model, Mariah Idrissi.
Idrissi said D&G's entry to this particular market was "definitely a positive thing. " "I think (fashion houses) are realising; let's not just do it in that one month, let's make this something to stay, because they've realised the potential and how much Muslim women spend on fashion," she told Britain's Daily Telegraph.
http://images.dawn.com/news/1174606/dgabaya-dg-unveils-discreet-designs-for-muslim-women
----------
Girl killed by uncle over 'honor'
January 09, 2016
Mandi Bahauddin: A girl was killed by her uncle for honor at mauza Jajjaur, in the limits of Qaderabad police today.
According to reports, Nasreen Bibi, wife of Muhammad Bakhsh had developed illicit relation with Mohsin Shahzadm, as Muhammad Bakhsh lives abroad for employment. On the day of incident Mohsin Shahzad came to meet with Nasreen. In the meantime her uncle Shan Muhammad saw them and opened fire on Shan Muhammad, but he escaped. Mohsin fled away from the spot. But Shan Muhammad killed Nasreen with clubs. On the application of Muhammad Aslam, brother of Nasreen, Qaderabad police have registered a case against two accused persons, including Shan Muhammad and Mohsin Shahzad and started the investigation.
http://nation.com.pk/national/09-Jan-2016/girl-killed-by-uncle-over-honor
----------
OIC appoints four women to top posts
9 January 2016
JEDDAH: The Organization of Islamic Cooperation (OIC) has appointed four Arab women to top positions in the 47-year-old organization.
The OIC is the world's second-largest international organization after the United Nations, consisting of 57 countries. Iyad Madani, the OIC's secretary general, is committed to women's empowerment, according to a report in a local publication.
The new appointees, from Saudi Arabia, Mauritania, Algeria and Yemen, will work at the OIC's headquarters in Jeddah in the departments of cultural and social affairs, media and information, women and family, and political affairs. There are 12 women working in the general secretariat, the report said.
Saudi Maha Aqeel, the OIC's new director of media and information, is one of the first women to take up a leading position at the organization. She worked as an English-language journalist before moving to work at the OIC as the editor in chief for the magazine of the organization. Six years later she was promoted to her current position.
Speaking to a local publication, Aqeel said that the OIC provides equal job opportunities and promotions for everyone, based on qualifications and performance.
She said her brief is to highlight the political, economic, cultural, social, scientific and humanitarian work of the organization, including the Palestinian cause, Islamophobia and the fight against terrorism and extremism.
Muhlah Ahmad from Mauritania is the director general for cultural, social and family affairs. She served as her country's education minister between 2005 and 2007.
"The Muslim world faces many challenges currently, mainly extremism which must be countered. We must raise the awareness of young people by spreading the right values of Islam," she said.
Fadilah Qrain from Algeria, who joined the OIC in 2014, was appointed director of social and family affairs. She said her goals include boosting the role of women in the Muslim world and providing better care for children and the youth. She also wants to protect family values and the institution of marriage, and support the elderly and persons with special needs.
Nouriah Abed Al-Hamami, who represented Yemen at four ministerial meetings of the OIC, and was the first Yemeni woman to work in the diplomatic field, was appointed director of the human affairs department.
She said her aim is to ensure many women take up leadership positions, work toward changing perceptions in the West about Muslim women, and make sure there is greater respect for Islam.
http://www.arabnews.com/saudi-arabia/news/862511
----------
Labor Ministry rejects report on fake Saudization
Jan 9, 2016
RIYADH — The Ministry of Labor has stated that there is no truth whatsoever in a report carried by a section of the media that claimed 298,000 positions supposedly created for women particularly in contracting and retail sectors was an attempt at fake Saudization.
In a statement, the ministry said press reports in this regard contained incorrect and unverified information.
It said around 477,000 Saudi women workers registered with the General Organization of Social Insurance (GOSI) by the end of the third quarter of 2015.
"Even in some sectors, which were considered to be inappropriate for women workers in the past, there are large numbers of them actually working. These include the contracting sector with its operation, maintenance and construction divisions, as well as wholesale and retail businesses," the statement said.
It added that about 120,000, or 3 percent, of more than 4 million people working in the contracting sector are women.
The ministry said penal action was taken against some companies that were found involved in fake Saudization. The punitive measures included fines and recruitment bans, the Saudi Press Agency reported.
http://saudigazette.com.sa/saudi-arabia/labor-ministry-rejects-report-on-fake-saudization/
URL: https://newageislam.com/islam,-women-and-feminism/new-age-islam-edit-bureau/rise-in-french-women-joining-is-group-ranks-as-jihadists-target-female-recruits/d/105931
New Age Islam, Islam Online, Islamic Website, African Muslim News, Arab World News, South Asia News, Indian Muslim News, World Muslim News, Womens in Islam, Islamic Feminism, Arab Women, Womens In Arab, Islamphobia in America, Muslim Women in West, Islam Women and Feminism