New Age Islam News Bureau
16 Jan 2016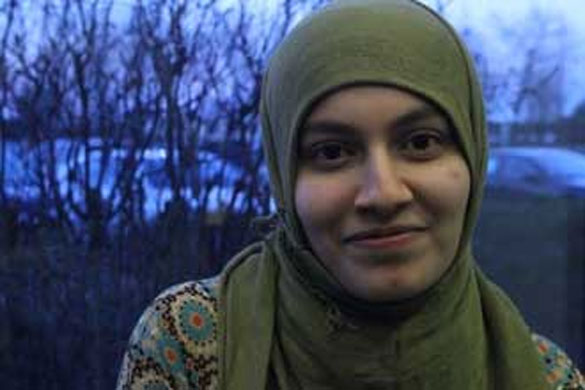 Photo: Naureen Hameed, 19, is a sophomore at Rutgers University.
---------
• How Women Are Reshaping the Post-9/11 Arab World
• Arab Women's Sports Tournament Organize Anti-Doping Awareness Workshop
• King Salman Empowers Women
• Indian Women Entrepreneurs at Start-up India: Things Are Better, But Much More Needs To Change
Compiled by New Age Islam Edit Bureau
URL: https://newageislam.com/islam-women-feminism/nj-muslim-student-says-head/d/106018
----------
NJ Muslim Student Says Head Scarf Is Part of Her Identity
January 16, 2016
Iman Mahmoud walked out of the Stafford Home Depot wearing her headscarf when she saw another lady staring at her with a grimace. Mahmoud kept walking. "Should I wear a shirt that says 'I'm not a terrorist?'?" Mahmoud, 36, of Stafford, said of the recent encounter.
Pine Beach resident Salwa Hassan says now that it's winter, she'll sometimes swap her headscarf, or hijab, for a hat to avoid unsolicited looks in public and a question she's heard one too many times: "Are you comfortable?"
Naureen Hameed of Holmdel, says fellow her fellow students at Rutgers University sometimes ask her: "Why are Muslims terrorists?" But educating her peers about her religion is "what I do for fun," said Hameed, 19.
Presidential aspirants like GOP candidate Donald Trump have uncorked anti-Muslim sentiments across the country, tapping into people's fears of terror attacks by violent extremists in the U.S., advocates say. In some parts of the country, Muslims have reported an increase in hate crimes and harassment, according to the Council on American–Islamic Relations,a Muslim advocacy group.
CAIR New Jersey, in South Plainfield, said violent incidents against Muslims are not widespread in this state. Since the terror attacks in Paris and San Bernardino, California, CAIR has received reports that a woman wearing a Hijab was assaulted in a Jersey City Laundromat and another was verbally harassed in Target. A Jersey City mosque and the CAIR office also received a threatening letter after local religious leaders held a press conference denouncing Trump's anti-Muslim comments.
In Monmouth and Ocean counties, residents and students say fear and anxiety among Muslims are felt in small ways: the unwarranted stares at the supermarket; the whispered comments behind their back; or never knowing whether certain actions are targeted at them for being Muslim or just plain rude.
It's a sensitive issue for Muslim women, who more often express their religion outwardly by wearing traditional Islamic dress or head scarves. Men sometimes grow out their beards and can wear a head covering resembling a skull cap.
"There's been discussion about women who wear the hijab having second thoughts or staying at home more, not going out as freely as they used to," said Jim Sues, executive director of CAIR-NJ.
But local residents said they are still going about their daily routines. They shop, go to work and take their kids to school and out to play. They'll bring neighbors food for Muslim holidays like Eid al-Fitr, which celebrates the end of a month-long fast called Ramadan.
Arif Patel, president of the Islamic Society of Central Jersey, says its members "proudly serve America as its teachers, firemen, engineers, physicians, EMT's, lawyers, judges, business people, social workers, cab drivers, and in the law enforcement agencies and the U.S. armed forces ... We have been a pillar of the local community."
At a Barnes and Noble in Holmdel on a recent afternoon, Hameed talked freely and loudly — enough for her uncle to tell her to quiet down — about her religion, her faith and her identity. She is majoring in bio-technology; she's a fan of J.R.R. Tolkien and a self-proclaimed nerd.
"Even though I'm not from this country, I've never felt more at home," said Hameed, a sophomore at Rutgers studying bio-technology, who was born in India.
Her wide brown eyes and dimpled grin are framed by an olive-green scarf. Her head scarf is a pillar of her identity, she says, one she refuses to part with despite fears from her family that recent terror attacks and Islamophobic political rhetoric could spur violence against Muslims.
"I'm a very headstrong person. I do not think I have to sacrifice my scarf just because some people think that we're the problem," Hameed said. "I'm going to wear my head scarf even if I get hate. I'm going to live through it."
"We're not scared that much, just alert," said Mahmoud, a mother of three young children, who has also kept wearing her Hijab. "We're part of this country, this is our home and we're still going to stick with our Islam."
Being 'extra nice'
There are more than 250,000 Muslims in the state of nearly 9 million, according to the Pew Research Centre, and about 3.3 million in the entire country, or about 1 percent of the U.S population.
Hameed says when Trump started making comments about banning all Muslims from entering the country or placing Muslims on a database, she thought attitudes and actions toward Muslims would change for the worse. But they didn't.
Spring Lake man helps Syrian refugees in Greece
"A lot of people here have been raised with different cultures (here)," said Hameed, who has lived in Holmdel for the last two years. "They have not given support to have that kind of hatred."
Hameed lives with her uncle, Abdul Hai, and her three cousins. Hai said as a father and uncle, he's concerned.
"I tell my daughters 'Feel free to take off your scarf.' The last thing I want is for hurt to happen to my daughters," said Hai, a technical marketer. But his niece and daughters still wear their Hijabs.
Hassan, 55, has lived in the U.S. for more than 20 years, most of it in New York. She recalls being startled at Burlington Coat Factory in Brick recently when a worker began stocking items behind her. Hassan, who used to own a grocery store in New York, thought someone was sneaking up on her.
"We have a fear inside," she said. "We are the only ones covered."
But her concerns haven't stopped her from venturing outside. She even tunes into Trump when she wants a laugh.
"Trump was talking about the Mexicans before he was talking about us," she joked.
Community outreach
Hai says political hate speech from Trump has invigorated the community to be better neighbours and better people.
"It puts responsibility on us as Muslims," he said. "I am now extra nice because we have to prove Donald Trump wrong." He now says hi to his neighbor every day who sits out on her porch. Before Trump, his greetings were infrequent.
"We need to send a better impression, people should know we are good people. We have to make a proactive attempt," he said.
Mohammed Hannini, director of Islamic Studies at The Muslim Society of Jersey Shore in Toms River, said it's tough for Muslims to be put in that situation.
"The question is what do you have to do to be viewed as a normal human being?" he asked as he sipped on a large coffee from Wawa. "Every time something happens you have to prove your humanity, it's not a good feeling."
"We the Muslims are the punching bag," added Hannini, a Jackson resident and computer engineer. "This frenzy, this fear, this tension that exits, we're going to see it for a long time."
He said he wants to do a better job of educating the community about Islam and the broader historical and political context of the Middle East. "Terrorism is a new phenomenon; these groups with this kind of mindset did not come from Islamic texts."
He said everyone is welcome at the Toms River mosque, whether they want to ask questions or listen in on a service.
"We'll make the time to meet with everybody and to tell them what Islam is," he said.
Karen Yi: 732-643-4277; kyi@gannettnj.com
Infobox follows:
What is Islam?
Islam is the second largest religion in the world. Followers of Islam, known as Muslims, believe that God revealed the Qur'an, or holy book, to the Prophet Muhammad. Muslims believe in the total submission to Allah, or God.
The major beliefs in Islam are belief in God, angels, God's messengers, God's revelations in the form of Holy Scriptures to the messengers, belief in an afterlife after judgement day and belief in God's divine will. Friday is the holy day of the week for Muslims. Prayers are led by imams or religious leaders at mosques.
What are the different denominations?
All Muslims belong to one of two denominations, Sunni or Shi'a. The two denominations were created in the 7th century over disagreements over who should lead the Muslim community.
Are women required to be covered?
The Qur'an requires both men and women to dress modestly. That has been interpreted in a variety of ways in different countries, with some women required to cover more of their bodies than men. Most Muslim women choose whether to cover themselves. Some do it as a sign of identity, an act of devotion to their faith or as a sign that they don't want to be judged by their physical characteristics.
What do Muslims practice?
Muslims practice their faith by adhering to the Five Pillars which include, a profession of faith, five daily prayers, annual donation to charity, fasting during daylight hours of Ramadan and making a pilgrimage to Mecca at least once in a lifetime.
Muslims do not eat pork because it is forbidden by the Qur'an. Alcohol consumption is also prohibited. As with other religions, religious practices among Muslims vary.
http://www.app.com/story/news/politics/new-jersey/2016/01/15/muslims-in-new-jersey-islamophobia/77909934/
--------
How Women Are Reshaping the Post-9/11 Arab World
By Alex Laughlin
January 15
The post-9/11 Arab world, a region seemingly defined by crisis reporting, inspires emotional responses from many in the West. Frequently it's dismissed as one built upon the subjugation of women, who, veiled and hidden from view, are forbidden from traveling, going to school or enjoying many of the "liberties" of women in the West.
Rather than define the conversation in such stark terms, Katherine Zoepf's new book, "Excellent Daughters: The Secret Lives of Young Women Who Are Transforming the Arab World," (Penguin Press, Jan. 12, 2016) allows Arab women to speak for themselves.
"Excellent Daughters" is an attempt to demystify these Western assumptions of womanhood in the Arab world. As a woman, Zoepf is granted unique access to the lives and stories of Arab women — many of whom, for the first time, find themselves negotiating contemporary interpretations of gender norms with centuries-old values rooted in Islam.
These values dictate the structure of these women's lives, but Zoepf's deeply personal investigation into the small but radical acts these women commit not only illuminates the choices these women make every day, but also subverts many of the assumptions Western readers make about the Arab world.
We had the chance to ask Zoepf a few questions about her reporting process. What you'll find below is a transcript of our conversation, edited for length and clarity.
You make a concerted effort in the book to be clear and transparent about confronting your own biases while reporting, and I think that really reflects the experience of the reader as well. We come into the book with expectations and judgments about what it means to be an Arab woman, and you wrestle with those same expectations.
American reporting on the Arab world tends to be focused on crises of various kinds. Good reporting on war and political crisis is obviously important, but I think our focus on these stories can have a distorting effect on our view of the region.
As a journalist and as a Westerner, how do you maintain an attitude of cultural relativism while reporting on these communities with social norms that our own cultures would immediately dismiss as oppressive to women?
I don't think of myself as a cultural relativist, and in the book I describe my struggles to report on practices that I found appalling, and clearly wrong. But I do think it's important to examine the context in which these practices developed. When you do that, it often becomes clear that people's acceptance of these practices isn't necessarily as illogical or contrary to their own interests as it might first appear. In the book, for example, I describe Saudi women who defend the guardianship system, which requires adult women to get their male guardians' permission for many basic activities, like traveling or seeing a doctor. Women's attachment to this system shocked me at first. But what I've had to understand is that sometimes, in the context of their society, this might be the easiest or safest way for these women to live their lives.
That was something I noticed while reading your book — in a lot of cases, it seemed that Arab women would appeal to conservative values as a means to a more progressive end.
I found this phenomenon fascinating, and I noticed it in many parts of the region. In Syria, young women attending Islamic schools told me that, as they became more devout and stricter about their religious observance, their conservative families trusted them more, and gave them a greater degree of freedom. In Saudi Arabia, I met activists who argued for women's right to drive on the basis that a woman should not have to be in a car with a male driver. I tried to convey my conflicted feelings about these things in the book.
It's crazy how we have these assumptions and judgments about Arab culture and women, and it seems so bizarre — like why would you want your parents to arrange your marriage — but then I thought, it's not like we don't have attitudes about marriage and sex in the U.S. that aren't just as bizarre!
Yes, exactly. In the case of arranged marriages, some young women I spoke to said they pitied Americans for having to choose their own husbands. Some of these women were having deep conversations with their parents starting at the age of 11 about what they want, and they trusted their parents to choose good husbands for them. Many happily married women had very sweet and moving stories about the moment when their husbands came to their fathers to propose, and they saw them briefly while their marriage contract was being discussed. When I first heard them, I was startled at the way that they'd constructed romantic narratives around arranged marriage. Later on, I thought, is this really all that different from stories we tell about love at first sight?
https://www.washingtonpost.com/news/worldviews/wp/2016/01/15/how-women-are-reshaping-the-post-911-arab-world/
----------
Arab Women's Sports Tournament Organize Anti-Doping Awareness Workshop
January 15th, 2016
The Anti-Doping Committee of the Arab Women's Sports Tournament (AWST) on Sunday held an anti-doping awareness workshop at the Sharjah Ladies Club.
The workshop focused on the risks associated with the use of steroids so that athletes taking part in the tournament's third edition, to be held in Sharjah from February 2-12, are aware of its consequences.
A hundred female athletes from Emirati clubs took part in the workshop held by Chairman of the Anti-Doping Committee, Dr. Abdul Aziz Al Muhairi, and Nora Al Hamr, head of the Sports Teams Committee for the AWST.
Participating clubs included Sharjah Ladies Club, Al Dhaid Cultural and Sports Club in Sharjah, and Bani Yas Club in Abu Dhabi.
Dr. Al Muhairi said, "We played a video by the World Anti-Doping Agency (WADA) in Arabic that took them through all the aspects of doping from methods of steroid detection to the banned substances. We also spoke about the temptation athletes face and how that may lead to heavy and irreversible consequences such as reputation damage."
The primary goal of the workshop, he noted, was to establish that AWST promotes the principle of equality and justice and so will not tolerate players taking steroids to pump up their performance when others are working hard to achieve success based on merit. "We want to maintain a fair atmosphere for competition to flourish."
Nada al Naqbi, Deputy Head of AWST's Supreme Organising Committee, Head of Executive Committee, and Tournaments Manager, said, "We haven't yet experienced any cases related to doping in the previous two editions of the tournament and a clean tournament is what we hope for in the 2016 edition as well. Steroid tests conducted on 36 athletes have all come back negative."
http://www.albawaba.com/sport/arab-womens-sports-tournament-organize-anti-doping-awareness-workshop-793484
----------
King Salman Empowers Women
SULTAN AL-SUGHAIR
Saturday 16 January 2016
DAMMAM: Custodian of the Two Holy Mosques King Salman has been praised across the country for empowering women.
Lubna Al-Ansari, a member of the Shoura Council, said: "King Salman has shown great interest in the development of women from the beginning of his reign when he allowed the women members of the Shoura Council to attend his first meeting where he explained state policies."
She said that the king has in many speeches confirmed that women were playing an effective role in decision making at the highest levels, including at the Shoura Council.
He has also emphasized that they would not be marginalized while he is the country's leader, and must take their place as equal partners to transform society, Al-Ansari said.
Firdaus Al-Saleh, another member of the Shoura, said: "After one year of his reign, King Salman's achievements are countless, particularly his constant support for Saudi women and his belief that they must work alongside men to build the country."
Masuda Kurban, undersecretary of the art education department at King Saud University, said King Salman has empowered women to take decisions at the highest levels of government.
http://www.arabnews.com/saudi-arabia/news/865846
-------
URL: https://newageislam.com/islam-women-feminism/nj-muslim-student-says-head/d/106018
New Age Islam, Islam Online, Islamic Website, African Muslim News, Arab World News, South Asia News, Indian Muslim News, World Muslim News, Womens in Islam, Islamic Feminism, Arab Women, Womens In Arab, Islamphobia in America, Muslim Women in West, Islam Women and Feminism, Islamic World News, New Age Islam, Islam Online, Islamic Website, African Muslim News, Arab World News, South Asia News, Indian Muslim News, World Muslim News, Womens in Islam, Moderate Islam, Moderate Muslims, Progressive Islam, Progressive Muslims, Liberal Islam, Liberal Muslims