New Age Islam News Bureau
25 Jan 2016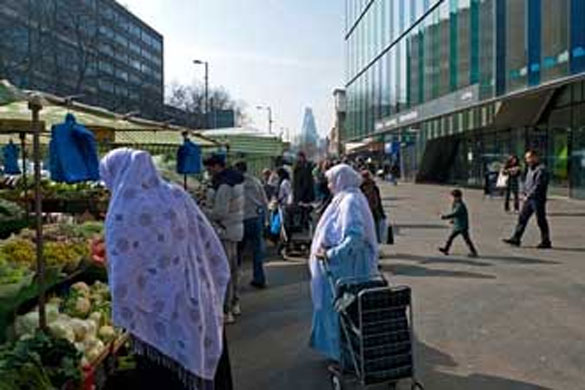 Photo: Muslim women shopping for fruit and veg in Whitechapel Road street market in east London. Photograph: Kathy Dewitt/Alamy Photograph: Alamy
------
• Sold out Muslim Women's Dinner Raises Money for Syrian Refugees
• Will New Maternity Law Help Keep Indian Women in Work?
• Unidentified Gunmen Attack Female Police Officers in Herat
• Helicopter on Standby for Women Who Plan To Enter Temple Tomorrow in Maharashtra, India
Compiled by New Age Islam Edit Bureau
URL: https://newageislam.com/islam-women-feminism/muslim-women-respect-britain,-britain/d/106115
-------------
Muslim Women Respect Britain, Britain Should Respect Them
25 January 2016
As the elected president of the women's auxiliary of the Ahmadiyya Muslim Community UK, I wish to express my concerns about the prime minister's comments on Muslim women in British society (Report, 19 January). Throughout history Britain has been known as a front-runner in justice, therefore Mr Cameron's proposed policy, which could result in deporting Muslim women due to their lack of English language and thus separating mothers from their children, is a distressing thought for any mother, Muslim or not. I liaise with over 11,000 Muslim women from all backgrounds. English is not the mother tongue for many; however, they endeavour to learn English to support their families and be part of society. They play an active role in supporting their communities in times of need by organising activities including coffee mornings and fundraising hikes for charities such as Refuge and Cancer Research; celebrating and commemorating with the country on occasions such as the Queen's jubilee and Remembrance Sunday. We always attempt to bring awareness and play a positive role in our communities, inviting politicians, neighbours and humanitarians to events for open discussion. In November we organised a peace conference which 300 women attended.
Loyalty and respect to one's country is an Islamic instruction and the head of the worldwide Ahmadiyya Muslim community, Hazrat Mirza Masroor Ahmad, a great ambassador of peace and justice, has instructed his community that gatherings must be held in the language of the country. Ahmadi Muslim women, under the wisdom and guidance of the Caliphate, have regular meetings conducted mostly in English with an increasing number enrolling in Esol classes. Ahmadi Muslim women are an asset to Britain and policies such as banning all forms of gender segregation in public places and the hijab will prevent them practicing their faith; this is wrong. Without the freedom to practice their faith, the country will be deprived of doctors, teachers, paramedics and researchers etc. Educated women who seek to contribute to society but who also willingly wish to abide by the conditions of their faith will be stifled by the government. Not only will this hurt and frustrate the women, but it will also hurt the nation.
I come from a proud British family; my father fought for this country at Dunkirk and the Burma front. My mother was an immigrant and housewife who raised five Muslim children who are loyal to their country. I wish and pray that the government reconsiders these proposed policies which are targeted at only Muslim women immigrants. All immigrants must learn English as it is a crucial requirement to enable families, people and society to integrate and respect one another.
Nasira Rehman
President, Woman's Auxiliary, Ahmadiyya Muslim Community UK, London
theguardian.com/world/2016/jan/24/muslim-women-respect-britain-britain-should-respect-us
-------
Sold out Muslim women's dinner raises money for Syrian refugees
By Jennifer Ivanov
EDMONTON- "It's one of the biggest disasters in my lifetime," said Nudrat Mansoor with the Ahmadiyya Muslim Women's Association. "I was not here to see World War II, but it's the biggest displacement after that– we want to help as many human beings as possible."
Catching up with Syrian refugees in Canada
Basil Al-Zouwy plays with his young daughter Canada could be halfway to 25,000 Syrian refugee goal Thursday
Mansoor is part of a local group of Muslim women who organized a sold out fundraiser Saturday night at the Baitul Hadi Mosque. The money raised will go toward Humanity First, an organization that privately sponsors refugees and resettles them in Canada. Over 90 per cent of the donated money will go directly towards the cause.
"We thought this was an opportunity to show the spirit of Islam, to show our spirit of helping each other," Mansoor added.
The Ahmadiyya Muslim Women's Association promoted the women's only event for just two weeks and it sold out immediately.
"We wanted to show how women are empowering the world, how women can make a change," Mansoor said.
The event raised just over $2000.
It's estimated the crisis in Syria has claimed over 250,000 lives and displaced over 12 million people.
"The real spirit shines when you see the donations going out and when you see a family having a better future nothing makes us feel better," Mansoor said.
globalnews.ca/news/2474760/sold-out-muslim-womens-dinner-raises-money-for-syrian-refugees/
-------
Will New Maternity Law Help Keep Indian Women in Work?
By Yogita Limaye
Mumbai correspondent, BBC News
25 January 2016
In a few weeks, it will be time for new mum Rashmi Sharma to go back to work as a teacher. Her daughter Arya is five months old and is just beginning to roll over. Rashmi got 12 weeks of paid leave from her company, as Indian laws mandate, and then took three extra months off without pay.
Not all employers grant additional leave though, and with expenses shooting up after having a baby, the Indian government's plan to increase maternity benefits from 12 to 26 weeks of paid leave, is being welcomed by mothers and women's rights groups in the country.
It will need parliamentary approval, but India's women and child development minister has said the government is committed to making the amendment to the maternity benefits law as soon as possible.
"I wish it's something that would have come in time for me," says Rashmi. "Three months is too [little]. Six months, I would say, is a fair amount of time to spend with your newborn before going back to work."
It would certainly make things easier for women who have just had babies. But is it enough to keep them from quitting their jobs to take care of their children?
Maternity leave entitlements around the world
India: 12 weeks at full pay (currently)
UK: 39 weeks of paid leave, 90% of pay for first six weeks
China: 14 weeks, paid at least the average wage at the company
US: 12 weeks, employers not obliged to pay anything
Patriarchal mindsets
A survey by industry body Assocham recently found that a quarter of Indian women give up their careers after having a baby.
That's in a country where female participation in the workforce is already very low, ranking among the worst in major global economies. Women make up only a quarter of all workers employed, a number that has shrunk over the past decade.
Pregnant women at a hospital in AmritsarImage copyrightAFP
While some women who work in informal sectors are unaccounted for in government data, a major factor is lower levels of education among women because of patriarchal mindsets, which make it harder for them to get a job.
Social attitudes are also a big reason why women choose to quit work after having a baby. Raising a child is largely seen as the mother's job in India, not a shared responsibility between both parents.
I've heard the words "ambitious" and "career-minded" being used to describe women who went back to work after having a baby, and it's not meant as a compliment. Many women have talked about being made to feel guilty about being away from their child.
Discrimination
Then there's the corporate side of things. Even in India's top firms, the gender gap is glaring.
In 2014, when the country's markets regulator ordered all firms listed on the stock exchange to have at least one female director on their board, there was a mad scramble in India Inc. Many companies appointed female relatives of their promoters, and 13% of firms missed the deadline.
Anurag Shrivastava who runs HRNext, a human resources consultancy, says the sense of discrimination against women is already very high. Questions about when a female candidate plans to get married or have a baby are not uncommon during interviews, although they might be asked in a veiled manner.
Mr Shrivastava thinks extended maternity leave will further increase the bias against women. "Having worked with a lot of managers, and seeing the kind of attitudes they display, I fear for the employment of women in the future," he says.
Childcare difficulties
And even if you are lucky enough to have supportive employers and family, then you're confronted with a more basic problem - where to leave your child while you're at work.
It's something I've seen countless peers struggle with.
Although more childcare facilities have sprung up in recent years, there are no laws governing them. Different states have different guidelines to regulate creches, but monitoring for quality is rarely done. Those that do comply with the rules are unaffordable for most couples.
Trained nannies are equally rare to find. In most Indian homes it's usually the house help or maid who is trained by the family to care for their child.
There is perhaps a ray of light in this direction though. A handful of companies have begun on-campus creches for their employees in the past two to three years. These include Indian brand Godrej, retail giant Hindustan Unilever and cosmetics firm L'Oreal.
Game changer?
More significantly, the Labour Ministry is considering a proposal to make it compulsory for companies that employ more than 30 women to have childcare facilities, either on campus or a short distance from the workplace.
This could be a real game changer for mothers who want to work. But it will probably be opposed by many in the corporate world, for whom the costs of running a business will increase. And, as is often the case in India, it could be years before it really sees the light of day.
Rashmi and her daughter and mother
For now, it is not on the horizon for women like Rashmi.
Her mother-in-law has come to stay to help with baby Arya when she goes back to work. Rashmi is an outdoor educator. She takes groups of children out on camps teaching them about nature and wildlife. She knows it is going to be a difficult balance.
"We'll see how things pan out," she says, as she prepares for a battle that so many Indian women are fighting.
bbc.com/news/world-asia-india-35371454
------
Unidentified gunmen attack female police officers in Herat
By KHAAMA PRESS - Sun Jan 24 2016
Unidentified gunmen attacked two female police officers in the capital of western Herat province on Sunday.
Abdul Rawouf Ahmadi, spokesperson for the police headquarters of Herat said the two policewomen were on their way home in the 3rd sector of the city when unknown gunmen riding on a motorcycle opened fire on them.
According to Ahmadi, the policewomen sustained injuries in the attack and transported to Herat Regional Hospital for treatment.
The gunmen who had silencers on their pistols fled the area following the attack but security agencies are looking for them.
In the past, Taliban have claimed responsibility for most of the attacks on security forces in Herat but the group has not yet commented about today's attack.
khaama.com/pakistans-coas-says-taliban-must-be-removed-from-un-blacklist-4508
------
Helicopter on Standby For Women Who Plan To Enter Temple Tomorrow in Maharashtra, India
By Tejas Mehta, Edited by Aashna Harjani | January 25, 2016
HMEDNAGAR, MAHARASHTRA: A temple in Maharashtra dedicated to Lord Shani (associated with the planet Saturn and regarded as an incarnation of Lord Vishnu) has turned into a staging ground for gender rights - 700 women activists say that tomorrow, they will force their way into the inner-most part of the shrine where a holy black stone is installed on an open-air platform.
The board that governs the temple -a woman was recently elected its first president- and some groups in Ahmednagar, 250 kms from Mumbai, say they will resist by lining the area with human chains of more than 1,000 women. The groups claim that women can be "harmed" by the "strong vibrations emerging from Lord Shani", according to Monika Gawade, who spoke to the Indian Express.
"When men go there, it's perfect but when women go it becomes unsacred," said activist Trupti Desai. Ms Desai said that a helicopter has been booked for possible use to lower her, if needed, to the area that's been banned to women for centuries. The police has, however, refused permission for a helicopter to fly over the area, and has increased security to prevent the demonstration from turning violent.
The campaign and protests to end the ban on women began in November, when a woman entered the open platform to offer prayers. The priests then "purified" the area with milk and oil.
ndtv.com/india-news/helicopter-on-stand-by-for-women-who-plan-to-enter-temple-tomorrow-1269855
URL: https://newageislam.com/islam-women-feminism/muslim-women-respect-britain,-britain/d/106115
New Age Islam, Islam Online, Islamic Website, African Muslim News, Arab World News, South Asia News, Indian Muslim News, World Muslim News, Womens in Islam, Islamic Feminism, Arab Women, Womens In Arab, Islamphobia in America, Muslim Women in West, Islam Women and Feminism, Moderate Islam, Moderate Muslims, Progressive Islam, Progressive Muslims, Liberal Islam, Liberal Muslims