New Age Islam News Bureau
13 Dec 2015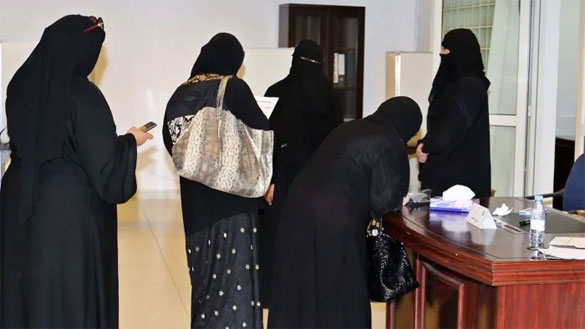 • Sophisticated IS Recruitment Methods Lured Jordanian Woman
• Feminists Boycott Israel and Bow To The Caliph
• Saudi Arabia Elects First Female Politicians
• Saudi Women Voters Jubilant At Their Poll Participation
• Shoura To Vote On Hiring Of Maids From Ethiopia
Compiled by New Age Islam Edit Bureau
URL: https://newageislam.com/islam-women-feminism/muslim-women-feel-exposed,-some/d/105589
-------
Sophisticated IS Recruitment Methods Lured Jordanian Woman
AP | Dec 13, 2015, 02.37 PM IST
AMMAN, Jordan: A Jordanian woman who came close to joining the Islamic State group described a sophisticated 14-month recruitment process by the extremists that she said landed her in a secret IS compound in Turkey with dozens of other women.
The 25-year-old was eventually persuaded by Jordanian lawmaker Mazen Dalaeen - who earlier this year failed to extract his own son from the grip of IS recruiters - to return to her family.
The case highlights the systematic grooming of potential IS recruits through daily social media exchanges and follow-up on the ground for travel arrangements - in her case an enveloped stuffed with cash for a plane ticket to Turkey, handed to her by a veiled woman in her home district of Karak in central Jordan.
The woman, jobless since earning a BA in psychology in 2011, said IS recruiters exploited her vulnerability. "They used my frustration ... promising me a new life with a job and a house," she said in a phone conversation with Dalaeen after her return to Jordan last month.
A recording of the call was given to The Associated Press by the lawmaker, a vocal campaigner against the Islamic State group, which controls large areas of Jordan's neighbors Syria and Iraq in a self-declared "caliphate".
The woman also described her experience in a Nov. 18 program on Jordan University's radio station, with her speaking by phone. Dalaeen provided further details in an interview with AP on Thursday.
The lawmaker said the case illustrates the extremists' deep reach into Jordan, an outspoken US ally in a Western-Arab military coalition against IS.
"Daesh has a strong organization," Dalaeen said, using the Arabic acronym for IS. "They can penetrate young people's minds easily and change certain thoughts."
Jordanian government officials have played down the extent of support for IS, saying any lingering public sympathies for the group vanished after it released a video in February that showed captured Jordanian fighter pilot Lt. Muath al-Kaseasbeh burning to death while trapped in a cage.
Observers say a strong undercurrent of discontent in Jordan creates tempting targets for IS recruiters. Like other countries in the region, Jordan struggles with high youth unemployment, including among university graduates, and there are few outlets for political dissent.
The Karak woman's father, a retired army officer, said his daughter and other young people fell prey to IS because of high unemployment and nepotism. He spoke on condition of anonymity to conceal his daughter's identity and turned down an AP request to interview her.
The story begins in Ai, the Karak district hometown of the woman, the pilot and the lawmaker.
Earlier this year, Dalaeen failed to foil the recruitment of his 23-year-old son Mohammed, who carried out a suicide attack on behalf of IS in Iraq in late September. The Karak woman's family sought Dalaeen's help after she sneaked off to Turkey in late October.
Dalaeen reached her on social media. He told her leaving home without her father's permission and traveling without a male chaperone violated Islamic principles and that this should make her question claims that IS represents the true Islam.
After a week, the woman's resolve to join IS weakened. But she was scared she would be imprisoned in Jordan or harmed for ostensibly staining the family honor. Dalaeen said he guaranteed a safe return.
At the time, she was living in a dormitory-style complex in Istanbul for about 50 women from the Arab world who were waiting to travel to IS-held areas, she said. "There was a very big screen in the dorm where we watched videos of killings and calls for killing anyone who doesn't pray," she told the radio show.
She told Dalaeen that IS was "moving women from place to place for security reasons," gradually shifting them toward the Syrian border.
At one point, the Karak woman was able to evade the three female IS minders in her dorm and slip out, Dalaeen said.
A few hours later, while keeping in touch with Dalaeen, she met with Jordanian diplomats at a hotel in Istanbul. Dalaeen said she was questioned by Turkish intelligence before being put on a plane to Jordan.
After her return, details of her recruitment emerged.
The woman said that 14 months ago she was befriended on Facebook by a woman from Raqqa, the unofficial capital of the Islamic State group's "caliphate" in Syria. They talked about religion and IS. Other IS supporters also contacted her.
Over the next few months, "they started sending me more than 200 videos full of killing and slaughtering," she said. "Finally, I started enjoying (seeing) the killing."
She said she received more than 500 messages urging her to travel to join IS. Recruiters also asked her "to kill my father or even my brother because they are infidels and soldiers in the Jordanian security forces," she said.
Eventually, her contacts arranged a meeting in Karak with a veiled woman who spoke with a Jordanian accent and handed her an envelope with 350 dinars ($500) for travel expenses, she said.
Daleen said IS recruiters have been active in his district. Forty-five young men from the area are fighting for IS and three more young women were approached about joining, he said.
Experts say about 3,000 Jordanians have joined IS in Iraq and Syria and between 400 and 450 have been killed fighting for the group. Jordan has imprisoned dozens of suspected IS sympathizers.
"We know we will win against those brutal murderers because we are defending the values of merciful Islam and world civilizations," government spokesman Mohammed Momani said.
Dalaeen believes IS must not be underestimated.
"Jordan, honestly, has been completely penetrated by this organization," he said.
http://timesofindia.indiatimes.com/world/middle-east/Sophisticated-IS-recruitment-methods-lured-Jordanian-woman/articleshow/50159832.cms
--------
Saudi Arabia elects first female politicians
13 Dec 2015
At least four women have won seats in Saudi Arabia's municipal polls, the country's first-ever elections open to female voters and candidates, local reports said.
The female candidates were elected to three councils - two in Ihsaa governorate and one each in Tobouk and Mecca, as votes were still being counted on Sunday.
Salma bint Hizab al-Oteibi was elected to the council of Madrakah, a region in Mecca, the official SPA news agency reported, citing election commission president Osama al-Bar.
Congratulations to Salma bint Hizab al-Oteibi. First woman Councillor in #Saudi ???? #SaudiArabElection #Mecca pic.twitter.com/YdlMADm6hH
— هند الإرياني (@HindAleryani) December 13, 2015
Saturday's municipal poll, which was hailed by many as historic, saw a turnout of about 25 percent, Al Jazeera's correspondent in Riyadh Saad al-Saadi reported.
The fact that this was only the third time that Saudi citizens voted in an election meant that there was still little experience with the electoral process, Saadi said. The first local election was in 2005, and the second in 2011. Women were excluded in both.
Low turnout in Saudi Arabia's first poll open to women
Women are banned from driving and must cover themselves in public in the conservative kingdom, which was the world's last country to give its women the right to vote.
The official results in the latest election were expected to be announced on Monday.
More than 900 women ran for seats. They were up against nearly 6,000 men competing for places on 284 councils whose powers are restricted to local affairs including responsibility for streets, public gardens and rubbish collection.
"I am happy for having voted for the first time in my life," a woman, who declined to give her name, told the DPA news agency after leaving a polling station in the capital Riyadh.
Another female voter, Najla Harir, said: "I exercised my electoral right. We are optimistic about a bright future for women in our homeland."
Hatoon al-Fassi, a Saudi womens' rights activist and writer, said in a tweet: "This is a new day. The day of the Saudi woman."
انتخبت ?????? ??VOTED #مبادرة_بلدي #انتخابات_السعودية #الانتخابات_البلدية @abuhamad1 @baladi_jeddah @baladiwomen pic.twitter.com/CYLLEFH6CQ
— د.هتون أجواد الفاسي (@HatoonALFASSI) December 12, 2015
Fahda al-Rwali, a female voter, explained why the election was significant for her.
"As a woman, I need some services, some needs in my neighbourhood, like nurseries. I need social centres for youth and retirement, like this. So maybe the woman can concentrate more than the man on those needs."
Al Jazeera's Jamal Elshayyal, reporting from Riyadh after the polls closed, described the elections as "momentous".
"People here are hoping this is a significant step on the paths towards having a more inclusive society, not only for women but also for youth because the voting age has been reduced from 21 to 18," he said.
Landmark elections
A strict separation of the sexes in public facilities meant that female candidates could not directly meet the majority of voters - men - during their campaigns.
Women also said voter registration had been hindered by bureaucratic obstacles, a lack of awareness of the process and its significance, and the fact that women could not drive themselves to sign up.
One-third of council seats are appointed by the municipal affairs ministry, leaving women optimistic that they will be assigned some of them.
'Not running to win'
Electioneering was low key, with rules preventing photographs of candidates applied to both men and women. But win or lose, the female contenders said they were already victorious.
"We have legal controls, which forbid the publication of women's photos - during elections and in all our work. And if women's photos are not allowed, it would only be right, fair and equal to ban photos of all candidates", Jadie al-Qahtani, the head of the election's executive committee, said.
"What's more important are the programmes of candidates from both sexes," he was quoted by the Okaz newspaper as saying.
Speaking to Al Jazeera hours before polls opened, several women said they felt excited and positive that women were participating, with the hope that society as a whole would benefit from more diversity in public affairs leadership.
"Women here are doctors and engineers - it's not like women aren't there," Lama al-Sulaiman, a candidate in Jeddah, told Al Jazeera.
"The international media sometimes has narrow views; they only report the bad stories. We have them, we have weaknesses and every citizen goes through challenges - those shouldn't be belittled.
"But to think that 50 percent of the population is going through those challenges is also ridiculous."
Mona Abu Suliman, a media personality and consultant in Riyadh, said that even if women don't win many seats, just going through this process is important.
"Recognising women's votes in decision-making is a step towards equality," she said.
"There are people who see women voting and running in the election as another step towards Westernisation. They dislike seeing women in public-facing roles. But I don't think they are in the majority. The majority is either neutral or accepting."
------
Saudi Women voters jubilant at their poll participation
Sunday 13 December 2015
RIYADH: The ecstatic mood of women voters was evident from their comments on social media on Saturday — the polling day for the historic municipal elections in the Kingdom. A large number of female voters expressed their joy at being able to vote for the first time in the Kingdom.
"I just voted for the first time in my life!"
"It feels amazing to know I have a voice and it matters."
These were some of the comments by female voters on Twitter and other social media platforms.
For the first time in the history of Saudi Arabia, women participated in the civic elections as voters and candidates. The turnout was high, as reported by local media.
A total of 978 women had registered as candidates alongside 5,938 men for the elections. Around 130,000 women registered to vote, although the figure is lower than 1.35 million males who registered for voting, said officials.
The decision to allow women to take part in the elections was taken by the late King Abdullah, and is seen as a key part of his legacy and one of the milestones in ensuring women's contributions to decision-making bodies like the municipal bodies and Shoura Council.
http://www.arabnews.com/saudi-arabia/news/849611
-------'
Shoura to vote on hiring of maids from Ethiopia
Sunday 13 December 2015
RIYADH: The Shoura Council will on Tuesday vote on a proposal by members Ahmed Al Zuelli and Ahmed Aal Mifreh to lift the ban on recruitment of domestic workers from Ethiopia.
The Administrative and Human Resources Committee had first rejected the proposal, saying it contradicts the recommendations of the Ministry of Labor (MoL). However, the two members insisted that the proposal be discussed by the Shoura Council.
The members argued that Ethiopians are traditionally the inhabitants of the Arabian peninsula and that they behaved well. They Council members said they spoke to many people about their experiences and many of them praised the Ethiopian domestic workers.
http://www.arabnews.com/saudi-arabia/news/849631
------
Low number of female voters at two booths
Sunday 13 December 2015
RIYADH: Two polling stations in Riyadh witnessed a poor turnout of female voters when they opened for voting on Saturday morning.
Some voters at the polling booths attributed the low turnout to laxity coupled with the cold wave lashing the capital and other cities.
A voter, Awatef Marzouk Al-Hazimi, said she was very happy about exercising her franchise. She, however, said that although she voted for a male candidate, she wished a female won the election.
"I voted for a man because he convinced me with his program. I cried when I voted because now I feel that a dream has become reality and women have started to have a voice," she said
Mody Ibrahim Al-Majed, another voter, said she was feeling tired but that did not stop her from participating in the elections. "It is a national duty and all women have to participate in it."
Noura and Maha Al-Dosary said that they were disappointed with the campaigns of the candidates as they did not know much about elections and thought that the candidates should have exerted more efforts.
Haifa Al-Hababi, a candidate, said that it is all right even if she does not win the election. However, she said, she has made history by participating in the elections, and this was possible because of the support of the Custodian of the Two Holy Mosques and the government.
http://www.arabnews.com/saudi-arabia/news/849606
----------
Truant girls back home
Sunday 13 December 2015
JEDDAH: The two girl students who had disappeared from their school in Jeddah and were found in a mall the following day have been handed over to their families.
The girls — Noor and Amenah — were taken to the girls' care home in Makkah to find out the circumstances leading to their escape from school, a website reported.
The girls, both Grade 6 students and 11 years old, had disappeared from school after the classes were over on Dec. 6 and were found the following day. They were released on Wednesday, the website reported.
Jeddah police found nothing serious or suspicious, the website said, quoting sources.
http://www.arabnews.com/saudi-arabia/news/849661
-----
Muslim women feel exposed Some abandoning hijab over safety concerns
Posted: 12/13/2015
NEW YORK -- On the night of the California shootings, Asifa Quraishi-Landes sat on her couch, her face in her hands, and thought about what was ahead for her and other Muslim women who wear a scarf or veil in public.
The covering, or hijab, often draws unwanted attention even in the best of times. But after the one-two punch of the Paris and San Bernardino attacks by Islamic militants, and amid an anti-Muslim furor stoked by comments made by Republican presidential candidate Donald Trump, Quraishi-Landes, an Islamic law specialist at the University of Wisconsin-Madison, wanted to send a message.
THE ASSOCIATED PRESS
TIM GALLOWAY / THE ASSOCIATED PRESS FILES Suehaila Amen, a community activist, is taking a self-defence class because of recent incidents in which women wearing hijabs were harassed.
"To all my Muslim sisters who wear hijab," she wrote on her Facebook page.
"If you feel your life or safety is threatened in any way because of your dress, you have an Islamic allowance (darura/necessity) to adjust your clothing accordingly. Your life is more important than your dress."
Amid a reported spike in harassment, threats and vandalism directed at Muslims and at mosques in the United States, Muslim women are intensely debating the duty and risks related to wearing their head coverings as usual.
Websites for Muslim women have posted guidance on how to stay safe. Hosai Mojaddidi, co-founder of the educational group MentalHealth4Muslims, drew nearly 4,000 likes for her Facebook post advising women to "pull out those hooded sweatshirts, beanies, hats and wraps for a while until the dust settles."
Muslimgirl.net posted a "crisis safety manual for Muslim women" with tips such as wearing a turban instead of a longer, more obviously religious scarf and carrying a rape whistle.
Muslim women in several U.S. cities are organizing or taking self-defence classes. The ad for one such class in New York features a drawing of a covered woman in a karate stance.
"We're getting so many calls," said Rana Abdelhamid, 22, founder of the Women's Initiative for Self-Empowerment, which offers self-defence and empowerment classes in several cities for young Muslim and Jewish women who face harassment.
Abdelhamid, a New York native attending the Harvard Kennedy School of Government, said she had studied karate since childhood and started offering self-defence classes for women after a man tried to pull off her head scarf when she was 16 years old.
"Even now when I think about that moment -- I have a lot of anxiety moving through the streets to this day -- especially with all of the hateful rhetoric because, I don't know, is it going to happen again?" she said.
The question of whether to wear the hijab is already deeply sensitive for Muslim women. Scholars have debated for years whether women have a religious obligation to dress a particular way. And Muslims disagree over whether the hijab is a symbol of piety or oppression.
Women who wear a scarf or veil say they have many motivations for doing so, including demonstrating devotion to their faith and showing pride in their religious heritage. Their decision makes them among the most visible representatives of Islam, in a way men with beards aren't. Well before the latest uproar, it was common for American Muslim women wearing the hijab to be stared or cursed at, or have strangers tug at their scarves.
Now, many Muslim women say this is the exact moment they need to make their presence known by wearing the hijab, without any modification, as an act of defiance.
Suehaila Amen, a community activist in Dearborn Heights, Mich., said that was the reaction from women she knows around Detroit. Amen said she would never take off her head scarf, but added she has the advantage of living in an area with one of the largest concentrations of Arabs and Muslims in the U.S. Still, she and her sister planned to take a self-defence class this weekend because of the furor. Amen regularly travels to give public talks.
"I wasn't this concerned about my safety after 9/11. This is the first time in my life that I've ever said I worry when I leave the house," she said. "Yes, there are people who need to be concerned or modify the way they wrap their scarf so that it's not as visible."
Generally, Islamic law allows people who face persecution over their faith to alter their behaviour or even "renounce faith itself" if necessary to survive, said Mohammad Fadel, an Islamic law specialist at the University of Toronto. Each person can determine what constitutes a credible threat.
Omar Suleiman, resident scholar at the Valley Ranch Islamic Center in Irving, Texas, posted a YouTube video last weekend underscoring that Muslims can take steps to protect themselves, such as wearing a hat instead of a hijab or not praying in public. But he cautioned against assuming there's a risk without examining the circumstances.
Suleiman said he posted the video in response to a Muslim woman he said came to him crying because she took off her veil for the first time out of concern for her safety, and was worried God would punish her. The video has been viewed nearly 39,000 times.
"I'm not going to judge anyone's individual standing," Suleiman said, but "you don't have to resort to completely abandoning your obligation."
The Council on American-Islamic Relations, the civil rights group that most closely tracks bias against Muslims, said it does not have a breakdown of harassment by gender.
However, "the vast majority" of cases of discrimination and harassment against Muslim women at work, in school and in the public in general are from women who wear the hijab, said Jenifer Wicks, the organization's litigation director.
Since the Paris attacks last month, a Brooklyn, N.Y., man was charged with spitting on and shouting anti-Muslim slurs at a woman wearing a hijab after she accidentally bumped him with a baby stroller, a New York pharmacist who wears a head scarf said a customer called her a terrorist and told her to get out of the country and a San Diego State University student said a man ripped off her head scarf and began yelling slurs at her.
Last Sunday, two young Muslim American women who wear head scarves went to an Austin, Texas, restaurant where a male customer harassed them and told them to go back to Saudi Arabia. They said when they asked other customers to help them, no one did, and the man was seated at a table even though the women alerted the host.
The owner of the restaurant, the Kerbey Lane Cafe, has apologized repeatedly to the women and the public.
Margari Hill, co-founder of the Muslim Anti-Racism Collaborative, lives in San Bernardino County, near the site of last week's shootings. She said it's important for bystanders to help stop any harassment they witness.
"Just standing there and looking, that's the worst thing that anybody who is being subject to harassment and violent threats can experience. You just feel so alone," Hill said.
Hill said she and most of her friends aren't changing anything about their daily lives. She said she's experienced an outpouring of support, especially from people of other faiths since the rampage by husband-and-wife shooters Syed Rizwan Farook and Tashfeen Malik. Still, one of Hill's friends has stopped wearing her scarf when she goes out.
"Being a Muslim woman -- it makes you this symbol of the faith," said Hill, who has worn a hijab for 17 years.
"I think it's very important for Muslim women to be smart during this time."
-- The Associated Press
Republished from the Winnipeg Free Press print edition December 13, 2015 A7
http://www.winnipegfreepress.com/arts-and-life/life/muslim-women--feel-exposed-361705521.html
-------
Muslim women say headscarves make them targets for harassment
By Molly Hennessy-Fiske
Dec 13, 2015
HOUSTON — When Leilah Abdennabi showed up for a lunch date at a popular Austin, Texas, cafe this week, she was surprised to find her friend crying.
Through tears, her friend Sirat Al-Nahi, 20, explained that while Abdennabi was parking, an elderly white man in the cafe began harassing her, suggesting Abdennabi didn't know how to drive and "should go back to Saudi Arabia."
In disbelief, Al-Nahi asked the man to repeat what he had said. He did, this time adding, "Do you have a gun? You should just shoot me."
The restaurant staff seated the man and his companion as Al-Nahi started crying.
Al-Nahi, a senior at the University of Texas at Austin and a devout Muslim who — like her friend — wears a headscarf, hadn't expected to be confronted at a locally owned restaurant in Texas' decidedly liberal capital, an eatery that serves a dish called Nabil's Mid-East Feast.
Abdennabi, 24, asked to speak to the manager, who said there was nothing she could do. When Abdennabi approached the man and asked him to repeat what he had said, he told her to go away.
She surveyed the restaurant.
"No one was doing or saying anything. I was like, 'Just so you guys know, we were told some very racist things at this restaurant and no one did anything because who cares about us?' And someone shouted 'Nobody,'" Abdennabi told the Los Angeles Times.
In the wake of the attacks in Paris and San Bernardino, Muslim women wearing headscarves have become visible targets for harassment, often by men.
The Washington-based nonprofit Council on American-Islamic Relations has documented dozens of such incidents nationwide since last month, including many against women wearing headscarves.
In Cincinnati, a driver tried to run down a young Muslim woman. In New York City, a customer called a female pharmacist wearing a headscarf a terrorist and told her to "get out of his country." In San Diego, a man shoved a pregnant Muslim mother's stroller into her belly and a San Diego State student reported a man tugged at her headscarf while yelling at her in a parking lot.
"It's not unexpected at all. In fact, it's what my research shows — that Muslim women will be targeted because they are more easily identifiable; they can't pass as non-Muslim," said Sahar Aziz, an associate professor at Texas A&M School of Law.
Aziz researched similar harassment after the terrorist attack last January on the satirical magazine Charlie Hebdo in Paris. She found harassment ranged from assaults to passing comments and stares. Now, she said, "I suspect what happened in Austin is the tip of the iceberg."
She said it's like women in Muslim countries being harassed for not wearing headscarves: "It disempowers women from making choices about how they practice their faith."
In reaction, some Muslim women in the United States have stopped wearing headscarves to avoid being targeted. Aziz said immigrants may be most likely to abandon the headscarf while those like Abdennabi and Al-Nahi, born in the United States, have deeply rooted confidence in their rights and won't sacrifice their faith.
"It really is an individual choice based on a person's upbringing and beliefs, particularly in the U.S.," said Aziz, 20, who is Egyptian-American and has worn a headscarf for four years.
"Many of these women are putting the headscarf on as a feminist statement, desexualizing themselves. This needs to not just be a Muslim issue, but an American women's rights issue."
Abdennabi, a teacher's assistant, is Palestinian-American and has worn a headscarf, or hijab, since she was 18. Though she has heard some women talk recently about taking off their headscarves, she said she won't give in.
"I don't think we should shrink ourselves or hide ourselves. … Unlike when I was growing up, we have Facebook and Twitter and we can share our stories," she said.
http://www.bendbulletin.com/nation/3818042-151/muslim-women-say-headscarves-make-them-targets-for#
-------
Feminists boycott Israel and bow to the Caliph
December 12, 2015
What better enemy than the Islamic State to be condemned in the largest conference of feminists of North America, that ISIS that kidnaps, sells and rapes women under its control, cages them under the burqa and uses them as cannon fodder in suicide operations?
And if Caliph al Baghdadi doesn't affect the audience of militant feminists enough, why not condemning the crimes against women in the Iranian theocracy, which prohibits long nails, gems in the teeth, tight coats, scarves that leave out long hair and boots with heels over pants?
Of course not. The National Women's Studies Association chose an enemy much more fulfilling and less dangerous: the State of Israel. The only country in the Middle East where women hold prestigious positions in politics, culture, activities social, from Golda Meir to Nobel laureates to Tzipi Livni. And if you were to cross the lines of 1967 just ask the Palestinian Arab women if they live better in Ramallahor in Riyadh, what answer do you think you would get?
The feminists of the National Women's Studies Association voted for a boycott of Israeli colleagues and the institutions of the Jewish state. As Professor Simona Sharon saidi to Inside Higher Ed, "90 percent of members of the National Women's Studies Association voted the resolution". "The vote is a betrayal of reality and women, especially women who live under the Sharia", Phyllis Chesler, long time feminist and author, told me. "The association does not condemn the atrocities perpetrated on women by Hamas, IS, Boko Haram, Taliban. Nothing on the pervasive female genital mutilation and marriage childhood in the Arab-Islamic world. Nothing on the terrible fate of women who dare to choose their husbands. Israel is not a feminist heaven, but women are fighting for their rights, and if our feminist counterparts would do the same in Mecca, Mogadishu, Tehran, Islamabad and Kabul, would be imprisoned, raped, tortured, beheaded or stoned. Feminists are cowardly and conformist in their perfidy".
It was a Jewish Canadian entrepreneur, Steve Maman, who saved hundreds of Yazidi girls from sexual slavery under ISIS. It is the paradox indicated by Phyllis Chesler: "Christians, not the feminists, saved these girls".
It is the paradox of feminism which is militant against "obscurantism" in the Catholic Church but silent on the submission of Muslim women; a feminism ardent about the gender ideology but also supports the Islamic veil as "emancipation"; a feminism which boycott the "occupation" of Israel but it is mute and blind about the occupation of female bodies in the Arab-Islamic world.
Thousands of Yazidi girls, segregated and tied to the bed of the Caliph, are now asking the National Women's Studies Association: why do you boycott the only free society in the Middle East and keep silent about our persecutors?
http://www.israelnationalnews.com/Articles/Article.aspx/18055
URL: https://newageislam.com/islam-women-feminism/muslim-women-feel-exposed,-some/d/105589
New Age Islam, Islam Online, Islamic Website, Womens in Islam, Islamic Feminism, Arab Women, Womens In Arab, Islamphobia in America, Muslim Women in West, Islam Women and Feminism